If you're searching for an interesting and unique way to cook salmon that will impress your guests, try making beetroot-cured salmon. It's simple to make, but the flavour is complex and stunning.
Salmon Gravlax is a traditional Scandinavian dish that is cured with salt, sugar, and dill. I like to add beets to mine for a little extra flavor and color.
What Is A Salmon Gravlax?
Gravlax is a Scandinavian dish traditionally served as an appetizer. It's made with beet cured salmon, cured in salt, sugar, and dill. Gravlax tastes rich, smoky, and slightly sweet and can be served cold or hot!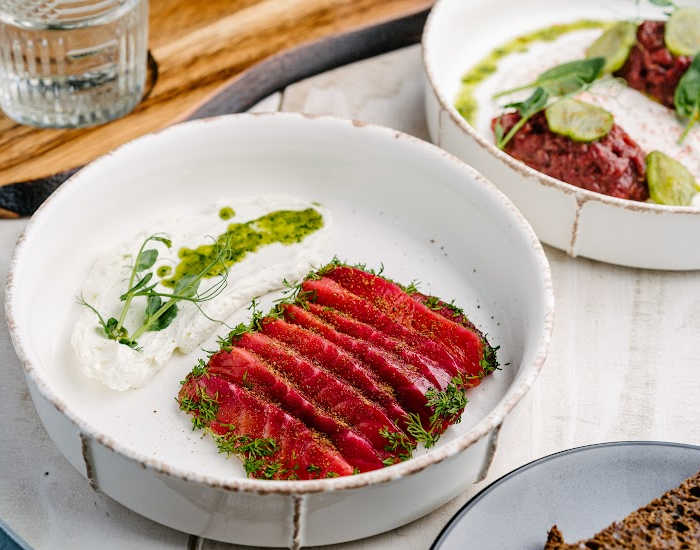 Smoked vs Cured Salmon
The main difference between cured and smoked salmon is that curing involves coating the fish with a mixture of salt, sugar, and spices while smoking actually cooks the fish.
Cured salmon is a method of preparing fish where it is soaked in a combination of salt, sugar and herbs. The process firms up the flesh and enhances the flavor. Adding beetroots to your cure will give an earthier flavor while also providing a nice pink hue to the finished dish.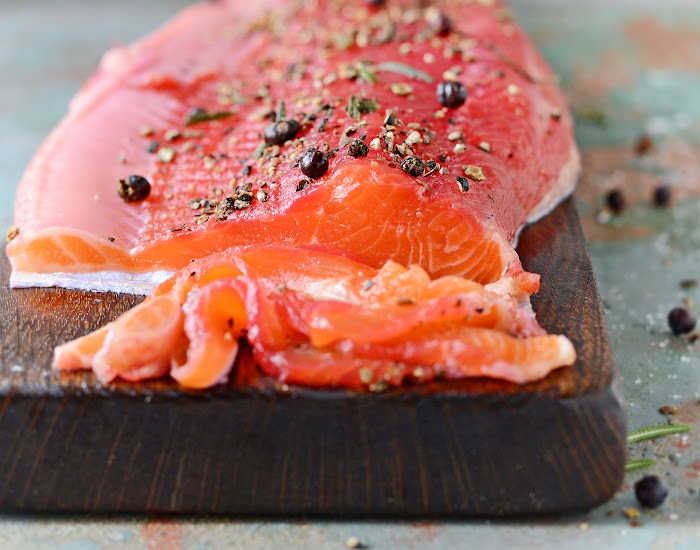 How To Make Beet Cured Salmon (Salmon Gravlax)
Ingredients
1kg (2 lb) single piece of fresh salmon, (optional skin on)
500g (14 oz) raw beetroot, peeled and diced
1 cup kosher salt
2/3 cup white sugar
How To Choose The Salmon
When selecting salmon, look for ones that are bright in color and have a firm texture. Avoid any pieces with discoloration or white spots, as these could indicate spoilage. Additionally, check for any unpleasant odors that might signal the salmon is not fresh.
Option 1: Vodka Flavors Curing
4 teaspoons whole caraway seeds
4 teaspoons whole white peppercorn
4 teaspoon whole coriander seeds
5 1/2 tablespoons vodka
Option 2: Gin Flavors Curing
4 teaspoons of whole black peppercorns
4 teaspoons of whole juniper berries
4 teaspoons of whole coriander seeds
5 1/2 tablespoons gin
Make the horseradish cream (for serving) - Simply mix these:
1 cup sour cream
3 tablespoons fresh grated horseradish
1/4 teaspoon salt
1/4 teaspoon lemon zest
1 teaspoon chopped dill
Side servings:
2 sliced cucumbers
1/3 cup capers (divided use)
1/4 cup oil (vegetable or canola)
Fresh dill sprigs, lemon wedges
2 tsp chopped dill
Sliced bread or crackers
Making Salmon Gravlax
In a food processor, combine the beetroot cubes with the salt and sugar, gin or vodka. Blend them until smoothly mixed.
Pour the beetroot mixture over a casserole dish or a large and deep container.
Place the whole salmon onto that baking dish, skin-side down (if using).
Using your hands to press the salmon firmly to make it sink in the beetroot mixture.
Cover the salmon with cling film and place a heavy weight, such as a brick wrapped in foil, on top of the salmon for evenly distributed pressure.
Refrigerate for two days, about 48-52 hours, or until beetroot is completely dry and lightly cured.
Remove the whole container or covered dish out of the fridge.
Rinse off beetroot mix under water, pat salmon dry with paper towels.
Slice beet cured salmon into thin slices and serve with horseradish cream, cucumbers, capers, oil, dill sprigs, lemon wedges and sliced bread or crackers. Enjoy!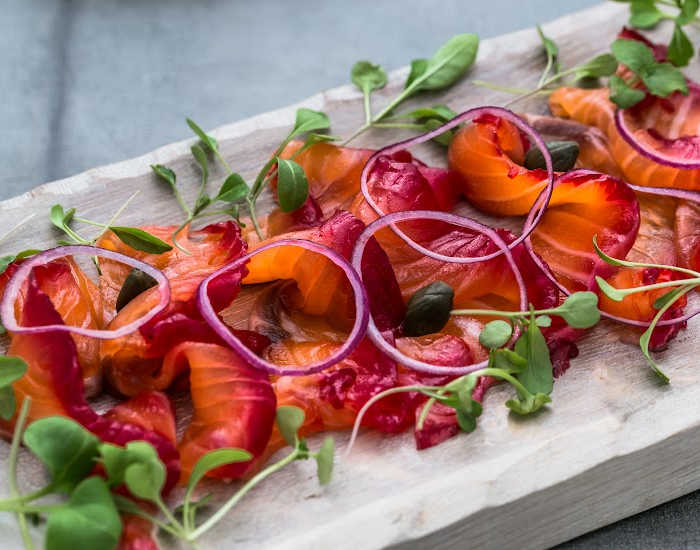 What Do You Eat Cured Salmon With?
Cured salmon makes for a delicious appetizer or main dish – you can serve it cold, in thin slices with some sides like sour cream and chopped cucumbers. You can also try beet cured salmon as an accompaniment to salads, sandwiches, pastas, or even pizza!
Is Cured Salmon Healthy?
Cured salmon is an excellent source of lean protein, omega-3 fatty acids and vitamins. It's also low in calories — making it a great healthy choice for those looking to control their weight.
Curing salmon with vodka and gin is a great way to add extra flavor to the dish while also helping to preserve it. Vodka and gin are both high in alcohol content, which helps to keep bacteria from growing on the fish.
Additionally, the spices used in curing salmon also add flavor and help to preserve the fish.
Will The Cured Salmon Taste Like Alcohol?
The addition of alcohol in the curing process does not give a strong taste to the salmon. The alcohol helps to preserve the fish and also adds flavor, but it won't overpower the other elements.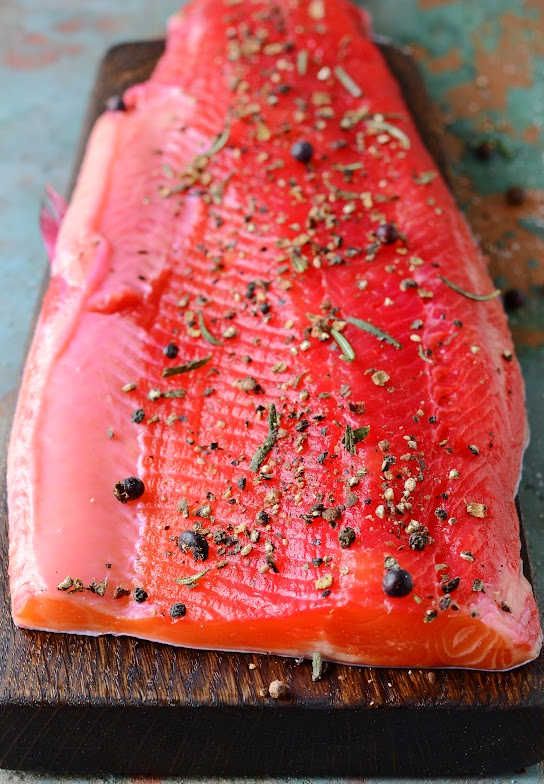 Tips & Tricks
For a smoky flavor, you could try adding smoked paprika or even chipotle powder to your beet cured salmon.
For a spicier beet cured salmon, add some crushed chili flakes or cayenne pepper to the beetroot mix.
If you want to make beet cured salmon extra flavorful, add some fresh herbs such as dill, rosemary or thyme.
If you're looking for a more intense beetroot flavor, try adding some beet juice to the mix. This will also help to give the salmon a beautiful, vibrant pink color.
To make the beet cured salmon extra tender, try adding some olive oil to the beetroot mixture. This will help to add moisture and flavor to the salmon.
To keep beet cured salmon fresh longer, vacuum seal the slices before storing in the fridge.
Beet cured salmon can be eaten raw if it's been properly cured. Always double-check the label for any poisonous additives before consuming raw.
And there you have it! Beet cured salmon, also known as Salmon Gravlax, is a delicious way to enjoy the healthy benefits of salmon.
Want a food processor that will help you make the perfect cured salmon dish? Look no further! We've done the research and gathered a list of commercial grade food processors that are sure to last.
Try beet cured salmon as an interesting alternative to regular gravlax and you won't be disappointed! With its deep red hue and smoky flavor, beet cured salmon is sure to make your meal even more special. Enjoy!
Catchy Finds