Making sushi can be a fun experience, but it's not always easy to get the rice just right. That's where a sushi rice cooker comes in handy!
These nifty appliances make it easy to cook perfect sushi rice every time. But with so many different models on the market, how do you know which one is best for you? Read on for our recommendations of the best rice cookers for the Japanese delicacy called sushi available today.
Rice Cookers For Sushi: Buying Guide
What rice to use for sushi rice?
When it comes to sushi rice, quality is important. You'll want to use white, short-grain "sushi rice" for best results. This type of rice is also sometimes labeled as "sticky" or "glutinous" rice. Do not confuse short-grain sushi rice with long-grain white rice or risotto rice - they are not the same!
How to cook rice for sushi in a rice cooker?
Cooking rice for sushi in a rice cooker is actually pretty simple. Just rinse the rice in cold water until the water runs clear, then drain it well. Add the rinsed and drained short-grain sushi rice to your rice cooker, along with the appropriate amount of water (check your rice cooker's instructions for guidance). Then just turn it on and let your cooker do its thing!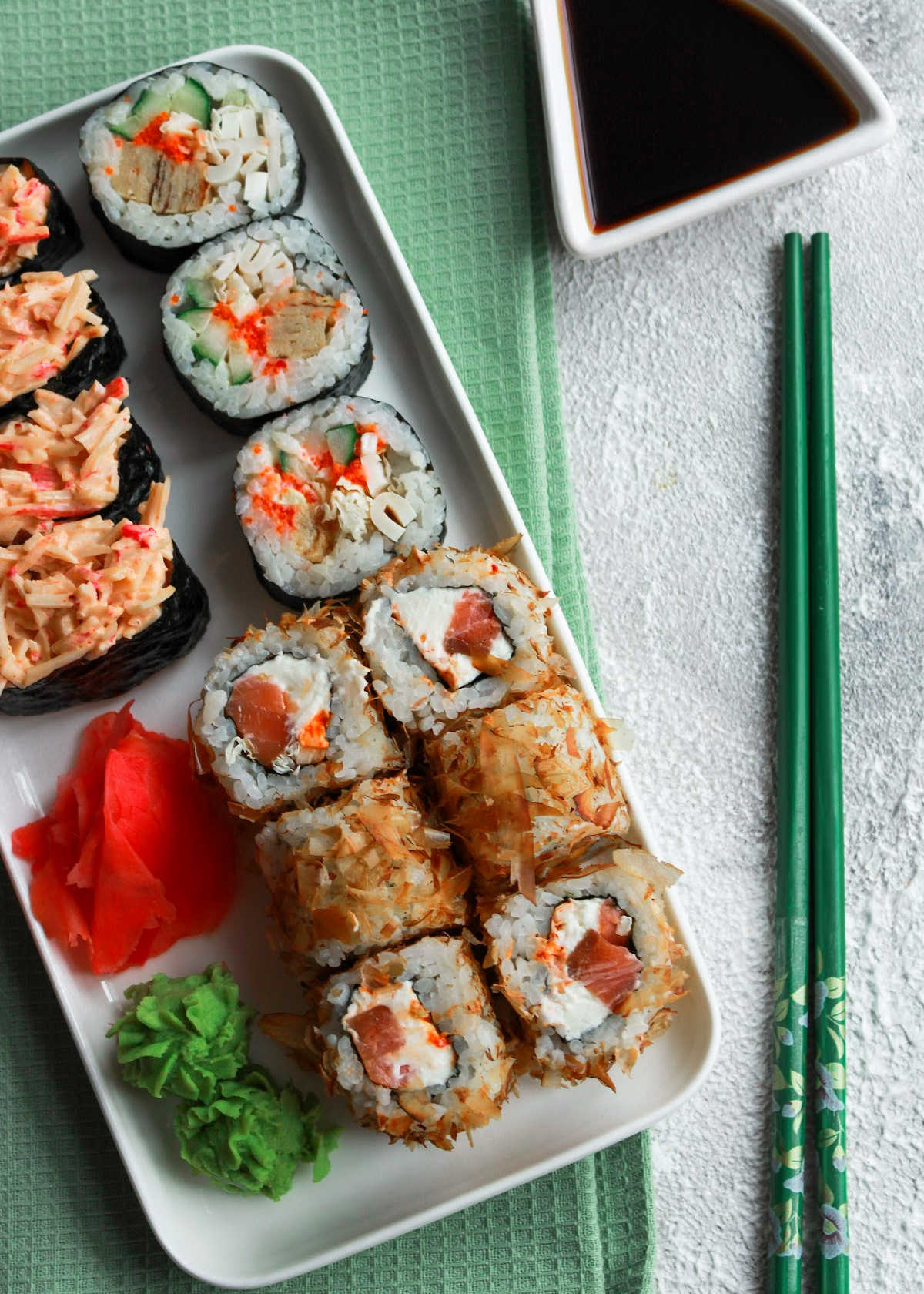 How to prepare sushi rice?
Once the sushi rice is cooked, fluff it with a wooden spoon or spatula. At this point, you'll want to add a sushi vinegar to the rice. To make your own sushi vinegar, simply combine equal parts rice vinegar and sugar. Then add a pinch of salt.
Mix everything together until the sugar is dissolved, then pour it over the sushi rice. Gently mix the vinegar into the rice until evenly mixed. Now your sushi rice is ready to use! Use it to make nigiri sushi, maki sushi, or any other type of sushi you like. The choice is endless!
What is the best sushi rice cooker?
Choosing a sushi rice cooker is a very personal decision. Ultimately, it comes down to what you are looking for in a dining experience. If you want something quick and easy, go with an electric sushi machine to cook 3 to 8 cups of uncooked rice.
If you are looking for more of an authentic Japanese experience, opt for the stovetop bamboo rice steam pot. But you may have to do a course in traditional sushi cooking first.
Now that you know how to cook excellent sushi rice in a rice cooker, it's time to choose the best model for your needs. Here are our top picks for best electric rice cookers to make your sushi rolls.
💡
We participate in the Amazon Associates Program, if you buy a product with the links that we provide, we may receive a small commission from Amazon. There is NO additional cost to you!
---
Catchy Finds' 6 Picks In The Spotlight






---
Zojirushi 3-Cup Micom Rice Cooker
What Makes It Catchy
With advanced fuzzy logic technology, this cooker prepares perfect rice every time. You can also choose from a variety of cooking functions, including settings for white/sushi rice, brown rice, long grain white rice, steel-cut oatmeal, quinoa seeds, cake and to cook rice quickly. If you want, you can experiment with mixed rice, to create your own special rices dishes.
Plus, the automatic "Keep Warm" feature keeps your rice at the perfect serving temperature. And if you need to keep your rice warm for longer periods of time, the "Extended Keep Warm" function maintains a low temperature to prevent the rice from getting too dry.
Things In The Spotlight
This little appliance heats and warms rice from the bottom, sides and top, so you can be sure your rice is cooked evenly every time. Making sushi rice is a breeze with this cooker, thanks to the dedicated sushi function.
With a compact 3-cup capacity, it's perfect for small families or single people who love rolling homemade sushi during the week. And the best part is, it's super easy to clean – just detach the pan and throw it in the dishwasher.
This versatile rice cooker and warmer comes with a rice spatula and a rice measuring cup. Small warning: you'll become a home made sushi addict, and consequently it's destined to become your go-to sushi kitchen assistant - and more.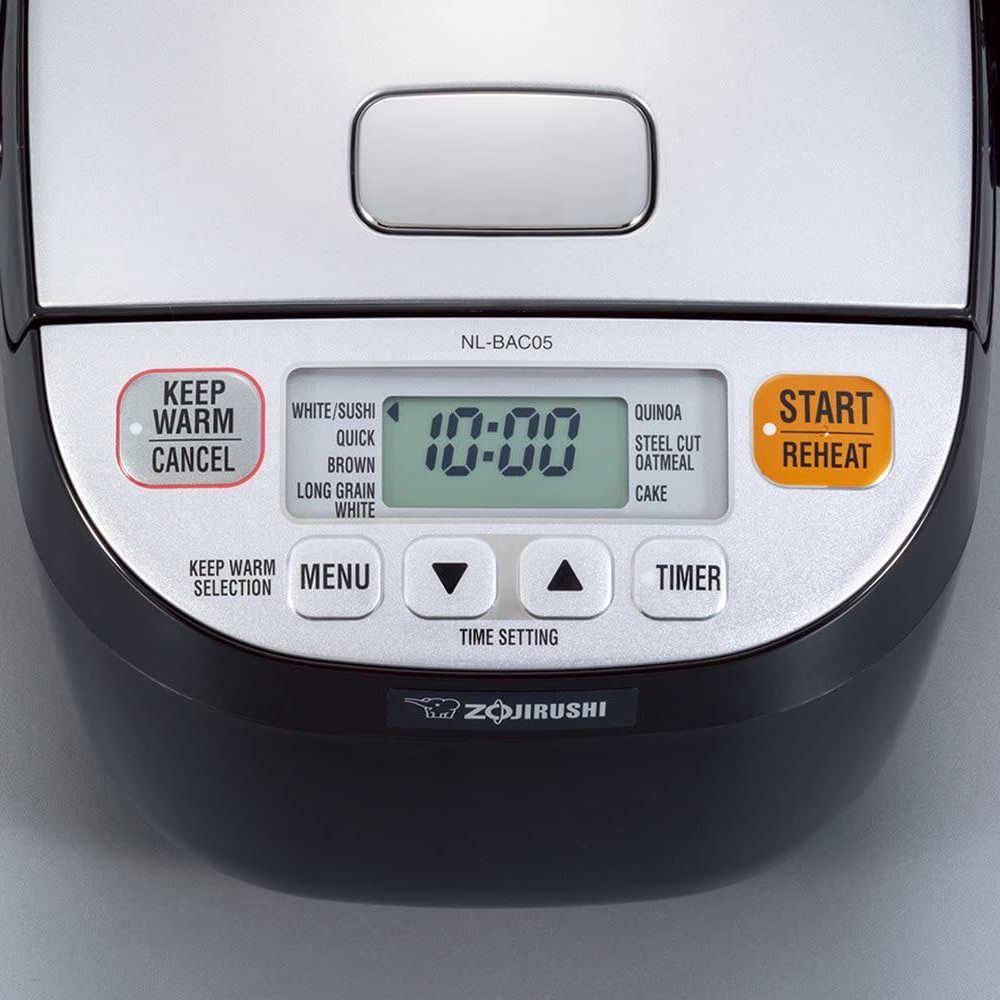 ---
Toshiba 5.5-Cup Digital Multi-functional Rice Cooker
What Makes It Catchy
This rice cooker uses advanced fuzzy logic technology to make fine adjustments to the temperature and cooking time, so you can perfectly cook any type of rice. The induction heating system generates heat throughout the entire pot, making sure that your rice is cooked evenly and tastes better than ever before.
Plus, the clear measuring markings make it easy to get the perfect water-to-rice ratio every time. Perfect for making sushi! Now, this cooker is combining the latest technologies to offer a digital rice cooker that is already ahead of its time.
Things In The Spotlight
This electric rice cooker also comes with 8 pre-programmed settings to perfectly cook white rice, brown rice, mixed grain, quinoa, soup/stew, and oatmeal. It also has a steam setting.
The LED smart digital panel display makes it easy to read and use. With the non-stick inner pot, detachable steam vent and inner lid, it's easy to remove and reattach for cleaning.
What makes this cooker stand out, are its special features for those who need to have a low carb diet, diabetics and health-conscious people. It can remove unhealthy digestive starch by up to 37% and increase healthy resistant starch by up to 34%, as verified by the world's leading CVC verification.
---
TIGER 5.5-Cup Micom Rice Cooker With Food Steamer Basket
What Makes It Catchy
Do you want a versatile and dependable rice cooker? Look no further than the TIGER 5.5-Cup Micom Rice Cooker With Food Steamer Basket! This fantastic gadget is not only great for making rice, but it may also be used as a slow cooker, allowing you to cook all of your favorite meals.
The Tiger's Automatic Cooking Logic system comes into play as soon as you press a button, monitoring cooking temperatures to ensure that your dinner is cooked to perfection every time.
You can use this powerful little machine to prepare meals with ease. You may make excellent rice all the time regardless of the kind you're using thanks to 4 distinct cooking menu options (white and brown rice, slow cooking, and synchro cooking).
Things In The Spotlight
The automatic cooking logic system ensures your food will always be cooked properly, while the "tacook" cooking plate prevents flavors from transferring between dishes. This means that your rice will stay delicious because the flavors won't seep in.
The BPA-free cooking plate delivers nutritious meals, while the automatic keep warm function maintains your food hot and fresh until you're ready to eat. Brown rice was created with higher water absorption in mind, ensuring that you get the best possible cooking results.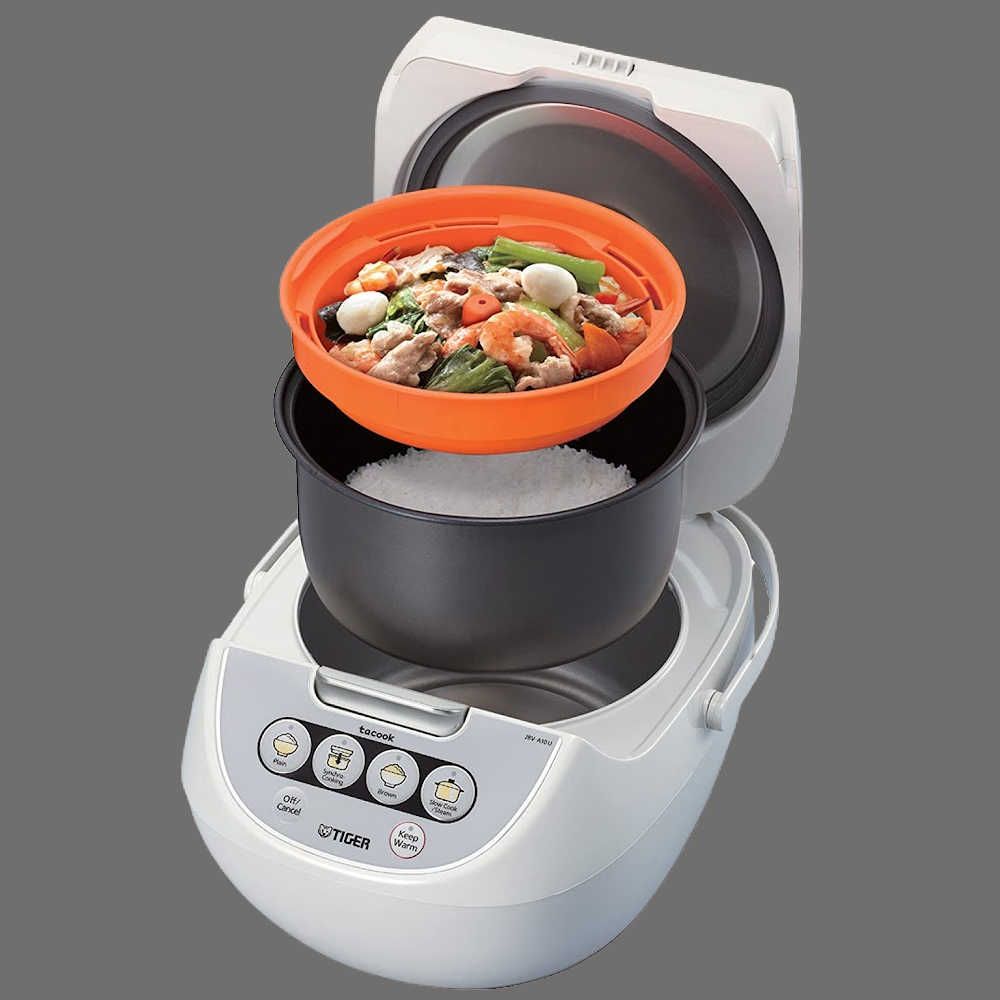 ---
Aroma Housewares Professional 4-Cup Rice Cooker
What Makes It Catchy
If you're looking to make a delicious sushi dinner for your small family, this compact appliance is perfect for the task.
Aroma Housewares Professional 4-Cup Rice Cooker is the best in easy function. You can accomplish anything with this rice cooker, from perfectly cooked grains to slow-cooked stews and steamed veggies.
The 8 preset digital functions and automatic Keep Warm mode make it easy to use, while the included steam tray lets you save time without sacrificing quality. With this rice cooker, your possibilities are as creative as you are. You'll be making excellent sushi rice, of course, but besides, lots of rice recipes.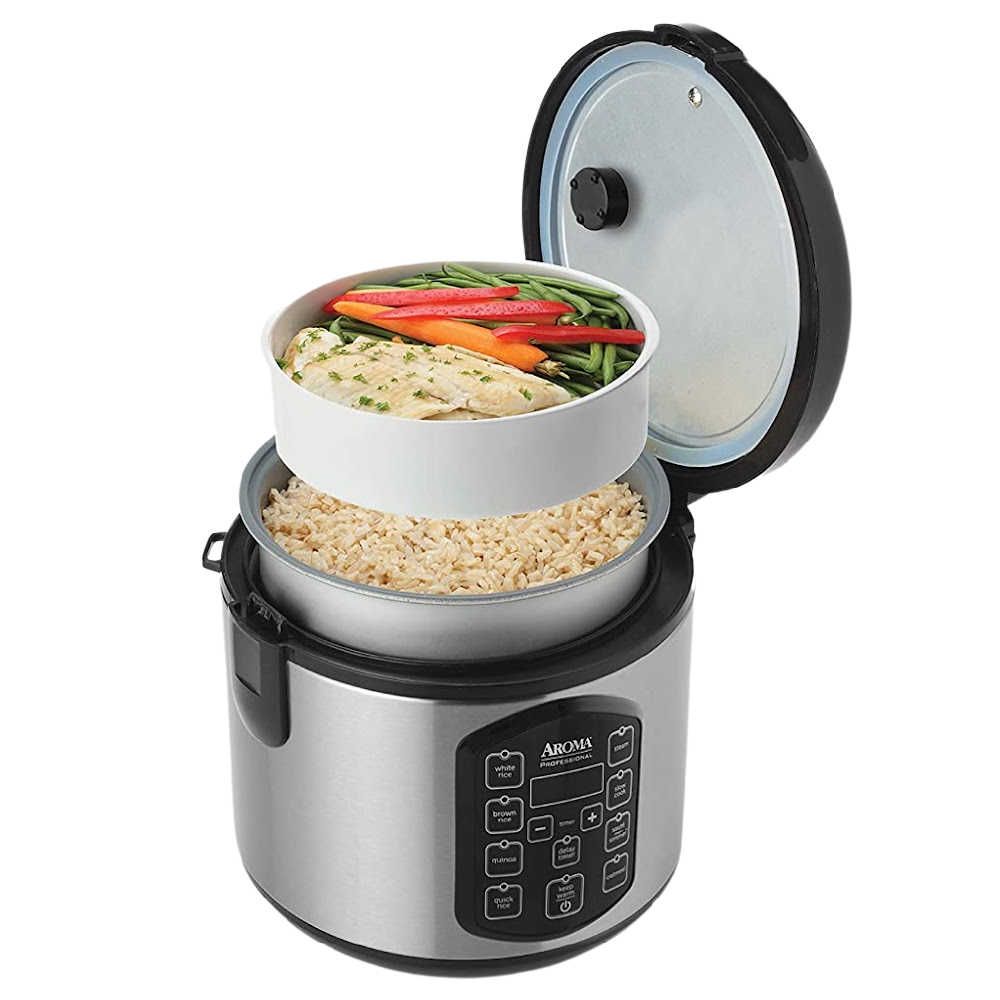 Things In The Spotlight
This awesome little appliance is perfect for cooking up small individual meals or delicious side dishes. Plus, with the programmable delay timer, you can have your meal ready up to 15 hours in advance!
Its possibilities are not limited to rice dishes. This rice cooker is also perfect, with its Sauté-then-Simmer function, for cooking up Spanish rice, chili, risotto and so much more. Using a rice cooker like this, you can easily prepare dishes from every continent on earth! And cleanup is a breeze thanks to the nonstick inner pot.
---
COMFEE' 8-Cup Rice Cooker
What Makes It Catchy
Looking for an affordable and friendly rice cooker? This little appliance is packed with features, including 6 digital cooking programs and a 4 cup uncooked, 8-cup cooked rice capacity at a very affordable price.
It's perfect for small meals or sides, and the 12-hour delay timer makes meal planning a breeze. The multi use programmable rice cooker is user friendly with its digital panel and LED display, and it automatically switches to keep warm for 12 hours.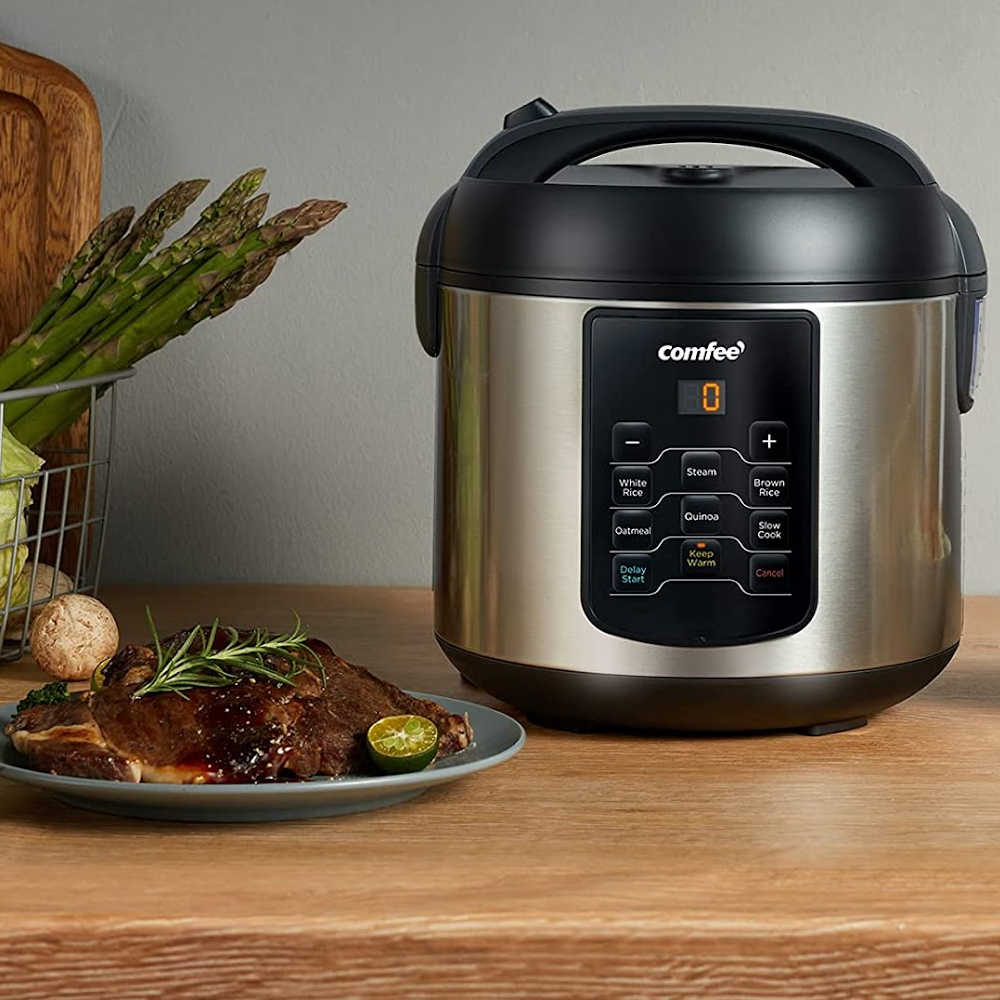 Things In The Spotlight
The six programs are white rice, brown rice, steam, slow cook, quinoa and oatmeal. So in fact, you can create complete meals with just one appliance. Of course it is fit for short-grain sushi and medium-grain white rice.
With a stainless steel exterior and non-stick coating, this rice cooker is a breeze to clean. Plus, the inner pot and all accessories are BPA free and dishwasher safe. And for your safety, the Comfee' Rice Cooker features overheating protection and a cool touch handle.
So you can have peace of mind when using this appliance in your kitchen. This Comfee cooker may be the best deal you can get for so many features. So if you are on a tight budget, this magnificent cooker will cook perfect rice every single time
---
CUCKOO 6-Cup Micom Rice Cooker
What Makes It Catchy
Looking for an easy and delicious way to feed your family of four? This handy appliance has the perfect size for your kitchen counter, and it comes with 11 menu options, so you can cook anything from white and glutinous rice and brown rice to porridge and steam.
Plus, the smart cooking algorithm is designed to automatically cook delicious rice every time, so you can enjoy effortless cooking without any hassle.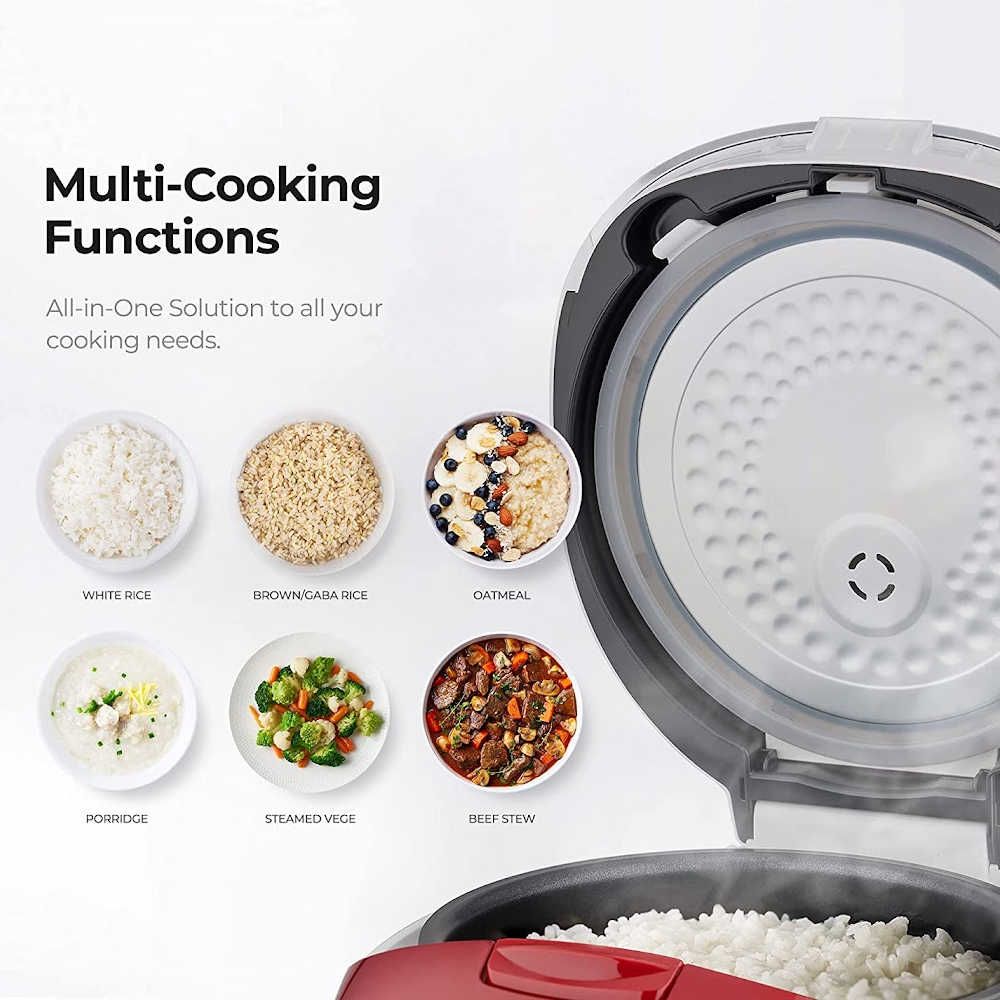 Things In The Spotlight
This amazing appliance - easily one of the best rice cookers in its price range - takes the guesswork out of cooking different types of rice, with 16 pre-programmed settings for a variety of flavors and textures. Whether you're in the mood for sticky sushi rice, sweet rice, or savory rice, the Cuckoo has you covered.
Plus, it's easy to keep clean with the removable nonstick inner pot and detachable inner lid. And for even more convenience, the smart cooking technology will automatically detect food weight and adjust cooking time for perfectly cooked rice every time.
---
Sushi Rice Cooker & Best Rice Cooker FAQs
Sushi is one of those foods that everyone wants to eat at least once a week, but it can be kind of daunting if you've never made it before. If you're thinking about making sushi at home, you're probably wondering what kind of rice cooker you need to make excellent, slightly sticky sushi rice.
Well, wonder no more! Here are the answers to some frequently asked questions about rice cookers fit for sushi rice. Check them out!
Why do people use a separate rice cooker for sushi?
A rice cooker is specifically designed to cook rice grains, and it does a better job of it than an oven or stove. When making sushi, you need to use short grain rice, which is a type of sushi rice that is stickier and more pliable than other kinds of rice. Short grain rice is also less likely to become dry and brittle when cooked.
A regular pot or saucepan can be used to cook white or brown rice, but it will not produce the same results as a dedicated rice cooker. A regular pot or saucepan can also be used to cook rice for sushi, but it's more difficult to get the desired consistency with the kind of sticky rice for sushi.
That's why many people choose to use a separate rice cooker for sushi. The bonus: you can use it for most rice meals.
Can sushi rice be cooked in a rice cooker?
Yes! Cook the sushi rice according to the instructions on your rice cooker. The only difference is that you will use slightly less water than usual, since sushi rice is a little stickier than other types of rice.
When the sushi rice is done cooking, gently fluff it with a rice paddle or fork to loosen it up, and then let it cool slightly before using it in your favorite sushi recipes. Enjoy!
Can I cook sushi rice on a stovetop?
Yes, you can. Before electric rice cookers were invented, people would cook rice on the stove. However, sushi rice is delicate. Cooking rice on the stovetop requires expert skill.
Since the arrival of the rice cooker, and even better, since the development of rice cookers that are made for different types of rice, creating delicate dishes like sushi are can now be made by untrained home cooks.
To this day, in high-end restaurants, say, Michelin-star level, sushi rice is still made on the stovetop. By highly trained and skilled sushi chefs.
What rice cooker do sushi chefs use?
A local sushi chef recommended me the Zojirushi Neuro Fuzzy Logic Rice Cooker. Why? It cooks the rice evenly and consistently.
And as an extra, it has a delay timer so you can start cooking the rice before coming home from work, and it has a keep warm function so the rice is nice and warm when you're ready to eat.
What I also like, is that this Zojirushi cooker comes with a steamer basket, so I can steam vegetables or fish in it as well. This is really helpful if I'm short on time and need to make a quick meal.
Overall, I think the Zojirushi is a great choice for anyone who wants to make excellent sushi rice at home. So, my sushi chef has given me a good advice.
How do sushi restaurants cook rice?
People often ask how sushi restaurants cook rice, as if it's some sort of secret. In reality, cooking sushi rice is not difficult, but there are a few key tips to keep in mind:
When cooking rice for sushi, you want to use a short grain rice. This type of rice is more sticky than medium or long grain rice and will help hold the ingredients together.
You need to rinse the uncooked rice several times before cooking. Rinsing the rice helps remove any excess starch from the grains and makes them less likely to stick together.
You should cook the rice using an equal amount of water to rice by volume. For example, if you have one cup of rice, you would use one cup of water. For plain white rice or brown rice, you'll use more water.
Once the rice is cooked, let it sit for a few minutes before using it in your sushi recipe. This will help the rice to absorb the flavors of the other ingredients and become more pliable.
What is the difference between a regular rice cooker and a sushi rice cooker?
A sushi rice cooker is a rice cooker that is designed to make sushi rice, which is a specific variety of quality rice that is used in making sushi. Sushi rice is a short grain white rice that has been treated with a special type of vinegar before cooking.
A regular rice cooker is meant to make white rice, but it will not produce the same results as a rice cooker that is fit for . Sushi rice cooked in a regular rice cooker will be stickier and more likely to fall apart than sushi rice cooked in a sushi rice cooker.
Should you rinse sushi rice?
Yes, you should rinse sushi rice to remove the starch. Rinsing the rice will help make the sushi rice less sticky and more fluffy.
Starch is a type of carbohydrate that is found in grains such as rice. When the starch is exposed to water, it will dissolve and release a glue-like substance that can make the rice sticky. By rinsing the rice, you are removing most of the starch, which will help make the sushi rice less sticky.
How much water do I add to rice cooker for sushi?
Rice and water, water and rice: it all depends on the type of rice you are using. For short grain (sushi) rice, you will need to add less water than for long grain rice. The ratio of water to rice should be about 1:1 for short grain and 1:5 for long grain.
Different rice may have a different ratio. According to other sources, you should use add enough water above the rice in the cooker so it reaches 2.5 inch above the (medium to long) rice surface. In other words, the amount of water depends on how much rice you cook.
The Sushi Chef: "My general rule for plain white rice: if I need 12 cups of cooked rice, I add 7 cups of water to 6 cups of uncooked rice. So 20 cups of cooked rice, require 12 cups of water with 10 cups of uncooked rice. This ratio has never failed me. However, when cooking sushi rice, if I need 10 cups of cooked sushi rice, I add 5 cups of water to 5 cups of uncooked sushi rice."
Note: If you are using a sushi rice cooker, follow the instructions that come with it; the ratio may differ from the one just mentioned. The size of the rice cooker may play a role, as well as the brand.
When cooking rice for sushi, it is important to rinse the rice multiple times before adding it to the cooker. This helps get rid of any extra starch on the surface of the grains so that they will cook evenly and not stick together. Rinse the rice in a fine mesh sieve under cold running water until the water runs clear.
How much water do I need for 2 cups of sushi rice?
You will need to use 1 cup of water for every 1 cup of raw rice, so 2 cups of water. However, before adding the water to the pot, rinse the rice in a colander several times to remove any dust or impurities.
Once you've rinsed the rice, add it to a pot with 2 cups of water and stir gently. Bring the pot to a boil over high heat, then reduce the heat to low and cover with a lid.
Simmer for around 20 minutes, or until the water has absorbed into the rice. Remove the pot from the heat and let it sit for another five minutes before fluffing the rice with a rice spoon or fork. Serve immediately.
How much vinegar do you put in sushi rice?
Vinegar gives sushi rice a slightly sour, acidic taste and a chewy texture. It should be rice vinegar, but as an alternative you can also try white rice wine. Most people use a ratio of 1 cup of rice to 2 tablespoons of rice vinegar. However, you can add more or less vinegar according to your preference.
How long does sushi rice take in a rice cooker?
It depends on how much rice, and the size of the cooker. It takes about 20-30 minutes for sushi rice to cook in a rice cooker. If you have the right rice cooker: one that is specifically prepared to cook sushi rice, it will automatically turn off when it's done.
Rice cookers have different constraints compared to regular cooking pots, so it is best to check the specific instructions for your machine. If you are making sushi for a party or large group, you may want to consider making the rice ahead of time so that it is ready when you need it.
Can you use jasmine rice for sushi?
Yes, you can use jasmine rice for sushi. It has a light and fluffy texture that is fine for making sushi rolls.
Jasmine rice is also a good choice because it is low in starch and has a delicate flavor. It is available at most grocery stores, and it is quick and easy to prepare. Just be sure to rinse the rice well before cooking to remove any excess starch.
What makes rice sticky for sushi?
The starch in the rice. When water is added to the rice, the starch granules swell and burst, causing a release of glucose which coats the grains of rice and makes them sticky.
Rinsing (washing) the rice before cooking has only one purpose: to get rid of excess starch. But don't worry: there will be enough starch left to make a nice, sticky sushi rice.
What's the best rice cooker for sushi rice?
There are a few things to look for when purchasing a rice cooker for making sushi rice. Rice needs to be cooked well. That is, not undercooked or overcooked. This is particularly true when making rice for sush.
Ideally, the cooker should be able to evenly and consistently cook the rice without sticking or burning. It should also have a tight-fitting lid to help keep the moisture in.
Obviously, the best is a Japanese rice cooker. The earliest electric rice cookers were designed to cook white rice, and sushi rice. Some of the best rice cookers on the market for making rice for sushi include models from Zojirushi, Tiger, and Panasonic.
These brands tend to have great reviews from users and offer features like multiple cooking settings, automatic shut-off, and warm temperatures to help ensure you cook perfect Japanese rice for sushi every time.
Can I use my pressure cooker to cook top quality sushi rice?
In principle, you can. But it's kind of risky. While a pressure cooker can perfectly steam white, fluffy rice, you have to be very careful not to spoil the rice as starch may - literally - fly out of your pan when you open it. Besides, your rice may turn into a kind of rice porridge. So, you better don't.
Is it worth getting an expensive rice cooker?
There are a lot of great reasons to get an expensive rice cooker.
An expensive rice cooker usually has more and better features than a cheaper model. For example, it might have more settings to choose from, or a timer so that you can program it to cook your rice perfectly.
An expensive rice cooker is likely to last longer than a cheaper model. This is because the heating elements in an expensive rice cooker are usually made from high-quality materials that can withstand wear and tear better than cheaper materials.
An expensive rice cooker often looks nicer than a cheap model. So if you're looking for a quality appliance that will add a touch of luxury to your kitchen, then investing in an expensive rice cooker is a good idea. When it comes to sushi rice cookers, you really do get what you pay for.
Can you make sushi rice without rice vinegar?
Yes! And it's actually not that hard to do.
First, you'll need to start with sushi rice. You can find this at most Asian markets, or even online. Make sure to get short-grain rice, as medium- or long-grain rice won't work as well.
Next, rinse the rice several times to get rid of any excess starch. Then, cook the rice according to the package directions. Once it's done cooking, let it cool for a bit.
Now, in a bowl or other container, mix together some sugar and salt. You'll want about 2 tablespoons of sugar and 1 teaspoon of salt for every cup of cooked rice. Add in a little bit of water and stir until the sugar and salt have dissolved.
Pour this mixture over the cooled rice and stir everything together. Now, cover the bowl or container and let it sit for about 30 minutes. This will allow the rice to absorb the flavors of the sugar and salt.
Instead of rice vinegar, try Japanese rice wine. Start with about ¼ cup and then taste the rice. If you like it and want it to be tastier, add in a little bit more rice wine. Once you're happy with the flavor, give the rice a final stir and then it's ready to use in your sushi!
As you can see, it is possible to make sushi rice without rice vinegar. By following the steps above, you'll be able to make a delicious batch of sushi rice that is sure to please your taste buds.
So don't be afraid to experiment and try something new the next time. Also, consider wasabi and soya sauce to add some extra flavor. Be careful: use wasabi in tiny quantities as too much of it suppresses the delicate taste of sushi. And besides, it's not everyone's favorite taste.
What is a "tacook" cooking plate?
A "tacook" cooking plate enables you to simultaneously cook rice and steam a side dish. As you don't need other kitchen equipment, you gain time en spend less energy.
How do you make Michelin-star quality sushi rice?
Making the perfect sushi rice, like you may expect in a Michelin-star restaurant, requires utmost precision and attention to detail.
To start, only the finest Japanese short-grain rice is used. The rice is then cooked using a traditional Japanese method called "mud cooking."
This involves layering the rice with kombu (kelp) and boiling it until the kombu breaks down and infuses the rice with its umami flavor.
After the mud cooking process, the rice is mixed with a vinegar mixture that includes sugar and salt. The ratio of vinegar to sugar to salt is crucial in achieving that perfect sushi flavor, and takes years of practice to master.
Once mixed, the sushi rice is formed into small balls or ovals using wet hands, and then it is ready to be used in sushi.
As you can see, making Michelin-starred sushi rice is not a simple task. It requires years of practice and a keen attention to detail. But the end result is definitely worth the effort!
The Best Sushi Rice Cooker For You
Which one of these 6 picks is your favorite? No matter which option you choose, we hope that this post has given you a better idea of what to look for when shopping for your own sushi rice cooker.






Be sure to check out some of our other posts on kitchen appliances before making your final decision!
Thank you for reading!
Catchy Finds