If you're looking for a great way to get your daily dose of fresh citrus juice, without having to peel citrus fruit, then you should definitely consider investing in an electric citrus juicer.
These handy little electric models make it easy to extract all the fresh juice from citrus fruit like oranges, lemons, limes, and grapefruits.
Not only are these convenient, but electric juicers also produce a higher amount of juice than traditional, handheld or manual juicers.
In this blog post, we will take a look at some of the best citrus juicers on the market and help you decide which one is right for you!
How We Spotlight Best Citrus Juicers
When it comes to the best citrus juicers, there are dozens of brands and models to choose from. It may be tough to figure out which one is ideal for you without spending hours researching. We conducted the study and spotlighted the top 5 best electric juicers for you. Check them out!
👉
We participate in the Amazon Associates Program, if you buy a product with the links that we provide, we may receive a small commission from Amazon. There is NO additional cost to you!
---
Eurolux Electric Citrus Juicer Squeezer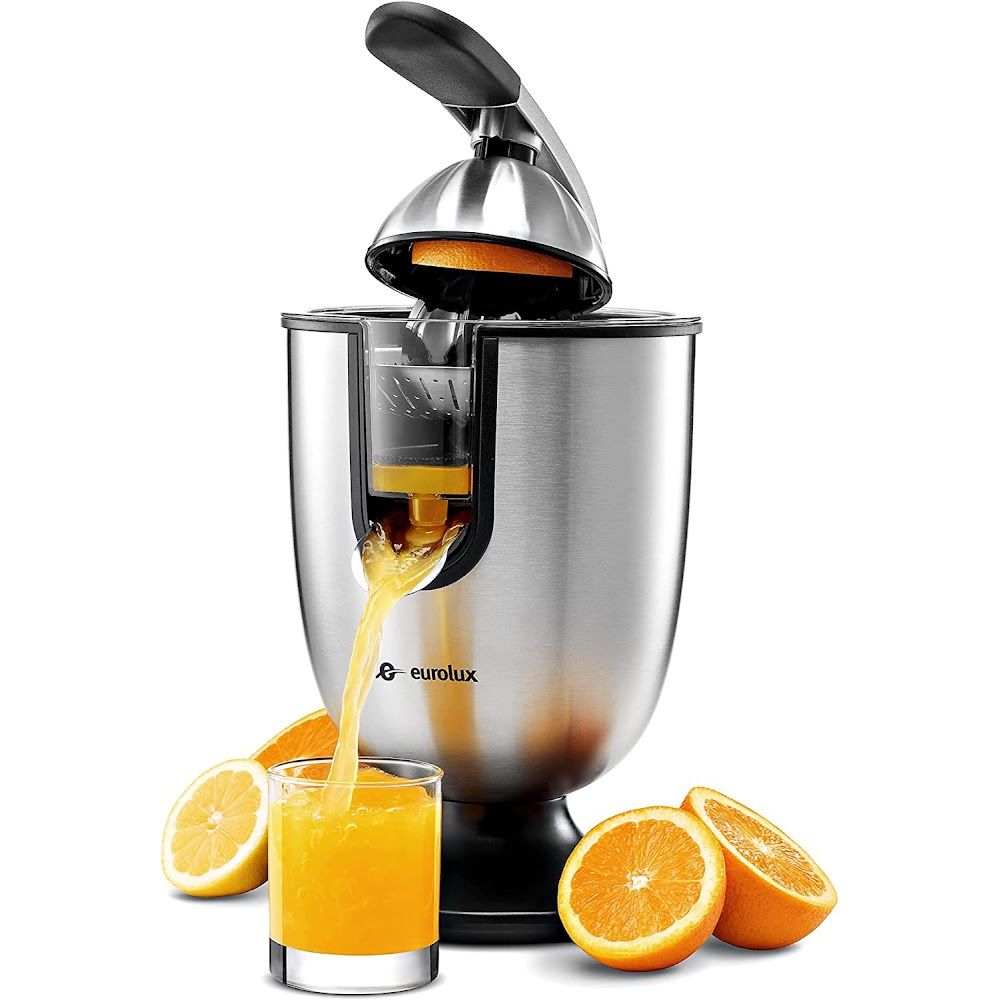 Best Choice For Its Simplicity Of Use
Eurolux Electric Citrus Juicer Squeezer
BUY IT ON AMAZON
What Makes It Catchy
This smartly designed juicer has a one-size-fits-all cone that secures any fruit in place, ensuring versatility and preventing any messy squeezing. Whether you're juicing oranges, lemons, or limes, the Eurolux Citrus Juicer is up to the task. Its sleek design and stainless steel construction make it a handsome addition to any kitchen.
This handy kitchen appliance is specifically designed to make juicing a breeze. Simply place your fruit on the juicer's cone, press down, and let the machine do the rest. The built-in filter ensures that you'll always get a seedless, fresh juice with no hassle.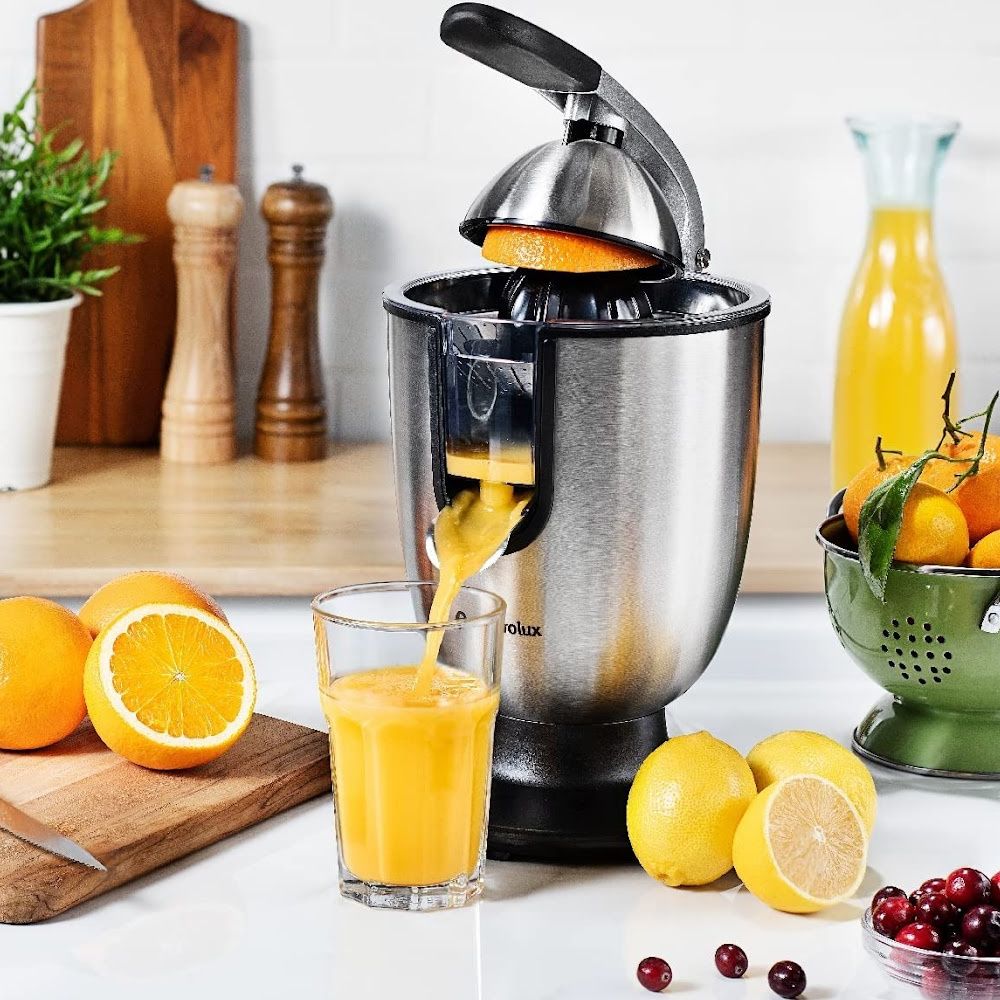 Things In The Spotlight
This citrus juicer features a soft grip rubber handle press that only requires a minimal amount of pressure to start the automatic juicing process. The device's handle must be pressed down to start it, and then released to cease operation. An auto-on/off function is included.
The Eurolux electric juicer uses a new and improved motor gear that offers a quiet yet powerful juice extraction at only 120 watts. It provides the same exact power as with 160W juicers but is made more energy-efficient and expected to last longer.
Whether you're a busy mom or a professional chef, the Eurolux Citrus Juicer Squeezer is one of the best citrus juicers. A must-have for anyone who loves freshly squeezed citrus juice.
---
Cuisinart Pulp Control Citrus Juicer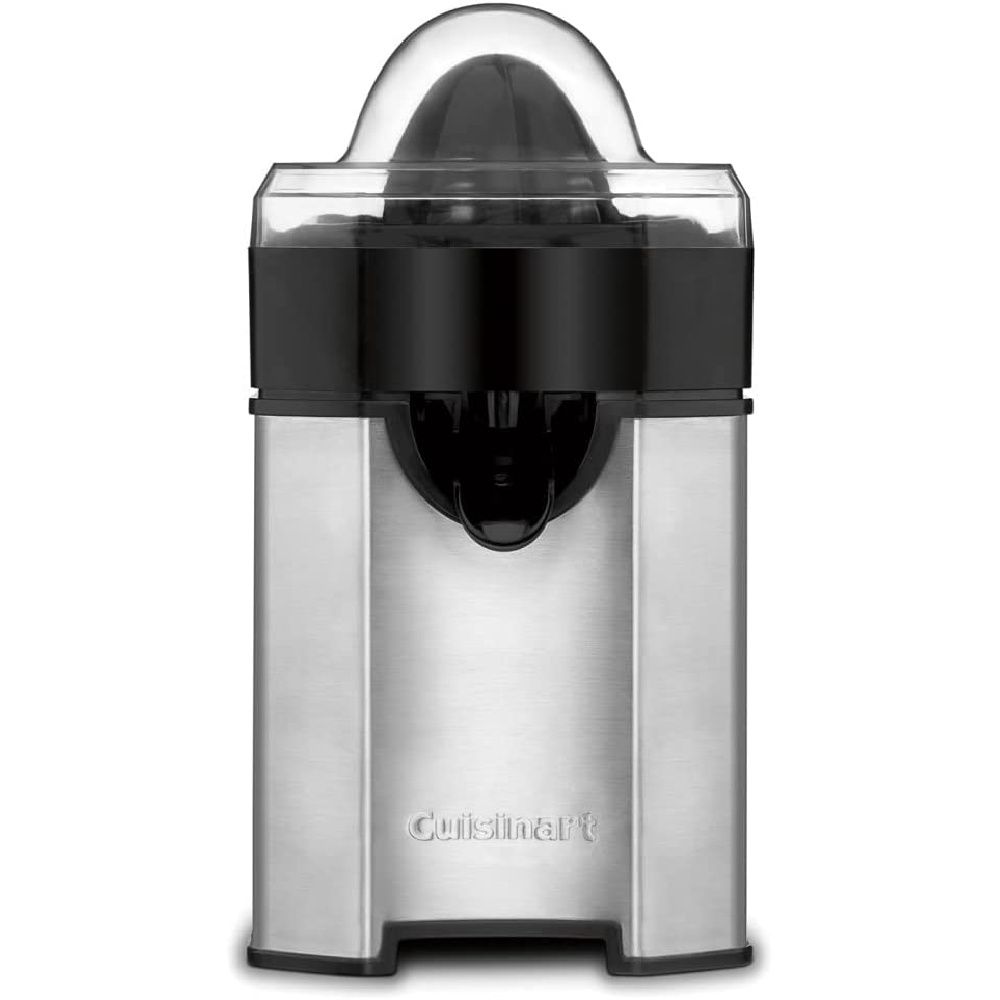 Best Choice For Its Efficiency
Cuisinart Pulp Control Citrus Juicer
BUY IT ON AMAZON
What Makes It Catchy
Looking for a citrus juicer that can handle small limes to larger fruits like grapefruit and every citrus fruit in between? Cuisinart has you covered with their Pulp Control Citrus Juicer. Made from sleek brushed stainless steel, this juicer is designed to get the most out of your fruits.
Unlike most juicers, this one features an adjustable reamer with three pulp control settings – low, medium, and high – so you can customize how much pulp you want to mix with your juice. The auto-reversing juicing cones ensures efficient juicing and increases the juice produced.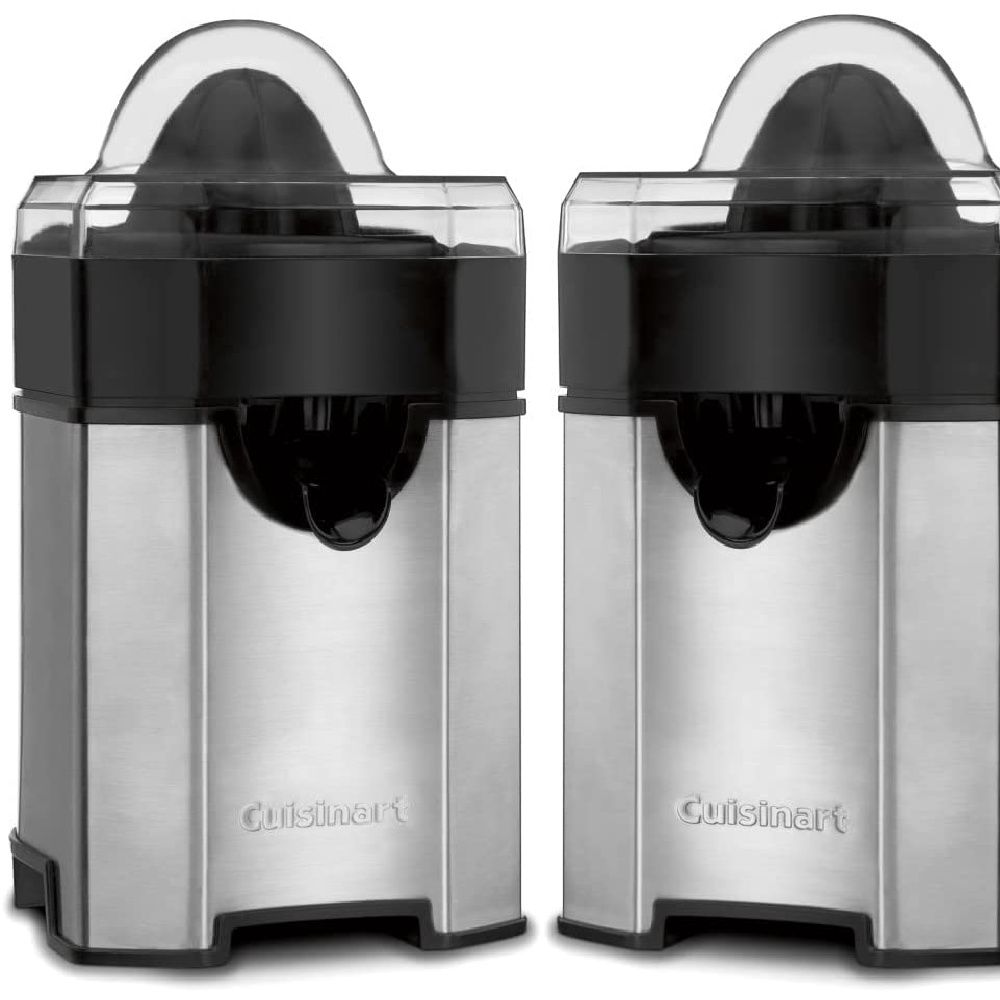 Things In The Spotlight
The easy-to-use design makes juicing a breeze - simply place your fruit on the reamer and press down to start extracting the juice. The built-in reservoir collects the juice as it is being extracted, so you can easily fill up glasses or pitchers. When you're finished, simply rinse off the parts that come into contact with fruit - it's that easy to clean!
This handy appliance comes with a final-spin feature that extracts more juice from pulp. The auto reversing cone and an extra-long snap-up spout that accommodates more glasses and prevents drippings.
It is designed for easy cord storage. The dishwasher safe parts make cleanup a breeze. Add a Cuisinart Juicer with its pulp control feature to your kitchen today and enjoy fresh-squeezed orange, lemon or grapefruit juice anytime! One of the best juicers with features other electric models and manual juicers don't have.
---
LUUKMONDE Electric Citrus Juicer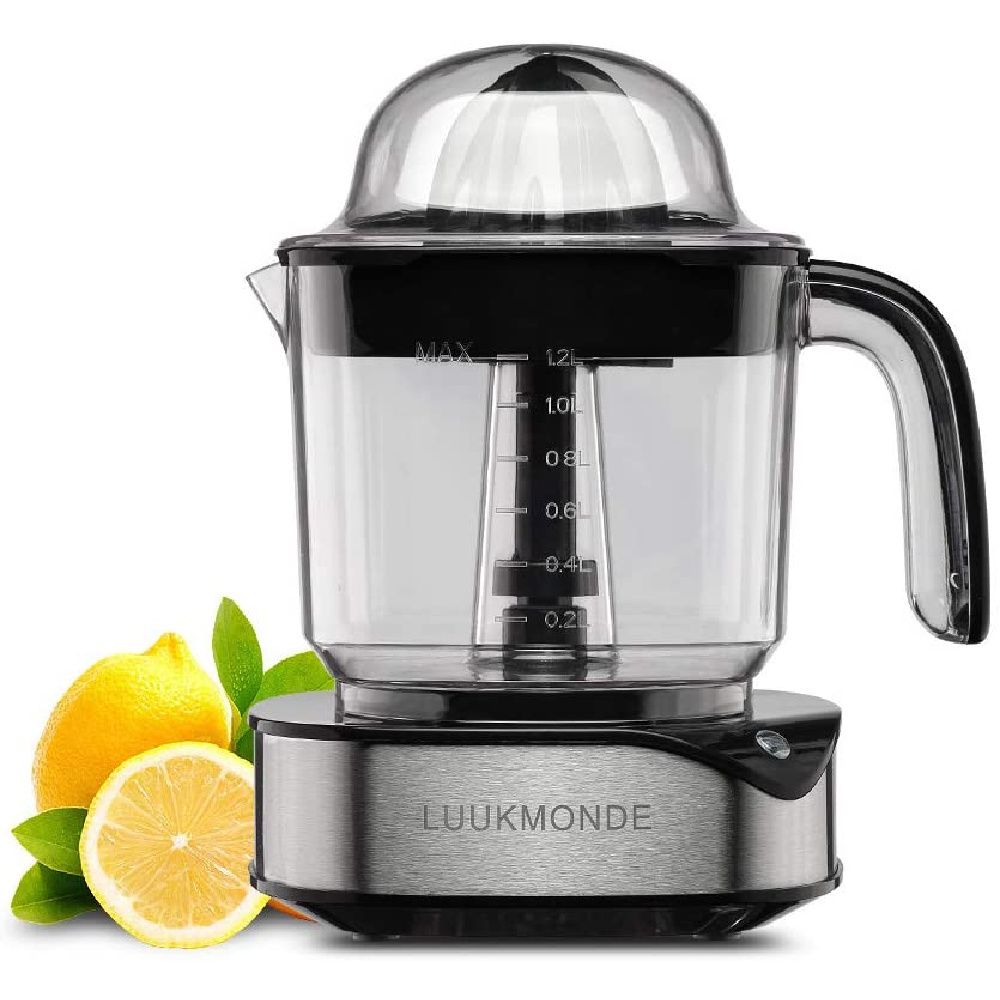 Best Choice For Being Budget-Friendly
LUUKMONDE Electric Citrus Juicer
BUY IT ON AMAZON
What Makes It Catchy
This simple yet effective juicer will let you press your oranges to extract the most delicious, nutritious, fresh juices from lemons, oranges, and larger citrus fruits like grapefruit.
The slow speed motor won't heat up the juice, preserving all of the vitamins, enzymes and other nutrients for a pure, tasty experience. Plus, the powerful motor and stable base make this juicer incredibly easy to use with very little noise or movement.
And with its stainless steel exterior trim and clear indicator LED light, it's sure to add a touch of style to your kitchen countertop. So start squeezing with the LUUKMONDE citrus juicer today!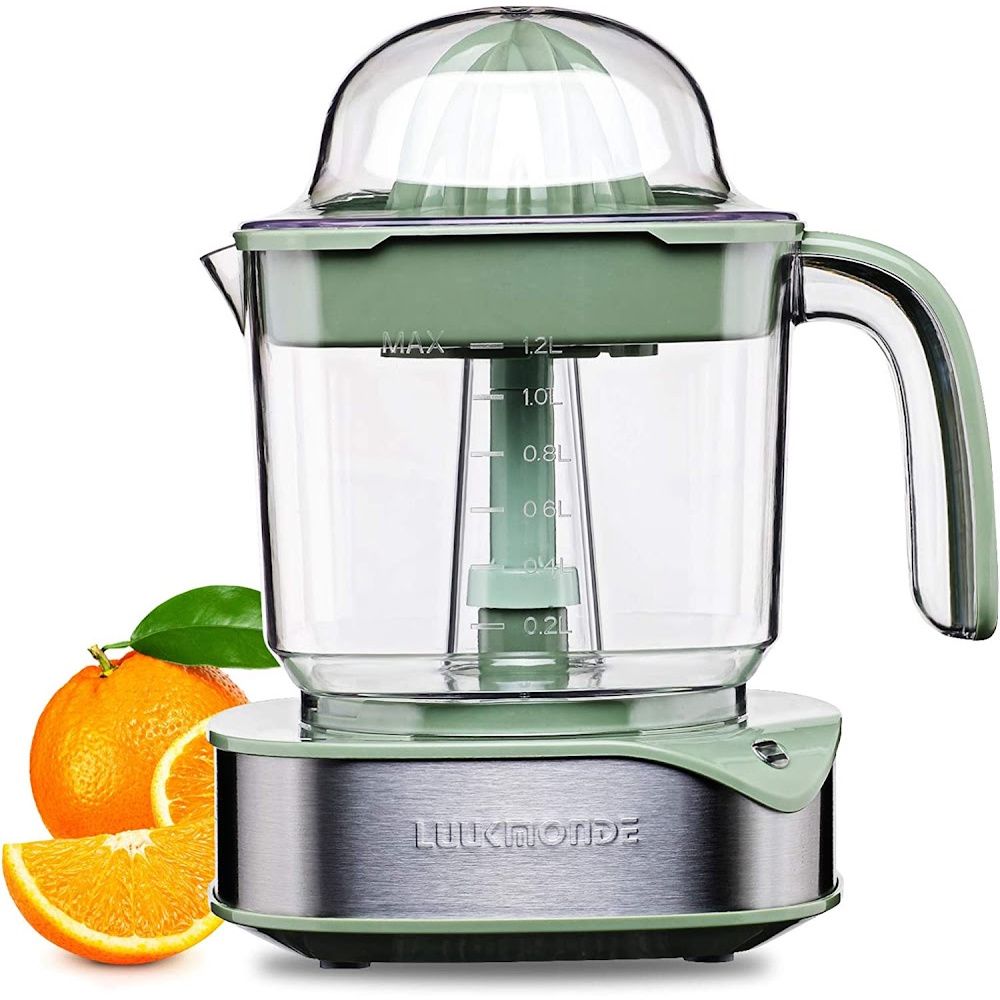 Things In The Spotlight
This powerful machine comes with a large 1.2L transparent jug for large quantities and amount of juice with measure markings, making it perfect for large families or parties. The protective cover keeps dust out, ensuring that your juice is always fresh and delicious.
Simply place your fruit on one of the two included cones (one big, one small), press down, and let the juicer do its work. In no time at all, you'll have a healthy and refreshing glass of juice to enjoy. Best of all, the juicer's removable parts, including its plastic cover, are detachable and dishwasher safe for quick and minimal effort to cleanup.
Whether you're making a nutritious morning smoothie or a refreshing afternoon spritzer, the LUUKMONDE Citrus Juicer is sure to make light work of even the toughest fruits. And all that for a most affordable price.
---
Breville Citrus Press Pro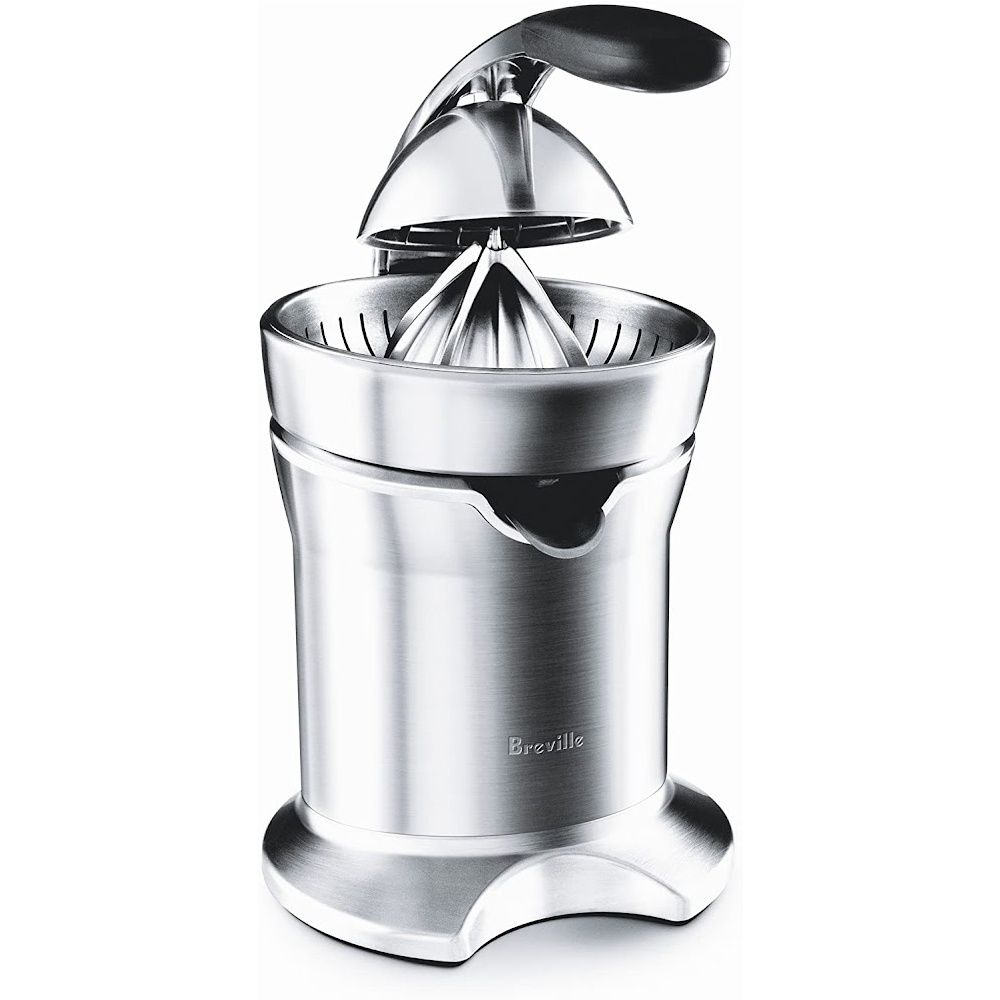 Best Choice For Its Durability
Breville Citrus Press Pro
BUY IT ON AMAZON
What Makes It Catchy
For those who demand the very best in terms of durability and performance, the Breville Citrus Press Pro is the clear choice. This top-of-the-line model is constructed from only the highest quality materials, ensuring years of trouble-free operation.
The active-arm press with power assisted lever makes short work of even the toughest fruits, while the Quadra-Fin acid-resistant cone maximizes juice extraction.
The triple hinged arm ensures downward pressure throughout the juicing process, making sure that every last drop of juice is extracted. This citrus juicer, courtesy Breville, is our top candidate for the title of Best of the Best Citrus Juicers.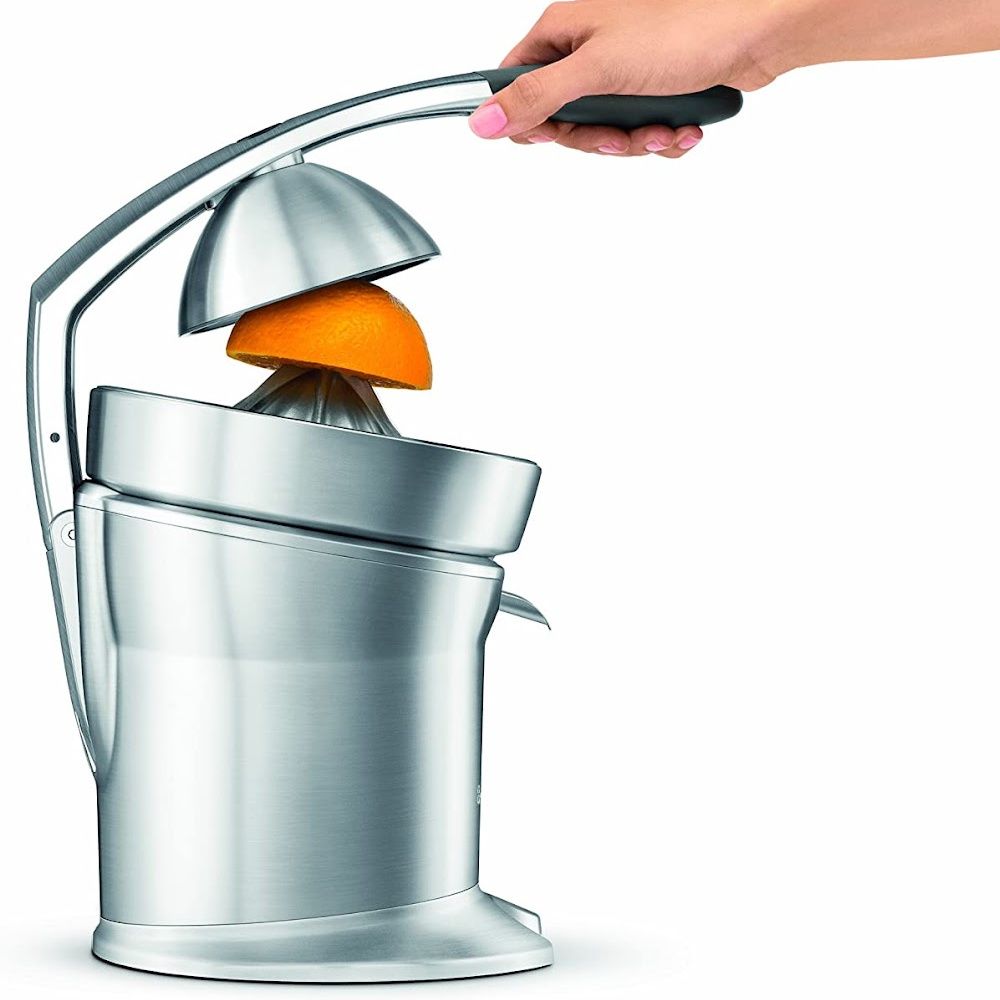 Things In The Spotlight
The unique juicing cone design is finned and undulated to extract maximum juice from all sizes of citrus fruit. And for added convenience, the cone, collector, filter and fruit dome are all dishwasher safe.
The safety switch won't allow the cone to spin until both the arm is lowered and sufficient pressure is placed on the top of the cone. This prevents accidental spillage and ensures that only the freshest, most delicious juice is made.
The Citrus Press Pro also features a convenient drip stop system to avoid spillage onto your countertop. So you can enjoy fresh, healthy juices without any mess. If you're serious about juicing, the Breville Citrus Press Pro is the only way to go. Pro, for sure!
---
CitriStar Tribest Citrus Juicer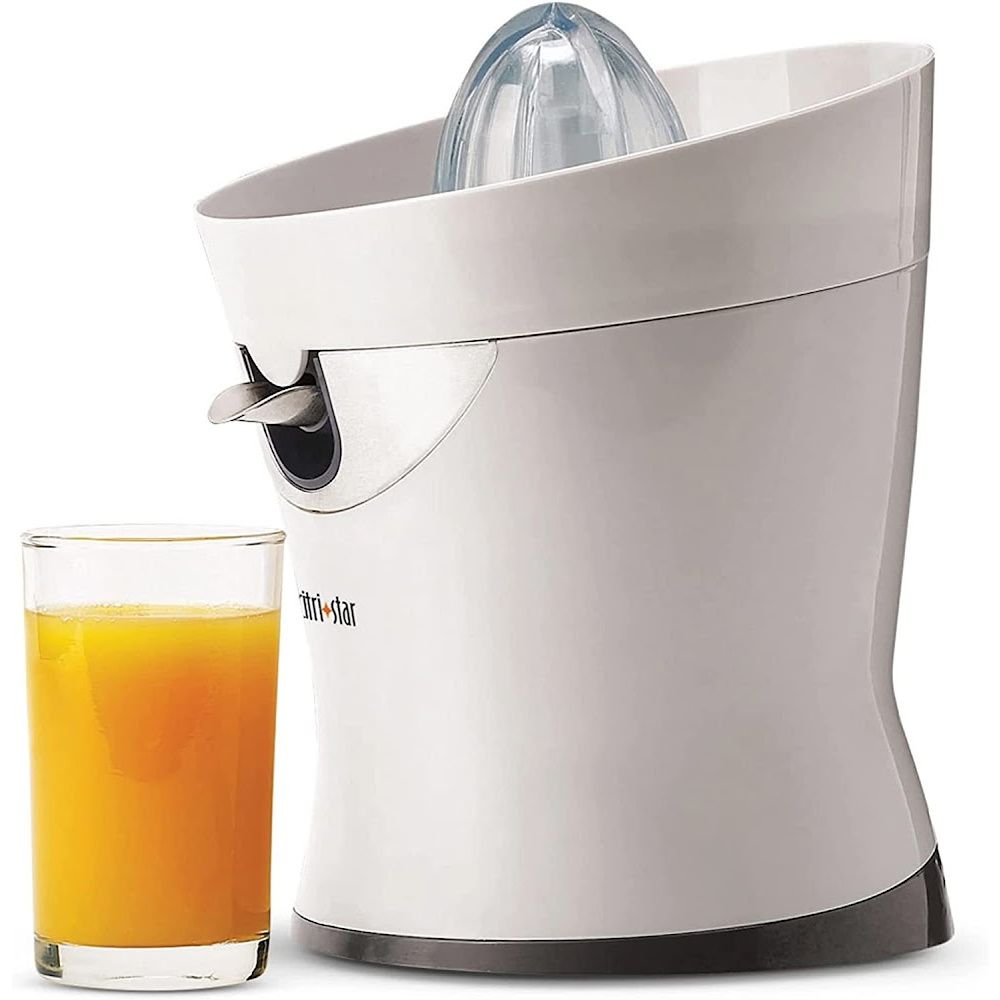 Best Choice For Its Versatility
CitriStar Tribest Citrus Juicer
BUY IT ON AMAZON
What Makes It Catchy
The Tribest CitriStar Citrus Juicer is the perfect way to enjoy fresh, delicious juice at home. With a powerful 50-watt motor, it quickly and easily extracts juice from oranges, grapefruits, lemons, and limes.
The sloped stainless steel high-clearance locking spout prevents clogs and maximizes flow, so you can pour the juice directly into your glass.
The sleek stainless steel and glass finish is sure to complement any kitchen décor. Its the compact design makes it easy to store on your countertop.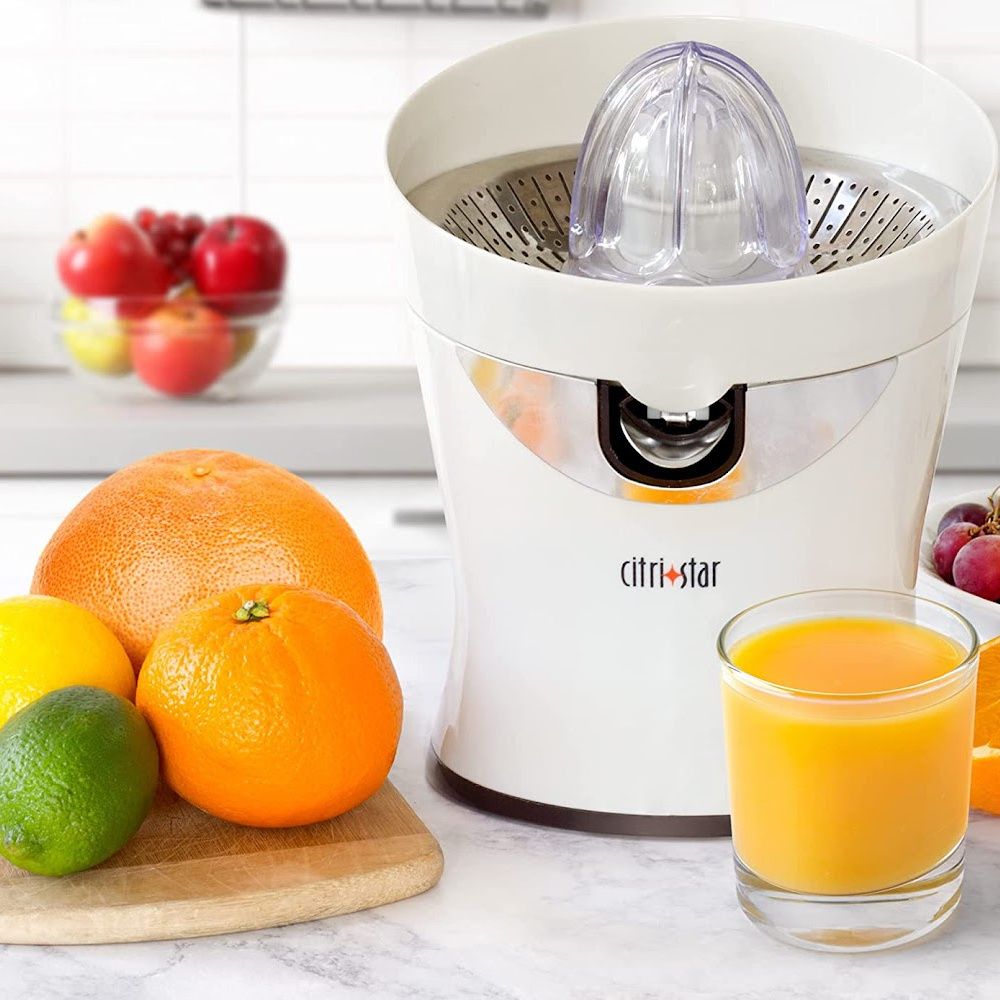 Things In The Spotlight
This top-of-the-line juicer features a locking mechanism that prevents drips, as well as a stainless steel strainer that prevents clogging. It comes with two different sized reams (one for limes and one for grapefruits) to make sure you get the perfect juice every time.
Unlike other electric juicers on the market, the CitriStar Tribest Citrus Juicer doesn't stop when you apply pressure on the ream cap. That means you can juice smoothly and effortlessly - even when your fruits are extra ripe and juicy. With the CitriStar Tribest, you can enjoy fresh, delicious juice anytime.
---
Citrus Juicers FAQs
Trying to find the right citrus juicer for your needs can be hard, because there are so many different brands and models. We've put together this Frequently Asked Questions (FAQs) guide to help you choose the perfect electric citrus juicer for your needs. Read on!
What are the best electric citrus juicers?
There are a lot of different juicers on the market, and it can be hard to decide which one to buy. Here are a few of our favorites:
The Breville Citrus Press Pro is a great option if you're looking for a top-quality juicer. It is designed to extract the most juice from your fruit.
If you're looking for something more affordable, the Luukmonde Electric Citrus Juicer is a great machine. Finally, if you're looking for a versatile, yet affordable juicer, the Cuisinart Pulp Control Citrus Juicer, with its auto reversing cone and pulp control feature, is a great choice.
What is the best juicer for oranges?
If you want a durable juicer that is easy to use and clean, I would recommend the Breville Citrus Press Pro.
My second choice would be the SMEG citrus juicer. Both for its durability and its good looks.
Their only disadvantage is their price. However, think of these as juicers-for-life, and eye-catching yet fabulous gadgets for your kitchen.
Is a citrus juicer worth it?
Yes, a citrus juicer is worth it. A citrus juicer extracts the juice from citrus fruit. It's also easier to make fresh juices with a citrus juicer than with a handheld juicer, and you can use the leftover pulp to make things like muffins or cakes.
Which electric juicer is best?
The best electric citrus juicer is the one that is easiest to use and that extracts the most juice from your fruit. Some models have a strainer that prevents seeds and pulp from entering the juice, while others have an adjustable speed so that you can customize the amount of pulp in your drink.
How do I choose a citrus juicer?
When looking for a citrus juicer, there are a few factors you should consider.
Decide how much juice you will be using the juicer for, and how often. If you are only juicing for yourself or maybe one other person, then a small handheld juicer should do the trick. If you will be juicing more often or for larger quantities, then you may want to invest in a larger electric citrus juicer.
Decide what type of citrus fruit or fruits you will be using most often. Not all citrus juicers are able to juice every type of citrus fruit. Some are specifically made for oranges while others can handle limes, lemons and grapefruits as well. Be sure to pick the right one for your needs.
Think about how easy you want the juicer to be to operate and clean. See if it has dishwasher safe components. Some electric citrus juicers are very simple and easy to use, while others come with more attachments and features. Choose the juicer that is right for you and your needs.
Can I put an orange in a juicer?
It depends on the juicer and the orange. Some juicers simply aren't designed to easily handle citrus fruits, like cold press juicers and even centrifugal juicers. So if you're not sure whether your juicer can handle an orange, it's best to check before you buy.
I recommend a citrus juicer: with very little effort you can have large quantities of juice. The other juicers may take almost no effort to produce juice, but take lots of time and effort to clean.
Can you use a juicer for lemons?
Yes, assuming you have a citrus juicer, you can use it to make lemon juice. Using a different device, such as a cold press juicer or a centrifugal juicer, is possible, but it costs lots more effort (and time). In a citrus juicer the juice will be extracted from the lemon, leaving behind the pulp and seeds.
The juicer will also separate the juice from the fiber, so you'll get a more concentrated lemon juice. This is perfect for making cocktails or adding to recipes that call for lemon juice. Personally, I like to add 1 lemon to 4 or 5 oranges, to produce a juice with a slightly more sour taste.
Can you use a electric juicer for limes?
Yes, you can use a juicer for limes. However, the resulting juice will be more sour than if you used a lime squeezer or zester. You can mix it with orange juice, to pep up its taste.
Remember to check if the citrus juicer comes with two reamers, one for small fruit (like limes and lemons), and one for large fruit (like oranges and grapefruit.
What is the best lemon juicer to buy?
A good lemon juicer to buy is one that is made of durable materials, such as metal or high-quality plastic, and has a large-sized reamer. It's also important to look for a juicer that is easy to operate and clean.
Some popular brands of lemon juicers include Breville, Omega, Hurom. However, there are many other reputable brands on the market that offer good quality products.
Is bottle lemon juice the same as fresh?
No, they are not the same. Bottle lemon juice is confined to a tight, sealed space without any oxygen exposure. This creates a sterile environment that lemon juice doesn't typically encounter in nature. over time, the lack of oxygen causes changes in the make-up of the juice molecules which deteriorating effect on taste and smell.
Bottle lemon juice also differs from fresh because it contains acids and preservatives which make it last much longer on store shelves than if it were fresh-squeezed. This causes the taste of bottled lemon juice to be ore tart and acidic than fresh lemons.
What lemon squeezer do chefs use?
There are a lot of different lemon squeezers on the market. Chefs have their own preferences when it comes to which ones they use. Some squeezers are designed specifically for lemons, while others can be used for other citrus fruits as well.
Some prefer manual lemon squeezers because they say it gives them more control over how much juice is extracted. Others prefer an electric lemon squeezer as they are faster and easier to use.
How many lemons make a cup of juice?
Approximately 1/4 cup of lemon juice is what you get from 1 medium sized lemon. So, it would take approximately 4 lemons to make a cup of juice. Keep in mind that the amount of lemon juice in a lemon can vary depending on the size, how juicy it is and how much you squeeze it. Even with these variations, you would need at least 4 lemons to make a cup of their juice.
What is a masticating juicer?
A masticating juicer, also known as a cold press juicer or gear juicer, is a type of juicer that uses a single auger to process and crush fruits and vegetables into juice.
While centrifugal juicers use a fast-spinning blade to cut produce into tiny pieces, masticating juicers rely on slow - but powerful - gears to mash and press food for the highest possible juice yield with the least amount of health-damaging heat and oxidation.
Masticating juicers are sometimes also referred to as "single auger" or "single gear" juicers. These terms are referring to the fact that there is only one moving part in these types of machines - a large, slowly-turning auger or gear that crushes and presses fruits and vegetables into pulp and then juice.
The benefits of using a masticating juicer are many. For starters, these juicers preserve more nutrients and enzymes than their centrifugal counterparts because they operate at a lower speed and generate less frictional heat.
In addition, masticating juicers are able to juice a wider variety of fruits and vegetables, including leafy greens and wheatgrass - which most centrifugal juicers cannot do. The only disadvantage of a masticating juicer is that it takes some time to properly clean all its parts.
What is a centrifugal juicer?
Centrifugal juicers use a cutting disc: a disc-shaped grater, that tears and shreds ingredients to release their juices. The centrifugal force pushes the juice to the edge of the disc, which is surrounded by a fine mesh wrap.
After juicing, you will need to remove the pulp from this wrap. Centrifugal juicers are fast, but they do require some time and undivided attention to properly clean their parts.
What is better, a juicer or a squeezer?
Juicers and squeezers both have their own unique benefits that can be advantageous depending on what you're looking for. If you want to get the most out of your fruits and vegetables, then a juicer is going to be the better option as it extracts pulp and fiber from the produce which leaves behind vitamins, minerals, and enzymes. This ensures that you're getting all of the nutrients from your fruits and vegetables without any of the filler.
On the other hand, if you're looking for something that's quick and easy with minimal clean-up, then a squeezer is going to be ideal as it doesn't require any chopping or prep work beforehand. Simply place your fruits or vegetables into the squeezer and out comes delicious juice!
Which cold press juicer is best?
There are a lot of excellent cold press juicers on the market these days and it can be hard to decide which one is best for you. I would suggest doing some research to find out which features are most important to you and then reading some reviews to see what others have said about the different models.
Some things you may want to consider are how easy the juicer is to use, how much space it takes up, how many attachments it comes with, and how much juice you can get out of each batch.
A good cold press juicer should be able to handle a variety of fruits and vegetables and extract a lot of juice without heats or nutrients being lost in the process.
Some popular cold press juicers include the Breville Juice Fountain Cold, the Omega J800xl Juicer, and the Hurom HH Elite. All of these juicers are highly rated and come with a variety of features that will make juicing easier and more efficient.
What citrus fruits can be used in an electric citrus juicer?
Most electric citrus juicers are suitable for all types of citrus fruits, such as lemons, limes, oranges, and grapefruits. But in general, most electric citrus juicers come with two or more different sized cones. The smaller cone is meant for lemons and limes while the larger cone can be used for oranges and grapefruits.
In a citrus juicer what material is healthier, plastic or stainless steel?
There is no definitive answer to this question. I haven't found any specific research addressing this issue. So for now, the healthiest material for a citrus juicer largely depends on personal preference.
Some people may find that plastic is less harmful to their health than stainless steel, while others may prefer the taste and texture of juices made with a stainless steel juicer. Ultimately, it's up to the individual to decide which material they believe is healthier for them.
What can you do with the pulp from juicing?
You can make granola-bars and add the pulp, as it contains vitamins and minerals.
Consider making "Pulp-Sicles": I think you get the point.
You can mix it when baking cakes or cookies.
What is the difference between a juicer and a cold press juicer?
A juicer is a kitchen appliance that extracts juice from fruits and vegetables. It can be a citrus juicer (for citrus fruit; manual or electric), or a centrifugal juicer (for fruits and vegetables; electric).
A cold press juicer, also known as a masticating juicer, is a type of electric juicer that uses a slow chewing motion to extract juice from foods.
Cold press juicers do not use blades to chop or shred fruits and vegetables like a blender or a conventional juicer does. Instead, they squeeze or press the produce to extract the juice.
This process preserves more nutrients and results in a higher quality of juice. Masticating juicers also have the ability to make nut milks, baby food, and fresh fruit sorbets.
The Best Citrus Juicer For You
We hope that this blog post has helped you to better understand the different types of citrus juicers on the market and which one will be the best fit for your needs. Which of these five items is your favorite?
If you're looking for more inspiration, be sure to check out other blog posts on our website. Thanks for reading!
Catchy Finds