If you're looking for a delicious and refreshing drink to help you cool down this summer, lemonade is the perfect choice!
Essentially a fruit juicer, lemonade juicer is a great way to get your daily dose of vitamins and minerals. But with all the different models available on the market, how do you know which one is right for you?
In this blog post, we will review some of the best juicers on the market, ready for you to find your perfect ones.
We'll talk about what makes each one unique, and we'll give you our 3 top picks for the best lemonade and fruit juicers, including the electric juicers and manual juice squeezer. Read on!
👉
We participate in the Amazon Associates Program, if you buy a product with the links that we provide, we may receive a small commission from Amazon. There is NO additional cost to you!
Vinci Hands-Free Electric Juicer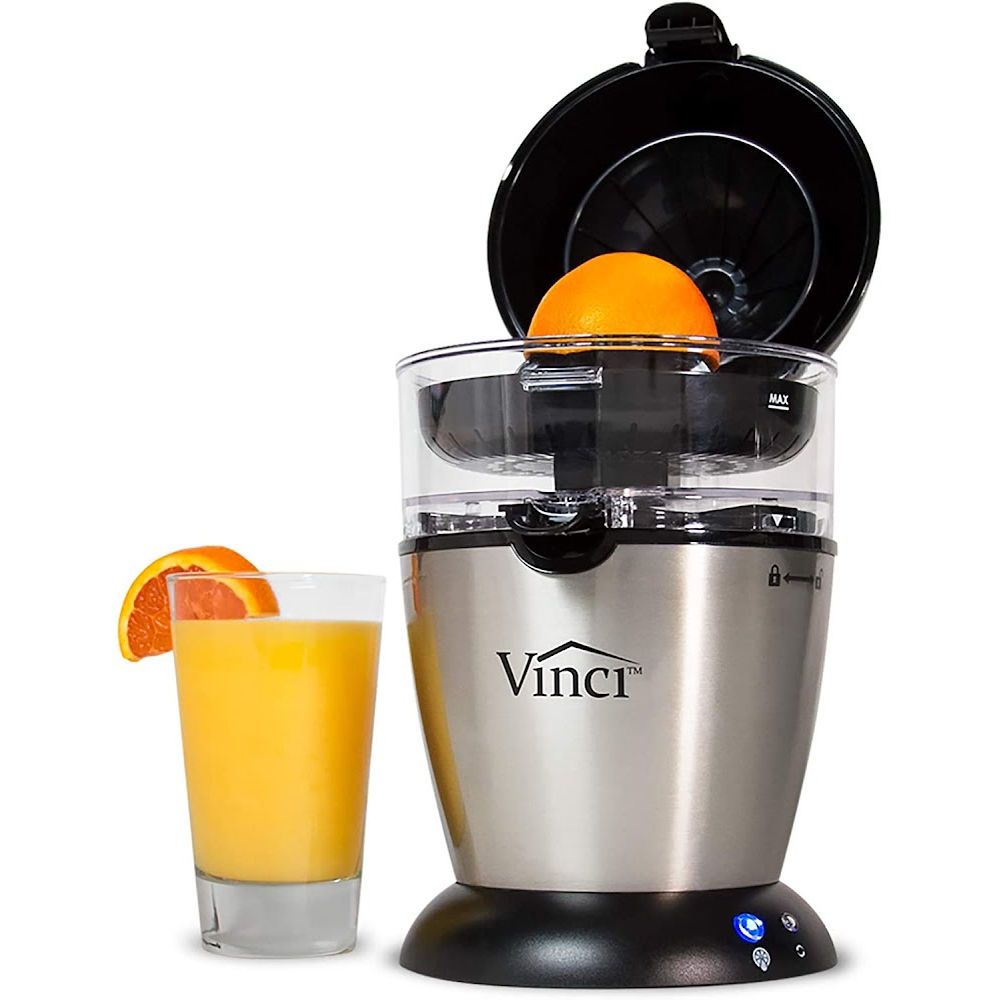 Best Choice For Its Versatility
Vinci Hands-Free Electric Juicer
CHECK PRICE ON AMAZON
What Makes It Catchy
This innovative juicer makes it easier than ever to enjoy fresh, homemade juice. Simply slice your fruit in half, place it on the reamer, and press the juice button. In just 10 seconds, the juicing reamer will automatically raise and extract the freshest juice possible. No need to hold or manually squeeze the fruit – the Vinci Hands-Free Electric Juicer does all the work for you!
With the patented "automatic juicing" mechanism, you'll get all the juice out of your oranges, grapefruits or other citrus fruits with minimal waste. Plus, the sleek and stylish design is sure to complement any kitchen décor.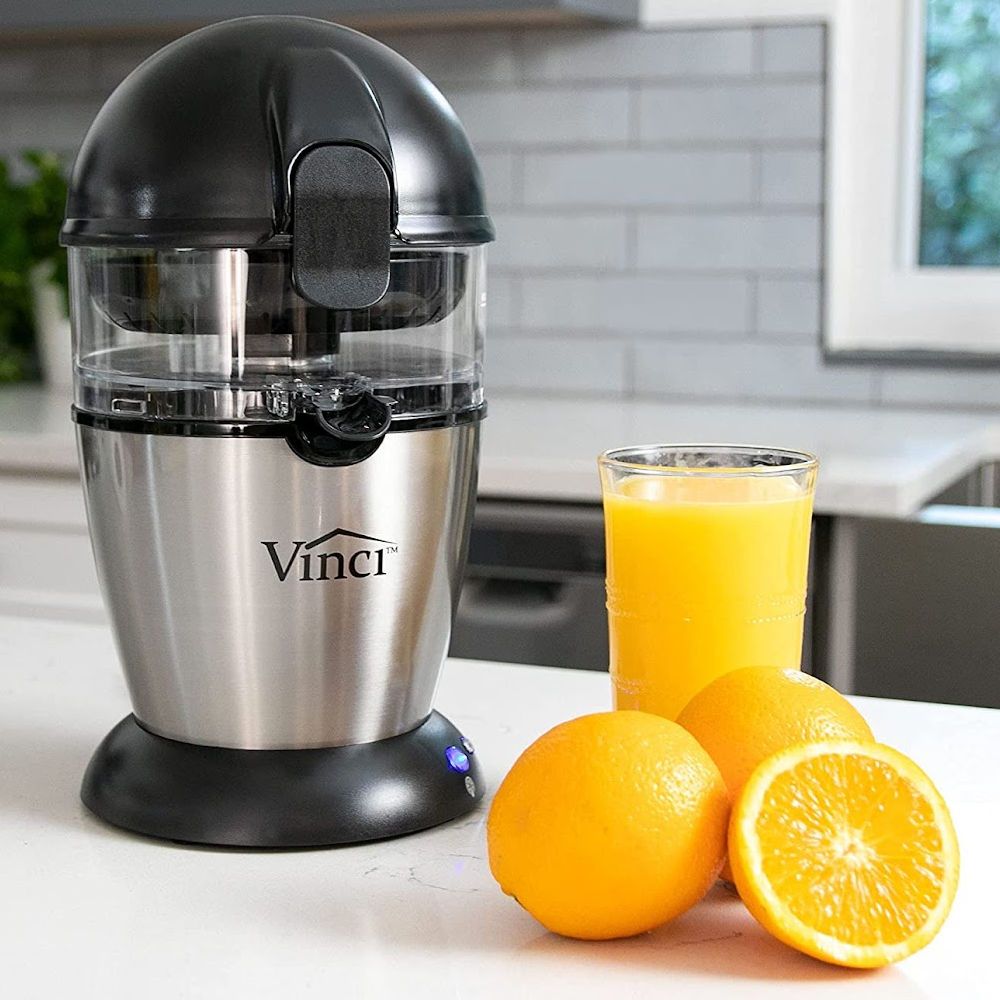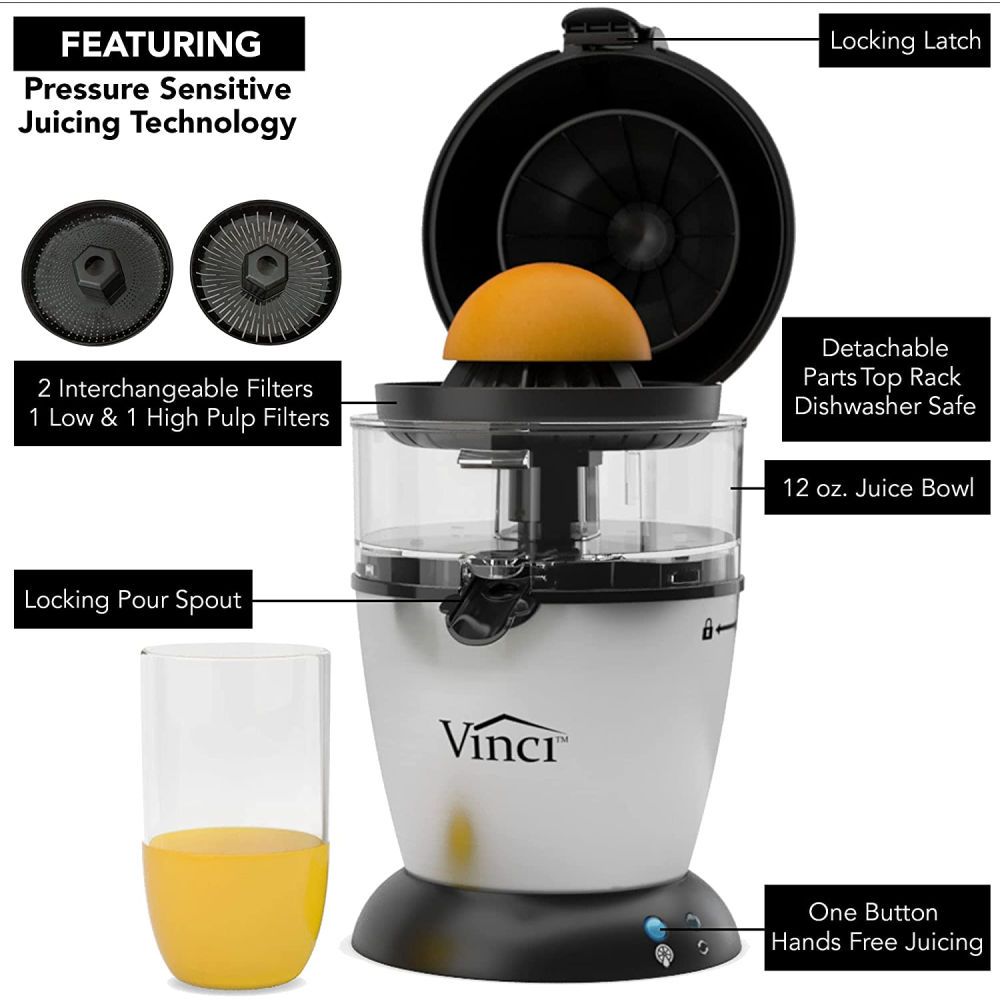 Things In The Spotlight
This juicer features pressure-sensitive juicing technology that automatically senses the thickness of the rind to ensure you always get the best juice with no bitter flavors.
The simple 1-button automated press operation makes juicing much easier than using a regular citrus press, juicers, or handheld juice squeezers. Includes 2 (low + high) interchangeable pulp filters to catch pulp and seeds.
With two pulp filters, a heavy-duty motor, and a large capacity juice reservoir, this quality juicer can handle any citrus fruit you throw at it. Whether you're making healthy drinks, cocktails, recipes, desserts, or marinades, the Vinci Hands-Free Juicer is up to the task. Plus, the removable parts are "top rack" dishwasher safe for easy cleanup.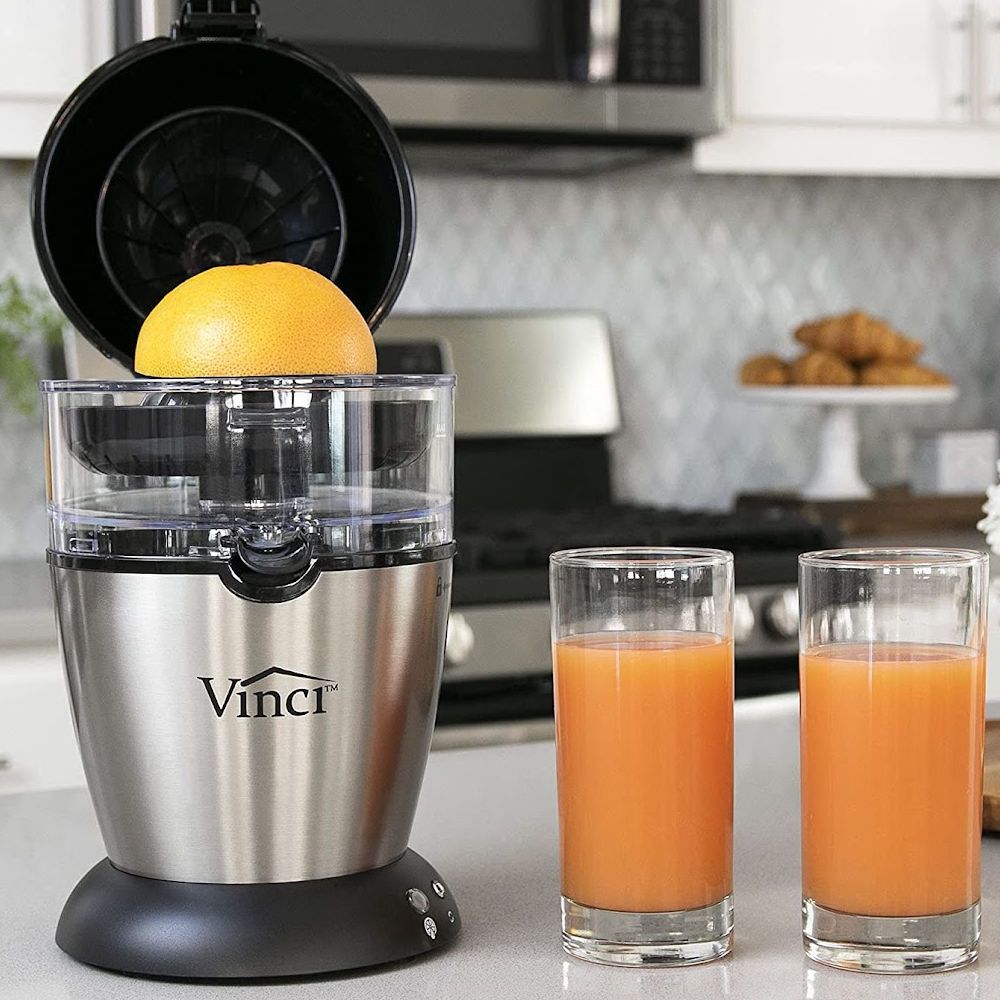 ---
LUUKMONDE Electric Juicer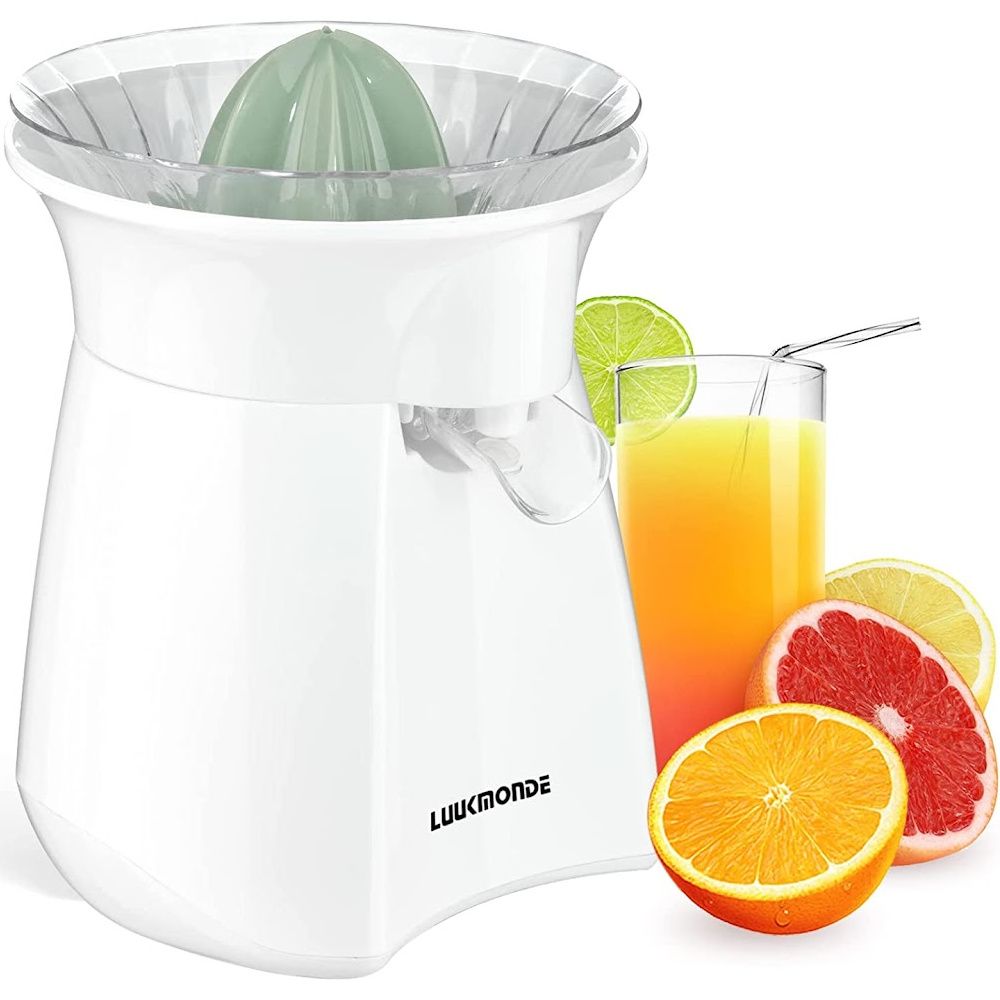 Best Choice For Its Efficiency
LUUKMONDE Electric Juicer
CHECK PRICE ON AMAZON
What Makes It Catchy
This electric squeezer juicer features spinning cones that extract maximum juice and flavor from lemons, oranges and all your favorite citrus fruits. With its unique design, this juicer is see through the juice volume, making it easy to enjoy your favorite juices without any mess.
On top of that, the flower shaped container with filter prevents any splash and keeps all the delicious juice inside. With its easy-to-use design, you can create delicious homemade orange juice and lemonade in no time.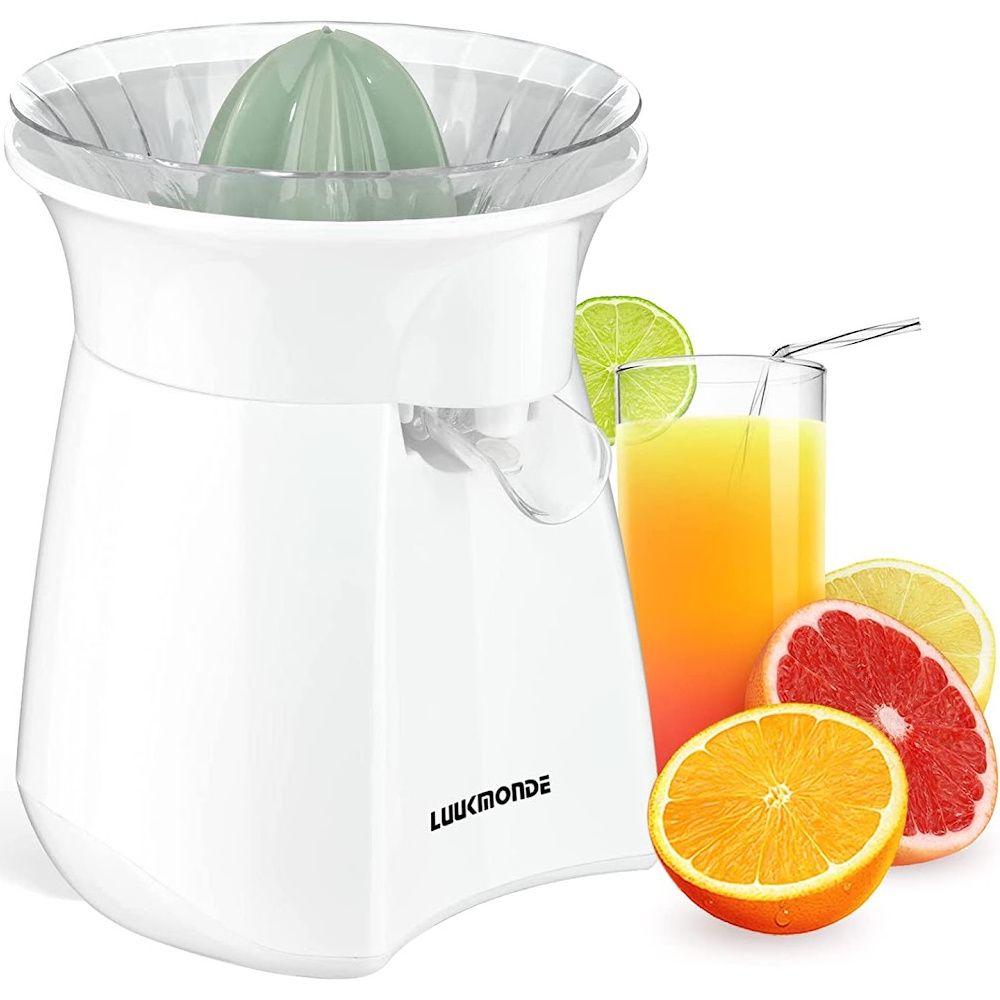 Things In The Spotlight
The LUUKMONDE Electric Juicer is a powerful and quiet, quality juicer that is perfect for those who want to get the most out of their fruits and vegetables.
The 40-watt motor powers large and small juicing cones, and the auto-reverse function helps you get every last drop. The updated gear system makes this juicer quiet and its stable base prevents any swaging during operation. You wouldn't believe its price.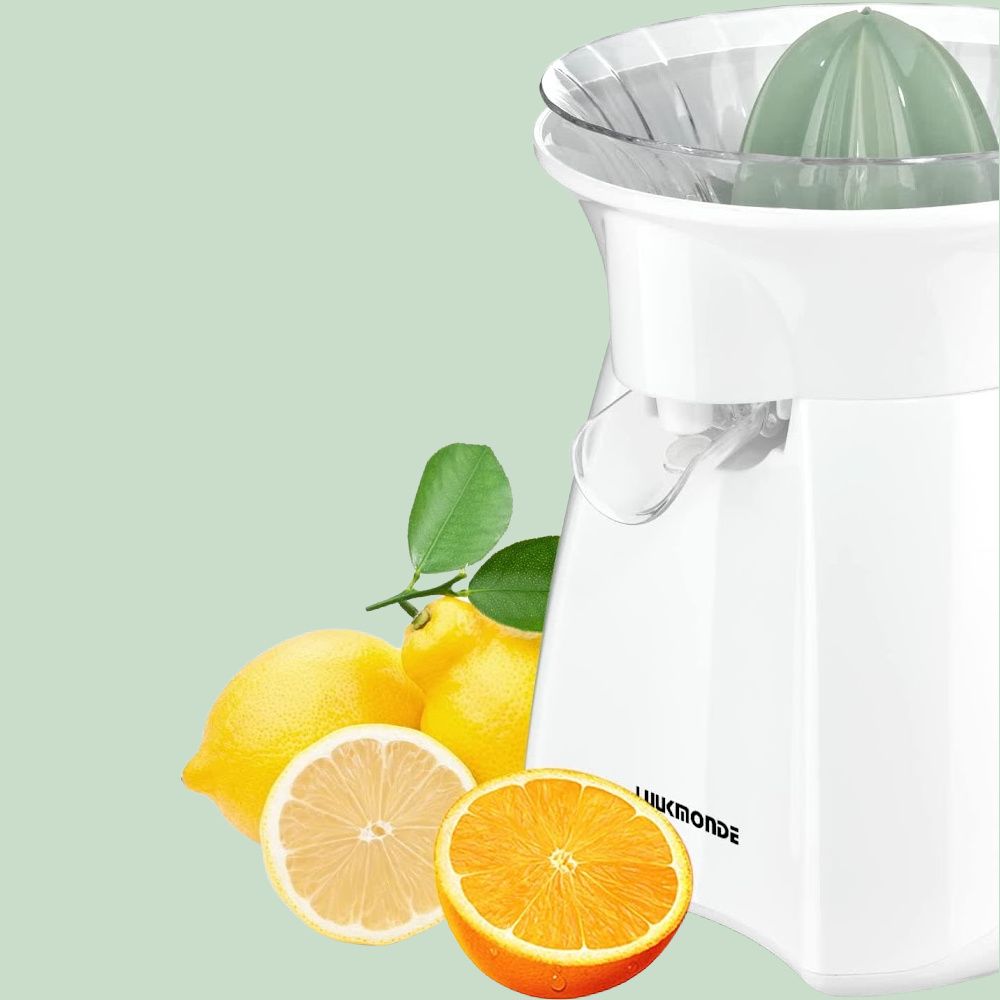 ---
Chef'n FreshForce Lemon Juicer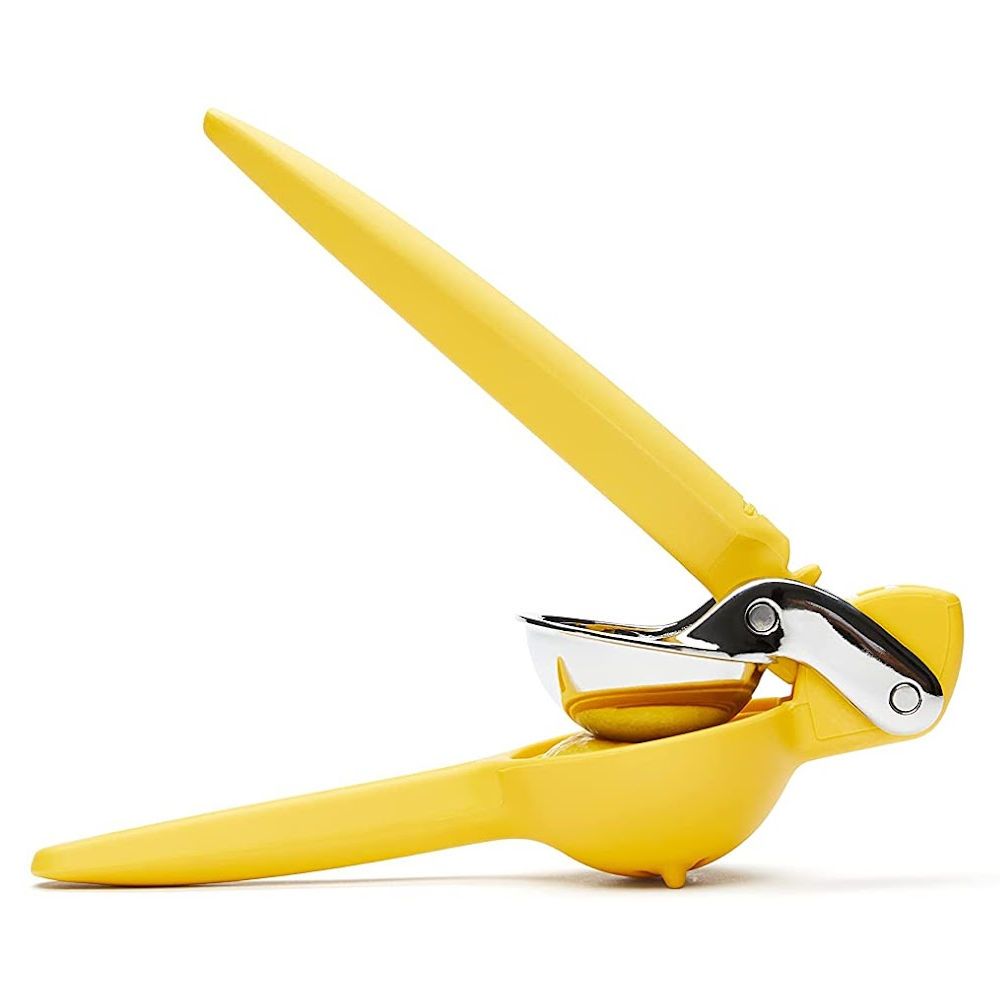 Best Choice For Its Simplicity Of Use
Chef'n FreshForce Lemon Juicer
CHECK PRICE ON AMAZON
What Makes It Catchy
This little hand juicer is easy to use, famous in every country, and gets every last drop of lemon juice with little effort. It delivers 20% more juice than a traditional juicer, thanks to its dual-gear mechanism. It's also much easier on your hands, so you can keep squeezing all day long without getting tired.
Plus, the bright color is sure to add a pop of fun to your kitchen. So go ahead and mix up a batch of fresh lemonade or margaritas, serve them to your friends and family! They'll love it.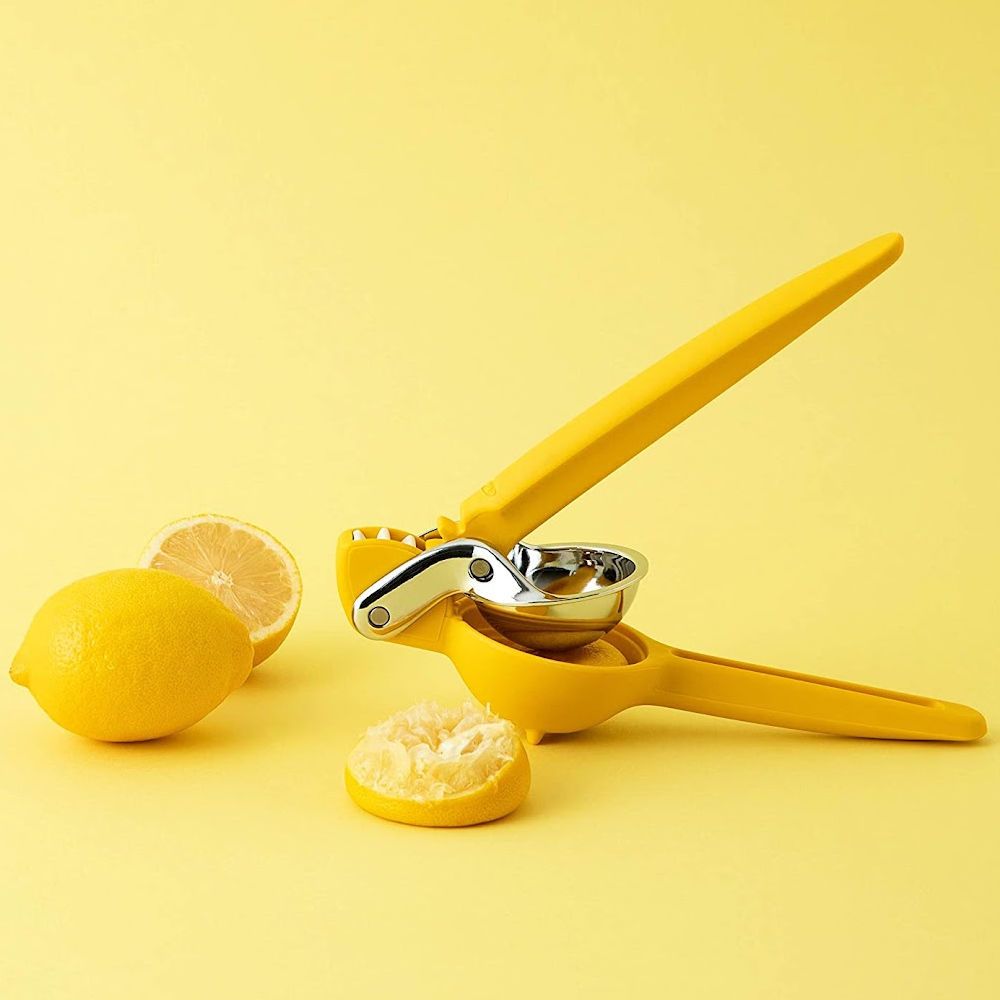 Things In The Spotlight
Durable nylon and stainless steel construction ensures a long lifetime of use that can stand citric acid, while the top rack dishwasher safe feature makes it easy to clean.
This handheld citrus fruit squeezer also works well with limes and other small citrus fruits. Take it out to the country side, on a camping trip. The Chef'n FreshForce Lemon Juicer delivers all the juice and is a perfect tool for your kitchen or bar needs!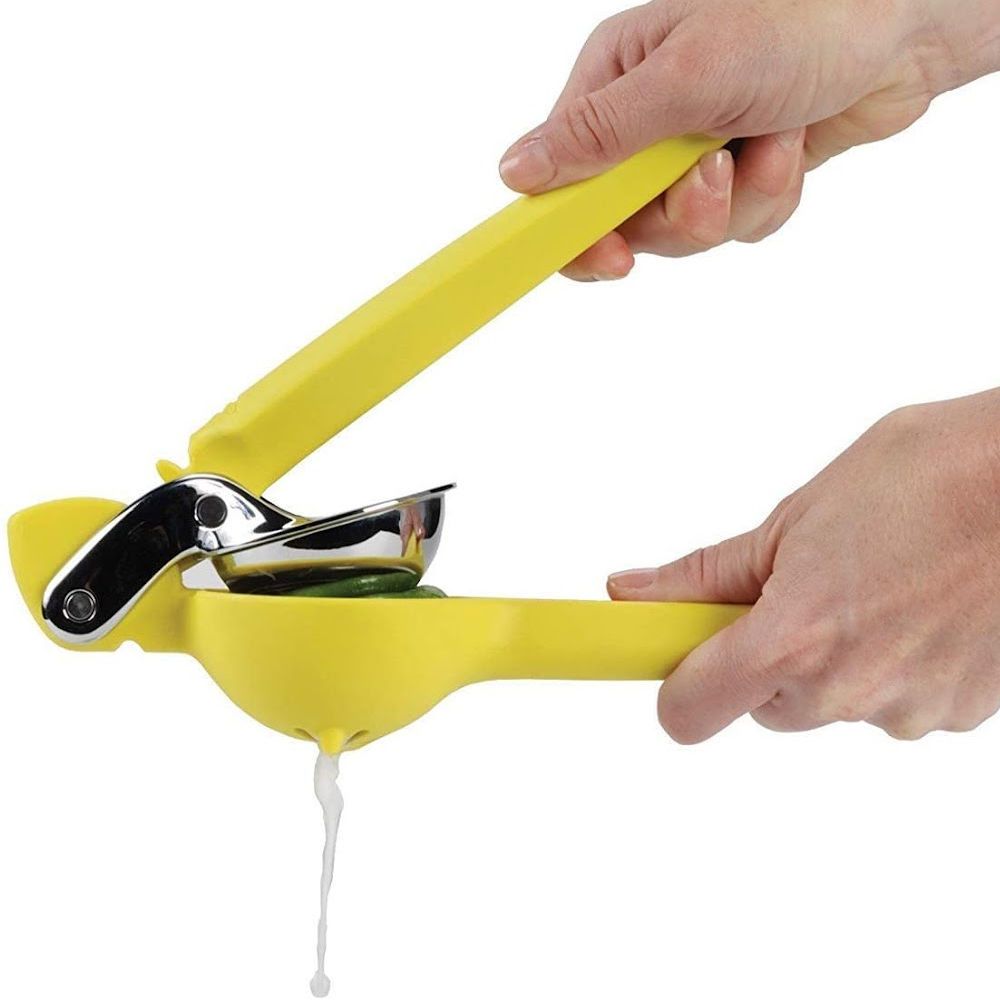 Lemonade Juicers FAQs
If you're conducting a search for a new lemonade juicer, be sure to check out the FAQs page first. You'll find all the information you need to make an informed purchase. Your search may now be over.
Here, you'll get more details about the different types of juicers available, their features, and how they work. You can also find answers to frequently asked questions about manual juice squeezer and electric juicers, such as how to clean them and how much juice they produce. Read on!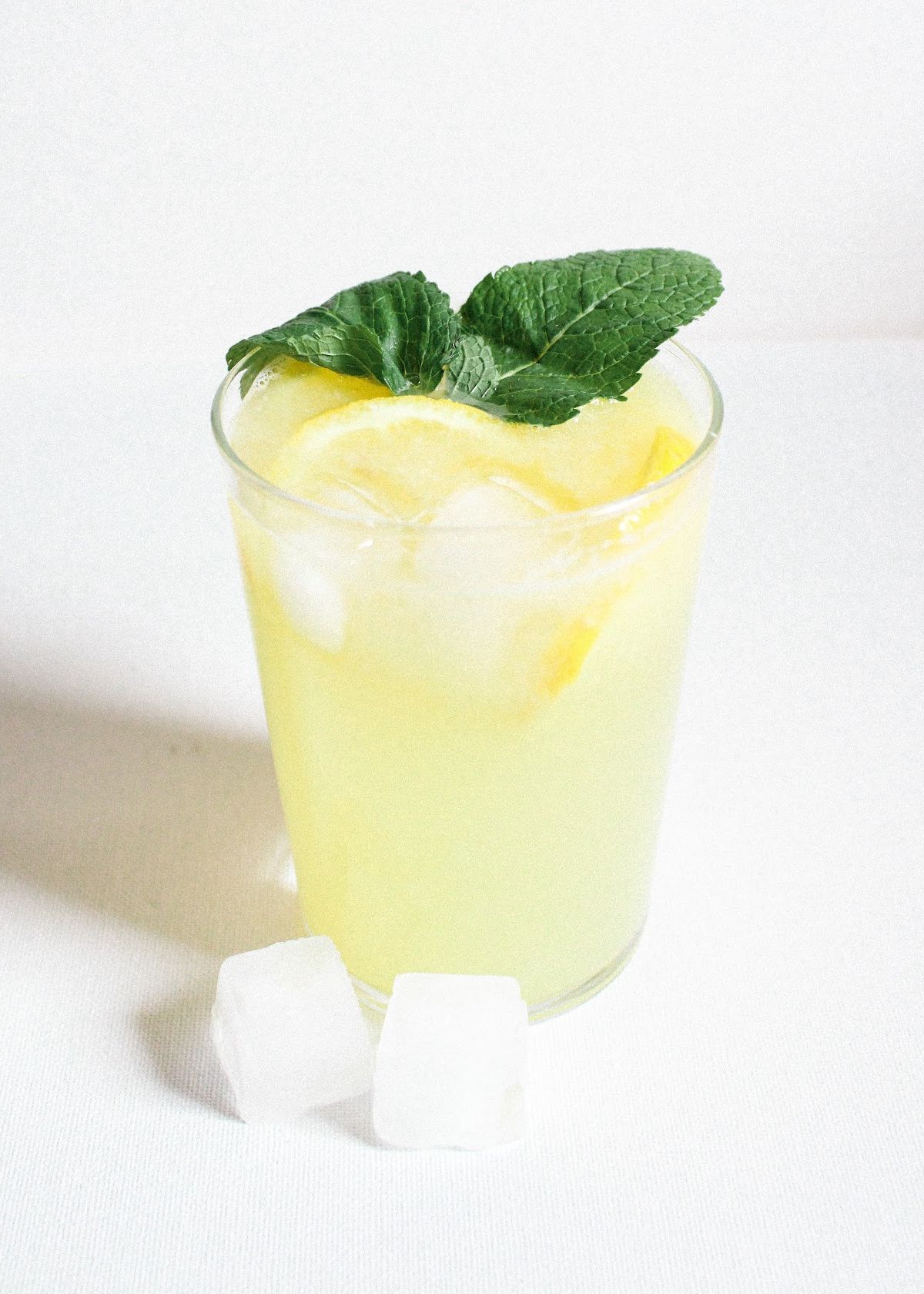 What exactly is lemonade?
Lemonade is a drink typically made from lemon juice, sugar, and water. It can also include ice cubes, iced water, or club soda. In the United States, it is often served as a refreshing non-alcoholic beverage during the summer months. Variations of lemonade include strawberry lemonade and raspberry lemonade.
Do I need a lemonade juicer to make lemonade?
YES! You need a lemonade juicer to make the very best lemonade. A lemonade juicer squeezes every bit of delicious juice from fresh lemons with ease, quickly and efficiently yielding the maximum amount of fresh lemonade. This is the textbook-way for making tasty, great-looking homemade lemonade:
Cut 2 lemons in half with a sharp knife.
With the cut end down, press down on each half to release the flavorful juice inside into the juice catcher below.
Add 1 cup of sugar (or to taste) and stir until the sugar has dissolved.
Add the juice mixture and iced water to a pitcher and stir until the sugar is dissolved.
Garnish with lemon slices and serve over ice cubes.
What can you do with leftover pulp?
One option is to add it back into the juice. This thickens the drink and adds fiber, which can be beneficial if you're juicing for health reasons. You can also use the pulp in smoothies or to make jams and jellies.
Pulp can also be used in baking: you can make muffins, quick breads, and even cookies with pulp leftovers mixed in. It's a great way to add extra nutrition and bulk to recipes.
And finally, don't forget animal food! Pulp can be given to chickens or other small animals as a stable base for their food.
Can you use a juicer to make lemon juice?
Yes, you can absolutely use a juicer for juicing lemon juice! It's actually quite simple to do - all you need is a lemon and a juicer. You can either cut the lemons in half or leave it whole, and put in the juicer and squeeze it.
The lemon juice will come out on one side and the pulp on the other. Remove the seeds. Just strain the pulp out if you don't want it in your final product.
Can you juice a lemon without a juicer?
Yes. For juicing a lemon without a juicer, use a squeezer or a reamer and a cup or glass. Cut the lemon in half so that you have two pieces. Next, use a reamer or a squeezer, apply some pressure and squeeze the lemon halves.
Be sure to collect any juice that drips from the lemon and remove the seeds as you're juicing it. A handheld lemon squeezer is cheap, and works beautifully.
Why put a lemon next to your bed?
There are a few reasons why putting a lemon next to your bed can be beneficial. Lemons are known to have cleansing and purifying properties, so having one near your bed can help to freshen the air and atmosphere in your room.
Additionally, lemons are thought to boost mood and energy levels, so having one nearby can help you to wake up feeling refreshed and revitalized in the morning.
Finally, lemons can also help to relieve stress and promote relaxation, so keeping one close by before bedtime can assist in achieving a good night's sleep. Ultimately, there are many potential benefits to putting a lemon next to your bed – try it and see if it works for you!
How long does homemade lemonade last?
Homemade lemonade will last maximum about 2 days in the fridge. It's best to make it with fresh squeezed lemons to avoid any bacteria growth.
Is it OK to drink lemon water all day?
Yes, it is absolutely fine to drink lemonade all day long. In fact, many people find that doing so has a number of benefits, including helping to improve their digestion, shortening the duration of colds and flus, boosting their immune system and even aiding in weight loss.
Lemon water is also pretty darn delicious (especially if you add a bit of honey or ginger), making it much easier to stay hydrated throughout the day. So go ahead and fill up your cup – your body will thank you for it!
Does lemon water reduce belly fat?
It can help, but it's not a silver bullet.
Lemonade water is a great addition to a healthy diet and exercise routine, but it's not going to magically make your belly fat disappear. In fact, if you're drinking gallons of lemon water every day and still eating unhealthy foods, you're not going to see any results.
Drinking lemon water (or any other citrus fruits) first thing in the morning helps stimulate your digestive system and get things moving. It also helps flush toxins from your body and replenishes your liver with Vitamin C.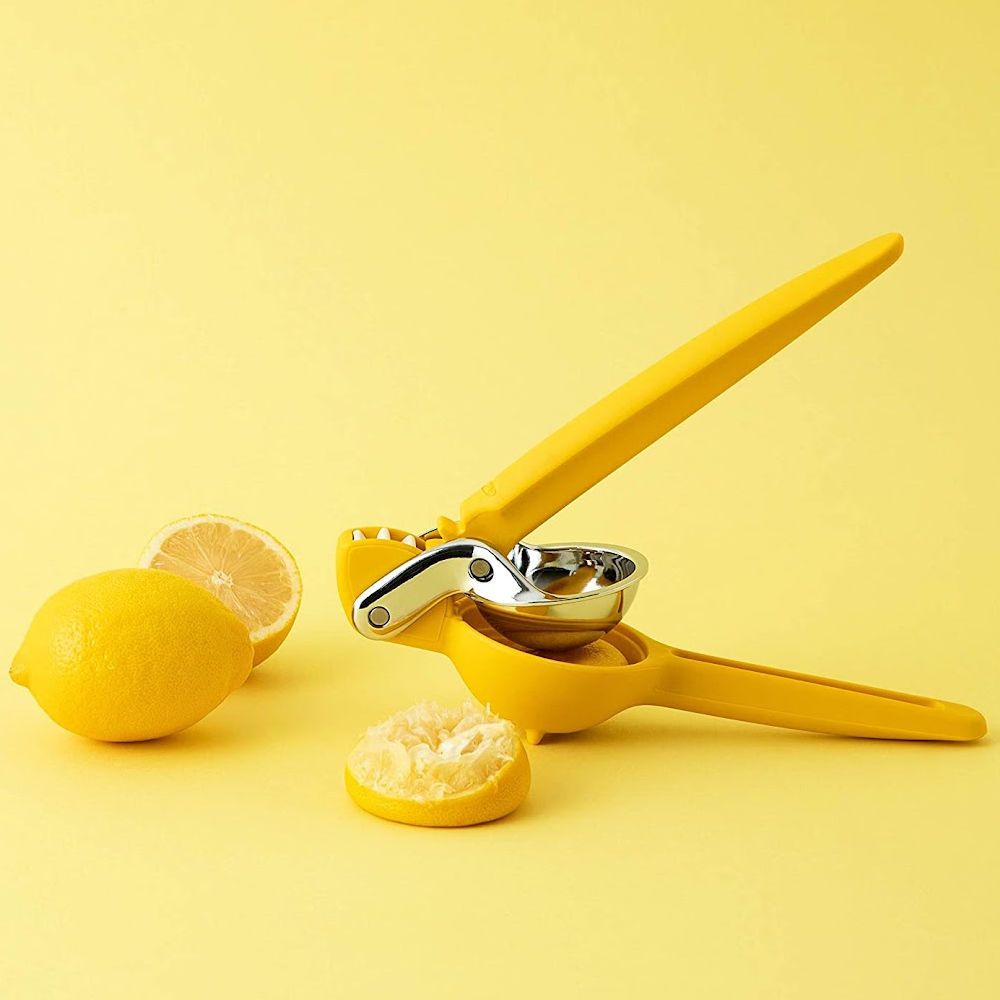 The Best Lemonade Juicer For You
We hope that this blog post has helped you to better understand the different types of lemonade juicers on the market and which one will be the best fit for your needs. Which of these three items is your favorite?
If you're looking for more inspiration, be sure to check out other blog posts on our website. Thanks for reading!
Catchy Finds