If you love to entertain outside and enjoy a nice glass of wine on hot days, then an outdoor wine fridge is the perfect addition to your outdoor space: your outdoor kitchen, deck or garden terrace.
An outdoor wine fridge not only keeps your beverages cool and refreshing but also adds a stylish element to your patio or backyard.
---
Outdoor Beverage Fridges: Buying Guide
The Capacities & Features
Out of 3 outdoor wine coolers we have selected, 2 options feature a kegerator. This allows you to keep both your preferred wines and draft beers chilled for any occasion.
We base our choice on many years of experience entertaining guests (or a customer) in our (sub) tropical environments. Guests who prefer wine, beer, or other cool drinks, including non-alcoholic beverages.
These models can hold 24- 34 wine bottles and a kegerator for draft beers. If you need an outdoor fridge or beverage cooler for different storage use, check out the other 2 articles where we have reviewed:
Why Buy An Outdoor Wine Fridge?
An outdoor wine fridge is the perfect solution for anyone who loves to entertain guests outdoors.
With its separate temperature zones, it allows you to store and display both wine and beer easily.
It looks great in any outdoor kitchen or patio setting and is designed with its stainless steel trim to withstand the elements.
Plus, you can add optional wheels to increase mobility when necessary.
Are Outdoor Wine Fridges Expensive?
The price of an outdoor wine fridge will depend on several factors, such as size, materials, capacity, temperature range, and features (such as a kegerator). Generally speaking, prices can range from $1,800 to $3,000 or higher.
Reason: it requires special materials and features such as stainless steel trim, multiple temperature zones, and in case you want a kegerator, tapping equipment for beer. Be sure to compare models and features to find the best option for your needs.
Can Outdoor Wine Fridges Be Used Indoors?
Outdoor wine fridges can also be used indoors as long as they are in a cool, shady, and well-ventilated area. Our outdoor wine fridges selection come with casters or wheels for easy portability.
Additionally, outdoor wine fridges are designed to withstand extreme temperatures and provide extra protection from sun rays.
So, if you're looking for a wine cooler that can withstand the elements and is versatile to use at any location, an outdoor wine fridge is worth considering. More so, if you want to combine it with a kegerator.
---
Read on to find out which one would be best suited to your individual needs.
👉
We participate in the Amazon Associates Program, if you buy a product with the links that we provide, we may receive a small commission from Amazon. There is NO additional cost to you!
3 PICKS IN THE SPOTLIGHT



---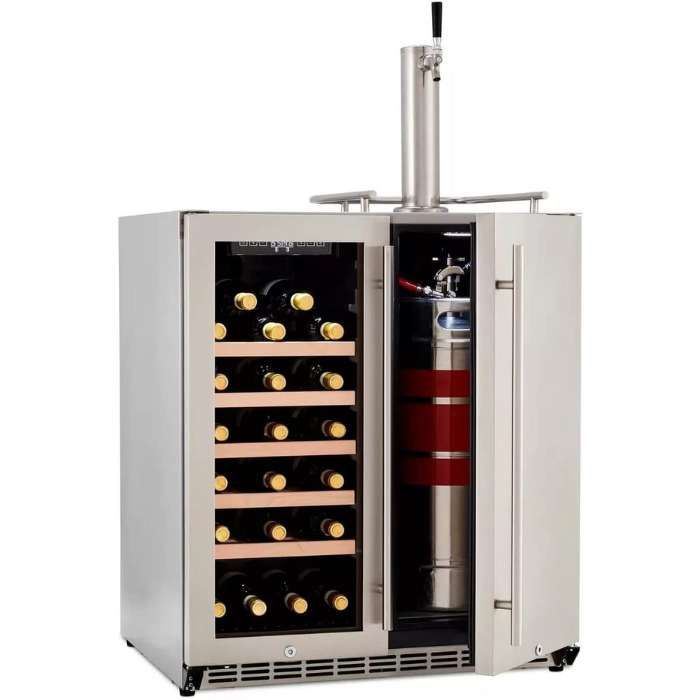 Best In Versatility
CHECK PRICE ON AMAZON
In The Spotlight
The HCK outdoor wine fridge and kegerator is an excellent choice for those looking for a reliable outdoor refrigerator fit for both wines and draft beer. It offers independent temperature zones for both wine and beer as well as all the necessary components to set up a complete draft beer system.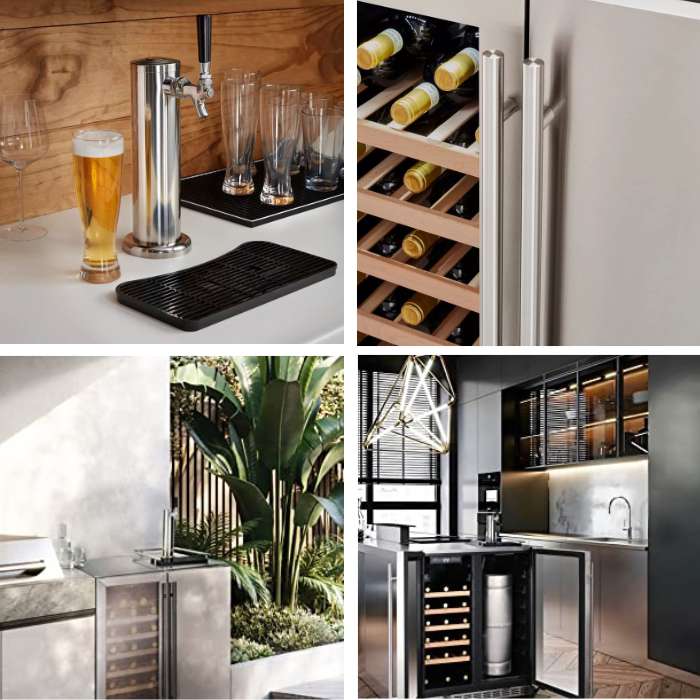 Pros:
Store and keep up to 34 bottles of wine and a standard 5.28 gallon (20 liter) 9.25"x23.23" keg with the HCK Outdoor Wine Cooler and Kegerator. It has an altogether 6.3 cubic feet bottle and keg capacity.
Enjoy customizable temperature settings in a range of 32°-72°F for both wine and beer with the digital LED temperature display on this unit. Note: we recommend 40°-45°F for white or sparkling wine or 60-65 for red wines, and 35°-40° for draft beer.
You can use the wine section to cool sodas and low- or non-alcoholic beverages (0.0-0.2% beers).
Benefit from an eco-friendly R600a/ 0.78 oz refrigerant that doesn't destroy the ozone layer or result in contributing to a greenhouse effect.
Enjoy easy setup and use of this fridge thanks to its stainless steel draft arm assembly, CO2 tank regulator, CO2 tank (empty), CO2 gas lines, and drip tray.
Easy transport between outdoor to indoors with its 4 omni-directional casters, and keep it stable with the 2 lockable front casters.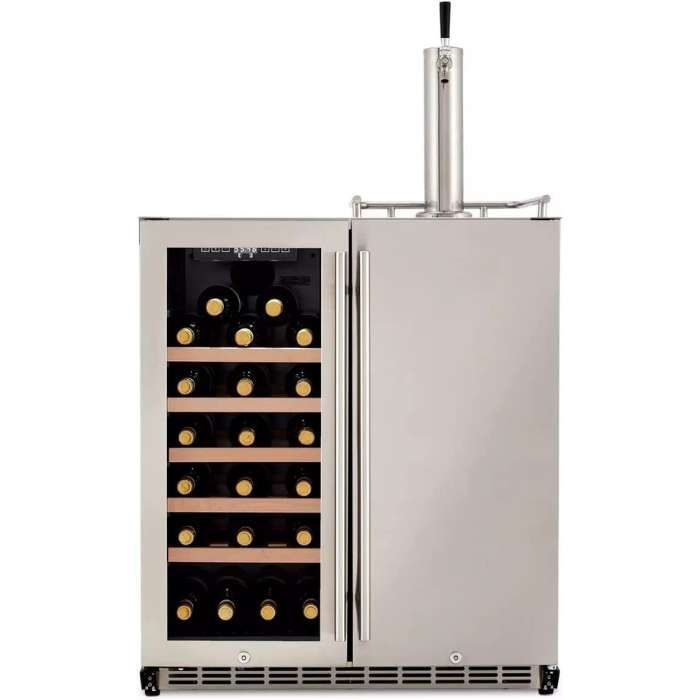 Cons:
This unit is not designed to be used outdoors in extreme weather conditions.
Not suitable for larger keg sizes.
Installation may require professional assistance.
Product Specs:
Product Dimensions: 28.3"D x 34.4"W x 36.9"H
Capacity: 6.3 Cubic Inches
Configuration: Freezerless
Installation Type: Freestanding
Defrost System: Automatic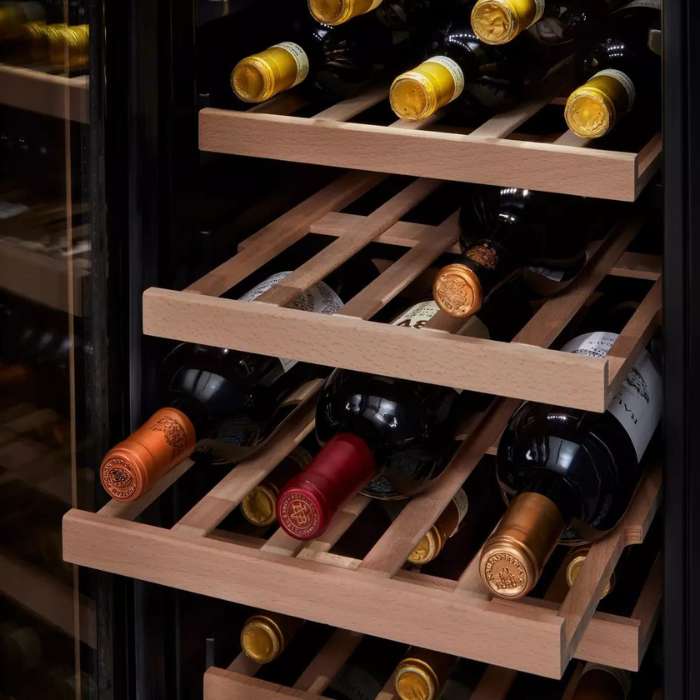 ---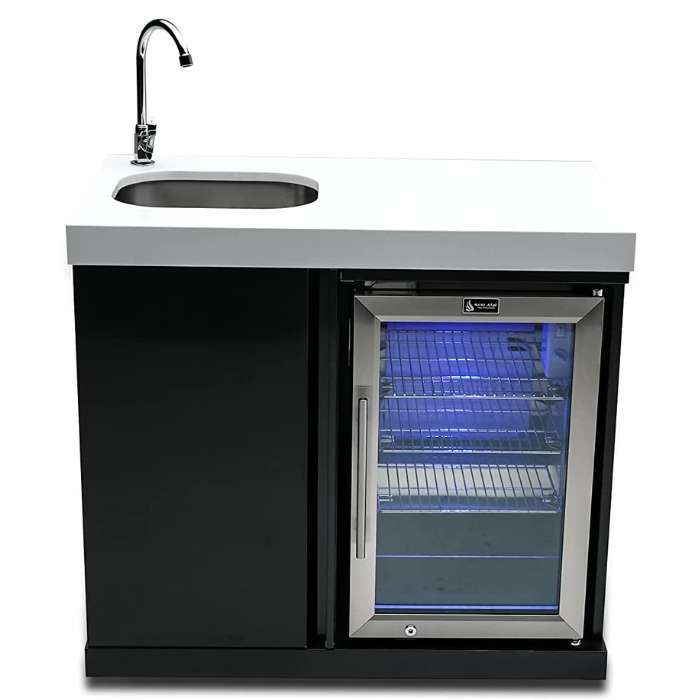 Best In Durability
CHECK PRICE ON AMAZON
In The Spotlight
The Mont Alpi outdoor wine cooler is an excellent choice for those looking to add a modern and stylish design and functional appliance to their outdoor kitchen. This item has a strong build and useful features, is resistant to rust and corrosion, and will enhance the look of your backyard or patio.
Plus, the built-in sink and faucet make installation a breeze. With its sleek black finish and white granite countertop surfaces, this fridge will be sure to turn heads, but primarily, provide a welcome and cool outdoor entertaining experience for you and your guests.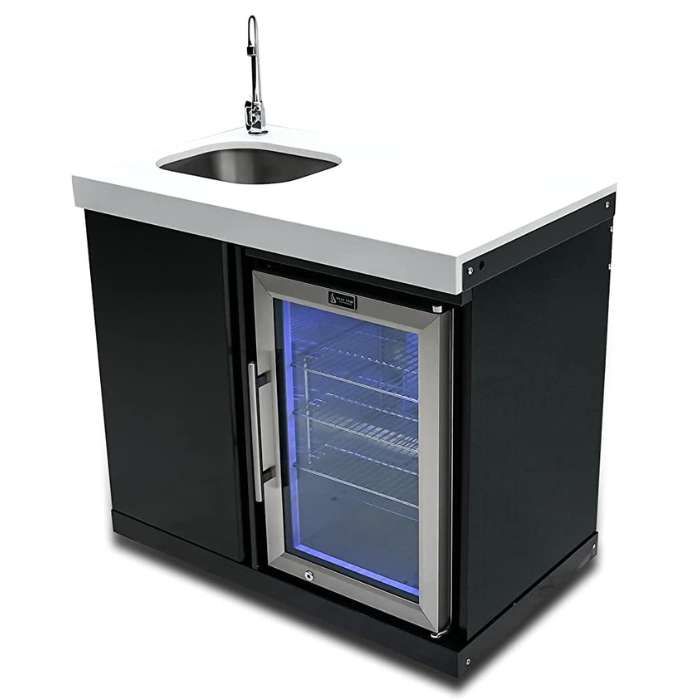 Pros:
Heavy-duty 304 stainless steel construction is durable and corrosion-resistant, making it an ideal solution for outdoor environments, such as a terrace kitchen unit.
The beverage center has a modular attachment, which comes with a sink and built-in faucet. You can connect the sink to your yard hose or attach it to a permanent water source, and let waste the water flow into a water drainage.
The prep area can be used for serving food, preparing meals, or setting up a drinks station for guests.
The fridge comes with white granite countertop surfaces for additional style and elegance. Granite: perfect for preparing nibbles and munchies.
The wine refrigerator features adjustable shelves, temperature control, and a lockable door for security.
Easy to move on 4 omnidirectional casters with 2 lockable front casters for stability.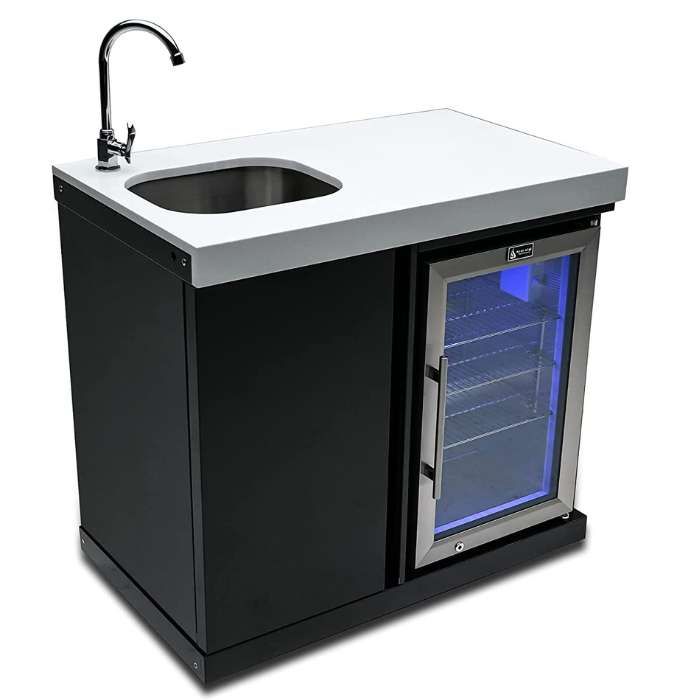 Cons:
Only comes in black series, no other color options are available.
You may need to a qualified plumber to make sure the setup is working and secure - outdoor, but also when you move the unit indoors.
The lowest temperature is, according to users, chill or room temperature.
The refrigerator size is quite small (2.6 cubic feet); this may be too small for your needs.
The price is slightly higher than other beverage centers of similar sizes.
Product Specs:
Product Dimensions: 23"D x 38"W x 35"H
Capacity: 2.6 Cubic Feet
Configuration: Freezerless
Installation Type: Freestanding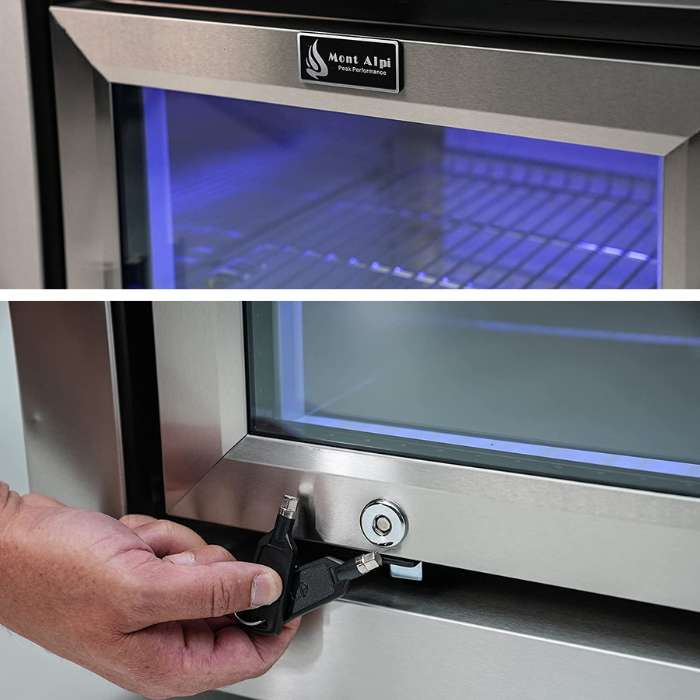 ---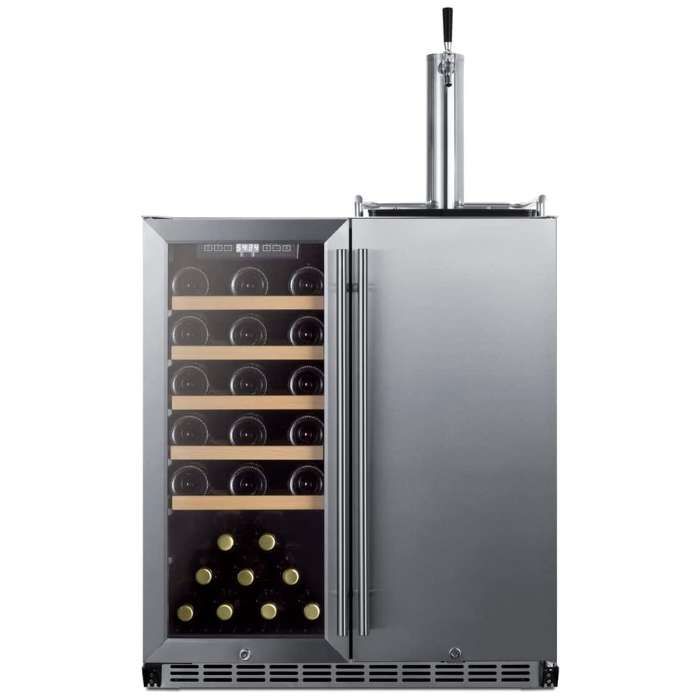 Best In Overall Performance
CHECK PRICE ON AMAZON
In The Spotlight
The Summit Appliance wine fridge & kegerator is an ideal choice for those looking to bring their outdoor entertaining experience to the next level. With its single compressor operation and distinct temperature zones, it allows you to store and display both wine and beer with ease.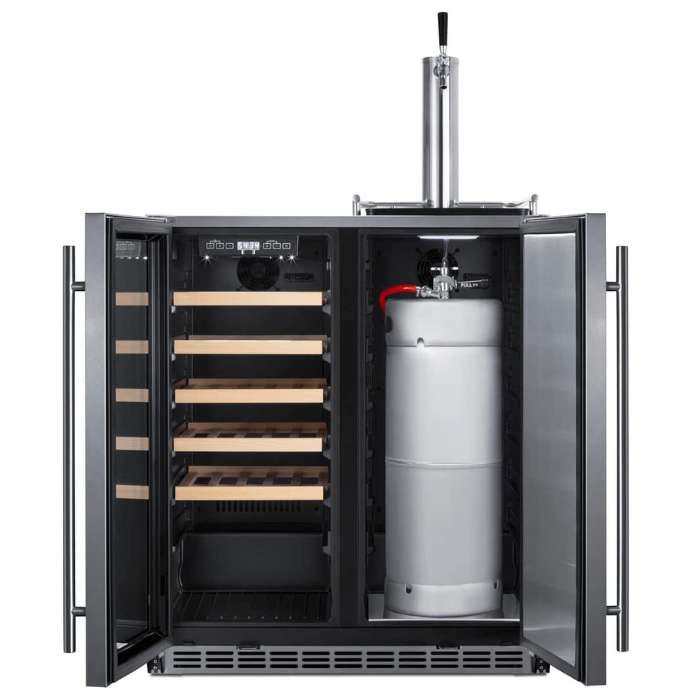 Pros:
A single compressor can efficiently cool two different temperature zones, which is perfect for preserving and displaying wine while also serving draft beer.
The wine holder has a wine bottle capacity of 24 standard-size bottles.
You can choose from a variety of temperatures ranging from 34º-72ºF in each compartment to find the ideal temperature for both your wines and draft beer.
The kit comes with all the necessary tapping equipment for a beer, including a stainless steel tower, faucet, CO2 tank, and regulator.
The cabinet, kegerator door, and wine cellar door trim are all made of stainless steel for long-lasting durability.
You can add four wheels to your equipment, two of which have locking brakes, for increased mobility when necessary.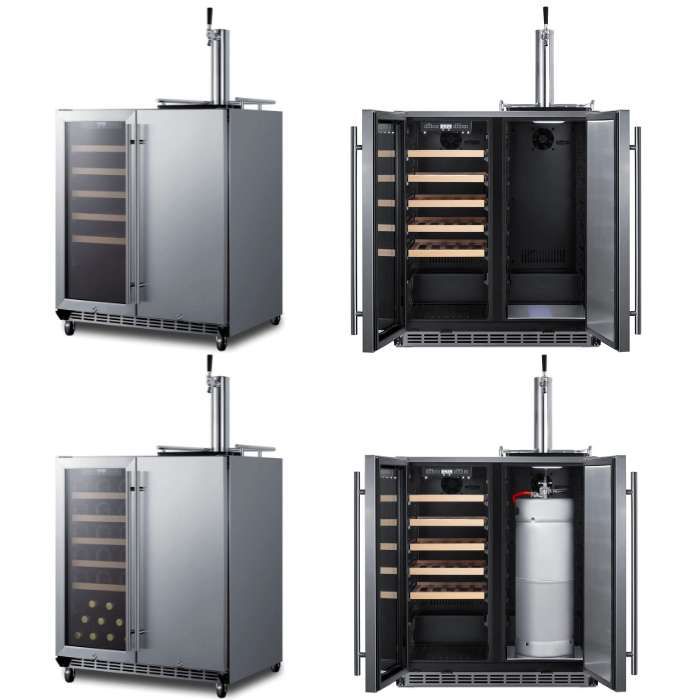 Cons:
Not ideal for extreme weather (90ºF+) since the temperature range is limited.
The size may be too small for larger gatherings.
The price is quite high compared to other wine fridges of the same capacity and it's the highest price point in our selection.
Product Specs:
Product Dimensions: 25.13"D x 30"W x 34.25""H
Capacity: 6.3 cubic feet
Installation Type: Freestanding
Defrost Type: Frost-Free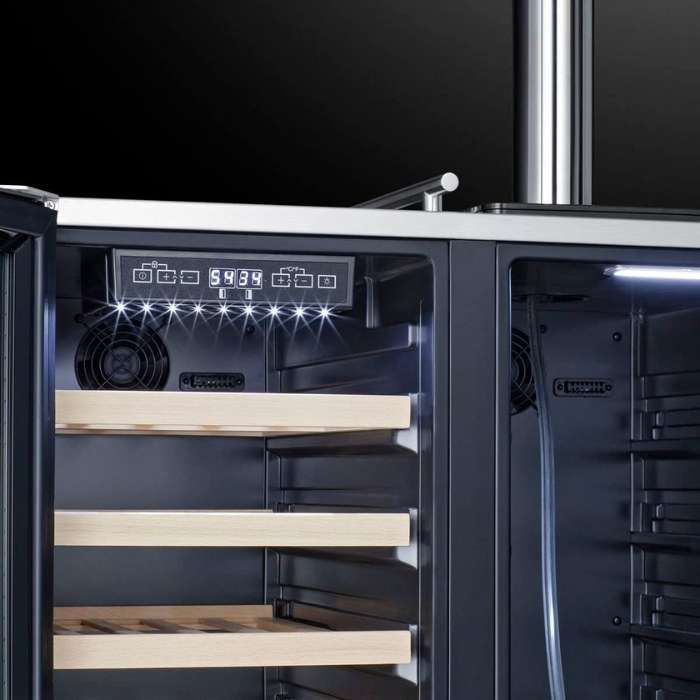 ---
Outdoor Wine Fridges FAQs
Here are some of the most frequently asked questions about outdoor wine fridges.
Can I keep beer in an outdoor wine fridge?
You can keep beer in an outdoor wine fridge. However, for optimal results and flavor preservation, it's best to choose a model with two separate temperature zones.
This way, you can keep your beer at the correct serving temperature while preserving your wine in its ideal environment. When in doubt, always consult your wine and/or draft retailer for storage and serving temperatures.
Does an outdoor wine fridge need to be insulated?
Although it's not always necessary, having well-insulated walls on your outdoor wine fridge can help keep the cold air in and protect your drinks from extreme temperatures.
Is an outdoor wine cooler energy-efficient?
Many outdoor wine coolers are designed to be energy-efficient. Look for models with efficient compressors and insulation, as these are the key elements that help keep energy usage low.
Can a wine fridge be outside?
Many wine fridges for outdoor use are designed to withstand extreme weather conditions. Be sure to check the product specifications for details about temperature range and insulation before purchasing.
However, most wine fridges don't feature a freezer. You will need to have an indoor main refrigerator for your other fridge and freezing needs.
Is sunlight bad for wine storage?
Direct sunlight can be damaging to your wine as it can cause oxidation of the liquid and changes in flavor. This is why it's important to choose a location with adequate shade for your outdoor wine fridge.
What is the best temperature for a wine fridge?
The ideal temperature for storing wine is usually between 45°F and 65°F. However, the optimal temperature will depend on the type of wine you want to serve.
Red wines, for example, are usually better at a slightly higher temperature (65°F) than whites (45º-55°F). Storage temperature for all wines is 55ºF.
What temperature will ruin wine?
Extreme temperatures can be damaging to wine as both heat and cold can alter the flavor of the liquid. Prolonged exposure to temperatures above 70°F can cause oxidation and spoilage.
On the other hand, temperatures lower than 45°F can lead to a bitter or sour taste. Storage temperature should be 55ºF, in a preferably dark environment - like a wine cellar.
How quickly does sunlight ruin wine?
Sunlight can quickly ruin wine if it's exposed to direct sunlight for an extended period (over 3 hours). It's best to avoid any prolonged exposure and store your wine in a cool, dark place with adequate shade.
With an outdoor wine fridge, you can ensure that your drinks stay at the ideal temperature and protect them from solar rays.
Can a wine fridge be in the sun?
Ideally, a wine fridge should be kept in the shade or at least away from direct sunlight. Too much exposure to direct sunlight can lead to oxidation and spoilage of the wine.
The same applies to a beer fridge as well. Best practice: move the wine fridge and/or draft beer kegerator into your garage or basement when not in use.
Do wine fridges protect from light?
Our selection of outdoor wine fridges is designed to protect your drinks from sun rays. Look for models with well-insulated walls and highly reflective surfaces to help keep the temperature regulated and keep your drinks safe.
Can you leave wine outside in winter?
It's not recommended to leave wine outdoors in the winter as temperatures can get too cold for it. Wines need to be at a 55ºF temperature all year 'round, to make sure they will keep their quality.
Just follow the instructions from the professionals, and your wines will be ready to drink - mature and appropriate - when the time is right. Consult your local wine expert.
Do outdoor wine fridges come with wheels?
Some outdoor wine fridges come with casters or wheels for easy portability. This can be useful if you plan to move the fridge around or need it in multiple locations.
---
The Best Outdoor Wine Cooler For You
We hope this guide has helped understand what to consider when shopping for an outdoor wine fridge. Which one is your favorite pick?
Happy sipping!
Catchy Finds