In this article, we will discuss an overview of what you need to know about the best beer fridges so can choose your favorite "beer cooler".
From understanding what temperature is best suited for specific beers, to what you should look for in a beer fridge, we have you covered.
So let's dive into it and get started on finding that great beer fridge!
7 PICKS IN THE SPOTLIGHT







---
In The Spotlight
The Antarctic Star mini fridge is an excellent choice for those who want to keep their wines and beers chilled as they should be. With its adjustable shelves, dual-pane tempered glass door, efficient cooling system, and freestanding installation, it's the perfect solution for enjoying a cold beer or fine wine at any time.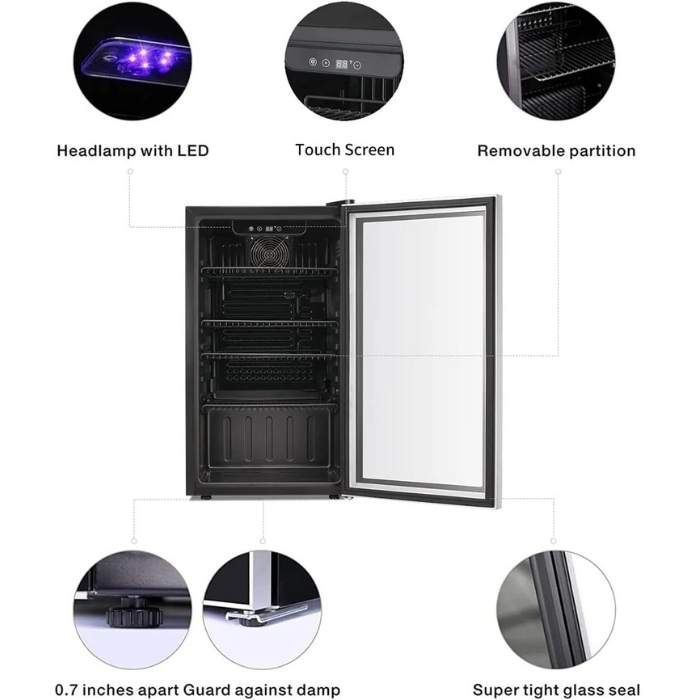 Pros:
The Antarctic Star fridge is a compact and stylish option for storing and cooling your beers, wines, and other beverages.
The adjustable shelves allow for customization and easy organization.
The dual-pane tempered glass door with a tight seal helps maintain a steady temperature and protects your beer from harmful UV rays.
The efficient cooling system ensures that your beers and wines stay at the right temperature range (35°F- 55°F) without making excessive noise.
The freestanding installation type provides flexibility in placement.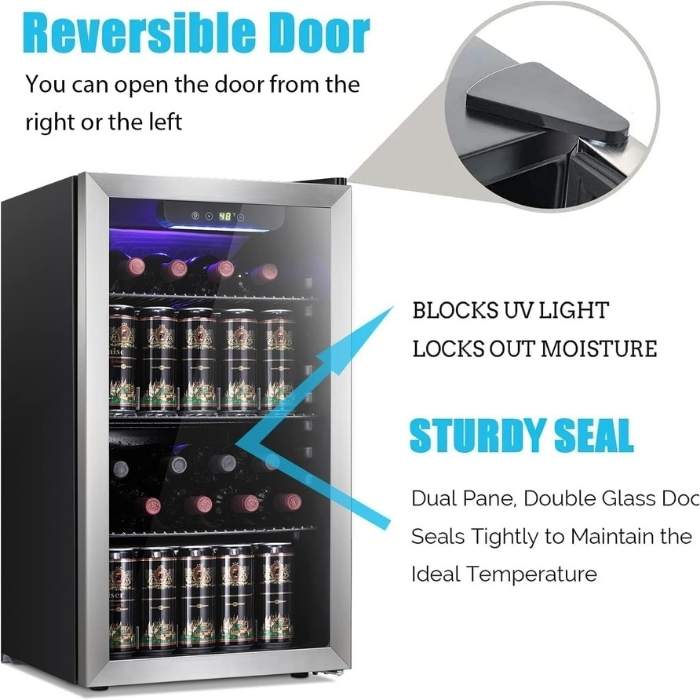 Cons:
This fridge is only capable of holding up to 3.2 cubic feet of beverages, which may not be sufficient for larger households or events.
The fridge is freezerless, so it cannot be used for storing frozen foods or ice.
The black color may not fit in with all room décor styles.
The soft LED lights may be too bright for some people.
The fan can be a bit noisy when running.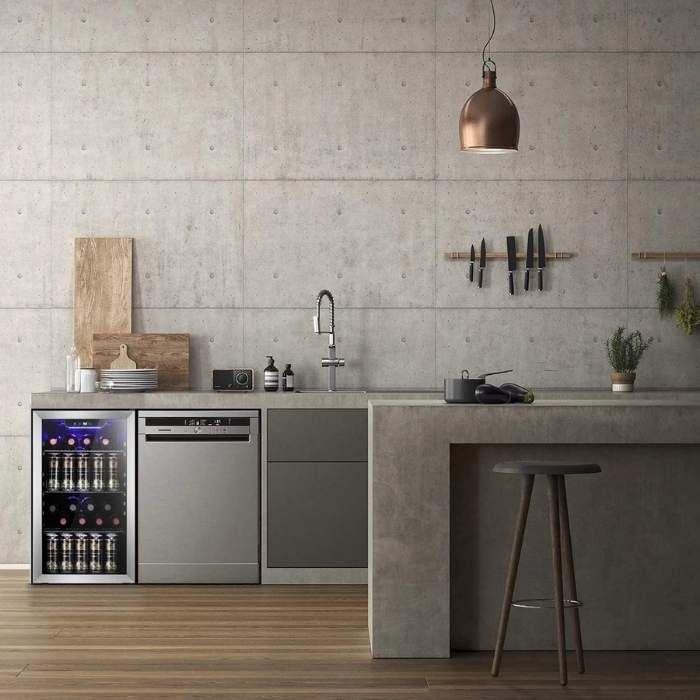 ---
In The Spotlight
The COSTWAY refrigerator is a great choice for those in need of a compact and efficient beverage refrigerator and cooler for storing your favorite bottles and brews, cooling beers, and other beverages.
Its spacious interior, adjustable thermostat, and durable design make it a perfect addition to any small space or commercial setting.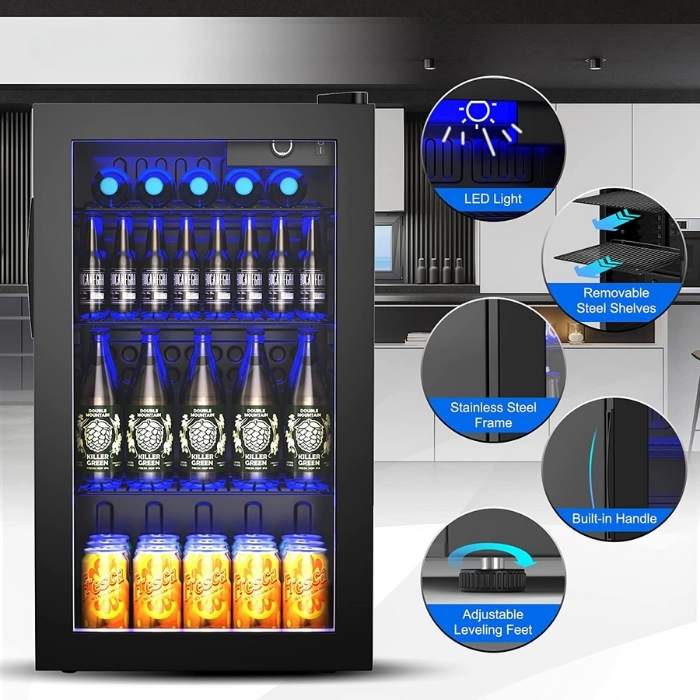 Pros:
This freestanding fridge with adjustable and removable shelves has a compact design that is perfect for small spaces in homes, offices, or commercial settings.
It offers a large storage capacity of 3.35 cubic feet and can store up to 120 standard soda or beer cans, or several bottles of wine, thanks to its adjustable steel shelves.
The adjustable thermostat allows you to adjust temperature and ranges between 39℉-61℉ to accommodate various beverage types.
It boasts a quiet and efficient cooling system that quickly and quietly cools down drinks and keeps them fresh.
The steel shell cabinet with a clear reversible double-paned glass stainless steel fridge door provides a durable and attractive design that allows you to easily see the contents of the fridge.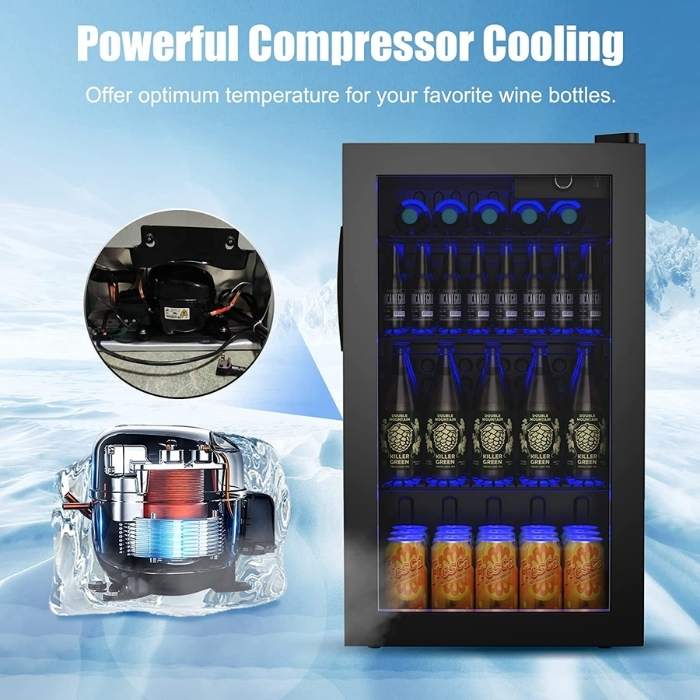 Cons:
This compact fridge is freezerless and cannot be used for storing frozen foods or ice.
The shelving design may not accommodate larger or irregularly shaped items.
This refrigerator is more expensive than the Antarctic Star Beer Fridge and may not fit within certain budgets.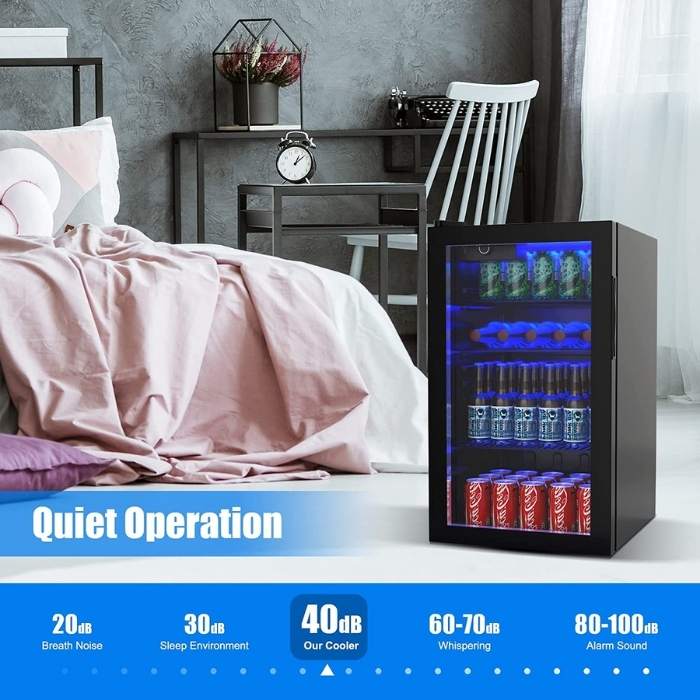 ---
In The Spotlight
This small beverage cooler features a quiet cooling system and smart digital control to maintain an optimal environment, while still offering plenty of storage capacity. Whether you're a craft beer lover or just someone who likes to keep their favorite drinks cool and accessible, this is the beer fridge for you.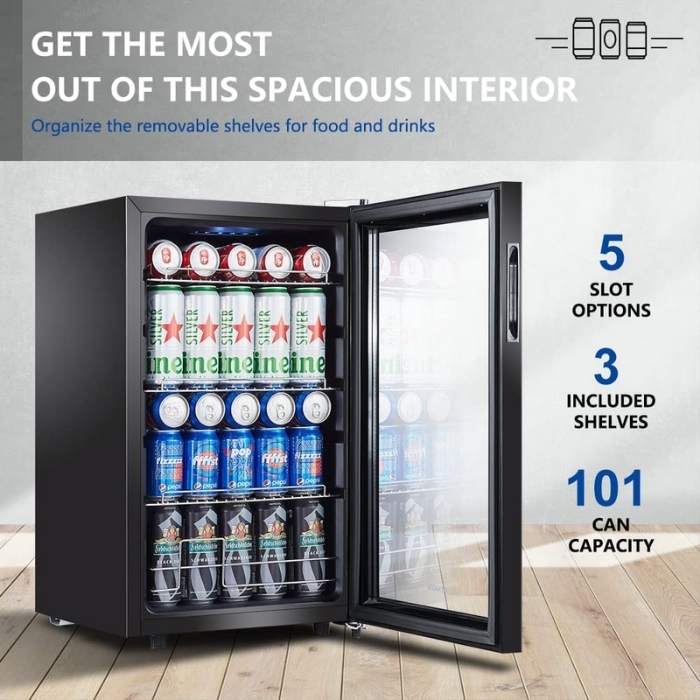 Pros:
You can easily control the temperature you want with the digital touch temperature controls. The temperature range is from 38℉ to 66℉.
The fridge has enough storage space to hold up to 101 standard cans, so it's efficient for those who need to store beverages for a household or small gatherings.
Its quiet cooling system ensures that your beers and other drinks remain chilled without making excessive noise.
Adjustable shelves make it easy to customize and organize beverage storage.
A powerful and eco-friendly thermoelectric cooling system ensures consistent and efficient performance.
A sleek and modern design with a see-through glass door and soft LED light add an elegant touch to any space.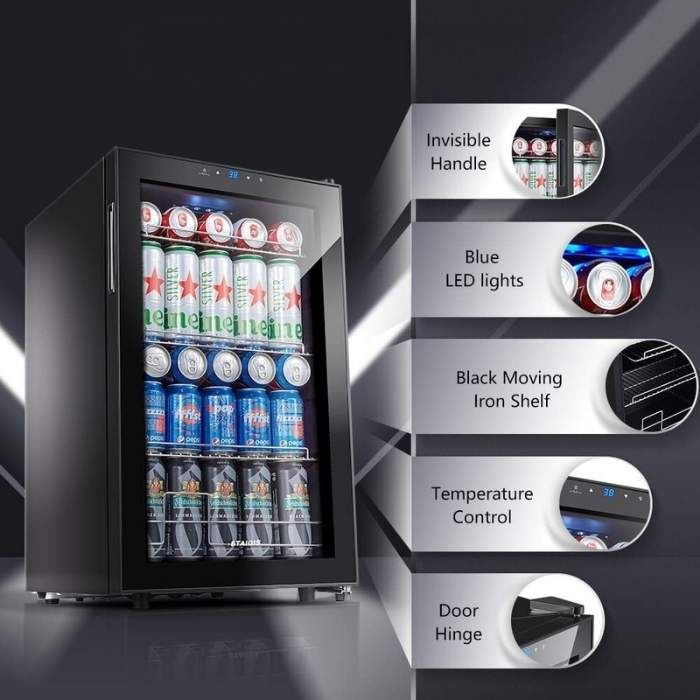 Cons:
It's quite small, and not suitable for storing larger cans and bottles. However, its compact size allows for easy placement in small kitchens, offices, studios, or bars.
Only available in 1 color option.
Has an irreversible door, limiting accessibility for some users.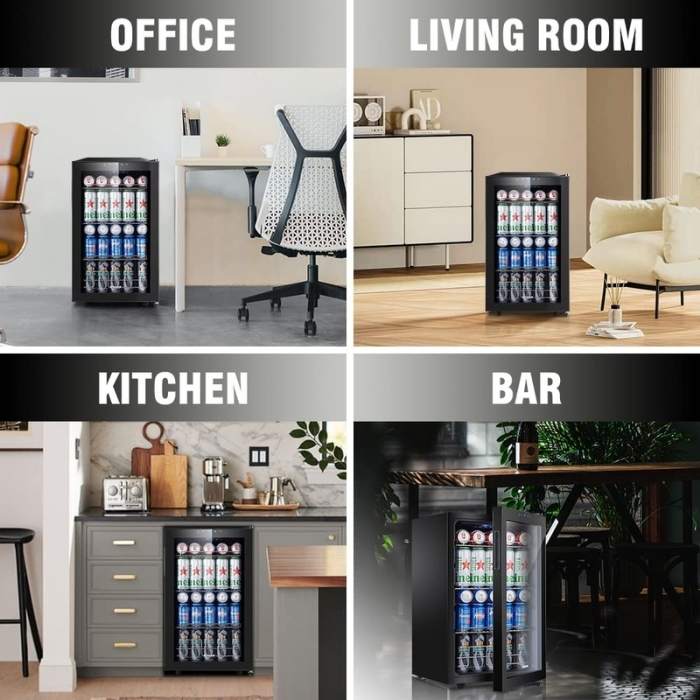 ---
In The Spotlight
The Miller Lite refrigerator is a great addition to any home for craft beer lovers and avid entertainers. This fridge has a built-in bottle opener and plenty of space for all your favorite drinks.
Plus, it looks great with its official Miller Lite graphics. Whether you have a man cave, entertaining room, or games room, this beer fridge is sure to make the perfect centerpiece.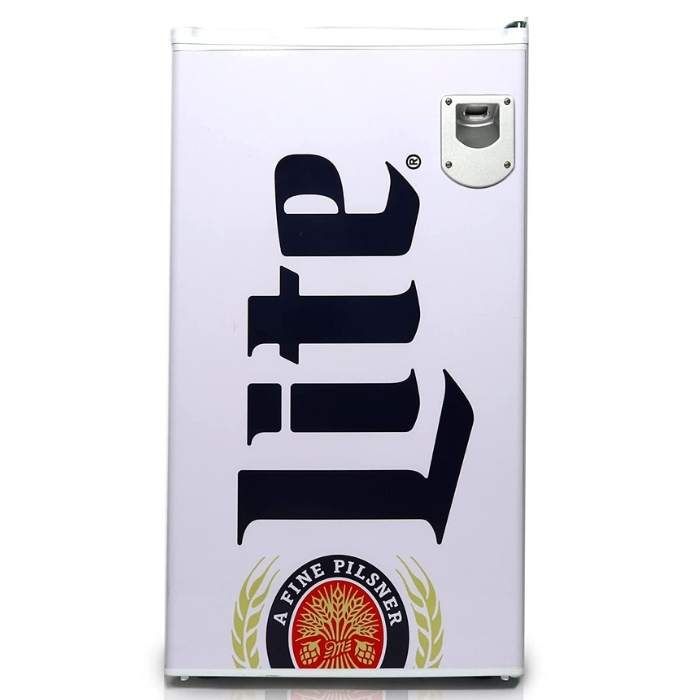 Pros:
The fridge has a catchy and distinctive design featuring officially licensed Miller Lite graphics.
It has a spacious 3.2 cubic foot interior with three adjustable tempered glass shelves and a dispense-a-can section.
The (front) exterior features a sturdy steel bottle opener.
The fridge utilizes dependable compressor technology to deliver an adjustable temperature range from 32°F (0°C) to 50°F (10°C), which accommodates most beer types, including your favorite brews.
Its flat-back design, recessed door handle, and enclosed evaporator coils allow for space-saving functionality.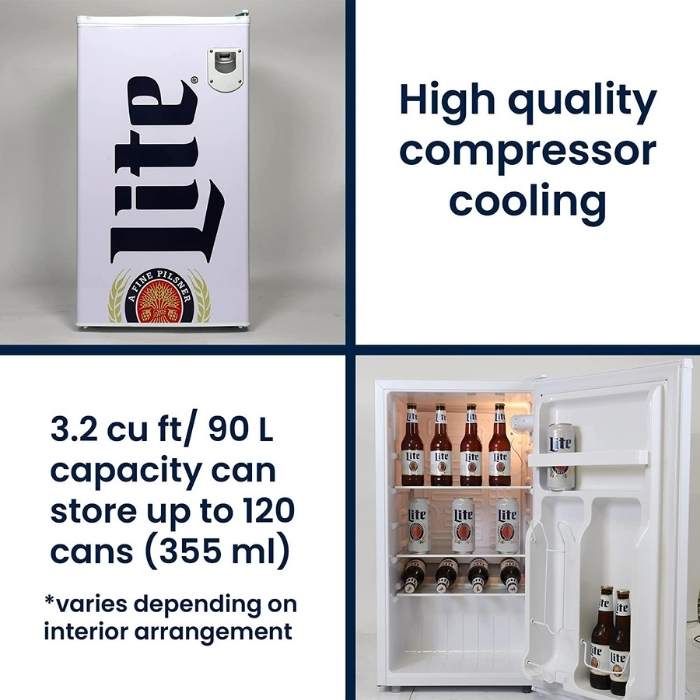 Cons:
The lack of color options may restrict decorative styles for some.
It's accessibility may be an issue for some users due to having just one door.
Compared to some other mini fridges age refrigerators listed, it may be pricier.
Additionally, manual defrosting is required even it's labeled as frost free.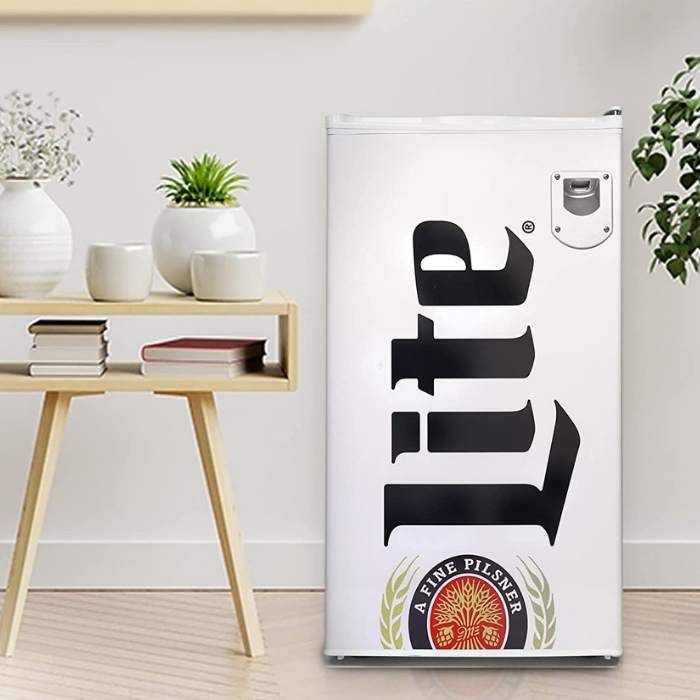 ---
In The Spotlight
For the ultimate beer lover, the Coors Light Rocky Mountain refrigerator is a great choice for keeping your favorite drinks cold.
With its convenient dispense-a-can compartment, built-in bottle opener, and reliable compressor cooling system, this unique mini fridge is sure to be the showpiece of your home bar, den or games room.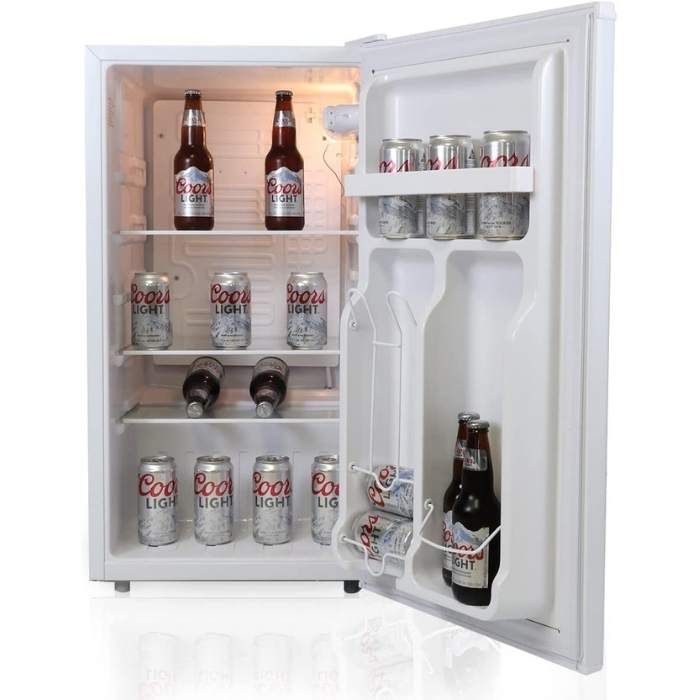 Pros:
Eye-catching licensed artwork featuring the Coors Light Rocky Mountain logo.
Convenient 5-can dispense-a-can compartment for easy access to your favorite drinks.
Removable glass shelves provide ample space for your snacks, soda, and beer.
Built-in bottle opener makes enjoying a cold drink quick and easy.
Reliable compressor technology with adjustable temperature and magnetic door seal ensures your contents remain at your desired cooling level between 28°F (-2°C) - 50°F (10°C).
The reversible door and space-saving flat-back design make it easy to fit in any room.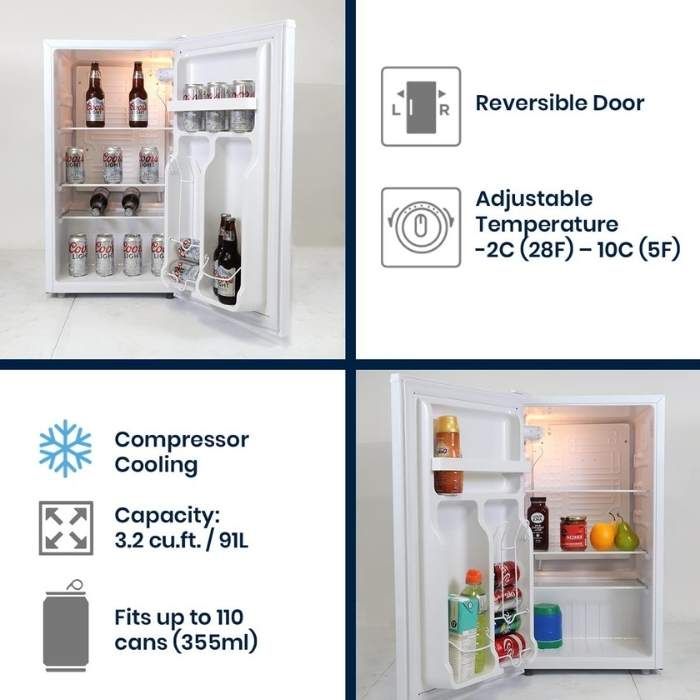 Cons:
Only available in white, limiting color options for some decorative styles.
Only has one door, limiting accessibility for some users.
May be more expensive than some other compact refrigerators on the market.
This fridge may be too cold for storing wines.
Requires manual defrosting.
May be difficult to find replacement parts.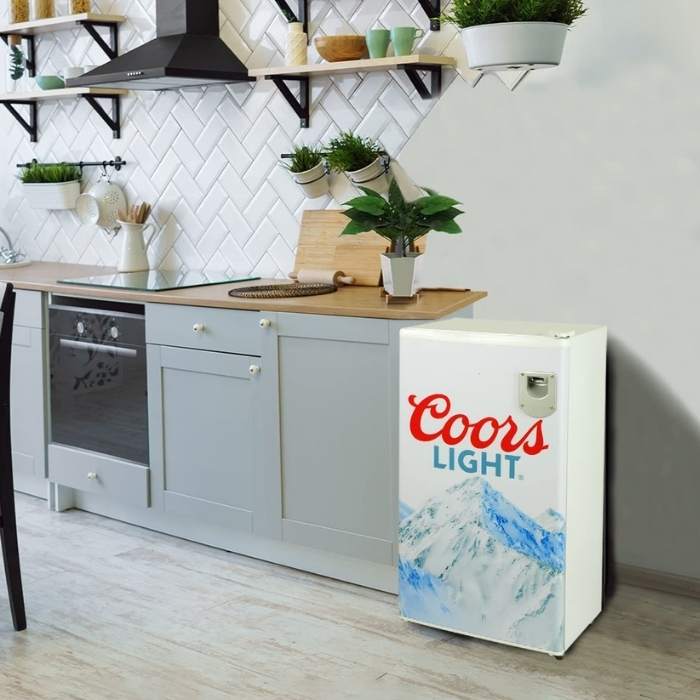 ---
In The Spotlight
The EdgeStar kegerator is an excellent choice for those looking to have a cold draft beer in their home. It is capable of reaching temperatures in the mid-40s and in the low 30s, making it one of the coldest kegerators on the market. It also has casters included for easy mobility for gathering events, and backyard parties.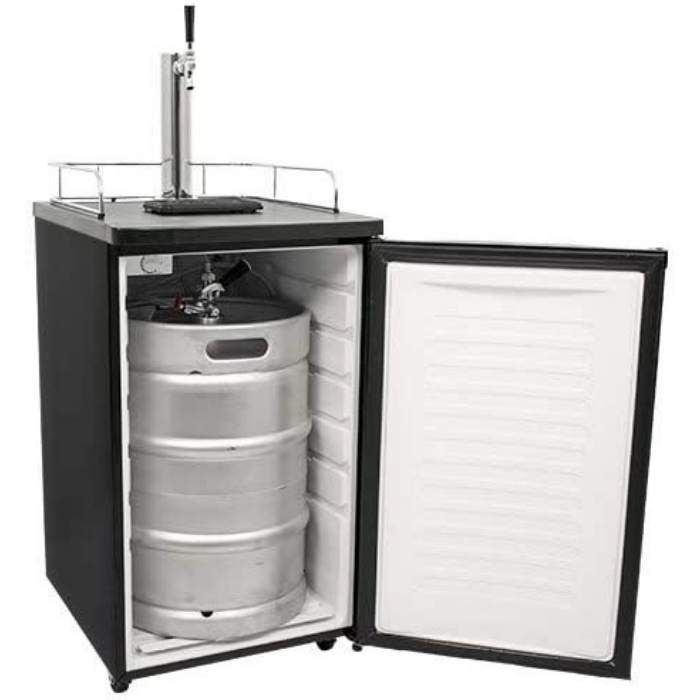 Pros:
Ultra low-temperature thermostat capable of reaching the low 30s, making it the coldest kegerator on the market, so you van serve (ice) cold draft beers to your guests.
Ample capacity for a full-size keg, yet 4 inches less in width than a standard full size kegerator.
Rolling casters are included for easy mobility.
External CO2 tank mount provides more interior space.
Comes with all the necessary hardware and components for beverages on tap.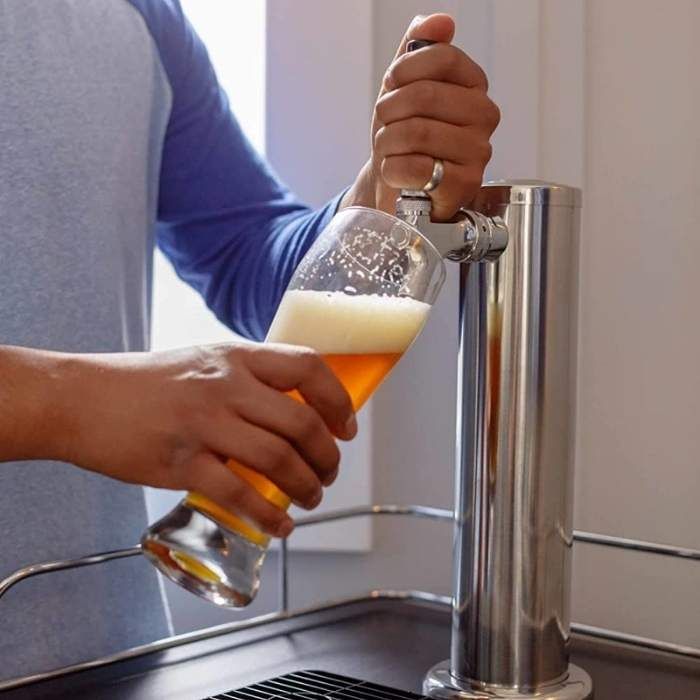 Cons:
Does not support the use of Coors or Miller rubberized kegs or other oversized kegs.
Some users may find it difficult to assemble.
Large and heavy, may not be suitable for small spaces.
Relatively expensive compared to other regular beverage fridges.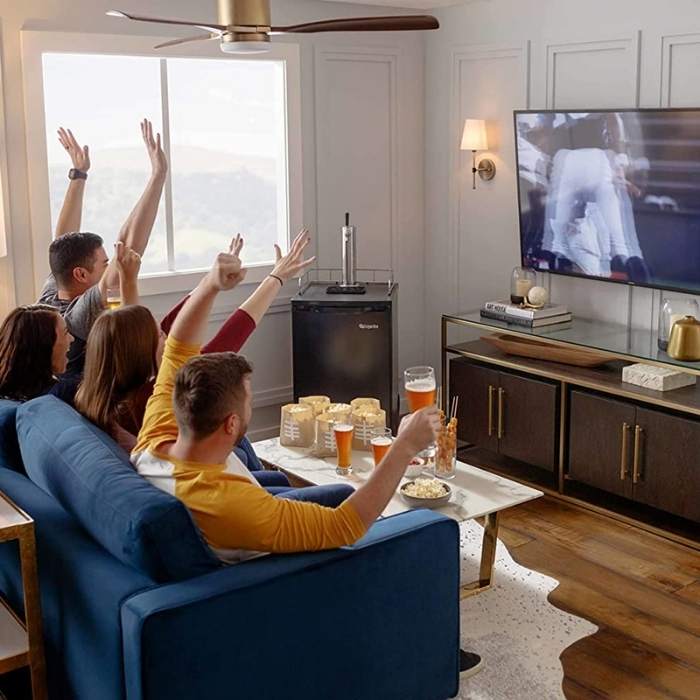 ---
In The Spotlight
The Ivation beer fridge is the perfect appliance for beer enthusiasts who want to serve their favorite draft beers in style.
With its powerful 34° refrigeration and adjustable temperature control, you can store a variety of beer types and keep them cold for hours. Its versatility and quality make it an ideal choice for any beer connoisseur.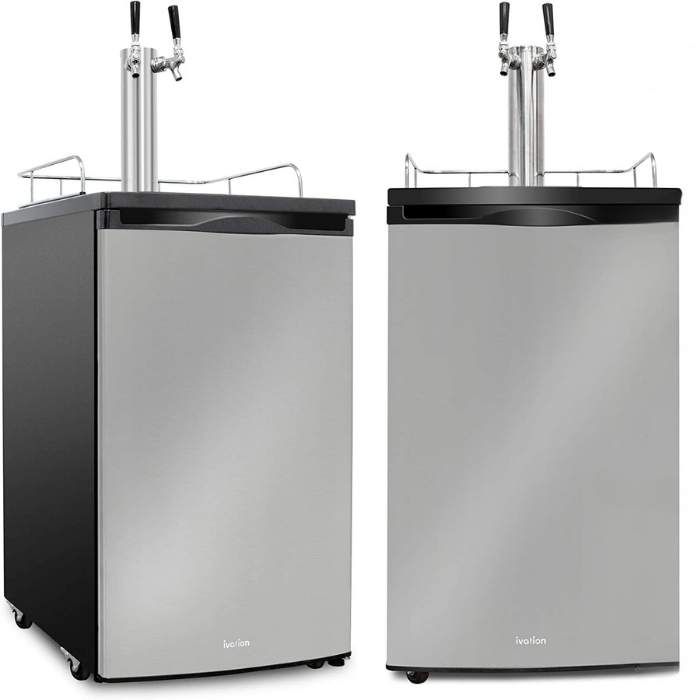 Pros:
Can fit up to 2 sixth barrel kegs or 2 Cornelius homebrew kegs, making it versatile for different types of beers.
Can convert to a beverage cooler with height-adjustable wire shelves and built-in shelf slots for versatile cooling and storage.
Stylish dual-tap chrome tower with 15" clearance for tall glasses and goblets.
Has powerful 34° refrigeration with a 7-level temperature control knob for optimal beer taste and head.
Comes with a complete CO2 assembly kit for easy set-up.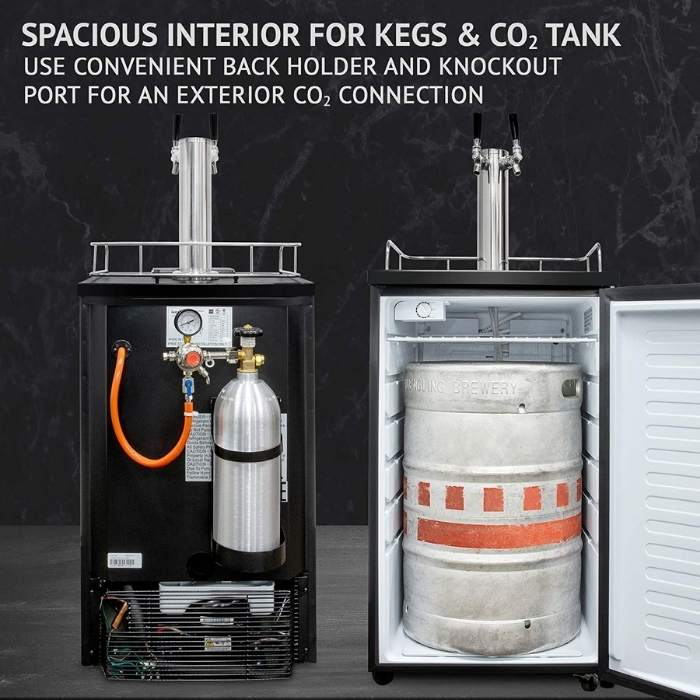 Cons:
May not fit larger kegs like full-size or pony kegs, limiting choices for beer types.
The CO2 cylinder only comes empty, requiring an additional trip to the store for refill.
It's the most expensive compared to other beer fridges in our selection.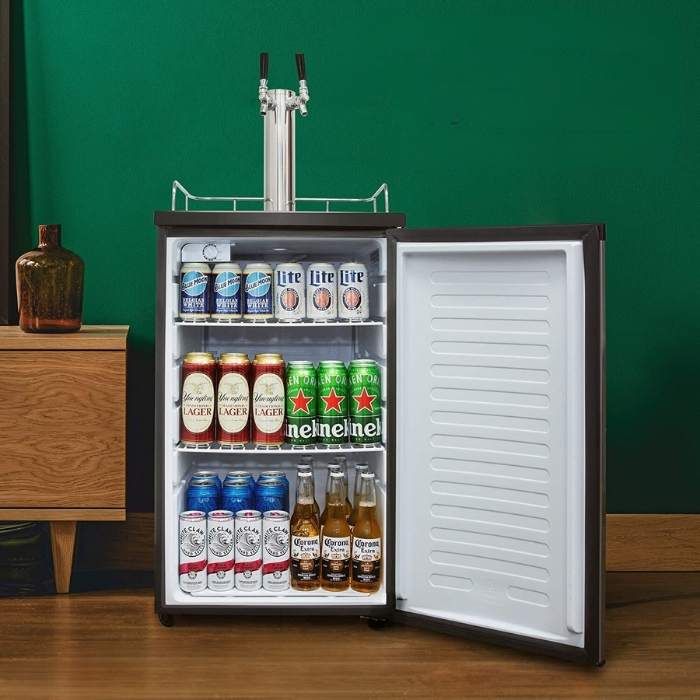 ---
Beer Fridges FAQs
---
The Best Beer Fridge For You
We hope this article has helped to answer some of your questions about beer fridges and has helped you to make an informed decision about which one is the best for you.
With the variety of models suggested, which one is your pick?
Happy sipping!
Catchy Finds