If you're looking for a great way to start your day, look no further than electric orange juicers! These handy kitchen appliances can help you make fresh, delicious orange juice in minutes.
There are a number of electric orange juicers on the market, so it can be tough to decide which one is right for you.
We can help you with your search: that's why we've created this comprehensive guide to 5 of the best electric orange juicers available. We'll take a look at some of the most popular models and help you decide which one is right for you.
How We Spotlight Best Electric Orange Juicers
When you look for the best electric orange juicer, there are dozens of brands and models to choose from. It may be tough to figure out which one is ideal for you without spending hours researching.
We conducted the search, the study and spotlighted the 5 best electric juicers for you. So what are you waiting for? Start reading now and find the perfect electric orange juicer for your home!
👉
We participate in the Amazon Associates Program, if you buy a product with the links that we provide, we may receive a small commission from Amazon. There is NO additional cost to you!
---
Vinci Hands-Free Electric Juicer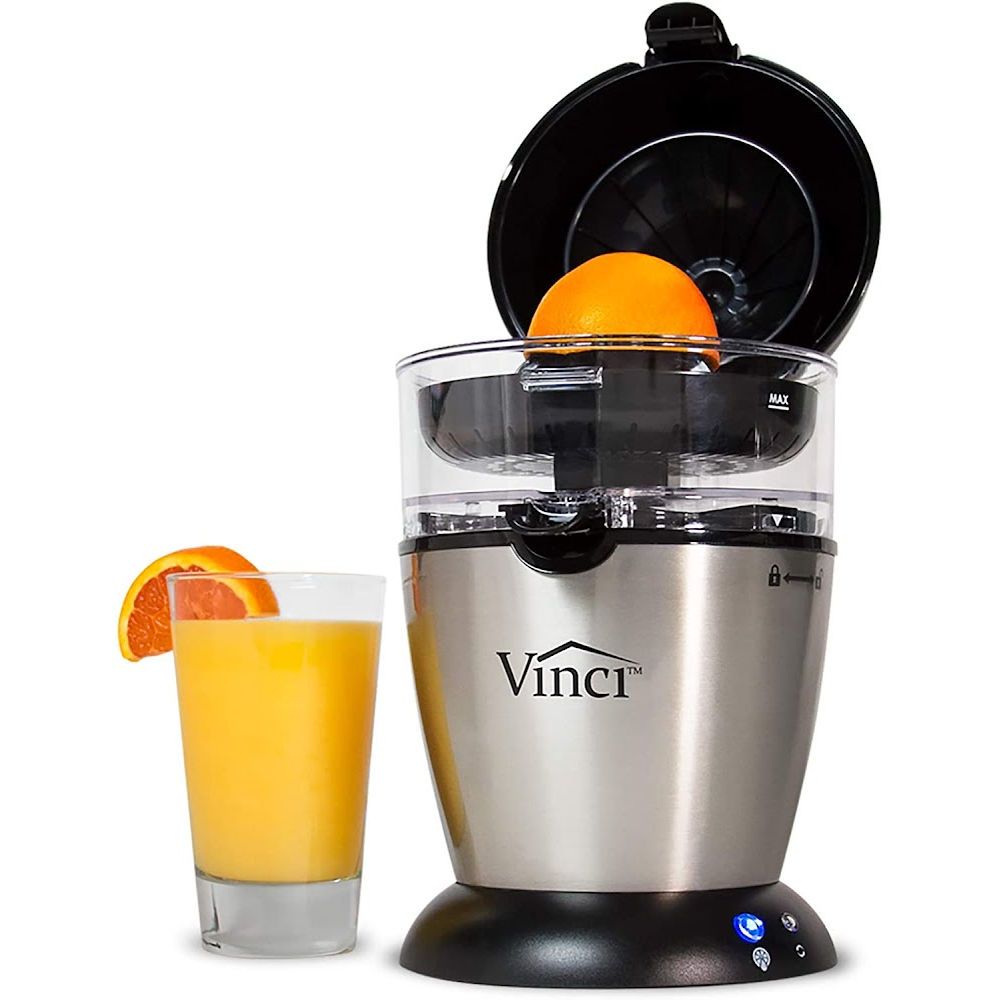 Best Choice For Its Versatility
Vinci Hands-Free Electric Juicer
BUY IT ON AMAZON
What Makes It Catchy
This innovative juicer makes it easier than ever to enjoy fresh, homemade juice. Simply slice your fruit in half, place it on the reamer, and press the juice button. In just 10 seconds, the juicing reamer will automatically raise and extract the freshest juice to the last drop possible.
No need to hold or manually squeeze the fruit – the Vinci Citrus Juicer does all the work for you! Not only is the Vinci Juicer quick and convenient, it's also one of the most efficient juicers the market has in store.
With the patented "automatic juicing" mechanism, you'll get the maximum amount of juice out of your oranges with minimal waste. Plus, the sleek and stylish design is sure to complement any kitchen décor.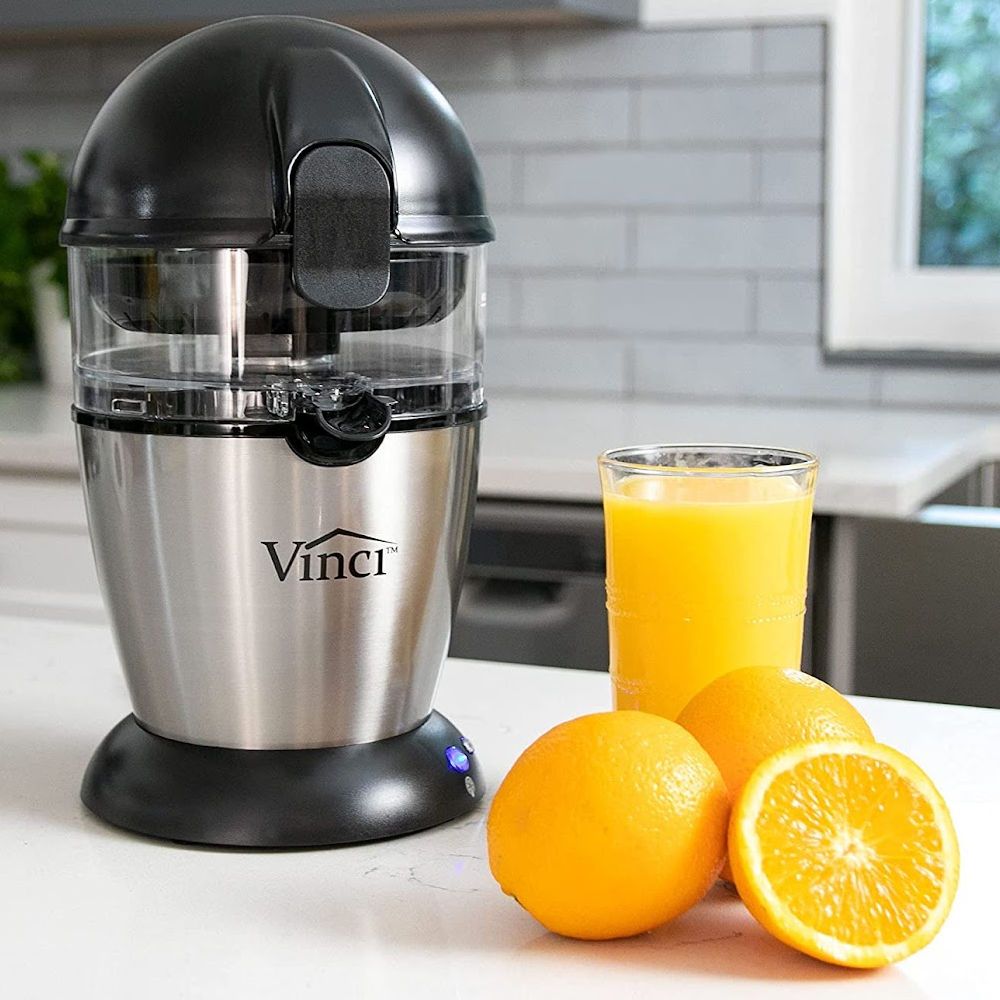 Things In The Spotlight
This powerful juicer features pressure-sensitive juicing technology that automatically senses the thickness of the rind to ensure you always get the best juice with no bitter flavors. The simple 1-button automated press operation makes juicing much easier than using a regular citrus press, juicers, or handheld juice squeezers.
With two pulp filters, a heavy-duty motor, and a large capacity juice reservoir, this juicer can handle any citrus fruit you throw at it. Whether you're making healthy drinks, cocktails, recipes, desserts, or marinades, the Vinci Citrus Juicer is up to the task. Plus, the removable parts are "top rack" dishwasher safe for easy cleanup.
The Vinci Hands-Free Juicer is a top quality juicer that makes it easy to get your daily dose of fruit. So ditch the old manual juicer and upgrade to the latest in electric juicers. The Vinci Hands-Free Juicer – your new best friend in the kitchen.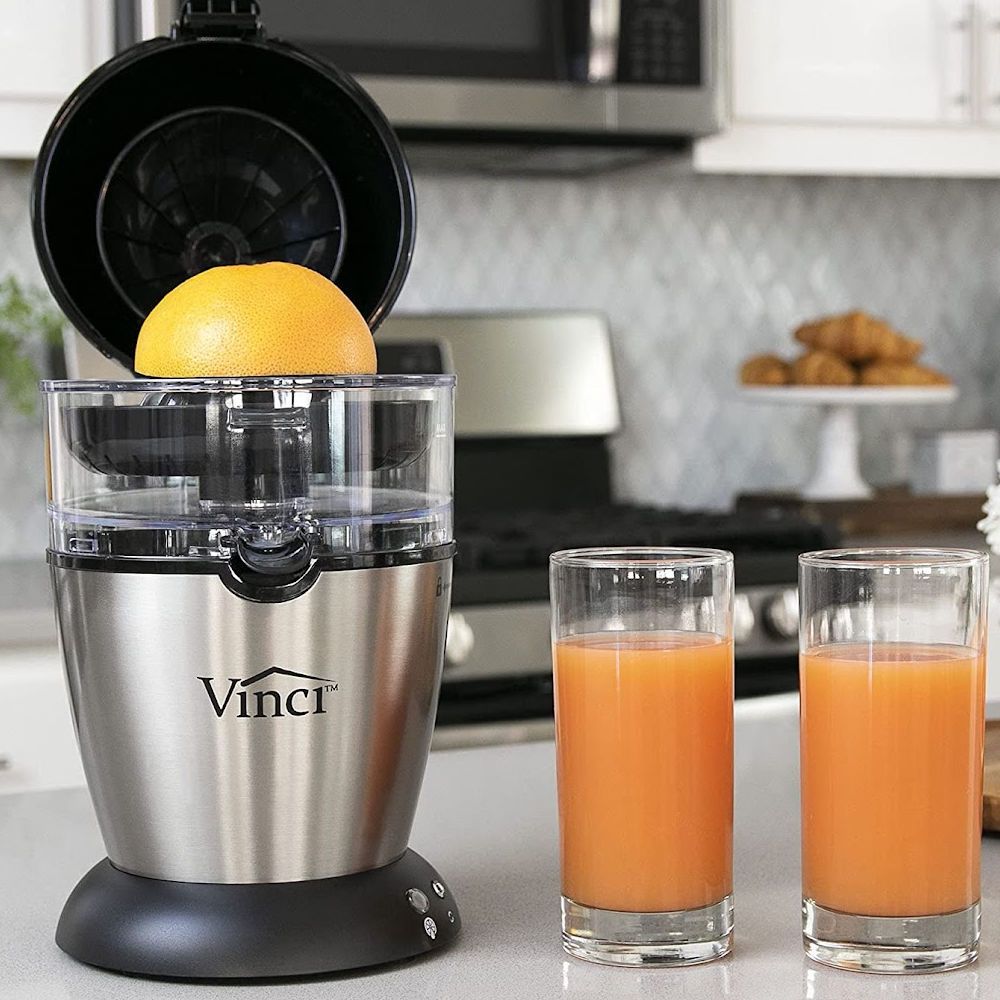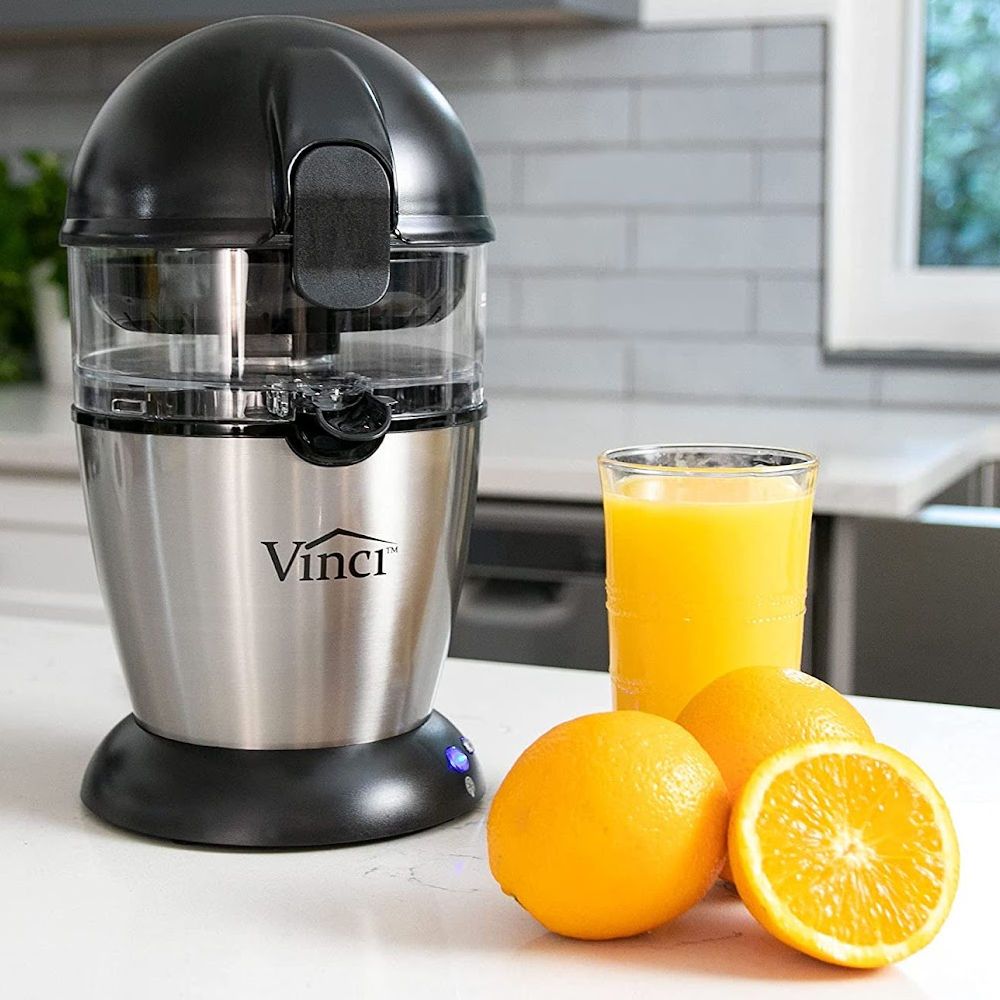 ---
SMEG Citrus Juicer
Best Choice For A Retro Rell
BUY IT ON AMAZON
What Makes It Catchy
Looking for a fun and unique way to add some pizzazz to your kitchen? Look no further than the SMEG Citrus Juicer! A sign of old times: this 1950s-inspired appliance is sure to turn heads and bring a smile to your face every time you use it. This model is perfect for users who love retro style as their kitchen décor options.
With a durable die-cast aluminum body and chrome-plated accents, this juicer is built to last. The universal stainless steel strainer makes it easy to juice any citrus fruits, while the anti-drip spout ensures mess-free operation.
This model has various choices of trendy colors, including Pastel Green, Pastel Blue, Pink, Red, Cream, Black. Add a splash of color to your kitchen with the SMEG Citrus Juicer!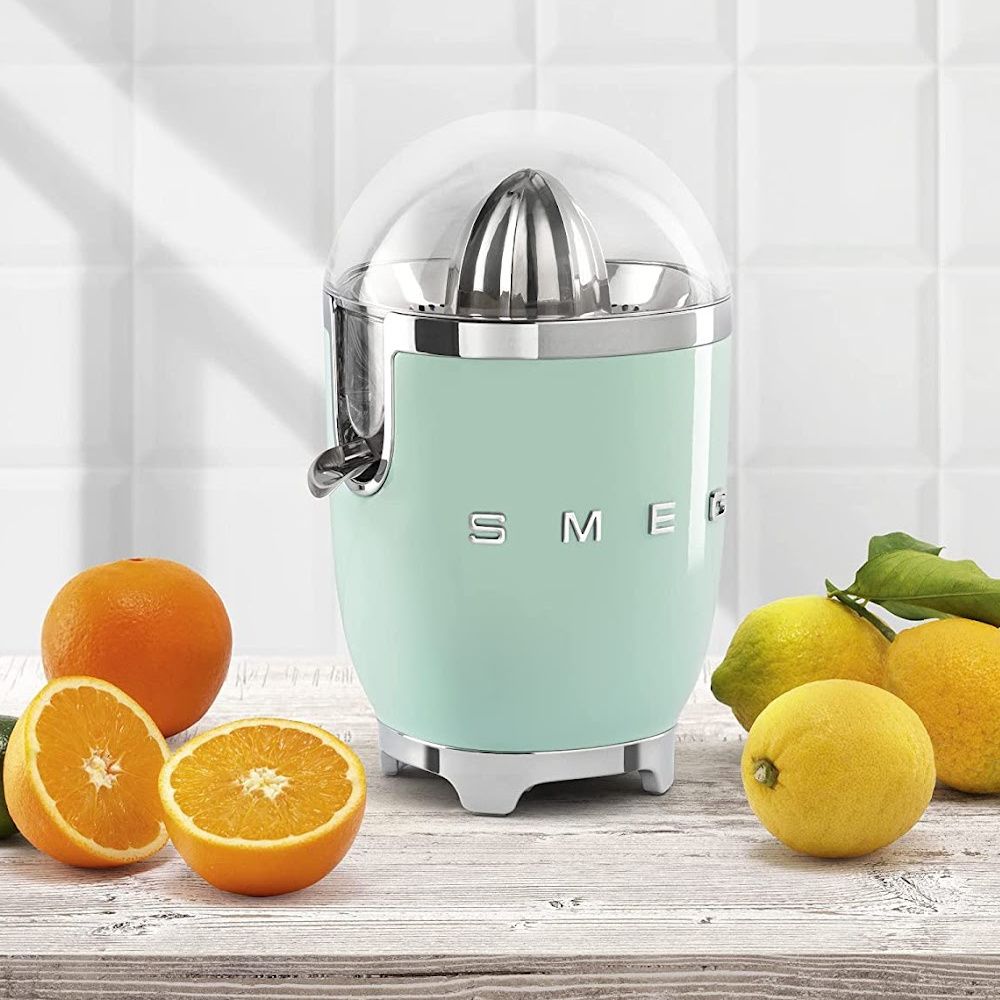 Things In The Spotlight
This premium juicer is made from stainless steel and features an anti-drip spout, making it easy to dispense your juice into a glass or cup. The powerful 80W motor makes juicing a breeze, and the built-in sensor means that the juicing process starts as soon as there's pressure on the reamer.
This top-of-the-line juicer comes with a tritan cover to protect it from dust when not in use, as well as a universal and premium reamers and anti-corrosive components to ensure complete squeezing from both small and large fruit.
The Tritan juicing bowl is BPA-free and impact resistant, making it a durable choice for everyday use. It's easy to remove its parts, including the reamers, for quick cleanup. Plus, the juicer can double as a bowl for fruit and peel, making it the perfect all-in-one kitchen gadget.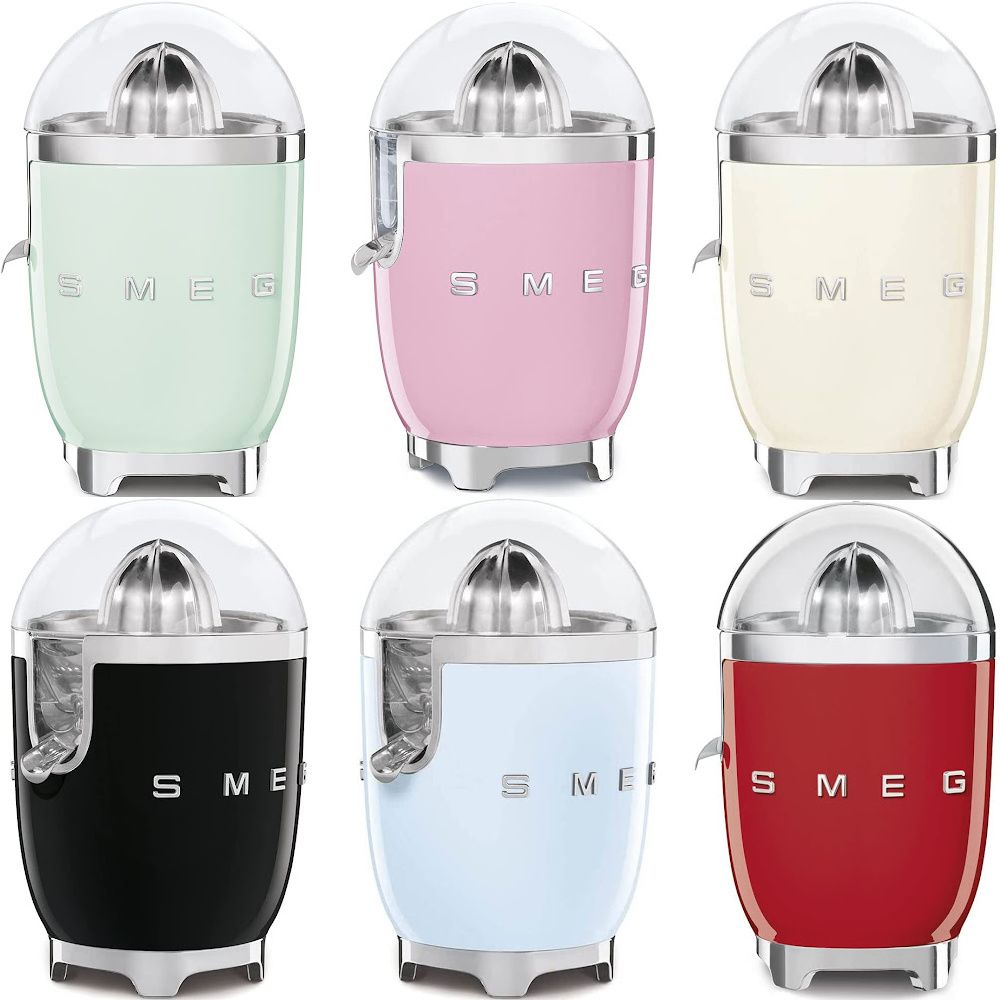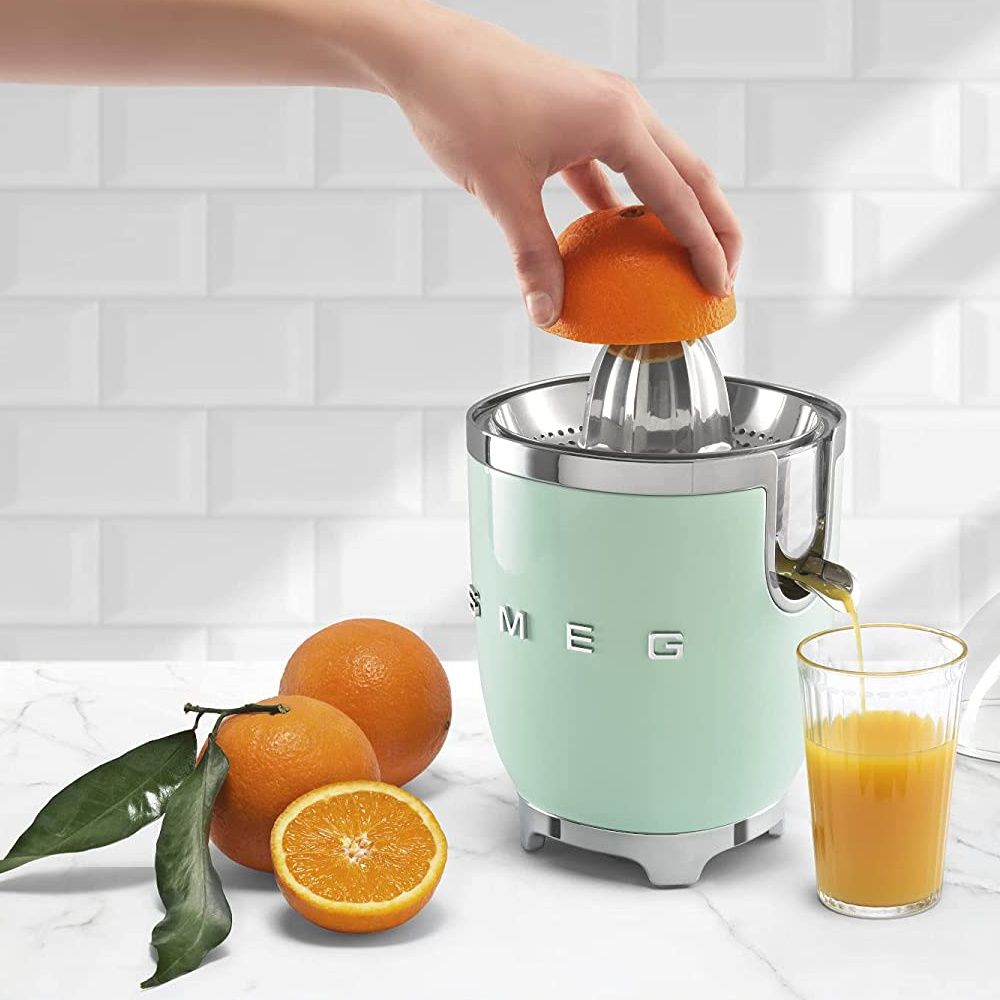 ---
Eurolux Electric Citrus Juicer Squeezer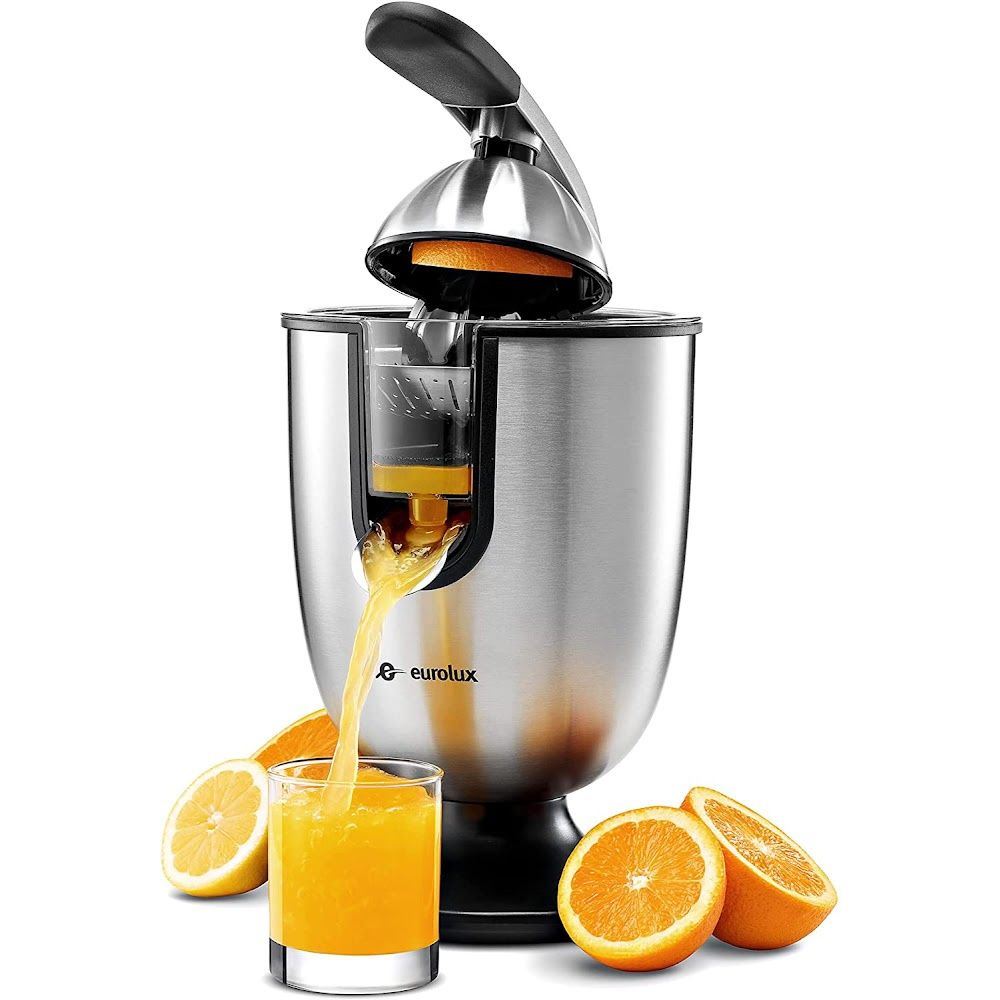 Best Choice For Its Simplicity Of Use
Eurolux Electric Citrus Juicer Squeezer
BUY IT ON AMAZON
What Makes It Catchy
Looking for an electric citrus juicer that doesn't require you to change the cone lid for a specific fruit? Look no further than the Eurolux Citrus Juicer!
This smartly designed juicer has a one-size-fits-all cone that secures any fruit in place, ensuring versatility and preventing any messy squeezing. Whether you're juicing oranges, lemons, grapefruit or limes, the Eurolux Citrus Juicer is up to the task.
Plus, its sleek design and stainless steel construction make it a handsome addition to any kitchen. This handy kitchen appliance is specifically designed to make orange and lemon juice a breeze.
Simply place your fruit on the juicer's cone, press down, and let the machine do the rest. The built-in filter ensures that you'll always get a seedless, fresh juice with no hassle.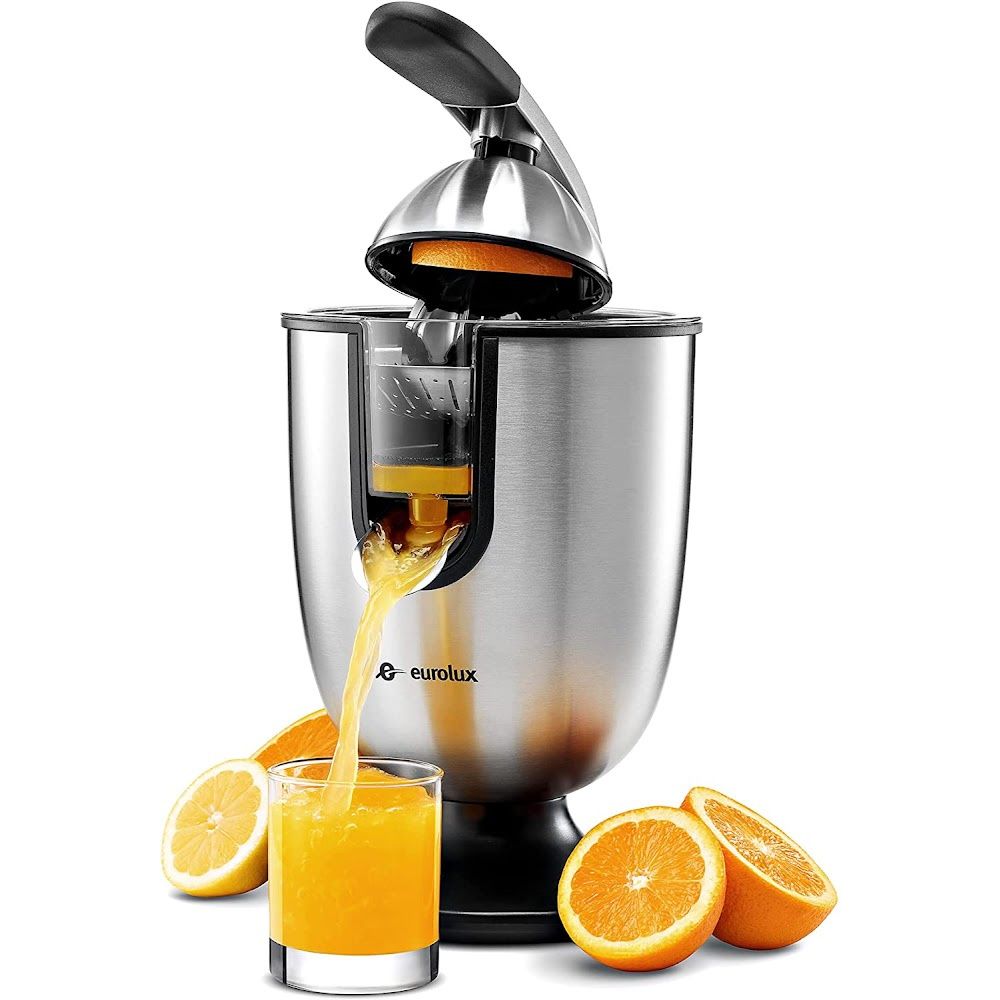 Things In The Spotlight
This juicer features a soft grip rubber handle press that only requires a minimal amount of pressure to start the automatic juicing process. The device's handle must be pressed down to start it, and then released to cease operation. An auto-on/off function is included. When the container is full, just stop the tap.
The Eurolux electric juicer uses a new and improved motor gear that offers a quiet yet powerful juice extraction at only 120 watts. It provides the same exact power as with 160W juicers but is made more energy-efficient and expected to last longer.
Whether you're a busy mom or a professional chef, the Eurolux Citrus Juicer Squeezer is a must-have for anyone who loves freshly squeezed citrus juice.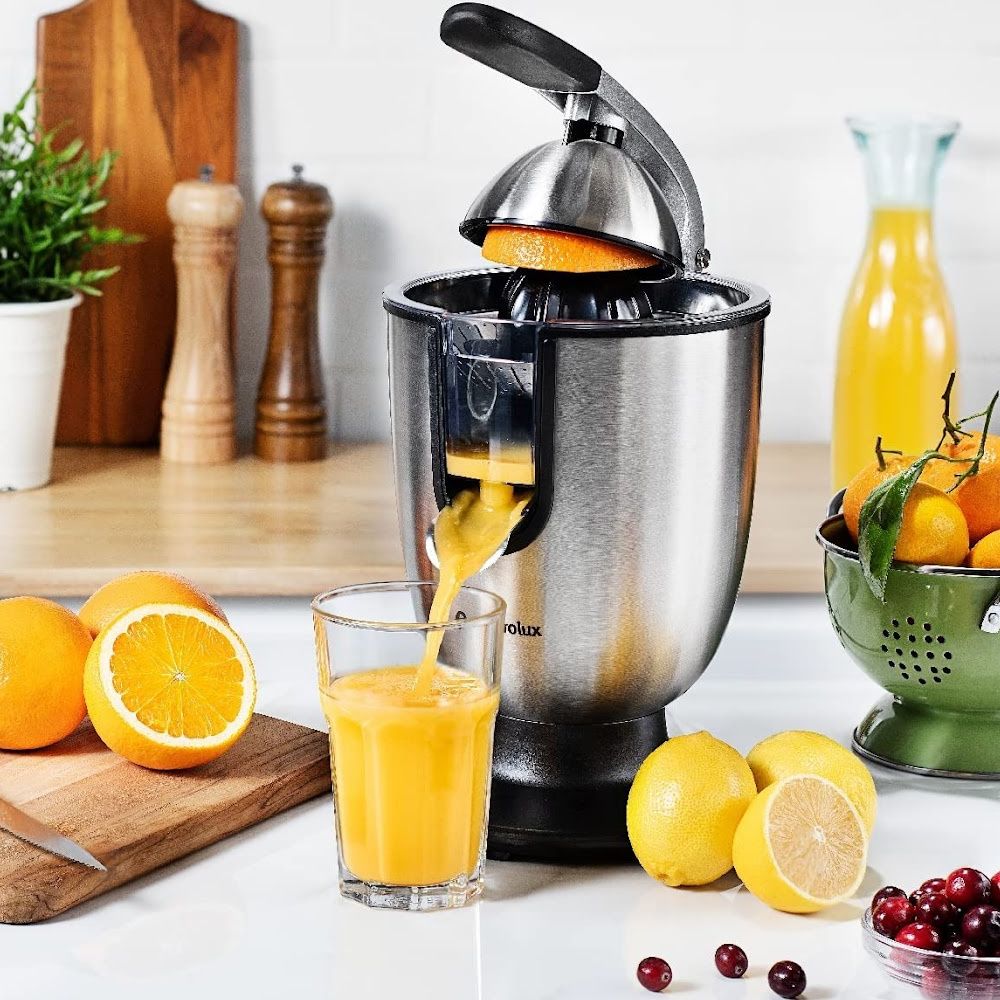 ---
Breville Citrus Press Pro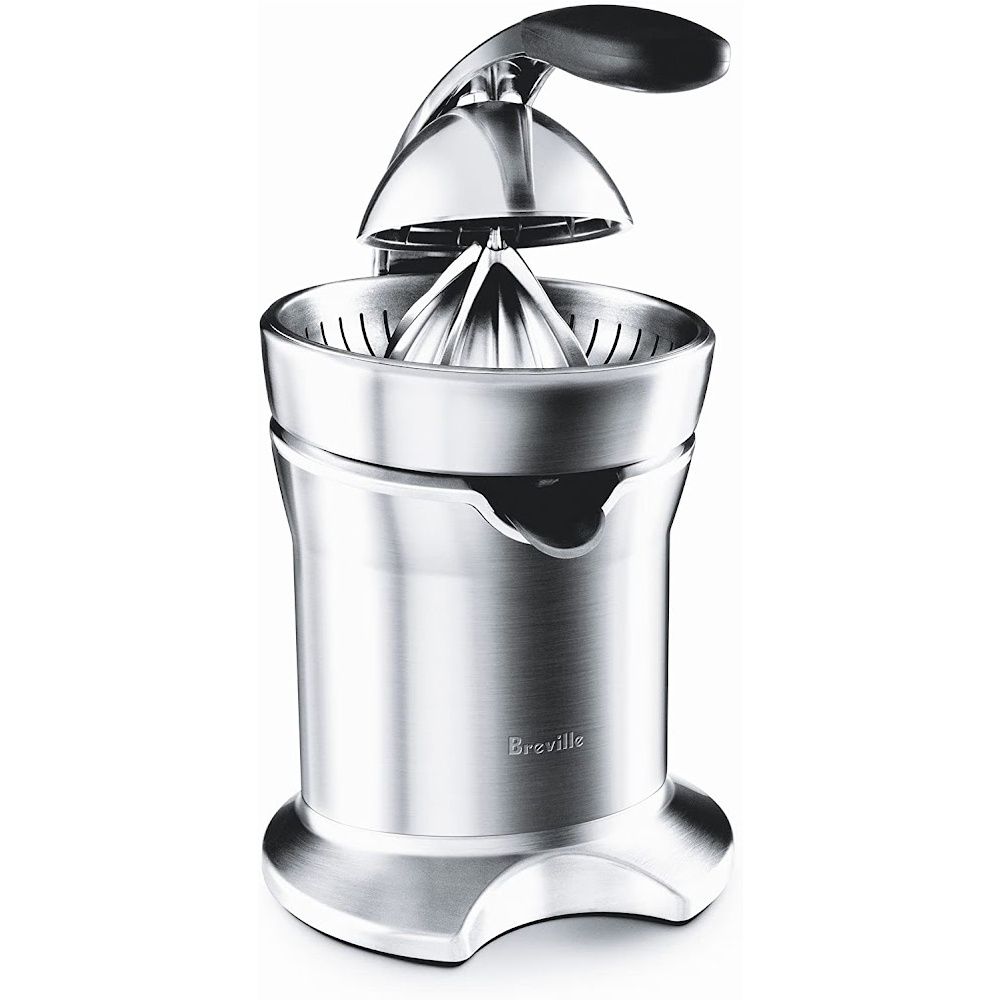 Best Choice For Its Durability
Breville Citrus Press Pro
BUY IT ON AMAZON
What Makes It Catchy
For those who demand the very best in terms of durability and performance, this powerful Breville device is the clear choice. This top-of-the-line model is constructed from only the highest quality materials, ensuring years of trouble-free operation.
The active-arm press with power assisted lever makes short work of even the toughest fruits, while the Quadra-Fin acid-resistant cone maximizes juice extraction.
The triple hinged arm ensures downward pressure throughout the juicing process, making sure that every last drop of juice is extracted.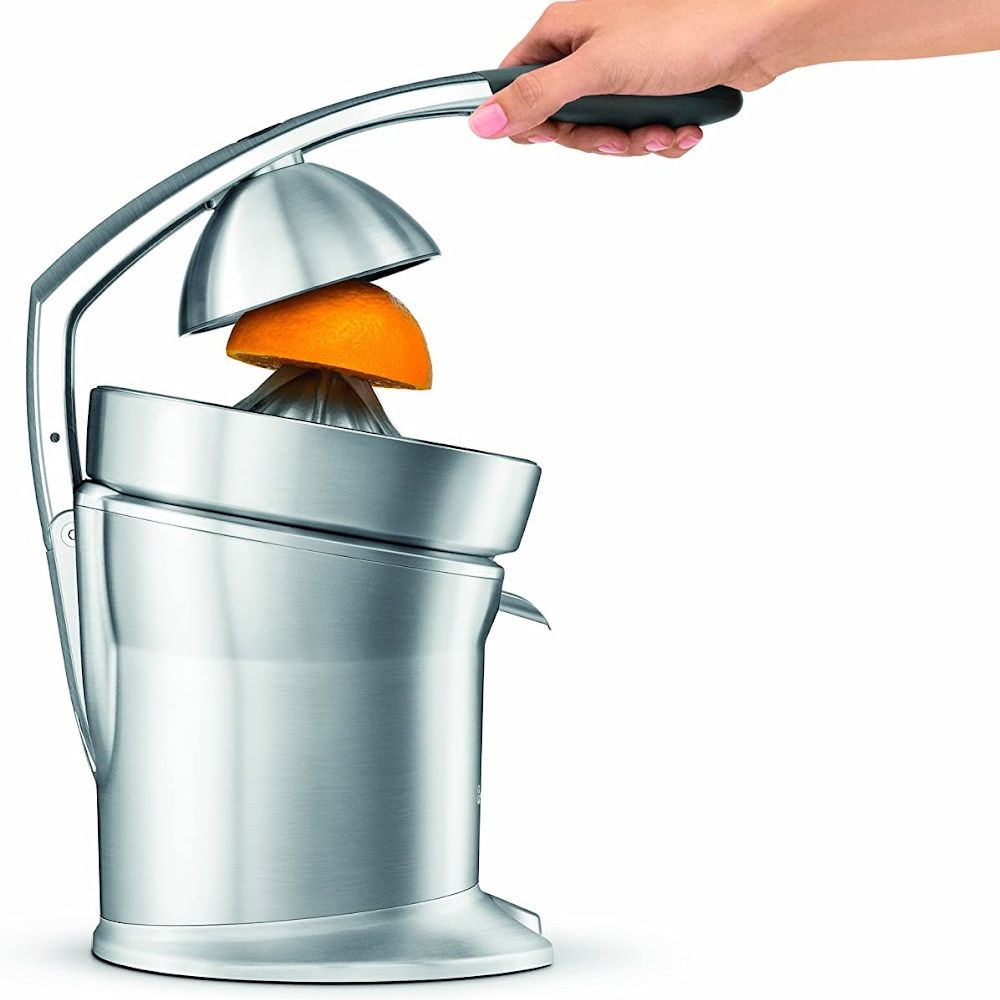 Things In The Spotlight
The unique juicing cone design is finned and undulated to extract maximum juice from all sizes of citrus fruit. And for added convenience, the cone, collector, filter and fruit dome are all dishwasher safe.
The safety switch won't allow the cone to spin until both the arm is lowered and sufficient pressure is placed on the top of the cone. This prevents accidental spillage and ensures that only the freshest, most delicious juice is made.
The Citrus Press Pro also features a convenient drip stop system to avoid spillage onto your countertop. So you can enjoy fresh, healthy juices without any mess. If you're serious about juicing, the Breville Citrus Press Pro is the only way to go.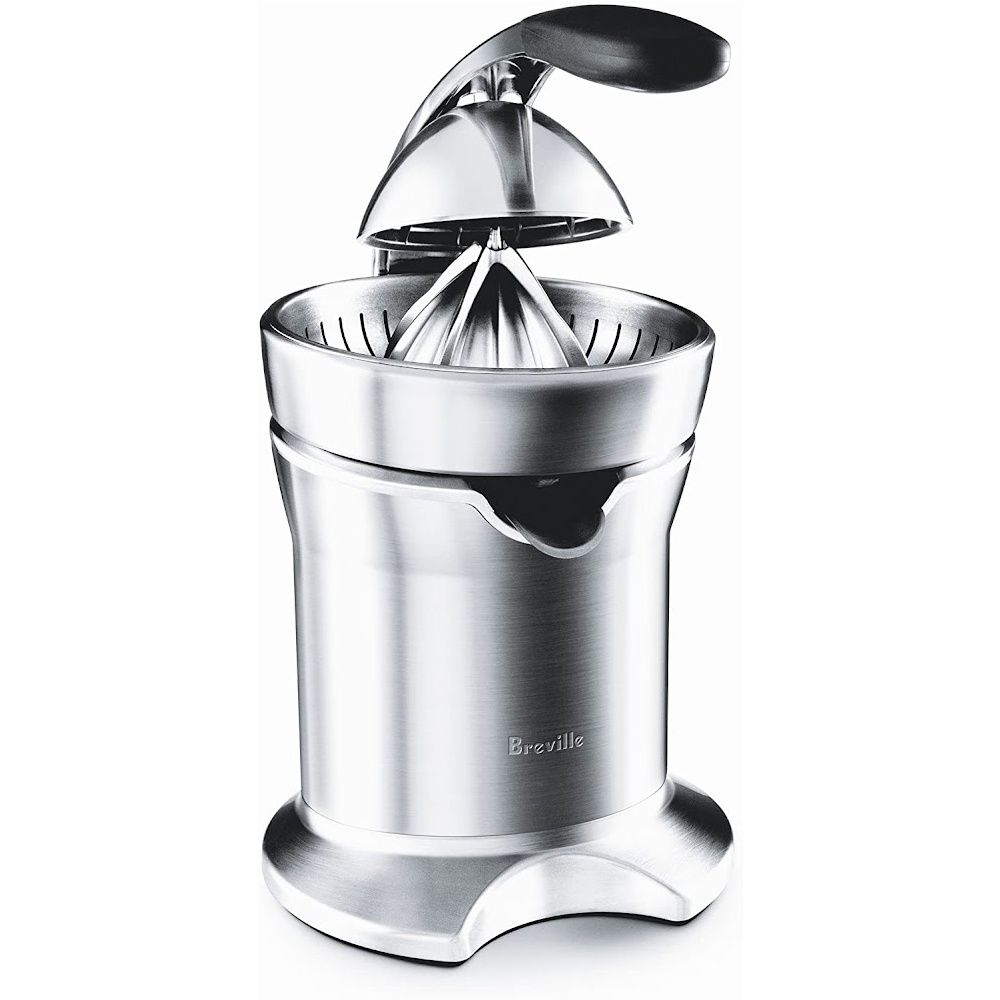 ---
Ainclte Electric Citrus Juicer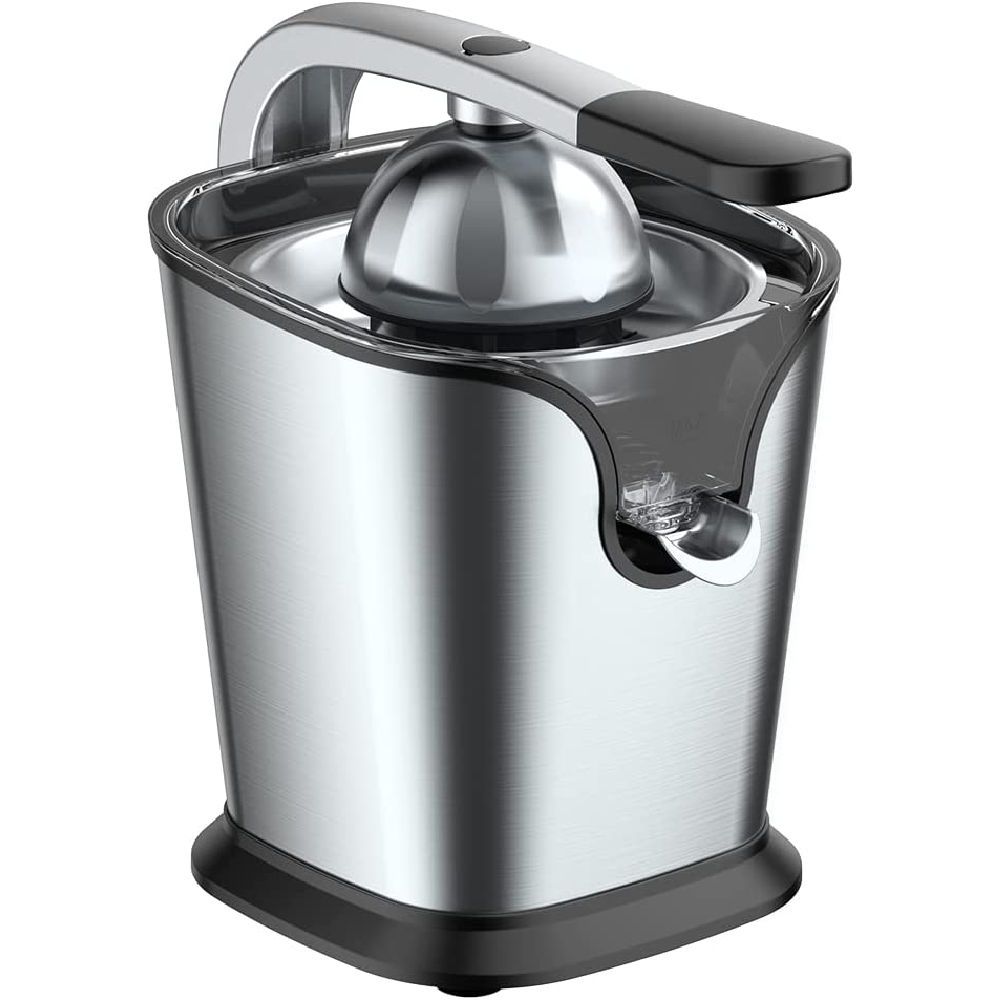 Best Choice For Its Efficiency
Ainclte Electric Citrus Juicer
BUY IT ON AMAZON
What Makes It Catchy
This handy kitchen appliance lets you make fresh, nutrient-rich juice from a variety of citrus fruits, including lemons, limes, oranges and grapefruits. Just add your favorite fruits to the juicer and enjoy a delicious glass of freshly squeezed juice in no time.
Not only is the Ainclte Electric Citrus Juicer quick and easy to use, it's also great for your health. Freshly squeezed juice is packed with vitamins and minerals, and doesn't contain any artificial colors or preservatives. So you can feel good about giving your body the nutrients it needs to start the day off right.
Whether you're enjoying a glass of juice solo or entertaining friends and family, the Ainclte Electric Citrus Juicer is the perfect way to enjoy fresh, delicious juice without any hassle. So go ahead and treat yourself - your body will thank you for it!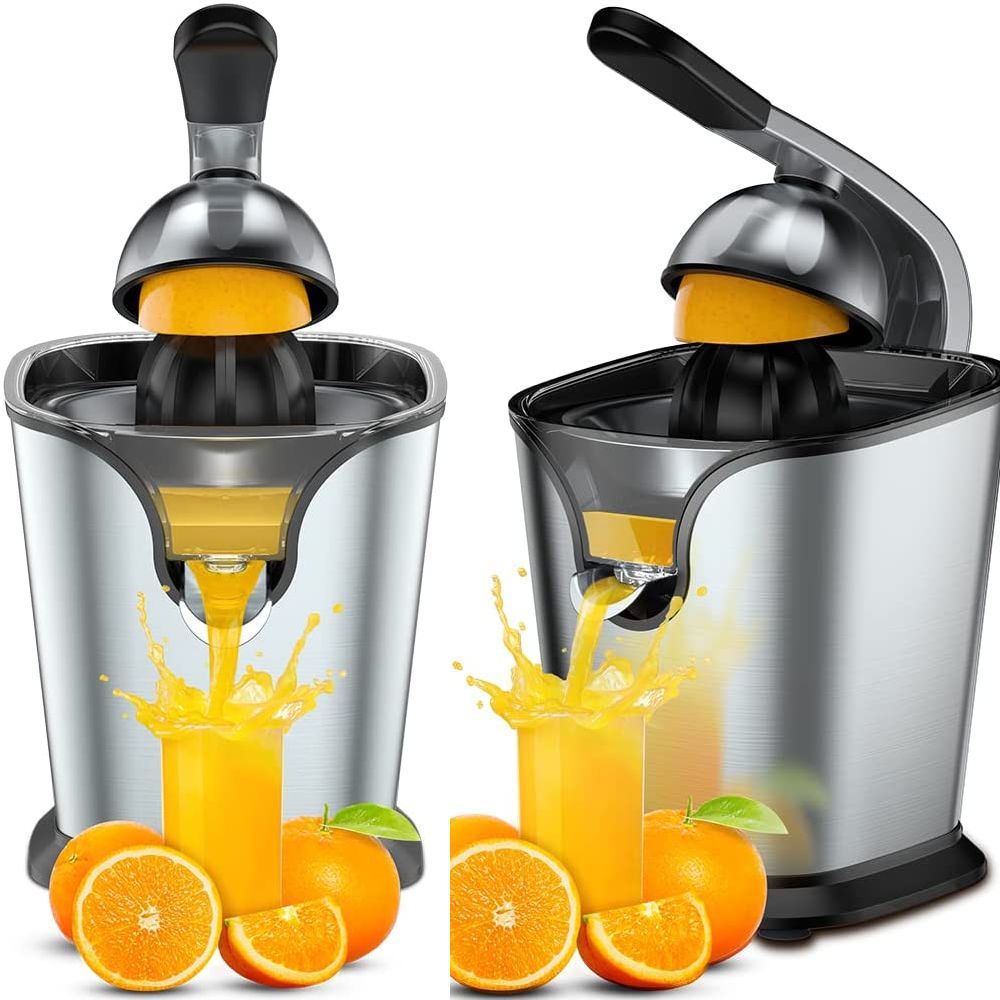 Things In The Spotlight
This juicer features pressure-activated operation and a soft rubber grip for easy use. It has an options for two different reamers, one for small, one for large fruit. Plus, the built-in pressure sensing system ensures that your orange juice will be extracted quickly and safely.
With the 4 bottom suction cups, you can rest assured that your juicer won't slide around during use. Best of all, the Ainclte Electric Citrus Juicer is easy to take apart and clean – it only takes 10 seconds to assemble!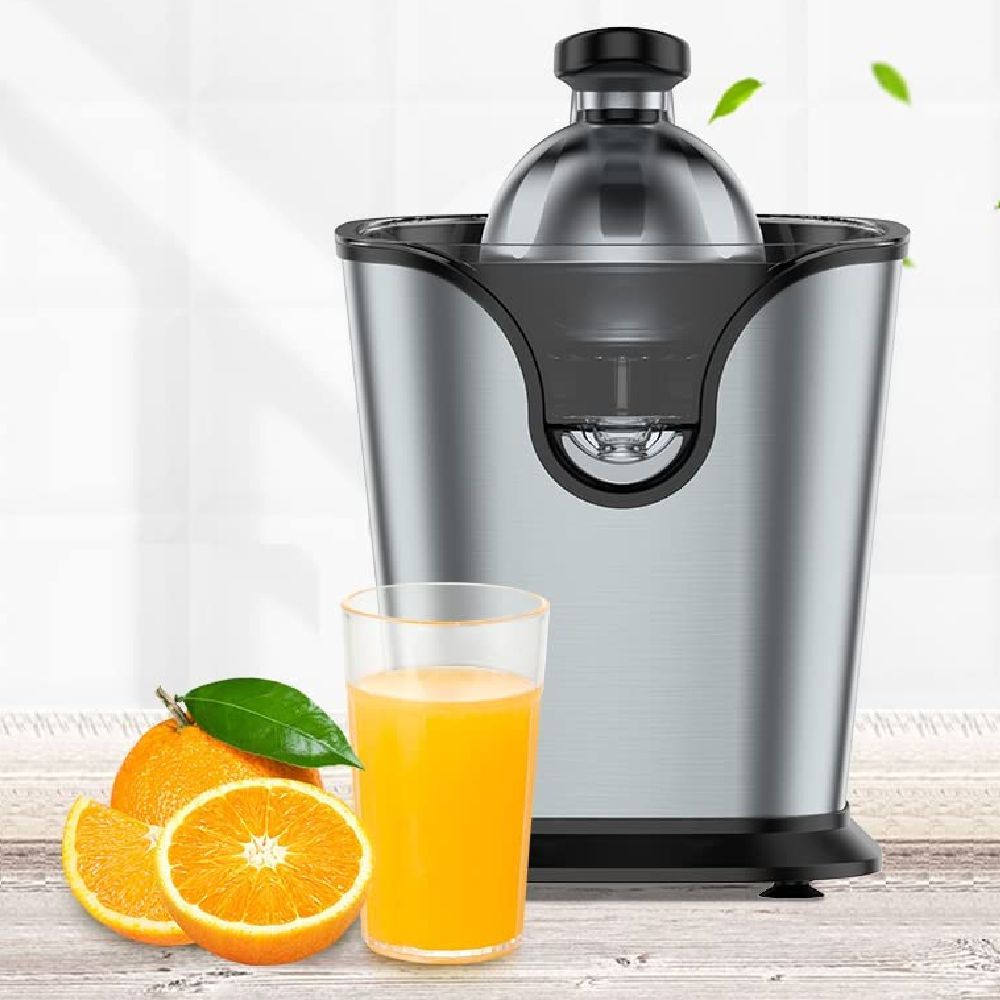 ---
Electric Orange Juicers FAQs
The hunt for and trying to select the right orange juicer for your needs can be hard, because there are so many different brands and models.
We've put together this Frequently Asked Questions (FAQs) guide to help you choose the perfect electric juicer for your needs. Read on!
What is the best juicer for oranges?
If you want a juicer that is easy to use and clean, I would recommend the Breville Citrus Press Pro. This is a citrus juicer that presses oranges, grapefruit, lemons, and limes to extract the maximum amount of juice possible. It has a built-in strainer to prevent seeds and pulp from entering the juice. It has dishwasher safe parts, including the strain, and it comes with a citrus cleaning brush for easy cleanup. The press also has a rubberized grip for comfortable handling. The Cuisinart Pulp Control Citrus Juicer is an affordable alternative.
Is a citrus juicer worth it?
Yes, a citrus juicer is worth it. A citrus juicer extracts the juice from fruit and vegetables, meaning you get more nutrients from your food. It's also easier to make fresh juices with a citrus juicer than with a blender, and you can use the leftover pulp to make things like muffins or cakes. Also, ask around among friends and family, to hear their experience with juicers.
They too are reviewers who can provide you with valuable feedback from their users' perspectives, or links to reliable review sites. You can address specific issues, verify what you have read in online reviews, and modify what you prefer in a juicer - or in any other kitchen appliance for that matter. This makes picking the right one for you easier.
Should I eat an orange or drink orange juice?
A whole orange and orange juice are nutritionally similar. Yet, there are some differences. Compared to a whole orange, orange juice has about twice the calories and carbs (fruit sugars), and significantly less fiber.
Which electric juicer is best?
There is no single "best" electric juicer. Most citrus juicers are only fit to handle citrus fruits, and easy to clean
Centrifugal juicers are generally considered to be the least efficient type of electric juicer, because they produce the most heat and oxidation. But they are fast.
Masticating juicers are considered to be more efficient than centrifugal juicers because they produce less heat and oxidation. Additionally, masticating juicers can also process a wider variety of fruits and vegetables, including tougher items like wheatgrass.
Both centrifugal and masticating juicers take some time to clean properly.
How do I choose a citrus juicer?
When looking for a citrus juicer, there are a few factors you should consider.
First, decide how much juice you will be using the juicer for, and how often. If you are only juicing for yourself or maybe one other person, then a small handheld juicer should do the trick. If you will be juicing more often or for larger quantities, then you may want to invest in a larger electric citrus juicer.
Second, decide what type of citrus fruits you will be using most often. Not all citrus juicers are able to juice every type of citrus fruit. Some are specifically made for oranges while others can handle limes and lemons as well. Be sure to pick the right one for your needs.
Finally, think about how easy you want the juicer to be to use and clean (think dishwasher safe parts). Some electric citrus juicers are very simple and easy to use, while others come with more attachments and features. Choose the juicer that is right for you and your needs. Once you found one, you'll use it everyday, and love its fresh juice.
Can I put an orange in a juicer?
There's no simple answer to this question - it depends on the juicer and the orange. Some juicers aren't designed to handle citrus fruits, so if you're not sure whether your juicer can handle an orange, it's best to check the manufacturer's instructions. The best option is an orange juicer, but most likely, any electric citrus juicer will do. You may also use a centrifugal juicer or a masticating juicer.
Both can do a lot more than making citrus fruit juice. You can use them for all kinds of fruits and vegetables. A masticating juicer can handle even some very tough fruits and vegetables.
Can you use a juicer for lemons?
Yes, assuming you have a citrus juicer you can use it for lemons. The juice will be extracted from the lemon, leaving behind the pulp and seeds. The juicer will also separate the juice from the fiber, so you'll get a more concentrated lemon juice.
This is perfect for making cocktails or adding to recipes that call for lemon juice. Personally, I like to add 1 lemon to 4 or 5 oranges, to produce a juice with a slightly more sour taste.
Can you use a electric juicer for limes?
Yes, you can use a juicer for limes. However, the resulting juice will be more sour than if you used a lime squeezer or zester. You can mix it with orange juice, to pep up its taste.
What's the difference between bottled orange juice and carton orange juice?
The difference between bottled and carton orange juice is that carton orange juice is pasteurized. This means that it's heated to a high temperature to kill any harmful bacteria.
Bottled orange juice is not pasteurized, so it may contain harmful bacteria. However, many brands of bottled orange juice are also heat-treated after being packaged to kill any harmful bacteria.
Is a juicer or squeezer better?
Juicers and squeezers both have their own unique benefits that can be advantageous depending on what you're looking for.
If you want to get the most out of your fruits and vegetables, then a juicer is going to be the better option as it extracts pulp and fiber from the produce which leaves behind vitamins, minerals, and enzymes. This ensures that you're getting all of the nutrients from your fruits and vegetables without any of the filler.
On the other hand, if you're looking for something that's quick and easy with minimal clean-up, then a squeezer is going to be ideal as it doesn't require any chopping or prep work beforehand. Simply place your fruit or vegetable into the squeezer and out comes delicious juice!
What can you do with the pulp from juicing?
You can make granola-bars and add the pulp, as it contains vitamins and minerals.
Consider making "Pulp-Sicles": I think you get the point.
You can mix it when baking cakes or cookies.
What is the best wattage for a juicer?
The best wattage for a juicer really depends on the type of juicer. If you have a centrifugal juicer, then you'll want to go with a higher wattage, like 1000-1500 watts. If you have a masticating or cold-pressed juicer, then you'll want something around 200 watts. Citrus juicer uses far less, 40-60 watts.
What are the pros and cons of juicing?
The pros of juicing are that it is a quick and easy way to get your recommended daily fruits and vegetables, it is a great way to improve your overall health, and juicing can help you lose weight.
The cons of juicing are that it can be it takes time to clean the juicer. You have to be careful not to overdo it or you will end up with too much juice.
Which one is better juicer or blender?
This is a tough question to answer, as it depends on personal preferences and what you're looking to get out of your juicer or blender. In general, juicers are better at extracting juice from fruits and vegetables, while blenders are better at making smoothies and other thicker drinks.
If you're interested in juicing for health benefits, then a juicer is probably the way to go. If you're more interested in making drinks that are fun and tasty, then a blender is probably the better option. Ultimately, it comes down to what you want to use your juicer or blender for.
What else you can use in an electric orange juicer?
In addition to oranges, you can use electric orange juicers to make lemon juice, lime juice, apple juice, grapefruit juice, and pomegranate juice. You can also use them to make smoothies, sauces, and dressings.
What is the difference between a juicer and a cold press juicer?
A juicer is a kitchen appliance that extracts juice from fruits and vegetables. A cold press juicer, also known as a masticating juicer, is a type of juicer that uses a slow chewing motion to extract juice from food.
Cold press juicers do not use blades to chop or shred fruits and vegetables like conventional juicers do. Instead, they squeeze or press the produce to extract the juice.
This process preserves more nutrients and results in a higher quality of juice. Masticating juicers also have the ability to make nut milks, baby food, and fresh fruit sorbets.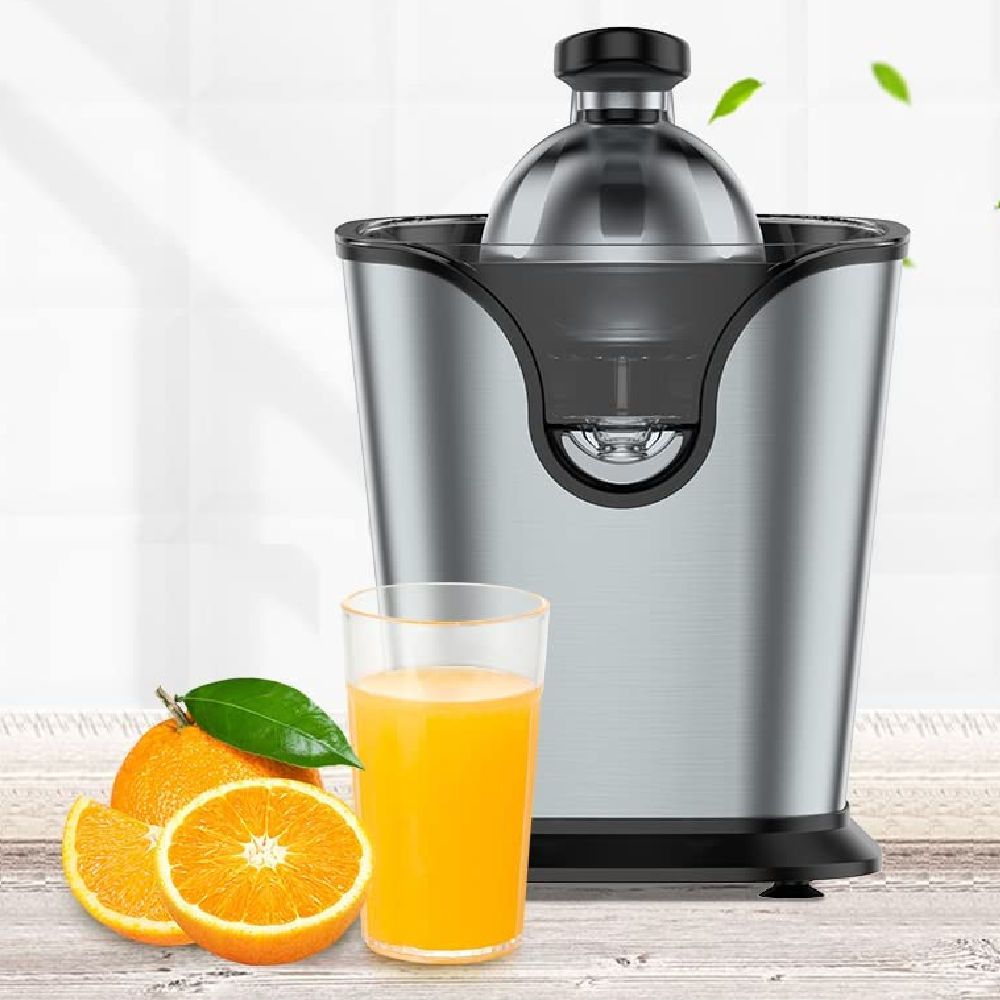 The Best Orange Juicer For You
We hope that this blog post has helped you to better understand the different types of orange juicers on the market, which one will be the best fit for your needs, and current deals. Which of these five items is your favorite?
If you're looking for more inspiration, be sure to check out other blog posts on our website. Thanks for reading!
Catchy Finds