Smoothie bowls are all the rage in the culinary world. But what is a smoothie bowl and what is an acai bowl? Ready to make your own? Here's how you can make a smoothie bowl and acai bowl in just 3 simple steps. Read on!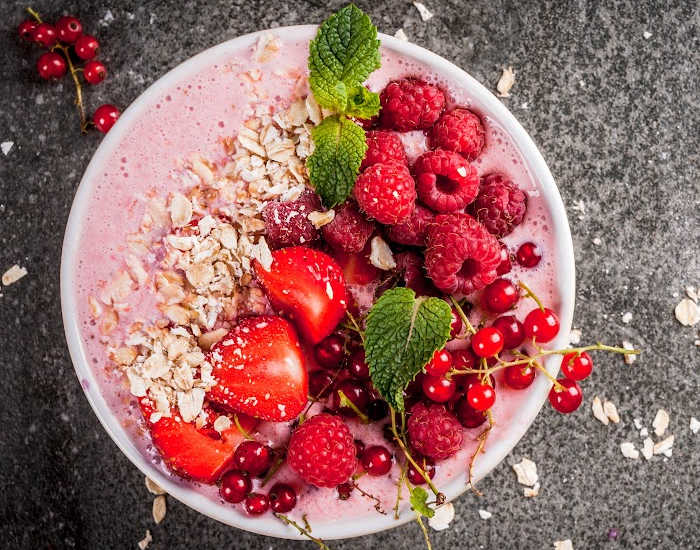 Smoothie Bowl vs. Acai Bowl
A smoothie bowl is a thick, creamy smoothie that's been blended to the consistency of ice cream and served in a bowl. Smoothie bowls are usually made with a combination of fruits or veggies blended together with milk or water.
An acai bowl is typically made with frozen acai berries packets and other fruits, sweeteners or natural juices as a base, and topped off with fresh fruits. Acai bowls are usually thicker than smoothie bowls because of how the ingredients are blended.
Both options are delicious and nutritious so it really comes down to personal preference.
How To Make A Smoothie Bowl
Step 1: Choose Your Base Ingredients
Pick the base ingredients for your smoothie bowl. You will want to choose two or three different types of fruit or vegetables that you want to blend.
You can try blending frozen bananas, pineapple chunks, and spinach for a tropical flavor or strawberries, mangoes, and beets for something sweet and earthy.
Step 2: Add Liquid
Once you've chosen your base ingredients, add some liquid such as water or milk (dairy-free milk options such as almond milk) until the mixture reaches the desired consistency.
The amount of liquid needed will depend on the type of fruits/veggies used and how thick or thin you prefer your smoothie bowls.
Step 3: Blend It Up!
Once all the ingredients are added to the blender, blend them until they reach a creamy texture. Depending on your blender's power level this could take anywhere from 2 minutes up to 5 minutes depending on what kind of blender you have at home.
After blending everything until it's nice and creamy, pour it into a bowl and top it with whatever decorations strike your fancy! Add fresh fruit slices (such as kiwi or orange), nuts (such as almonds or walnuts), homemade granola, and chia seeds.
---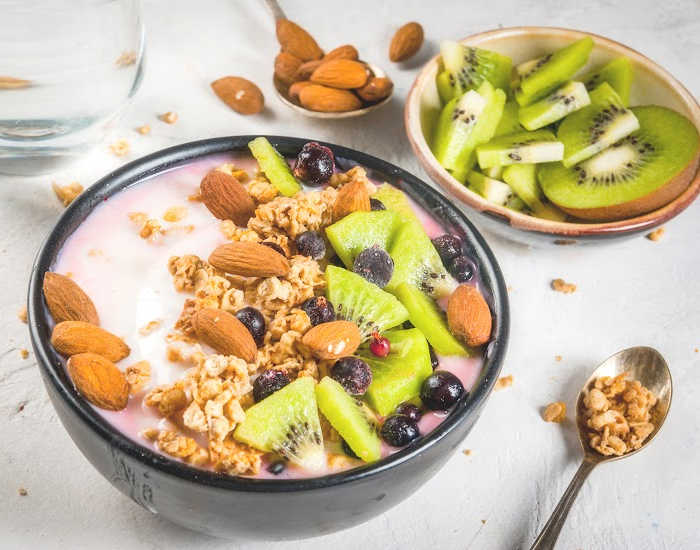 How To Make An Acai Bowl
Step 1: Gather Your Ingredients
The beauty of an acai bowl is that you can customize it to your liking. Start by gathering your favorite fresh fruits, nuts, and seeds. Some great options are bananas, strawberries, blueberries, chia seeds, coconut flakes, walnuts and almonds.
Step 2: Make Your Acai Puree
Now it's time to make your acai puree! All you have to do is put the frozen acai packet into a blender with your liquid base of choice (coconut water, or apple juice, or dairy-free milk like almond milk works best).
Blend the mixture until it reaches a creamy texture with no chunks or lumps remaining. The result should be thick enough that it won't drip off of a spoon but still thin enough that it's spreadable. If it seems too thin add more frozen acai or if it seems too thick add more liquid base.
Step 3: Add Toppings
This is where the fun begins! Now that you've made your delicious acai puree all that's left to do is top it off with an array of mouthwatering goodies.
Ad some fresh fruits like banana slices or strawberries and blueberries along with some crunchy toppings like nuts and seeds for texture. To finish things off sprinkle some granola or coconut flakes on top—the possibilities are endless!
And there you have it—an easy step-by-step guide on how to make an amazing acai bowl right at home! With just a few ingredients and steps you can create a healthy breakfast option packed full of flavor.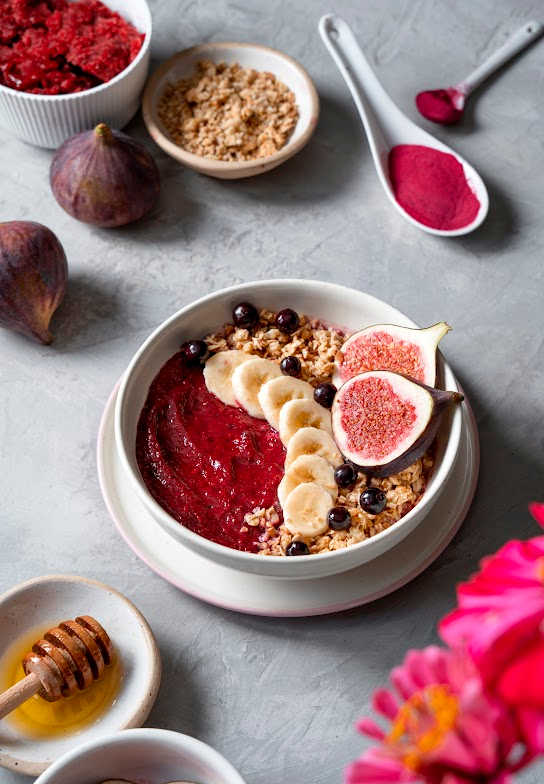 Tips & Tricks
To make a smoothie thicker, add more frozen acai or fruits.
Adding healthy toppings like freshly sliced fruits like figs, bananas or strawberries, different berries, kiwis or mangoes can up the nutritional value of your breakfast or snack while still keeping it yummy.
Opt for dairy or nondairy milk, yogurt, nuts or nut butter, seeds, oats, and greens like spinach or kale—the possibilities are endless! Just make sure you have enough ingredients to fill the blender halfway.
Make sure that you don't overfill the blender jar; otherwise, you won't be able to blend everything properly.
If you are using ice cubes in your smoothie bowl mix that they should be placed directly on top of the other ingredients. This ensure that they don't get stuck at the bottom of the jar.
Need a quality blender to make your smoothie bowls and acai bowls? Check out the blog post below. We've done the market research for you and picked 5 best items, so you can make endless smoothie bowls from now on!
Get creative with your ingredients when making your smoothie bowls! Feel free to experiment with different flavor combinations until you find one that fits your taste buds perfectly. Enjoy!
Catchy Finds