Move over, grilled cheese. There's a new kid in town, and it's called baked brie. This delicious, ooey-gooey cheese is the perfect appetizer for your next party or get-together.
But what's the best way to bake brie? In a toaster oven, of course! Keep reading for our easy, step-by-step guide on how to make this delectable dish.
What Ingredients You Need?
1 block of brie cheese
1 piece of parchment paper or aluminum foil
Your favorite spices, herbs, or jams
Crackers or bread for dipping (optional)
What Tools You Need?
A toaster oven
A sharp knife
A spoon
A serving platter
How To Make Baked Brie
Step 1: Preheat your toaster oven to 350 degrees Fahrenheit. While it's heating up, unwrap your block of brie cheese and place it on a cutting board. Using a sharp knife, cut off the top rind of the cheese (you can save this to nibble on later).
Step 2: Next, use a spoon to scoop out the inside of the brie, being careful not to rip the sides of the cheese. Now's the time to get creative!
Step 3: Mix in your favorite spices, herbs, or jams to the scooped-out center of the brie. We like to add a touch of honey and some freshly chopped rosemary, but feel free to experiment with different flavor combinations. Once you're satisfied with your filling, spoon it back into the center of the brie round.
Step 4: Carefully transfer your filled brie round onto a piece of parchment paper big enough to fit in your toaster oven. If you don't have parchment paper, you can use aluminum foil. Just be sure to crinkle it up first so that it doesn't stick to the cheese.
Step 5: Place the filled brie in the middle of the parchment paper or foil and then bring up the sides, folding them over the top of the cheese like a little package.
Step 6: Put your wrapped block of cheese into the preheated toaster oven and let it bake for about 15 minutes or until the cheese is melted and bubbly. Keep an eye on it towards the end so that it doesn't overcook—nobody likes burnt brie!
Step 7: Once it's finished baking, carefully remove it from the toaster oven (it'll be hot!) and transfer it onto a serving platter. Garnish with fresh herbs or fruit, if desired, and serve immediately with crackers or bread for dipping. Enjoy!
Baked Brie Recipes
Baked brie is one of our all-time favorite appetizers—and we're not alone! This ooey-gooey treat is always a hit at get-together. Best of all, it's super easy to make...in a toaster oven!
So if you're looking for a simple yet impressive dish to serve at your next gathering, give our recipe a try. Your guests will be glad you did!
If you're looking for more recipes that include brie cheese, check out the video below. It provides 4 additional baked brie meal ideas!
Thinking of getting a toaster oven? Before you purchase one, read our in-depth review so that you can make the best decision possible. Our blog post covers everything from simple to more advanced models. We even have a buyer's guide at the end of the post! So what are you waiting for? Start reading and find your perfect toaster oven today.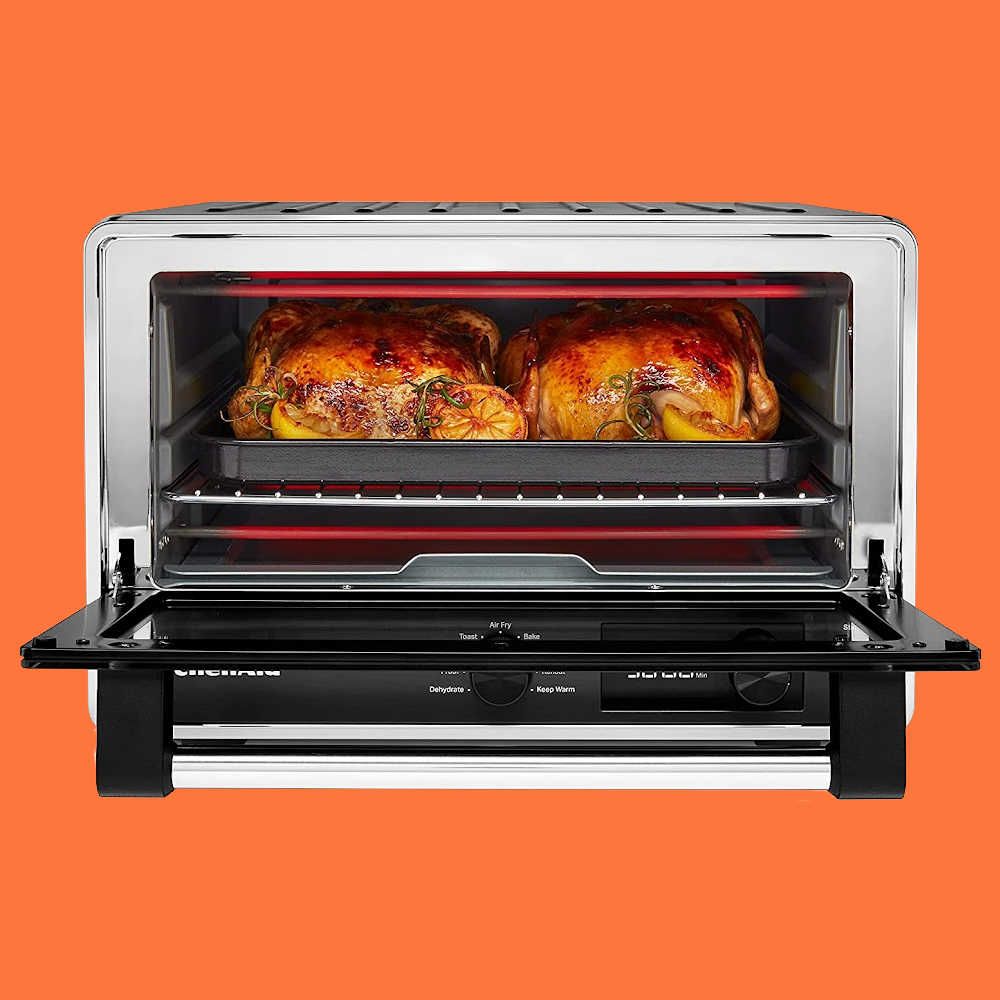 Happy baking!
Catchy Finds