If you love the taste of BBQ chicken but you don't like the process preparing & grilling it. And you love to enjoy all the flavor of BBQ chicken without having to fire up the grill. Then this recipe for BBQ chicken pizza is for you. Even if you've never made pizza before. So give it a try!
BBQ Chicken Pizza Recipe
Ingredients
1 store-bought or homemade pizza crust
1 cup BBQ sauce
1/2 cup shredded mozzarella cheese
2/3 cup shredded cheddar
1 cup cooked and shredded chicken
1 small red onion, sliced
1 green bell pepper, sliced
1/2 cup cilantro leaves, chopped
1/4 tsp. paprika powder
4 slices bacon, cut into bite-size, stir-fried
Instructions
For the chicken:
Preheat oven to 425°F (220°C).
Place chicken on a baking sheet and season with paprika powder, salt, and pepper.
Bake for 20-25 minutes or until cooked through and golden brown.
Once cooked, shred the chicken with two forks into small pieces.
For the pizza:
Preheat oven to 450°F (230°C).
Place the pizza crust on a baking sheet and spread it with BBQ sauce.
Top with mozzarella, cheddar, prepared chicken, onions, bell pepper and bacon.
Bake for 15 minutes or until cheese is melted and bubbly.
Garnish with chopped cilantro leaves. Enjoy!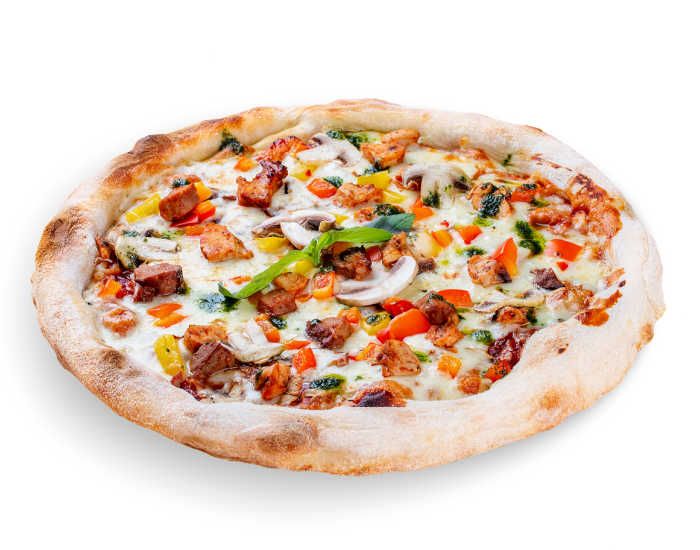 What Is An Alternative Option For Vegan?
For a vegan alternative, follow the exact steps above, with some ingredient replacements:
Replace the chicken with plant-based protein such as tofu or mushroom.
Simply marinate for 30 minutes in your favorite BBQ sauce before adding to the pizza.
You can also swap out mozzarella cheese for vegan cheese of your choice.
What Vegetables Combinations Go Well With This Pizza?
You can choose any vegetables you like on top of this chicken pizza.
Mushrooms, tomatoes, spinach, zucchini, corn, and olives are all great options.
Or if you want to switch things up a bit, try adding pineapple or jalapenos for some heat!
Should Veggies Be Pre-cooked For Pizza?
No matter what veggies you choose, it is best to sauté them beforehand to prevent soggy pizza.
This will help soften the vegetables and give them more flavor.
Just be sure not to overcook the veggies since they will cook further while baking on the pizza.
Don't forget to season your veggies with salt and pepper before adding them to the pizza.
Tips & Tricks
You can use any type of cheese that you like on this pizza. I've made it with just cheddar cheese before and it was still amazing!
If you don't have time to cook and shred your chicken breast, you can use a rotisserie chicken from the grocery store instead.
Just be sure to remove the skin and bones before adding it to the pizza.
For an extra kick of flavor, try adding a few tablespoons of your favorite BBQ seasoning to the shredded chicken before adding it to the pizza.
Ready to amaze your friends and family with pizza so good they'll think you ordered from a restaurant? Our blog post below lists out 7 of the best pizza ovens for home baking on the market. Find one that fits your needs, taste some amazing pies, and become known as the local pizza boss!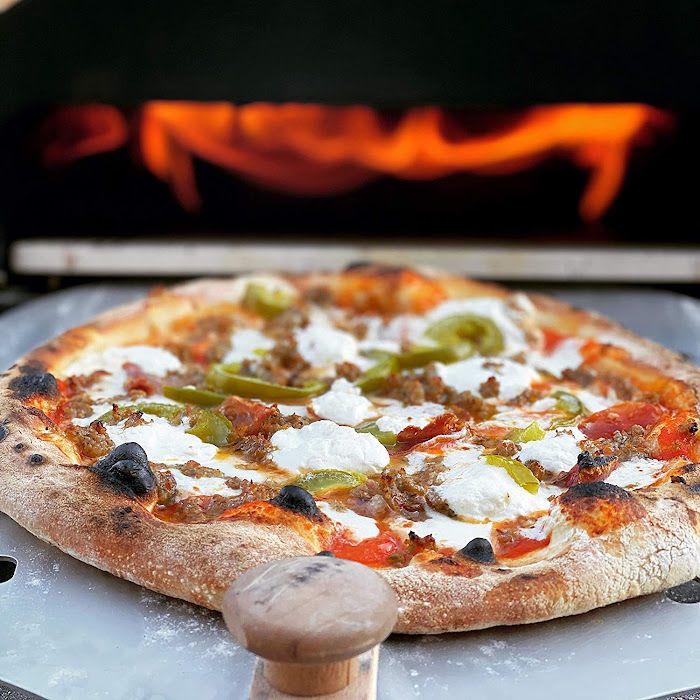 Now that you know how to make this delicious BBQ chicken pizza, there's no excuse not to try it out for yourself! Be sure to share this recipe with your friends and family so they can enjoy it as well!
Thanks for reading and happy cooking!
Catchy Finds