Whether you're looking for a unique way to mix up your burger night, or just want to try something new, beet burgers are a delicious option. With a beet burger, you can experience all the deliciousness of burgers without having to sacrifice your health or vegan lifestyle. Read on to get all beet burger's essentials, grab a beet burger recipe, and get cooking!
What Is A Beet Burger?
Beet burgers are an easy and tasty alternative to traditional beef burgers, perfect for any time you want something different without sacrificing flavor. A beet burger is, quite simply, a burger made with beets.
This can be done by swapping out some or all of the ground beef in your favorite burger recipe with cooked, shredded beets.
The result is a juicy, delicious burger with a slight earthy taste from the beets. And don't worry, nobody will know there are vegetables in your burgers unless you tell them!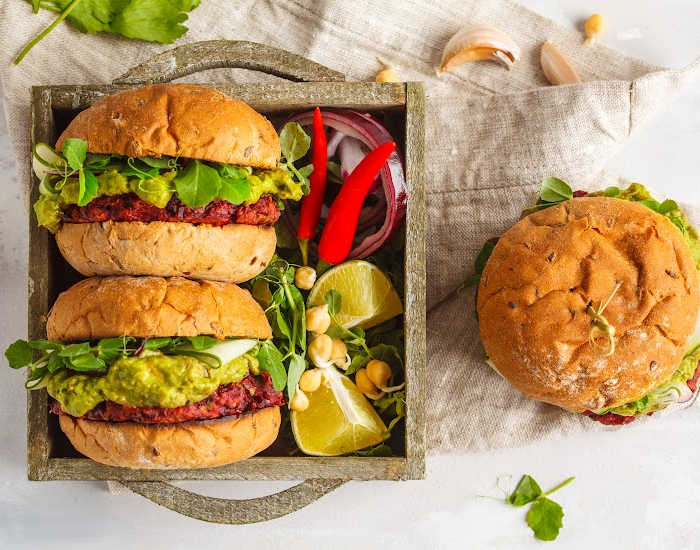 What Does A Beet Burger Taste Like?
Beet burgers have a unique flavor and texture. The earthy taste of the beets blends perfectly with the flavors of classic burger ingredients like cheese, garlic, onions, and more. Plus, beet patties are often juicier than traditional beef patties thanks to the high moisture content in beets.
Is Beet Burger Vegan?
Beet burgers are suitable for vegans or vegetarians since they contain no animal products. Plus, they're packed full of nutrients like iron, potassium, and dietary fiber.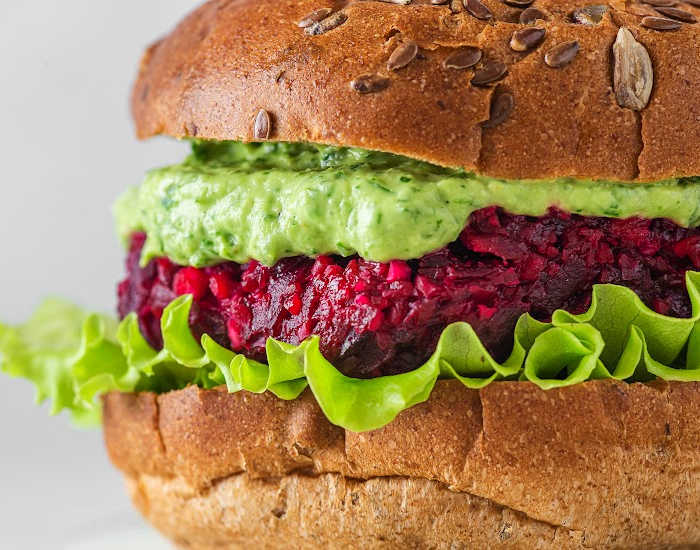 Beet Burger Recipe
Ingredients
2 large beets, peeled and grated
1/2 cup grated carrot
1 tomato, sliced
2 tablespoons olive oil
1 teaspoon curry powder
Salt and pepper to taste
4 burger buns
1/4 cup ricotta vegetable
Instructions
Preheat oven to 350 degrees F (175 degrees C).
In a large bowl, combine beets, carrots, olive oil, curry powder, and salt and pepper. Mix well.
Form into 4 patties and place on a baking sheet lined with parchment paper.
Bake for 20 minutes or until golden brown and crispy on the outside.
Assemble the burgers with a patty, ricotta vegetable, and tomato slices between the buns. Serve hot!
Cooking Beet Burgers
If you're grilling them, cook them over medium heat for about 7-8 minutes each side, or until they're nice and browned on both sides.
If you're pan-frying them, cook them over medium-high heat until they're crispy on the outside but still moist in the center.
If you're baking them, cook them in a preheated oven at 350 degrees Fahrenheit until they're cooked through (about 20 minutes).
Once your beet burgers are cooked to perfection, it's time to serve! Add any toppings and condiments you like (we recommend cheese, bacon, avocado, microgreens, and plenty of BBQ sauce) and enjoy!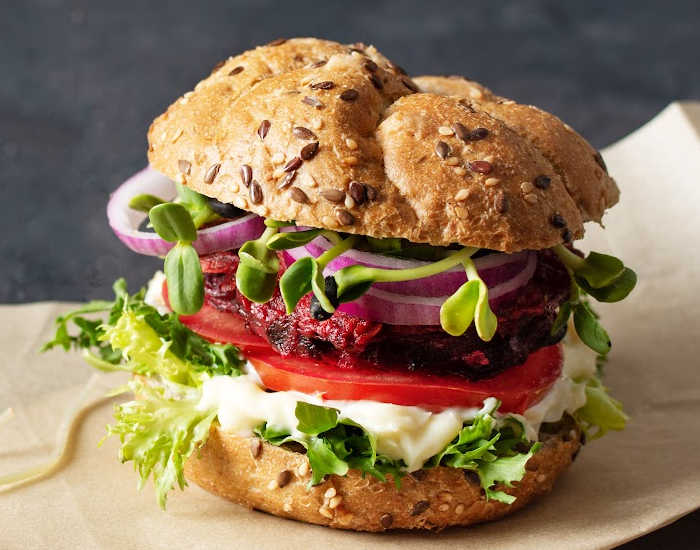 Beet Burger Variations
If you're feeling adventurous, there are plenty of ways to switch up your beet burger.
Adding other vegetables to your beet burgers. Options: grated potatoes, grated purple cabbage, chickpea, mushroom, finely chopped onions, and even spinach or kale can all be added to the mix. Just make sure whatever vegetables you add are finely chopped so that they bind well with the beets and don't fall out of your burger patties when you're cooking them.
Adding different spices like cumin, or chili powder, or coriander, or pasley powder for a spicier version.
Using different types of cheese as your patty topping. Choices of roasted garlic cream cheese, or coconut cream, or crumbled feta cheese, or or goat cheese, or even vegan mozzarella are all great options.
Using cooked quinoa or black beans added on the beets for a nuttier flavor and crunchy texture.
Adding nuts (walnuts, almonds, or cashews) and seeds (hemp, pumpkin, sesame or flax) to give your burger an extra crunch.
Adding protein (if you are not a vegan): beef, or chicken, or bacon to the mix before cooking.
---
Tips & Tricks
Beet burgers are all about experimentation and having fun. Here are some tips & tricks to make sure your beet burger is the star of your meal:
Make sure the cooked beets are shredded finely so they can bind easily with other ingredients.
Add a few tablespoons of breadcrumbs or oat flour to the vegetable mixture to help with binding and give your beet burger a firmer texture.
Don't overwork the beets or they'll become mushy.
Use a wide spatula to flip the burgers so they don't break apart when flipping.
Store cooked beet burgers in an airtight container for up to 3 days in the refrigerator. Reheat cooked burgers in the oven or in the microwave before serving. Enjoy!
Watch the below video tutorial for additional beet burger recipe, using beets & hemp, flower seeds as a main ingredients. These are just a few ideas to get you started with making beet burgers at home. Beets are not just for salads anymore!
If you're looking for a top-of-the-line food processor that can handle any kitchen task, from slicing and dicing to shredding and pureeing, then check out these 5 picks. They'll help you save time and money by preparing meals quickly and efficiently. And they're perfect for large families or entertaining groups.
With so many varieties to try and the delicious flavor they create, they're sure to become a staple in your kitchen rotation! Make your very own beet burger today!
Catchy Finds