Do you need a blender and a food processor, but don't want to buy a separate food processor and blender? Then you need to check out the best blender annex food processor combos in the market!
This kind of combo consists of a blender, with a separate food processing unit. In a later article, we will cover food processors that come with a blender.
We have reviewed some of the best combos available. We have recommendations for you, so you can discover which one will work best for you. Whether you are looking for something basic or want a machine with all the bells and whistles, we have you covered!
Blender Food Processor Combo Buying Guide
When looking for the best combo for blending and food processing, we took a number of factors into account.
First and foremost amongst these is motor power - wattage. A combo machine needs to be able to handle both tasks it is being asked to do, and many of the best blender-food processor combos have a lot of power. This is important not only for getting the jobs done quickly, but also for handling tougher ingredients.
Another factor we considered is versatility. A good combo should be able to do more than just the basics. Many of the best combos come with a number of different attachments and settings, so you can really customize your experience.
It should be fit for a small kitchen. In essence, we look at a combo package that will include a food processor and a blender, fit for a larger family of 4 or 5.
Finally, we looked at price. While it is possible to find a cheap combo machine, the best ones are usually a bit more expensive. That being said, they are still cheaper than buying two separate machines.
So those are the factors we considered when looking for the best blender plus food processor combo. Read on to find our top 5 picks for the best combo for you!
👉
We participate in the Amazon Associates Program, if you buy a product with the links that we provide, we may receive a small commission from Amazon. There is NO additional cost to you!
Vitamix Ascent 3500 Blender-Food Processor Combo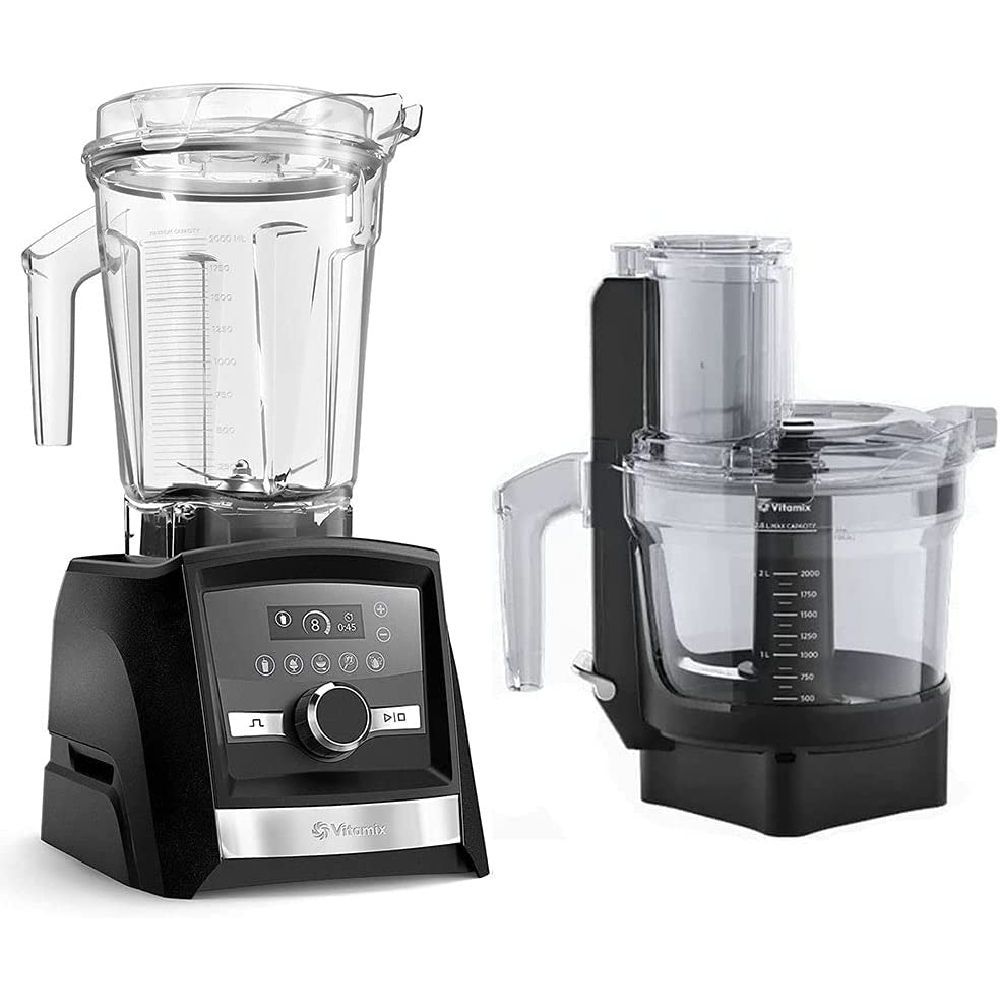 Best Choice For Its Durability
Vitamix Ascent 3500 Blender & Food Processor Combo
BUY IT ON AMAZON
What Makes It Catchy
This amazing bundle deal includes both the Vitamix A3500 in Brushed Stainless Steel and the Vitamix Food Processor, giving you everything you need to make delicious meals and snacks.
The Ascent 3500 Blender is a powerful workhorse that any cook would love, while the food processor attachment provides precision and accuracy when chopping, dicing, or pureeing ingredients.
Together, these two appliances are capable of producing everything from nut butters to salsa, shredded cheeses to green smoothies, and frozen desserts to pie crusts.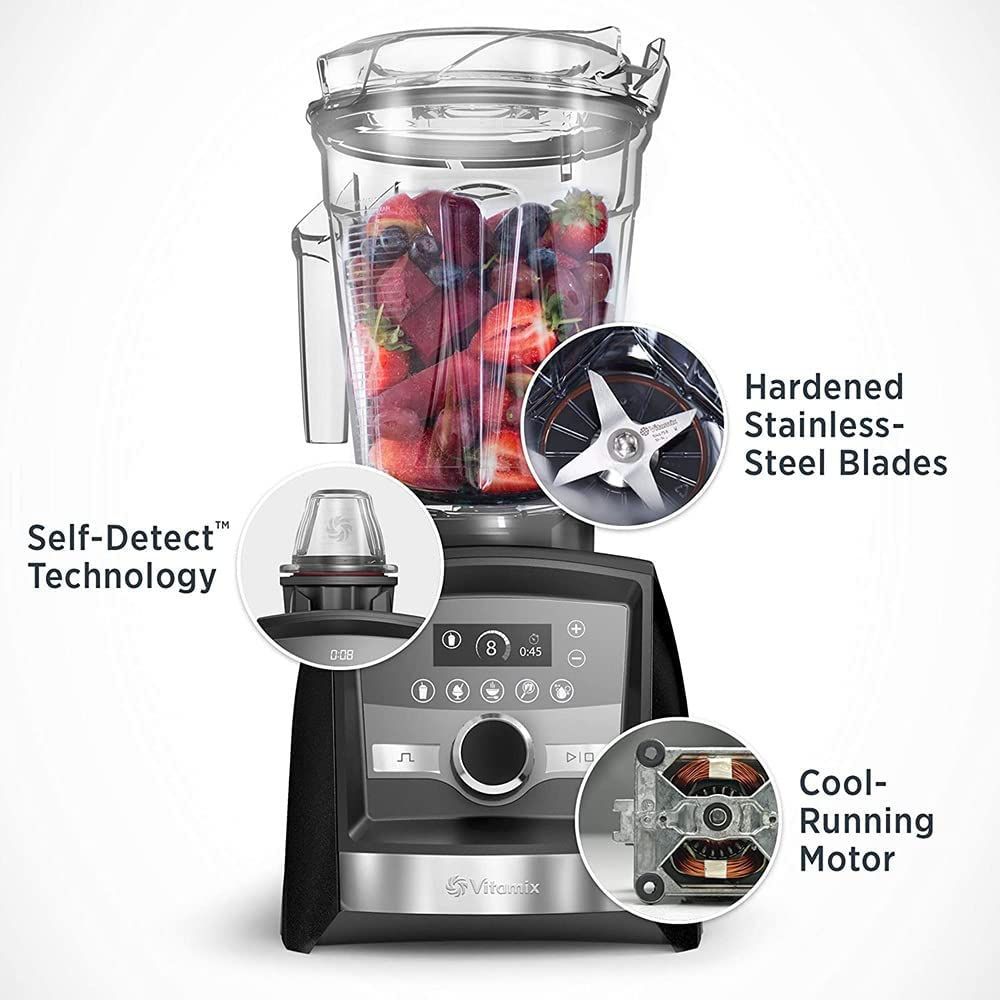 Things In The Spotlight
This powerful blender comes with an additional food processor, full variable speed control and pulse functions, so you can make everything from icy smoothies to hot soup, from dips to desserts.
With 5 automated programs and a digital timer, you'll have full control over your recipes. The Vitamix Perfect Blend app gives you access to even more recipes, programs and tips.
The sleek design is both stylish and easy to keep clean. So whether you're whipping up a quick snack or preparing a gourmet meal, the Vitamix Ascent 3500 Blender with Food Processor has you covered.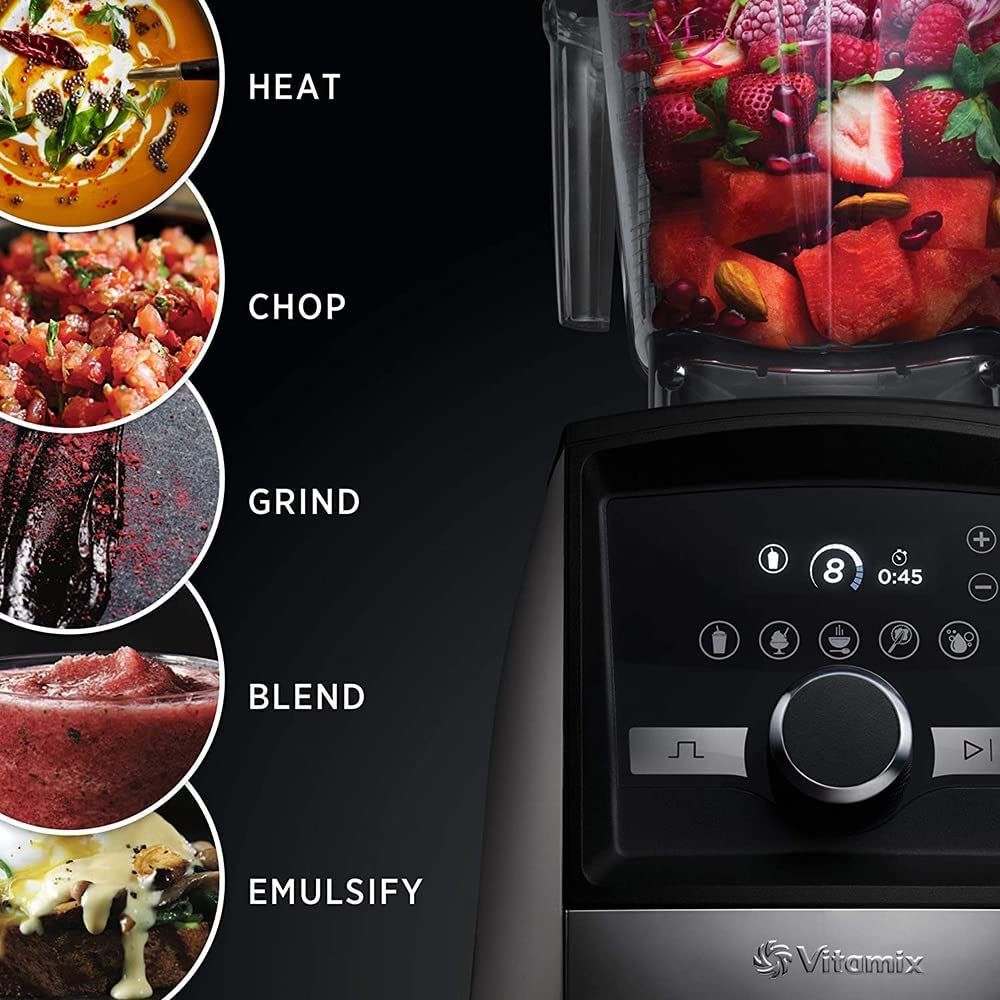 ---
Cuisinart Velocity Blender And Food Processor Combo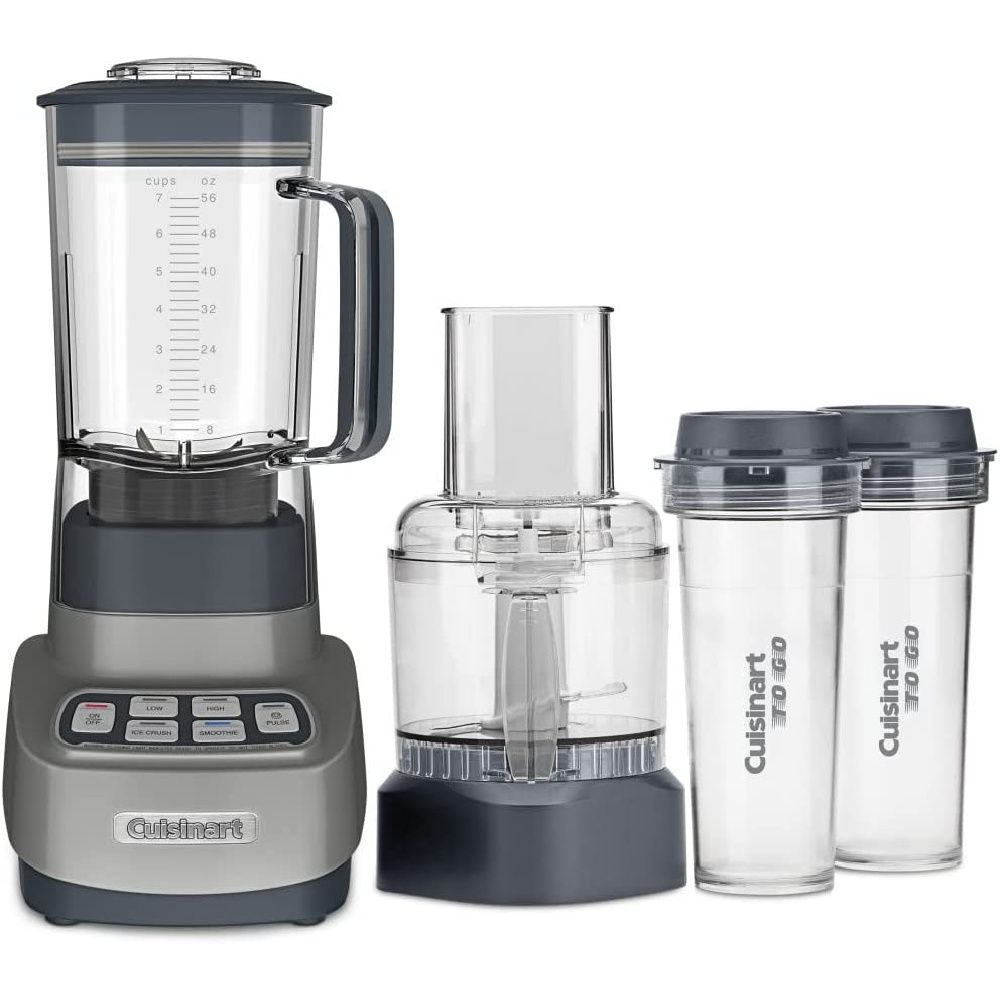 Best Choice For Its Ease Of Use
Cuisinart Velocity Blender And Food Processor Combo
BUY IT ON AMAZON
What Makes It Catchy
The Cuisinart Velocity Ultra Trio 1 horsepower (HP) blender/food processor is a powerful and versatile kitchen machine that can make quick work of a wide variety of tasks. With its high-powered motor and sophisticated electronic controls, this blender can easily chop herbs, whip up smoothies, and pulverize ice.
The low, high, and pulse controls make it easy to tailor the blending to your specific needs, while the pre-programmed smoothie and ice crush functions make it even easier to get the perfect results every time.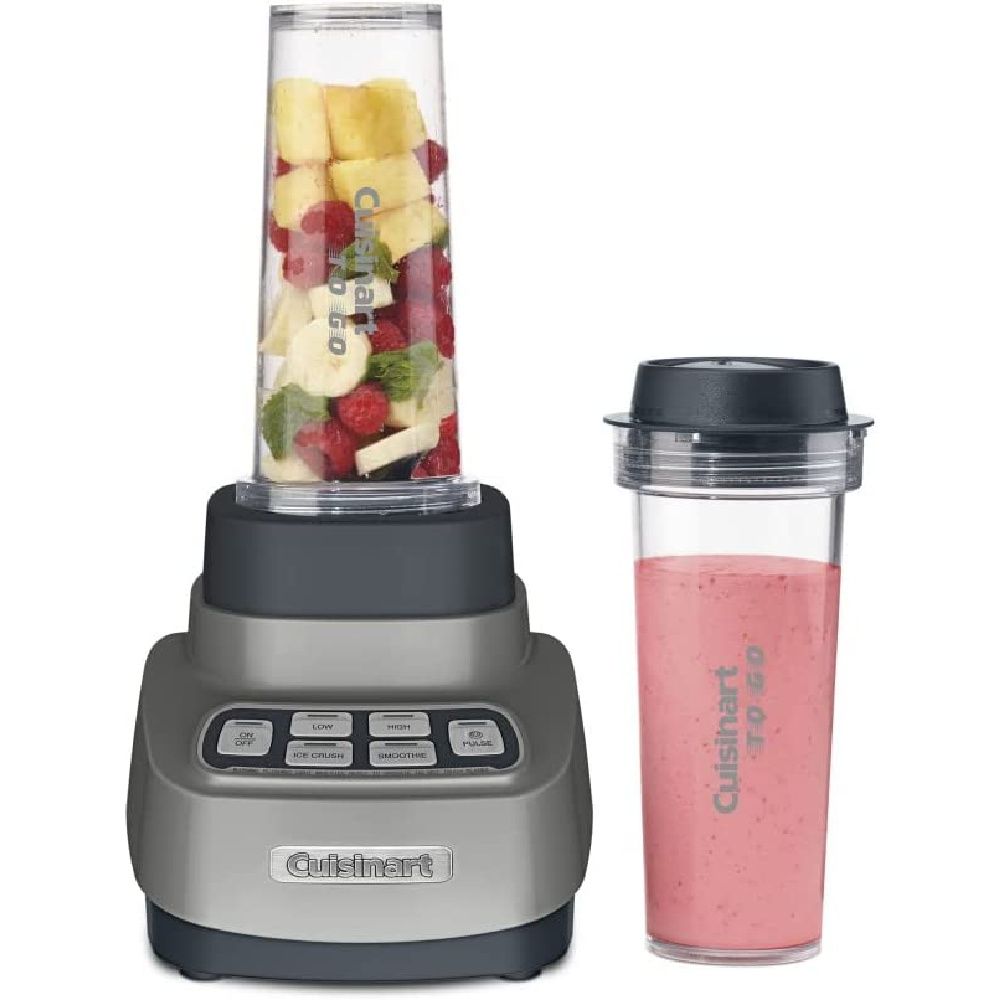 Things In The Spotlight
With a 56-ounce, BPA free Tritan plastic jar, this blender can handle large batches with ease. The food processor attachment with feed tube and pusher make it easy to prep food for mealtime, a smoothie bowl, or a milkshake. Two travel cups with travel lids complete the set.
With its sturdy base, this versatile workhorse can handle anything you toss at it - or into it! Whether you're looking for a quick and convenient way to make healthy snacks or you need a high-powered blender for making delicious cocktails, the Cuisinart Velocity Ultra Trio Blender is up to the task.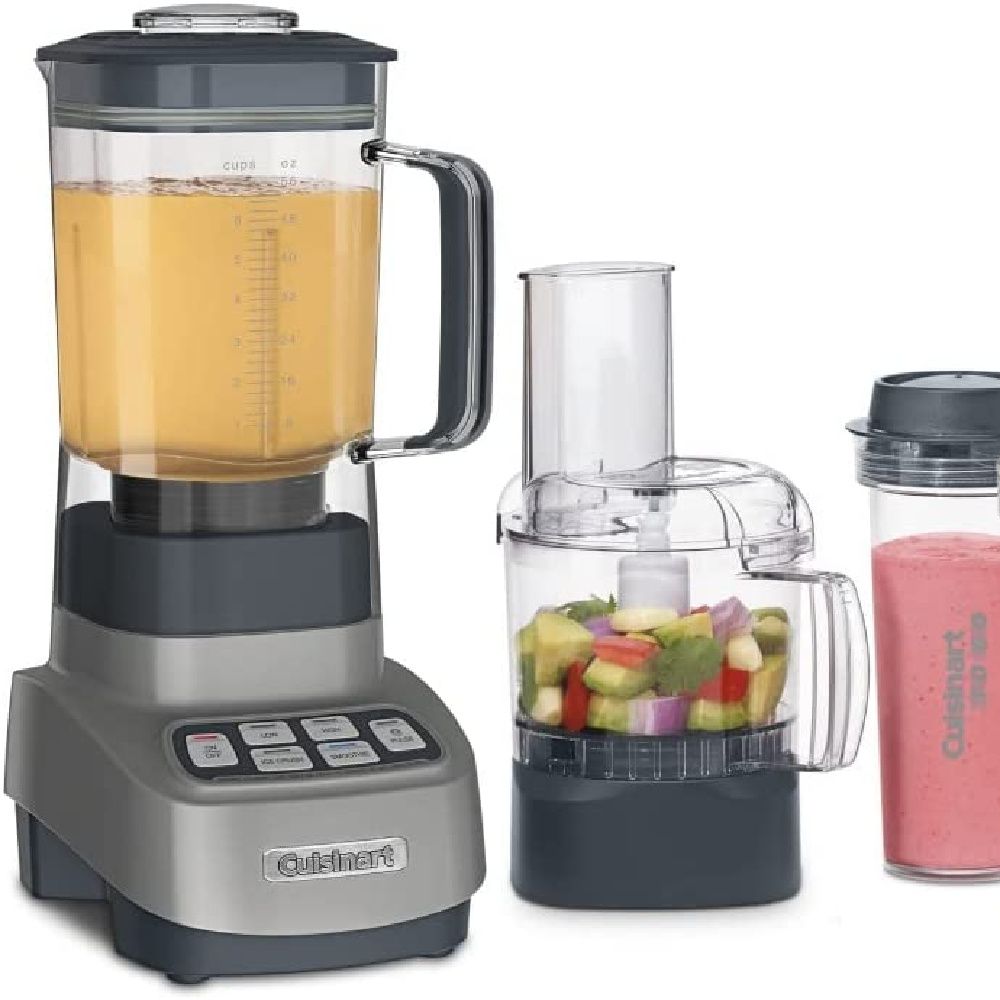 ---
Cuisinart Blender & Food Processor Combo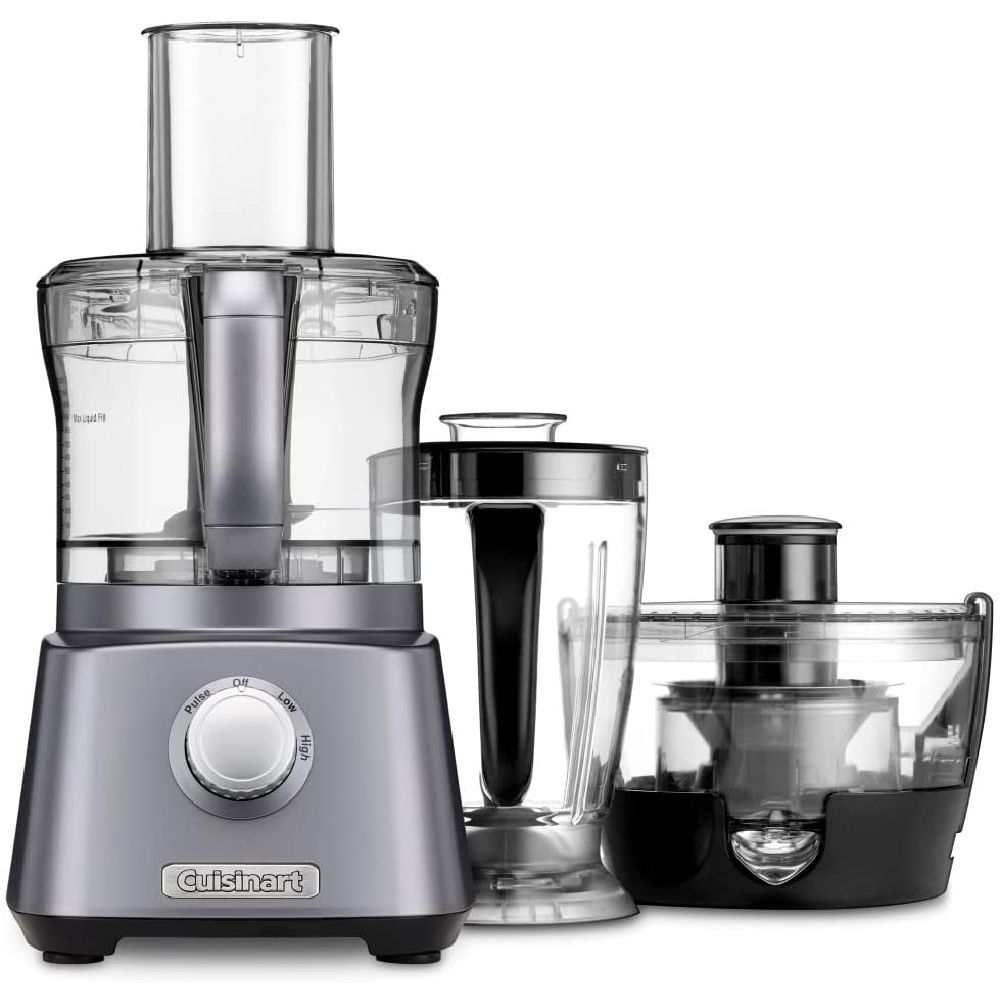 Best Choice For Its Versatility
Cuisinart CFP-800 Blender & Food Processor Combo
BUY IT ON AMAZON
What Makes It Catchy
This innovative appliance easily switches from being an 8-cup food processor (1) to a 40-oz. blender (2) to a powerful juice extractor (3). A real "3-in-1" that will save you time and counter space in your kitchen.
Whether you're preparing a large meal or just whipping up a quick smoothie, the Cuisinart CFP-800 3-in-1 is up to the task. And cleanup is a breeze thanks to the dishwasher-safe attachments.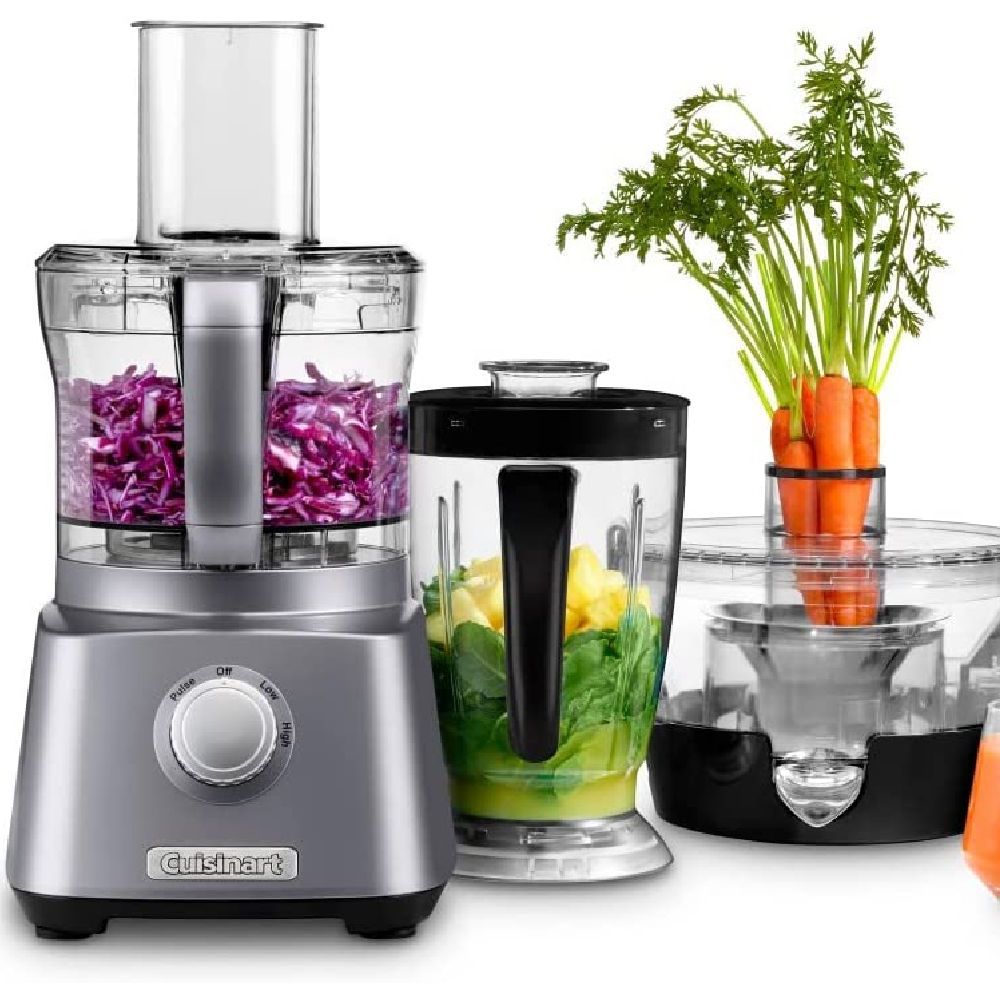 Things In The Spotlight
This versatile kitchen appliance comes with a 500-watt motor that can easily tackle a wide range of blending and juicing tasks. From whipping up delicious smoothies to pureeing soups, the Cuisinart CFP-800 has you covered.
And thanks to its simple control dial, it's easy to use so you can get perfect results every time. Plus, the included juice extractor makes it quick and easy to turn whole fruits and vegetables into delicious juice.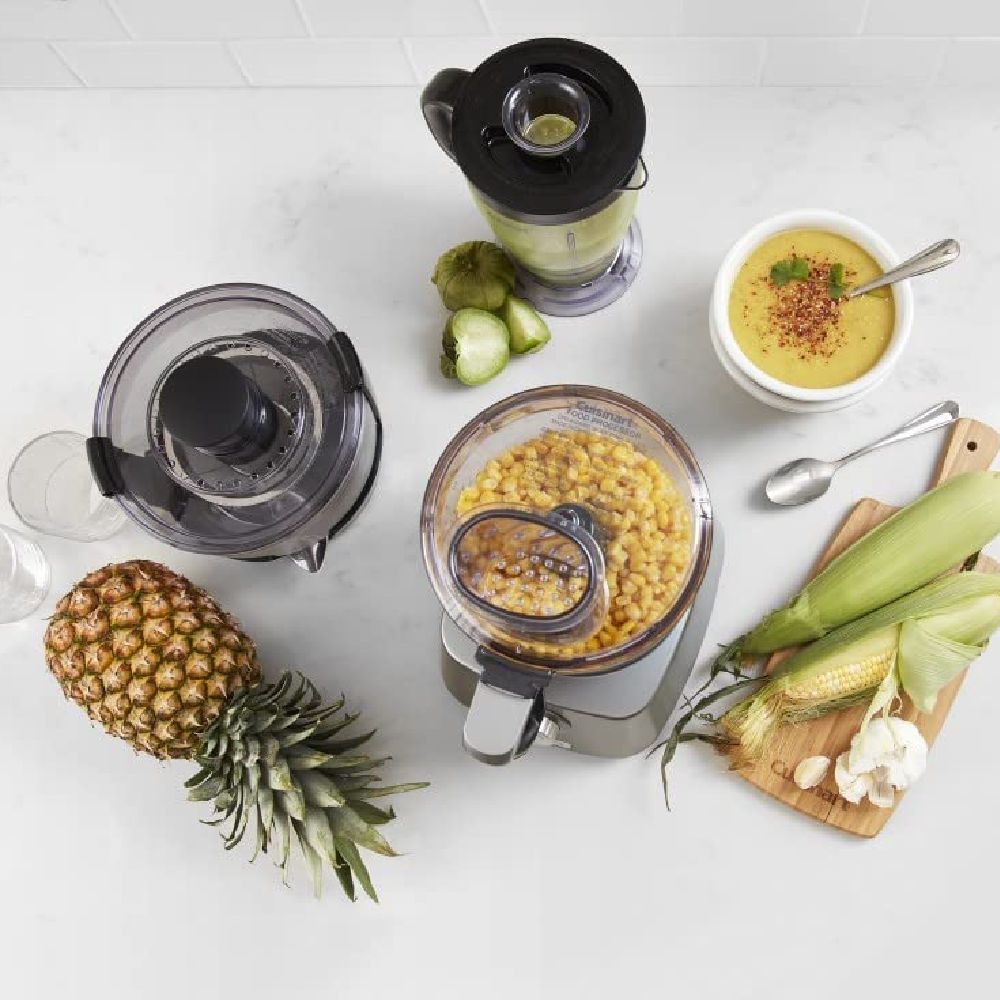 ---
Ninja Foodi Power Blender & Food Processor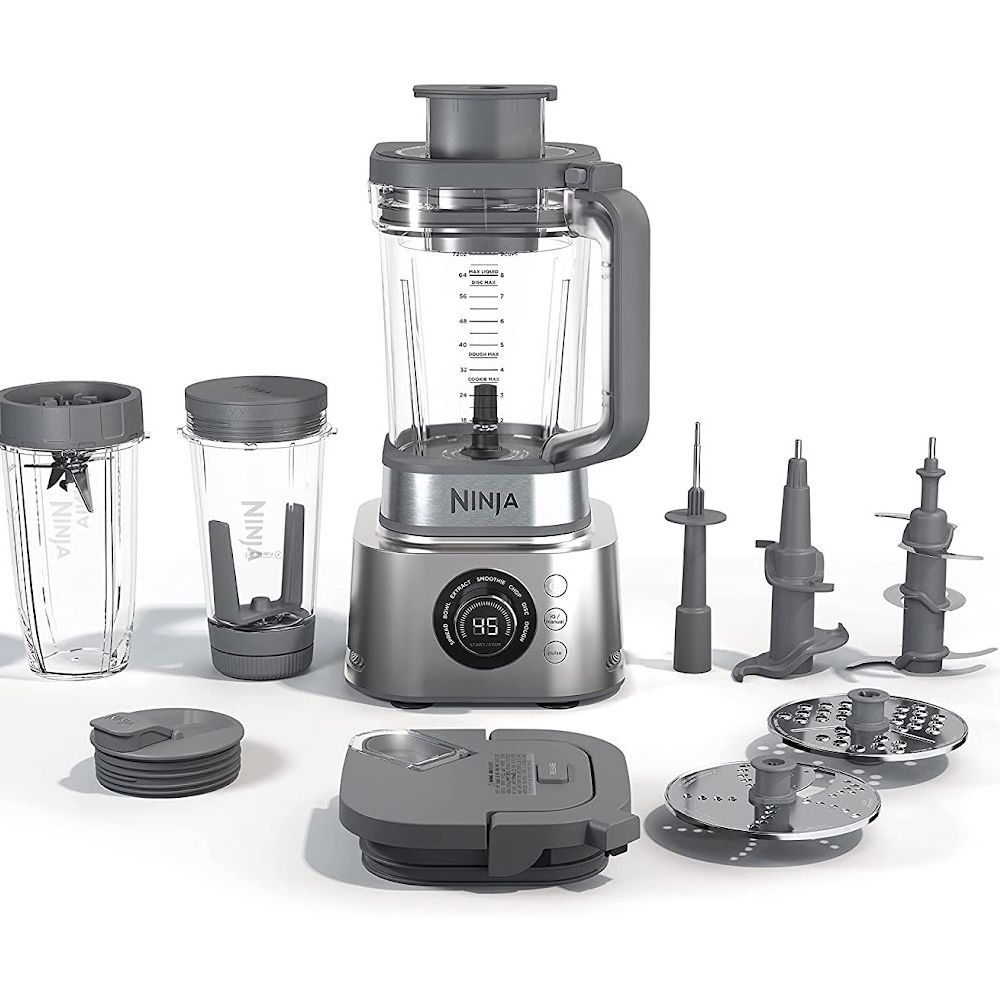 Best Choice For Its Best Value
Ninja SS401 Foodi Power Blender & Food Processor Combo
BUY IT ON AMAZON
What Makes It Catchy
This impressive, versatile appliance is designed to deliver the perfect blend every time, whether you're making smoothies, juices, or nut butter. With its built-in tamper and powerful motor, the Ninja SS401 can handle even the toughest ingredients with ease.
The seven preset Auto-iQ programs make it easy to create your favorite foods with the touch of a button. Its hybrid Edge Blade Assembly delivers even better breakdown of frozen ingredients for even smoother results.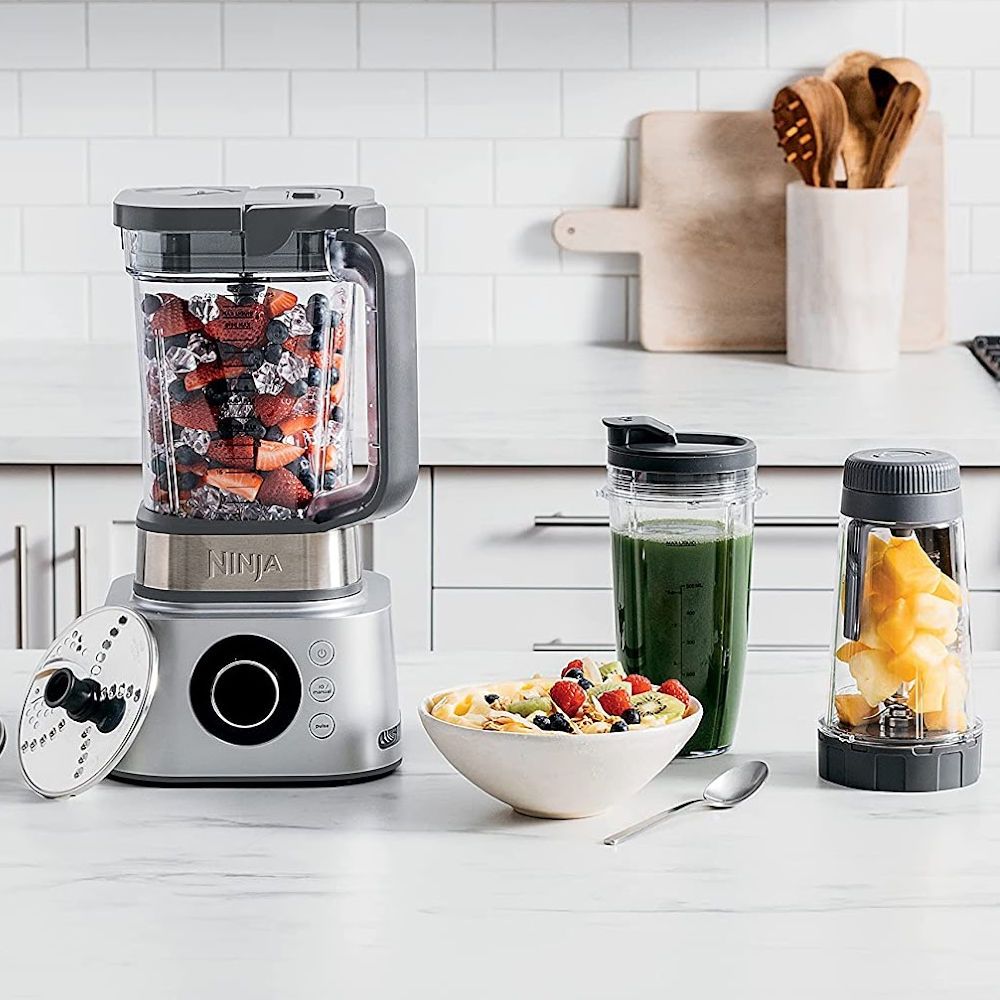 Things In The Spotlight
With its 1600-Peak-Watt Power Dense Motor and "smart TORQUE" technology, this blender can easily power through whole fruits and vegetables, nuts, seeds, and ice for smooth, delicious blends.
And because it has both speed and texture control, you can always get the perfect consistency for your drinks. The 72 oz. large pitcher is perfect for family-sized batches. The blender comes with two separate cups: an 18-ounce smoothie bowl maker for individual servings, and a nutrient extraction cup.
The included processing lid with food chute and select-cut processing discs allow for precise shredding, slicing, and grating. All of the containers, lids, discs, and blade assemblies are dishwasher safe for easy cleanup.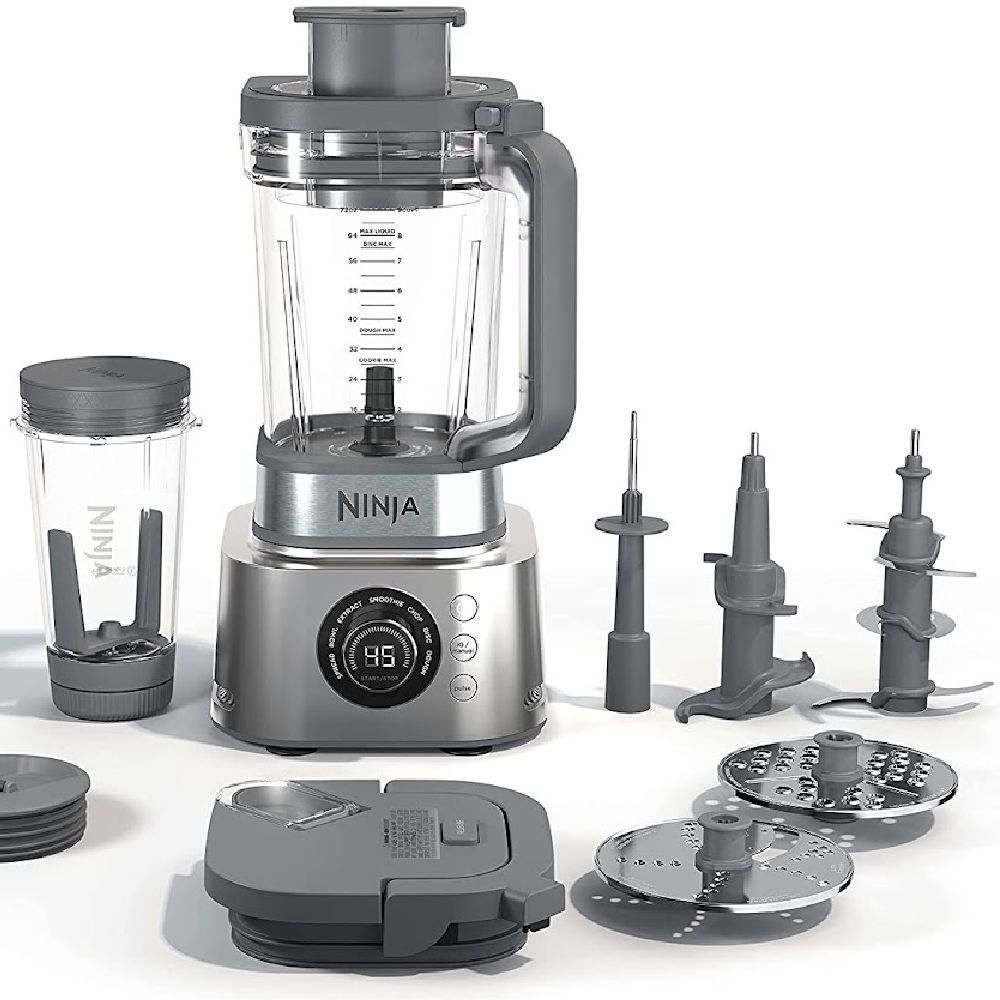 ---
Oster Blender Food Processor Combo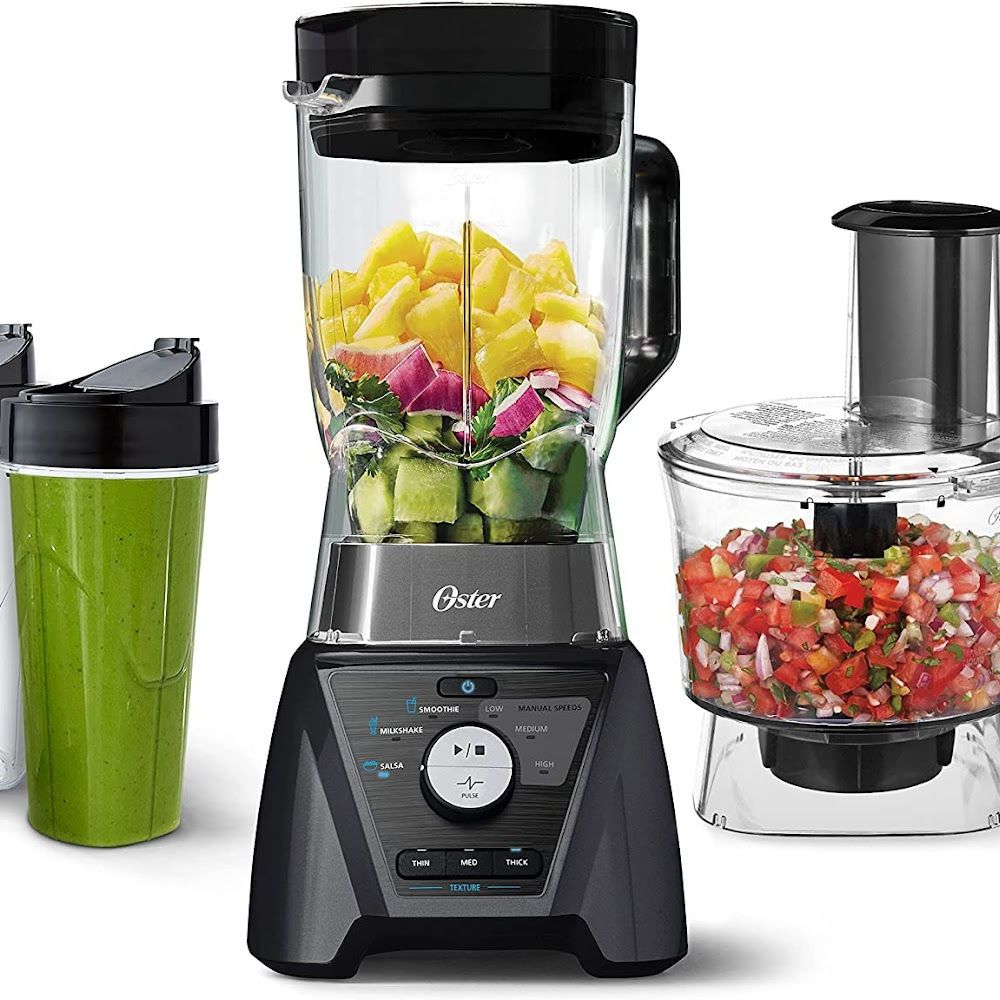 Best Choice For Its Budget-Friendliness
Oster Blender and Food Processor Combo
BUY IT ON AMAZON
What Makes It Catchy
This 1200 watt countertop blender food processor has some serious blending power: it pulverizes ice and greens, and turns frozen fruits and ice into a sorbet or smoothie with ease. With seven speed setting modes and three smart features, you can eliminate guesswork and get perfect results every time.
For added convenience, this affordable blender for frozen drinks and still, a strong contender for the best, comes with a BPA-free 8-cup plastic blending cup and two 24-ounce smoothie cups you can take with you on the go.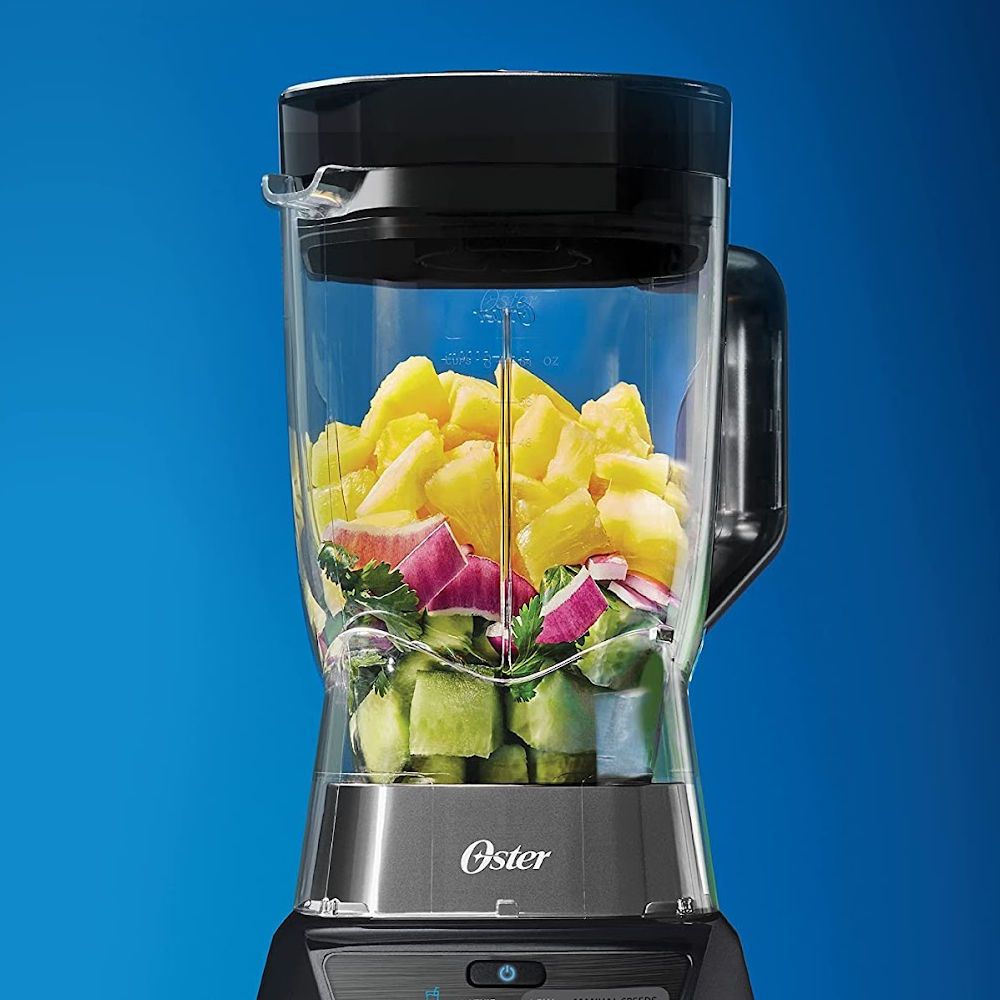 Things In The Spotlight
The extra wide 3.5" stainless steel blades allow ingredients to flow down into the blade more easily, making it even easier to use. The pulse feature gives you even more control and precision when blending frozen drinks or smoothies.
With its 50% larger blade system and patented dual direction blade technology, this great blender also chops and grinds with precision. This Oster blender is very effective at pulverizing ice.
It is among superior blenders for frozen smoothies and frozen drinks. In fact, it's the perfect device for anyone who wants quick and smooth results.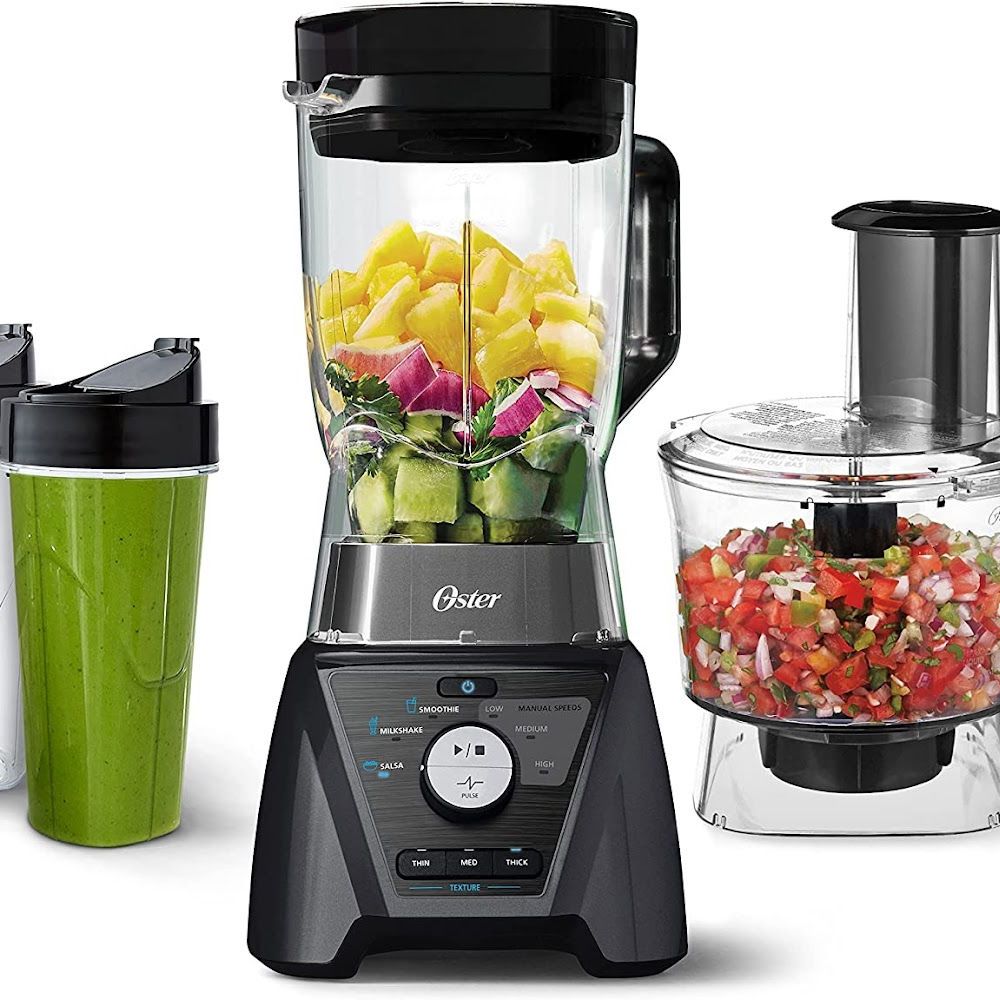 ---
Blender Food Processor Combo FAQs
People have been asking about the differences between a blender and food processor for years. Some people think that they are the same thing, while others know that there are some key differences.
In this blog post, we will outline the key differences between these two appliances and answer some of the most Frequently Asked Questions (FAQs) about them. Armed with this information, you can decide which appliance is best for your needs.
Best Blender/Food Processor Combo
What is blender food processor combo?
A blender plus food processor combo is a multi-purpose kitchen machine that can be used for various tasks and food prep, from blending fluids to processing and chopping foods.
That said, it essentially combines the functions of a blender and a food processor into one machine, thereby saving valuable countertop space. Plus, having both devices in one can cut down on mismatched attachments or tools.
Some models come with specific settings or speeds for different tasks such as juicing, pureeing or grinding. And since meals often require multiple steps to prepare, look for a machine with an option to control the speed, and preset buttons that do the work for you.
Other must-haves: dishwasher-safe parts—or at least removable blender jars and food processor bowls that can go in the dishwasher—and a pouring spout on the blender jar to help prevent accidental messes.
Now that you know what to look for, check out our top picks for best blender annex food processor combos!
What is the best blender processor combo?
There is no definitive answer to this question. It depends on your needs and what you plan to use the blender for. Some people may prefer a blender with more horsepower, while others might prefer a smaller model that's easier to store.
That said, some of the best combo blenders on the market include the Vitamix Ascent 3500 & Food Processor. This machine has a strong motor and is capable of mixing and processing the toughest ingredients. Both parts of the combo are easy to operate and clean.
Can a food processor be used like a blender?
The answer to this question is both yes and no. A food processor can be used like a blender in some ways, but there are also some important differences to keep in mind.
If you're simply want to create a frozen beverage or other drinks, a food processor could do that, but it takes time, and it may get messy - yes, I speak from personal experience, then a blender can get the job done. Powerful blenders can pulverize ice and nuts, and even grind coffee beans.
However, if you're hoping to use it for tasks like slicing vegetables or making dough, you'll likely be disappointed. For these types of activities, you need a food processor.
To keep it simple: a food processor is not designed for blending, but with some effort it can do food mixing jobs. It's better at shredding and slicing veggies and making dough, or even blending minced meat with other ingredients. A blender can do some food processing jobs, but is usually better with fluids (like frozen beverages).
So my advice: get a combo, and let the blender mix fluids, and the food processor, yes: process food. They are complimentary, and in some ways, overlap.
Blender Or Food Processor: Buying Guide
Is it better to have a blender or a food processor?
There are a few things to consider when deciding whether to purchase a blender or a food processor. Blenders are typically better at breaking down liquids and softer foods, while food processors can handle more dense and hard ingredients.
If you plan on making smoothies or pureed soups regularly, a blender is probably the way to go. On the other hand, if you find yourself chopping a lot of vegetables or making bread crumbs often, a food processor will be your best friend.
Another thing to think about is the size of each appliance. Blenders typically come in smaller sizes, which can be convenient if you have limited counter space. Food processors, on the other hand, come in larger sizes—though there are mini options available as well.
Ultimately, the best kitchen machine for you is the one that best suits your needs. If you're not sure which one that is, it might be worth considering a combo blender food processor. That way, you'll have the best of both worlds and can tackle any recipe that comes your way.
What does a food processor do that a blender doesn't?
A food processor has a wider range of chopping and slicing blades, which makes it more versatile for preparing food. It can also do a better job at incorporating air into the mixture, which makes the final product lighter and fluffier.
In many ways, a blender and a food processor are complimentary appliances. Together, they enable the cook to make a wide variety of foods and drinks.
Is it better to have a blender or food processor?
It depends on what you want to use it for. If you only need to do simple tasks like Blair, then a blender is probably sufficient. However, if you want to be able to do more complex tasks like chopping vegetables or grinding meat, then a food processor would be a better choice.
Which food processor do chefs recommend?
There are a number of different food processors on the market that vary in terms of their power, size, and features. In general, chefs recommend a food processor with at least 900 watts of power so that it can easily chop through dense ingredients like say, two pounds of dough, nuts and chocolate, and puree, shredding and slicing any other food ingredients.
Some of the features that chefs look for in a food processor include multiple (dough) blades and chopping blades that can be used for different tasks, a reversible shredding/slicing disk, and a dough attachment.
The food processor should be easy to clean so that it can be quickly sanitized between uses.
What blender do chefs use?
There is no one-size-fits-all answer to this question, as chefs may use different blenders for different purposes. However, some popular blender models that chefs may use include the Vitamix 5200, the Breville Boss to Go, and the Ninja Ultima.
These blenders are all highly versatile and can be used for a wide range of tasks, such as mixing frozen beverages, making sauces and dressings, crushing ice, grinding nuts and seeds, and more. They also come with a variety of features that allow users to customize their blending experience.
What is the best Ninja blender food processor combo?
There are a few things to consider when choosing the best Ninja blender food processor combo. First, think about what types of foods you want to be able to process with your new appliance. If you plan on making mostly frozen beverages and juices, a blender with fewer chopping and processing features will suffice.
On the other hand, if you need a machine that can handle tougher jobs like grinding coffee beans or make nut butters, you'll want a more powerful model with additional features. Without wanting to over-simplify: blenders for fluids and most fruits (drinks), food processors for solids (foods).
Some high-powered blenders can tackle solids, while food processors can also handle fluids - just not as smoothly as a good blender can. In many ways, they are complimentary kitchen machines. A combo is one machine, with two (sometimes three) different functions.
Another thing to keep in mind is how much space you have in your kitchen. Some Ninja models are larger than others, so make sure to choose one that will fit comfortably on your countertop or in your cupboard. Finally, consider your budget and choose the best model that you can afford.
The Ninja Professional Blender & Nutri Ninja Cups is a great option for those who are looking for a powerful machine that can handle a variety of tasks. This model has 1100 watts of power, making it ideal for grinding coffee beans, crushing ice, or making frozen beverages and juices.
It also comes with two Nutri Ninja Cups, which are perfect for making individual servings of soup, sauce, or dips. If you have a larger family or entertain often, you may want to consider the Ninja Mega Kitchen System, which has a 72-ounce blender pitcher and an eight-cup food processor bowl.
Which food processor can crush ice?
When it comes to food processors, there are a few different factors you need to consider before making a purchase. One of the most important things to look for is whether or not the processor can handle ice.
While most food processors will come with a press attachment specifically for crushing ice, not all of them will be able to do the job effectively.
For those who like to make frozen beverages or smoothies on a regular basis, it's important to find a food processor that can crush ice quickly and easily.
There are a few different models out there that fit this bill perfectly - ranging from more affordable options to high-end models designed for professional use.
What should you not put in a food processor?
Some things that you should not put in a food processor are bread dough, ice, and large chunks of food.
Bread dough can be too thick for the machine to handle and will cause it to overheat. Ice can be dangerous because it will create shards that can fly out of the machine and cause injury.
And large chunks of food can get stuck in the blades or prevent the blades from rotating, which will also cause the machine to overheat.
What is better than a blender?
If you're looking for a appliance that can do more than a blender, you might want to consider a food processor. A food processor can chop, slice, and knead dough, where a blender is limited to liquefying foods.
Both appliances are useful in the kitchen, but if you're trying to decide between the two, it really depends on what kinds of recipes you'll be using them for.
What is better: a glass jar, or a plastic jar?
Sometime ago, most blenders used glass pitchers. They were heavy, and fragile. Then plastic jars were introduced. They were much lighter, but the first generations of plastic jars simply wouldn't last: after intensive use, they would show cracks, and lost their transparency.
An additional disadvantage was that the plastic material would leave behind minuscule bits of plastic in the food.
Nowadays, in most developed countries strict regulations for food safety have forced the manufacturers to use BPA-free and higher quality plastic, so most pitchers are now made of improved materials to keep your food and drinks safe. Glass blenders are still available. The thick glass makes them heavy, which helps to stabilize the blender.
Some argue glass jars look better, are "cooler" than plastic ones. So evaluating which is better, is not only about functionality and food safety, it's also a matter of taste and personal preference.
Tips Of How To Use A Food Processor & Blender
Can you put meat in a blender?
Yes, and No. You can put meat in a blender. However, blending it may not be the best way to prepare it.
When you blend meat, it becomes smooth and wet. This can make it difficult to cook properly because the water will prevent it from browning. Additionally, blending tends to remove some of the flavor and nutrients from meat.
A better way to prepare meat is by chopping or mincing it into small pieces and use a food processor. This will allow you to get a more consistent texture and prevent the meat from losing its flavor.
Can you put cooked food in a blender?
Yes, but it's important to be careful when doing so. If the food is too hot, it can cause the blender to overheat and break (although modern pitchers are heat-resistant). Additionally, hot food can splatter and cause burns.
It's best to wait until the food has cooled down before putting it in the blender. Alternatively, you can put the food in the freezer for a few minutes to help it cool down more quickly. Once it's cooled, mix the food on a low setting and be sure to use a lid to prevent spilling.
Can I blend soup in a food processor?
Yes, you can blend soup in a food processor. However, it's important to be careful not to over-blend the soup, as this can cause it to become gummy or pasty. If you have a blender instead of a food processor, you may want to try mixing the soup in smaller batches.
Can you use a blender without liquid?
Although it is possible to operate a blender without liquid, it is not recommended. Blenders rely on liquid to function properly and help create smooth results. Without liquid, you may end up with uneven results or your blender could overheat.
If you must use a blender without liquid, be sure to add some small cuts of solid ingredients first to help create a smoother consistency. However, most high-end blenders are robust enough to handle several solids, ranging from blocks of ice to nuts.
Can you blend ice in a food processor?
Yes, you can blend ice in a food processor. Just make sure to use the pulse setting and only blend for a few seconds at a time so you don't damage the blades.
You may also need to add a little bit of water to help get the blending process started. If you're making a smoothie or other a frozen beverage, adding your ice last will help keep them from getting too watery.
Food Processors And Blenders Combo For You
Shopping for a blender food processor combo can become a lengthy and confusing affair. We hope that this blog post has helped you to better understand the different types of best blender and food processor combos on the market and which one will be the best fit for your needs.
So when you intend to buying a blender & food processor combo, check out our product descriptions. Which of these five blenders is your favorite?
If you're looking for meals inspiration, be sure to check out our other blog posts for more ideas on how to put your best blender-food processor combo to good use.
Thanks for reading!
Catchy Finds