Any time is the best time of year to prepare delicious food, for yourself, or with family or friends. To make this happen, why not go for the perfect cooking assistant?
If you're looking for the best electric griddle, look no further! In this blog post, we will review six of the best products on the market.
We'll discuss features, benefits, and why these electric griddles are a must-have for any kitchen or tabletop!
How We Spotlight The Best Electric Griddle
It may be tough to find the best electric griddle when there are so many different brands and kitchen appliances. It might be difficult to choose which griddle is best for you without spending hours researching.
We did all the research for you and spotlighted the six best electric griddles based on their capacity (like, small or large cooking surface area?), versatility (like, a warming tray), design (like, style and material), simplicity of operation (like, heat control?), materials (stainless steel griddle?) and convenience of cleaning (like, removable nonstick plates; nonstick surface?).
Check out our catchy finds to spot the electric griddle that meets both your cooking needs and your kitchen aesthetic. Just choose the one that's ideal for you.
💡
This post may contain affiliate links which means I may receive a commission for purchases made through links. If you purchase a product or service with the links that I provide I may receive a small commission. There is NO additional charge to you!
Wolfgang Puck XL Reversible Grill Griddle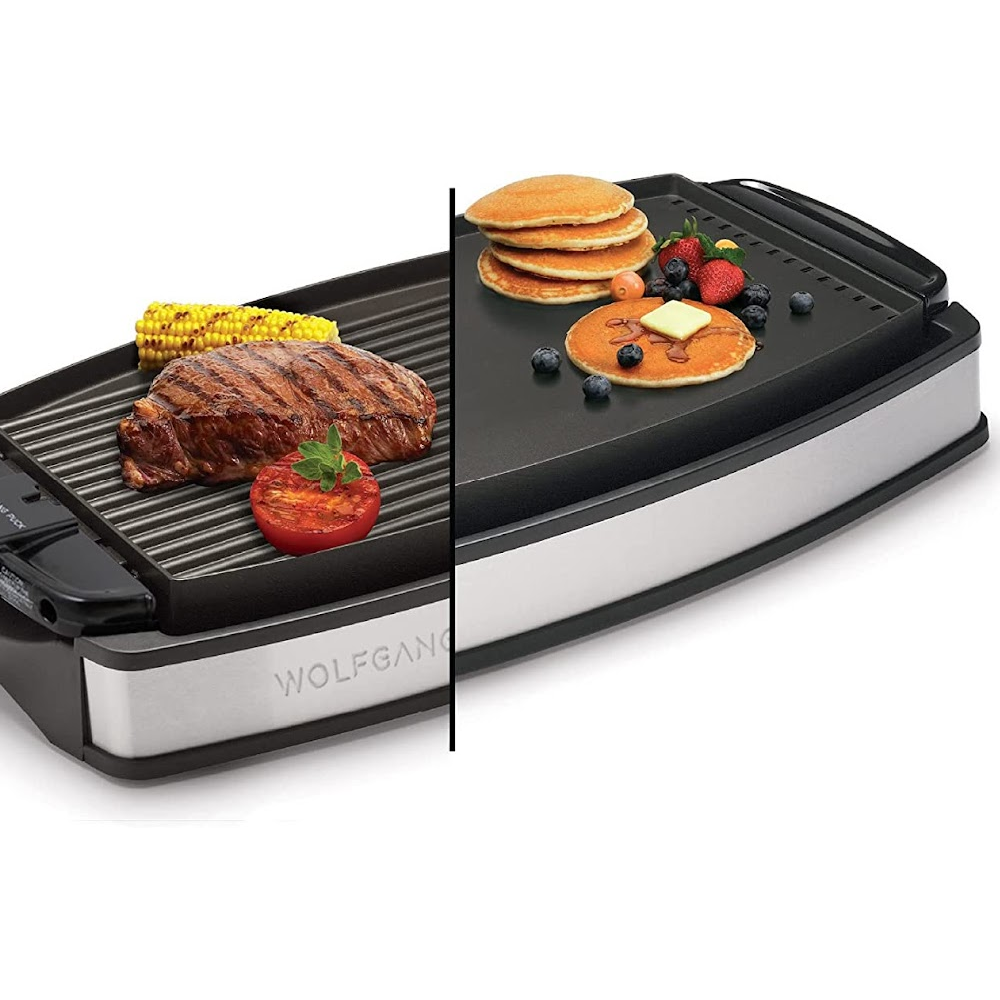 Best Indoor Griddle
Wolfgang Puck XL Reversible Grill Griddle
Check Price on Amazon
Why We Spotlight It
Wolfgang Reversible Grill Griddle is the perfect appliance for indoor grilling and large meals. With a reversible cooking plate that offers both grill and griddle options, this grill griddle has you covered from pancakes to steaks.
Plus, the extra-large size is perfect for feeding a crowd. The 207 square-inch cooking surface allows you to cook for up to 8 people at once, making it the perfect appliance for family breakfasts, parties or large gatherings.
With 1800 watts of power, this grill griddle will make quick work of any meal. Whether you're cooking for a crowd or just your family, the Wolfgang Reversible Grill Griddle is the perfect addition to your kitchen.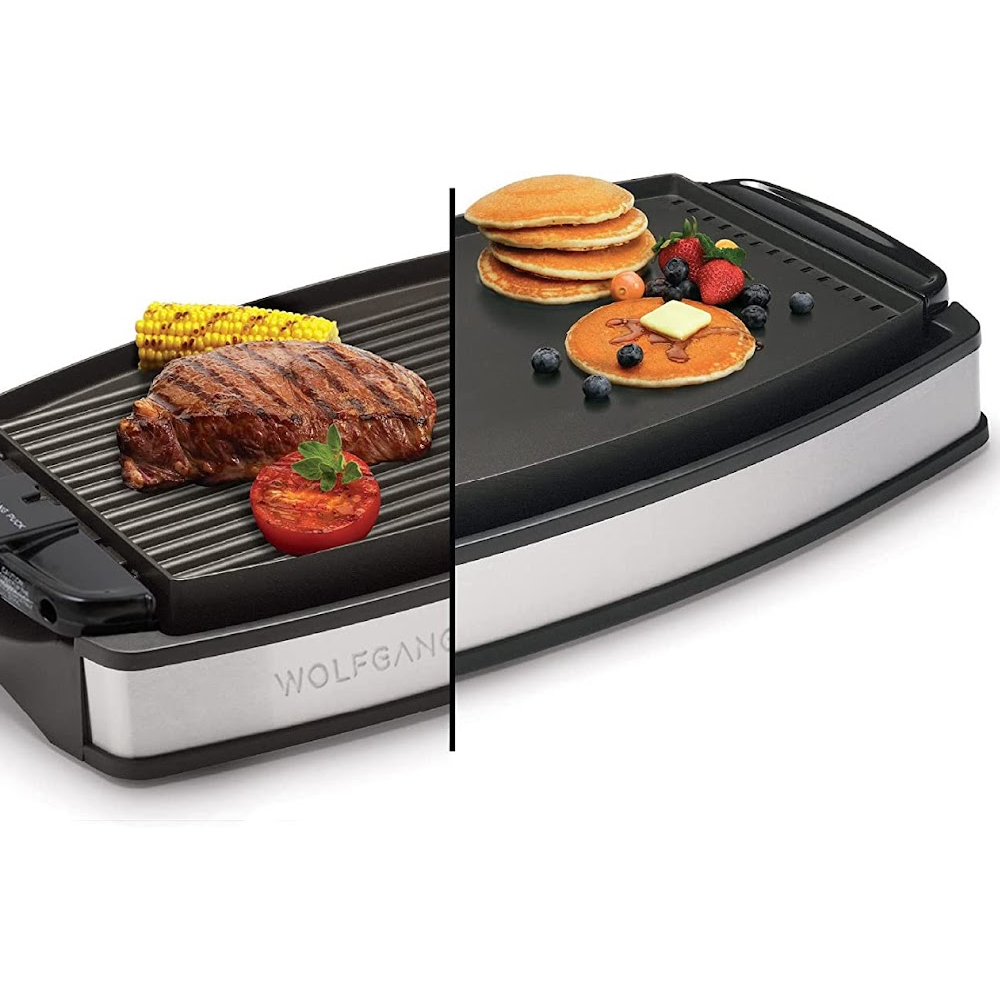 What Makes It Catchy
This griddle is the perfect kitchen appliance for grilling, frying, or baking. You'll love the versatility of this grill griddle, and your family will love the delicious food you can cook with it.
The reversible functionality provides endless options, making it perfect for family breakfasts or fast dinners. With the Wolfgang Reversible Grill Griddle, you'll have the best of both worlds.
It features a premium nonstick coating that is safe for metal utensils (like a stainless steel spatula) and easy to clean. The removable cooking plate and drip tray make cleanup a breeze. The griddle's surface and grill plates are perfect for any cooking task and a dream-come-true for those of us who hate losing lots of time cleaning.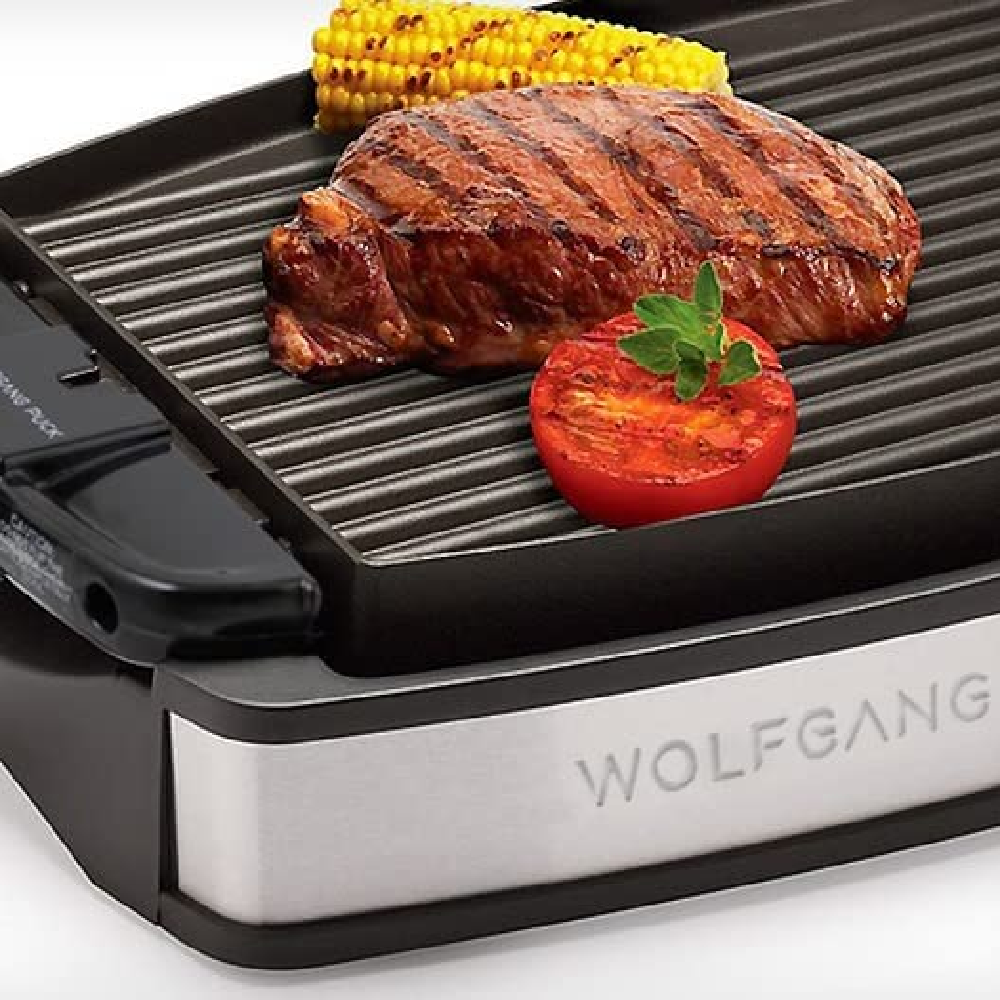 Things You Should Know
This Wolfgang Grill Griddle combo is the perfect tool for all your cooking needs. Whether you're grilling up a juicy steak or perfecting your pancakes, this non-stick grill/griddle will help you achieve professional results every time.
With an adjustable temperature control dial, you can quickly heat up to 400ºF, ensuring perfect searing and faster temperature recovery times.
Plus, the interlocking tab prevents heating unless the drip pan is properly placed in the housing, meaning the end of greasy messes!
And cleanup is a breeze thanks to the removable drip tray and dual-sided scraper. Plus, the included cooking guide will make it easy to get started, and expand your griddle and grill cooking repertoire.
So whether you're whipping up breakfast, lunch, or dinner, the Wolfgang Reversible Grill Griddle has you covered.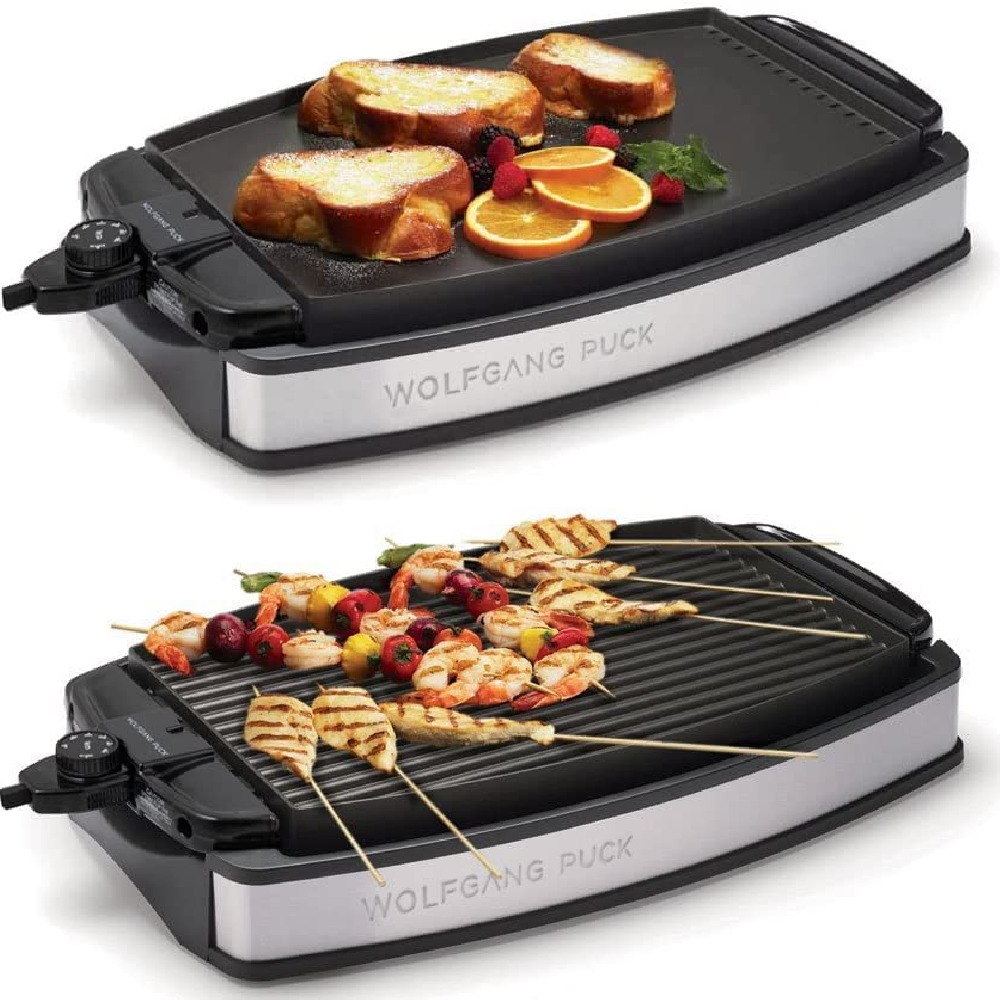 VEVOR 22-inch Commercial Electric Griddle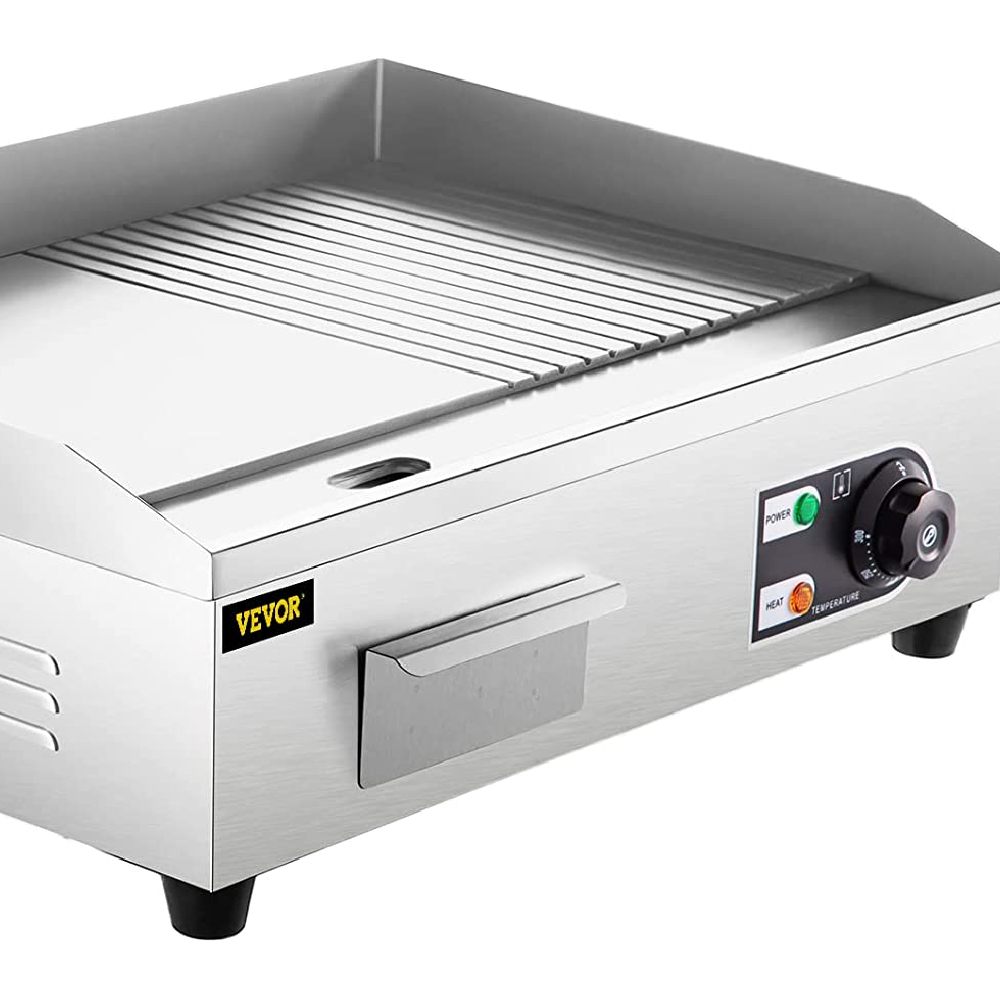 Best Stainless Steel Electric Griddle
VEVOR 22-inch Commercial Electric Griddle
Check Price on Amazon
Why We Spotlight It
If you're looking for a top-quality commercial griddle, look no further than the VEVOR 22 inch Electric Griddle. Made of high-quality stainless steel with a non-stick surface, and cast iron cooking surface, it's built to last.
The cooking surface is 21.3 inches x 11.8 inches, providing plenty of space for cooking up a storm. Plus, it's 0.3 inches thick, so it's not easy to deform and exceptionally durable.
The surface of the teppanyaki grill is easy to clean, and the waste oil and food can also be quickly cleaned through the oil storage box, which functions as a drip tray. Plus, it includes brushes and shovels to help you keep your griddle clean and looking like new.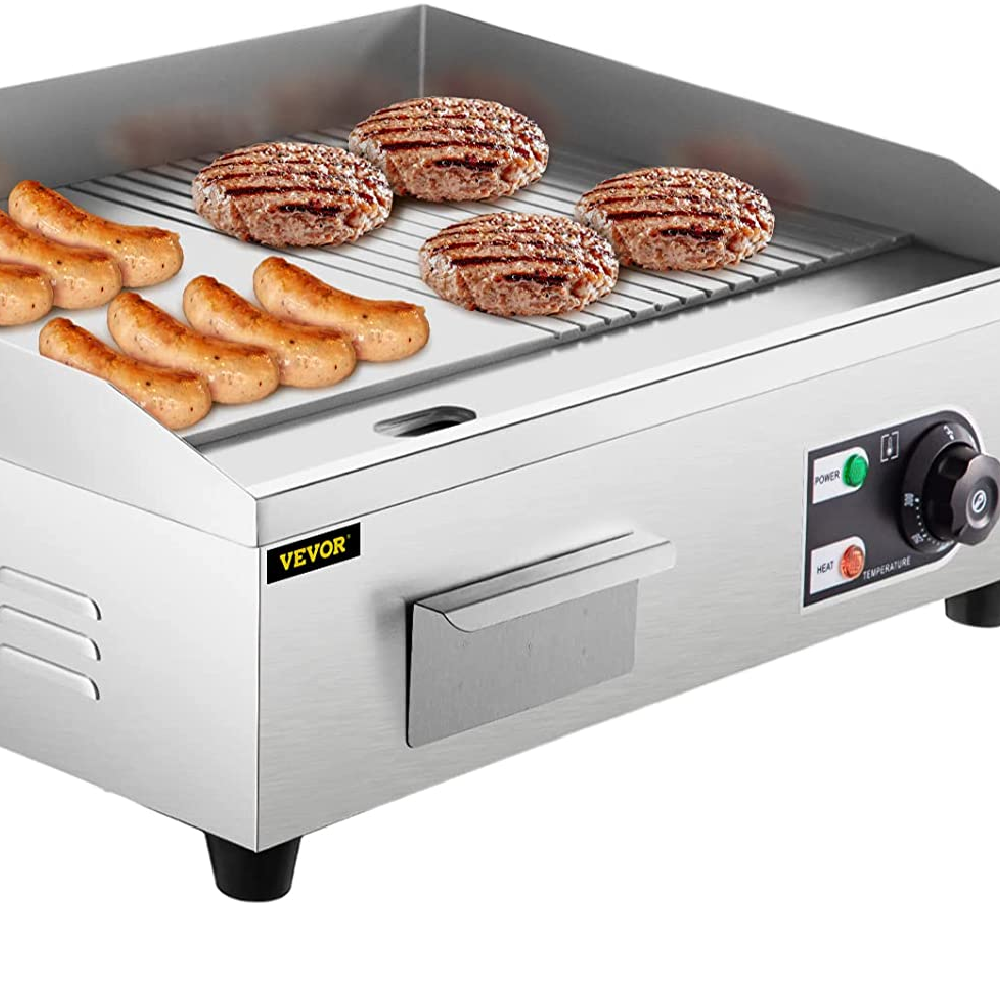 What Makes It Catchy
This VEVOR 22 inch electric griddle is perfect for cooking up a variety of foods. With its internal heating tube, it can be controlled by two constant temperature buttons to adjust the temperature to suit different foods. This tough and durable griddle is perfect for cooking pancakes, bacon, omelets, pizzas, steaks and hamburgers.
The flat-top grill is also perfect for use in restaurants, cafes, roadside stalls and snack bars. You'll be able to feed the whole family or your customers with ease.
Made from quality materials, the VEVOR Electric Griddle is built to last. The stainless steel cooking surface and its drip tray are simple to clean.
So if you're looking for a top-quality griddle that can handle anything you throw at it, this is the one for you.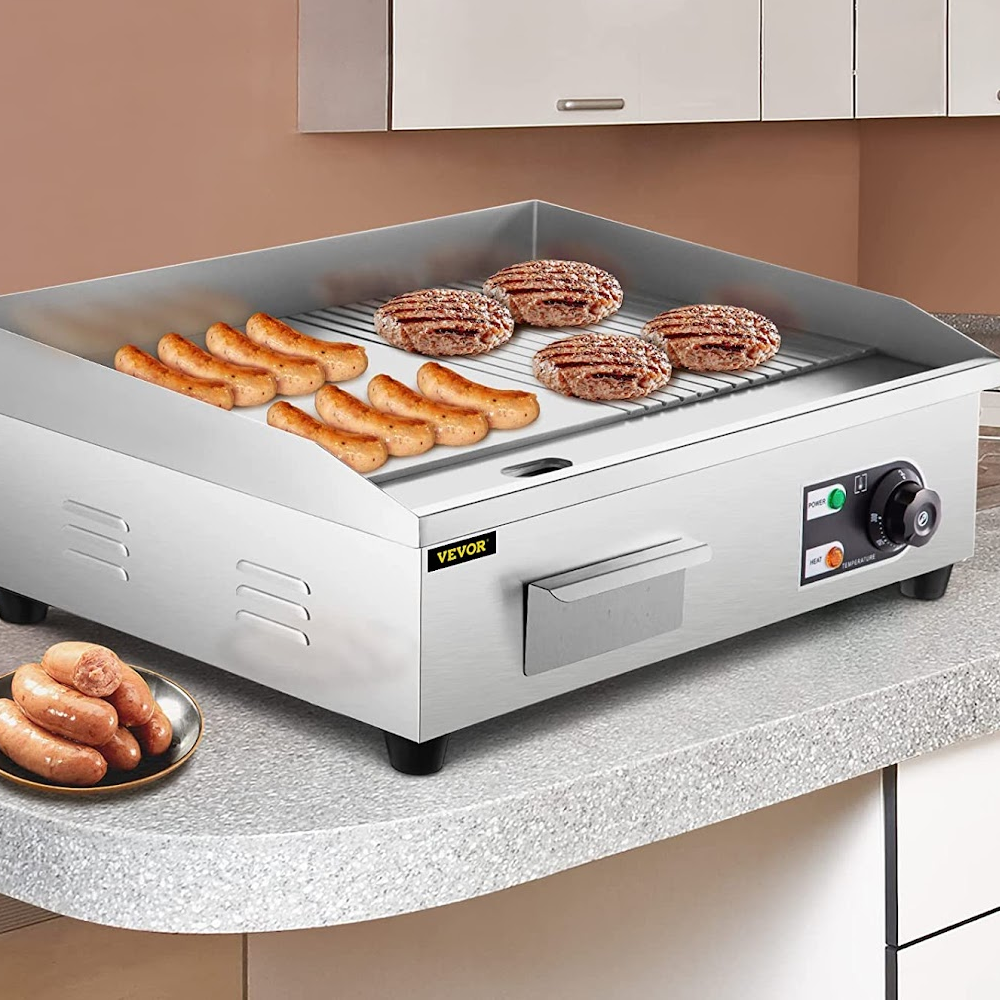 Things You Should Know
The oil leakage hole is used to take waste off. The storage box can conveniently be used for storing any type of food or oils that may spill on your electric grill.
With rubber bottom corners and raised baffles to prevent unnecessary messes while also speeding up heat dissipation through these clever design features!
Up to 572℉ with a wide temperature control range, this griddle is perfect for cooking anything from burgers to steaks, vegetables to seafood. Plus, the nonstick surface makes cleanup a breeze.
When you use it for the first time, this 22 inch electric griddle may have a small amount of smoke; the smoke will disappear after heating for a few minutes. So don't worry about your kitchen smelling like a BBQ joint.
Get this amazing griddle today and enjoy delicious, perfectly cooked meals any time you want!
BELLA Electric Ceramic Titanium Griddle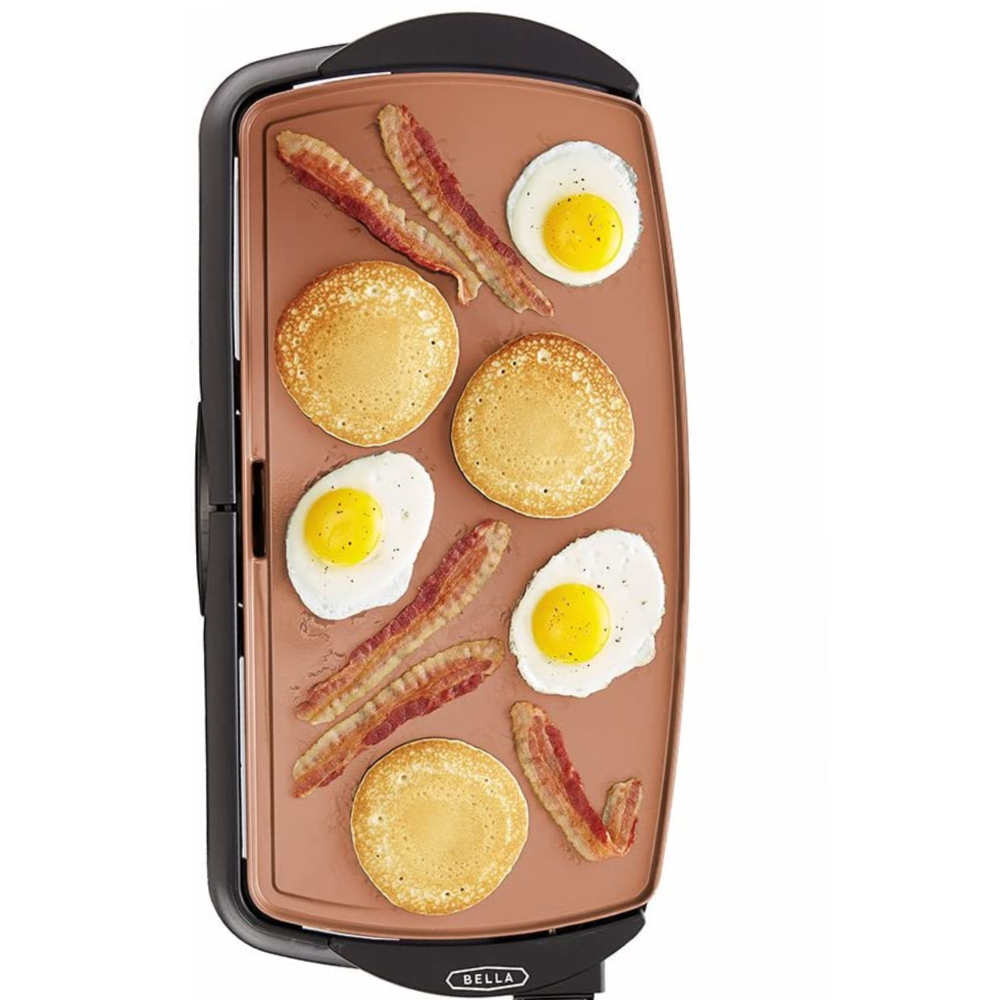 Best Ceramic Electric Griddle
BELLA Electric Ceramic Titanium Griddle
Check Price on Amazon
Why We Spotlight It
The BELLA Electric Ceramic Titanium Griddle is the perfect appliance for any cooking enthusiast. With an efficient 10.5" x 20" cooking surface, it can accommodate up to 10 eggs or 6 pancakes at once.
Plus, the ceramic-titanium construction ensures even heat distribution and superior durability. Whether you're whipping up a quick breakfast or hosting a small gathering, the BELLA Electric Ceramic Titanium Griddle is sure to make your culinary creations shine.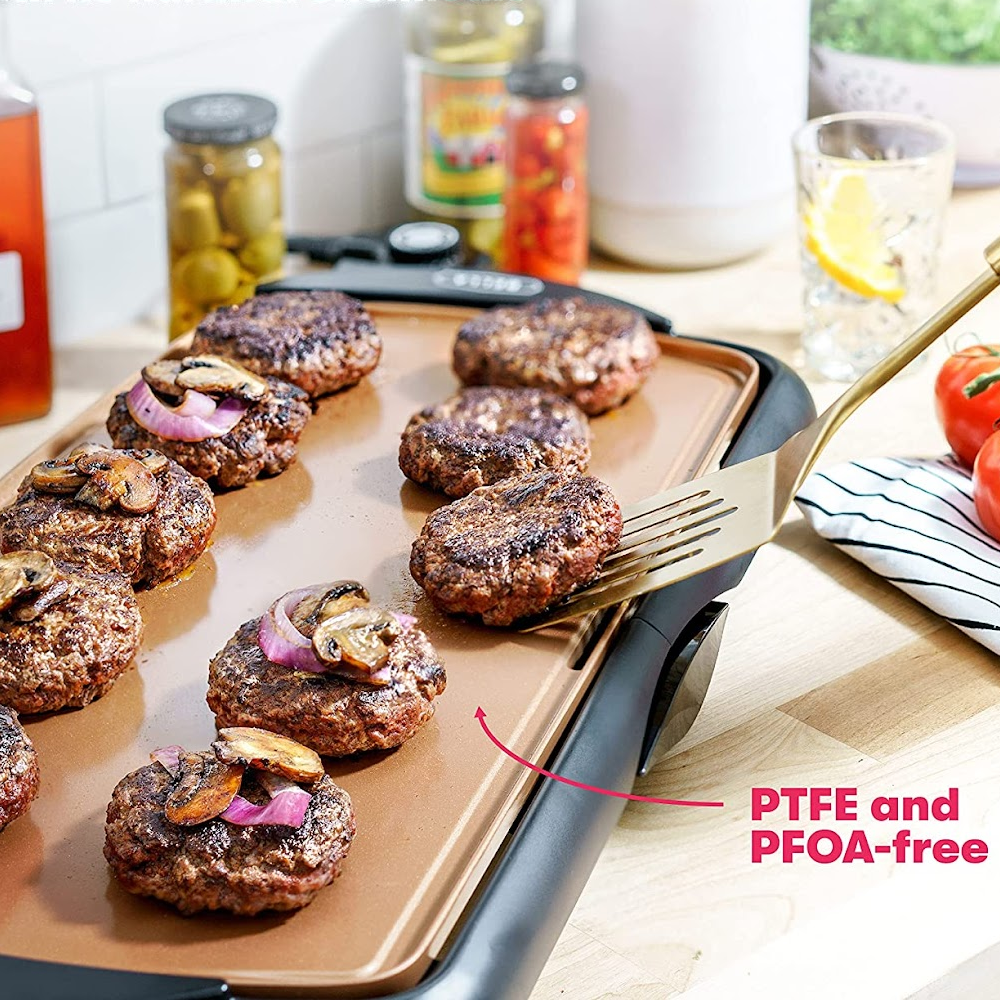 What Makes It Catchy
This tough little griddle features a 1500-watt heating system that heats quickly and can cook fast and evenly whatever you're whipping up. Plus, the cool touch handles and built-in ledge with a backstop make flipping pancakes a breeze.
And for those who like things extra precise, the removable probe with an easy-to-use dial allows for precise temperature control.
With just a simple turn of a knob, with its temperature range you can go from keeping warm to 400 degrees, so you can cook virtually anything you would on a stove. Plus, the copper ceramic titanium coating means simply, less energy is needed to get the job done.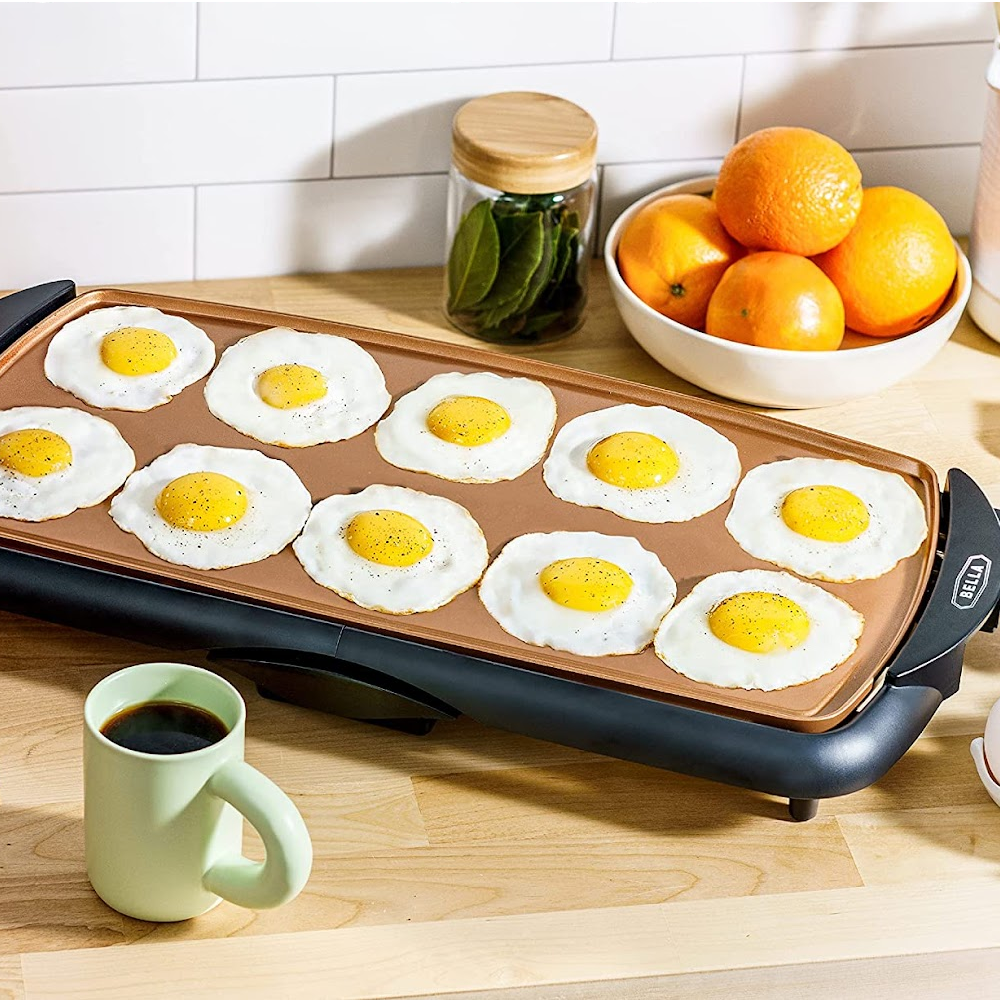 Things You Should Know
With its unique ceramic nonstick coating, you can cook your food up to 30% faster than with standard nonstick coatings.
Plus, the titanium reinforcement provides outstanding strength and scratch resistance. This griddle is also safer than a stove, with heat protection so you never have to worry about overheating.
And because it has a healthy-eco coating, you can be sure that there are no harmful chemicals like lead and cadmium in your food. So get the BELLA Electric Ceramic Titanium Griddle - one of the best electric griddles on the market - today, and start making healthy, delicious meals for your loved ones!
Hamilton Beach 23-inch 3-in-1 Electric Grill & Griddle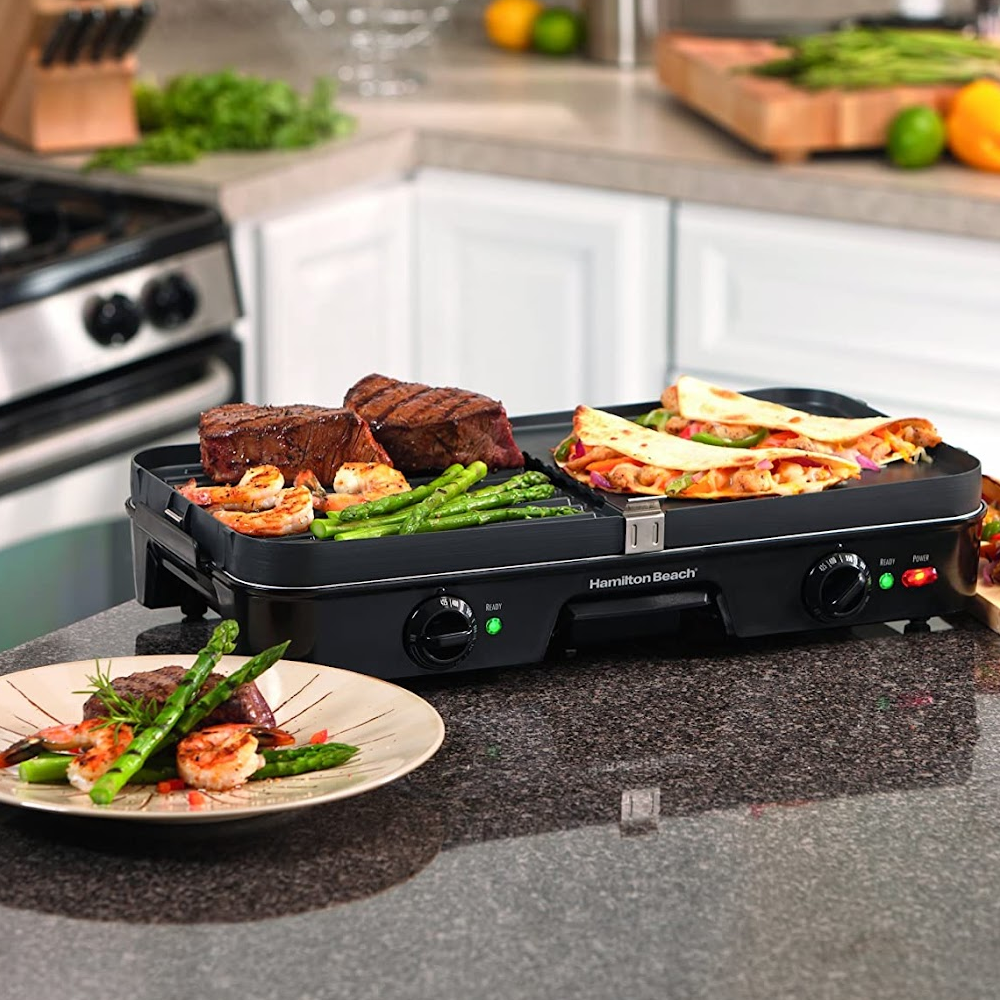 Best Large Electric Griddle
Check Price on Amazon
Why We Spotlight It
The royal-sized Hamilton Beach Electric Grill & Griddle is the versatile cooking tool you need in your kitchen. With three different cooking surfaces – a full grill, full griddle, and half grill & half griddle – this appliance can handle any meal you throw at it, from breakfast to dinner to party dishes.
The reversible plates make it easy to change from one cooking surface to another, and the adjustable temperature control means you can always get the perfect results, whether you're grilling a steak or flipping pancakes.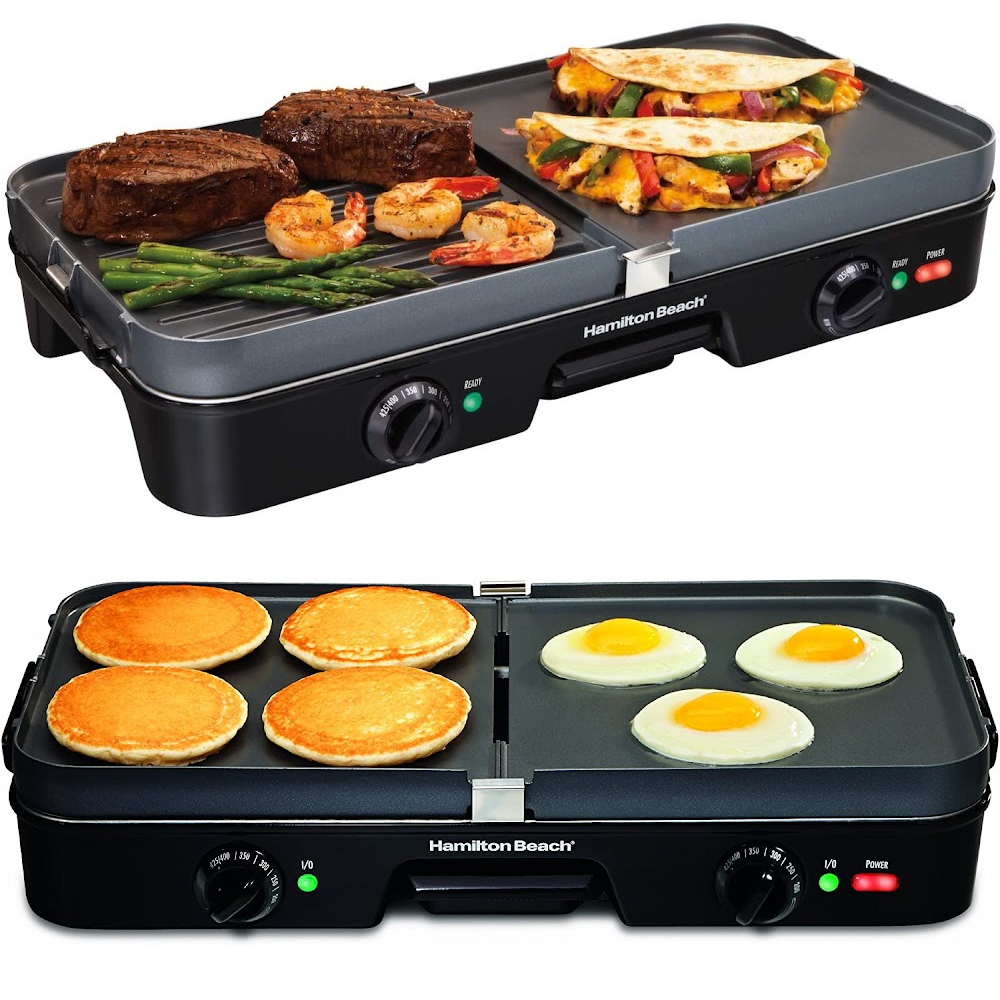 What Makes It Catchy
With a sleek and durable design, it's sure to become your go-to appliance for all your cooking needs.
The nonstick, reversible and removable plates are easy to snap in and out of place, and together they provide 180 square inches of large cooking surface.
Having two cooking areas, with nonstick surfaces and each with individual, adjustable heat controls allows you to prepare an entire meal at once.
The center grease channel and drip tray remove extra fat and reduce mess. The cooking plates and grease tray are both dishwasher safe for an easy clean.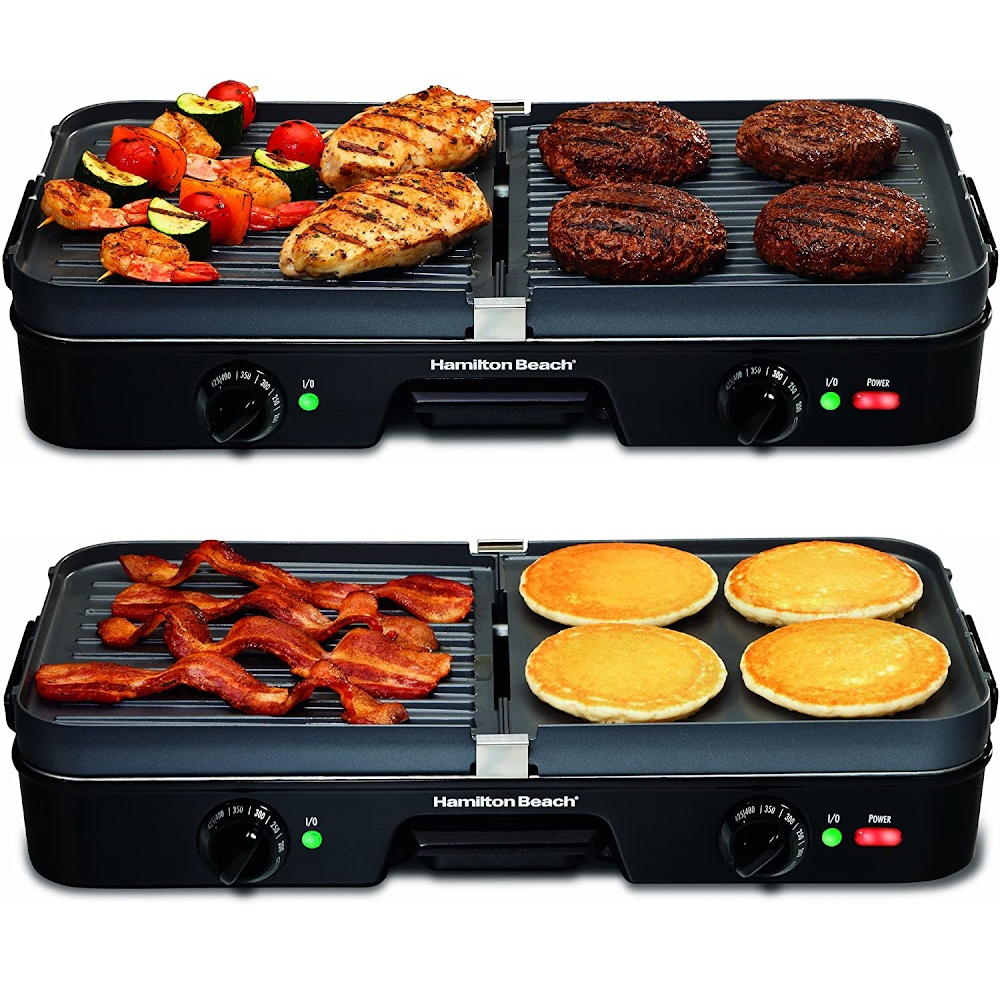 Things You Should Know
The Hamilton Beach Grill & Griddle is perfect for cooking for one or a family. It can cook up to 8 servings for a family meal. This grill & griddle is perfect for any occasion, whether you're cooking breakfast, lunch, or dinner.
So if you're looking for an appliance that can not just grill steaks, but with its interchangeable plates, do it all, look no further than the Hamilton Beach Grill & Griddle.
Cuisinart GR-4NP1 5-in-1 Griddler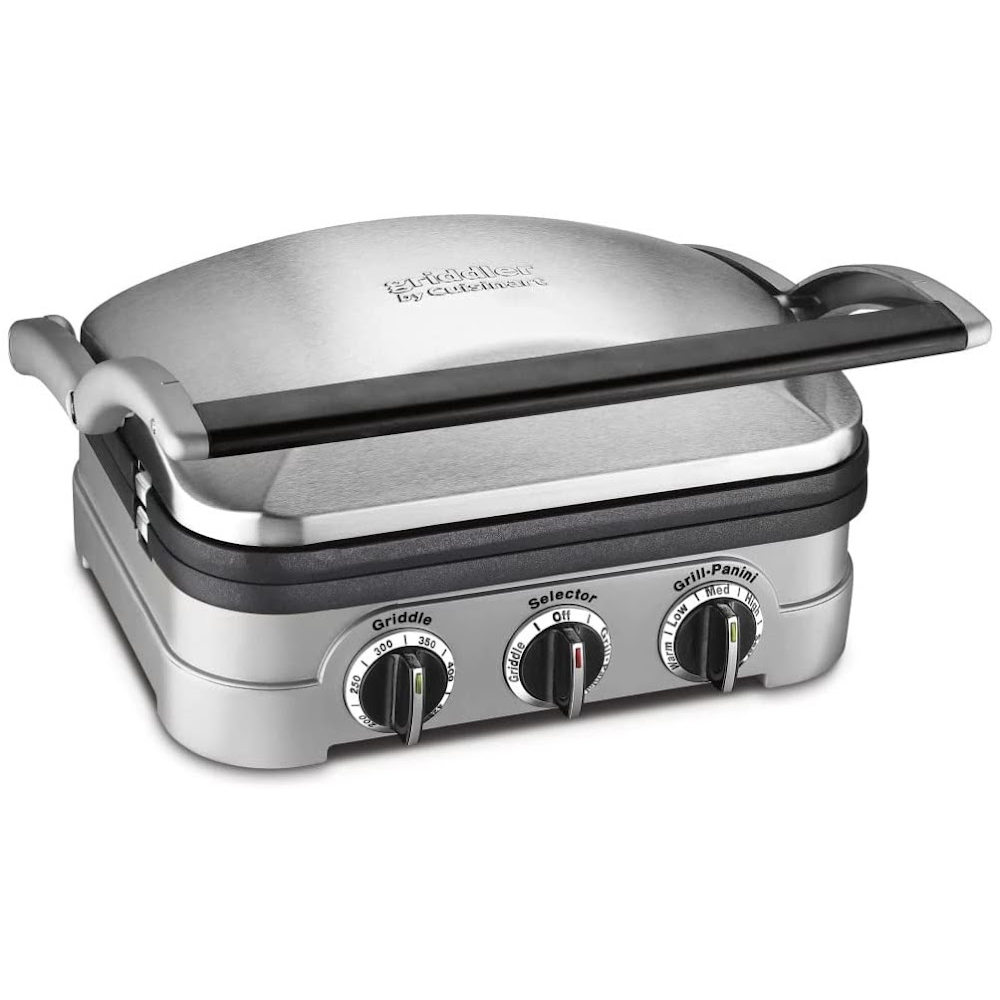 Best Small Electric Griddle
Cuisinart GR-4NP1 5-in-1 Griddler
Check Price on Amazon
Why We Spotlight It
This versatile griddle with its stainless steel lid can handle everything from pancakes and sausages to grilled cheese to steaks, hamburgers, and panini. With five separate cooking options, the Cuisinart Griddler is perfect for any meal.
Its key feature, the floating cover and one set of reversible plates turn the Griddler into a contact grill, panini press, full grill, full griddle, or half grill/half griddle.
So whether you're cooking just for yourself or your family, the Cuisinart Griddler is the perfect small griddle to suit your needs.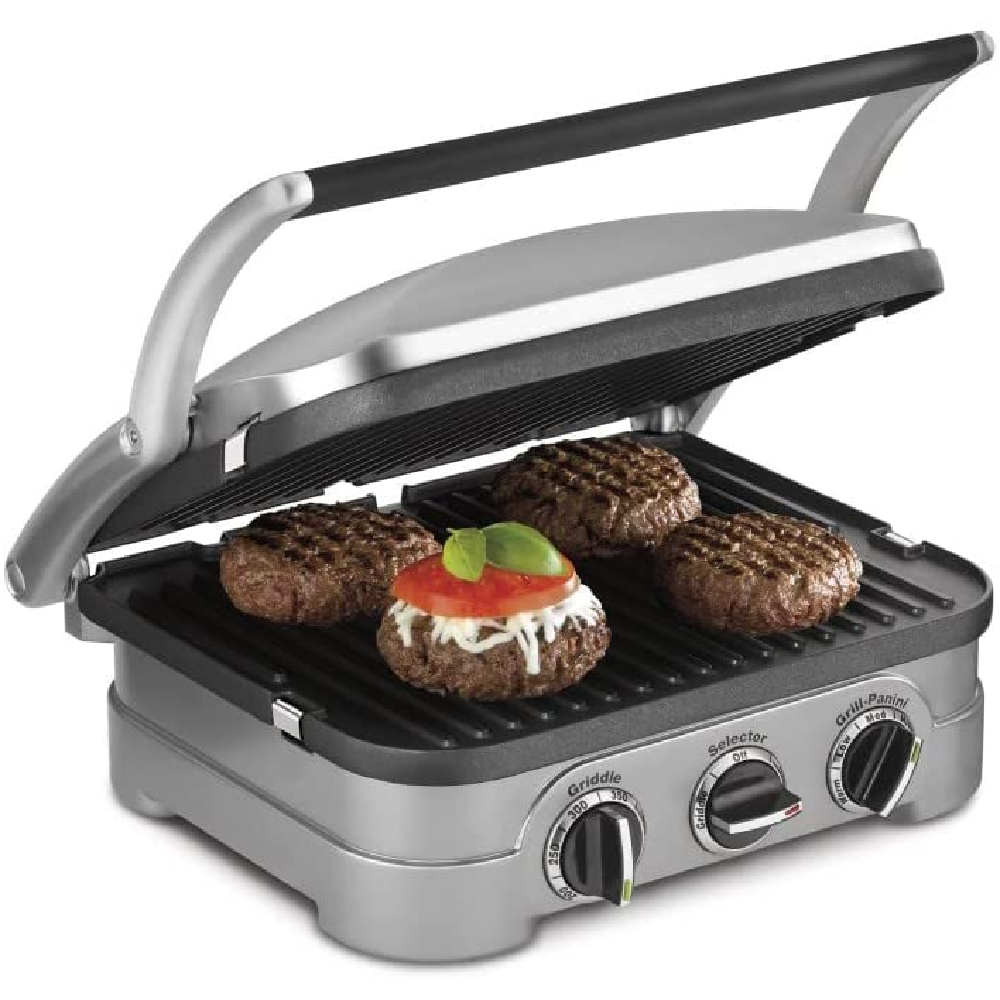 What Makes It Catchy
Looking for a versatile and durable, yet stylish contact grill? This tough little appliance can do it all, acting as a contact grill, panini press, full grill, full griddle, and even a half grill & half griddle.
The Cuisinart Griddler is the perfect compact griddle for the budding chef. The entire griddle is stainless steel. With its 11-inch by 9-inch griddle plates, you can cook anything from pancakes to burgers, searing steak to grilling chicken, or even making grilled cheese sandwiches with ease.
This Cuisinart Griddler features a sturdy panini-style handle with a hinged floating cover that adjusts to the thickness of your food.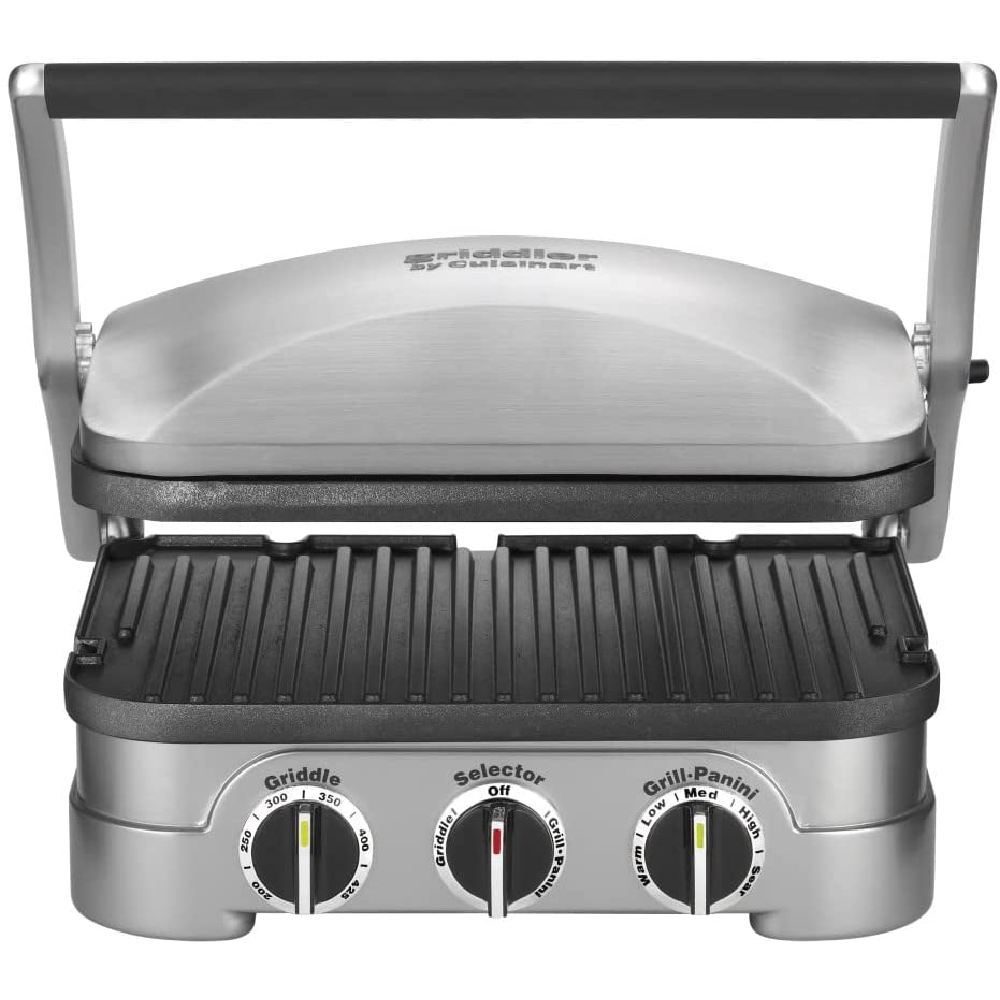 Things You Should Know
Dual temperature controls and consistent heating ensure everything is perfectly cooked every time on the removable cooking plates. The reversible and removable cooking plates have nonstick coating, so your food won't stick and cleanup is a breeze.
And because the plates are removable, they also act as a drain for the grease, making your meals healthier. The integrated drip tray collects grease and is easy to store, while the red/ green indicator lights make operation simpler.
Additionally, the included instruction manual comes with gourmet recipes so you can get the most out of your new griddler. Compared to other electric griddles this one stands out for its many features, quality and sleek design.
So why wait? Get the Cuisinart Griddler today and start cooking like a pro!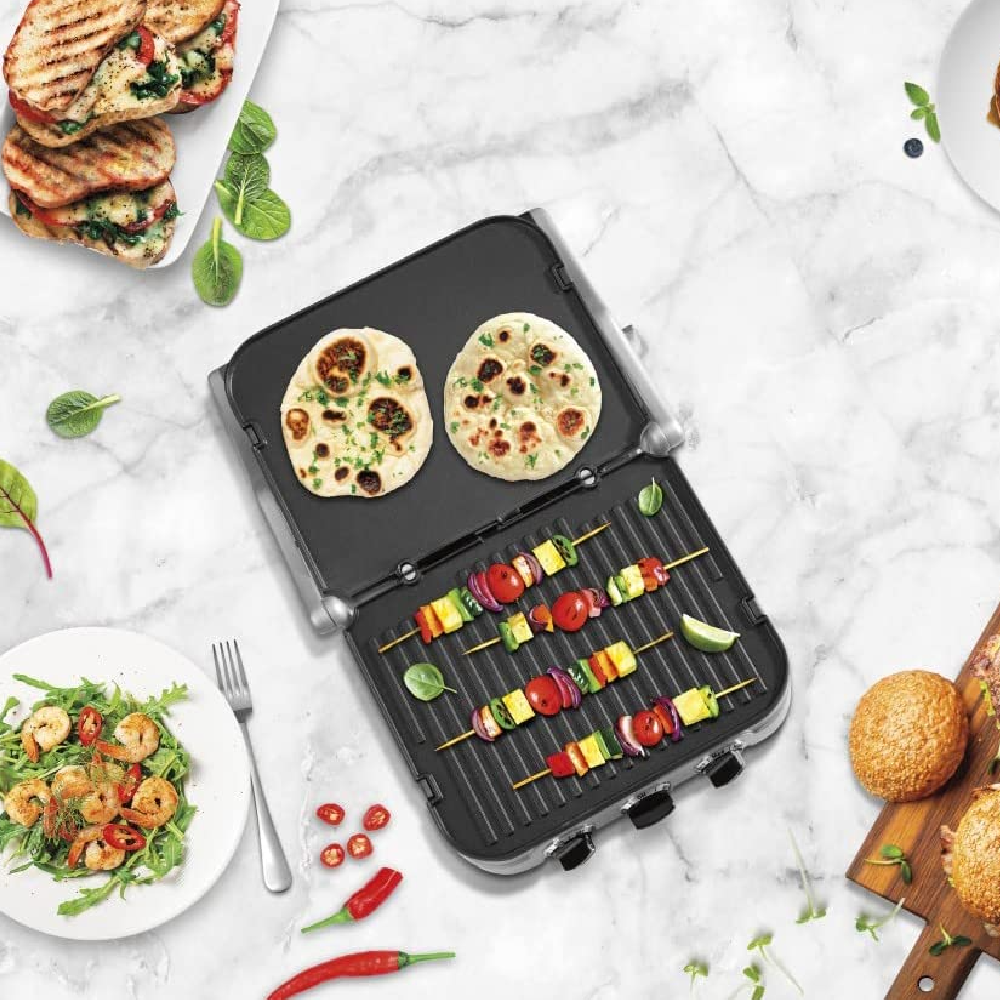 DASH 8" Express Electric Round Griddle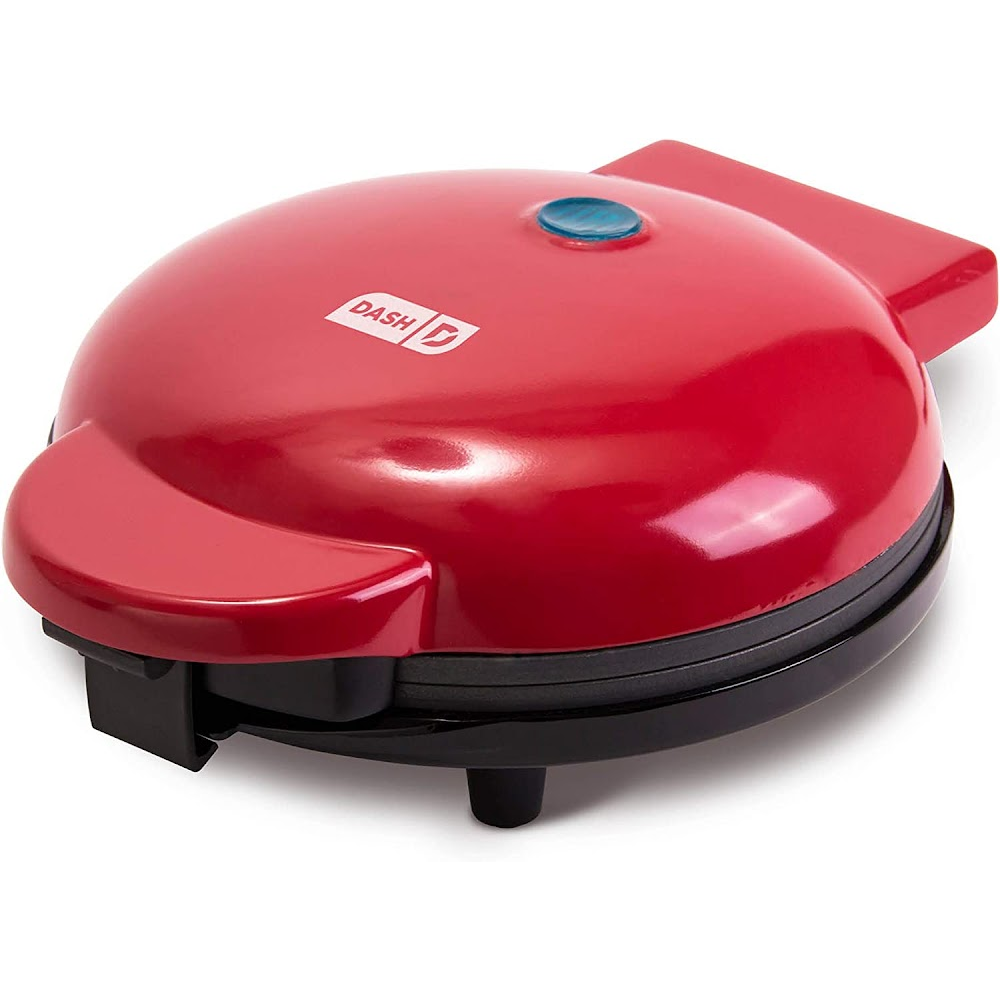 Best Mini Electric Griddle

DASH 8" Express Electric Round Griddle
Check Price on Amazon
Why We Spotlight It
The DASH Electric Round Griddle is the perfect kitchen accessory for whipping up delicious burgers, quesadillas, and more.
With a convenient and ample cooking surface, this griddle is ideal for small spaces like college dorms and apartments. No assembly is required, just plug it in and you're ready to start cooking!
The DASH Express Griddle is perfect for quick and easy meals that are sure to impress. So ditch the takeout and get creative in the kitchen with the DASH Express Griddle.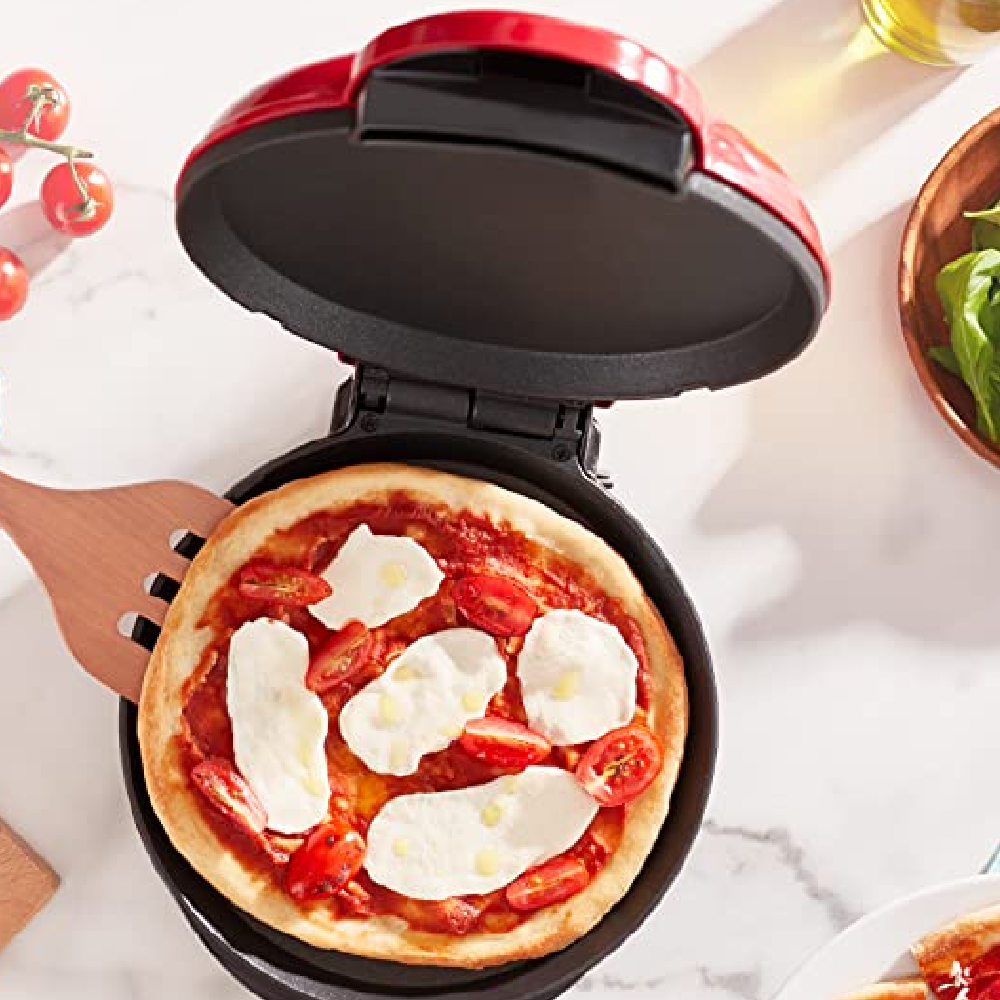 What Makes It Catchy
The DASH Electric Round Griddle is the perfect wedding or new home gift. With its compact size and sleek design, it takes up minimal counter space and is an essential gadget for that first apartment, smaller kitchen, college dorm, or camper/RV travelling on the go.
The trendy color options will match any kitchen décor. This griddle is the perfect size for cooking up smaller meals or sides. It heats quickly and evenly, making it ideal for cooking eggs, pancakes, bacon, grilled cheese, stir fry, and even burgers and steaks, quesadillas, and more.
Things You Should Know
Due to its quick and even heating quality, you can cook delicious meals with ease. The nonstick coating ensures that your food will come out perfectly cooked every time, while cleanup is really a breeze.
The dual PFOA-free, nonstick surfaces provide an even cook for consistent results. Plus, the anti-slip feet keep your griddle in place while you're cooking. And with the included recipe book and access to a recipe database, you'll always have new ideas to try out.
So don't wait any longer, make mealtime fun and wow both your guest and yourself with the delights coming off your DASH Electric Round Griddle.
Electric Griddle FAQs
What are the finest electric griddles on the market? There are so many variants available that it might be difficult to choose the right electric griddle for you. This list of Frequently Asked Questions (FAQs) about electric griddles is a great resource for you.
The answers to these questions and more are provided in this post, which also explains what you should think about before purchasing an electric griddle. Continue reading to learn more!
What is an electric griddle?
Whenever you want to fry, say, a large batch of eggs, pancakes, sausages, strips of bacon, French toast, and assorted other pieces of meat, vegetables, fish – you know the problem: you need a proper cooking surface, flat, preferably nonstick. An electric griddle solves this problem while providing the same easy cleanup as a nonstick pan.
Electric griddles feature, usually, a rectangular, flat nonstick cooking surface, and are heated by an electric coil underneath for equal heat distribution. Some are stainless steel, some cast aluminum. Some have a ceramic, smooth surface. Most feature heat control. Of course there are large and small griddles, as their cooking surfaces differ in size from say, 8 to 22+ inches.
What is a stovetop griddle?
It is fixed to your kitchen countertop, so they are not portable, like an electric griddle. Stovetop griddles usually have ridges or lines running across the surface, and function like a grill. Other stovetop griddles have a flat surface. This griddle heats up quickly.
The grill type produces grill marks on your food, which gives it a nice crispy texture. The ones with a flat surface are better suited for pancakes, sandwiches, bacon, sausages, and eggs. They are usually made of stainless steel, cast aluminum or cast iron.
What sizes do griddles come in?
There are many different sizes of electric griddles available on the market, from small griddles for one or two, to large commercial-grade griddles which can serve crowds. The size of griddle you need will depend on how you plan to use it.
If you just want a small griddle for personal use, then a small countertop unit - up to 10-12 inch - should suffice. However, if you're looking for something that can handle large quantities of food, then you'll need a large commercial-grade griddle - they start at 14 inches and go way up.
It is possible to obtain a custom-made griddle built to your specifications. This is ideal if you have specific needs that can't be met by off-the-shelf units.
What are the two types of griddles?
There are two types of griddles: electric and non-electric.
Electric griddles have heating elements on the bottom and work similar to a stovetop. Most electric griddles have a flat cooking surface ranging from 8 - 40+ inches wide.
Traditional or stovetop griddles, also known as flat-top grills, have a flat surface that gets very hot due to the heat radiation from the heating element below it. Assuming they have similar large surfaces, both can handle large quantities of food.
What are the two types of electric griddles?
There are essentially two types of griddles, single-sided and double-sided. Single-sided griddles cook food on the bottom only, so you have to flip or turn the food. Double-sided griddles, the ones with a lid, cook food on both sides simultaneously.
What can I cook on an electric griddle?
Lots. It works well for pancakes, eggs, bacon, French toast, hash browns, and other breakfast foods. Also, a griddle is perfect for cooking crab cakes, burgers, quesadillas, and grilled cheese sandwiches.
An electric griddle does have a few advantages over one that is in or on the stovetop: it is portable, and a small one you can put on the dinner table. So in addition to already prepared food items, you and your guests can cook their own choice of extra foods.
Do you need to put oil on a griddle pan?
Yes. Oil is necessary for griddle cooking. Use plenty of oil before you start cooking. When the oil heats up, it stops your food from sticking to your griddle, making the cooking experience much easier, and making the finished product taste much better. An alternative to oil is butter.
Do I need an electric griddle?
An griddle, in particular one the electric kind, is an absolute must-have in your kitchen. It stands for solid cooking performance. The past decades these griddles have conquered not only kitchen countertops, but also dinner tables all around the world. It's one of those kitchen appliances that make cooking convenient.
They enable you to cook many different foods. Whether you cook for a family, a group or just for yourself, a griddle makes your life a lot easier. From making breakfast: grilling sandwiches and cooking pancakes or bacon to cooking multiple foods like pasta, steaks or burgers, cooked evenly on the cooktop of your griddle. Yes, you can prepare any and other foods.
Why use a griddle instead of a pan?
Typically, a frying pan has a round shape and raised walls, while a griddle is rectangular/square and has low /no walls. Additionally, griddles are most suitable for foods needing high heat and fast cooking, whereas a frying pan does better with foods requiring a slow cooking process.
Are burgers better on grill or griddle?
When you grill over the grates, a significant amount of the juices in your meat run off into the grates. This is the issue with grills: they get slightly burned, yet undercooked and dry burgers.
But when you are cooking burgers on the nonstick surface of your griddle, they are not likely to dry out as they will retain their juices.
Can you barbecue on a griddle?
No. Griddles provide consistent heat across a large, flat cooking surface. Grills, both traditional and modern ones are ideal for preparing steaks and beef. For a party, a combo of grill and griddle will offer the cook an opportunity to cook a wide variety of foods.
Yet, people have different preferences. Some prefer their steak on a grill, others want their filet mignon or burgers on a griddle.
Can you cook chicken on a griddle?
A griddle pan is perfect for cooking bacon, chicken breasts, chicken drumsticks or strips of chicken because the pan ridges create 'char lines', which add to the flavor and look professional.
Can you put butter on a griddle?
Yes, you can use butter on your griddle. Some people prefer oil, others butter. But stay alert when using butter: at high temperatures, it will burn fast. Keep an eye on the temperature control.
How do you keep meat from sticking to a griddle?
First, make sure you have added oil (or butter) to the griddle surface and spread it out evenly. Once the pan is hot, use tongs to place your meat along the ridges. Leave a 0,5 inch gap between the pieces: this will keep them from sticking together.
Same thing when you cook bacon. Last but not least, the best electric griddles have a nonstick cooking surface and a drip tray, or "grease trap".
How do I choose an electric griddle?
Since they come in a variety of sizes, shapes and with various features, choosing the right one can be confusing. Here are a few factors to consider when narrowing down your choices:
Size: Of course, the size of the griddle and cooking surface will be determined by the amount of space you have on your countertop and how many people you typically cook for. A large griddle with a large cooking surface is great for big families or entertaining, while a smaller one might be more suitable for everyday meals.
Shape: Oval or rectangular shaped electric griddles are the most common, but there are also round ones available. Consider which shape would best fit your cooking needs and counter space. Also, consider the size: cooking surfaces differ from 8 - 40 inches wide - and more!
Heat Settings: Some electric griddles come with multiple heat settings, while others only have one. If you plan on using your griddle for a variety of tasks (like searing, frying and grilling), then choose one with multiple heat settings.
Non-Stick Surface: A non-stick surface is essential for easy cooking and cleanup. Look for a griddle with a durable nonstick coating that will last long and won't flake or peel, and preferably a drip tray.
Ease of Cleaning: Since you'll be using your griddle frequently, it's important to choose one that is easy to clean. Look for a model with a drip tray and removable and dishwasher-safe parts for the easiest cleanup.
Now that you know what to look for, it's time to choose the best electric griddle for your needs. Be sure to read the reviews of each model before making your final decision.
Best Electric Griddle For You
We have spotlighted the six best-selling electric griddles on the market and provided links so that you may learn more about their pricing.
We hope that this buying guide has been useful in your endeavour to find the ideal one for your family.
You may also read other posts on our site about various kinds, and sizes of different electric griddles, as well as other kitchen equipment reviews.
Thanks for taking the time to read this article, and have a wonderful day!
Catchy Finds