The cheapest waffle maker is a waffle iron, made of cast-iron. It works, but it takes some effort to make it work. However, if you are looking for an affordable yet easy-to-operate, quality electric waffle maker, look no further!
In this blog post, we will take a look at some of the best waffle makers under $30, currently available on the market. We will compare and contrast different models so that you can find the perfect one to meet your needs.
Whether you are looking for a budget-friendly option or something that is high-quality yet affordable, we have you covered. Keep reading to learn more!
How We Spotlight The Top Products
When it comes to budget friendly yet quality waffle makers, there are dozens of brands and models to choose from. It may be tough to figure out which one is ideal for you without spending hours researching.
We conducted the study for you and highlighted the top 5 best waffle makers, based on their review rankings: capacity (four waffles? two waffles?), versatility (rotation or flip?), design (slim design? retro?), simplicity of operation (indicator lights?), durability (stainless steel? non-stick plates?), and convenience of cleaning (drip tray? dishwasher safe plates?), and the budget.
👉
We participate in the Amazon Associates Program, if you buy a product with the links that we provide, we may receive a small commission from Amazon. There is NO additional cost to you!
---
Chefman Belgian Waffle Maker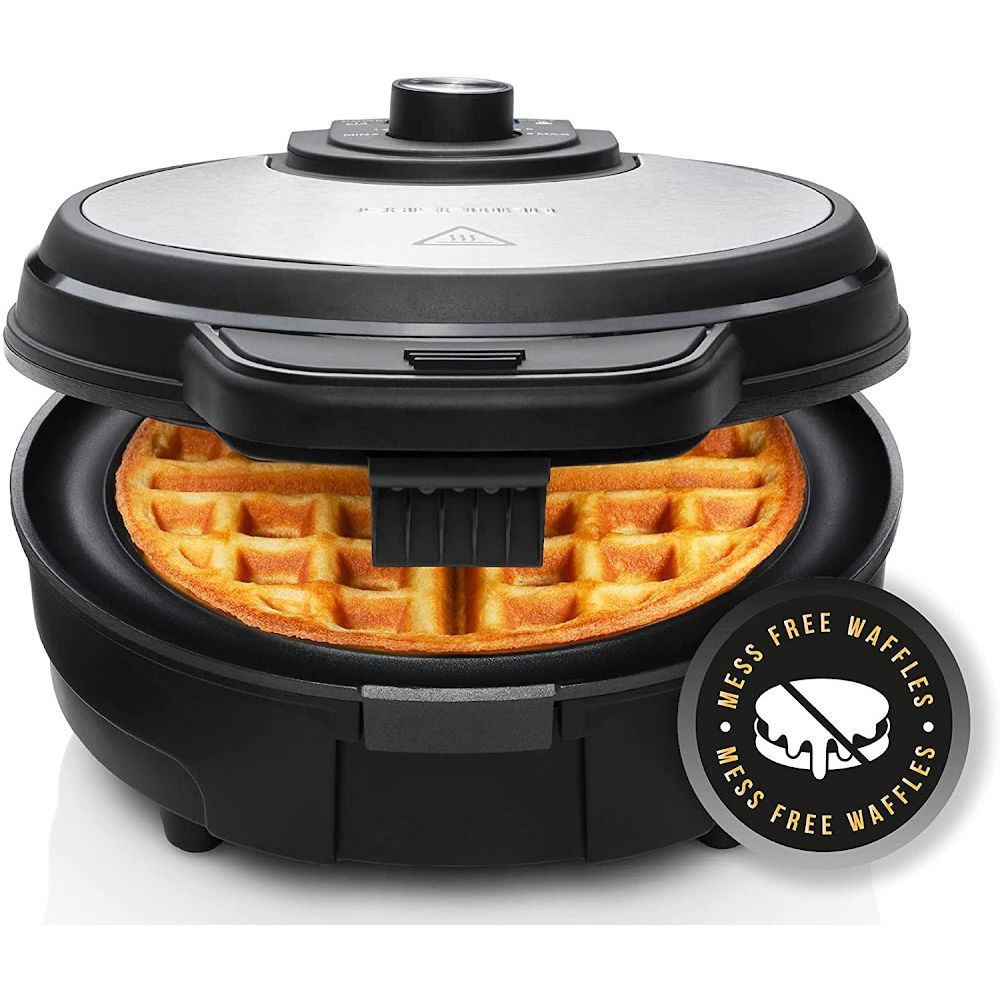 Best Choice For Its Quality Material
Chefman Belgian Waffle Maker
CHECK PRICE ON AMAZON
What Makes It Catchy
This mess-free, anti-overflow stainless steel mini waffle maker is a game changer. No longer will you have to worry about batter leakage and overflow - it's all taken care of with this handy little gadget.
With 7 different shade settings: this enables cooking your waffles just the way yolike them. The higher the setting = darker brown and crispier the result: a genuine Belgian waffle, with a fluffy interior.
Things In The Spotlight
The sleek stainless steel panel looks great and means an easy cleanup! Extra-strong non-stick coating for the perfect flip. Cleanup is easy: gently wipe down the exterior and interior plates with a damp cloth.
Made of high-quality material, it's durable and will support you through many baking adventures. It's leak-proof, so you can pour with confidence, and it has a nonslip base. You can store it vertically.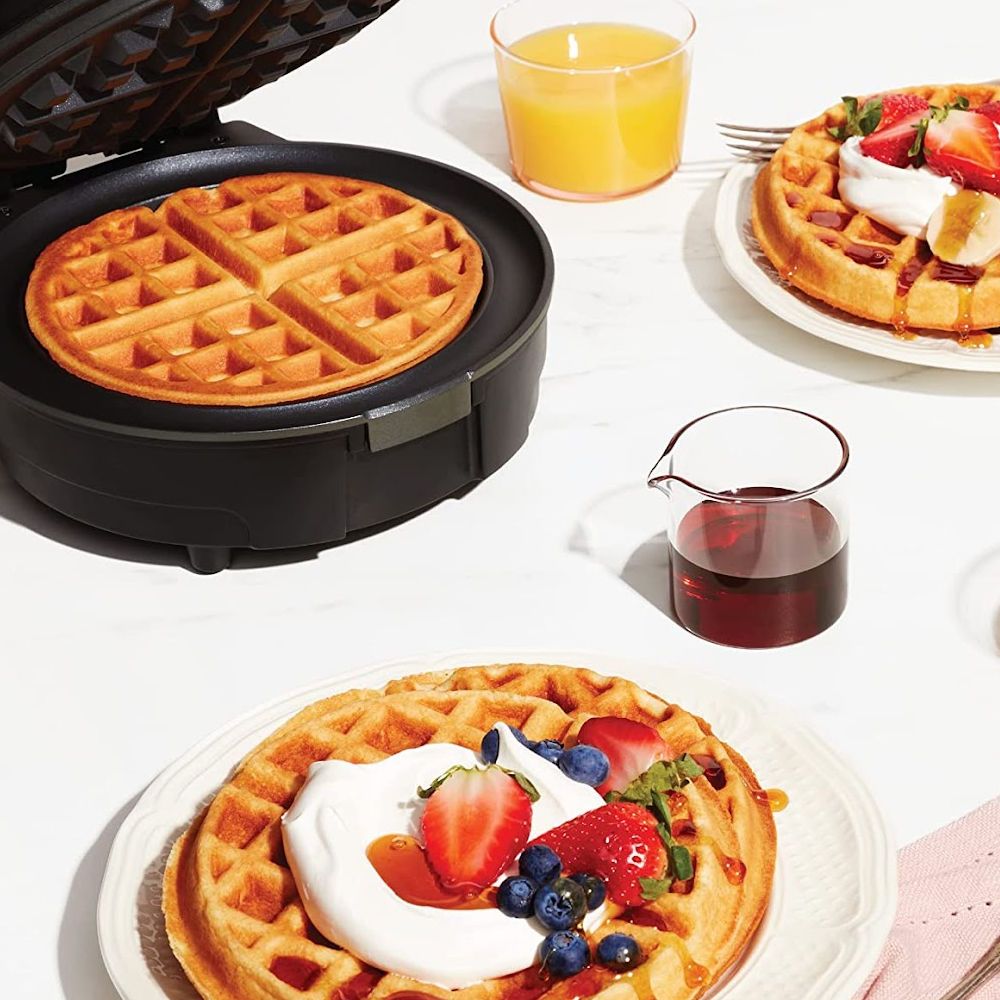 ---
Cuisinart Classic Round Waffle Maker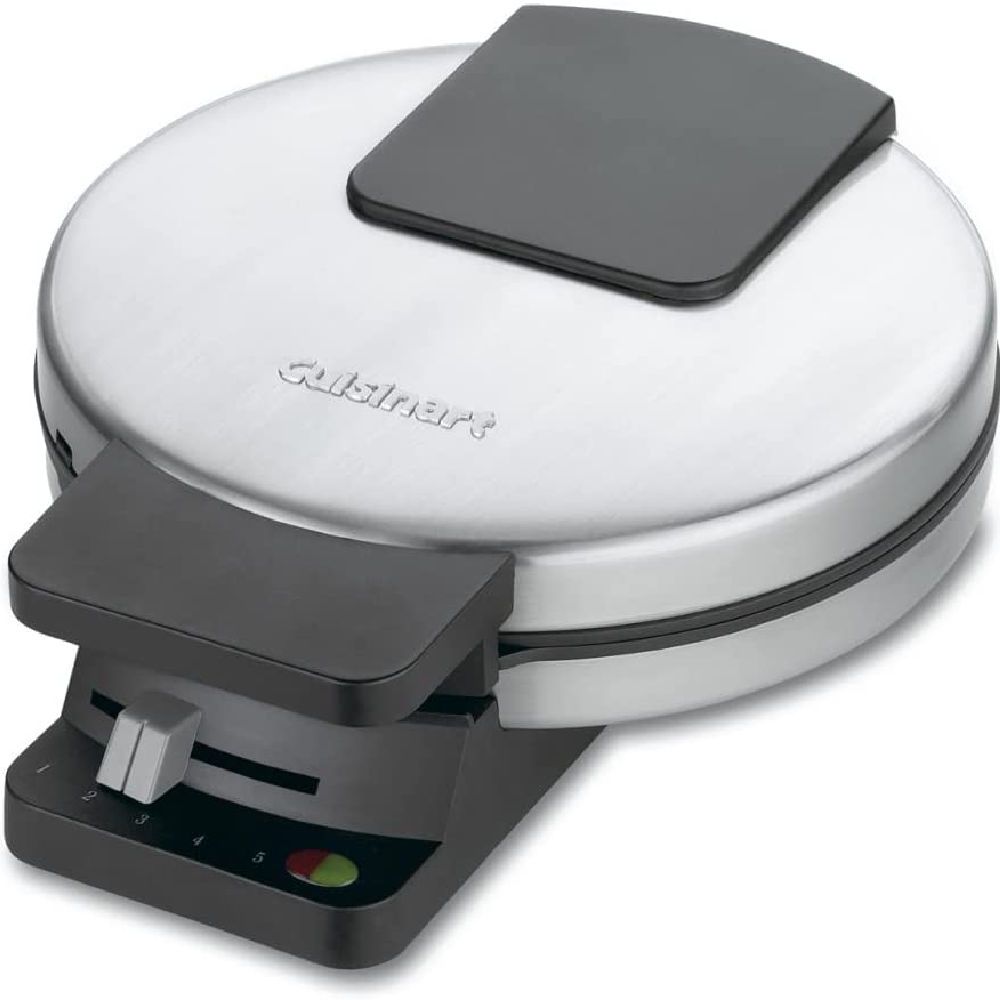 Best Choice For Its Simplicity Of Use
Cuisinart Classic Round Waffle Maker
CHECK PRICE ON AMAZON
What Makes It Catchy
This waffle maker is made of stainless steel and has a classic round shape. It has five browning settings. An indicator light tells you when the waffle is ready (it also beeps!).
The Cuisinart is a great option if you are looking for a waffle maker combining high quality with a friendly price.
It features nonstick plates. A thermostat with red and green "ready to cook, ready to eat" indicator lights, shows this mini waffle maker is designed for easy operation.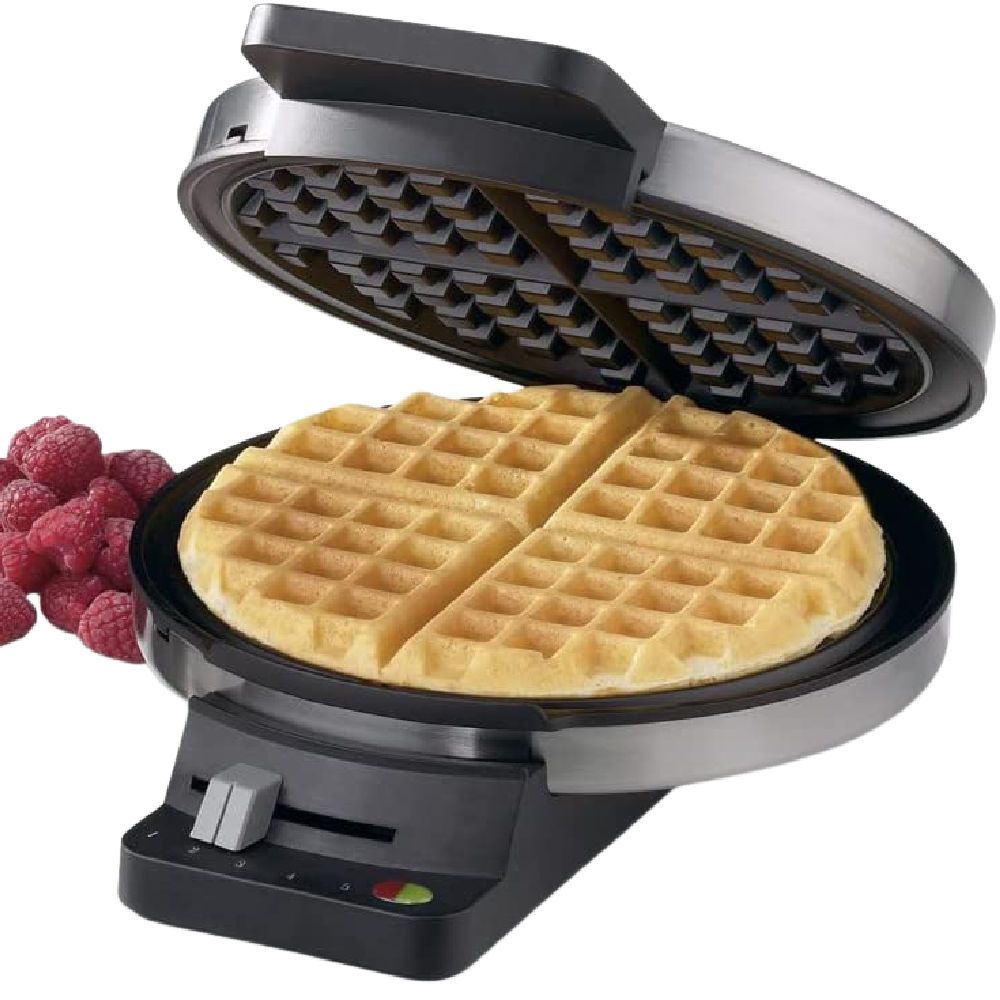 Things In The Spotlight
The five-setting browning settings mean your waffles will always be baked to perfection.
Before cleaning, unplug the device once you've finished baking. Make sure the grids are fully cooled. Then clean the grids by wiping them with a damp cloth to remove stains and clogging from batter or seepage. This procedure makes cleanup easy.
It can stand on end; with Its compact design it is easy to store. But what really sets this machine apart are its features: the cord stores underneath its bottom, and it's portable. Like most waffle makers, it comes with an instruction book and recipes.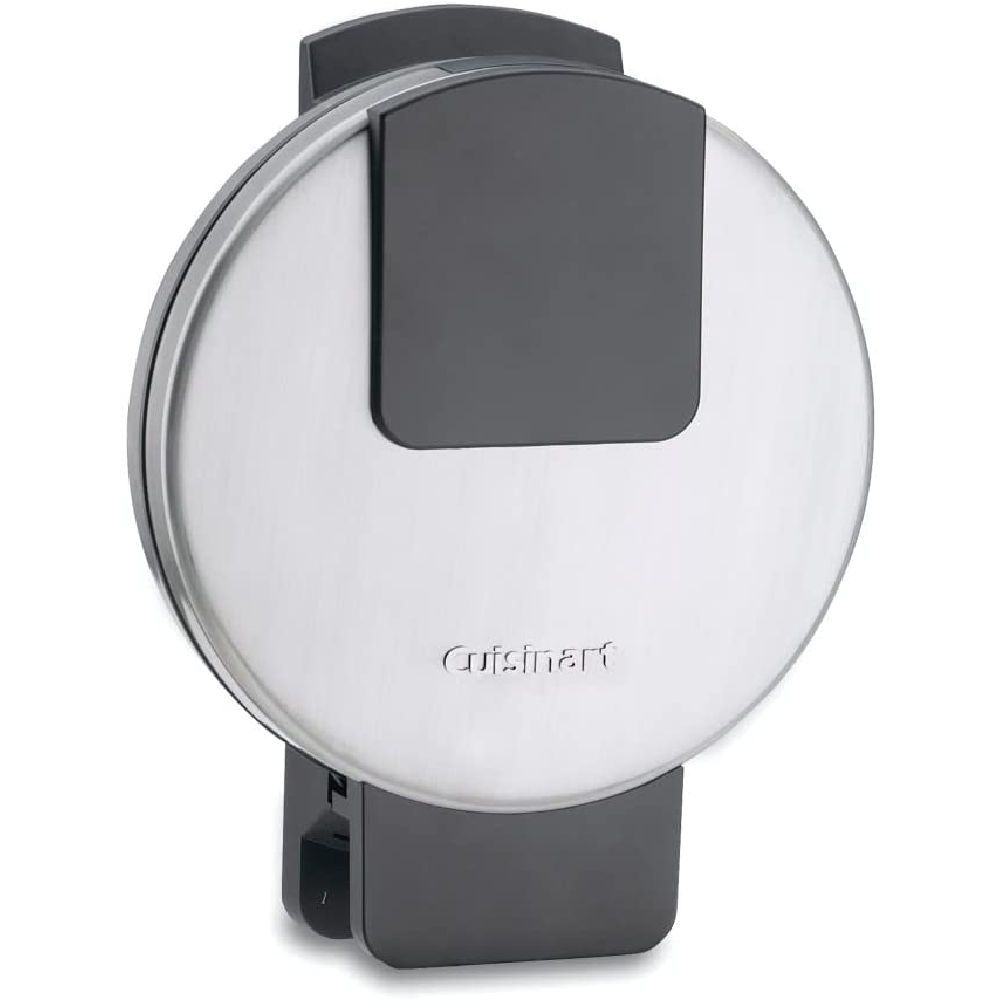 ---
DASH Mini Waffle Maker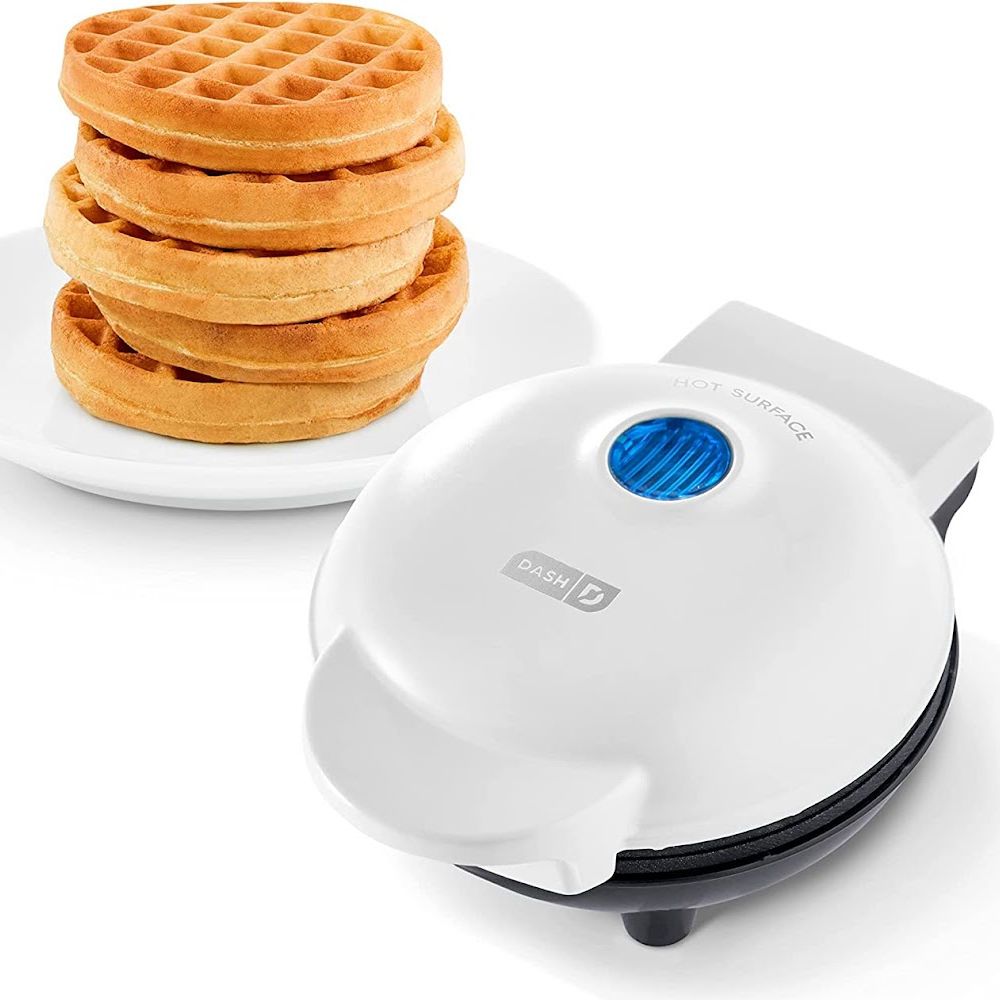 Best Choice For Its Variety Of Colors
CHECK PRICE ON AMAZON
What Makes It Catchy
No need to be a morning person to enjoy a delicious breakfast or lunch. In fact, with a little creativity, you can turn breakfast or lunch into a fun and easy meal.
This Dash is a wonderful wedding or new house gift. It takes up little space on the counter and comes in a modern style with trendy color choices to match any kitchen decor. Your kids will love it, too!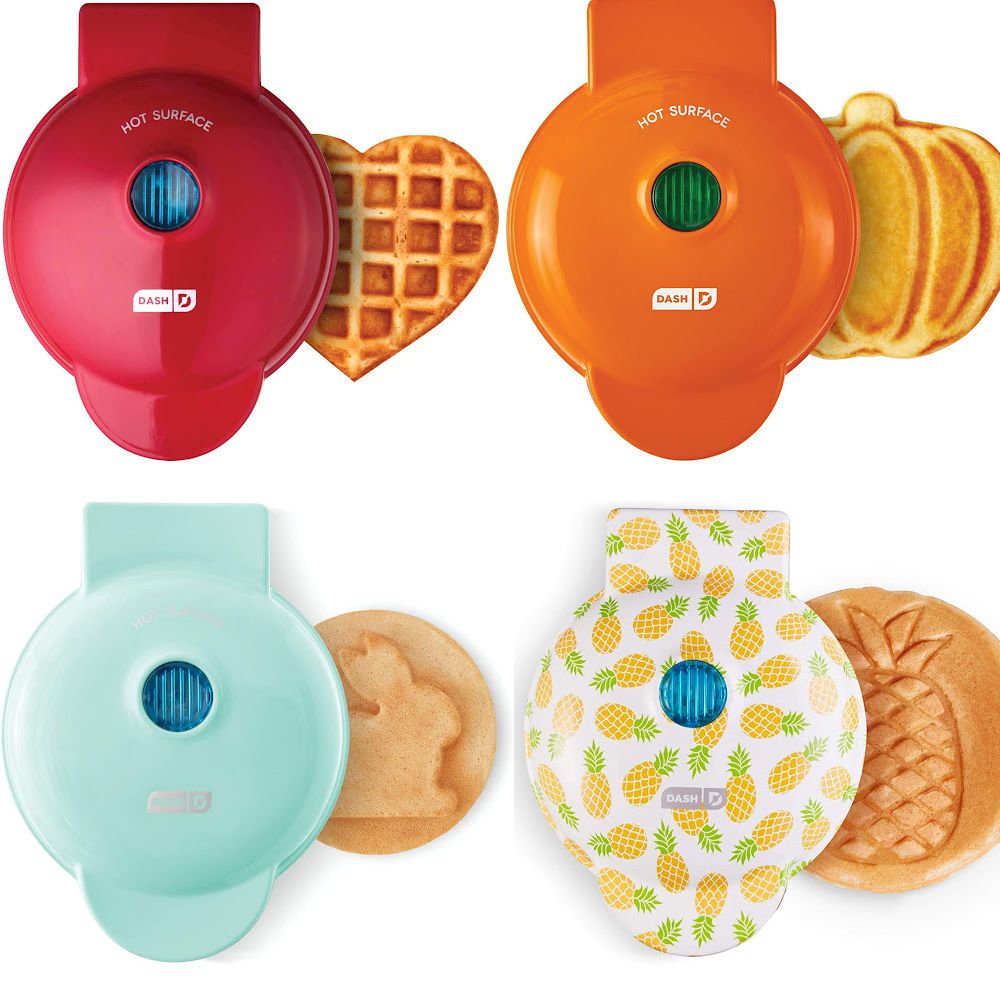 Things In The Spotlight
Whether you're furnishing your first apartment, downsizing to a smaller kitchen, or living in a college dorm, this waffle maker is a must-have. It's also great for campers and RVers who want to cook gourmet snacks on the go.
This waffle maker is the real deal. Simply plug it in and go; it heats up in minutes. Its dual non-stick surfaces provide uniform, evenly cooked results and delicious golden waffles every time, and an easy cleanup.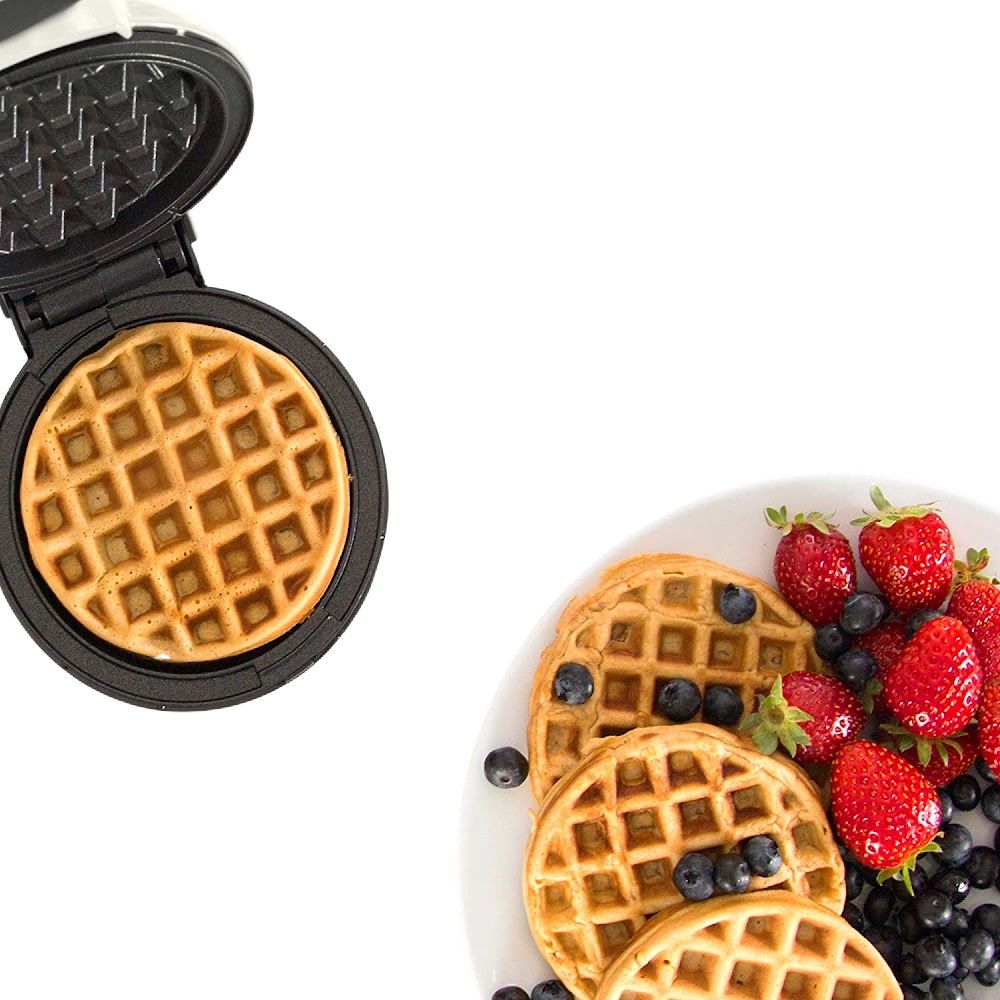 ---
BLACK+DECKER Belgian Waffle Maker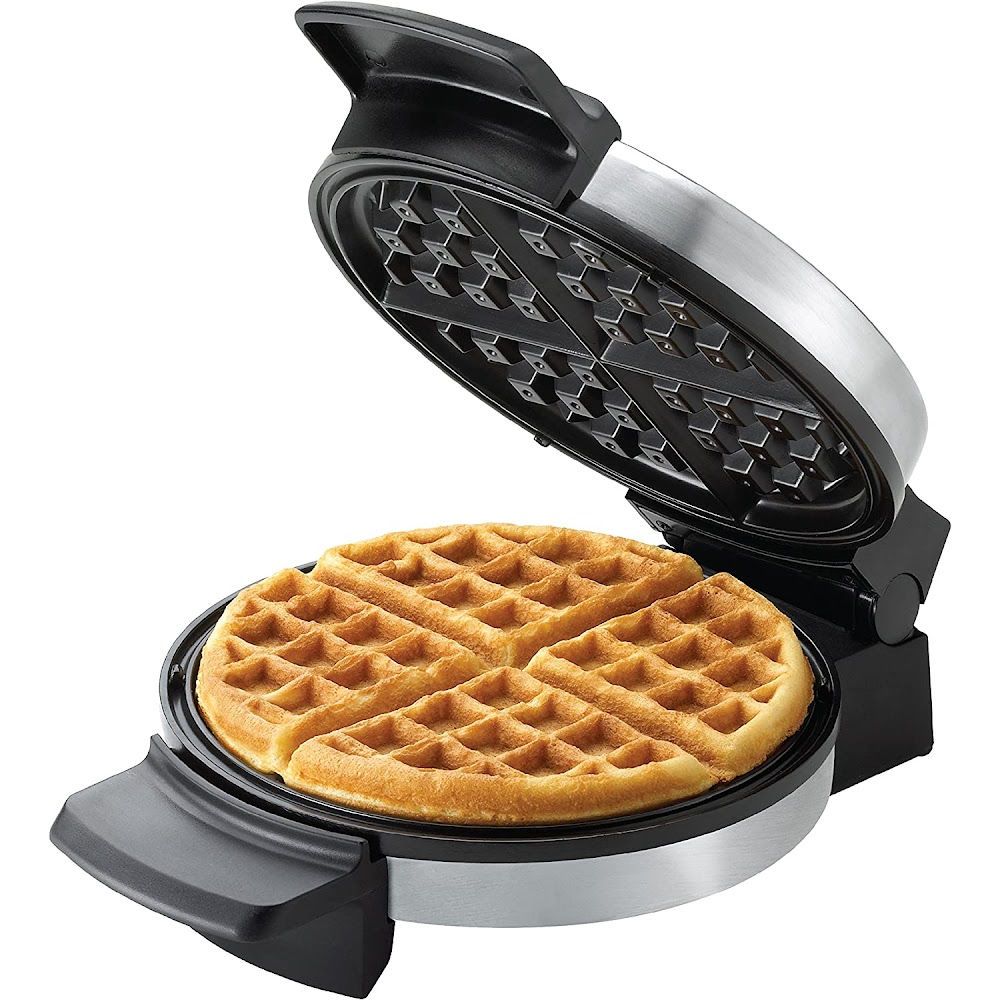 Best Choice For Its Versatility
BLACK+DECKER Belgian Waffle Maker
CHECK PRICE ON AMAZON
What Makes It Catchy
Among the affordable Belgian style waffle makers, this one stands out. Th Black + Decker makes one thick, soft, fluffy waffle, with plenty of room for all your favorite toppings.
This high-quality waffle maker is made of stainless steel for lasting durability, and it features a thick 7-1/4-inch diameter Belgian waffle grid plate divided into four waffles, or two waffles x 2 - perfect for sharing.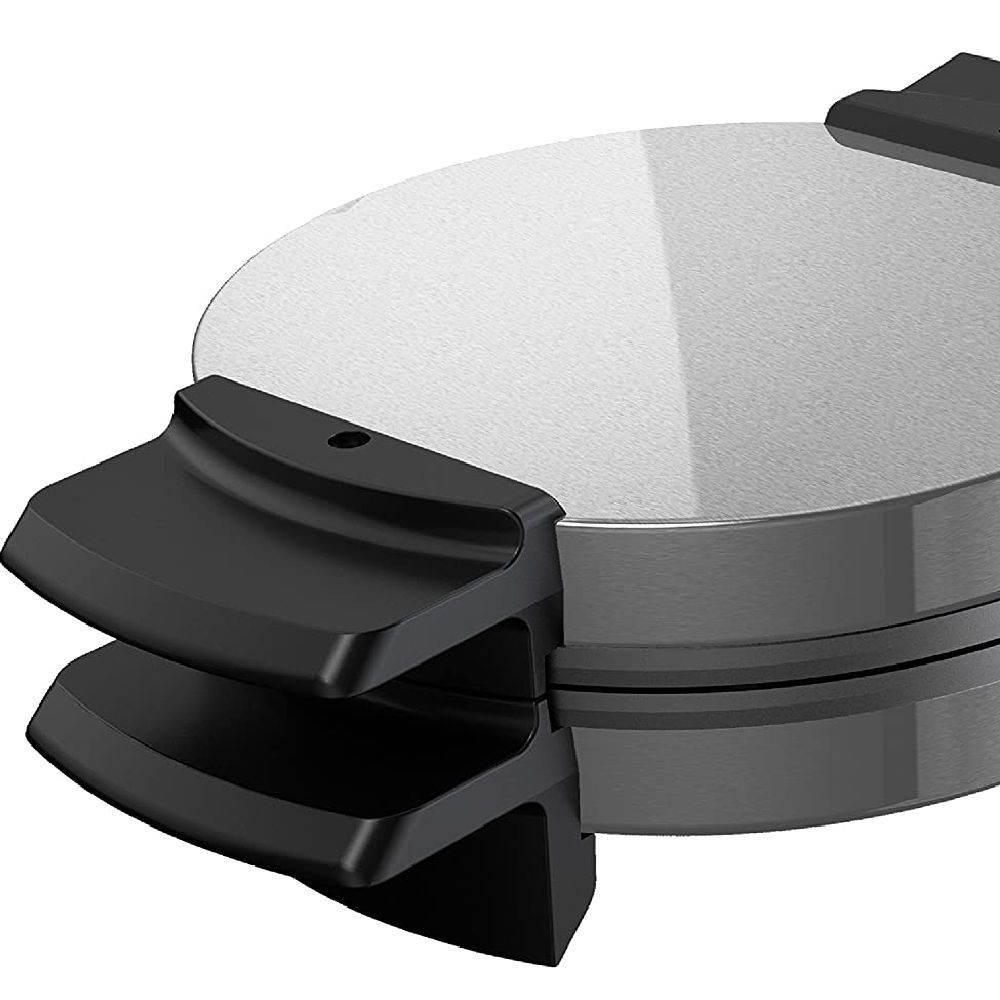 Things In The Spotlight
The nonstick grids make it easy to release the waffle and clean up afterwards, while the ready light lets you know when the waffle maker is properly heated and when it's done.
With its chrome housing and stay-cool black synthetic handles, this 650-watt appliance not only looks great on your countertop, it's also built to last. The cord wraps around the hinge for compact storage.
---
Oster Belgian Waffle Maker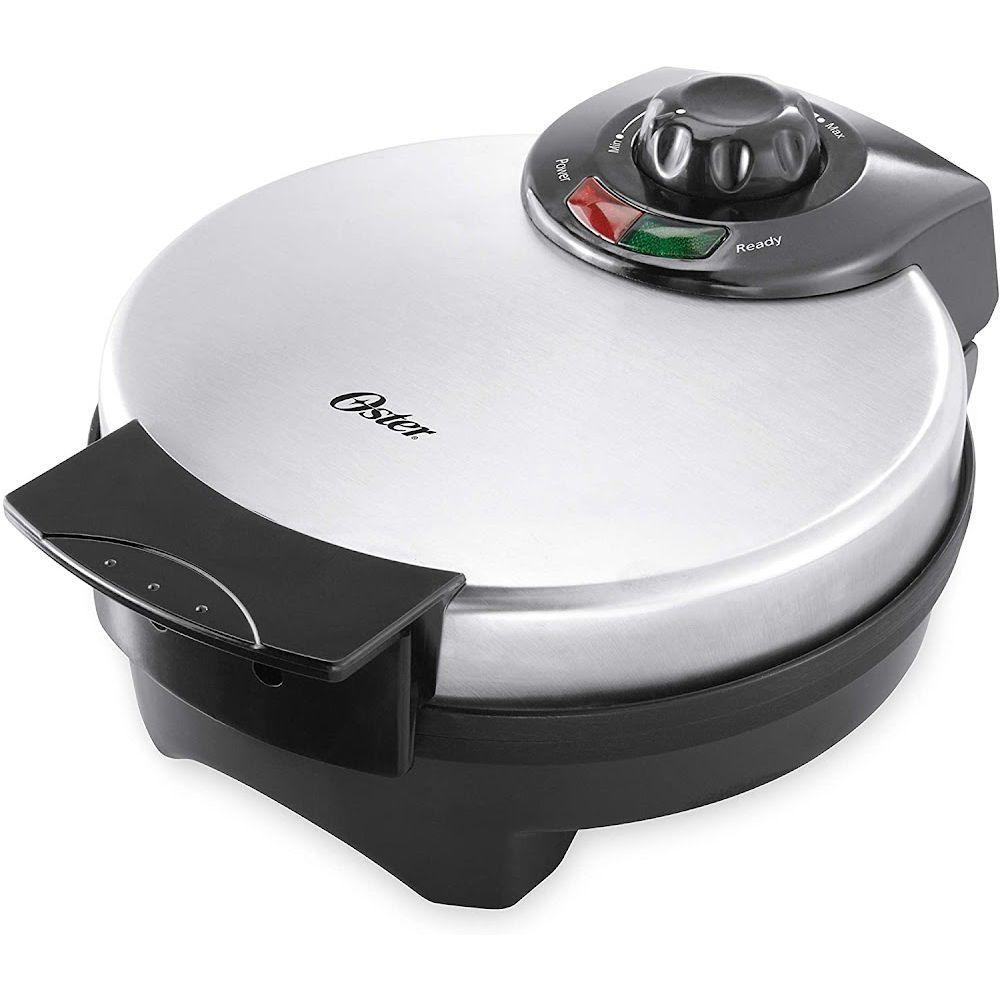 Best Choice For Its Efficiency
Oster Belgian Waffle Maker
CHECK PRICE ON AMAZON
What Makes It Catchy
This is another one that stands out among Belgian waffle makers. If you're looking for a waffle maker that will give you authentic, delicious Belgian style waffles every time, then consider the Oster Belgian Waffle Maker. It features an 8-inch plate that cooks one large, thick waffle in minutes.
The stainless steel housing makes it extra-durable, and the deep grid pockets produce a perfect, soft Belgian waffle. All you need to do is add toppings, and enjoy!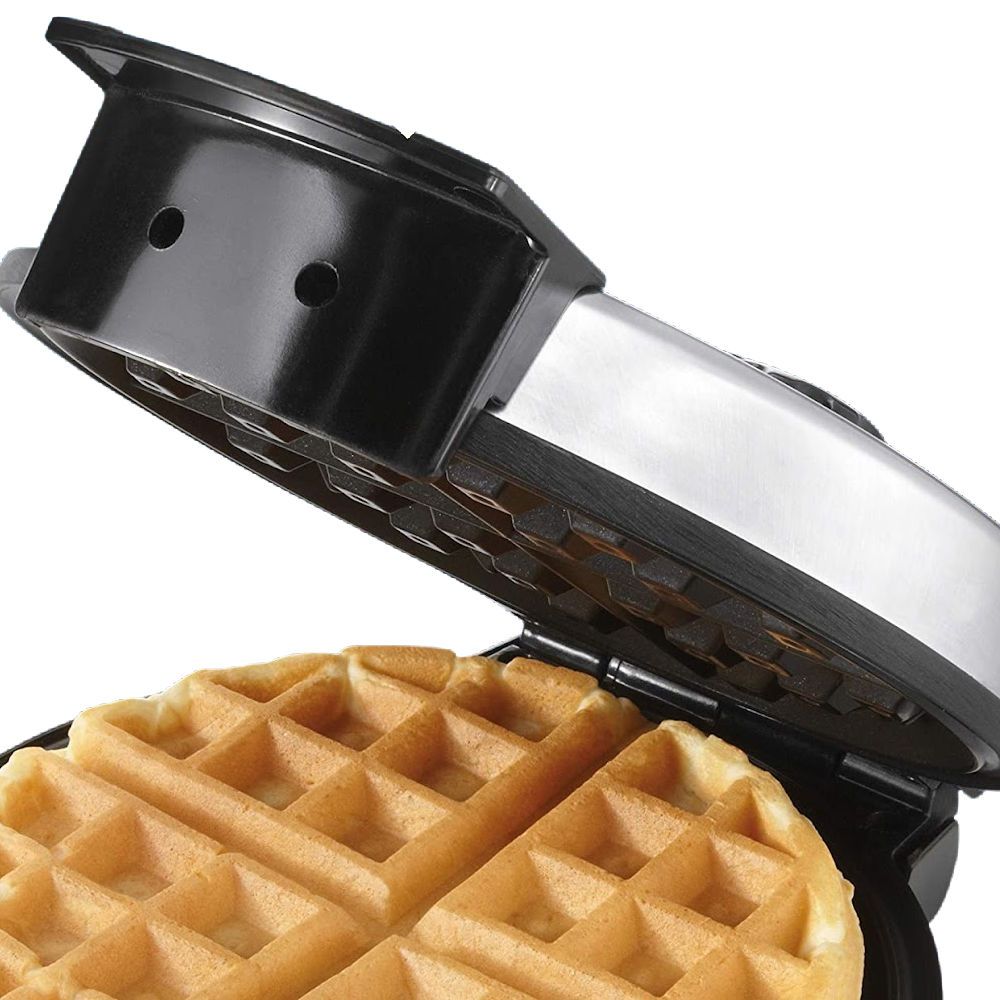 Things In The Spotlight
This handy little appliance lets you customize the heat while cooking, so you can manipulate the browning settings.
The stainless steel housing is durable and the cord length is just right for easy maneuverability. The nonstick plates ensure your 4-piece waffle will come off the grid easily; it makes an easy cleanup.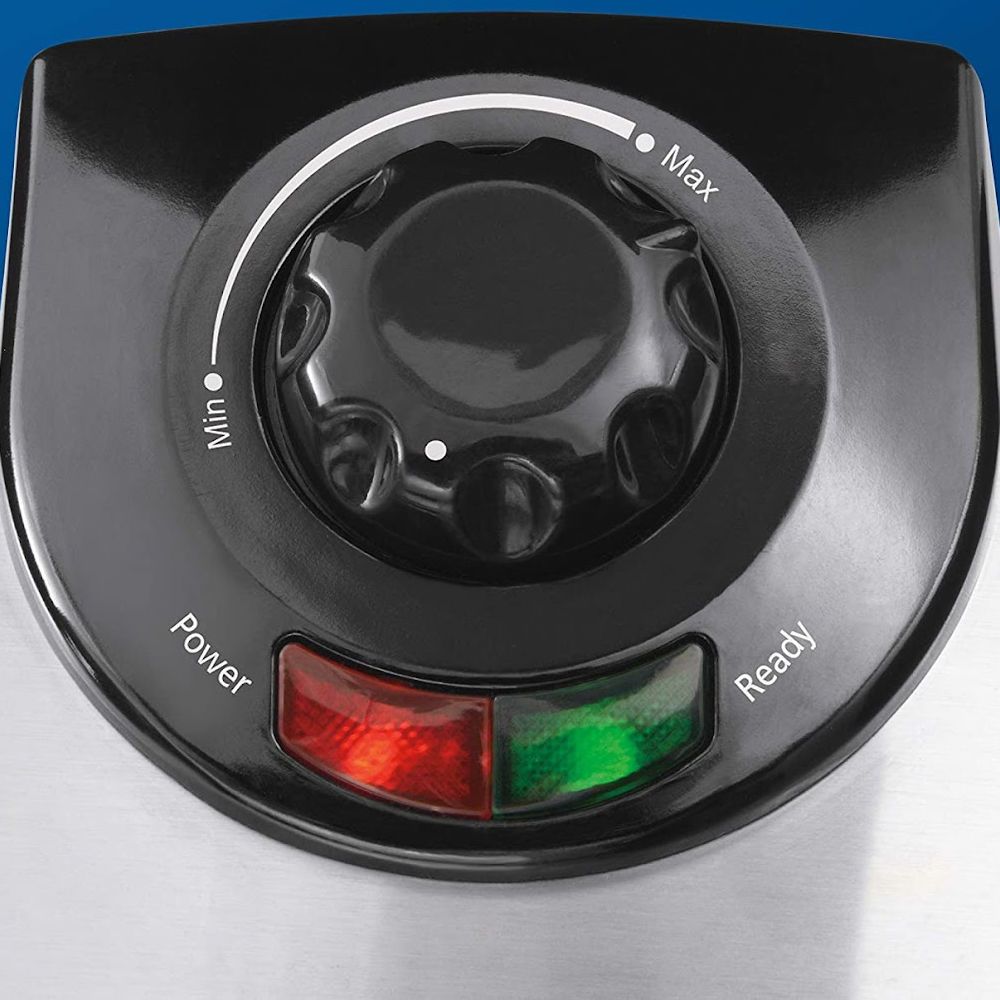 Waffle Maker FAQs
Making waffles, with or without crispy edges, never has been easier. Square shape, round shape, removable plates: best waffle makers are easy to find. But there are many models out on the market, so it can be hard to know which one will work well with your lifestyle. We've put together this list of Frequently Asked Questions (FAQs) to assist your product search.
What is the price of a waffle maker?
There isn't a definitive answer to this question since there are so many different types and brands of waffle makers on the market.
However, you can expect to pay anywhere between $20-$200 for a good quality waffle maker. Cheaper models may not last as long or produce consistent results, while more expensive ones might have features like adjustable temperature controls. It depends on your budget, and what features you're looking for.
If you're just starting out, we recommend checking out some of the budget-friendly options available at your local home goods store. However, if you're looking for something more high-end, Breville and KitchenAid both make great ones.
What are some of the best cheap waffle makers on the market?
Some of our favorite cheap waffle makers include:
The Dash Mini Waffle Maker: a great option for those who want to save space in their kitchen. It's small and lightweight, it comes in colors, and it produces delicious waffles. On top of that, it's very affordable: just under US$20.
The Cuisinart Round Classic Waffle Maker is also a great option. It's around US$30.
These are just a few cheap waffle makers available. Do some research to find the one that meets your needs, and budget!
Is there a difference in waffle makers?
Yes, there is a difference in waffle makers. The most important difference is in the type of griddle plates. There are two main types of griddle plates: those with deep pockets and those without.
Belgian waffle makers have deep pockets resulting in thicker Belgian waffle. One with less deep pockets produce regular, or American waffles.
Traditional waffle makers are waffle irons. These are still in use. A waffle iron - what could be more "retro"?
Is a mini waffle maker any good?
There are a lot of different mini waffle makers on the market, and some are better than others. The key is to find one with removable plates so that it's easy to clean, and one that has an adjustable temperature so that you can control how crispy or fluffy your waffles come out.
What waffle maker makes crispy waffles?
Regular (American) waffle makers can produce crispy waffles. But it all depends on the quality of the batter, applying the right amount of batter to the grid, and the cooking time.
What are non Belgian waffles called?
In North America, non-Belgian waffles are often referred to as "regular" or "American" waffles. One of the first references to them being called this was in a Vilification Euclid Cartoon from 1896 where two people are eating pancakes and one says "bring on the stacks of American waffles" and the other says "wait for me, I want my Belgian waffles".
In the early 1900s cookbooks started referring to these type of waffles as American waffles. The cast-iron waffle maker and the chemical leavener baking powder made it possible to produce light and crisp waffles.
What are those thick waffles called?
They are called Belgian (round) or Brussels (rectangular) waffles. They are made with a yeast-leavened batter. Toppings: fresh fruit (cherries, strawberries), pearl sugar, whipped cream, syrup. For some, like me, one Brussels waffle equals a complete lunch.
What is the difference between an American waffle and a Belgian waffle?
One difference between an American waffle and a Belgian waffle deals with batter. American waffles are made with baking powder-leavened batter, which gives them a lighter texture and a slightly sweeter flavor. Belgian waffles are made with yeast-leavened batter, which gives them a thicker, fluffier texture and a more distinct flavor. They're also made with pearl sugar, which caramelizes on the surface of the waffle as it is cooking - some four minutes.
American waffles are thin and square (6-8 inches) or round (6-8 inches diameter). Belgian waffles are thick and round (6-8 inches diameter); the Brussels style waffle is rectangular (4 x 6 inches; 4 x 7 inches; 3 x 5 inches).
American waffles are served with syrup or other sweet toppings, while Belgian waffles are often served with savory toppings like fresh fruits and whipped cream. Both waffles are served warm, not hot.
Can I use a regular waffle maker to make Belgian waffles?
Technically, no. The pockets of a regular waffle maker are simply not deep enough to produce a typical thick and fluffy Belgian waffle. Of course you can experiment, but the results will not be an authentic Belgian waffle. A regular waffle maker is designed to produce typical thin and crisp American waffles.
How do I choose a waffle maker?
When it comes to finding the best waffle maker, there are a few things you'll want to keep in mind.
First, think about the type of waffles you like best. Do you prefer regular round or square, thin waffles, or Belgian-style rectangular or round thick waffles with deep grid pockets?
Next, consider the features that are important to you. For example, temperature control to monitor browning. Some waffle makers have removable plates that make it easy to clean, while others have built-in timers to help ensure a perfectly cooked waffle.
Finally, think about the size and shape of the grid plates. Do you want square or round waffles? A Belgian waffle maker may be a good option if you like thicker, fluffier waffles.
Whatever your preferences, there's a waffle maker out there that's perfect for you!
What is the difference between waffle and pancake batter?
The difference is that pancake batter is made with more flour and less liquid than batter for waffles. Pancake batter is also usually sweeter.
Waffle batters are thicker than pancake batters because they contain ingredients like baking powder and yeast that help them rise. If you have a Belgian waffle maker, it fills those characteristic deep grid pockets and cooks thick, delicious waffles.
Pancake batters, on the other hand, rely primarily on leavening from baking soda, which gives them a more solid and crispy texture but are thinner than the Belgian variety.
What are the favorite waffle toppings in the U.S.?
The National Today website asked 1,000 Americans to determine their top 10 favorite waffle toppings and here is what they found:
maple syrup – 62%
butter – 10%
fresh fruit – 8%
peanut butter – 4%
fruit sauce – 4%
Nutella – 4%
chocolate – 3%
honey – 2%
The Best Waffle Makers For You
We have spotlighted the 5 good waffle makers in the market and provided links so that you may learn more about their pricing to pick yours.
We hope that this buying guide has been useful in assisting you in selecting the best waffle maker and your significant others.
Did this blog post help you decide on the best cheap waffle maker for your needs? Let us know in the comments below! And be sure to check out our other blog posts for more great product reviews and recommendations.
Thanks for taking the time to read this article, and have a wonderful day!
Catchy Finds