Sometimes, the most unlikely combinations turn out to be the best ones. Take, for example, this cake recipe that combines the earthy taste of beets with the sweetness of dates and chocolate. Who knew that beets and chocolate could be such a delicious combination? This cake is perfect for any occasion.
Beet Cake Recipe
Ingredients
1 cup cooked fresh beet puree (from about 2 large beets)
1 cup date sugar or brown sugar
1/2 cup cocoa powder
1 teaspoon baking powder
1 teaspoon baking soda
1/2 teaspoon salt
1/2 cup olive oil or melted coconut oil
2 tablespoons ground flaxseed mixed with 6 tablespoons water
1 teaspoon vanilla extract
1 egg
1 cup almond milk or other non-dairy milk
1 cup whole wheat flour or all-purpose flour
1/2 cup chopped nuts of your choice: almonds, and cashews, or walnuts
1 cup seedless date fruit
1/2 cup of blue berries (for decoration, optional).
1/2 cup shredded dried coconut
Instructions
Preheat oven to 350 degrees F (175 degrees C).
Grease and flour two 9-inch round baking pans.
Mix flaxseed with water and set aside for 5 minutes.
Mix sugar, cocoa, baking powder, baking soda, egg, and salt in a large bowl.
Add oil, flaxseed mixture, and vanilla extract.
Alternate adding milk and flour to the wet ingredients
Put the mix of dates fruit, almonds, and cashews into the food processor, blend and add to the mixture.
Pour the mixture into the baking mold.
Bake for 25-30 minutes or until a toothpick inserted in center of cake comes out clean.
Take the baked cake base out of the oven.
Continue to pour the cooked beet puree onto the top of the mixture and spread evenly.
Sprinkle with shredded coconut.
Let it cool down and enjoy!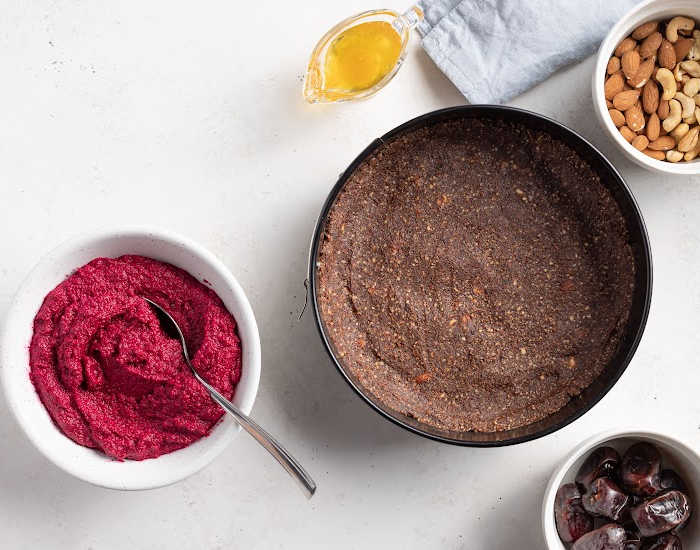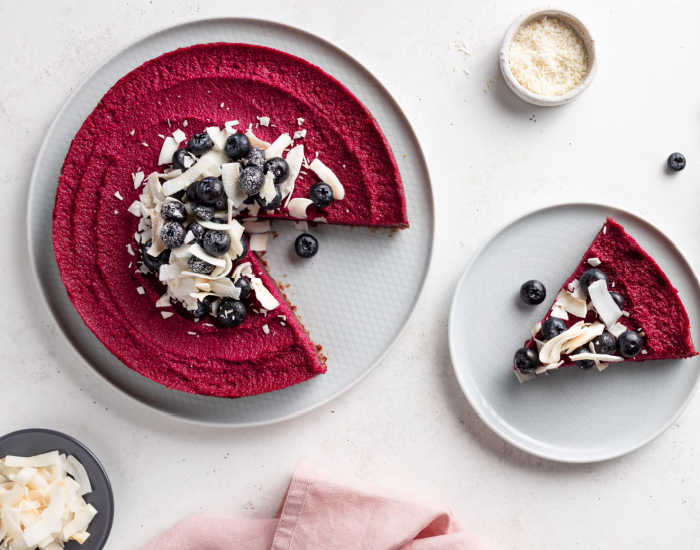 Tips & Tricks
If you don't have a food processor, you can chop the dates and nuts by hand.
You can use store-bought beet puree instead of making it from scratch.
Add chocolate chips to the batter for an extra chocolatey kick!
If you want to get creative, top the cake with chocolate ganache or a chocolate glaze.
Use different types of nuts in the batter for a more interesting flavor.
Serve the cake with vegan ice cream or whipped cream to make it even more delicious!
Watch the video tutorial below to find out how to make the cake base. Once you take it out from the oven, all you need to do is add beet puree on top of the baked base after baking, and then blueberries with shredded coconut. Enjoy!
‌This chocolate beet cake is an amazing recipe that'll delight your taste buds! The amalgamation of beets and chocolate gives the cake a unique earthy flavor.
If you are looking for a food processor to assist you with all the chopping, blending, and mixing, read on the blog post below where we have done the research and picked 5 top affordable food processors that are under 100$. Check them out!
So give it a try. Your friends and family will love it! Happy baking!
Catchy Finds