Do you love the smell of freshly baked bread wafting through your kitchen? The taste of a warm, crusty baguette smeared with butter?
If you're drooling just thinking about it, then this post is for you! Read on to learn how to make the perfect crusty French bread.
How To Make French Bread
Ingredients
1 tablespoon active dry yeast
1 tablespoon sugar
1 1/2 cups lukewarm water
4 to 5 cups all-purpose flour
1 tablespoon salt
1 tablespoon olive oil
Cornmeal for dusting
Step By Step Guide
How to make the perfect crusty French bread? This crusty French bread recipe is easy to make and yields delicious results every time.
In a large bowl, combine yeast, sugar, and lukewarm water.
Stir until yeast is dissolved and let the mixture sit for about 10 minutes.
Add 4 cups of flour and stir until the dough is combined. If the dough is too sticky, add more flour, 1 tablespoon at a time.
Add salt and olive oil and stir until combined.
Turn the dough out onto a floured surface and knead for about 10 minutes.
Place the dough in a greased bowl, cover with a damp towel, and let rise in a warm place (or inside a Dutch oven) for about 1 hour.
Preheat the oven to 425 degrees Fahrenheit.
Cut the dough into two pieces and shape into rounds. Feel free to experiment with different flour types, shapes.
Place on a greased baking sheet and let rise for another 10 minutes.
Make slashes across the top of the bread and dust with cornmeal.
Put the whole Dutch oven with the dough inside, covered with the lid into the oven. Bake in the oven for 30 minutes.
Take the Dutch oven out, remove the lid, continue to bake for another 5-10 minutes, until golden brown.
Enjoy your fresh, crusty French bread! Bon appetit!
Looking to get into bread baking? Or maybe you just want a versatile tool for your kitchen that can do it all. Either way, we've got you covered. Check out our blog post on the 6 best Dutch ovens for bread baking. We did all the research so you can quickly pick your favorite one and get started on your culinary journey!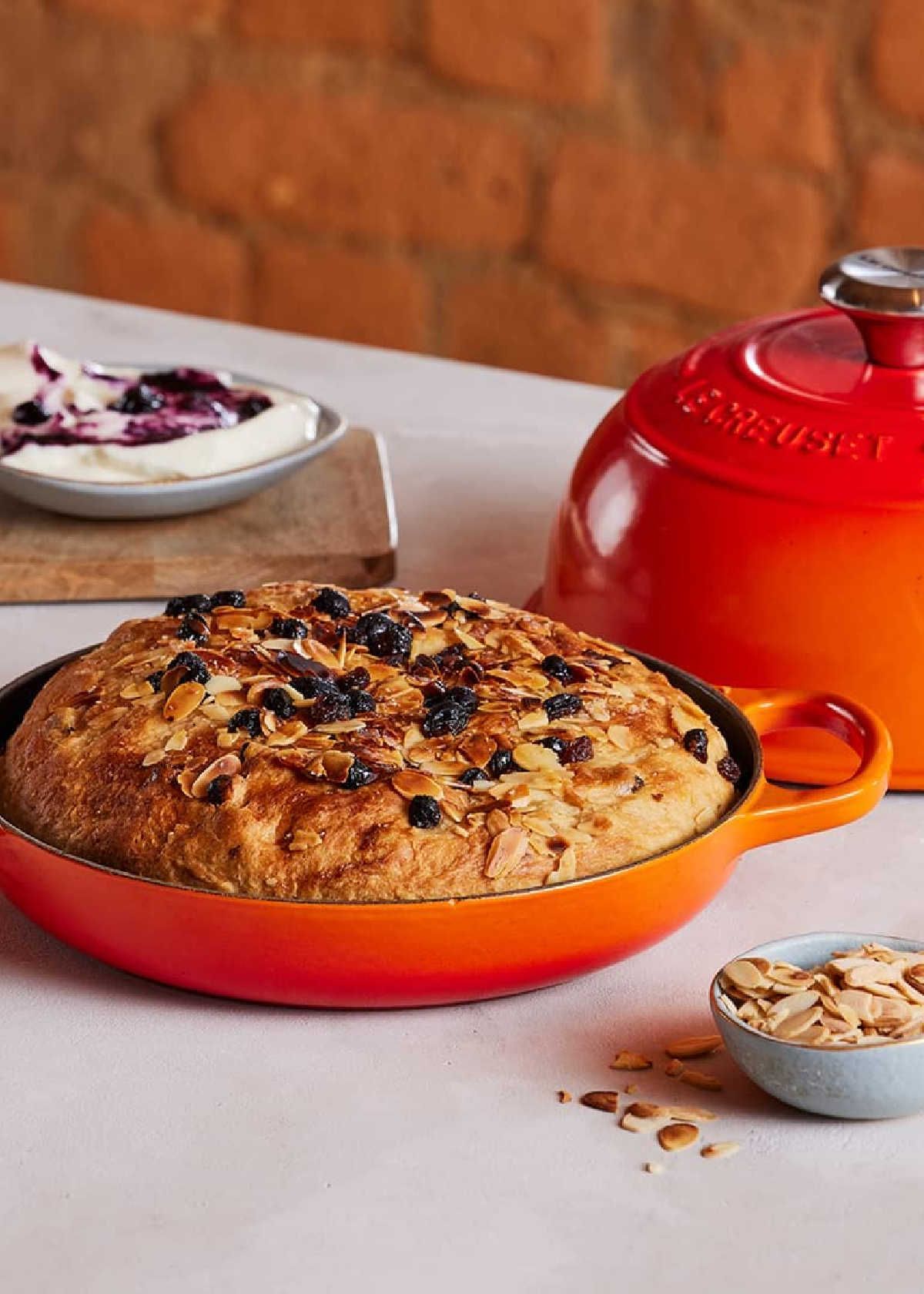 Happy baking!
Catchy Finds