A blender is one of the most commonly used appliances in modern kitchens. But over time, despite regular (perhaps, rushed) cleaning, blenders can accumulate residue, making it crucial to now and then do a deep cleaning.
A dirty blender can not only affect the taste of your smoothies but can also pose a health risk. If you don't take care of your blender, it can quickly become a breeding ground for bacteria and unpleasant odors.
In this guide, we'll go over everything you need to know about how to clean a blender, covering topics like how to deep cleaning a blender and its separated components, a blender that smells, and much more.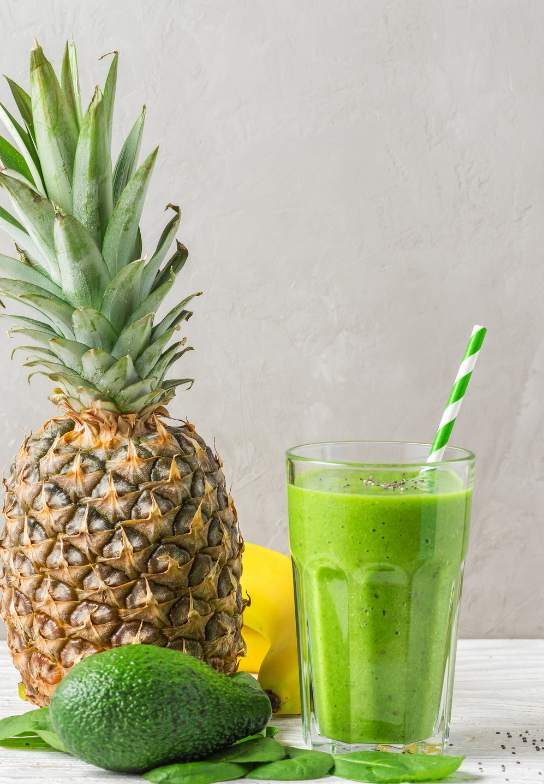 Cleaning A Blender
Note: This post is about countertop blenders, not handheld or immersion blenders.
Step 1: Disassemble Your Blender
Make sure to unplug your blender before you begin to avoid any accidents.
Disassemble all of the pieces. This includes the jar, blade unit, lid, gaskets, and base.
Step 2: Rinse With Water
Once everything is disassembled, rinse each piece with warm water and soap.
Start with the jar, and rinse it thoroughly, both inside and out.
Make sure to pay special attention to any nooks or crannies where food particles may have gotten stuck.
Step 3: Clean The Blender Jar (Pitcher)
The blender jar is the most important part of the blender, as it's where your food comes into direct contact.
Start by disassembling the blender jar. Remove the blade by unscrewing the bottom of the jar. Be careful not to touch the blade.
Use a cleaning brush or a sponge to remove any food particles stuck to the blade and the inside of the jar.
Wash the jar with warm, soapy water, and rinse it thoroughly after every use.
Pay special attention to the bottom of the jar, where debris can accumulate.
Let the jar parts dry before reassembling.
Step 4: Clean The Blade
Focus on the blade unit. Cleaning the blender blade is an essential part of blender maintenance.
Unscrew the bottom of the blender jar and remove the blade unit.
Do not touch the sharp edge of the blade, as it's very dangerous.
Use a soft sponge or brush to gently scrub away any food particles or build-up.
If you're having trouble getting the blade clean, you can soak it in warm, soapy water for a few minutes before scrubbing.
If there is a gasket (rubber ring) on the bottom of the blade unit, carefully take it out and wash it with warm, soapy water, and a brush.
Rinse it again with hot water and wait for the item to dry completely before putting it back together.
Step 5: Clean The Lid & Gasket
The lid and gasket are two frequently overlooked areas when it comes to cleaning a blender.
They accumulate residue and can be a major source of bacteria and bad smells if left uncleaned.
Start by disassembling the lid and removing the gasket, if it can be disassembled.
Use a soft sponge or brush to give the lid and gasket a thorough cleaning and remove any food particles.
Pay attention to any narrow openings or spaces where food may have become trapped.
Rinse the lid and the gasket with hot water and soap.
Let them dry before reassembling.
Step 6: Tackle The Base
The blender base is often overlooked when cleaning the blender.
While the base may not be in direct contact with your food, it can still get dirty over time.
Use a soft, damp cloth to wipe down the base.
Use a cleaning brush or a toothbrush to remove any residue or buildup around the buttons and controls.
Pay attention to switches where dirt may have accumulated.
---
If you want to clean the blender and wonder if your blender is dishwasher-safe or not, read our blog post on this topic before proceeding.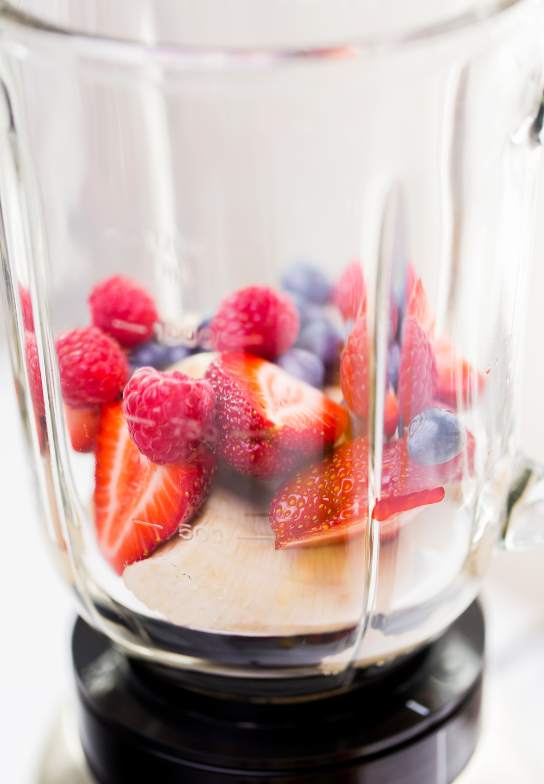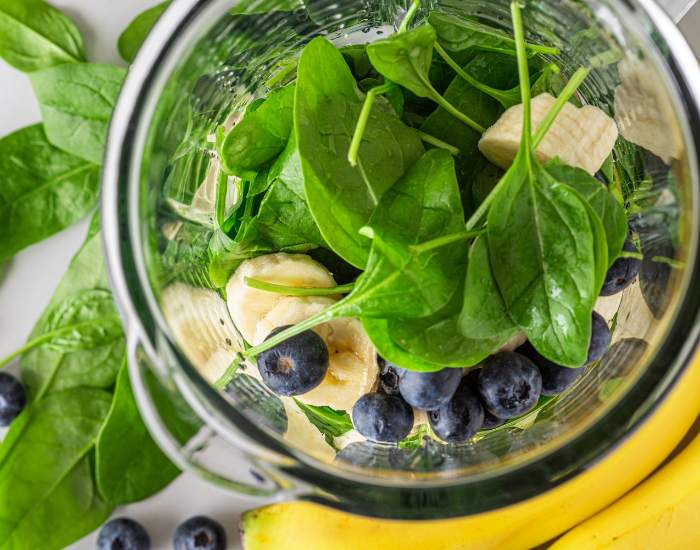 How To Clean A Blender
1. Clean A Blender That Smells
If your blender has developed an unpleasant odor, there are a few ways to give it an extra thorough clean.
Option 1: Dish soap method
Fill the blender jar halfway with hot water and add 1-2 drops of dish soap.
Switch on the blender and keep it running for 30 seconds - 1 minute to loosen any buildup.
Unplug the blender and disassemble the jar.
Rinse the blender jar and lid with warm water.
Allow it to air dry before reassembling.
Option 2: Vinegar or lemon method
Fill the jar with equal parts warm water and 3 teaspoons of white vinegar or lemon.
Turn on the blender and blend on high for 30 seconds.
Unplug the blender and disassemble the jar.
Then rinse out the jar and blade with 1/2 filled of warm water.
Wash the blender jar under the water.
Let everything dry completely before reassembling.
2. Clean A Blender Bottle
If you have a personal blender that came with a bottle attachment, cleaning it is just as important as cleaning your main blender.
Start by pouring hot water into the bottle and add just a drop of dish soap.
Close the lid and shake the bottle for several seconds to loosen any buildup.
Follow the same above steps as you would for a blender jar, making sure to get into any crevices where food particles may be stuck.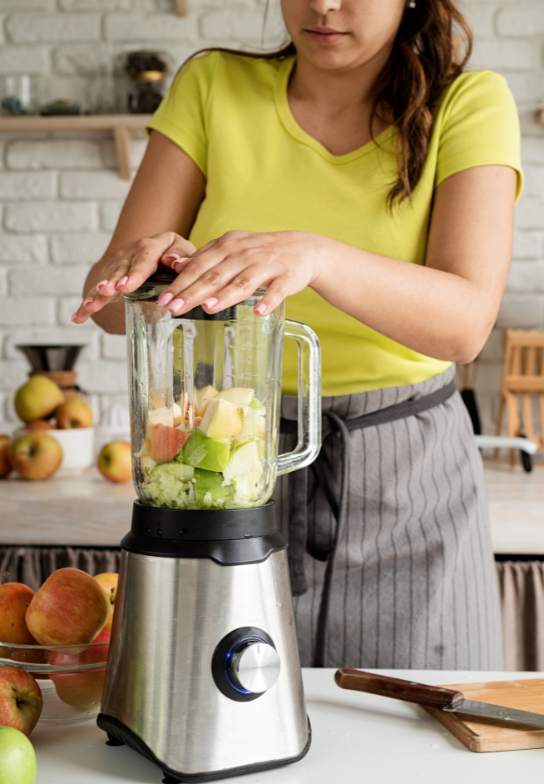 Washing A Blender FAQs
Here are some commonly asked questions about how to clean a blender.
Can you just rinse a blender?
It is not recommended to just rinse a blender without using soap and water. Using hot or warm water and soap with a brush to wash a blender ensures that all food particles, bacteria, and residue are removed from the blender.
How do you clean dirty blender blades?
The best way to deep clean dirty blender blades is by using a soft sponge or brush. Use a soft sponge or brush to gently scrub away any food particles or build-up.
For stubborn stains, use a mixture of water and baking soda, or vinegar and water to help remove the food residue. Be careful not to touch the blades while cleaning since they are very sharp.
What happens if a blender gets wet?
If a blender gets wet, be sure to dry it completely before plugging the blender in and turning it on. Moisture can cause the electrical components to short circuit and could cause the blender to malfunction or even start a fire.
Can you put a blender in dishwasher?
You can safely put most blender jars and lids in a dishwasher. However, it is not recommended to put in the blade, as the high heat and detergents may cause corrosion or rust to form on the metal blades.
As for the blender base: never put it in the dishwasher. Same for a stick or handheld blender: these require a hand wash.
Always refer to the manufacturer's instructions before putting any part of your blender in the dishwasher.
It's not necessary to clean a blender in a dishwasher, when you can do it by hand using with warm soapy water, you can do a deep clean as well. Allow it to air dry completely before reassembling.
How do you clean a blender without washing it?
If you mean you want to avoid using detergent or soap to clean your blender, there are a few other options for cleaning.
You can use a mixture of distilled white vinegar and water to wipe down the blender. This will help remove any grease or food particles that are stuck to the surface.
You can also use a cloth dampened with rubbing alcohol to help remove any residue. Be sure to rinse and dry the blender thoroughly before using it again.
Do you have to wash blender after every use?
It is best to wash your blender after every use to ensure it remains clean and free from bacteria. It is also important to avoid leaving food in the blender for long periods as this can cause it to spoil or develop an odor.
If you don't have time to wash the blender after every use, at least rinse it with warm water to remove food particles.
---
By following the steps outlined above, you can keep your blender free of bacteria and bad smells. Just remember to unplug and then disassemble the blender, rinse with water, focus on the blade unit, lid, gaskets, and base, and take extra steps for a deep clean in case your blender smells.
Need an easy-to-clean blender? Check out our blog post below to find the best blenders for frozen drinks and smoothies. We've put together a list of the top-rated blenders for ease of use, great performance, and easy cleaning. From affordable blenders to top-of-the-line options, there's a blender for everyone.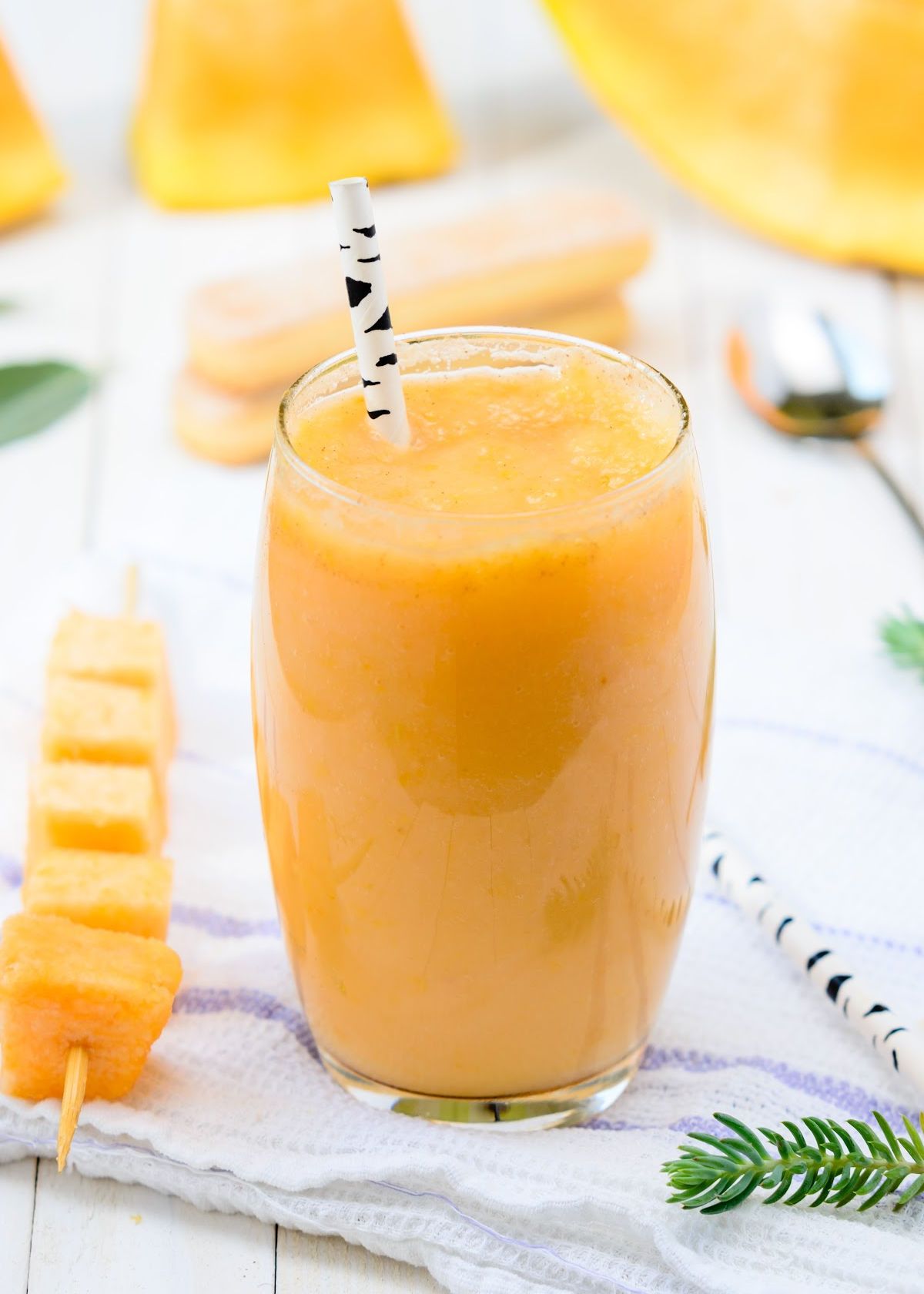 With a little effort, your blender will be as good as new and ready for many more delicious smoothies, milkshakes, and soups to come.
Happy blending!
Catchy Finds