Beets. There's no doubt about it—beets are delicious and nutritious! As more and more people are looking for ways to add more vegetables to their diet, beets are becoming a popular choice.
But what, exactly, do you do with a beet? If you're new to cooking with beets, don't worry. We're here to help. Keep reading for a step-by-step guide on how to cook beets and grab some creative beet recipes to inspire you to experiment with beets.
How To Cook Beets
Step 1: Choose your beets wisely. When picking out your beets, look for ones that are firm and have a smooth surface. Avoid any that are bruised or have blemishes.
Step 2: Cut off the greens and stems. These parts are edible, and can then be used in other dishes like roasted veggies or salads. To detach them from the beetroot, use a sharp knife to cut them away from the top.
Step 3: Give them a good wash before cooking. Use cool water and a gentle scrubber to remove any dirt or debris from the surface of the beet. Once they're clean, pat them dry with a clean towel.
Step 4: There are several different ways that you can cook your beetroot. Roast, bake, grill, boil, or steam your beet—the choice is yours!
Roasting beets in the oven: This brings out their natural sweetness and makes them nice and tender. Wrap them in a foil packet, place them on a baking sheet and roast at 400°F for 40-45 minutes.
Roasting beets in the pan on the stovetop: After roasting them in the oven, this is a great way to mix and coat beets with any other vegetable - with an extra layer of oil and spices. Peel and cut the roasted beets into cubes or wedges, and transfer them to a pan. Add some oil, and your favorite spices. Cook for about 10 minutes.
Boiling beets: Another option is boiling them in pan until they're fork-tender. Fill a pan with water and bring it to a boil. Peel and cut the beets into halves, or as a whole if desired, then add them to the boiling water. Boil for 10-15 minutes, depending on their size.
Steaming beets: You can even steam them in the steamer basket until they're cooked through. Peel, cut, and place the beets in the steamer basket over boiling water. Cover and steam for 15-20 minutes.
Grilling beets: If you have a grill, you can wrap them in foil and cook them directly on the grill.  Peel, cut into halves or leave as a whole, and toss with a bit of oil and spices. Wrap in foil packets, place on the grill, and let them cook for 20-25 minutes at 400°F.
Baking beets: Another option is to bake them in the oven. This takes more time but yields a tastier result. You can roast or boil the beets first, then puree them before adding them to recipes for crepes, cakes, or muffins.
3 Beet Recipes
Now, let's explore 3 beet recipes that you can use to liven up your dinner table.
1. Beet Salad With Arugula, Radicchio & Goat Cheese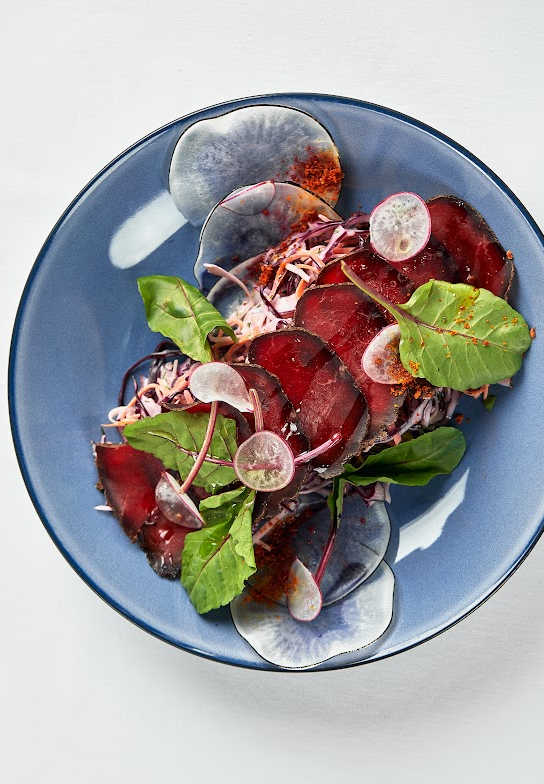 1 roasted beet, diced
1/2 cup arugula leaves + 1/2 cup radicchio leaves
1/4 cup crumbled goat cheese + 1/4 cup balsamic vinegar
Salt and pepper to taste
Instructions:   
In a large bowl, combine the arugula, radicchio, and roasted beet.
Add the balsamic vinegar and goat cheese, and toss to combine.
Season with salt and pepper to taste. Serve immediately.
2. Beetroot Risotto With Pesto Cream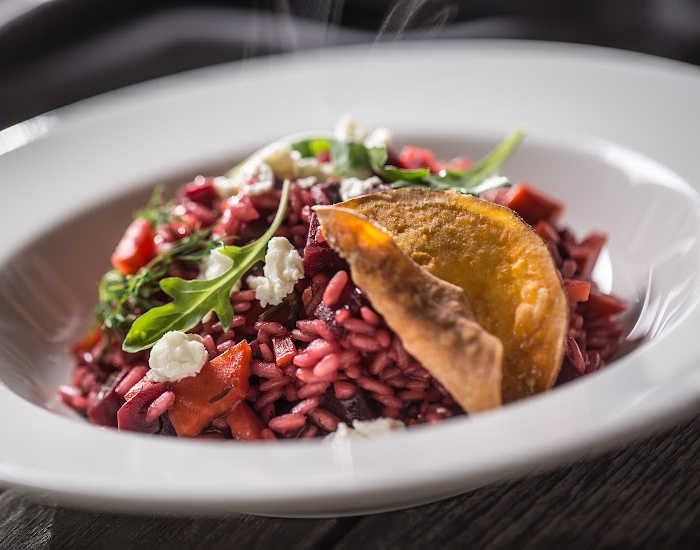 1 roasted beet, diced
1 cup Arborio rice + 1/4 cup pesto cream
1/2 cup white wine + 4 cups vegetable broth
1/4 cup crumbled goat cheese
Salt and pepper to taste
Instructions:
In a large saucepan, heat the vegetable broth over medium heat.
In a separate pan, heat the oil over medium heat and add the Arborio rice.
Stir until the rice is coated with oil and then add the white wine.
Cook until the wine is absorbed by the rice.
Add one cup of broth to the rice and stir until it is absorbed.
Continue adding broth, one cup at a time, until it is all absorbed and the rice is cooked through. This should take about 20 minutes.
Add the roasted beet and pesto cream to the risotto and stir until combined.
Season with salt and pepper to taste. Serve with crumbled goat cheese.
3. Beet Brownies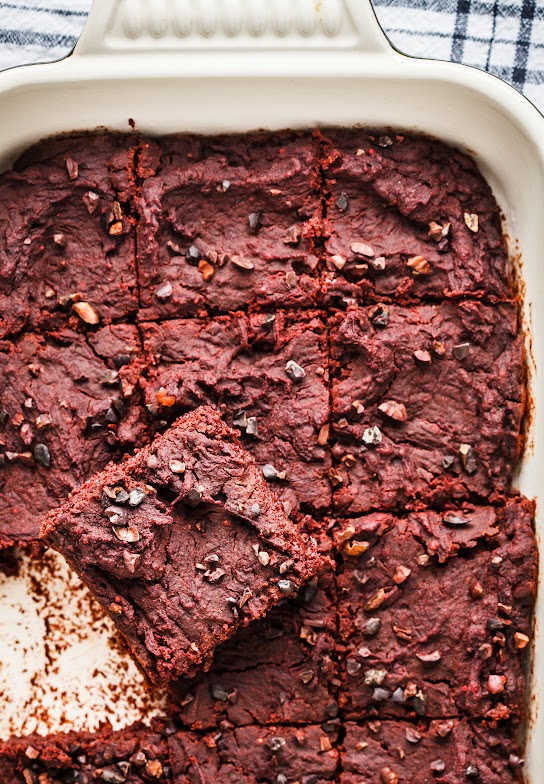 2 cups all-purpose flour + 1 teaspoon baking powder
1/4 teaspoon salt + 1 1/4 cup sugar
3/4 cup cocoa powder (or dark chocolate)
3 eggs + 1 cup butter, melted
1 1/2 cups roasted beets, grated
Instructions:  
Preheat the oven to 350°F.
Grease a 9x13-inch baking dish with butter and set aside.
In a large bowl, whisk together the flour, baking powder, salt, and cocoa powder.
In a separate bowl, mix the sugar and eggs until combined.
Add in the grated beets and melted butter, and stir to combine.
Add the wet ingredients to the dry ingredients and mix until just combined.
Pour the batter into the greased baking dish, and spread evenly.
Bake for 25-30 minutes, or until a toothpick inserted in the center of the brownies comes out clean.
Allow cooling completely before cutting and serving. Enjoy!
Tips & Tricks
If you're looking for a nutritious side, add some cooked quinoa to the beet salad. You can always roast your beets in the oven before cooking them. This will give them an extra flavorful boost!
For added sweetness, add a tablespoon of honey or maple syrup to the brownie batter before baking. For an extra creamy texture, add a tablespoon of yogurt or cream cheese to the brownie batter before baking.
To make your risotto more creamy, add a tablespoon of cream cheese or yogurt before serving.
Cooking beet dishes requires the right pots and pans, but it can be tough to know which set is best. To help you out, we've selected 7 best cookware sets for your kitchen. So check out the blog post below, pick a set, and get cooking!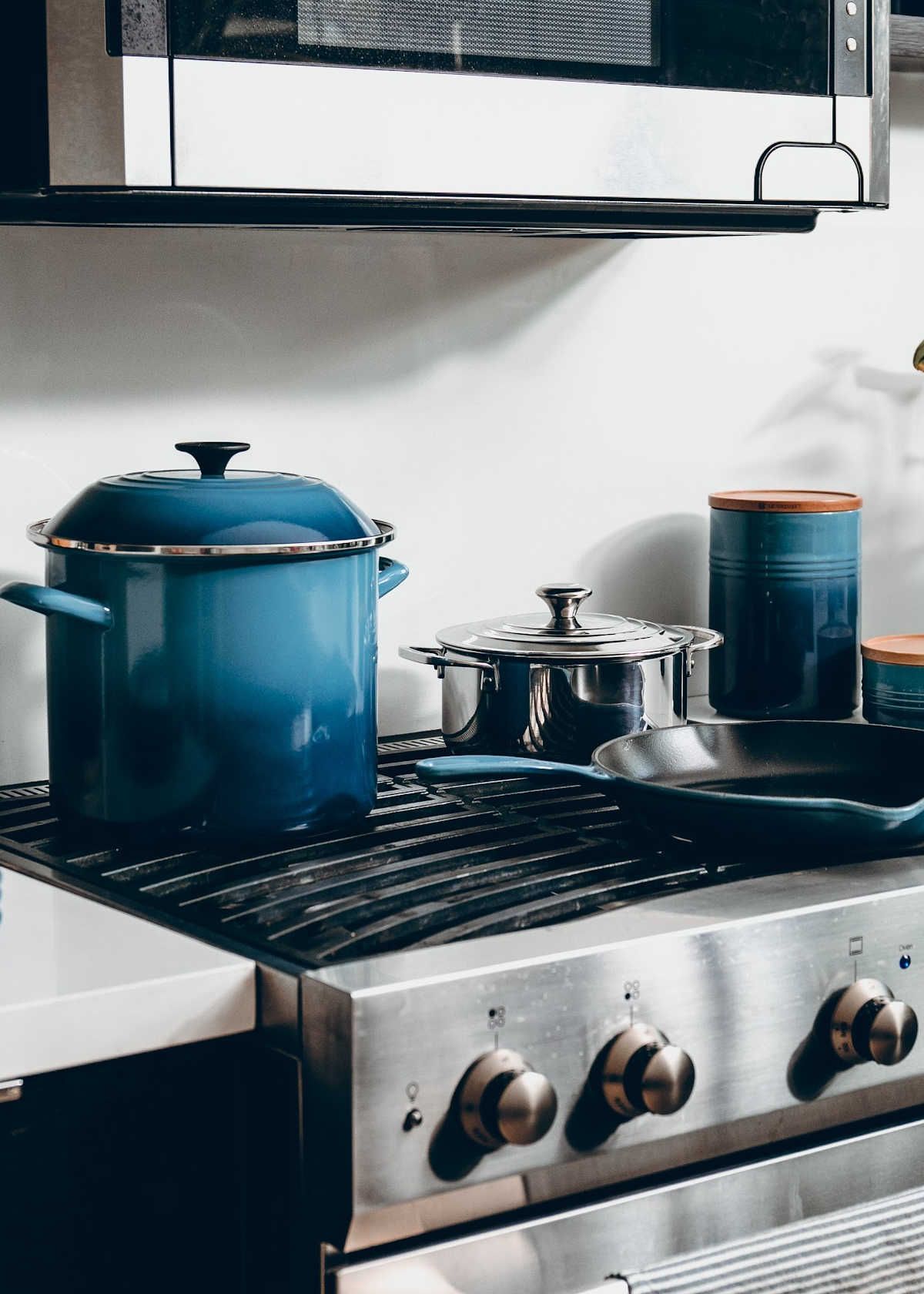 Have fun experimenting with different flavors and recipes! Bon appétit!
Catchy Finds