If you're looking for an authentic German experience, labskaus is the dish for you. This filling meal is full of flavor and can be traced back to the peasant diet of centuries ago. While it may not be the healthiest option out there, it's worth trying! Read on for more details and grab your labskaus recipe to make at home today!
What Is Labskaus?
Making labskaus is a time-honored tradition in Germany and it can be traced back to the peasant diet of centuries ago. It is said that the original recipe came from fishermen in the North Sea, who would have a hearty and tasty meal after a long day of work. It's popular in Hamburg, Lübeck, and Bremen in Northern Germany.
Labskaus is a single-course meal that contains mashed potatoes, corned beef, and beets. The red coloration of the dish comes from beet juice. It is commonly served with accompaniments such as fried eggs, pickles, and pickled herring (rollmops).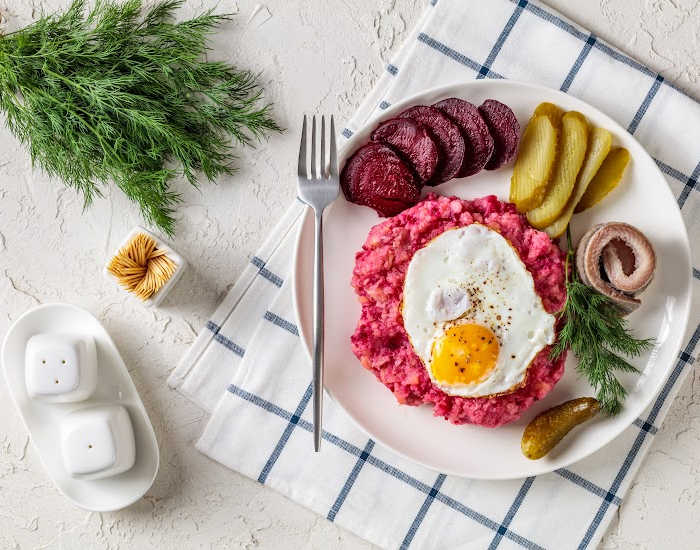 Beet Labskaus With Fried Egg
Ingredients
2 potatoes, peeled and cubed
1 cup cooked beets, diced
1/2 lb corned beef, cut into small cubes
1/4 cup lard or butter
2 onions, diced
1 teaspoon ground caraway seed
Salt and pepper to taste
Fried egg (optional)
Pickles (optional)
Pickled herring rollmops for garnish (optional)
Instructions
Place potatoes in a pot of cold water and bring to a boil.
Cook for 20 minutes, or until soft.
Drain the potatoes and mash them with lard or butter.
In a large skillet, sauté the onions in some of the rendered fat from the corned beef for about 5 minutes.
Add the corned beef cubes, beets, caraway seed, salt, and pepper.
Cook until the beef is browned.
Add the mashed potatoes to the skillet and mix everything well.
Continue cooking for another 5 minutes or so, until heated through and slightly crispy on top.
Serve the labskaus with a fried egg, pickles, and pickled herring (rollmops). Enjoy!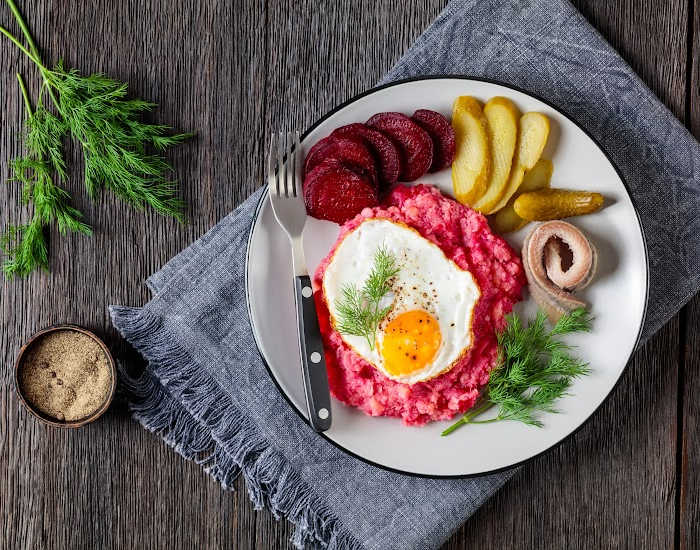 Labskaus Variations
Vegetarian labskaus: The same ingredients can be used, but the corned beef is replaced with mushrooms.
Fruit labskaus: For a sweet twist, mashed apples and pears are added to the mix.
Fish labskaus: A variation of the traditional recipe, it replaces the corned beef with smoked fish (such as mackerel or herring). Fish such as cod or haddock can be used.
Curry labskaus: Curry powder is added to the dish for a spicy kick.
---
Tips & Tricks
If you're in a rush, you can use canned beets instead of fresh.
For extra flavor and texture, try adding diced apples and pears to the labskaus.
For a more intense flavor, add some caraway seed when sautéing the onions.
If you want to make it spicier, add a pinch of curry powder.
If you don't like beets, try using mashed sweet potatoes instead – it's just as delicious!
If you don't want pickles and herring, you can serve the labskaus with a fried egg, sausage, and some fresh herbs. Enjoy!
Serve the labskaus with a fried egg on top for an extra rich flavor.
No matter which version you choose, labskaus is sure to bring a taste of traditional German food right into your kitchen.
If you need help with chopping, dicing, and blending tasks in the kitchen, invest in a food processor. They make cooking markedly easier and faster. To save you time, we have done the research and compiled a list of the 5 best food processors under 100$ for your convenience.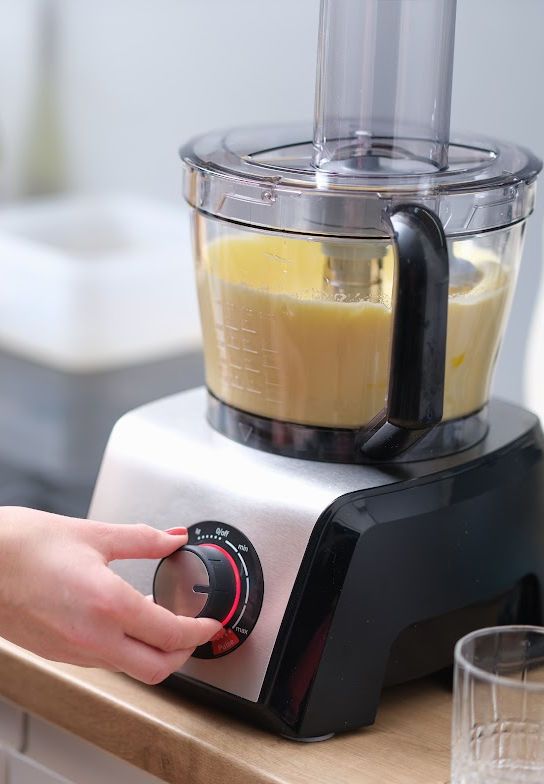 Labskaus may not be the healthiest option out there, it is worth trying for an authentic experience. Enjoy!
Catchy Finds