When it comes to setting the perfect Thanksgiving table, it's all about creating a warm and inviting space for friends and family to gather around. And what better way to do this than with some beautiful fall gourds!
But just because your family has been making the same dishes for generations doesn't mean that your holiday table has to look boring and dated. This year, inject some life into your Thanksgiving spread with these modern table scaping ideas!
Here are a few easy tips for using gourds to create a modern Thanksgiving table that will have your guests feeling thankful they came over.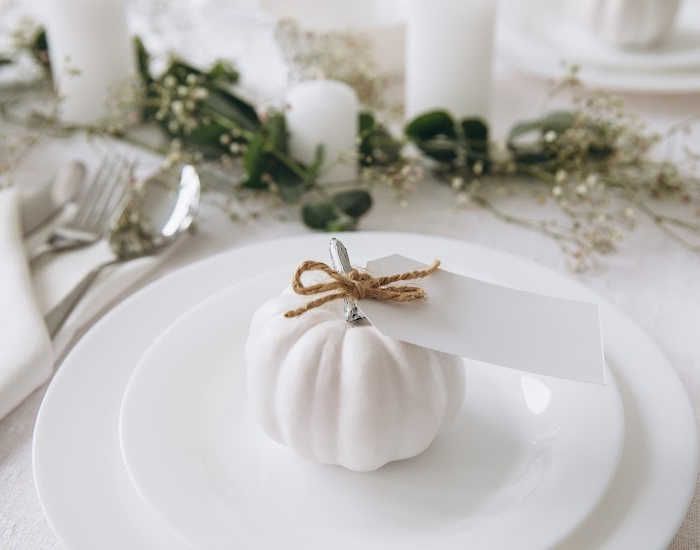 1. Go Nature-Inspired
This year, take inspiration from nature when setting your Thanksgiving table. Incorporate natural elements like branches, pinecones, berries, and leaves into your centerpieces and place settings. You can even use pumpkins as vases for flowers! Be creative and have fun with it.
2. Get Monochromatic
Achieving a cohesive look on a large dining room table can be tricky, but one way to make it easier is to stick to a monochromatic color scheme. Choose one or two colors that you love and use them throughout your decor. For example, if you're obsessed with orange (like me), try using different shades and tones of orange in your place settings, centerpieces, and even your menu cards.
3. Get Creative
When it comes time to serve the food, don't be afraid to get creative with your serving pieces. Hollow out large gourds and use them as bowls for soup or salad. Or, try using smaller gourds as salt and pepper shakers. Your guests will love the festive touch!
4. Think Outside The Turkey
Turkey might be the traditional main dish for Thanksgiving, but that doesn't mean it has to take center stage on your holiday table. If you're looking for a more modern approach, try serving a beautiful roast or an elegant fish dish instead. Your guests will be impressed!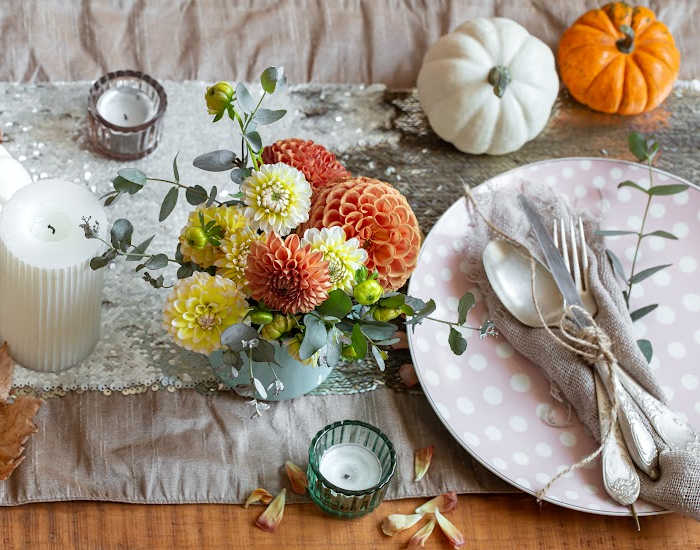 How do I set a special occasion table?

The simple step-by-step guide will help you to set up a table decoration for any special occasion. Just adapt to the season and the party theme.
1. Create a centerpiece:
Fill a large bowl or platter with an assortment of different gourds. Add some tall candles or branches for height, and you've got a stunning centerpiece that captures the autumnal spirit. Add some decorative pumpkins and leaves around the table to bring it all together.
2. Lay out place-mats and napkins:
Choose place-mats and napkins in a modern pattern or color that complements your centerpiece. Add some color: Incorporate some muted colors into your decor to add interest and contrast against the rich hues of the gourds. Place some neutrally-colored pumpkins or squash on the windowsills or use them as part of your tablescape.
3. Place dinner plates:
Instead of the traditional white plates, why not try modern patterned ones or colorful stoneware? They'll add a festive touch to your table.
4. Top it off with glassware:
No modern Thanksgiving table is complete without stylish glasses that coordinate with your other decorations. Whether you choose classic stemware or modern glass in the center of each place setting.
5. Set up the plates:
To the left of the plate, set a soup bowl, salad plate, and butter knife.
On the right side, place a dinner knife, fork, and spoon.
To the right of the plate, put a water glass and wine glass.
At the top of each place setting, add a napkin with a modern napkin ring or charger plate.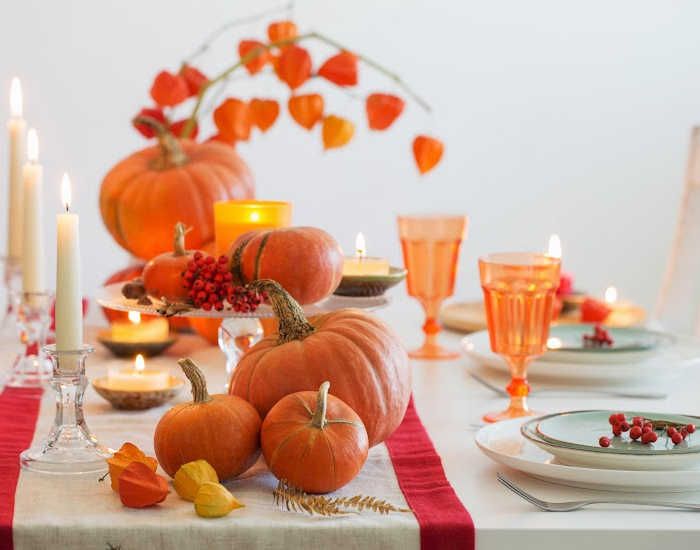 Tips & Tricks
If you're having a small gathering of close family and friends, you can get away with a more relaxed vibe. You can forego traditional place cards in favor of handwritten name tags or even just assigning seats by saying, "You sit there, and you sit there". As long as everyone knows where they're supposed to sit, that's really all that matters.
If your guest list is a bit more extended—say, grandparents, aunts and uncles, cousins—you might want to consider assigning seats with place cards. This will help avoid any awkwardness or confusion when it comes time to sit down for dinner. Plus, it's just another way to show your guests how much you care about their visit. After all, the little details are what make Thanksgiving special.
When it comes to knives, you can either choose modern ones with curved handles or something more traditional.
If you have a large dining room table, great! If not, don't worry—a smaller table can still look just as beautiful with the right decorations.
The key is to keep things simple and elegant. A few candles, some greenery or flowers, and maybe a festive holiday runner should do the trick.
Setting the perfect Thanksgiving table doesn't have to be difficult or time-consuming. With these simple tips, you can easily create a beautiful holiday spread that will impress your guests and make them feel right at home.
So what are you waiting for? Get started on your table scaping today!
Happy Thanksgiving!
Catchy Finds