Butternut squash risotto is kind of an enigma. How can a dish be both creamy and rich, but also light and healthy? Yet, it's earthy and flavorful, but also delicate and elegant. So what is this mysterious dish, how do you make it, and what to serve with it? We've got all the answers for you right here. Read on!
What Is Butternut Squash Risotto?
Butternut squash risotto is a classic Northern Italian dish that is usually served as a main course. It's made with a creamy Arborio rice and butternut squash, which can be cooked in broth and white wine to give it a rich flavor.
What Is Butternut Squash Risotto Made Of?
Butternut squash risotto is made of butternut squash! But that's not all.
This dish also contains Arborio rice, white wine, Parmesan cheese, butter, onions, garlic, and chicken or vegetable broth.
Risotto is one of those dishes that looks impressive but is actually pretty simple to make.
This butternut squash risotto is the perfect fall and winter dish - it's creamy, comforting, and packed with flavor.
That may seem like a lot of ingredients, but don't be intimidated—this dish is actually quite simple to make. Keep reading for the recipe and some ideas of what to serve with it!
What To Serve With Butternut Squash Risotto?
This dish can be served as a main course on its own or alongside other dishes as part of a larger meal. For a complete meal, we recommend pairing butternut squash risotto with these:
A green salad mix
Grilled or roasted chicken, steak, or shrimp
Roasted vegetables
Hot crusty bread and butter for dipping
A glass of white wine, if desired!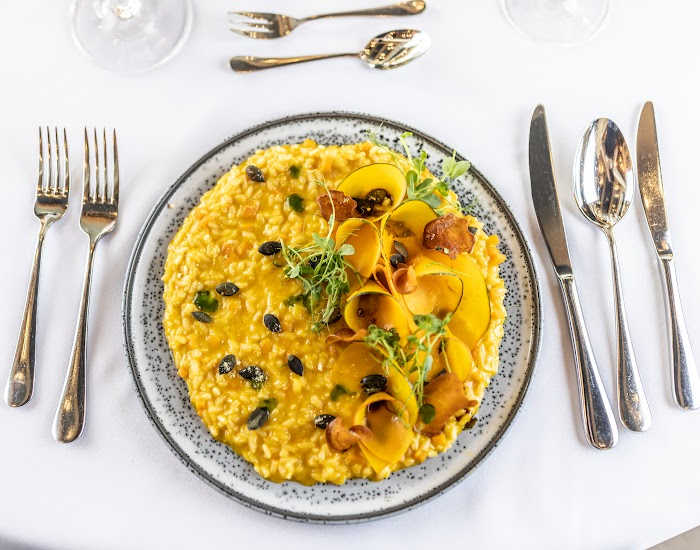 How To Make Butternut Squash Risotto
We'll share 2 ways of cooking this dish: in the oven & on the stove with a skillet.
Ingredients
1 cup butternut squash, peeled and diced into small cubes
1 tbsp olive oil
1 onion, diced
2 cloves garlic, minced
1 cup Arborio rice
3 cups chicken or vegetable broth
1/2 cup white wine (optional)
1/4 cup Parmesan cheese, plus more for serving
A pinch of cumin, salt and pepper, to taste
Method 1: In the Oven
Preheat your oven to 375 degrees F.
Meanwhile, peel a large butternut squash and cut it into cubes. Toss the cubed squash in olive oil, and add salt and pepper.
Spread the squash on a baking sheet and bake the butternut squash for 25 minutes.
Once the squash is roasted, it will need to be pureed in a food processor or blender until it forms a smooth paste.
Next, the onion and garlic will need to be sauteed in a bit of butter until they are softened.
Then, the rice will be added and cooked until it is translucent.
At this point, the white wine will be added and allowed to cook off.
Once the wine has cooked off, chicken or vegetable broth will be added a little at a time while stirring constantly.
The broth should be added slowly so that the rice has time to absorb it completely before more is added.
After all of the broth has been added and absorbed by the rice, the pureed butternut squash will be stirred in along with Parmesan cheese and salt and pepper to taste.
That's it! Your butternut squash risotto is now ready to enjoy.
Method 2: On The Stove
Heat the olive oil in a large skillet over medium heat.
Add the diced butternut squash and cook for 5 minutes, stirring occasionally, until lightly golden brown. Remove from the pan and set aside.
In the same skillet, add the onion and garlic and sauté for 2-3 minutes, until the onion is translucent.
Add the Arborio rice and stir to coat with the oil and vegetables.
Cook for 1 minute, stirring constantly.
Add the broth, white wine (if using), Parmesan cheese, and salt and pepper.
Bring to a simmer and reduce heat to low. Cook, stirring occasionally, for 15 minutes or until the rice is al dente and the liquid has been absorbed.
Add the cooked butternut squash and stir to combine.
Serve with additional Parmesan cheese, if desired.
Tips & Tricks
To make this dish even creamier, try stirring in a tablespoon of butter before serving.
For an extra flavor kick, top with chopped fresh herbs such as parsley, sage or chives.
For an extra buttery flavor and softy crunchy texture, top the risotto with toasted pine nuts, or toasted pumpkin seeds
You can also add some crumbled bacon for an extra savory and smoky taste!
Butternut squash risotto is a tasty and comforting dish that is sure to please your taste buds.
With two different methods for cooking it, you can enjoy this dish any way you like. Serve with side dishes of your choice or just on its own—it's sure to be a hit!  Enjoy!
This creamy, flavorful dish can be made in just a few simple steps using ingredients that you probably already have on hand, and is sure to impress your guests.
If you are on the prowl for an superior quality food processor that doesn't break a bank to assist you with all the chopping and blending tasks, then look no further! The below blog post will provide with you the 5 best food processors under $100 available on the market. Read on to see which one suits your needs!
So what are you waiting for? Give this recipe a try tonight!
Happy cooking!
Catchy Finds