The grilled cheese and tomato soup bowl is the ultimate comfort food. This dish combines two of our all-time favorite comfort foods into one delicious, easy-to-make meal. And it's perfect for chilly weather! Here's step-by-step guide. Check it out!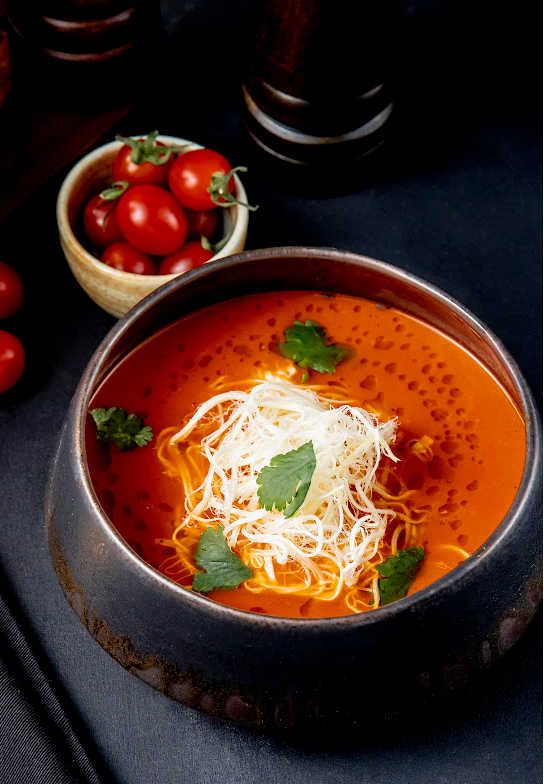 How To Make Grilled Cheese And Tomato Soup
1. Tomato Soup
Ingredients:
2 of 28oz cans of whole peeled tomatoes,
1 of medium-sized chopped red onion,
30-40g (or 8 cloves) of sliced garlic,
50-60g (or 4 tablespoons) of a very long squeeze of olive oil,
15g (or 2 1/2 teaspoons) of salt,
15g (or 3 2/3 teaspoons) of sugar,
750mL (or 3 cups) of chicken stock (plus an additional 75g or so to help thin the soup out if needed),
40g (or 3 tablespoons) of tomato paste,
Optional: 1 of chipotle chili in adobo sauce for an extra kick in flavor,
Some freshly grated Parmesan cheese or other hard cheese for garnish,
Some freshly minced chives as a garnish too,
A generous drizzle of olive oil, plus
A pinch of freshly ground pepper.
Instructions:
Preheat oven to 450°F (232°C)
In a large baking dish or Dutch oven, pour in 2 cans of diced tomatoes, an onion, minced garlic, olive oil, salt sugar chicken stock and tomato paste.
Add chili in adobo sauce to taste, (if desired).
Stir all ingredients together to combine.
Place the whole baking dish or Dutch oven in the preheated oven.
Bake the whole dish for about 1 hour, stirring halfway through the cooking time.
After 60 minutes of cooking in the oven, take it out and divide into 2 batches. Load each half of the "soup" into a blender to blend until smooth. The soup will be hot so use caution during this step.
Once blended into a silky texture, pour it over a fine mesh strainer placed over a sauce pot and press down with a spoon to force the soup through. This helps to create a finer smooth texture for the soup.
Pour the remaining soup into the blender and blend until smooth.
If you want a thinner soup, add some more chicken stock. Season the soup with salt to taste.
Top with chives, olive oil, Parmesan cheese, and black pepper.
Keep your soup on low heat so it doesn't get cold while you make the grilled cheese sandwiches.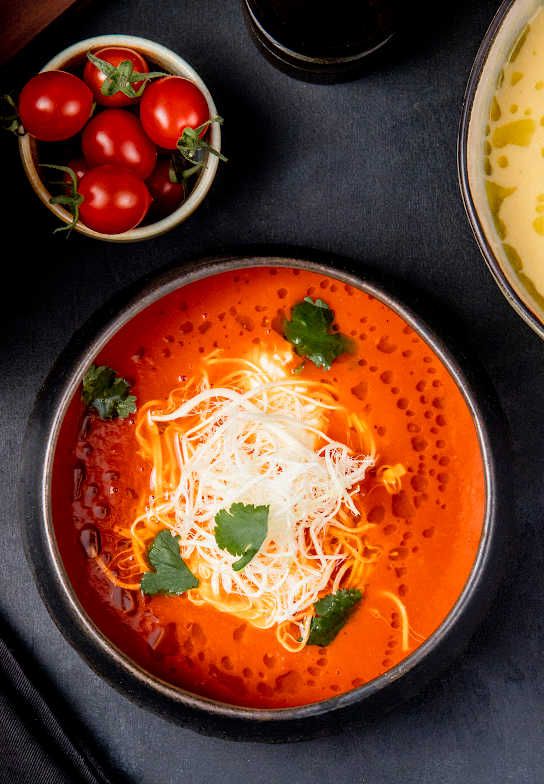 2. Grilled Cheese Sandwich
Ingredients:
125g or 1 stick of butter, made from cow's milk and containing at least 80% fat
75g or 1/4 cup plus 1 heaping tablespoon of mayonnaise, typically containing eggs, oil, and vinegar
15g or 1 tablespoon of Dijon mustard (a French variety of yellow mustard with a slightly stronger flavor)
Basic hearty white bread, usually made with enriched wheat flour and yeast
Cheeses:
American cheese, a semi-hard type of cheese made from processed cheddar;
Gruyere cheese, a Swiss hard cheese made from unpasteurized cow's milk;
Provolone cheese, an Italian semi-hard cheese made from full-fat pasteurized cow's milk.
Instructions:
Begin by adding butter, mayonnaise and Dijon mustard to a food processor.
Pulse until the ingredients are thoroughly smooth, and combined, then set aside.
Heat a non-stick pan over medium-low heat,
Generously spread the butter/mayo/mustard mixture over one side of two slices of bread.
Place both slices in the pan with the buttered side down, then layer on slices of American cheese, or Gruyere cheese, or Provolone cheese and another slice of American cheese.
Gently press down on each sandwich with a spatula for about 30 seconds to help it hold together.
Cook for an additional 90 seconds or until the first side is golden brown and the cheeses have begun to melt.
Carefully flip each sandwich over and toast for an additional two minutes or until the second side is also golden brown and all of the cheese has melted completely.
Tips & Tricks
If you're feeling extra fancy you can add a smear of fig jam to the grilled cheese and a tablespoon of roasted red peppers to the soup.
You can even top your grilled cheese with some fried onions or mushrooms for added texture.
For a heartier grilled cheese and soup experience, add some cooked bacon or ham to your grilled cheese and top the soup with a dollop of sour cream before serving.
And don't forget: grilled cheese and tomato soup always pair best with an ice-cold glass of milk!
This dish is the ultimate comfort food! It's easy to make and perfect for a cold day. So next time you're in the mood for something warm and cheesy, give this grilled cheese and tomato soup bowl a try. You won't be disappointed!
Need an assistant for chopping and blending tasks? What's the best food processor under $100? Look no further! We've gathered the 5 best affordable food processors for you, all within your budget.
After reading this post, you'll have a much better understanding of which style suits your needs best and be ready to cook for your loved ones this holiday season!
Happy cooking!
Catchy Finds