There are several retro espresso machines on the market these days. It can be tough to decide which one is right for you.
In this blog post, we will take a look at some of the best retro espresso machines available and help you decide which one is right for you.
Whether you're looking for a cool machine that has classic style or one that is packed with features, we have you covered!
👉
We participate in the Amazon Associates Program, if you buy a product with the links that we provide, we may receive a small commission from Amazon. There is NO additional cost to you!
---
Smeg Pastel Green 50's Retro Espresso Machine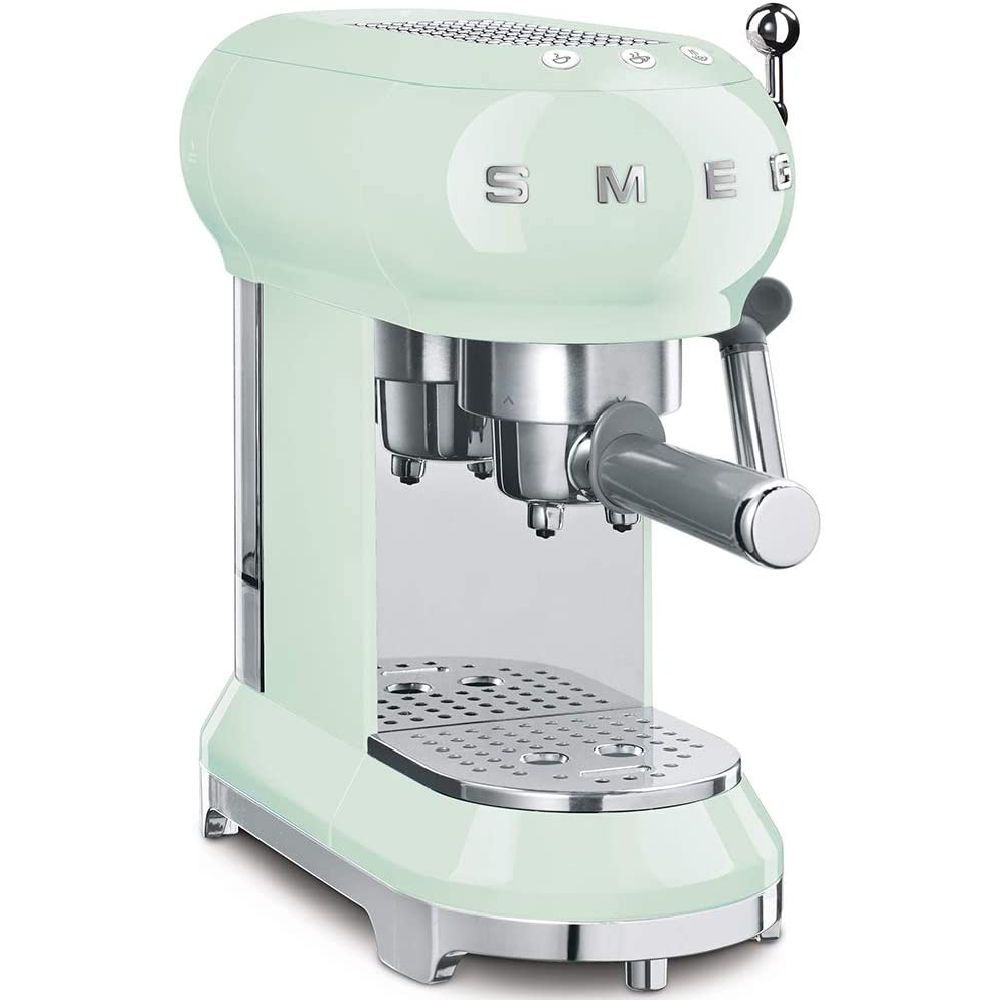 Best Choice For Its Sleek Design
Smeg Pastel Green 50's Retro Espresso Machine
CHECK PRICE ON AMAZON
What Makes It Catchy
The Smeg espresso machine is a stylish and retro-inspired coffee maker that is perfect for any kitchen.
Its timeless look will never go out of style. With a sleek and slim design, this espresso coffee machine takes up minimal counter space and looks great in any kitchen decor. With a Smeg you have more colour options, from red to pastel blue.
This coffee machine is made with high quality materials. The stainless steel wrap and cup holder add a touch of elegance, while the chrome zamak steam lever and base give it a vintage feel.
This espresso coffee machine features a steam wand for milk frothing, and a warm function, ensuring that every cup of coffee is perfect.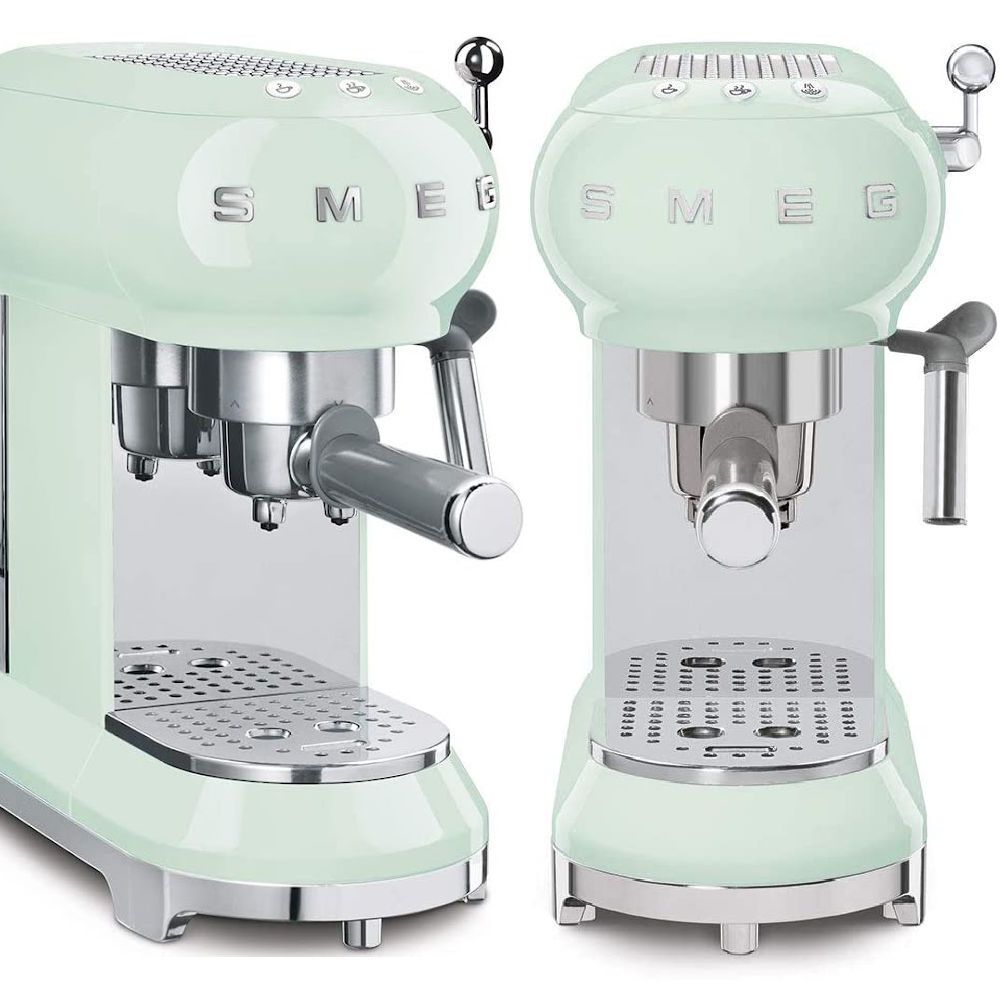 Things In The Spotlight
This top-of-the-line machine has a Thermoblock Heating System for perfectly heated water, 15 bar pressure for optimal flavor extraction, and a 1 liter removable water tank.
The Smeg Espresso Machine has an optional water filter, to ensure sure your coffee is always made with the cleanest water.
When you prefer cappuccino or latte, the steam option is always there to help. So bring home the Smeg Espresso Machine and enjoy your coffee drinks like never before!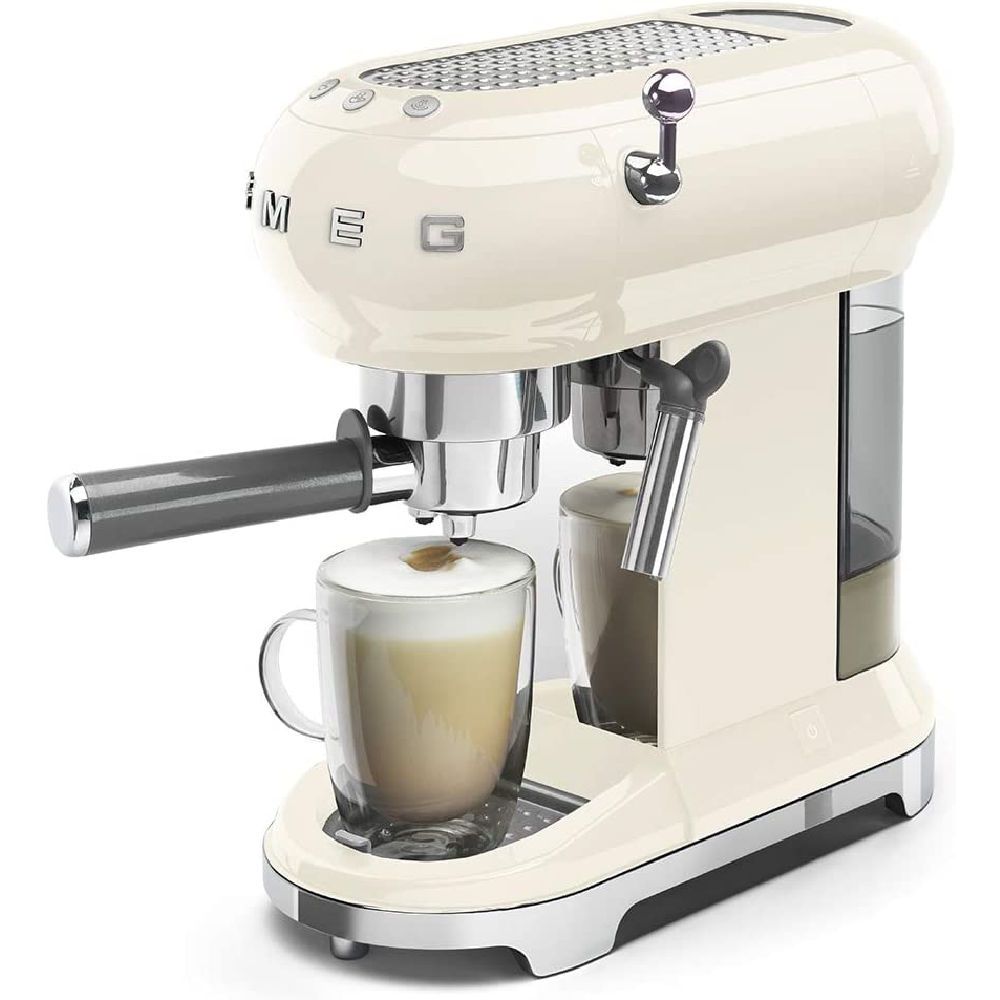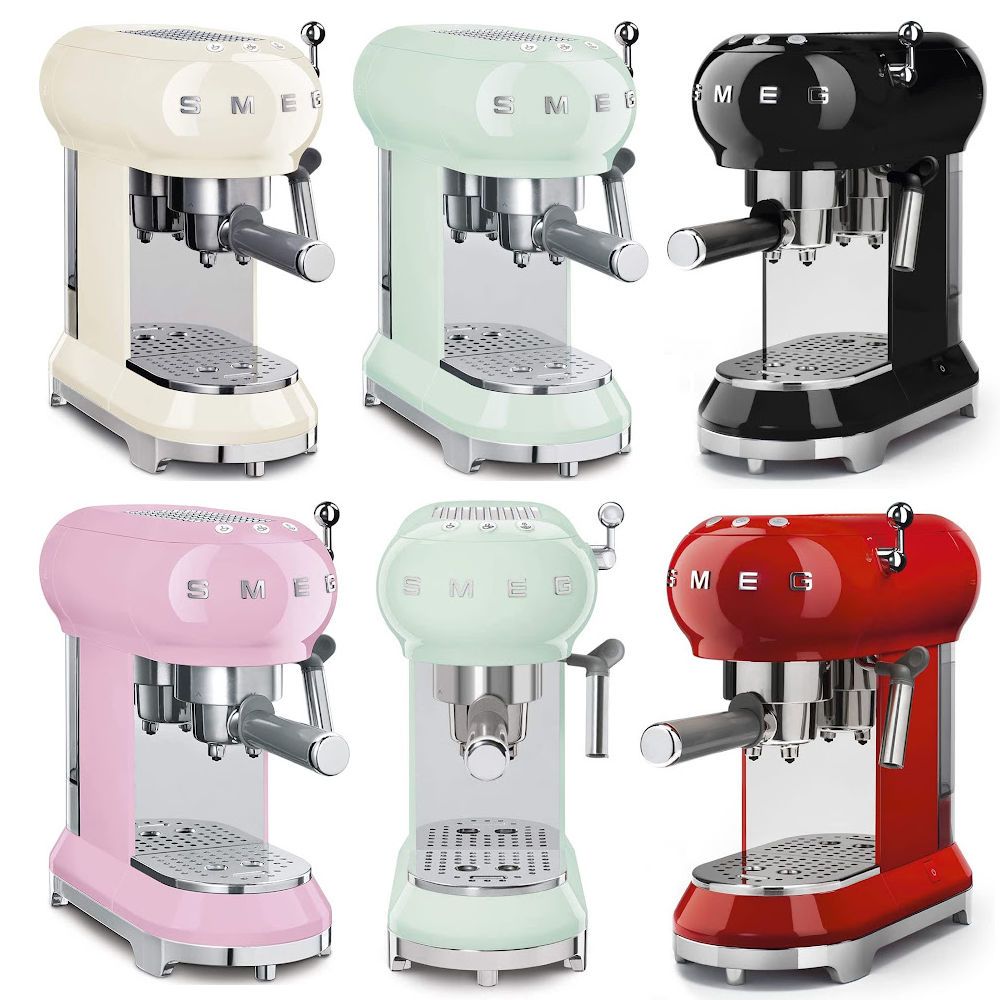 ---
Gaggia Carezza De Luxe Retro Style Espresso Machine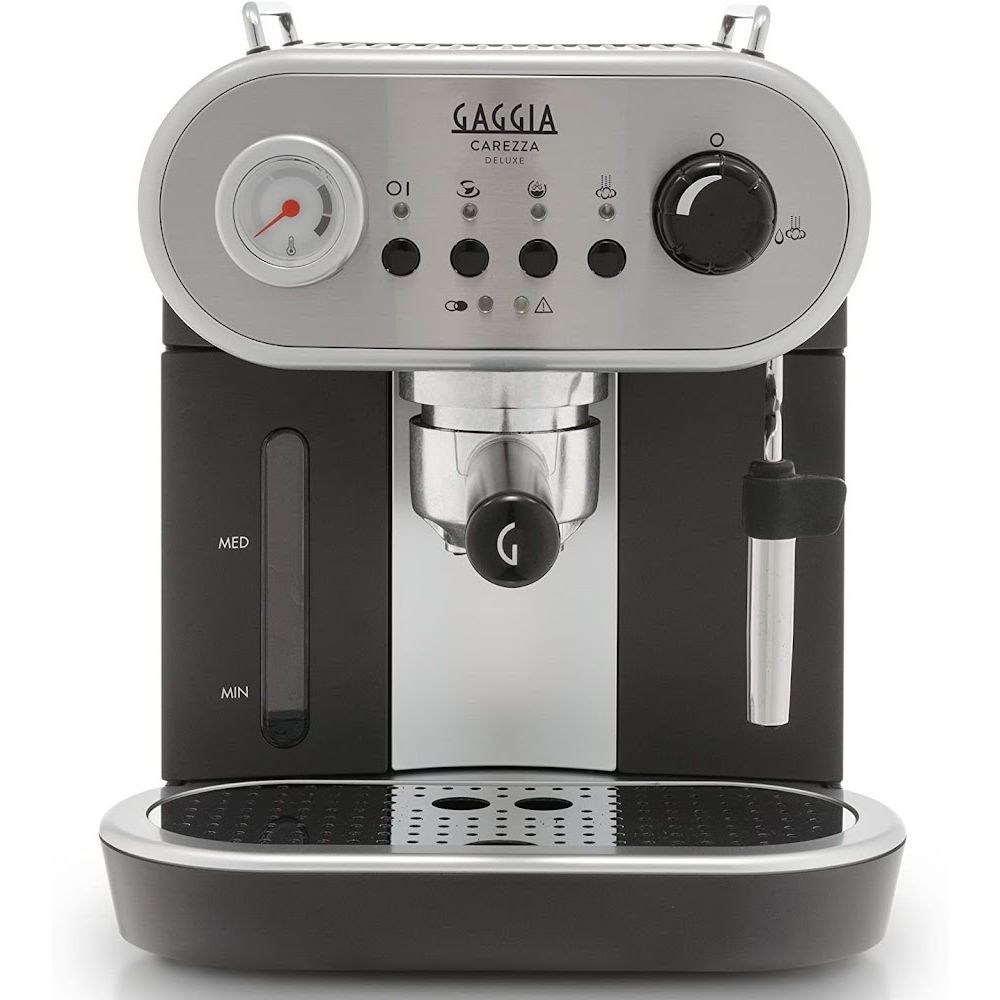 Best Choice For Its Temperature Control
Gaggia Carezza De Luxe Retro Style Espresso Machine
CHECK PRICE ON AMAZON
What Makes It Catchy
Discover the perfect blend of classic design and modern convenience with the Gaggia Carezza De Luxe Retro Style Espresso Machine.
This stylish semi-automatic espresso machine is perfect for making all your favorite coffee drinks, from a rich espresso to a frothy cappuccino. For convenience, the machine is compatible with both pre-ground coffees and ESE pods.
With a simple button setup and a pressurized portafilter, the Carezza takes all the guesswork out of making a great espresso. The built-in pannarello wand froths milk for delicious lattes and cappuccinos, while the stainless steel steam wand assists you in creating micro foam latte art.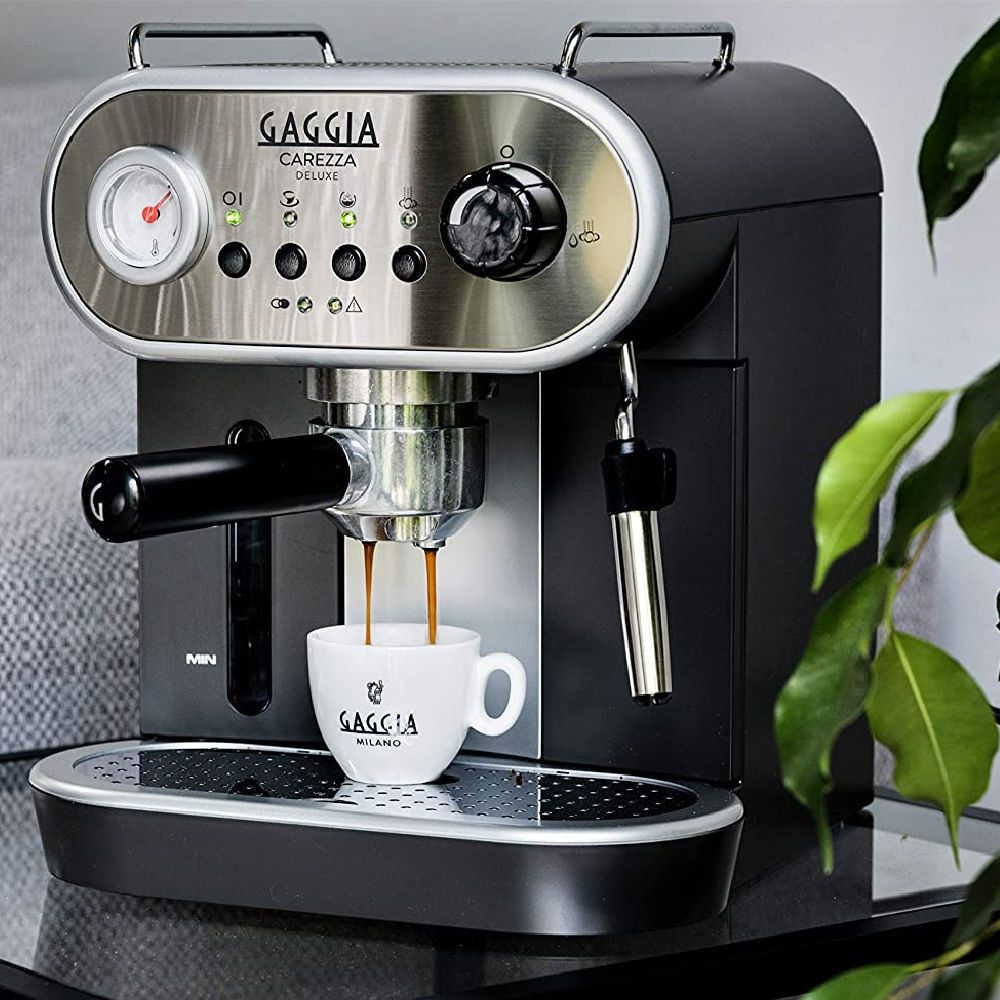 Things In The Spotlight
This beautiful machine is designed to produce authentic espresso, cappuccino, and latte drinks, and comes complete with an automatic frothing wand and rapid heating system. Its sleek retro design is sure to make a statement in your kitchen.
The Gaggia Carezza De Luxe is easy to use. Simply fill the front-loaded water reservoir with 47 ounces of water and choose your favorite ground coffee. The machine will do the rest, heating up quickly and delivering a delicious cup of espresso.
The steam wand helps to make a frothy cappuccino or latte drink. When you're done, the Carezza De Luxe will automatically power down after 9 minutes of inactivity.
If you're looking for a great retro espresso machine to help you bring a classic cafe aroma and coffee drinks to your home, consider the Gaggia Carezza De Luxe Retro Style Espresso Machine. Among our three selections this is "best price".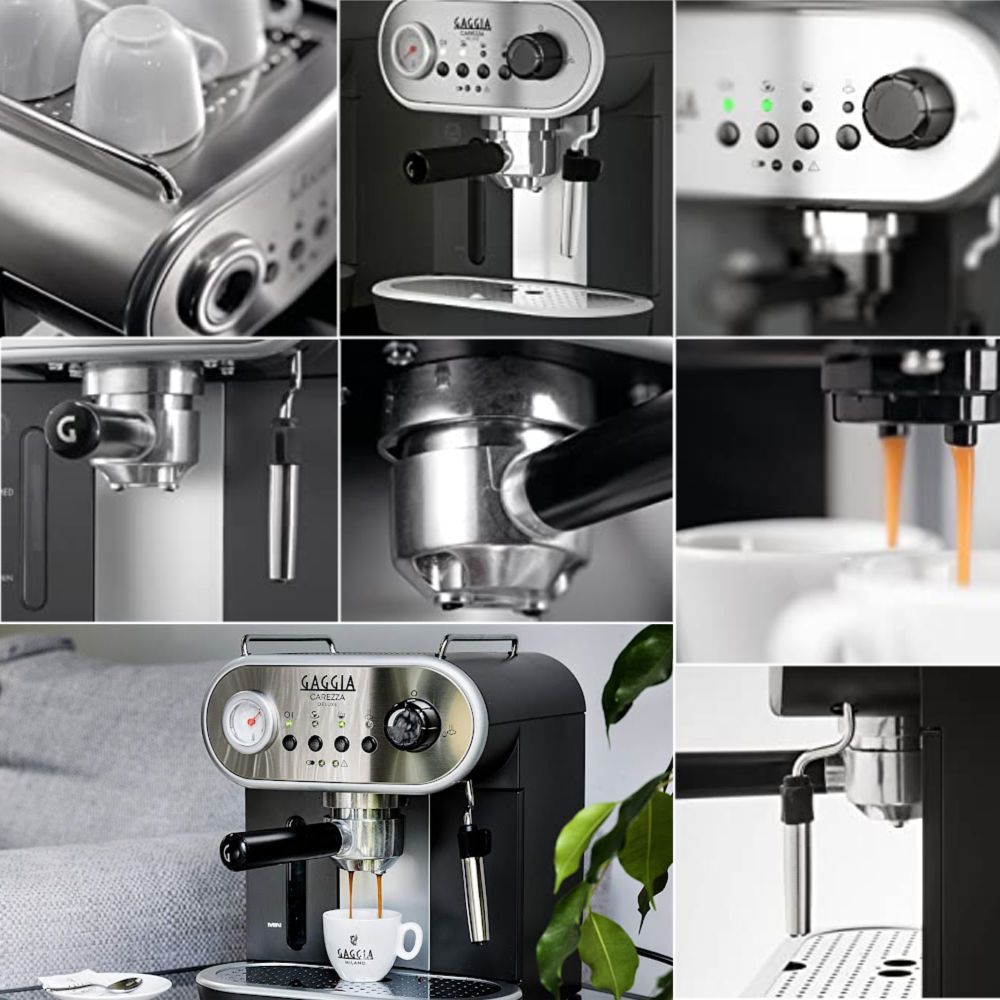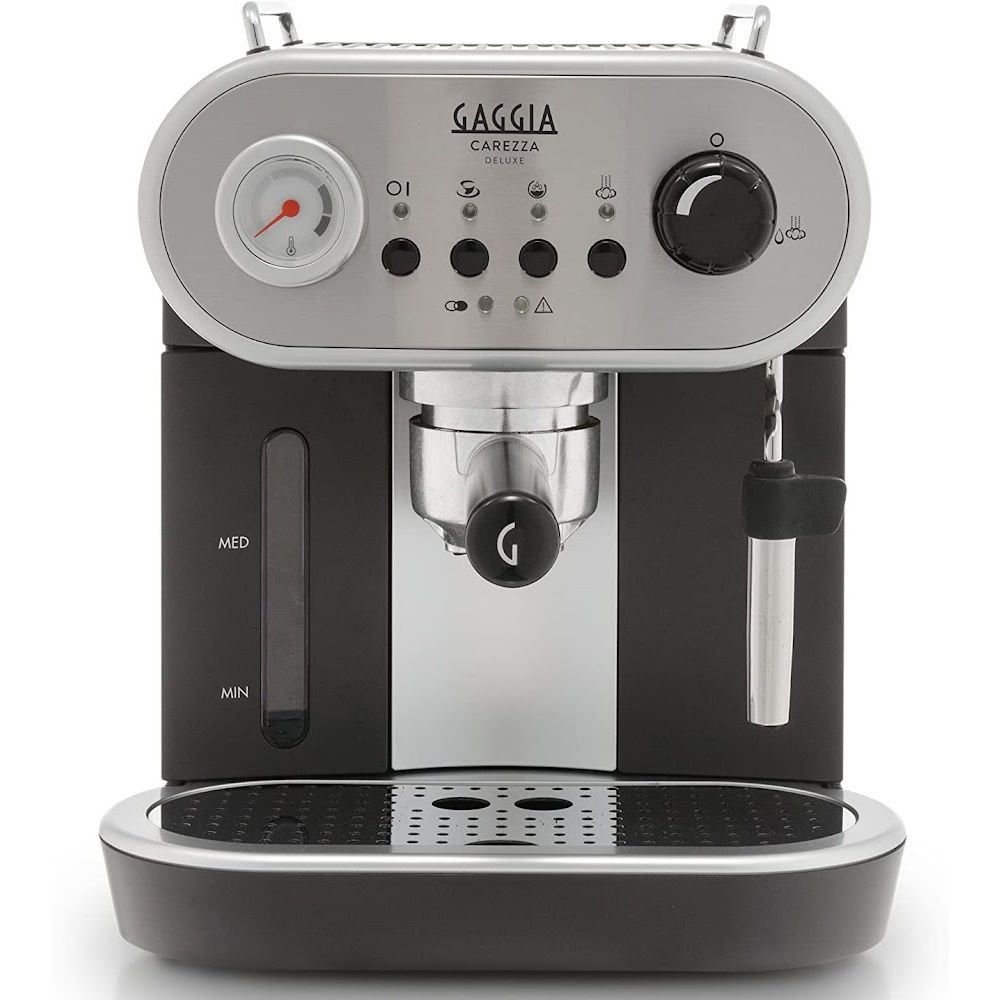 ---
KitchenAid Metal Semi-Automatic Espresso Machine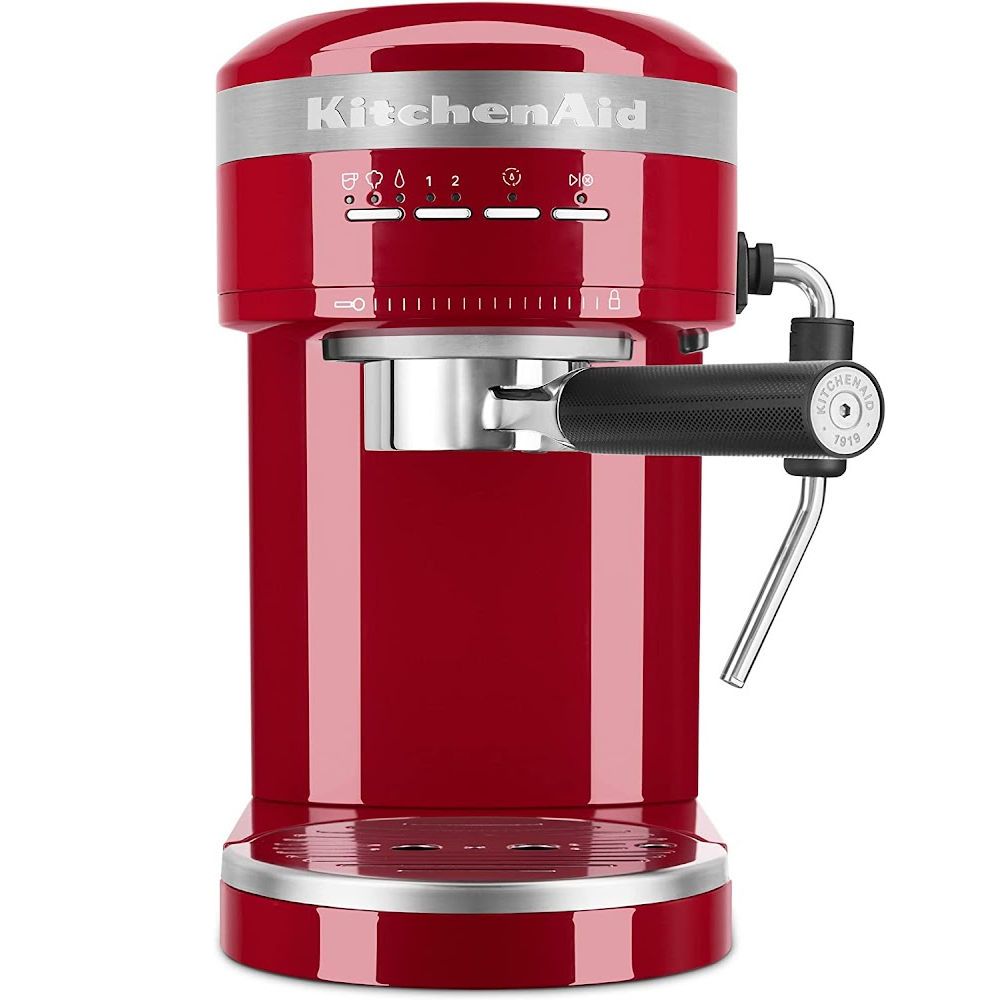 Best Choice For Its Ease Of Use
KitchenAid Metal Semi-Automatic Espresso Machine
CHECK PRICE ON AMAZON
What Makes It Catchy
It features dual, smart temperature sensors that actively communicate with each other throughout the brewing process to ensure optimal temperature and an authentic tasting espresso.
The fast-heating, thermocoil technology heats water up to the ideal brewing temperature in less than 45 seconds. The auto-purge function cools down the water heater after steaming, and the dosage selector allows you to easily prepare one or two espresso shots at the press of a button.
You can program your preferred shot size. This machine comes with a steam wand that allows you to make silky foam lattes and cappuccinos.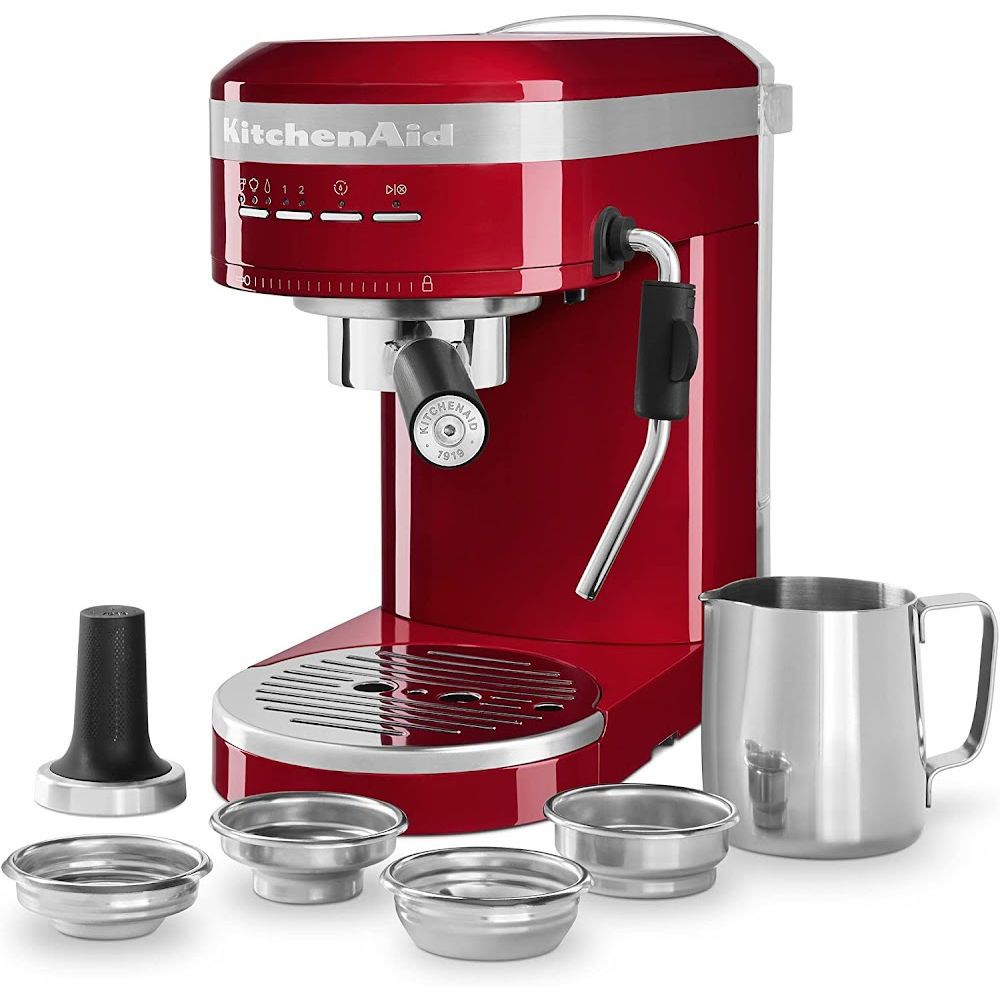 Things In The Spotlight
This machine is designed with a 58-mm commercial-grade portafilter to help maintain optimal heat during extraction for a perfect cup every time.
The portafilter also has two recessed spouts to enable a flat base for easier, more stable tamping vs. a traditional residential espresso portafilter.
Additionally, the machine comes with single wall baskets for greater control of full-bodied shots, and double wall, pressurized baskets that help reduce extraction variability.
To top it all off, there is an automatic milk frother accessory available that attaches to the machine and prepares milk for delicious lattes and cappuccinos (sold separately).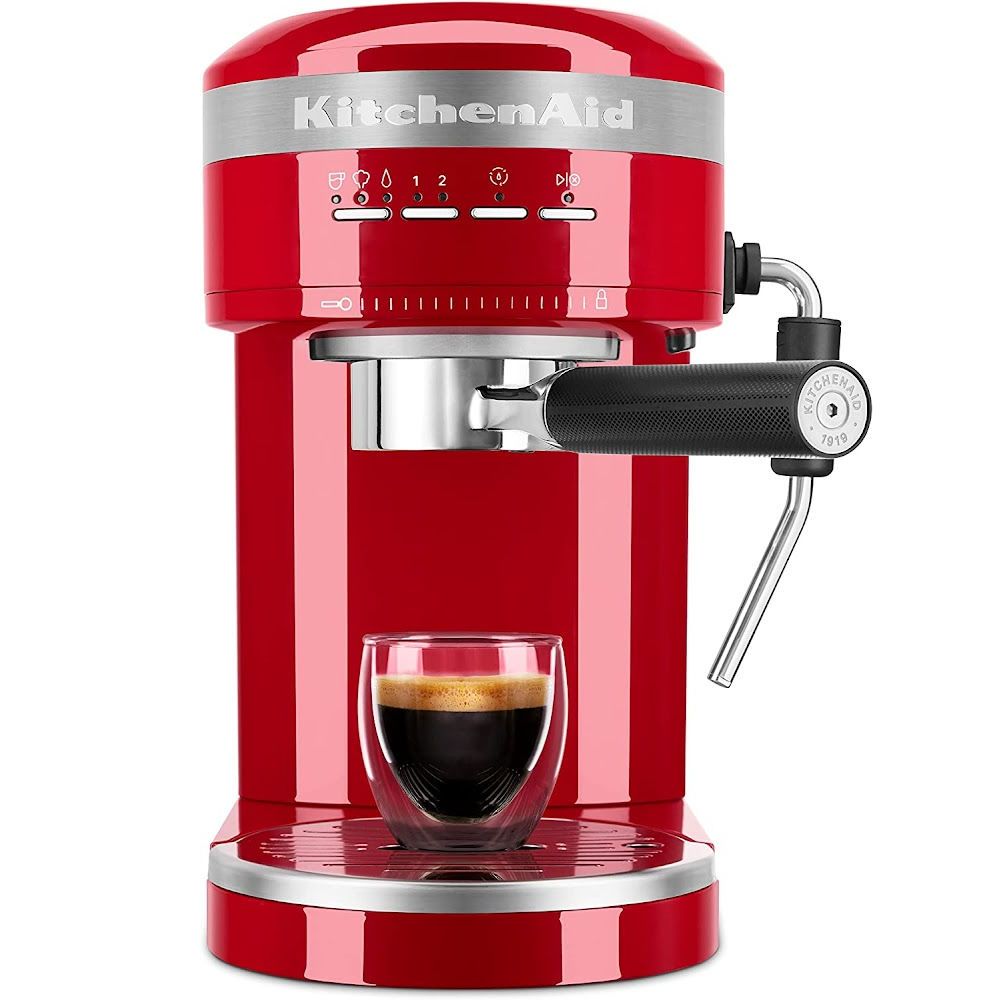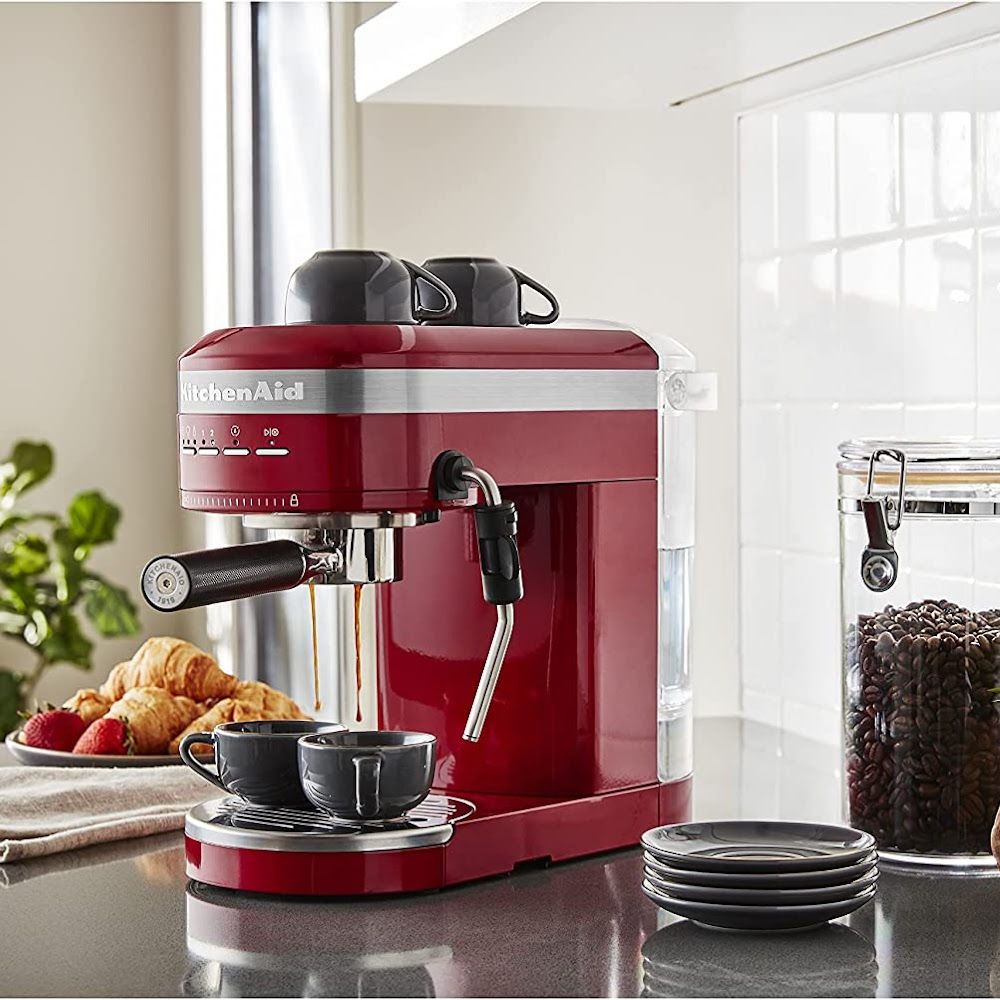 ---
Retro Espresso Machine FAQs
People are fascinated by these old-school, yet hi-tech machines, and with good reason—they make a fresh cup of coffee in style! Just smell the flavour ... In this post, we'll answer some of the most Frequently Asked Questions (FAQs) about retro espresso machines. Let's get started!
How do you use a retro espresso machine?
The "retro" is in the design, not in the tech.
That said, to operate a retro espresso machine, first make sure that the machine is properly plugged in and connected to a power source.
Once the power is turned on, press the button to start heating up the water. While the water is heating up, grind your coffee beans and measure out the desired amount of grounds.
Next, once the water is heated up, insert the filter into the brew head and add the grounds. Make sure to evenly distribute the grounds in order for them to be evenly extracted. After tamping down the grounds, place a cup under the group head and start brewing by pressing down on the brew lever.
Mind the heat. Now, wait: the process should take around 30 seconds to 1 minute. Keep an eye on the flow, and once your shot is done, release the lever and remove the cup.
All in all, ask any barista: expect a learning curve. Like my old teacher used to say: "Don't be afraid to make mistakes!" It will help if espresso is on your morning menu.
What are some of the best retro espresso machines on the market?
There are a few different factors you'll want to consider when choosing the best retro espresso machine.
The first is size. These devices can range from fairly compact models that are perfect for small kitchens to large, bulky ones that can handle a high volume of coffee.
Price is an important consideration.
Keep in mind that espresso machines are not regular coffee machines. You cannot use it to fill a jug with coffee.
Other things to keep in mind include the machine's capacity, idiot-proofing features (such as automatic shut-off), and style. Also consider whether you want a machine that uses capsules and/or ground coffee beans.
Some popular retro espresso machines include the Smeg Pastel Green 50's Retro Espresso Machine, the Gaggia Carezza De Luxe Espresso Machine, the KitchenAid Metal Semi-Automatic Espresso Machine, and the Swan Retro Espresso Machine.
How much does a professional espresso machine cost?
Coffee machines come in all, a professional espresso machine costs anywhere between 600 US$ to 3,000 US$. High-end professional machines can cost upwards of 10,000 US$. So, the cost of a professional machine really depends on your needs and budget.
If you are just starting out in the coffee business, then a lower-end commercial espresso coffee machine will probably suffice. However, if you're looking to open up a high-end coffee shop or café, then you'll need to invest in a top-of-the-line machine. Always check for best prices.
What is a Swan Retro Espresso Machine?
Swan is a popular brand that produces and sells the affordable, cool Swan Retro Espresso Machine. We don't include one in this blog post due to the current unavailability of Swan machines at Amazon.com. It is only available at Amazon UK.
The Swan Retro Espresso Machine's price ranges from £79,99 to £88,12. It comes in 9 colour options: blue, green, pink, orange, yellow, cream, purple, grey, and black. If you would like to purchase this model, do visit Amazon UK site for product reviews and further details.
How do you descale an espresso machine?
There are a few ways to descale a coffee machine. One is to use a vinegar and water mixture; mix one part vinegar to two parts water, filling the water tank with the mix, and turn on the machine. Now, run several pots of water through the machine to rinse off all the vinegar.
Another way: use a commercial descaling agent specifically designed for coffee makers. Follow the manufacturer's instructions for using the descaler.
And finally, you can try boiling water and then pouring it over all the removable parts of the machine - including the brew head, carafe, and water tank. Let everything soak for awhile, then rinse everything off and reassemble the machine.
Descaling your coffee machine is an important part of keeping it in good working condition. By removing built-up minerals, you can prolong the life of your machine and ensure that it continues to make lovely espressos.
How do you froth milk in an espresso machine?
The answer is actually quite simple - all you need to do is add cold milk to the espresso machine's pitcher and then turn on the steam wand frothing function. Wait: the machine will do the process, heating up the milk and creating beautiful foam for your coffee. You can also fill a jug with milk froth.
How do I serve a cappuccino?
A cappuccino is often served in a glass, or a mid-size cup. However, some prefer it served in mugs. Others frown at this. Like they do when I put a little cream in my espresso.
Which espresso machines last the longest?
One thing first: manual espresso machines last the longest. As for (retro) electric machines, even the best ones will eventually need to be replaced. Lifespan depends on many factors, including how often it is used, type of water used, quality of maintenance and the quality and durability of its parts.
The average lifespan is about 3-5 years. However, some (retro) models can last much longer with proper maintenance. For example, commercial grade espresso machines can last 10 years or more with proper use and maintenance.
Several manual and home espresso machines are designed to be user-serviceable and have parts that can be replaced. This means they potentially have a longer lifespan than a machine that requires professional servicing. Usually, only established brands offer replacement service.
How long can you leave water in an espresso machine?
You can generally leave filtered water in an espresso machine for a few days. If you use tap water, however, it's best to replace it every day or two since the impurities in the water can start to build up and impact the taste of your coffee.
Replacement filters for espresso machines are fairly cheap, so if you're using filtered water, just replace it every week or two.
Can vinegar damage espresso machines?
No, it's perfectly safe. Vinegar can be used to clean your espresso or coffee machine. Just be sure to rinse the machine thoroughly after cleaning.
How often should an espresso machine be cleaned?
Every two weeks, depending on the amount and type of use. Turn it off, and let it cool down first: the heat of some parts may hurt.
The group head, which is the part of the machine that comes into contact with the coffee, should be cleaned every two days with a damp cloth.
The portafilter and filter basket should also be cleaned after every use. Debris or grounds left in these parts will create rancid flavors in future shots. Descaling solutions can also be used to clean an espresso or coffee machine, but they must be used according to the manufacturer's instructions.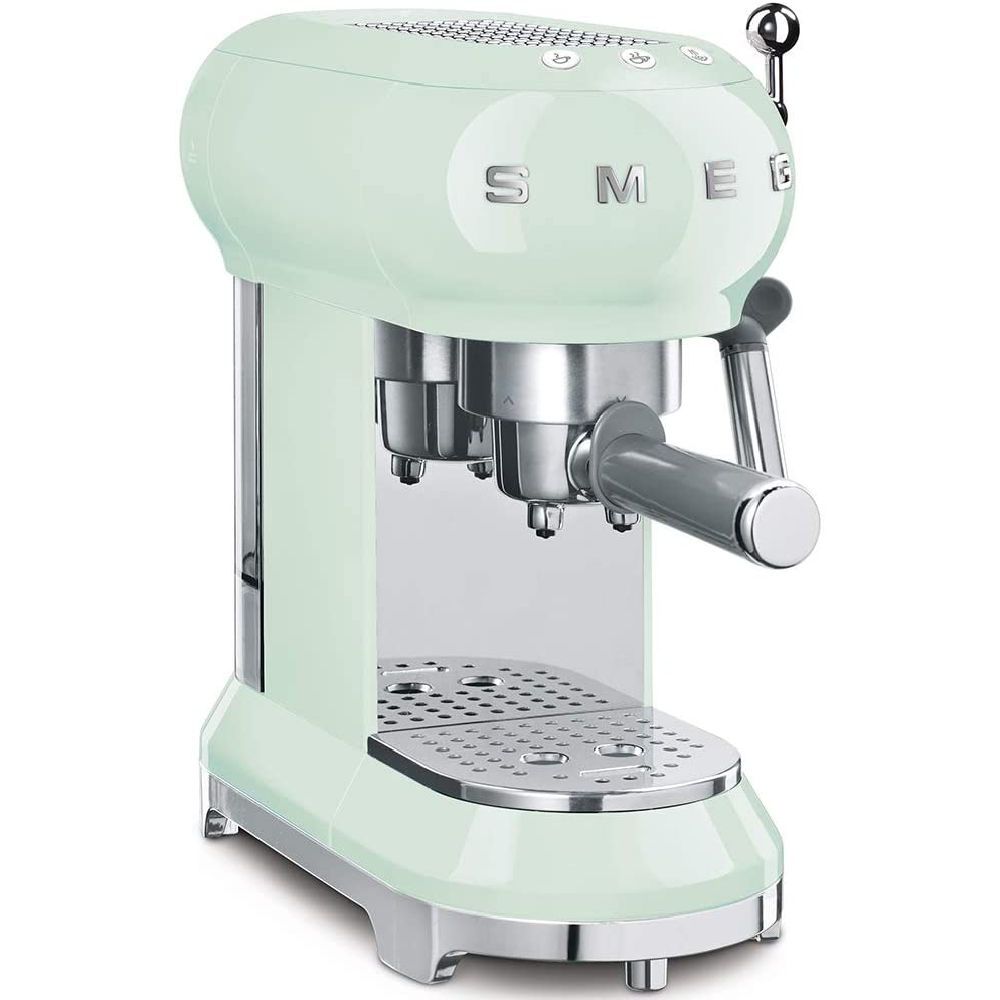 ---
The Best Retro Espresso Machine For You
We hope this blog post has been helpful in your search for the best retro espresso machine. Whether you're looking to buy for yourself or as a gift, we think any of our three picks would make a great choice.
Be sure to check out our other blog posts of other kitchen appliances, where we review blenders, juicers, food processors, toasters, grills, smokers, griddles, air fryers and many more.
Thanks for reading!
Catchy Finds