Would you like to give your kitchen a sophisticated touch? If so, then you'll love these retro toasters! These toasters are both sophisticated and functional, and they come in a variety of different colors and styles.
We've examined the best retro toasters on the market so that you can choose the perfect one for your kitchen.
Whether you're looking for a bright pop of color or a sleek, modern yet retro design, we've got you covered! Keep reading to learn more about retro toasters and find the perfect one for your home.
💡
This post may contain affiliate links which means I may receive a commission for purchases made through links. If you purchase a product or service with the links that I provide I may receive a small commission. There is NO additional charge to you!
Smeg 50's Retro 2 Slice Toaster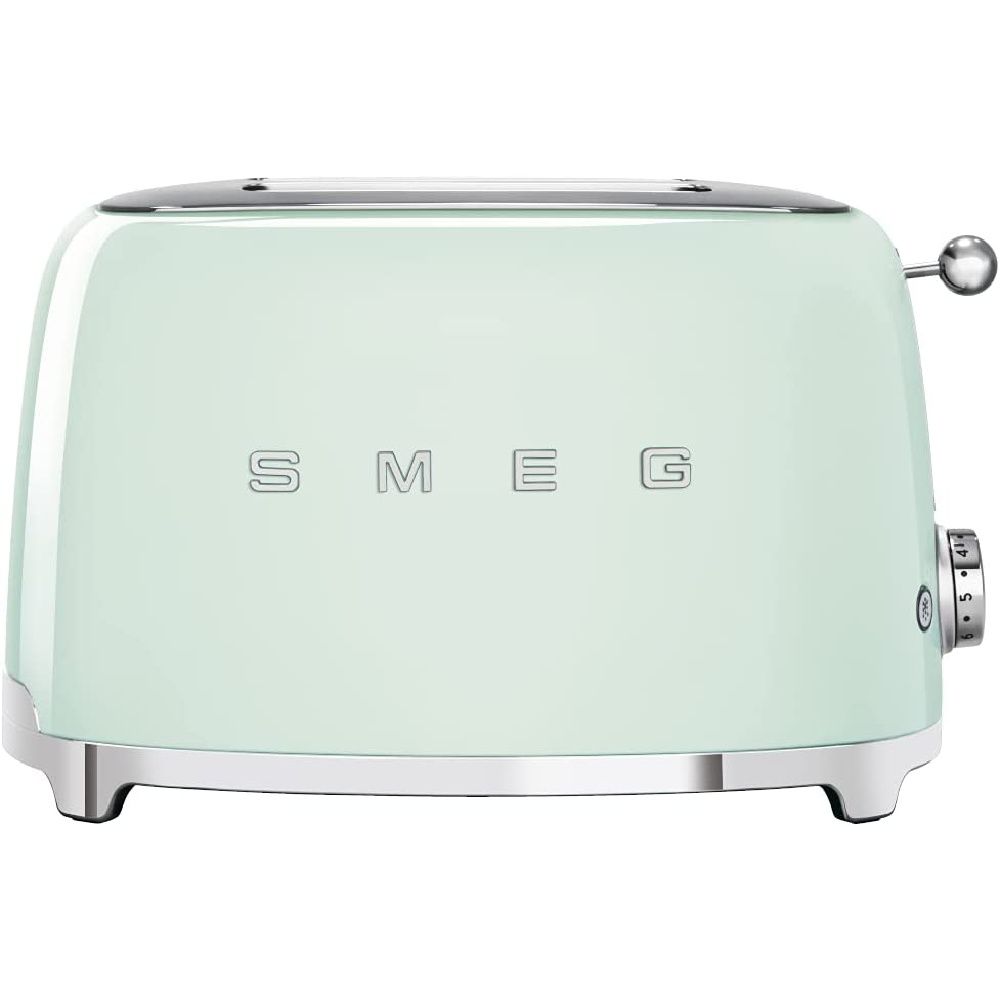 Best Choice For Who Loves A Luxury Look
Smeg 50's Retro 2 Slice Toaster
Check Price on Amazon
Why We Spotlight It
What makes SMEG appliances special is that they offer a unique blend of contemporary and vintage design elements, giving your kitchen a stylized and timeless look. Some argue that a SMEG is a "facelift" to a house.
SMEG appliances are designed and built to last. They will never go outdated. They feature high-quality materials and construction, so you can enjoy years of reliable performance. They come in blue and green.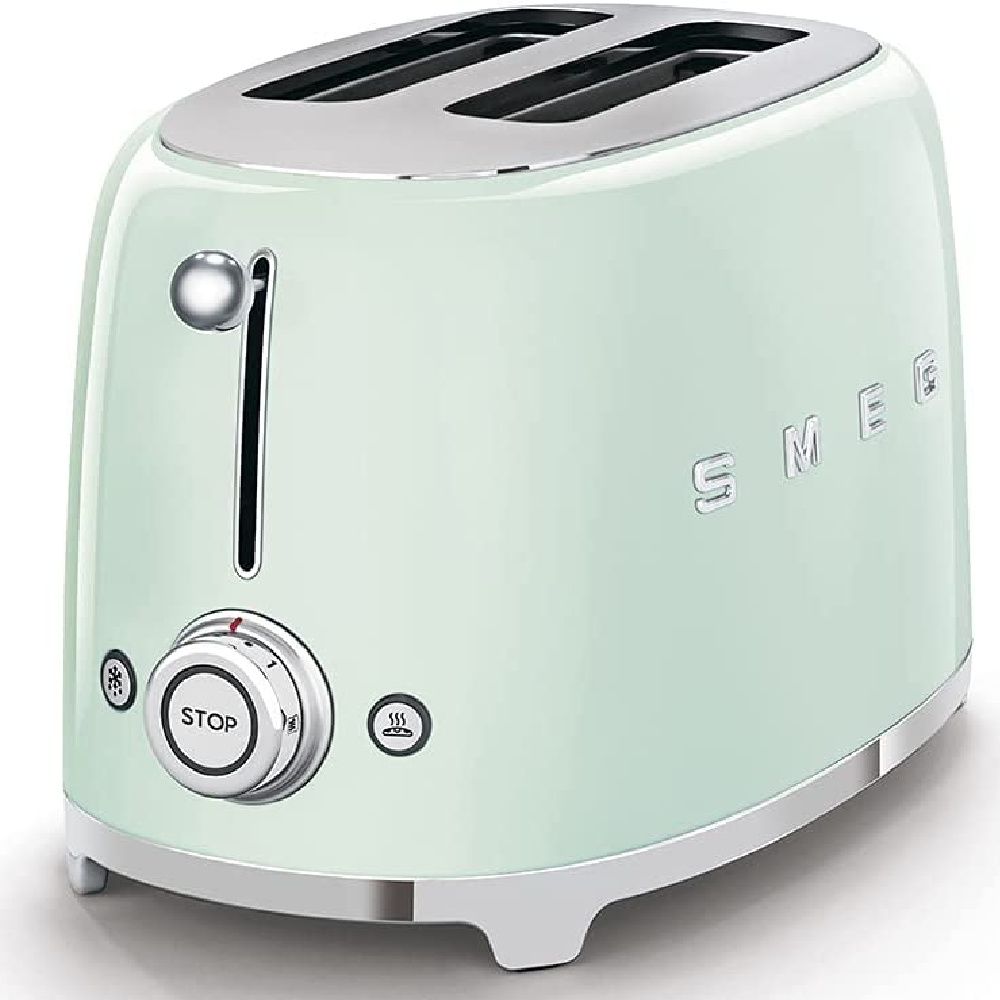 What Makes It Catchy
With a powder coated steel body, polished chrome base, and stainless steel ball lever knob, this retro toaster is as chic as they come. Plus, the backlit chrome knob adds a touch of sophistication.
But this toaster isn't just about looks. It also has plenty of practical features. The wide slots are perfect for thick slices and bagels, and the self-centering racks ensure even cooking. You can also choose from six different browning levels, or use one of the 3 pre-set programs for reheating, defrosting, or bagels. It has a removable stainless steel crumb tray.
Frigidaire 2 Slice Retro Toaster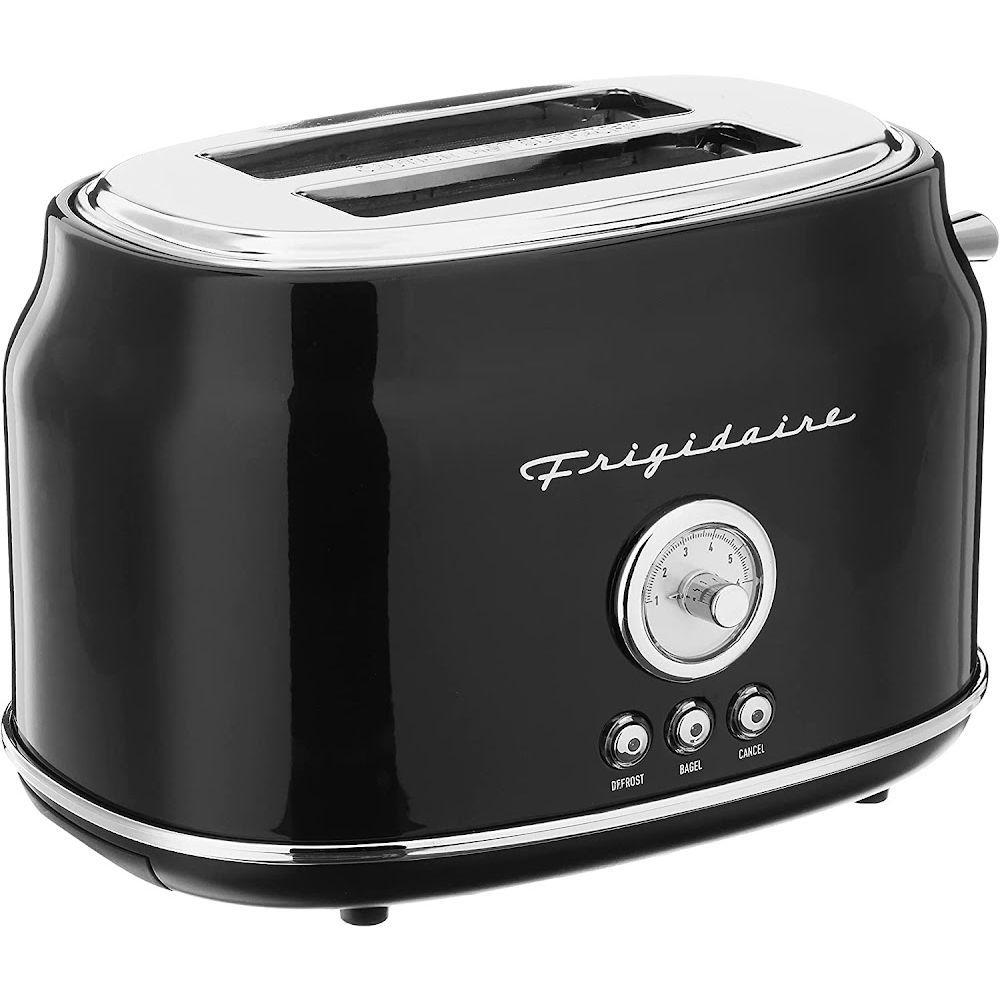 Best Choice For Who Loves Classic Chic
Frigidaire 2 Slice Retro Toaster
Check Price on Amazon
Why We Spotlight It
This retro toaster looks reminds one of a classic 1950-ies era Chevrolet or Buick: magnificent. However, it is also convenient to use. With wide slots that can accommodate bagel halves, thick slices of bread, English muffins, and more.
This stainless steel 2 slice toaster is perfect for any and all of your toasting needs. It comes in 3 colors: black, white, and red. Its retro style is sure to add a touch of sophistication to your kitchen décor.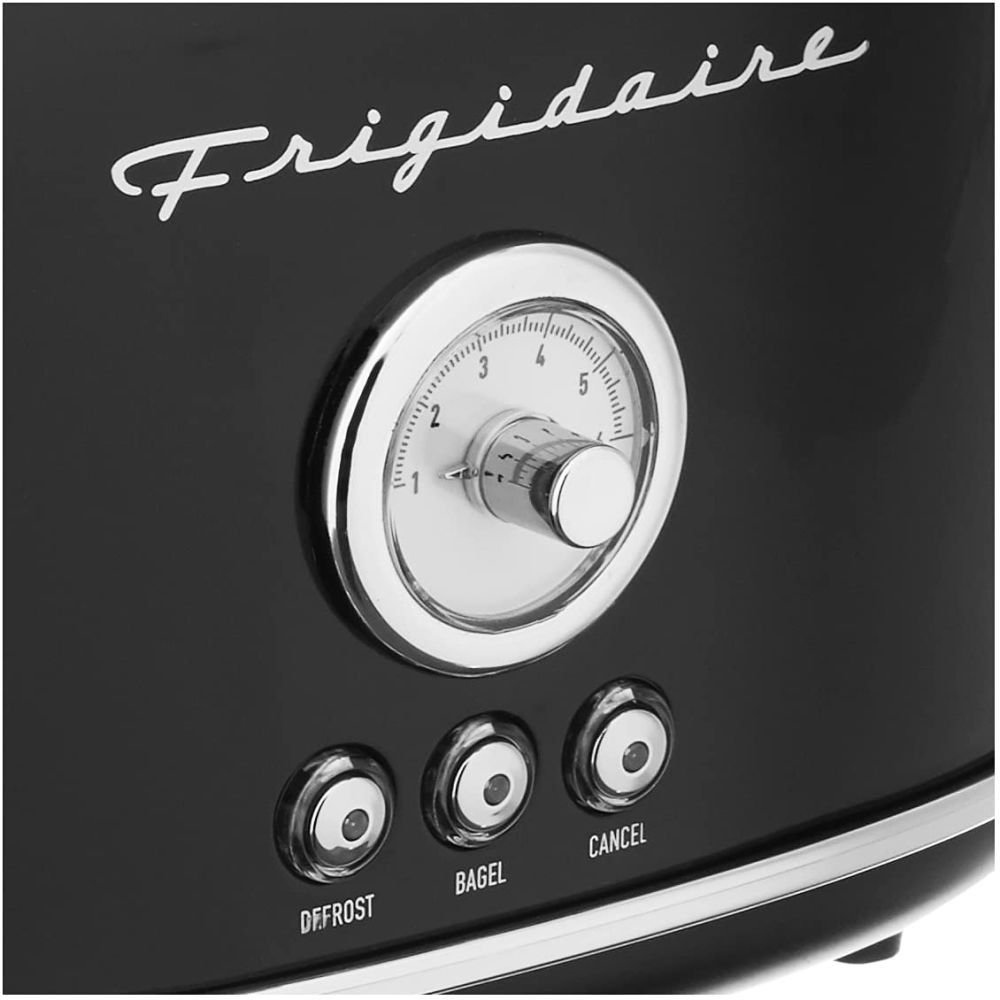 What Makes It Catchy
The Frigidaire Retro Toaster is a high-performance toaster with a retro design that will complement your kitchen. With 5 browning levels, you can choose your preferred doneness.
The bagel setting is for toasting just the cut side. The frozen setting defrosts bread and the cancel function ends the session at any time. As for easy cleaning, it has a removable crumb tray.
Chef's Choice 4 Slice Retro Toaster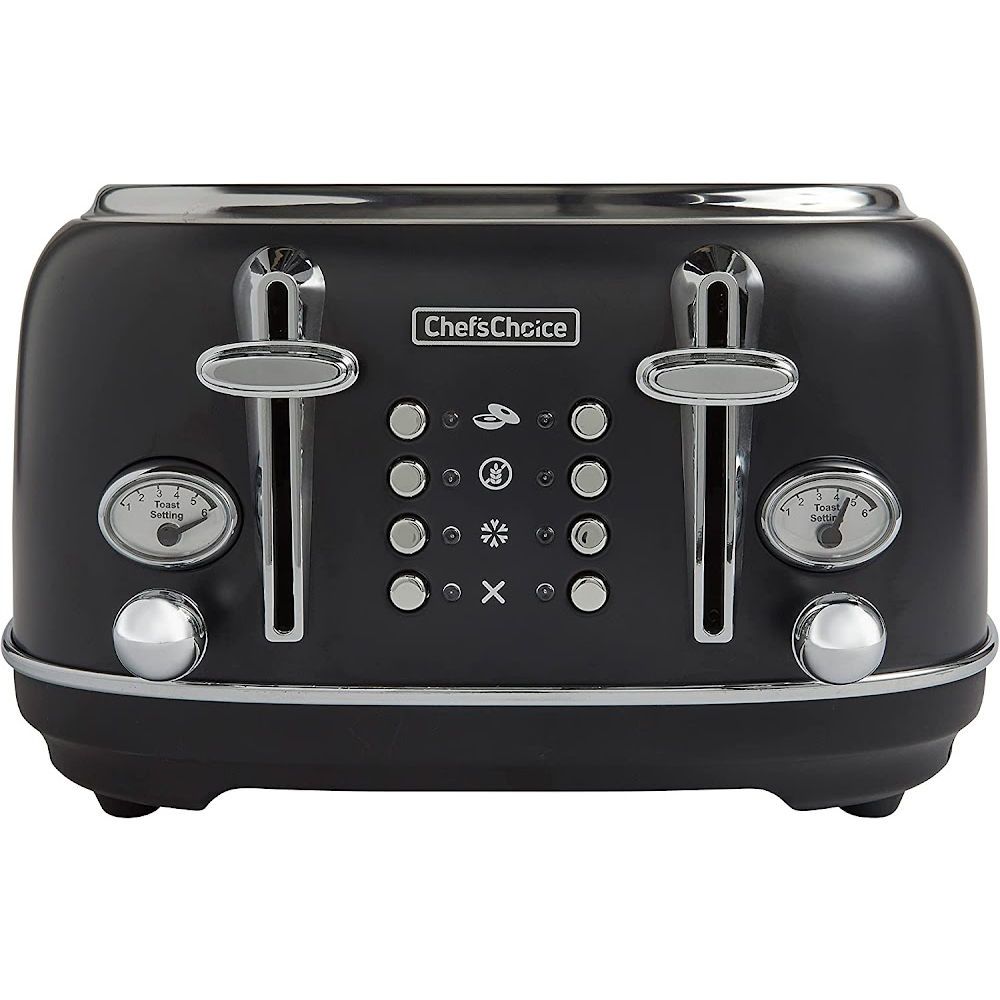 Best Choice For Who Loves Hardcore Hype
Chef's Choice 4 Slice Retro Toaster
Check Price on Amazon
Why We Spotlight It
With enough space to toast four pieces of bread at once, this retro toaster is ideal for busy families or hosting morning breakfast or brunch get-togethers. The premium stainless steel body not only looks great in any kitchen, but also means this toaster is built to last. The convenient toast lift makes it easy to grab your toast without burning your fingers, although you may prefer to use mini tongs.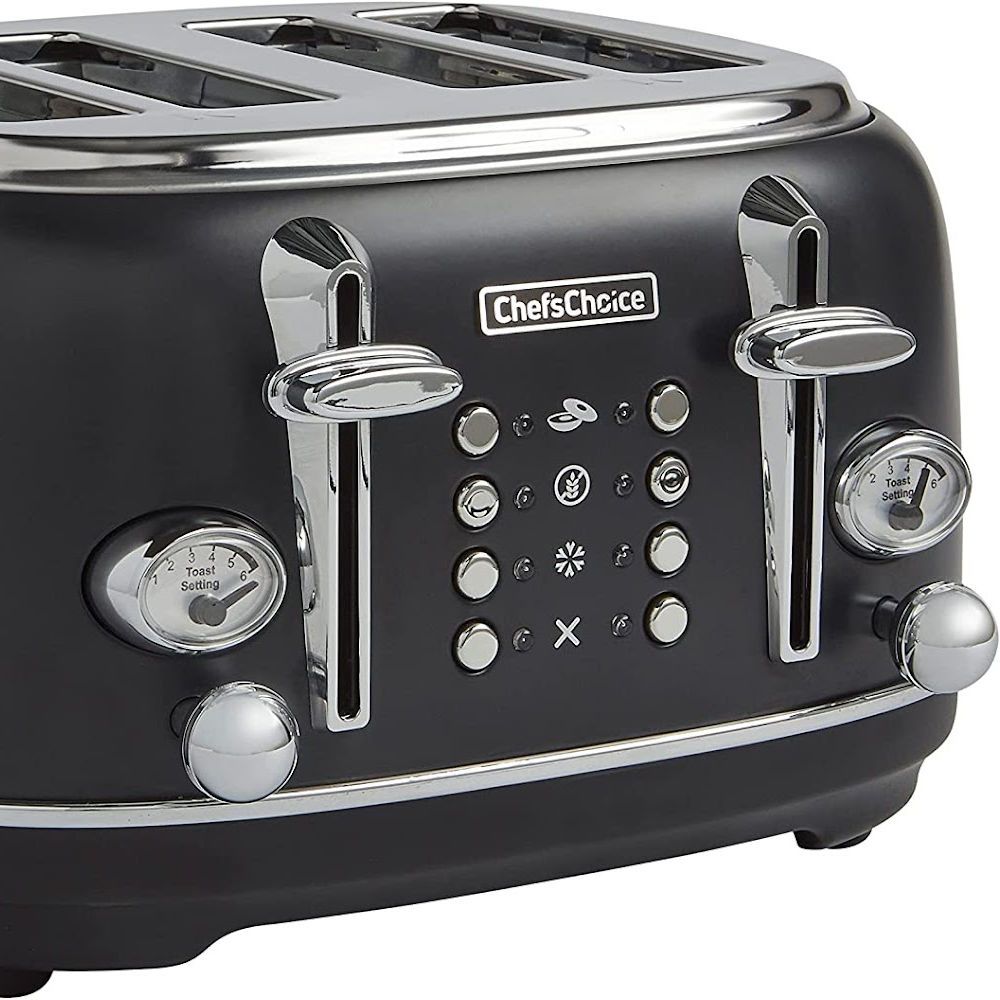 What Makes It Catchy
Elegantly crafted, this Chef's Choice toaster will add a unique touch to your kitchen décor.
This retro toaster features a no-guess 5 function system, provides the ideal cook time and temperature control for Toast, Bagels, Gluten-Free and Defrosting. Whether you like your toast light and crispy or dark and crunchy, the adjustable dial lets you customize the browning levels for your perfect toast setting.
Nostalgia 4 Slice Retro Toaster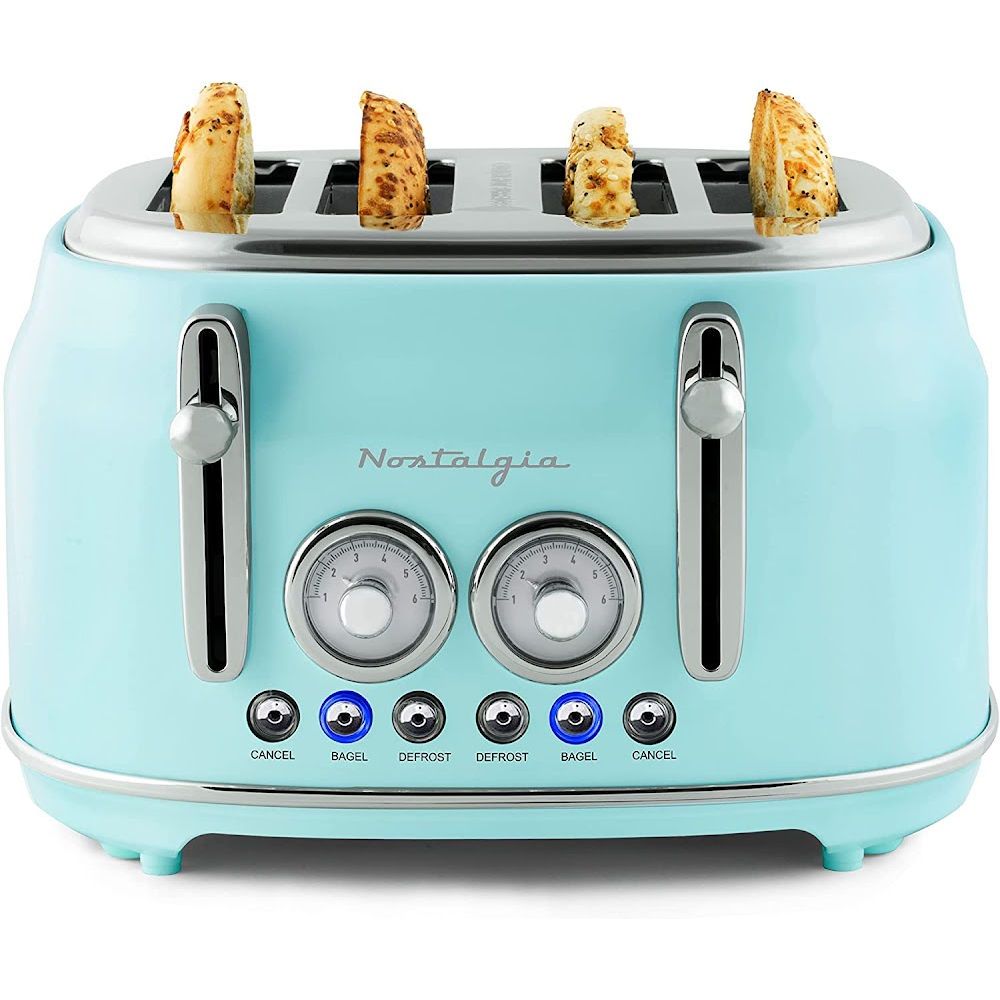 Best Choice For Who Loves Vintage Vibes
Nostalgia 4 Slice Retro Toaster
Check Price on Amazon
Why We Spotlight It
Looking for a toaster that gives you full control of your toasting experience? Look no further than the Nostalgia 4 Slice Retro Toaster. With multiple control buttons, you can choose exactly how you want your toast done each time.
The perfect bagel or defrost function ensures that your food is cooked perfectly every time. And with five browning levels, you can always find the perfect setting for your taste.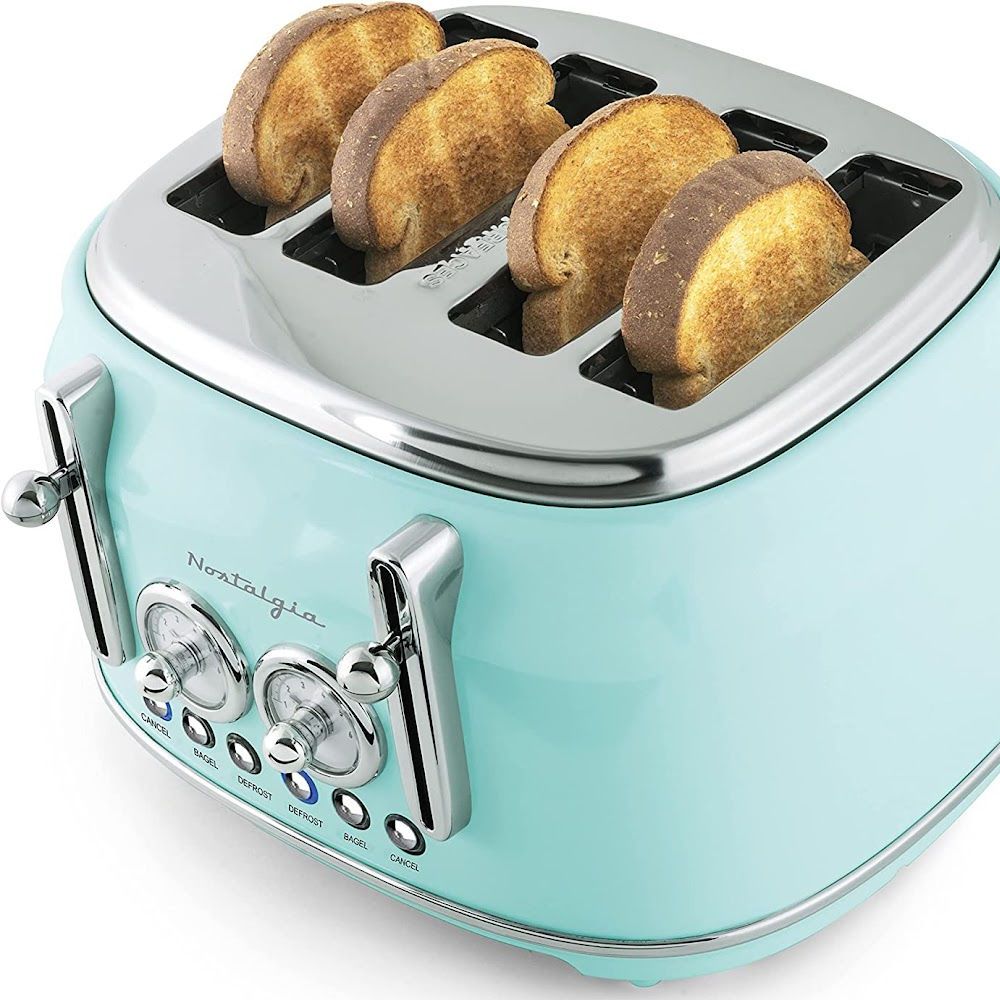 What Makes It Catchy
This blue toaster has a fun retro design and comes in a variety of colors to choose from. The four large slots are perfect for toasting bagel halves, a bagel, bread, English muffins, it toasts lots, and more.
The unit's cord storage in the bottom allows for tidy and compact storage. Whether you're making breakfast for yourself or for a family, this toaster is sure to come in handy.
REDMOND 4 Slice Retro Toaster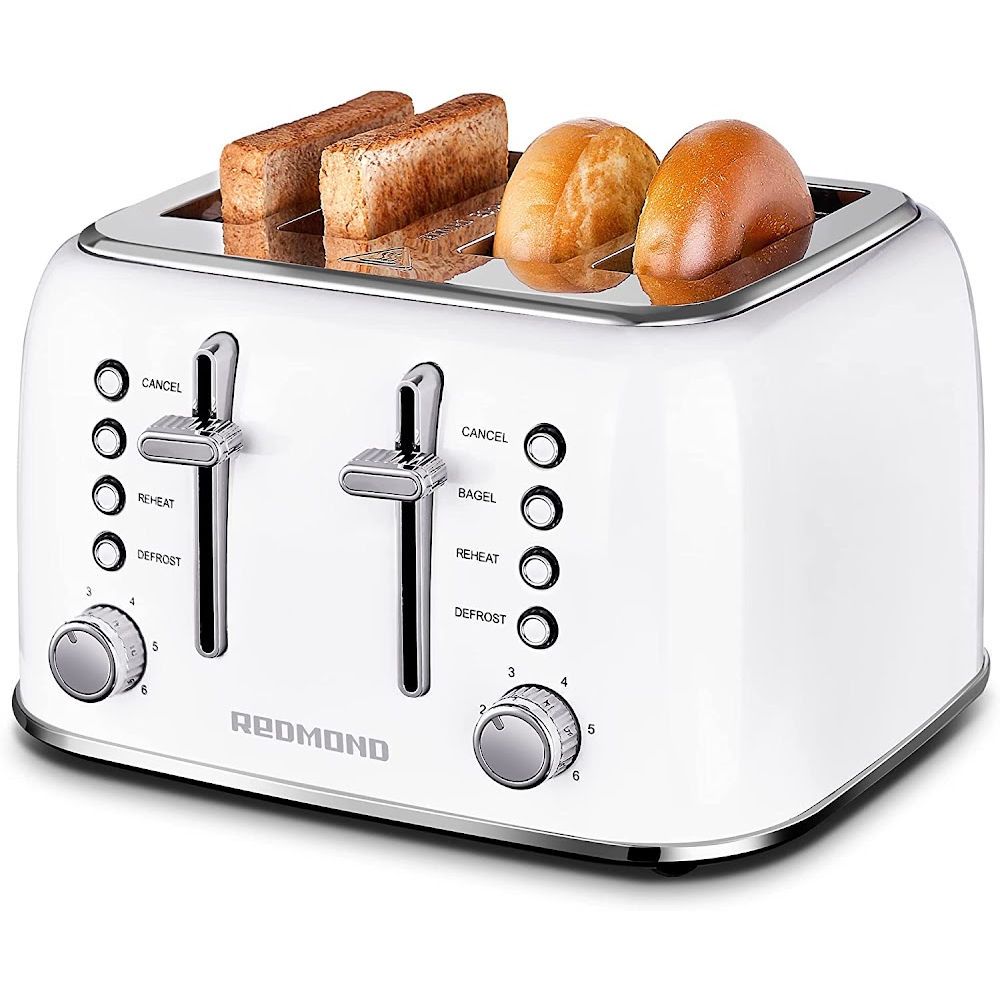 Best Choice For Who Loves Simplicity
REDMOND 4 Slice Retro Toaster
Check Price on Amazon
Why We Spotlight It
This retro toaster is perfect for bagels, English muffins and other thicker or smaller items such as sourdough, tortillas and Texas toast.
The sleek design of this retro toaster will perfectly fit your retro kitchen style, add a touch of vintage to your home.
The adjustable six browning settings control means you can always get the perfect level of crispy toastiness, just how you like it.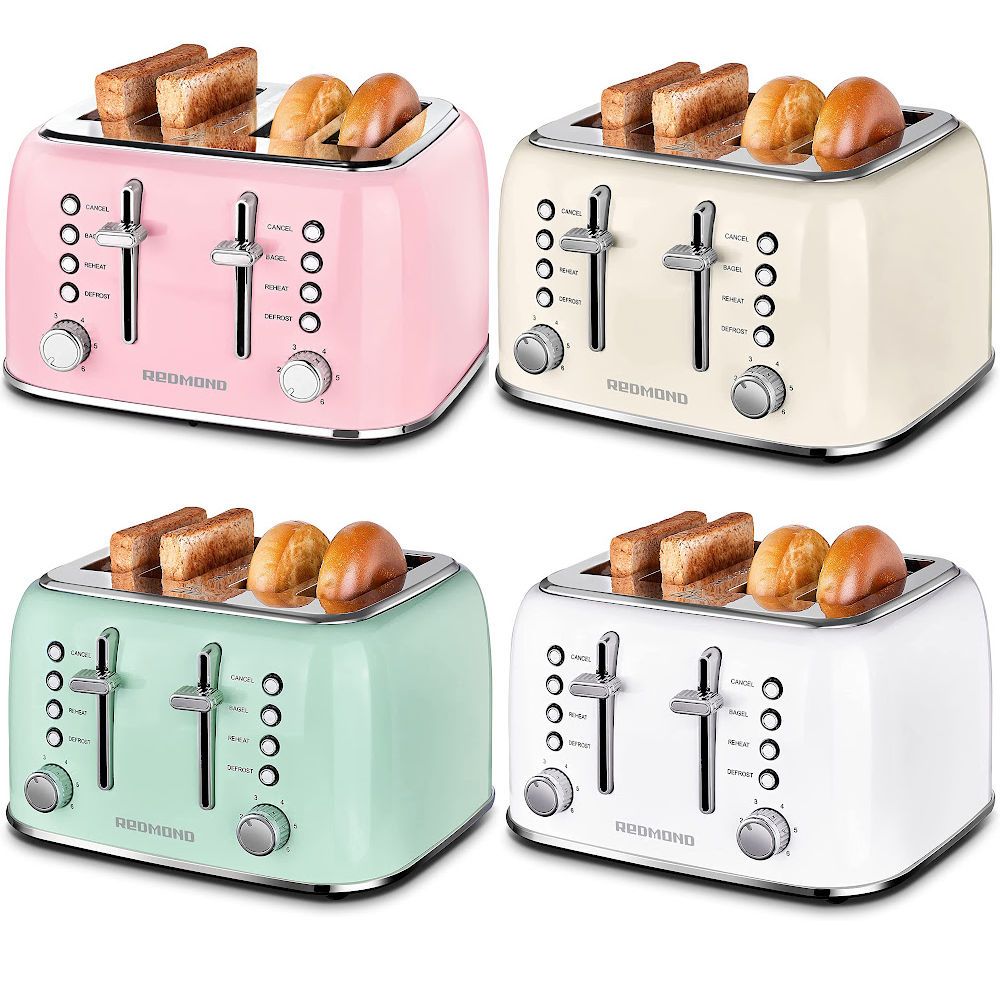 What Makes It Catchy
Whether you're feeding a large family or just looking for a handy appliance that can handle all your toasting needs, with four generous slots, this attractive retro toaster can easily accommodate large items.
It has dual independent control panels, so you can choose to use one or both at the same time. The high lift feature makes it easy to remove bread without burning yourself. It's available in various colors, cream, white, green and pink.
Retro Toasters FAQs
There are many brands and models out on the market, so it's hard to know which retro toaster will work best with your lifestyle. There is no THE best retro toaster. So we add this list of Frequently Asked Questions (FAQs) to assist your product search. Read on!
Which brand has the best toaster?
There are a lot of different factors to consider when choosing a brand of toaster. Some people might prefer a certain style or design, while others might care more about performance or price. It really depends on what you're looking for in a toaster.
As far as performance goes, Cuisinart and Breville are both great brands. Cuisinart makes a 4-slice toaster that has extra-wide slots, so it can accommodate bagels and other thicker items. The Breville Smart Toaster also has extra-wide slots, plus seven different shade settings so you can get your toast just the way you like it.
If you're looking for something more affordable, Black+Decker and Hamilton Beach are both good options. Many have a removable crumb tray for easy cleaning, several have settings for different shades, are able to reheat cold toast, a timer, a cancel button, and other features.
Retro toasters are a great way to add some sophistication to your kitchen. With so many different brands and styles to choose from, you're sure to find the perfect one for your needs.
What is so special about a SMEG toaster?
The SMEG toaster is special because it has an all-metal design and consistent, even heat distribution. This results in a perfectly toasted piece of bread, every time. Plus, its specific 1950s charm will add a touch of retro flair to your kitchen.
Is SMEG a good toaster?
There are a lot of different opinions on whether SMEG is a good toaster or not. Some people love the style and design, but others find that it doesn't toast bread evenly or that it doesn't have enough features. Ultimately, it's up to the individual to decide if SMEG is the right toaster for them.
Is SMEG worth the price?
Short answer: It depends on your needs and budget.
Long answer: SMEG appliances are definitely high-end appliances, and as such, they come with a correspondingly high price tag. However, they also offer features and benefits that you won't find in lower-priced brands. So if you're looking for top-of-the-line appliances that will last for many years and offer the best performance possible, then SMEG is definitely worth considering. But if you're on a tight budget, there are other brands that may be a better fit for your needs.
Where are SMEG toasters made?
If you're looking for a high-quality toaster, you may have come across the SMEG brand. But where are SMEG toasters made?
The answer depends on which model of SMEG toaster you're looking at. The classic SMEG two-slice toaster is made in China, while the four-slice toaster is made in Italy. However, both models are designed in Italy and feature a stainless steel construction with a vintage-inspired design.
What was the first toaster?
The first toaster is believed to have been invented in 1893 by American inventor Charles Strite. His design was inspired by a bread-slicing machine that he had seen in a bakery and he set out to create a similar machine that would toast bread. Strite's toaster was a success and eventually became the Toastmaster, one of the first popular brands of toasters in the world.
What are some of the best retro toasters on the market?
There are a lot of different retro toasters on the market, so it really depends on your personal preferences. However, some of the most popular retro toasters include the SMEG two-slice toaster, the Cuisinart retro toaster, and the KitchenAid retro toaster. Chef's Choice, Frigidaire and Nostalgia also have excellent and affordable models.
Each of these toasters has a unique design that is inspired by retro appliances. However, they also have modern features that make them more convenient to use.
What is the average life of a toaster?
The average lifespan of a toaster is about 10 years. However, with proper care and cleaning, your toaster can last much longer. Toasters are one of the most commonly used kitchen appliances, so it's important to keep yours in good working condition. Here are some tips for prolonging the life of your toaster:
1. Don't overload the toast slots.
2. Unplug the toaster when you're not using it.
3. Clean the crumb tray regularly.
4. Avoid using metal utensils on the inside.
What are the types of toasters?
There are three main types of toasters: pop-up toasters, conveyor belt toasters, and toaster ovens.
Pop-up toasters usually have two slots for bread. You insert the bread slices into the slots. The bread is then toasted by being exposed to heat from either one element or a pair of heating elements.
Conveyor belt toasters have a continuous conveyor belt that moves the bread through the heating elements. This type of toaster can toast multiple pieces of bread at the same time.
Toaster ovens are larger than pop-up or conveyor belt toasters, and they can also bake items such as cookies or pizza.
We conducted hours of research and spotlighted the top five best 2 slice toasters based on their capacity, adaptability (bagel function? defrost?), materials (stainless steel, plastic?), design (cord storage? innovative features? warming rack? any other features? room on the kitchen counter?), simplicity of use (removable crumb tray? toasting timer?), quality, safety (anti overheat protection? anti leakage protection?) and budget.
The Best Retro Toaster For You
We have spotlighted the 5 best retro toasters in the market and provided links so that you may learn more about their pricing to pick yours.
We hope this buying guide has been useful in assisting you in selecting the perfect retro toaster.
You may also read other articles about other kitchen appliance reviews on our site.
Thanks for reading and happy toasting!
Catchy Finds