Ah, duck. That versatile little bird can be served in so many different ways. Fried, braised, stewed, smoked ... or my personal favorite, roasted. There's nothing quite like a beautifully roasted duck, crisp skin and all.
With just a few simple tips, you can make one yourself at home that will have your family and friends begging for seconds. So read on how to make the perfect roasted duck with our tips & two recipes for roasting duck dishes.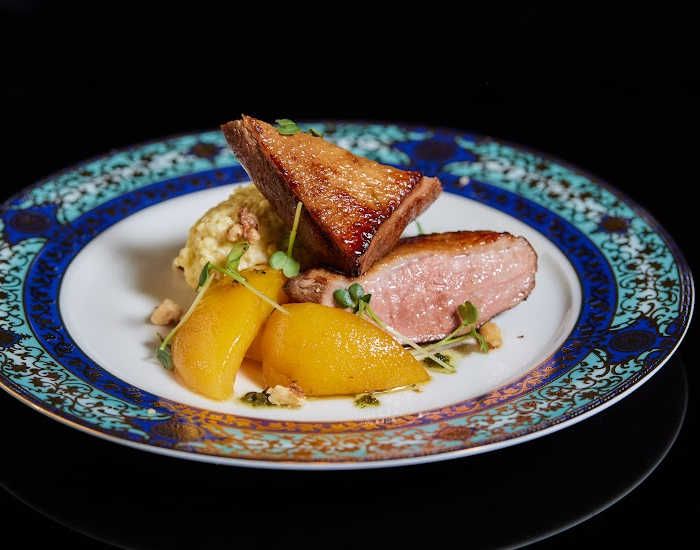 Prepping Your Duck
The first step is to prep your duck.
You'll want to start by giving it a good rinse inside and out with cool water. Then, pat it dry with paper towels, both inside the cavity and out.
Next, take a sharp knife and score the skin of the duck all over, being careful not to cut into the meat. This will help the fat render out as it cooks and give you that gorgeous crisp skin we're all after.
You can use any combination of fruits or vegetables that you like. Just be sure not to stuff it too full; you want there to be room for heat to circulate inside the cavity so that the duck cooks evenly. Now that your duck is stuffed and ready to go, let's move on to the cooking process.
How To Roast A Duck: The Basic Rule
There are a couple of different ways you can go about roasting your duck.
You can either leave it plain and just season with salt, pepper, and herbs or you can stuff it with a flavorful combination of fruits and vegetables. Whichever way you choose to go about it, the basic rule is that you should roast your duck at 350 degrees F for 15 minutes per pound plus an additional 10-15 minutes.
It's important to keep an eye on your duck while it cooks and make sure that it doesn't burn! When you take your duck out of the oven, let it rest for 10 minutes before carving. This will give the juices a chance to redistribute throughout the meat making it more tender and flavorful.
Roasted Duck Recipes
1. Roasted Duck Breast With Apple & Caramelized Beets
This Duck Breast With Apple & Caramelized Beets dish is an elegant way to enjoy roasted duck.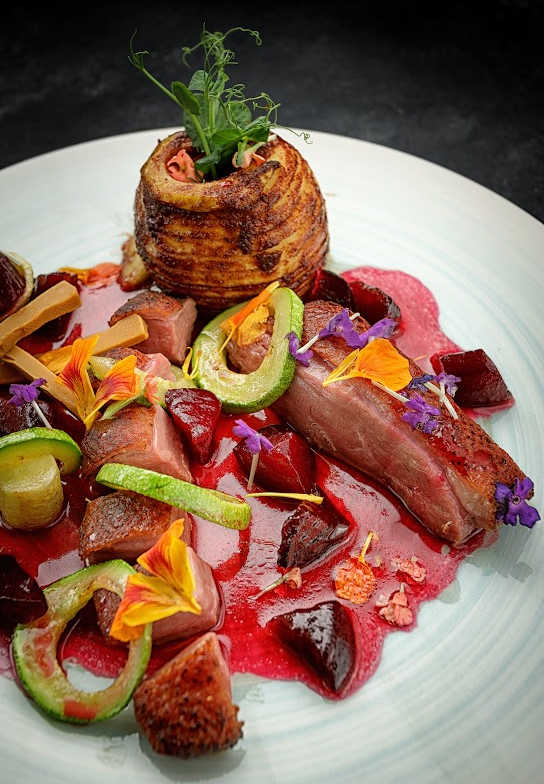 Ingredients:
2 duck breasts
4 small beets, peeled and quartered
2 tablespoons of butter
1 red apple, thinly sliced
2 tablespoons of balsamic vinegar
2 tablespoons of brown sugar
Salt and pepper to taste
Instructions:
Preheat the oven to 350 degrees F.
Place the duck breast's skin-side up on a foil-covered baking sheet. Rub with salt and pepper.
Place in the oven and bake for 20 minutes or until cooked through but still pink in the middle.
Meanwhile, prepare the beets: Melt 1 tablespoon of butter in a skillet over medium heat. Add the beets, season with salt and pepper, and cook for 8 minutes or until lightly browned.
Add the apples to the skillet, along with 1 tablespoon of butter, balsamic vinegar, and brown sugar. Stir to combine and cook for an additional 5 minutes or until caramelized.
Serve the duck breasts topped with apple caramelized beets. Enjoy!
2. Roasted Duck Breast With Golden Beets, Honey & Orange
This dish is a delicious way to enjoy roasted duck. With sweet and savory flavors combined into one, it's sure to be a hit for any occasion!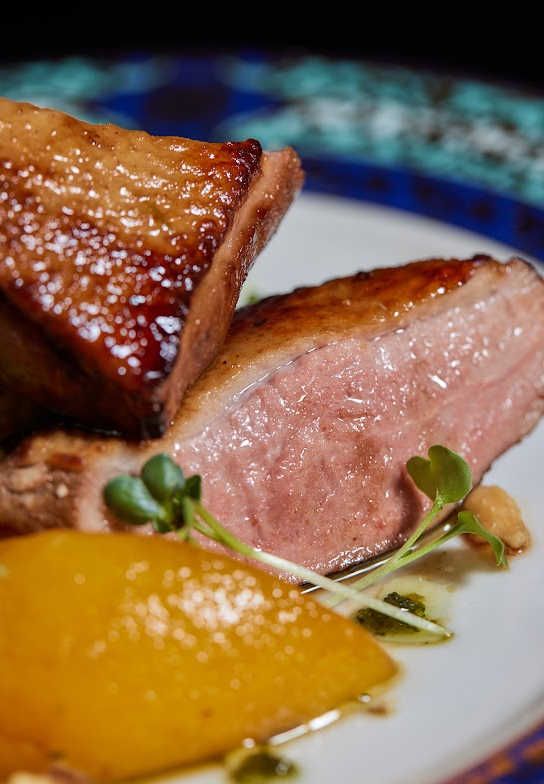 Ingredients:
2 duck breasts (18oz - 500g)
6 potatoes, mashed
3 roasted golden beets
1/2 cup of bacon
Optional: 1/2 cup of mushrooms + 1 cup long beans
1/2 cup of onions
2 tablespoons of honey
1 orange, juiced and zested
2 teaspoons of Dijon mustard
Salt and pepper to taste
Instructions:
Cut up the duck breast by removing any nerves and extra fat on the meat.
Next, make a criss-cross pattern on the skin, dry it off, then season both sides with salt & pepper.
Place the breast in a pan, skin side down, slowly turn up heat and let cook until all of the duck fat has melted out and until golden brown (takes about 5-7 minutes).
Sear the other side, too (to keep juices in), then set it aside for later.
Keep some duck fat to add to your potatoes when you make them!
For the sauce:
In the pan, add 3-4 tbsp honey, and one orange (chunks and juices).
Cook for a few minutes on low heat.
Add the duck back in and baste it with the sauce for about 1 minute, then turn off the heat.
Keep it in the oven for an additional 6-8 minutes.
After cooking the duck breast, remove it from the pan and let it rest for 10 minutes.
Then, slice it before serving.
For the side dishes:
First, boil the potatoes until soft.
Then mash them and season with salt, pepper, nutmeg powder, butter and duck fat.
Add milk to reach a soft, creamy consistency.
Next, roast the golden beets for 30 minutes, peel, cut, and set aside. (Note: If you don't use beets, replace by blanching the long beans.)
Sauté onions, mushrooms and bacon (if used) until brown; then add in the yellow beets (or long beans) for 2 minutes at high heat.
Serve all components together on a plate when done.
Finally, finish off the plate with a drizzle of the Honey & Orange Glazed Duck Breast sauce (above}.
Whether you're looking for a show-stopping centerpiece for your next holiday feast or just wanting to mix things up for Sunday dinner, look no further than roasted duck!
Need a cookware set to assist you with all the cooking tasks? Check out the below blog post. We have done all the research and picked the 7 best pots and pans for gas stove to save you time. Pick your favorite set today!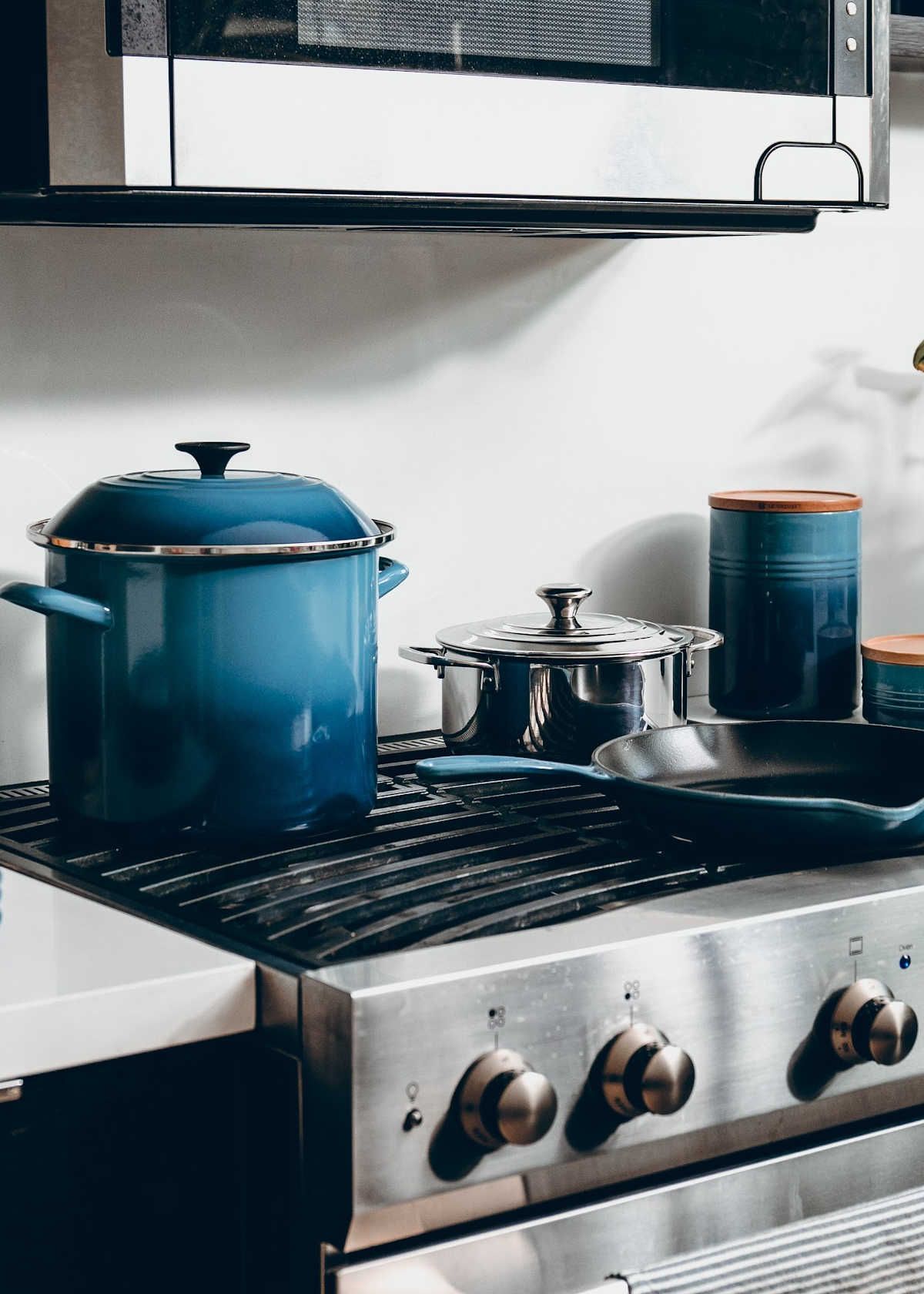 With just a little bit of prep work and some patience while it cooks slow and low in the oven, you'll have a delicious meal that is sure to please everyone at your table. Give it a try tonight!
Catchy Finds