This Beef Rouladen recipe is a great way to make a flavorful dinner that everyone will love. The combination of the thin slices of beef with the savory filling makes for a delicious meal. And if you've never had Beef Rouladen before, now's the time to get creative and experiment with different ingredients.
What Is Beef Rrouladen?
Beef Rouladen, or beef Roulades, is a traditional German dish made of thinly sliced beef that is rolled up with smoked ham, bacon, onion, and pickles inside. After browning the Rouladen in a pan, simmer it in beef broth until tender. It's often served with mashed potatoes or boiled potatoes, cucumber salad, and a generous dollop of mustard.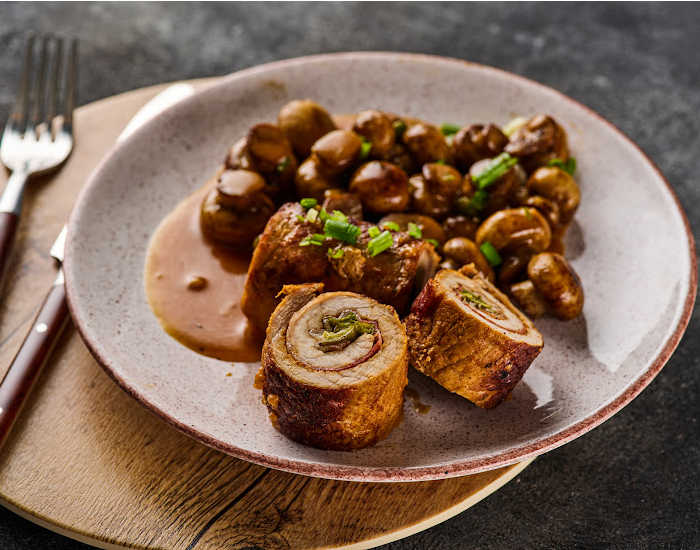 Rouladen Steak Rolls Variations
Beef and Veal Rouladen: Beef and veal can be substituted for the beef in this dish.
Beef and Pork Rouladen: The beef in this dish can be substituted with pork.
Beef, bacon and gherkin Rouladen: For this dish, consider using beef, bacon, and gherkin as your filling.
Vegetarian Rouladen: Vegetables such as mushrooms and carrots can be used instead of beef as the filling.
Rouladen Sauce Variations
Red wine sauce: Beef broth and red wine are simmered together then reduced to make the Rouladen sauce.
Cherry tomato sauce: Cherry tomato (fresh & paste), beef broth, onions are simmered together.
Dijon Mustard Sauce: To make the Rouladen sauce, cook beef broth and Dijon mustard together until thickened.
Creamy Mushroom Sauce: Rouladen sauce is made by simmering beef broth and mushrooms together then reducing it.
Onion gravy: Beef broth, onions and flour are simmered together then reduced to make a creamy onion gravy for the Rouladen.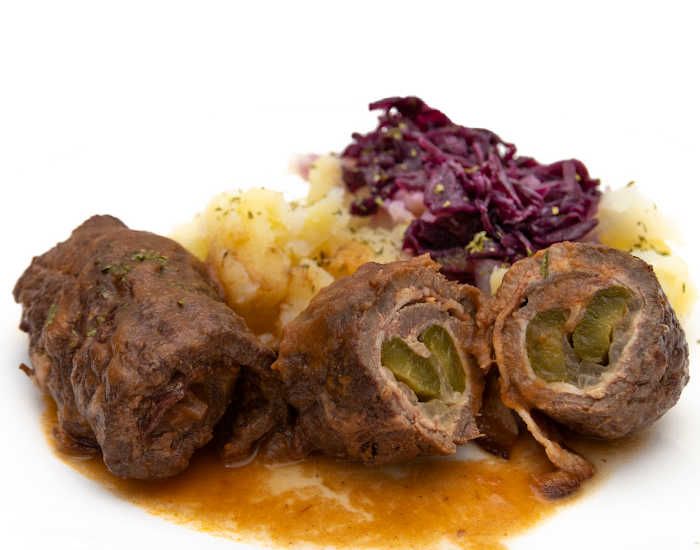 Beef Rouladen Recipe
Ingredients
8 pieces of thin, round steak (each piece weighing approximately 4 ounces)
8 tablespoons of German mustard (optional: Dijon mustard)
1 small red onion, diced finely
2 teaspoons of paprika
8 strips of smoked bacon or ham
4 tablespoons of extra virgin olive oil
3 cups of beef broth
1 tablespoon of tomato sauce
1 finely minced garlic cloves
2 tablespoons of cornstarch (or cornflour)
1/4 cup of full-fat sour cream
Pickles, sliced lengthwise into thin cucumber slices.
Make The Rouladen Steak Rolls
Place the steaks in cling film and use a meat mallet or the bottom of a heavy saucepan to flatten them. For even cooking, make sure the edges are thinner.
Before you start, season your chosen meat with salt and pepper, then place it on a clean workbench or board.
Cover each piece of meat with an even layer of mustard.
Then, add the onion slices, pickles smoked ham, and paprika. Finally, after tucking in the sides, secure the rolled steak with toothpicks or twine.
In a frying pan, heat olive oil over medium heat. Fry steak rolls in hot oil until all sides are golden brown. Depending on the amount of heat your device emits, you might need to complete this step in two or more batches.
After you've added the tomato paste, finely chopped garlic, and stock to the pot, turn up the heat until it reaches a boiling point.
Set the heat to low and simmer for 50 minutes. Remove the steak rolls from the stove when they finish cooking and set them aside.
Make The Sauce
In a bowl, whisk together the cornstarch and water to form a slurry.
Add the mixture to the liquid in the frying pan, stirring until sauce visibly thickens. Leave on low heat for about 3-4 minutes.
After removing the steak rolls, set them to the side. If you want a sauce without chunks, feel free to strain it through a sieve; however, this step is not required.
Add the sour cream and stir. Then, taste the sauce to see if it requires more seasoning before making any adjustments.
Reheat the steak rolls wrapped in sauce for a few minutes until warmed throughout. Serve with extra sauce on the side, and garnish with freshly chopped parsley leaves.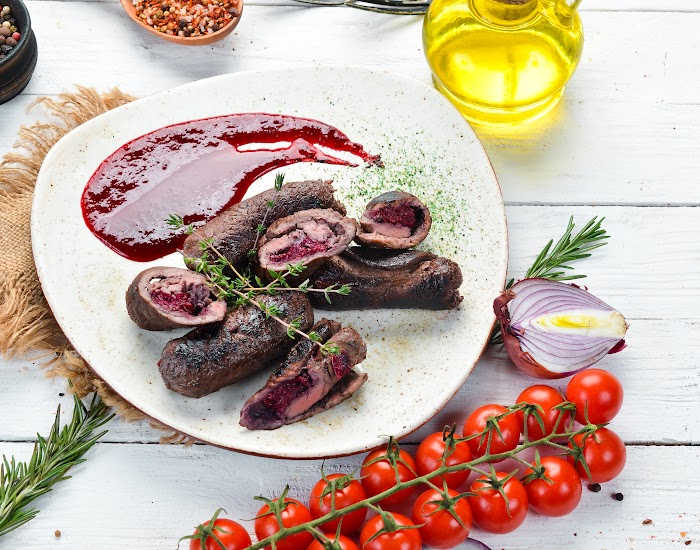 Tips & Tricks
Beef Rouladen is a great dish for entertaining guests; it looks impressive and tastes delicious!
If you want to make the dish ahead of time, you can assemble the steak rolls and store them in the fridge until you're ready to cook them.
If you don't have time to make your own sauce, you can use a ready-made beef gravy or a good quality beef stock.
Beef Rouladen can also be served with mashed potatoes or roasted potatoes.
Vegetables to be served with: green beans, mushrooms, mashed carrots. For a vegetarian version of Beef Rouladen, try substituting the beef with mushrooms, carrots, and beets.
Leftover Beef Rouladen will keep in the fridge for up to three days.
This video tutorial on how to cook Beef Rouladen from Recipe30 is a great way to enjoy a classic German dish with a twist at home. Try experimenting with different fillings, sauces, and sides to make your own unique twist on Beef Rouladen.
Need a cookware set to cook Beef Rouladen? Check out our selection of 4 best pots and pans for electric stove here! They'll make Beef Rouladen and other dishes turn out perfectly every time.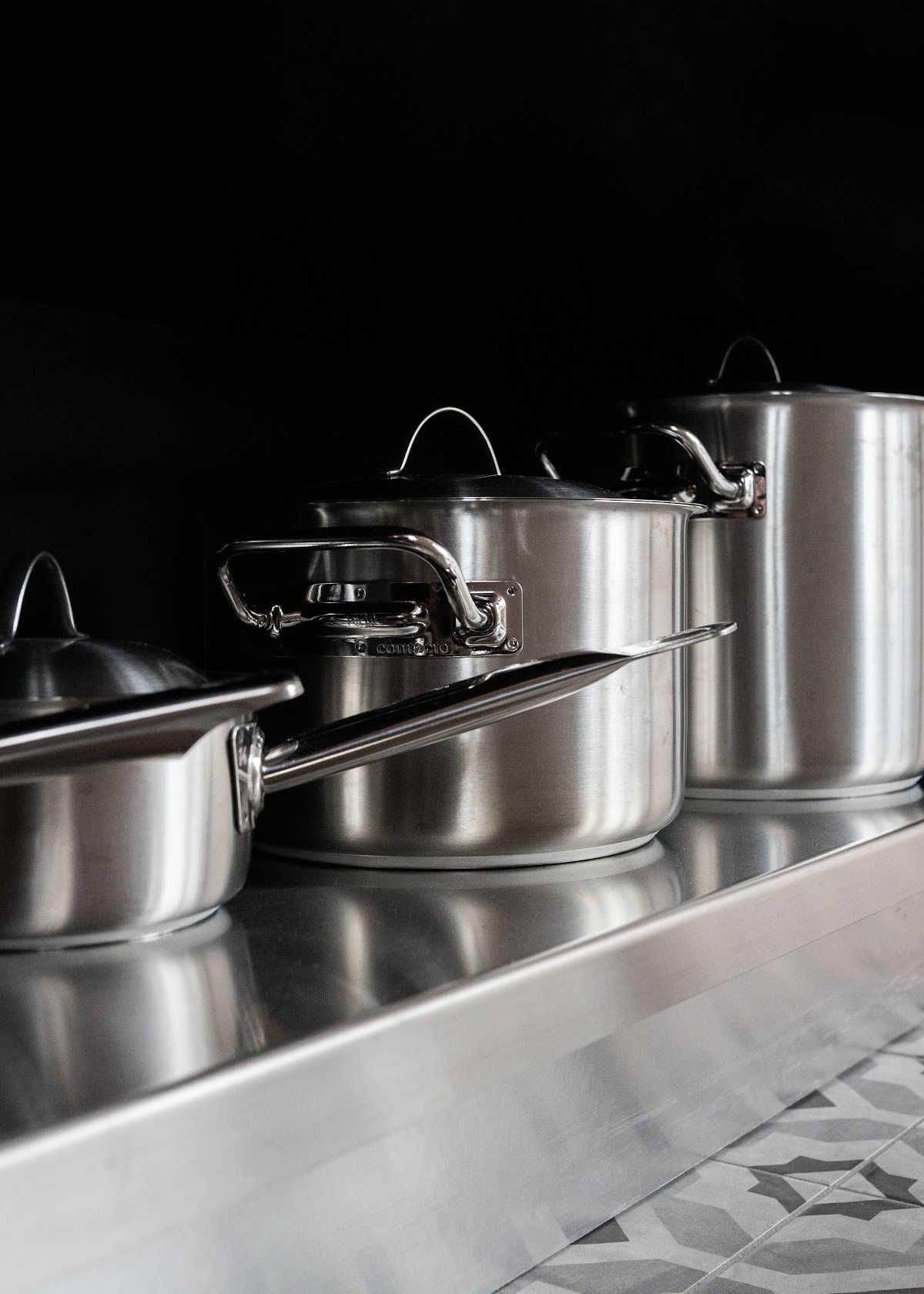 Happy cooking!
Catchy Finds