Looking to spice up your dessert game? Look no further than dark chocolate brownies with ice cream! This indulgent treat is the perfect way to satisfy your sweet tooth without compromising on flavor.
Read on for a quick and easy recipe that's sure to have everyone asking for seconds.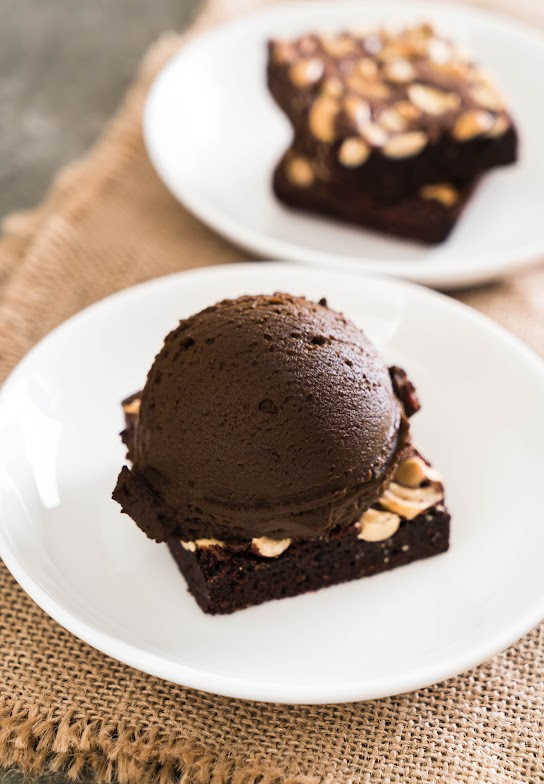 Dark Chocolate Brownies Recipe
Ingredients
8 ounces (220g) of dark chocolate, chopped
2/3 cup (150g) of butter, melted and cooled to room temperature
3/4 cup (180g) of granulated sugar
4 large eggs
1 teaspoon (5ml) of pure vanilla extract
3/4 cup (85.5g) of unsweetened cocoa powder for a rich cocoa flavor
1 teaspoon (5g) of baking powder for just the right amount of lift in your cake or muffins
A pinch of salt for enhancing the other flavors in the recipe
1 cup (100g) walnuts or cashewnuts, roughly chopped for an extra crunchy texture
Make The Dark Chocolate Brownies
Now that you've gathered all of your ingredients, preheat the oven to 365 degrees Fahrenheit before moving on to the next step.
Making The Brownies
Start by combining the dark chocolate, and butter in a pot.
Heat the pot on low heat until everything is melted, light and fluffy.
In a stand mixer, whisk the mixture of 4 eggs and sugar for 8 minutes, until thick and creamy.
Add the melted dark chocolate, cocoa powder, baking powder, vanilla extract, and a pinch of salt.
Continuously mixing for another 2-3 minutes until everything is blended nicely.
Once everything is combined well, fold in those delicious chocolate chips.
Transfer the batter to an 8x8-inch baking pan lined with parchment paper or greased with butter.
Add the chopped nuts to the mixture or sprinkle them on top of the batter.
Bake for about 20 minutes or until a toothpick inserted into the center comes out clean.
Take it out of the oven and let it cool before serving.
Serving & Enjoyment
Once your brownies are finished and cooled down enough to handle safely, cut them into squares with a sharp knife and top each square off with a scoop of ice cream! Add some extra chocolate chips if desired or drizzle with melted chocolate - whatever floats your boat!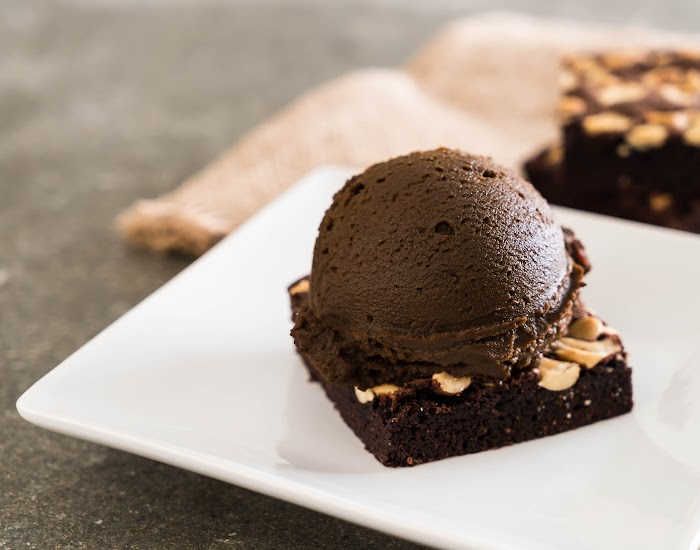 Tips & Tricks
Fudgy result: To get that classic fudgy texture, try baking the brownies for a shorter amount of time so they remain slightly under-cooked. Don't forget to whisk the batter well so that the sugar is dissolved and there are no lumps. The batter will rise and result in a fluffy brownie.
Extra sweet: If you want even more chocolatey goodness, try melting some dark chocolate chips in a bowl and mixing it into the batter. You could also add other goodies like dried fruits, or marshmallows for an extra special treat.
Nuts: are a great way to customize your dark chocolate brownie recipe. Depending on your preferences, you can use walnuts, almonds, cashews, or whatever your heart desires. The possibilities are endless!
Ice-cream: the perfect topping for dark chocolate brownies. Experiment with different flavors and combinations to find your favorite.
Vegetarians & Vegans: dark chocolate brownies are the perfect treat for everyone! You can make them vegan by substituting butter with oil and using plant-based milk or cream instead of regular dairy.
Mistakes to avoid:
Don't over-bake your brownies. This will result in a dry, crumbly texture.
Make sure the butter and chocolate are both melted before adding them to the batter. If they're not melted properly, it will affect the texture of the brownie so take your time!
Don't over-mix the batter. This will create more air bubbles and make the brownies less moist.
Also, if you want to store your dark chocolate brownies for later, make sure to wrap them in plastic wrap so that they don't dry out.
That's it - now you know how to make dark chocolate brownies with ice cream! The possibilities are truly endless when it comes to making dark chocolate brownies.
Do you need a stand mixer to whisk your cake ingredients together quickly and easily? Check out our blog post below, where we've gathered the 5 best affordable stand mixers on the market, so you can start a fun baking journey!
Get creative and keep experimenting with different ingredients and toppings to find your favorite recipe.
Enjoy your dark chocolate brownies. This easy recipe will become a family favorite in no time. Happy baking!
Catchy Finds