When it comes to desserts, simplicity is often the key to success. And when it comes to sponge cake, you can't get any simpler than combining light and fluffy cake with the sweetness of fresh fruit and a dollop of freshly whipped cream.
The combination of flavors is simply divine! Here is what you need to know about making your sponge cake with fruit and whipped cream.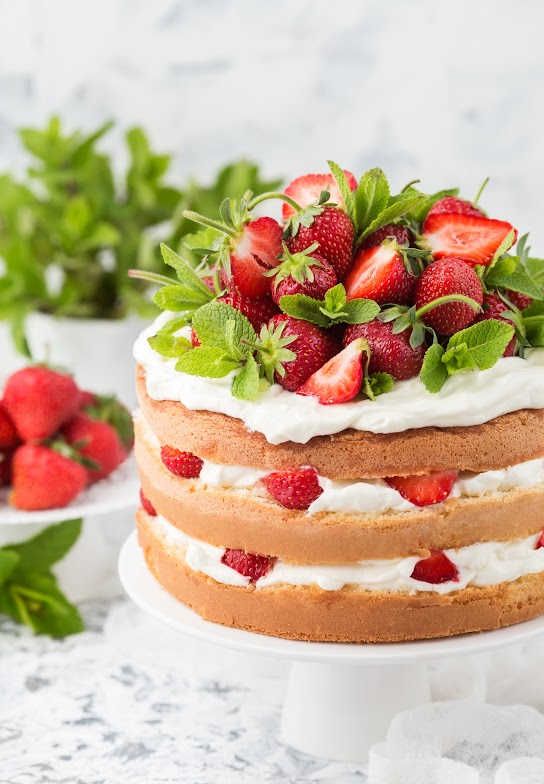 Making The Sponge Cake
Sponge cakes are made from two main ingredients: eggs and sugar. Egg whites are beaten until they form stiff peaks, while egg yolks are mixed with sugar until light and creamy.
To the batter, you can add a delightful flavor of vanilla or dark chocolate, as well as the richness of cocoa powder.
Then, the egg whites are folded into the yolk mixture before baking in a round spring-form pan for about 35 minutes at 350°F. It's important not to over-bake the cake as it will become dry.
Once cooled, cut the top off so that it has an even surface for layering on the fruit, and slice the cake to about two inches thick.
Adding Fruits To Your Cake
The fun part about sponge cake is that you can layer it with any type of fruit you have available in the fridge or pantry. Fresh fruit is a great way to add flavor, texture, and colors to your sponge cake.
Strawberries, blueberries, raspberries, blackberries, red currants, kiwis - the possibilities are nearly endless! For best results, mix together different types of berries or use seasonal fruits like peaches or mangoes.
If desired, you can also sprinkle some powder sugar over the top of your berries for garnish and extra sweetness.
Whipping Up The Whipped Cream
The finishing touch? A generous dollop of freshly whipped cream! To make homemade whipped cream simply mix heavy cream in a chilled bowl with a mixer on medium speed until soft peaks form (about 3-5 minutes).
Add powdered sugar to taste if desired then layer it over your prepared sponge cake and fresh fruit for an extra special treat!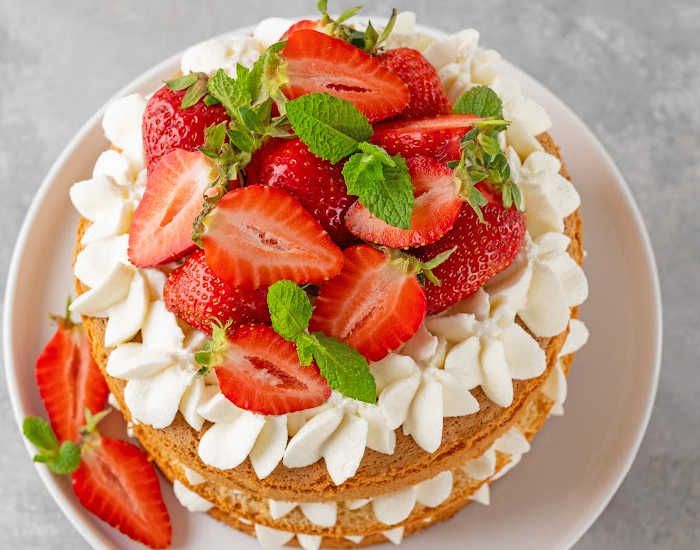 Step-By-Step Guide
Ingredients:
2 cups (250g) all-purpose flour
3/4 cup (150g) sugar
4 large eggs separated
1 teaspoon (5ml) vanilla extract
2 tablespoons (30g) cocoa powder
2/3 cup (150ml) milk
1/4 teaspoon (1.25ml) salt
3 tablespoons (45g) butter, melted
Fruits of choice (i.e. strawberries, blueberries, raspberries, blackberries, red currants, kiwis)
1 cup (240ml) heavy cream
2 tablespoons (30g) powdered sugar, optional
Instructions
Before you begin, turn the oven to 350°F (175°C) and generously coat a 9-inch round cake pan with butter or oil. Place a parchment paper circle on the bottom for easy removal later.
In a stand mixer, combine the flour, baking powder, and salt.
In a different container, mix the egg yolks with 1/2 cup of sugar until it is light and airy. Stir in the vanilla extract as well as cocoa powder to complete the mixture.
In another bowl, beat the egg whites until stiff peaks appear, and then slowly incorporate the remaining 1/4 cup of sugar.
Carefully mix the egg whites into the yolk mixture and slowly stir in your flour until fully incorporated. Pour in the milk and melted butter, stirring continuously until a homogeneous batter forms.
Carefully pour the batter into the prepped pan and bake for approximately 35 minutes, or until a toothpick inserted in the center comes out clean.
Once finished baking, remove from oven and let cool completely before serving.
To prepare the deliciously fluffy whipped cream, place chilled heavy cream in a bowl and use a hand mixer to beat until soft peaks form. For added sweetness, you can add powdered sugar of your choice!
Cut the cake into delectable two-inch slices and layer each piece with a variety of seasonal fruits.
Drizzle plenty of freshly whipped cream over the top, and it's time to indulge in this heavenly treat!
---
Can I Put Whipped Cream Between Cake Layers?
Adding whipped cream between the layers of sponge cake is a great way to add extra sweetness and moisture to your cake.
Just make sure you wait until the cake has cooled completely before adding the whipped cream. You can also add a layer of fresh fruit between each sponge cake layer if desired. Enjoy!
How Do You Keep Fruit From Sinking In Sponge Cake?
To prevent fruit from sinking in your sponge cake, make sure the cake has cooled completely before layering on the fresh fruit. This will help hold the fruit in place and keep it from sinking.
It's also helpful to sprinkle some flour over the top of the cake before adding the fruit, as this will provide an extra barrier against the fruit sinking.
---
Tips & Tricks
Feel free to experiment with different types of nuts, chocolate chips or dried fruits to add more flavor and texture.
To give your sponge cake an extra kick, try adding a teaspoon of ground cinnamon or nutmeg to the batter before baking.
For an extra special treat, try adding a layer of lemon curd or raspberry jam between the sponge cake layers. Yum!
If you're feeling decadent, try adding a layer of chocolate ganache between the sponge cake layers.
If you're feeling adventurous, try making a sponge cake with fruit and meringue frosting! Simply make a batch of homemade meringue, add some berries or pureed fruit and spread it over the top of the cake.
Deliciously fluffy sponge cake filled with your favorite fruits and topped with freshly whipped cream - a decadent treat that's sure to impress!
Struggling to find the perfect stand mixer for your cake-baking needs? Look no further! Read our blog post and make an informed decision on which one will be best suited for you. Get baking today!
With these simple steps—making sponge cake, adding fresh fruit and topping with whipped cream—you can have a delicious dessert that looks as good as it tastes!
So next time you're looking for something sweet but don't want all the fuss give this easy-to-make sponge cake! Happy baking!
Catchy Finds