Cheers to lemon raspberry cake—a colorful twist on classic dessert favorites that's sure to be a hit with the crowd! With its delicious flavor combination and easy-to-follow instructions, this cake is perfect for any occasion. Gather your ingredients and make it tonight and see what all the fuss is about! Read on!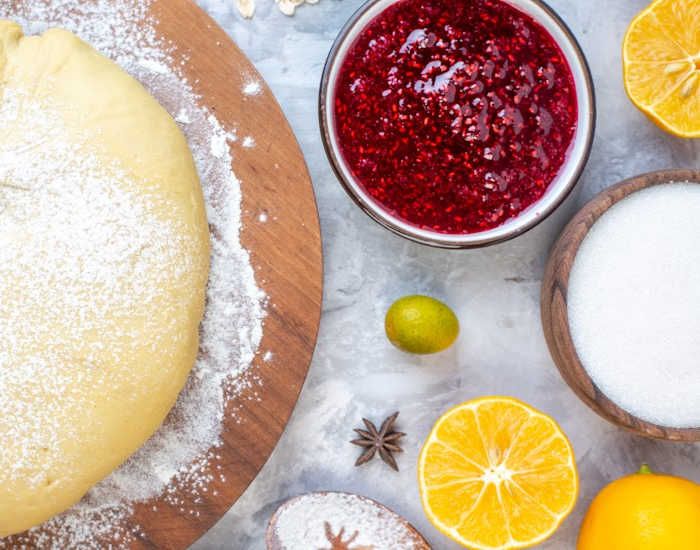 Lemon Raspberry Cake Recipe
The Raspberry Lemon Filling:
16 ounces (454 grams) of fresh or frozen raspberries
5 ounces (142 grams) of fine-granulated sugar
1 tablespoon of freshly grated lemon zest
1 tablespoon of freshly squeezed lemon juice
1/2 cup (4 ounces/ 120 ml) of water
1 tablespoon of cornstarch
Raspberry Lemon Cake:
13 ounces (370 grams) of cake flour
12 ounces (340 grams) of fine-granulated sugar
1/2 teaspoon of salt
2 teaspoons of baking powder
1/2 teaspoon of baking soda
8 ounces (228 grams) of unsalted butter, at room temperature and cut into cubes
8 ounces (237 ml) of buttermilk or regular milk with 1 tablespoon of white vinegar
3 ounces (6 tablespoons) of vegetable oil
3 large eggs, beaten until homogeneous
2 tablespoons of freshly grated lemon zest
2 tablespoons of freshly squeezed lemon juice
2 teaspoons of natural lemon extract
2 tablespoons of all-purpose flour, for dusting the fresh raspberries
12 ounces (340 grams) of raspberries
The Cream:
4 ounces (113 grams) of egg whites, at room temperature
16 ounces (454 grams) of unsalted butter, also at room temperature
16 ounces (454 grams) of sifted powdered sugar, for sweetness and texture
1 teaspoon (5 ml) of lemon extract, for a subtle citrus note in the finished product
2 teaspoons (10 ml) of salt, to help bring out all the flavors in the recipe
4 ounces (113 grams) of raspberry puree, for a bright and tart flavor contrast with the sweetness
How To Make The Layered Lemon Raspberry Cake
Preheat oven to 350°F (177ºC).
Grease a 9-inch round cake pan with butter and line the bottom with parchment paper.
To prepare the raspberry lemon filling, combine raspberries, sugar, zest and juice in a saucepan over low heat.
Stir until combined and cook for 8 minutes or until the raspberries have softened. Add water and cornstarch and stir until combined.
Simmer for 4 minutes or until thickened. Set aside to cool completely before using.
To make the cake, in a stand mixer, sift together cake flour, sugar, salt, baking powder, and baking soda.
Add butter cubes to the flour mixture and beat with an electric mixer on low speed until crumbly.
In a medium bowl, combine buttermilk or regular milk with white vinegar and oil.
Add eggs to the mixture and beat until homogeneous. Add lemon zest, juice, and extract to the egg mixture and stir until combined.
Slowly add wet ingredients to dry ingredients while beating on low speed.
Increase mixer speed to medium and beat until ingredients are completely incorporated.
Fold in 12 ounces of raspberries that have been lightly dusted with 2 tablespoons of all-purpose flour.
Spread batter evenly into the prepared pan (see 1.) and bake for 25 minutes or until a toothpick inserted comes out clean. Let cool in the pan for 10 minutes before transferring to a wire rack.
To make the cream, combine egg whites and butter in a stand mixer. Beat on medium speed until light and fluffy.
Gradually add powdered sugar and continue beating for about 10 minutes or until combined.
Add lemon extract, salt, and raspberry puree to the mixture and beat for an additional 5 minutes or until light and fluffy.
Assemble cake by layers: a bottom layer of cake, raspberry lemon filling, cream, another layer of cake, and top off with cream.
Dust the top of the cake with powdered sugar before serving. Enjoy!
There you have it - an easy yet scrumptious dessert that won't take up too much time out of your busy day but will satisfy any sweet tooth cravings you may have had throughout the day!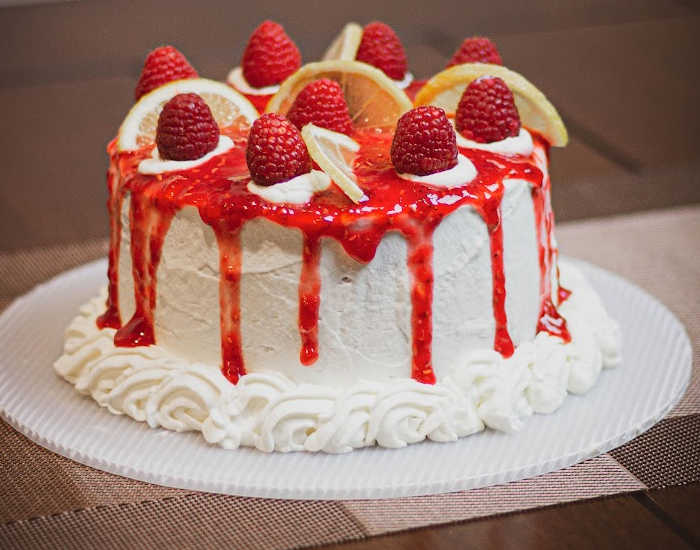 Why Is My Lemon Cake Not Fluffy?
If your lemon cake is not fluffy, it could be because the batter was over-mixed. Over-mixing can cause the gluten in the flour to become overdeveloped and create a dense texture. To prevent this from happening, mix the ingredients until just combined.
Also, make sure you are using room-temperature ingredients and that you are measuring everything accurately. Lastly, ensure that you are baking at the correct temperature and for the recommended amount of time.
Tips & Tricks
For an extra zing, add 1 teaspoon of grated ginger to the cake batter.
To make the cream even fluffier, chill it in the refrigerator for an hour before using it.
If desired, you can also pipe extra decorative swirls of cream on top of the cake.
For an added crunch, garnish with some chopped toasted almonds or hazelnuts.
If you don't have fresh raspberries on hand, frozen ones will work just as well. However, make sure they are thawed and drained before using them in the recipe.
You can use store-bought jam for cake filling if you can't make it. However, you may want to consider adding some fresh or frozen raspberries to give them a more homemade flavor.
This lemon raspberry cake is a perfect mix of sweet and tart flavors. With a soft, moist cake and a creamy lemon raspberry filling, each bite will be an absolute delight.
Need a stand mixer to assist you with preparing the cake? Check out the blog post below. We have reviewed and picked out the 5 best affordable stand mixers, ready for you to shop without spending hours researching.
So grab those ingredients from your kitchen cupboards and the grocery store, and get ready for a tasty treat with this cake. Enjoy!
Catchy Finds