Who doesn't love a good red velvet cake? This dessert is beloved by many due to its sweet, moist texture and delightful mix of flavors. But what if you could make your own delicious red velvet cake from scratch?
If that sounds like something you'd be interested in, these two recipes are for you to choose! Let's get baking.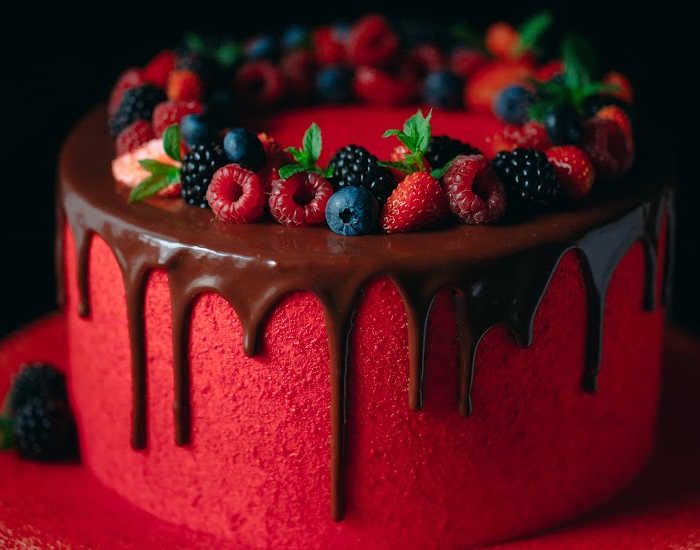 How To Make Red Velvet Cake: 2 Recipes
1. Red Velvet Sponge Cake With Cream & Berries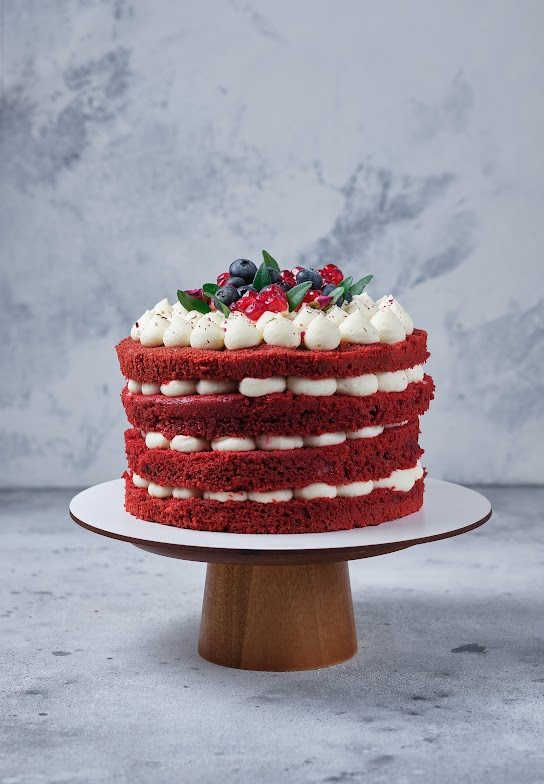 Gather your ingredients
2 ½ cups of all purpose flour
1 teaspoon of baking powder
Pinch of salt
3/4 cup of softened butter
2 cups of sugar
3 large eggs, lightly beaten
2 tablespoons red food coloring
1 teaspoon vanilla extract
1 cup buttermilk
Cream cheese frosting
1 pint of red raspberries
Other berries for decoration (optional)
Make the sponge cake
Preheat oven to a temperature of 350°F (177°C).
Prepare two 9-inch round cake pans by generously coating them with grease, followed by lining each pan with parchment paper.
In a medium bowl, sift together the all-purpose flour, baking powder, and salt.
Place the softened butter and sugar in another bowl, then whisk until it's light and airy.
Beat in the eggs, red food coloring, and vanilla extract.
Alternate between folding in the dry ingredients and buttermilk until everything is combined.
Divide the batter evenly between the two pans.
Bake for 25-30 minutes, or until the toothpick you inserted into the center of your baked good comes out clean.
Let cool in the pans for 10-15 minutes, then remove to a wire rack and cool completely.
Once the red velvet cakes have cooled completely, spread the cream cheese frosting between the two layers.
Add red raspberries and other berries as desired.
Slice and serve, or keep in the fridge until ready to eat.
2. Easy Red Velvet Cake Recipe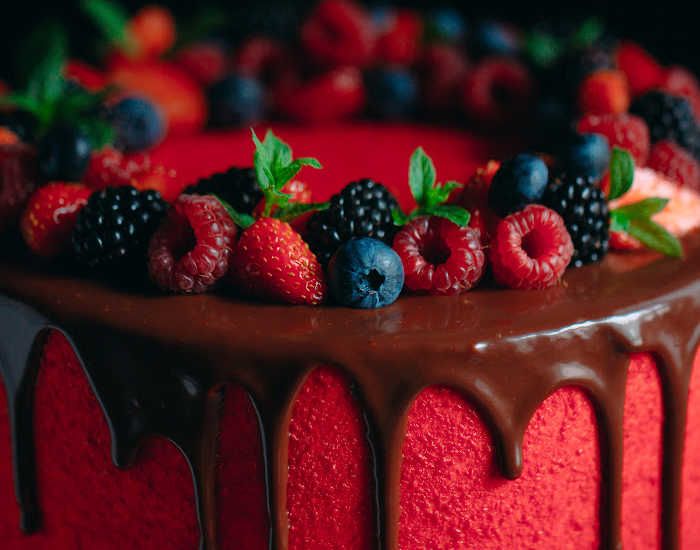 Gather your ingredients
2 and 1/2 cups all-purpose flour or cake flour
1 tsp baking soda
1/2 cup unsalted butter, softened
2 cups granulated sugar
2 large eggs
1 cup red food coloring
2 tsp distilled white vinegar
1 tsp vanilla extract
1/4 tsp almond extract
1 and 1/2 cups buttermilk
For red cream and chocolate coating
1 cup red cream cheese frosting
1 cup semi-sweet chocolate chips
Berries mix for decoration (optional)
Make the red velvet cake
Preheat oven to 350°F (177°C).
Grease and flour two 9x2 inch round baking pans.
In a medium bowl, mix together the cake flour, baking soda and butter.
In a large bowl, beat together the sugar, eggs, red food coloring, vinegar, vanilla and almond extracts until smooth and creamy.
Add the flour mixture to the sugar mixture and beat on low speed until combined.
Gradually add the buttermilk, mixing until just combined.
Divide the batter between the prepared pans.
Bake for 25 to 30 minutes or until a toothpick inserted in the center of the cakes comes out clean.
Allow cakes to cool completely before turning them onto a cooling rack to cool.
Once the cakes are cool, place one layer on a serving plate. Spread red cream cheese frosting on top of the first layer.
Place the second layer on top. Spread red cream cheese frosting over the entire cake.
Heat the chocolate chips in the microwave in 20 second intervals, stirring after each interval until smooth and creamy.
Make your chocolate cream presentation unique by filling a plastic bag with it and using the piping technique to fill red velvet cake layers with alternating colors of red and chocolate. Let the chocolate harden before serving.
Add red raspberries and other berries on the top of the cake for decoration as desired. Enjoy your delicious red velvet cake!
Tips & Tricks
Add a few drops of red food coloring to the cream frosting for a deep red color and perfect red velvet cake look.
For an even redder color and richer flavor, use red velvet cake mix or red velvet cake batter instead of making it from scratch.
For a variation, use red velvet cake mix and add white chocolate chips or diced strawberries for added flavor.
For an even easier red velvet cake recipe, use red velvet cake mix and add melted white chocolate, cream cheese frosting and red raspberries.
For red velvet cupcakes, bake them in muffin tins instead of round pans.
If red velvet cake is too sweet for your liking, try adding a pinch of salt or lemon juice to the mixture for a more balanced flavor.
Top red velvet cakes with cream cheese frosting and red raspberries for a beautiful red and white cake presentation.
Searching for the best affordable stand mixer can be a daunting task. That's why we've done all of the hard work for you! We've rounded up our favorite top 5 selections and compiled them in one convenient blog post. Discover your perfect baking companion today!
And there you have it folks—simple yet sassy recipes for red velvet cake! Whether you're baking up something special for your loved ones or just treating yourself after a long day, these two recipes have got you covered!
So preheat that oven and get cooking! Bon appétit!
Catchy Finds