This berries mousse cake is sure to tantalize taste buds and please even the pickiest of eaters. With this fruit mousse cake recipe, you can create an unforgettable dessert experience. Read on for step-by-step instructions on how to make this decadent treat!
Mousse Cake Recipe
For The Strawberry Confiture:
8.8 oz. (about 250g) of strawberry purée
1/3 cup (about 63g) of sugar
1 ½ tablespoon (12g) of cornstarch/corn flour
2 ½ teaspoons (12g) gelatin powder
2.36 fl oz. (70ml) of cold water
For The Cake Layer:
3/4 cup (80g) all-purpose flour
1/3 cup plus 1 teaspoon (60g) of fine-granulated sugar
4 tablespoons (60g) unsalted butter, softened
1/2 teaspoon of baking powder
1/8 teaspoon of baking soda
A pinch of salt
1 large egg, lightly beaten
2.2 ounces (60g) of strawberry purée
1 teaspoon of pure vanilla extract
For The Lemon Vanilla Mousse:
2 1/4 teaspoons (approx. 18g) of gelatin powder
1/2 cup (approx. 100ml) water
2 cups (approx. 480ml) milk
1 ½ cups (approx. 360ml) of heavy cream
3/4 cup (approx. 150g) of sugar
6 tablespoons (about 90g) of unsalted butter
6 medium-sized egg yolks, lightly beaten
3 1/3 tablespoons (28g) cornstarch
1 ½ teaspoon of pure vanilla extract
Finely grated lemon zest, and divided in half
For The Mirror Glaze:
1 ½ cups (about 300g) of sugar
2/3 cups (about 200g) of condensed sweetened milk
7-ounce (about 150ml) water
3 teaspoons (15g) gelatin powder
1/2 cup (about 120ml) of cold water
12.5 oz. (about 350g) of white chocolate gel coloring
8.8 oz. (about 250g) of red berries for garnish
How To Make The Mousse Cake
The Strawberry Confiture
In a small bowl, combine the gelatin and cold water.
Then let it bloom for 15 minutes. Afterward, in a separate saucepan mix sugar and cornstarch before adding strawberry puree to create your layer.
As you stir continuously, bring the mixture to a simmer until it thickens.
Then remove from heat and add in the bloomed gelatin. Stir until it all is dissolved, then let cool at room temperature.
Prepare an 18cm cake ring with plastic wrap stretched on the bottom.
Pour the mixture into the ring. Place in the freezer.
The Cake Layer
Begin preheating your oven to a moderate temperature of 320F (160C).
While you wait, mix the dry ingredients: flour, baking powder, baking soda, and salt in a stand mixer.
When properly blended, set aside until your oven is ready for use.
In a large bowl, cream together the butter and sugar until light and fluffy.
Then beat in the egg and extract vanilla for an even mixture.
Pour in the strawberry purée to make it smoother before gradually adding flour bit by bit while stirring with a spatula or spoon until all is blended perfectly smooth.
Gently pour the mixture into an 18cm (7-inch) cake ring and bake for 25 minutes.
Let it cool completely before releasing it from the ring.
Then use a knife to even out the top layer of your delicious creation before transferring it to the freezer for preparation for its next stage.
The Lemon Vanilla Mousse
In a tiny bowl, combine the gelatin and cold water. Let it rest for 15 minutes until bloomed.
In a small saucepan, heat the milk with lemon zest and vanilla extract - just make sure not to let it boil.
Once finished, set aside your mixture to cool down later.
In a large saucepan, mix sugar and cornstarch. Once combined, whisk in egg yolks until smooth.
Then gradually add warm milk slowly through a sieve while continuing to whisk the mixture continually.
Finally, heat it over the low-medium flame for about 8 minutes or until thickened.
Once off the heat, add butter and blend until it's completely blended.
Add the bloomed gelatin and combine until melted.
Cover with plastic wrap and let cool to room temperature.
Beat heavy cream into soft peaks, then gently incorporate milk mixture; stir evenly throughout.
How To Construct The Fruit Cake
Line a 20 cm (8-inch) cake ring with plastic wrap and press evenly.
Pour half of the mousse mixture into it, shake lightly to level out, then freeze for 5 minutes.
Center spoon in some strawberry confiture onto the frozen layer before pouring in the remaining mousse - leave 1 cm at the top so you can spread it smoothly.
Once the confiture layer is thoroughly spread, carefully place the cake on top and press it in with a gentle touch.
Subsequently, secure plastic wrap over the entire thing and freeze for at least 8 hours before beginning to make a mirror glaze.
To remove from ring mold, use a hair dryer to thaw any frozen edges.
Then take off the collar and re-freeze until ready to assemble.
Make A Mirror Glaze
Begin by blending gelatin and cold water in a small bowl. Allow the mixture to sit for 15 minutes before proceeding.
Then, pour sugar, sweetened condensed milk, and add water into a medium-sized saucepan and set over low heat.
Stir regularly until all of the sugar has melted away and the concoction begins to simmer slightly.
At that point, take off the heat, then mix in your bloomed gelatin stirring constantly until it is dissolved completely within the blend.
Gently pour the hot mixture over the white chocolate and let sit for 5 minutes.
Then, blend until fully combined before adding any food coloring of your choice.
Sieve to ensure a smooth texture then allow it to cool to 90-95F (32-35C) before pouring it onto the frozen cake.
Once you have poured your glaze on top, wait 10-15 minutes before removing any drips with a spatula and place them into the refrigerator until ready for consumption.
Add the red berries (strawberries, raspberries, cranberries) on top of the cake for decorations.
Tips & Tricks
If you want to save time on the mousse prep, use frozen mousse mixtures instead.
You can also substitute the strawberry confiture with other fruit mixtures like blueberry or raspberry.
For a light mousse cake, use whipped cream instead of meringue.
Need a cookware set for prepping your cake? Check out the below blog post. We have reviewed and picked 4 best pots and pans sets and grab your favorite one.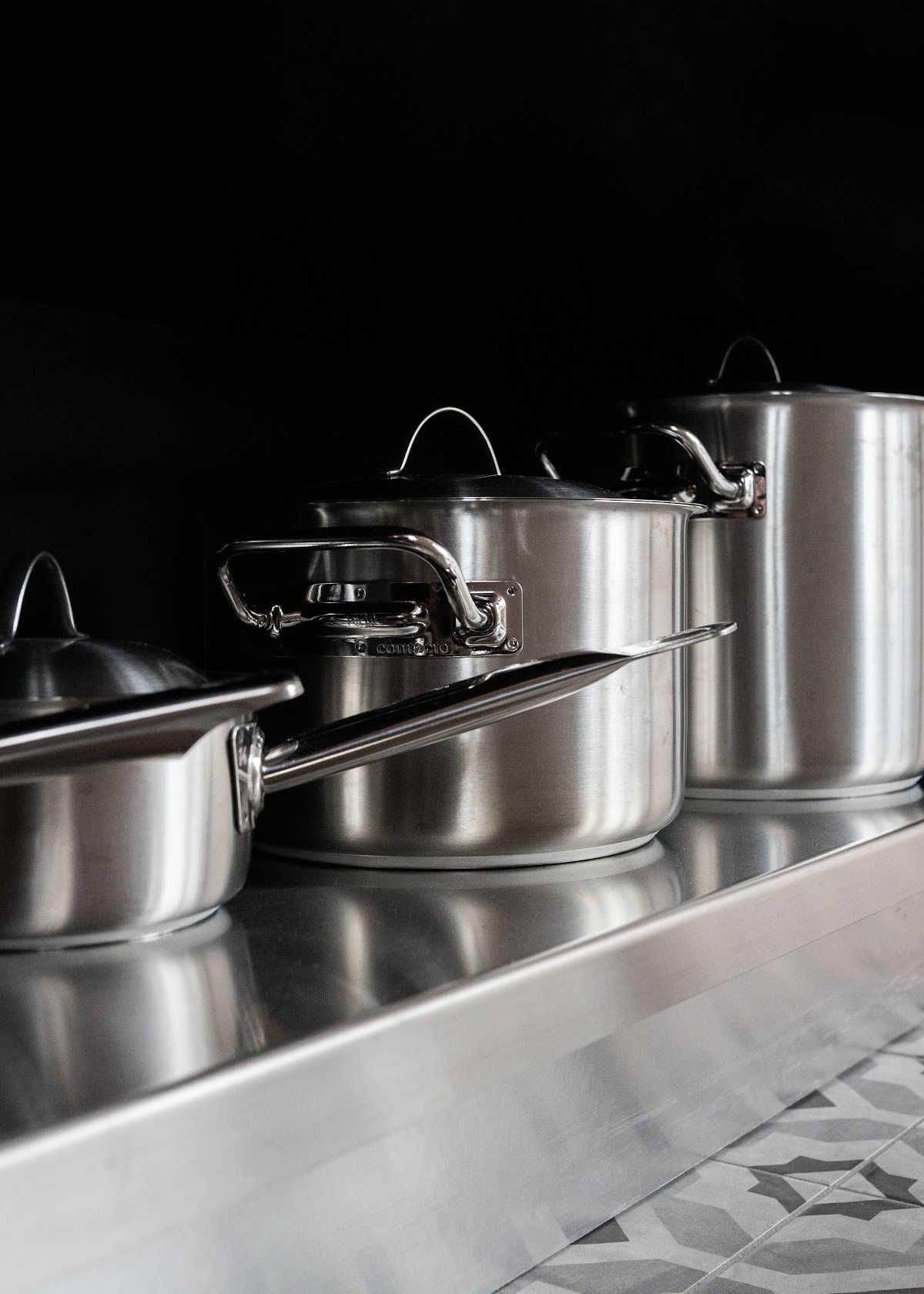 You can transform this mousse cake from basic to beautiful, and is sure to satisfy your sweet cravings.
Catchy Finds