Get ready to travel through Europe (in your kitchen) and explore 3 unique fried dough ball recipes from Italy, Spain, and The Netherlands. So let's get fried-ing!
Dutch Oliebollen: Fried Dough Balls Recipe
If you're looking for a sweet treat that packs a punch, Dutch Oliebollen is definitely an option worth trying. The traditional tasty deep-fried doughnuts are filled with raisins and coated in powdered sugar.
These delectable treats are best served warm and are a favorite must-have food among the Dutch families during the New Year holiday.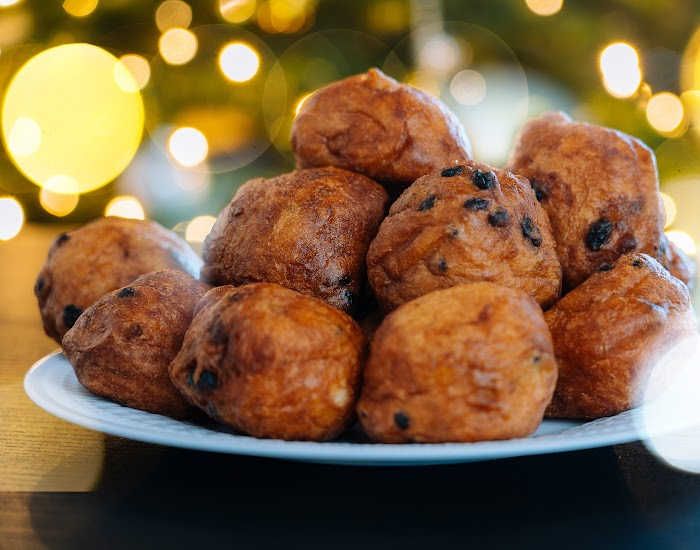 Today we'll share with you our own unique recipe for the best Dutch Oliebollen that you have ever tried. An inventive take on a classic Dutch recipe, this dish is sure to surprise you!
We have been perfecting a secret recipe for some years, which we have eagerly shared with our Dutch friends and neighbors - all of whom have raved about it!
Ingredients:
1 cup (250 grams) of all-purpose flour
1 teaspoon (5ml) of baking powder
2 large eggs, lightly beaten
(The 3 above ingredients: flour, baking powder and eggs can be skipped and replaced by a ready Oliebollen dough mix)
1/2 cup (100g) of light brown sugar, packed
1/2 cup (120ml) of whole milk, at room temperature
1/2 cup (120ml) of beer, such as a lager or ale, at room temperature
1/2 cup (100g) of dried raisins
1/2 cup (100g) of dried cranberries
A pinch of fine sea salt
1 tablespoon (15ml) freshly grated orange and lemon zest
High-quality oil for frying, such as vegetable or canola oil
Powder sugar for garnish
Instructions:
Mix 2 dried fruits in a bowl, add 1 cup (240ml) of warm water. Let it sit and soak for 45-60 minutes.
After the dried fruits have become plump and tender, save any left-over water. Don't discard this liquid - store it instead to use with your wet components down the line! (This liquid adds the natural sweetness and flavor to the fried dough balls).
In a large bowl, mix the flour, baking powder, sugar and salt. Set aside. (The flour and baking powder can be skipped and replaced by a ready Oliebollen dough mix)
In a separate bowl, whisk together the eggs, milk, and beer.
Add the dried fruits water that has been saved in step 1 into the milk and beer mixture. Stir all.
Pour the wet ingredients into the dry ingredients and stir until just combined; do not overmix it.
Add in the dried fruit and citrus zest and mix one last time lightly to combine them with the batter.
Cover the batter, let it raise for about 100-120 minutes. (It can be ready after 60-70 minutes, but the longer it rests, the lighter fried dough balls you'll have after frying).
When ready, heat the oil in a large pot over medium-high heat until it reaches 375°F (190°C).
Carefully drop spoonfuls of the batter into the hot oil and fry until golden brown.
Drain fried oliebollen on a paper-towel lined plate to absorb the extra oil.
Enjoy with your favorite toppings and garnish with powdered sugar.
Zeppole: Italian Fried Dough Balls
Italian fried dough balls—also known as Zeppole—are light and fluffy and usually served in the shape of a ring. They are made with flour, sugar, eggs, butter, yeast, and salt.
This indulgent fritter is typically dusted with a sprinkle of powdered sugar, and can be filled to your taste with creamy custard, luscious jelly, delectable cannoli-style pastry cream or an irresistible butter and honey mixture.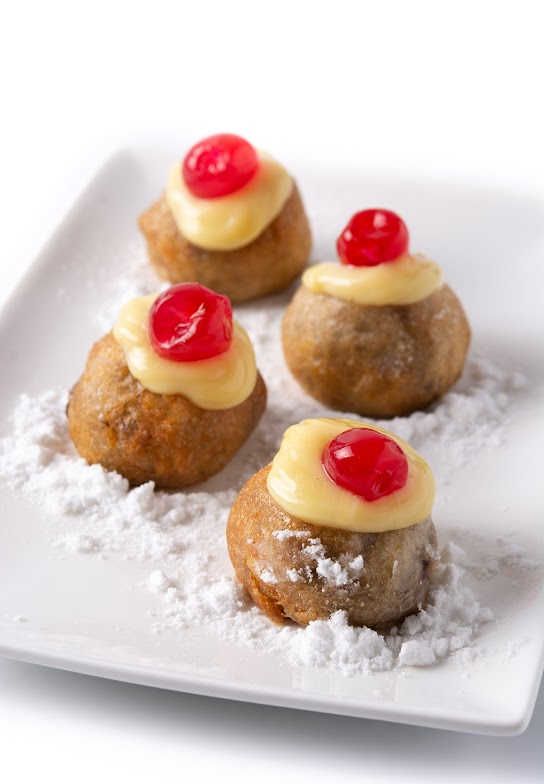 How To Make Zeppole
In a medium bowl, mix together 1 cup of all-purpose flour, 2 tablespoons of sugar and 1 teaspoon of salt.
In a separate bowl, whisk together 1 egg and 2 tablespoons of melted butter.
Pour the egg and butter mixture into the bowl with the dry ingredients and mix until a soft dough forms.
Transfer the dough to a lightly floured surface and knead for 3 minutes.
Shape the dough into small balls and deep fry in oil until golden brown.
Let cool for 10 minutes before sprinkling with powdered sugar.
Buñuelos: Spanish Fried Dough Balls
Spanish fried dough balls—known as Buñuelos—are fried pieces of flatbread made from flour, milk, egg, and sugar. They are fried in hot oil until they become golden and crispy, then covered with cinnamon and sugar. Try dipping them in honey or chocolate for an extra indulgent treat!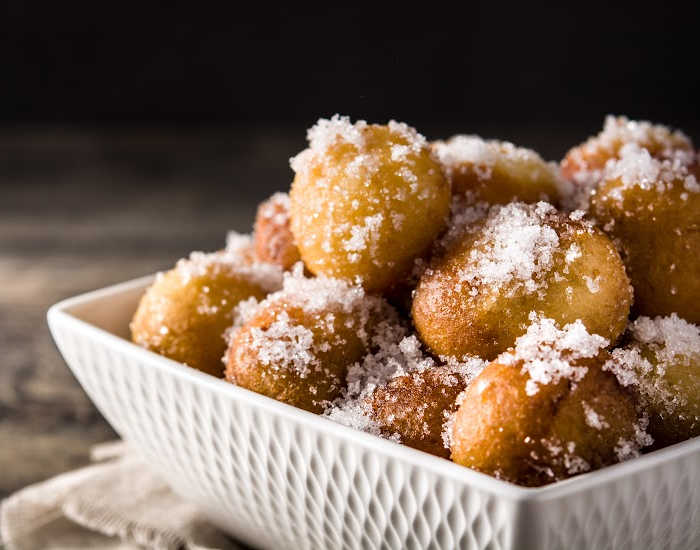 How To Make Buñuelos
In a medium bowl, mix 2 cups of all-purpose flour, ¼ tsp. baking powder, and a pinch of salt.
In a separate bowl, whisk together ½ cup of milk, 1 egg, 2 tablespoons of sugar and 1 tablespoon of vegetable oil.
Gradually add the wet ingredients to the dry ingredients and mix until you have a soft dough.
Cover the dough with a damp cloth, and let it rest for 30 minutes.
Heat oil in a deep fryer to 350°F. Using your hands, form the dough into small balls.
Gently drop the dough balls into the hot oil and fry for about 2 minutes, until golden brown.
Remove fried dough balls from the oil using a slotted spoon and transfer to a plate lined with paper towel.
Sprinkle with cinnamon sugar, or your favorite toppings. Enjoy!
Tips & Tricks
Let the fried dough balls cool for about 5 minutes before serving. This will help the fried dough balls to firm up and absorb more flavor from the toppings.
For a twist on the traditional Dutch fried doughnuts, substitute diced apples and cinnamon for raisins and cranberries. You can also replace cranberries by dried red currants.
If you're feeling adventurous, give fried dough balls an Italian twist and fill them with a creamy ricotta filling or a luscious raspberry jam.
All three of these fried dough ball recipes bring something special to the table — so why not try all three? Need a cookware set to make all your dishes? Check the below blog post and pick your favorite one!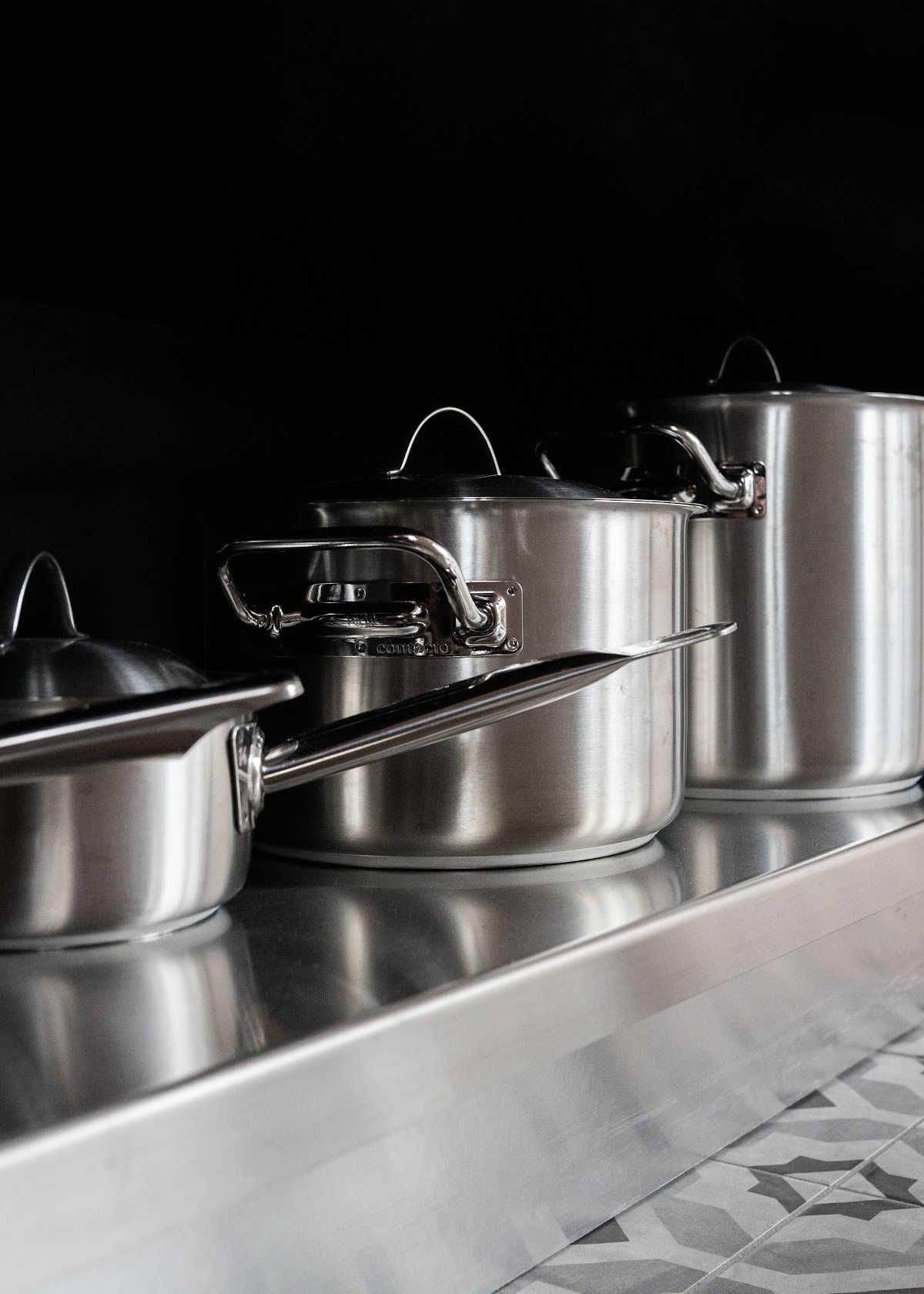 Happy frying!
Catchy Finds