Nothing says "celebration" like a delicious, moist, spongey layered tres leches cake.
If you want to take your tres leches game up a notch, you should experiment with tres leches layering and how to make one. Read on for more details and grab your layered tres leches cake recipe!
What Is Tres Leches Cake?
Tres leches cake is a traditional Latin American dessert made with three kinds of milk (hence the name "tres leches"). Tres leches cakes are traditionally made in one single layer and they're delicious that way.
However, if you're looking to impress your guests or switch things up, try making it in two, three, or even more layers. Not only will it look gorgeous on your table, but adding extra layers will give the cake an extra boost of flavor and moisture.
Plus, layering allows you to get creative—try alternating different flavors of tres leches between each layer or combining different fruits for a fruity twist.
The sponge cake is usually flavored with vanilla extract, cocoa powder, chocolate, or sometimes even cinnamon. The milk used for soaking can vary but typically consists of evaporated milk, sweetened condensed milk, and heavy cream.
This combination creates a rich and creamy texture that pairs wonderfully with the light and airy sponge cake.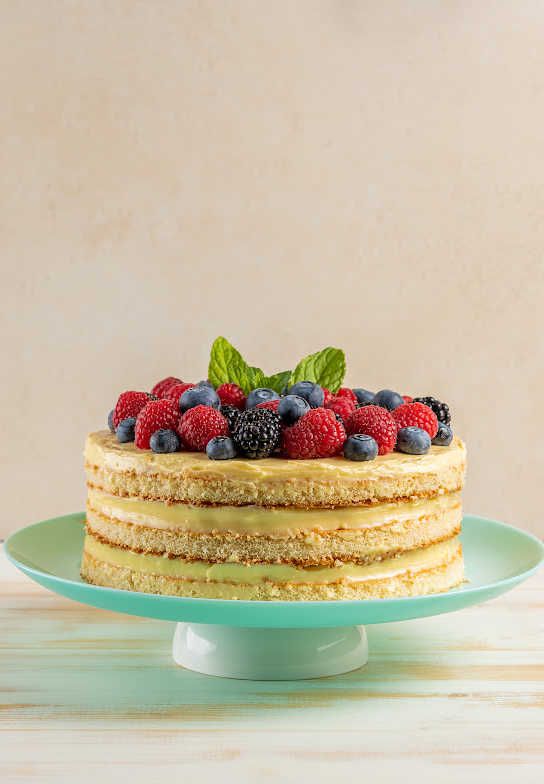 3 Leches Cake vs. 4 Leches Cake
Cuatro Leches Cake - the 4 leches cake: luscious layers of sponge cake, lovingly soaked in a sweet syrup made from dulce de leche or caramel. The 4 types of milk are evaporated milk, condensed milk, heavy cream, and whole milk; topped with smooth whipped cream frosting – this is the exquisite delight known as Cuatro Leches Cake.
Tres Leches Cake - the 3 leches cake: layers of moist and fluffy sponge cake, layered with a delicious cream made from evaporated milk, condensed milk, and heavy cream. To finish it off, Tres Leches Cake is also topped with whipped cream frosting.
Layered Tres Leches Cake With Fruit
If you want to make your tres leches experience even more special, then try experimenting with different kinds of layering techniques as well as incorporating fresh fruits into the mix.
Adding peaches, mangoes, strawberries or blueberries, raspberries or blackberries between the layers adds both flavor and visual appeal to this already-mouthwatering dessert.
The possibilities are endless when it comes to making this classic dessert even more delightful.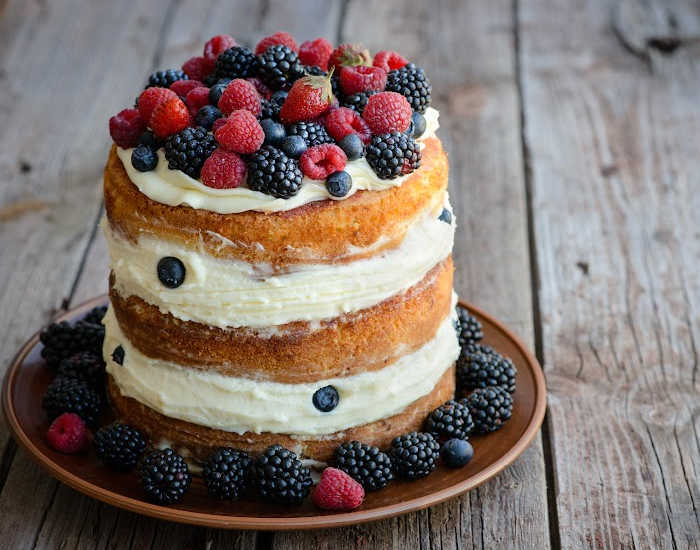 Berry Tres Leches Cake Recipe
For this version, top on the vanilla sponge cake layers with all berries. For topping off, make a mascarpone whipped cream frosting instead of traditional whipped cream – this twist on an old favorite takes your dessert from good to great!
Ingredients
For The Sponge Cake:
6 jumbo-sized eggs
1 cup (7.05 oz/ 200 g) of white fine-granulated sugar
1 cup (4.4 oz/ 125 g ) of all-purpose flour as the base of the cake batter
1 teaspoon of vanilla extract
1 teaspoon of baking powder for the cake rise
For Mascarpone Frosting:
2 cups (18 ounces/ 500 g) of mascarpone cheese, softened at room temperature, for creaminess and texture
2 teaspoons (10 ml) pure vanilla extract for additional flavor
2 tablespoons (30 ml) sweetened milk (optional: condensed milk or evaporated milk)
1 cup (120 g / 4.2 oz ) confectioner's sugar for sweetness and texture
2 cups (500 ml / 18 oz ) heavy cream, which adds richness and helps stabilize the frosting
For Tres Leches:
1 cup (8 fl oz / 240 ml) of sweetened condensed milk as a base for making tres leches
1/2 cup (4 fl oz / 120ml) of evaporated milk for added richness
1/2 cup (4 fl oz / 120ml) of heavy cream for a creamy finish
6 cups (48 oz/ 1.500 grams) of various berries (blueberries, blackberries, raspberries, strawberries) for filling and garnish.
Instructions
Preheat the oven at 350°F (176°C)
Coat a 9-inch springform pan with nonstick spray for the perfect, stick-free baking experience.
In a stand mixer beat the eggs on high speed until light and foamy then slowly add in the sugar while beating until combined.
Sift in the flour and baking powder, then mix until combined.
Pour the batter into the prepared springform pan and bake for 25 minutes or until a toothpick inserted in the center comes out clean.
Let cool completely before assembling the layered cake.
For mascarpone frosting, beat together all the ingredients until light and fluffy.
For tres leches, whisk together all three types of milk in a large bowl then set aside.
To assemble the layered cake, take one sponge layer and put it on a cake stand or plate.
Drizzle with some of the tres leches mixture then sprinkle with some of the berries.
Top with another sponge layer, drizzle with tres leches, and then top with mascarpone frosting.
Repeat until all layers are used up, garnishing the top with more tres leches and berries before serving. Enjoy!
Tips & Tricks
For an extra special layered tres leches cake, you can use different types of fruits for each layer.
If you don't have a springform pan, you can use regular cake pans and just assemble the layered cake as directed.
If preferred, you can also use a classic whipped cream frosting or just a simple dusting of powdered sugar to finish off the layered tres leches cake.
Looking for the best stand mixer for dough to help you with all of your whipping jobs? Check out our blog post below and find the one that best fits you.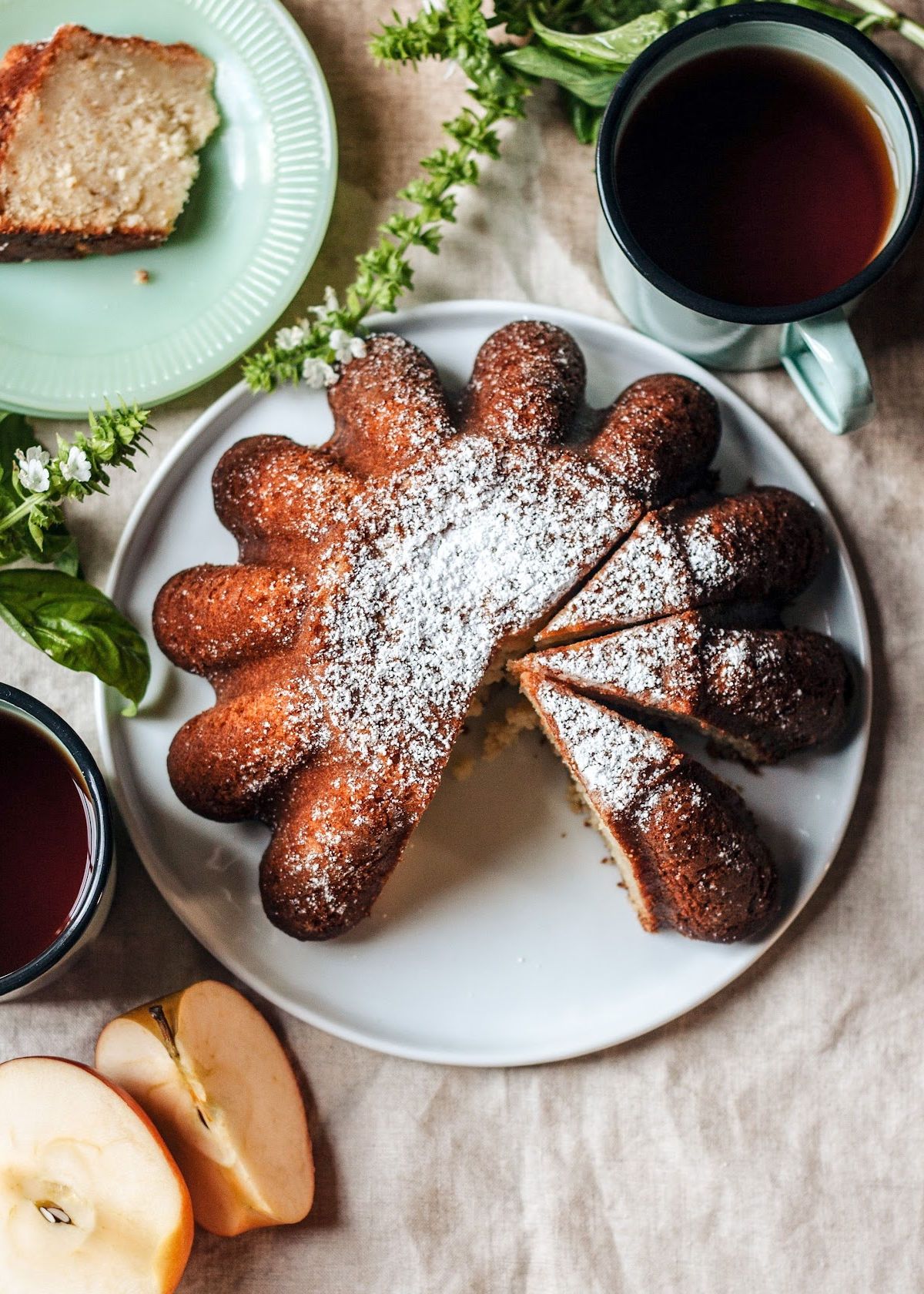 So get creative in the kitchen and whip up something special today. Let's get baking...and layering!
Catchy Finds