Do you want to take your hummus game up a beet? We all know traditional hummus is amazing, but beet hummus? Well that's a whole other level of yumminess.
This delicious beet hummus recipe is perfect for your next party or potluck. It can be enjoyed as an appetizer or snack. It's easy to make, and it's sure to be a hit with your guests!
What Is Beet Hummus Made Of?
Beet hummus is a creamy, flavorful dip made from chickpeas, beetroot, tahini, lemon juice, garlic, and cumin. Optional ingredients such as paprika and olive oil can also be added for extra flavor and texture.
Why Beet Hummus?
Beet hummus is a colorful and nutritious appetizer that's sure to wow your guests! Not only is it full of flavor, but it's also packed with vitamins and nutrients. Plus, it's vegan-friendly and gluten-free, making it a great option for those with dietary restrictions.
What Goes With Beet Hummus?
Beet hummus pairs well with all sorts of dippers, like pita chips, crackers, and veggies. It also makes a great spread for sandwiches or wraps.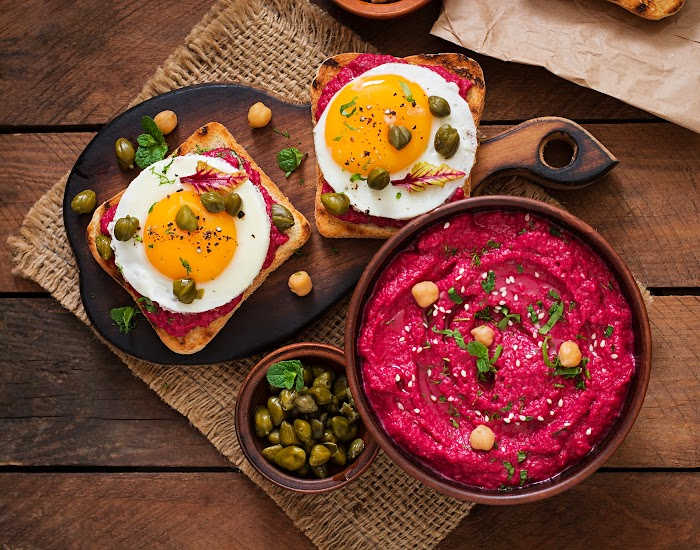 How To Make Beet Hummus
Ingredients
1 can chickpeas, drained and rinsed
1 roasted beet, peeled and cubed
1/4 cup tahini
1/4 cup lemon juice
2 cloves garlic, minced
1 tsp ground cumin
Salt and pepper, to taste
Olive oil, for drizzling
Paprika, for garnish (optional)
Preparation
Add all ingredients except olive oil and paprika to a food processor or high-powered blender. Puree until smooth.
Taste and adjust seasoning as necessary. If the hummus is too thick, add a little water until it reaches the desired consistency.
Drizzle with olive oil and sprinkle with paprika before serving. Enjoy!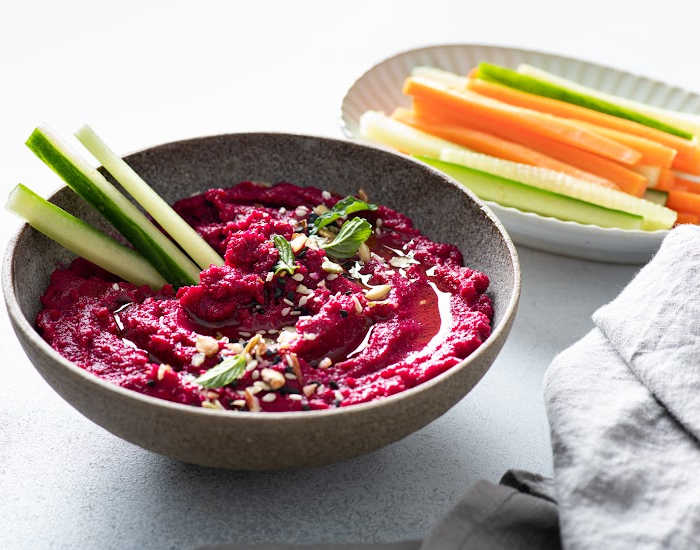 Should I Peel My Beets Before Roasting?
No, you don't need to peel your beet before roasting. Simply wrap it in foil and roast for 45 minutes or until tender. It's best to peel your beet after it cools down a bit. This will make it easier to peel without burning yourself.
Does Beet Hummus Have Carbs?
Beet hummus does have carbs. One serving of beet hummus contains about 17 grams of carbohydrates. Hummus is mostly a carbohydrate-based food, although it does contain some protein as well. A single serving of hummus contains about 3 grams of protein.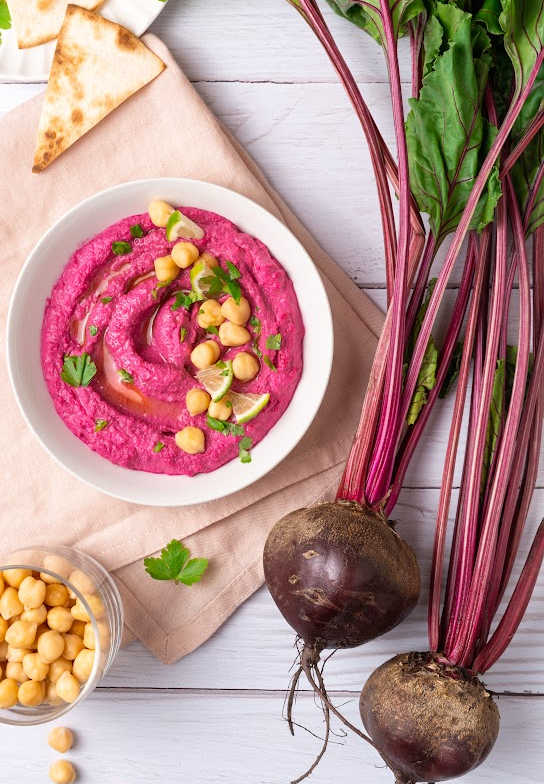 Tips & Tricks
For a spicier beet hummus, add a few dashes of hot sauce or red pepper flakes.
If the beet hummus is too thick, add a little water until it reaches the desired consistency.
Beet hummus can also be used as a dip for vegetables or spread on sandwiches and wraps.
For extra flavor, drizzle beet hummus with olive oil and sprinkle with paprika before serving.
Make beet hummus ahead of time and store it in an airtight container in the fridge for up to 5 days.
With its creamy texture and bright flavor, beet hummus is the perfect dip for any occasion! It's an easy and delicious appetizer or snack that's sure to wow your guests!
We know it's hard to decide which blender is best for your kitchen. That's why we put together a list of the 5 best glass blenders available on the market today. Whether you're looking for something durable or powerful enough to handle soups and smoothies, we've got you covered.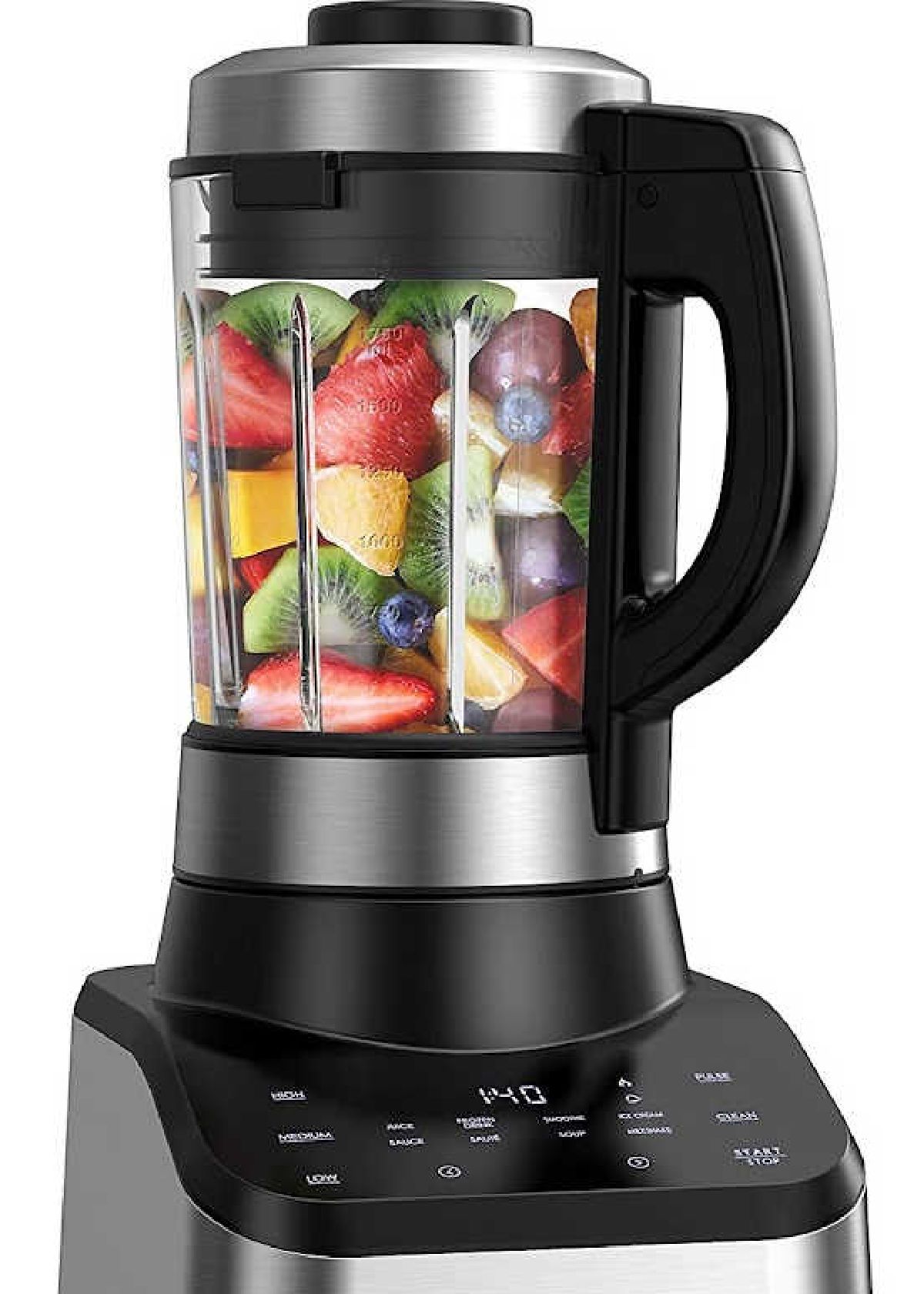 This easy beet hummus recipe is sure to be a crowd-pleaser. Serve it with some fresh pita bread or veggies. Happy beet-ing!
Catchy Finds