Beetroot soup. It's the latest trend sweeping the nation. But what is it? Why is it so popular? And most importantly, is it any good? Let's find out.
What Is Beetroot Soup?
Beetroot soup is, simply put, a soup made from beetroots as its main ingredient. It's gotten popular in recent years as a healthy alternative to other, more traditional soups like chicken noodle or tomato.
But just because it's healthy doesn't mean it doesn't have flavor; in fact, many people say that beetroot soup is both delicious and nutritious.
Beet Soup vs Borscht
Borscht is a traditional Eastern European soup made with beetroots and often originating from Russia, Poland, Ukraine. Beet soup, on the other hand, can be any kind of soup that has beetroot as its main ingredient.
Borscht usually contains other vegetables such as potatoes, carrots, tomatoes, and cabbage, and it is often served cold. Beetroot soup, meanwhile, can be served hot or cold.
---
How To Make Beetroot Soup
Making beetroot soup is easy—all you need are a few simple ingredients and some time. Here's what you'll need:
Ingredients
3 large beetroots
1 onion
2 cloves of garlic
4 cups of vegetable broth
Salt and pepper to taste
Optional: half a cup of cream, for extra richness
Instructions
Chop the onion and garlic finely, then sauté them in a large saucepan with some vegetable oil.
Peel and chop the beetroots into small cubes, then add them to the pan.
Pour in the vegetable broth, bring to a boil, then reduce heat and simmer for 20 minutes or until the vegetables are tender.
Remove from heat and leave to cool slightly before blending the soup either in a blender or food processor.
Add salt and pepper to taste, then return to the pan and heat until warmed through.
If desired, stir in half a cup of cream for extra richness.
Serve warm with crusty bread or croutons.
---
How Do You Cut Beetroot For Soup?
To prepare the vegetables, first trim the greens to 1 inch on a cutting board. Cut off the tail of the beet next. Peel the skin with a vegetable peeler, then cut into small cubes or slices.
Is Beetroot Soup Good for You?
Beetroot soup is packed with vitamins and minerals, and since it's low in calories and fat, it's a great option if you're trying to watch your weight. Eaten regularly, beetroot soup can help lower blood pressure and improve circulation. So not only is it delicious—it's good for you too!
Is Beetroot Soup Good For Skin?
Beetroot soup is packed with antioxidants that can help promote healthy, glowing skin. Plus, the vitamin C found in beetroots helps to reduce inflammation and keep your skin looking smooth and radiant.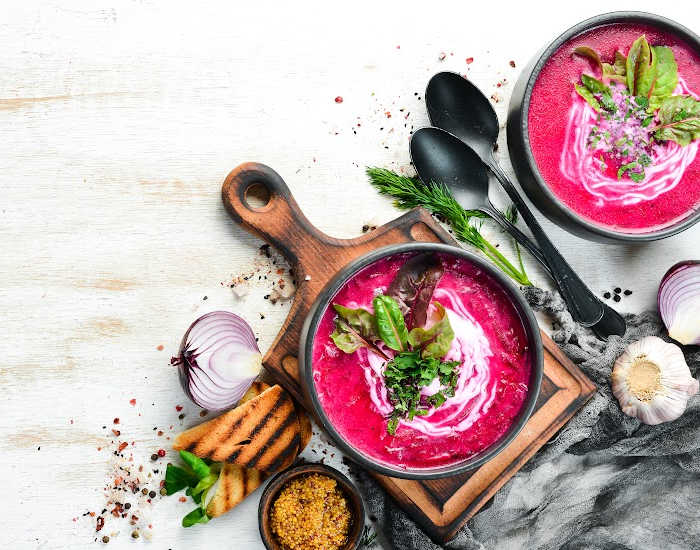 Beetroot Soup Variations
1. Thai style beetroot soup:
This Thai beetroot soup incorporates green curry paste to give it a flavorful twist. The creamed coconut adds richness and body without diluting the soup with liquid like coconut milk would.
2. Horseradish Beetroot Soup:
The horseradish provides a piquant heat while the apple balances with sweetness, both of which elevate the hearty flavor of the beets. The hazelnuts add a creamy richness and tie everything together.
Tips & Tricks
Beetroot soup tastes best when made with fresh, organic ingredients.
To add extra flavor to the soup, try adding a pinch of nutmeg or cumin.
Beetroot soup can be served cold, but it's best enjoyed warm.
For a vegan or vegetarian option, you can use vegetable broth instead of chicken or beef broth.
Beetroot soup is a great way to get the benefits of beetroots without the mess of roasting or boiling them.
Beetroot soup is a great accompaniment to a salad, sandwich, or grilled cheese.
Beetroot soup can also be served with a dollop of sour cream or Greek yogurt for added creaminess.
If you're looking for a durable, high-quality blender that can handle soups and smoothies with ease, then look no further! We've compiled a list of the 5 best glass blenders on the market. With so many great options to choose from, you're sure to find the perfect one for your kitchen.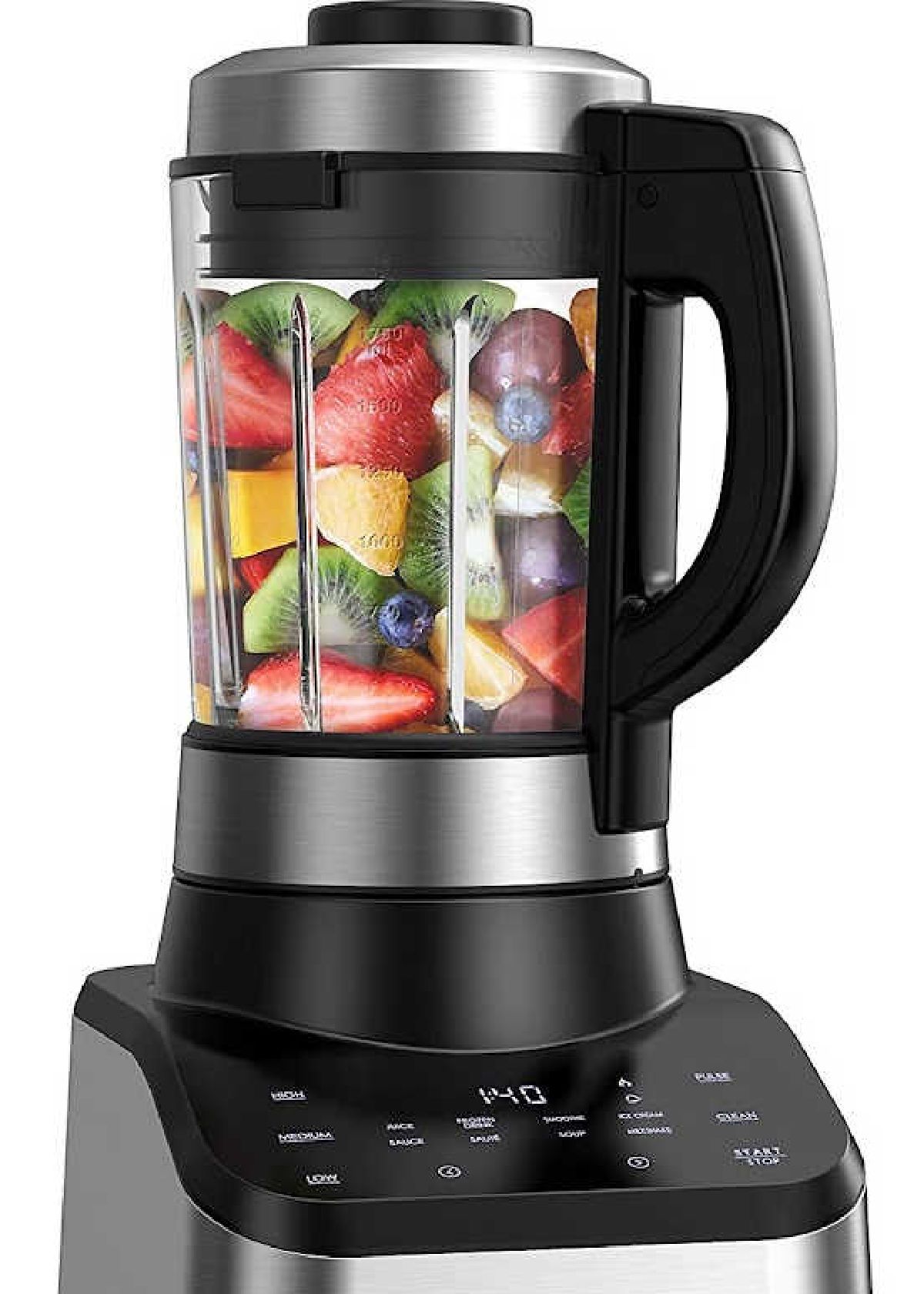 Easy to make and even easier to eat, this unique soup is sure to become a new favorite. So what are you waiting for? Get out there and give it a try!
Catchy Finds