In the mood for something a little different? Tired of the same old lettuce-based salads? This vibrant, earthy roasted beetroot salad is perfect for light weeknight dinners, and every occasion. And, best of all, it's easy to make. Read on and try it!
The Origins Of Beetroot Salad
Beetroot salad is believed to have originated in ancient Rome, where it was served as a starter or side dish. The salad eventually made its way to medieval Europe, where it became a popular peasant food.
During this time, the salad was usually made with boiled or pickled beetroots and was often spiced with vinegar or mustard.
The Health Benefits Of Beetroot Salad
Beetroot Salad is a nutritious and delicious dish that can provide many health benefits. Beetroot is packed with vitamins, minerals and powerful antioxidants which can help reduce inflammation, improve blood circulation and promote heart health. Beetroot is also high in fiber which can aid in digestion and weight loss.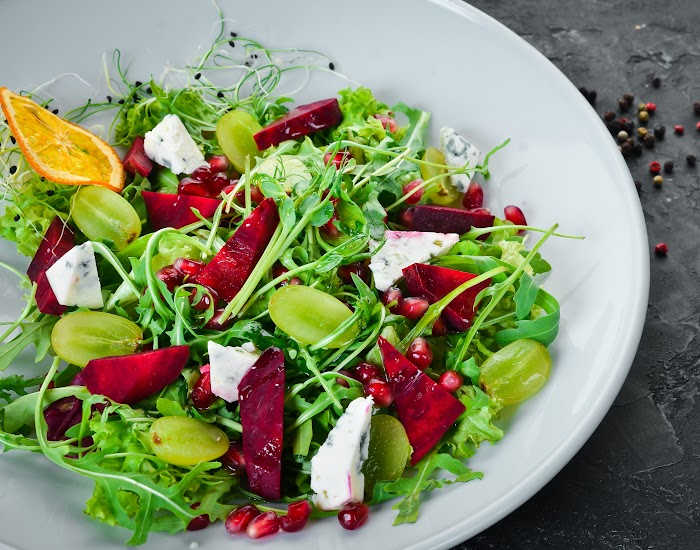 Can You Eat Raw Beetroot In Salad?
It is not recommended to eat raw beetroot in salads. Raw beetroots can be quite tough and difficult to digest. It's best to cook beetroot first, either by boiling or roasting it, before adding to salads.
How To Make Roasted Beetroot Salad
Ingredients
For the roasted beetroot:
8-10 beetroots (2 pound - 1kg)
Salt & pepper to taste
Olive oil
3 tablespoons of balsamic vinegar.
For the dressing:
1/4 cup olive oil
2 tablespoons balsamic vinegar
1 tablespoon honey
1 lemon, zested and juiced
1 teaspoon of dried oregano
2.5oz (70g) walnuts
2 garlic cloves, minced
For the salad:
7oz (200g) rocket lettuce
3.5 oz (100g) feta cheese
Instructions
Cut the large beetroots in half and place them in a roasting pan.
Drizzle with balsamic vinegar, olive oil and season with salt & pepper until they are well coated all around.
Cook the dish for 45 minutes at a temperature of 350 degree F (180 degrees Celsius), or until it is soft. If the bottom of the pan starts to get dark in color, just add a little water.
Once it is cooked through, take it out and leave it to cool off until it is cold.
Roast the walnuts in an oven-proof pan for 5 minutes while the oven is still hot.
Keep a close eye on them as they will burn easily once roasted.
Remove from the oven, let cool, and roughly chop.
In a large bowl, whisk together the balsamic vinegar, mustard, honey, minced garlic and dried oregano.
Add the grated zest of one lemon and the juice. Slowly drizzle in olive oil as you whisk. Season with salt and pepper to taste.
Mix the salad: Start by cutting the beetroots into small cubes, about 2cm or 1 inch in size.
Add them to a bowl along with the rocket lettuce and feta cheese (saving 1/4 of feta cheese for later).
Add the roasted walnuts and mix everything together well.
Once everything is coated in dressing, serve the salad and top with the saved, crumbled feta cheese.
Enjoy this delicious and nutritious beetroot salad!
What Goes Well With Beetroot Salad?
Beetroot salad is so versatile and can go with almost anything. Here are some of our favorite sides to serve beetroot salad with:
Many roasted vegetables that you can enjoy, such as potatoes, apples, grapes, blueberries, carrots, cucumbers, fennels, garlic cloves, lemons, lettuces, onion, oranges, parsnips, radicchio, zucchinis.
Grilled chicken, grilled pork, salmon or fish
Nuts and seeds for a crunchy texture
Pickles or olives
Beet hummus
Beetroot and feta cheese tart
Beetroot soup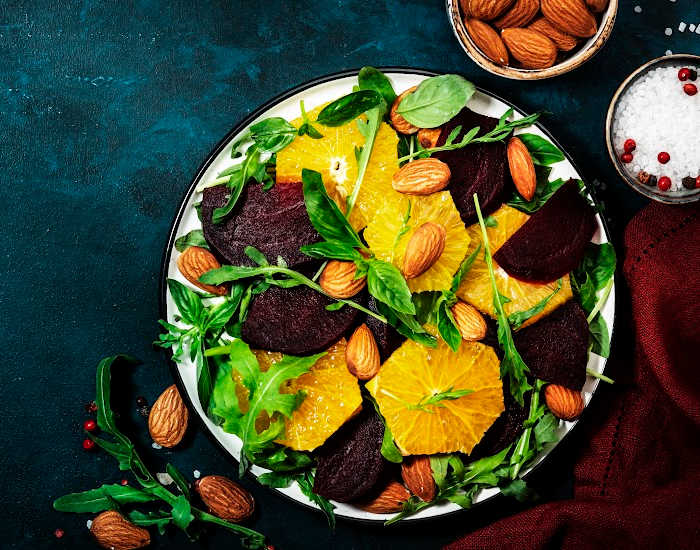 More Ways To Make Roasted Beetroot Salad
There are endless possibilities when it comes to beetroot salad. Here are a few ideas on how you can mix it up:
1. Beet Salad With Carrot, Quinoa & Spinach: Add a dose of protein and nutrition with the addition of quinoa.
2. Beet & Feta Salad With Radish, Avocado & Beet Greens: For an added earthy flavor, top your beetroot salad with beet greens.
3. Beet & Beet Greens Salad With Orange, Goat Cheese & Walnuts: Give your beetroot salad a zesty twist by adding orange and goat cheese.
4. Beet & Apple Salad With Beet Greens, Feta & Walnuts: For a sweet and savory beetroot salad try adding apples.
5. Beets, Lentils, Fresh Coconut, Coriander Leaves & Lemon:  For an extra kick of protein and fiber, add lentils to beetroot salad.
---
Tips & Tricks
Beetroots can be cooked in various ways like boiling, steaming or roasting.
This salad is best served fresh and at room temperature.
It can be enjoyed as a side dish or as the main course.
Beetroot salad can be made ahead of time and stored in an airtight container in the refrigerator.
This salad is a great way to incorporate more vegetables into your diet.
For an even heartier beetroot salad, try adding grilled shrimp or salmon, or chicken.
Beetroot salad is a great way to use up any leftover root vegetables you may have.
If you're in need of a pan that can do more than roast vegetables, then look no further. Below is a blog post, we have done the research and picked the 5 top pans for roasting vegetables.
These versatile pans are perfect for small or large gatherings alike and will make your cooking experience much easier. So take a look and find the right one for you!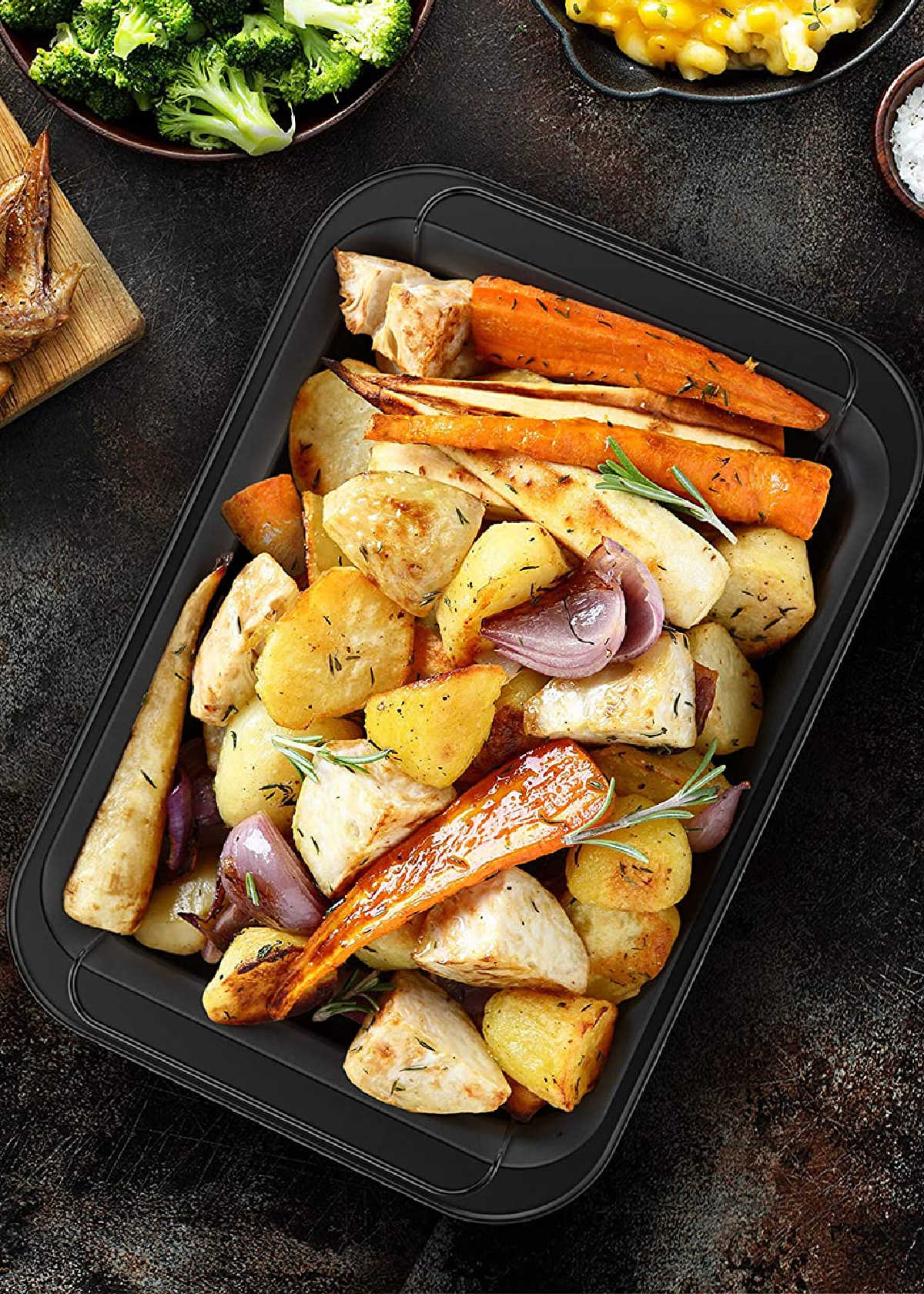 Happy cooking!
Catchy Finds