If you're looking for a fool-proof way to smoke salmon that will have your guests asking for seconds (and thirds), then look no further than these recipes.
Pellet grills offer a unique way of smoking salmon that allows you to infuse your fish with smoky flavor without drying it out. Plus, it's packed with essential nutrients like omega-3 fatty acids, vitamin D and protein that your body needs for optimal health.
With salmon on the pellet grill, you can bring restaurant-quality salmon to your own house! Before we get started, let's go through a few burning questions that you may have as well as some important steps that you can't miss before grilling salmon. So read on!
Cooking Salmon In Pellet Smoker vs Pellet Grill
The main difference between smoking salmon on a pellet smoker versus a pellet grill is the type of cooking.
On a pellet smoker, salmon is cooked over low, indirect heat while emitting a smoky flavor. It also takes more time to cook.
On a pellet grill, salmon is grilled directly over low-medium heat for a char-grilled flavor.
What Kind Of Pellet Grills Should I Use?
For salmon on the pellet grill, you'll want to use an infrared pellet grill. This type of grill allows for direct heat and is perfect for salmon, as it allows the salmon to become nicely seared on the outside while still retaining its moisture.
Now that we've got all that out of the way, let's go grilling! These recipes are simple, even the most novice cook can successfully smoke salmon like a pro.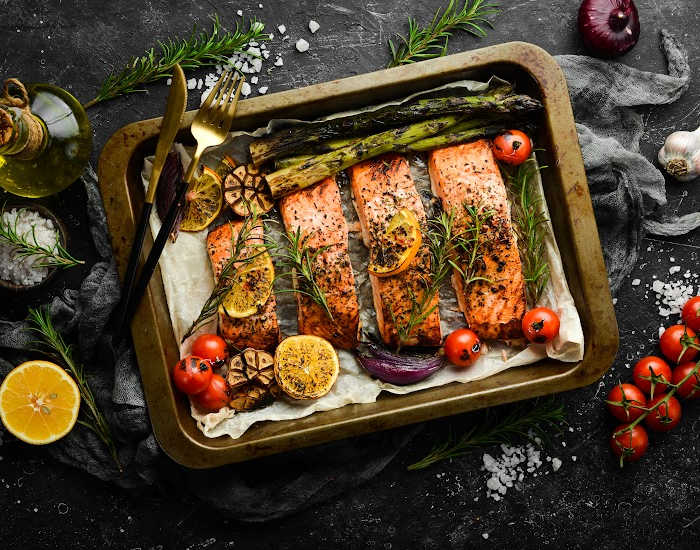 How To Keep Fish Moist When Smoking
The key to keeping salmon moist when smoking is to make sure that you prepare the fish 1 day (max 24 hours) in advance, following these steps:
1. Selecting The Salmon Fillet
Select 1 salmon fillet (1-2 lbs) with skin; it must be fresh, firm, with a vibrant color. Make sure to remove any bones or pin bones before cooking.
2. Brining & Marinating Is The Key
To ensure salmon stays moist and flavorful, brine salmon overnight in a mixture of seasoning before grilling.
Combine 1/2 cup kosher salt + 1 cup brown sugar + 1 tbsp coarse ground black pepper for the perfect mix.
Cover the baking sheet with plastic wrap.
Spread half of the mix onto the baking sheet.
Gently place the salmon fillet on top of the medley.
Finish the last half of the mix to cover the salmon.
Wrap the salmon tight with the plastic wrap.
Place the whole baking sheet with the wrapped salmon inside the fridge for 24 hours. Flip the wrapped salmon over every few hours.
After 24 hours in the fridge, take the baking sheet out.
3. Rinsing The Salmon
Don't forget to rinse salmon after brining or marinating, so you don't end up with overly salty salmon.
4. Drying The Salmon
Quick-dry your salmon by patting it dry with a paper towel or a kitchen cloth after rinsing.
5. Sweating The Salmon
Place it on a wire rack. Allow the salmon to come up to room temperature for about 2 hours before cooking with no cover. This will give the salmon time to "sweat" and release some of its moisture.
This method yields juicy, flaky salmon that's sure to be a hit. Now that you've mastered the secrets of how to smoke salmon on the pellet grill, let's get grilling!
---
How To Smoke Salmon
1. Smoking On A Pellet Smoker
Preheat your pellet smoker to 150°F.
Brush the salmon fillet with a light coating of olive oil.
Place the salmon on the pellet grill grate, skin side down.
Close the lid of your smoker and let salmon cook for about 4 hours. (This will depend on the thickness of your fish.)
Serve hot and enjoy!
2. Smoking On A Pellet Grill
Preheat the pellet grill to a low-medium heat setting, around 170 degrees F.
Brush the salmon fillet with a light coating of olive oil.
Place salmon fillet on the grill, skin side down.
Close the lid, and smoke for about 3 hours, or until salmon flakes easily when probed with a fork.
Remove salmon from pellet grill and serve with your favorite salmon seasoning, if desired.
How Do You Know When Smoked Salmon Is Done?
When salmon is properly cooked, it will be an opaque pink color throughout. If salmon has any translucent areas, cook it for a few minutes more until it's completely cooked through.
You'll also know your salmon is evenly cooked through when an instant-read thermometer registers that the internal temperature of the fish has reached 140-150°F.
---
Tips & Tricks
Another way to do this is by wrapping salmon in aluminum foil or using a smoker box when smoking salmon on a pellet grill. This will help to keep salmon from drying out and ensure that it stays moist and flavorful.
You can also add a bit of butter to salmon while smoking, as the fat will help to keep salmon moist.
You can add 1 tsp. garlic powder & onion powder & citrus or herbs (optional: dille, thyme or rosemary) to the mix, tailor it to your taste.
Oak Pellets: To add an extra smoky flavor to salmon, consider using oak pellets in your smoker. This will give salmon a delicious hint of smoke that pairs perfectly with the salmon's natural flavor.
With these easy steps, you'll be able to enjoy delicious, top restaurant-quality salmon in no time.
If you want the best portable grill to accompany your all season parties, search no further! We've reviewed 6 of the top pellet grills on the market so that you can make a well-informed decision. Keep reading for more information!
So fire up the pellet grill and get ready for some serious flavor! Happy grilling!
Catchy Finds