Summertime is the ideal time of year to spend some quality time with family and friends. What's better than grilling outside in the backyard?
If you're looking for the best electric grill, look no further! In this blog post, we will review some of the best products on the market.
We'll discuss features, benefits, and why these grills are a must-have for any summer gathering!
How We Spotlight The Best Electric Grill
It may be tough to find a top quality electric grill that suits your needs when there are so many different brands and models in the kitchen appliances category. It might be difficult to choose which electric grill is best for you without spending hours researching.
We did all the research for you and spotlighted the five best electric grills based on their capacity, versatility, design, simplicity of operation, and convenience of cleaning.
Check out our catchy finds to grab the one that meets both your cooking needs and your kitchen aesthetic. Choose the one that's ideal for you.
💡
This post may contain affiliate links which means I may receive a commission for purchases made through links. If you purchase a product or service with the links that I provide I may receive a small commission. There is NO additional cost to you!
CUSIMAX Raclette Grill Electric Grill Table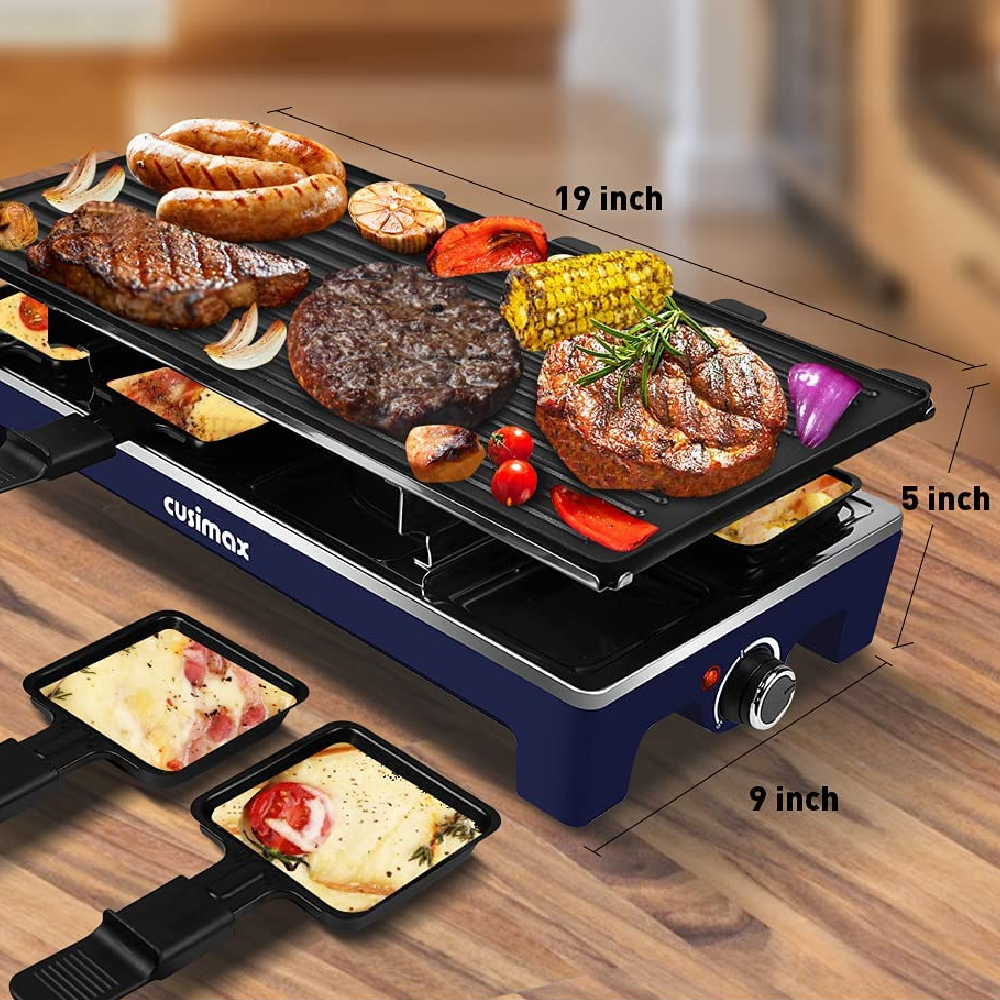 Best Electric Grill With A Swiss Twist
CUSIMAX Raclette Grill Electric Grill Table
Check Price on Amazon
Why We Spotlight It
A raclette grill allows melting separate portions of cheese and a grill top to grill meat, chicken, fish and vegetables with the cheese. This model comes with a reversible grill / flat top, enabling a spacy cooking surface that can also be used to make crepes or pancakes.
This electric grill is best for those who want to enjoy a delicious grilled meal without any of the hassles that come with traditional grills, like a charcoal or gas grill. It is meant for indoor use, but it will serve you on a balcony, and on your garden terrace as well, so you can enjoy juicy, char-grilled food and combine this with individual portions of melted cheese: this is called raclette, or "Swiss cheese fondue".
It's ideal for small get-togethers such as family and friend meals on apartment balconies on hot days. This versatile appliance can offer delicious and healthy barbecued food and raclette to a maximum of 8 people, thanks to its eight heat-resistant raclette trays.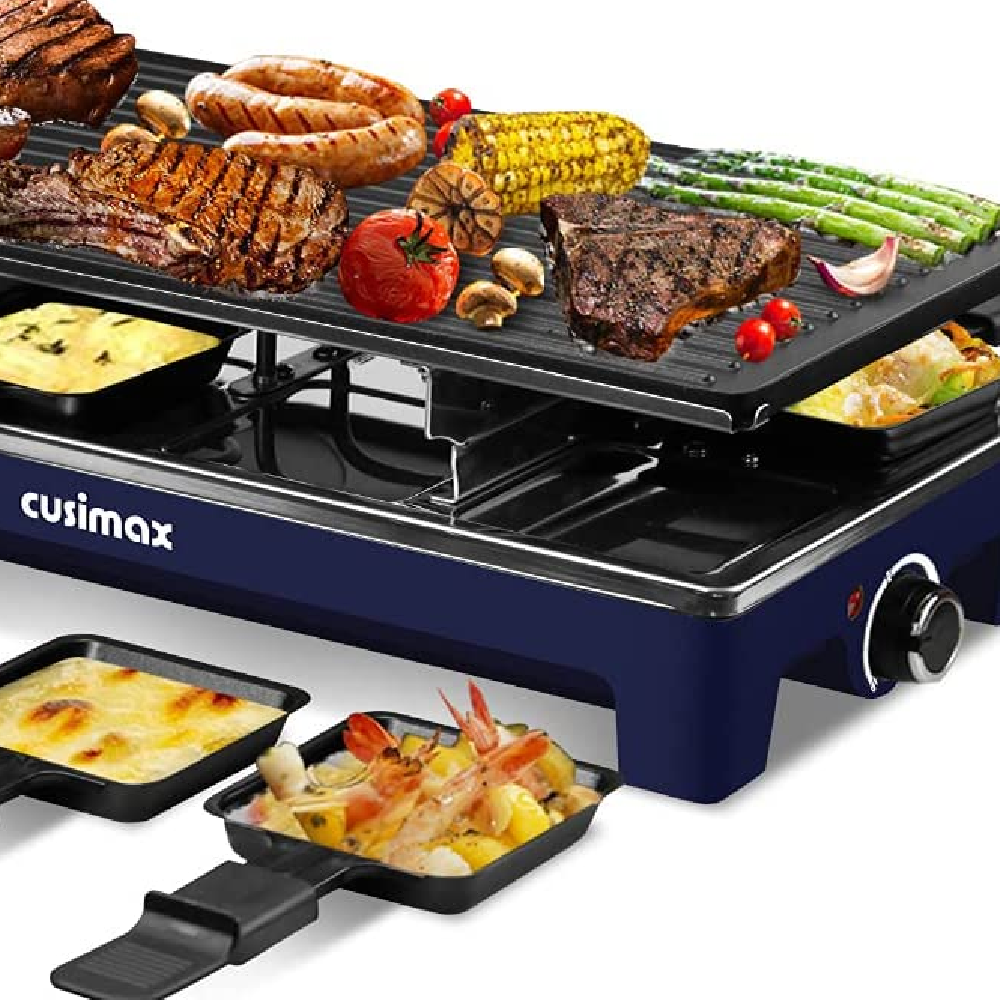 What Makes It Catchy
You can grill with grill marks, or make crepes, pancakes, and eggs. This indoor electric grill can be used to make raclette dishes, desserts, and other meals, as well as to keep food warm.
This machine is simple to operate and clean, it's portable and lightweight enough for you to carry around. It's also easy to clean and maintain: the reversible baking tray and the eight raclette trays can be readily removed.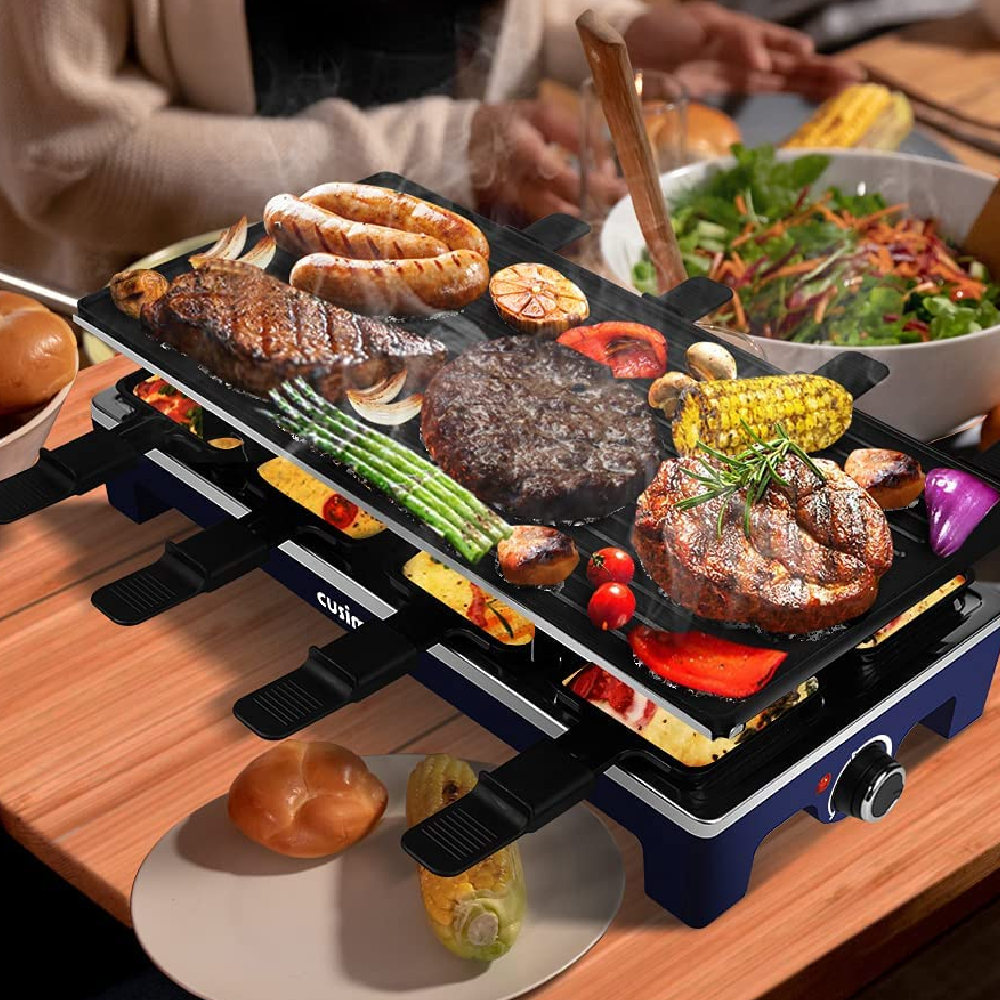 Things You Should Know
Two grilling methods are possible with the two-in-one reversible nonstick bakeware: grilled food and various meats, vegetables, and seafood, and on the other side, pancakes and crepes. It will enable you to create raclette: a genuine Swiss cheese fondue. The grill's grooved surface allows for easy removal of extra oil, resulting in healthy and delicious grilled dishes.
This electric grill is also a breeze to clean. The nonstick surface makes it easier to remove food remnants and cleanup. The 19 x 9 inch size makes storage and transportation simple. You will have your own private, mobile restaurant!
The adjustable heating control ensures that you can cook whatever you like perfectly. A serious candidate to be voted one of the "best electric grills". So don't miss out on the CUSIMAX Raclette Grill, the electric grill with a Swiss twist!
Power XL Smokeless Electric Indoor Removable Grill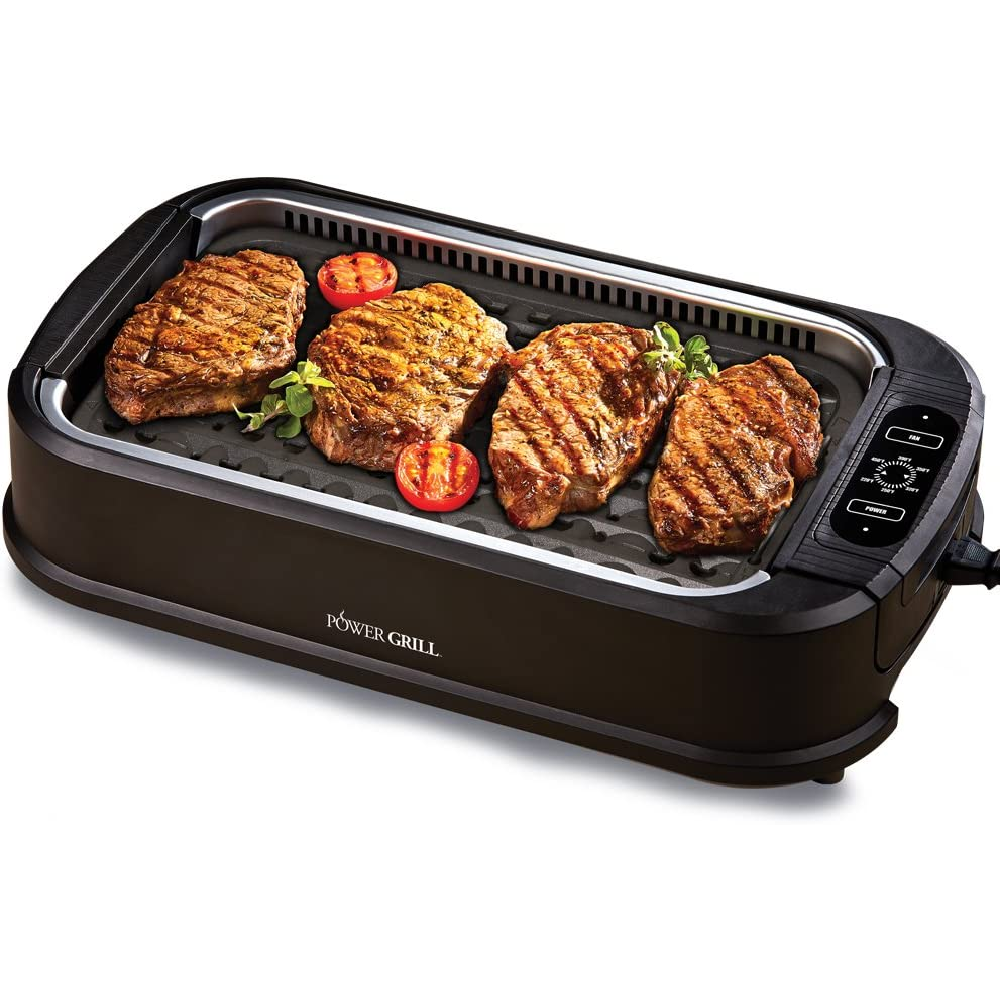 Best Electric Grill For Indoors
Power XL Smokeless Electric Indoor Removable Grill
Check Price on Amazon
Why We Spotlight It
Gone are the days when all you could get were gas and charcoal grills. Many recall the effort it would take to prepare a traditional gas barbecue. You may recall its specific smells, which could become inconvenient. Of course it was all worth it. But: a smokeless electric grill takes away this inconvenience and reduces the amount of grilling preparation considerably.
Simply connect the power cord to an electric grill and letting it heat up is all there is to it. Forget a gas or charcoal grill: no huge propane tanks or heavy charcoal bags required. That said, this electric grill is meant for indoor use.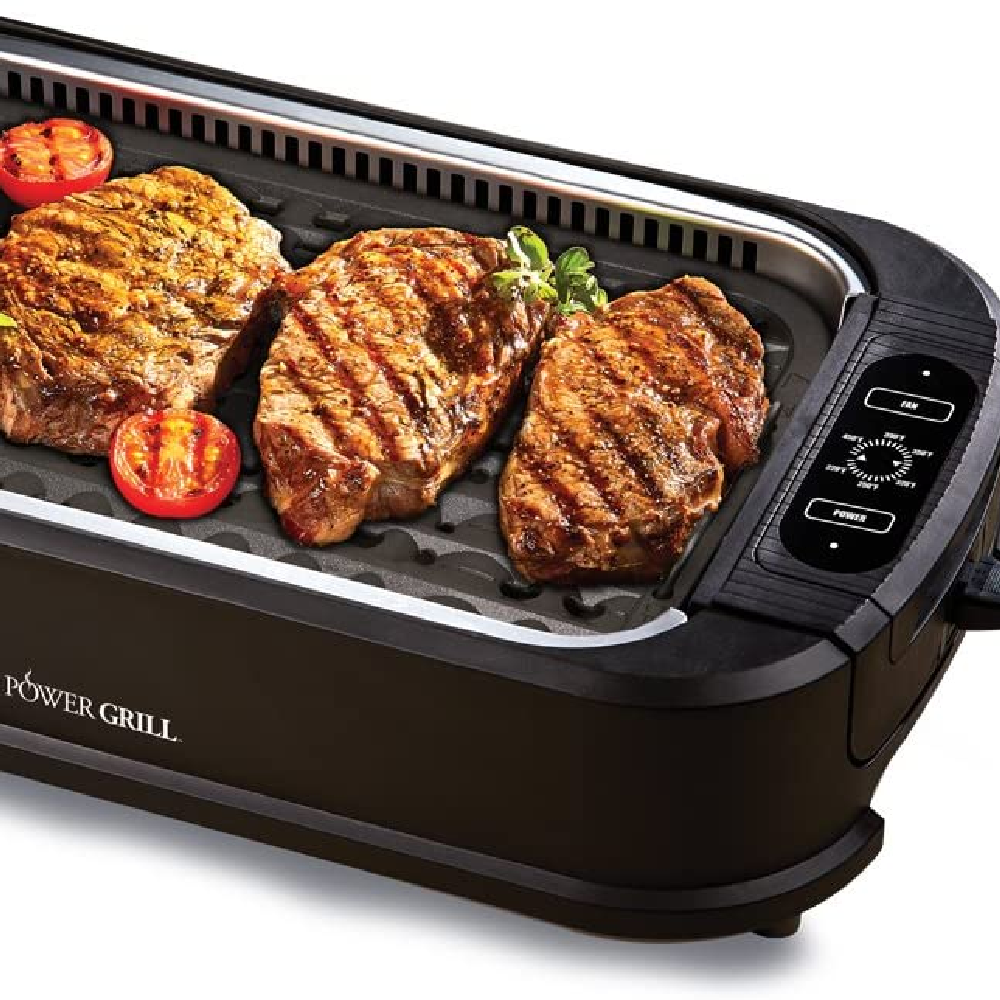 What Makes It Catchy
With interchangeable plates, it's in fact a grill and griddle combo. It includes a built-in smoke extracting fan to eliminate almost all hot smoky air, while preserving a light smoky flavor.
A built-in smoke extracting fan virtually eliminates the hazardous smoke that might cause issues for those breathing the air around it. The smoke volume escaping is significantly reduced.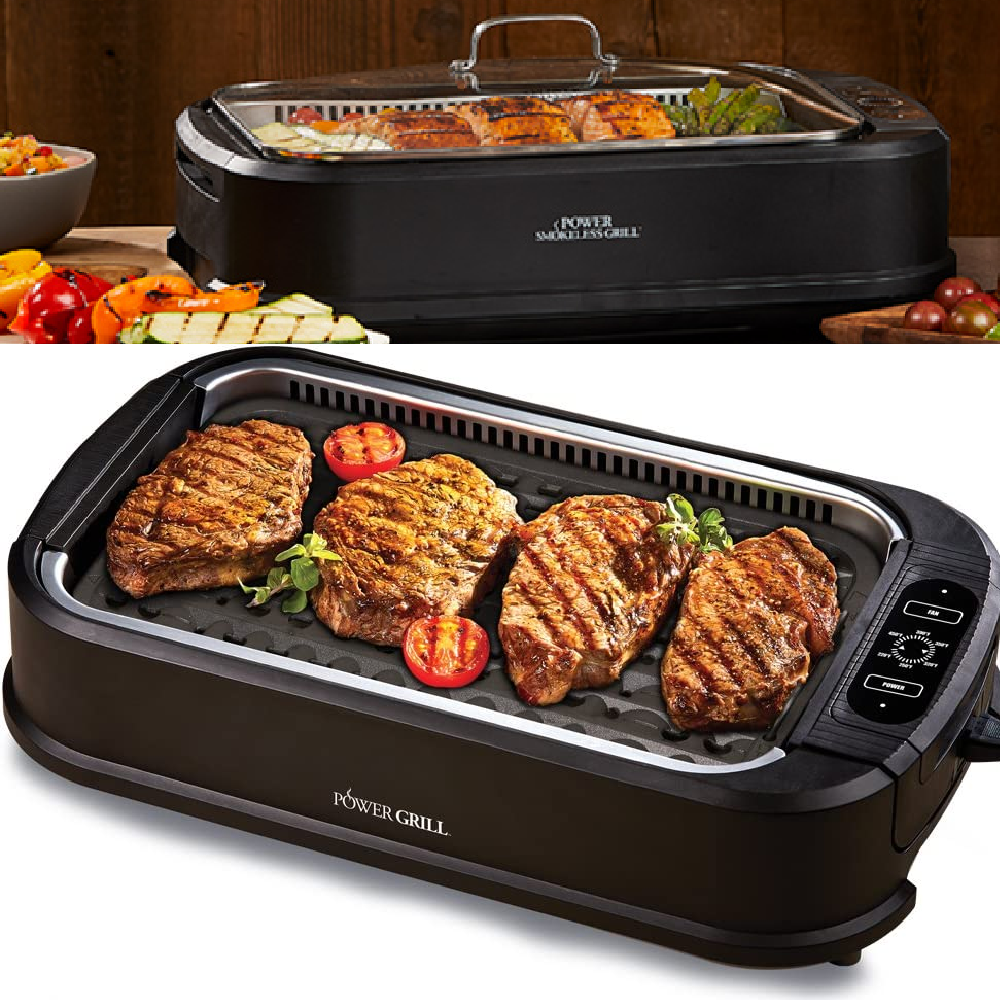 Things You Should Know
The versatility of this compact appliance is easily the most impressive feature, but there's more! Its sleek design is a great and good-looking addition to any kitchen countertop.
The grill surfaces are coated with nonstick materials, and dishwasher safe. An additional advantage is that you don't have to add extra fat or oil to the ceramic grill surface. So foods easily come off the grill, since the nonstick surface helps delicate foods stay together rather than sticking or breaking apart. Even delicate fish or tender filets mignon do not stick to the surface; no residue to scrape off after cooking. It's such an easy clean.
The grill surface can be easily replaced with a nonstick griddle surface for cooking eggs, pancakes, paninis, and grilled cheese sandwiches.
The dishwasher safe, removable drip tray collects fats and grease from the cooking process. All in one portable, simple-to-clean device, you can create a  mouthwatering grilled lunch or dinner for your entire family.
Ninja FG551 Foodi Smart Indoor Grill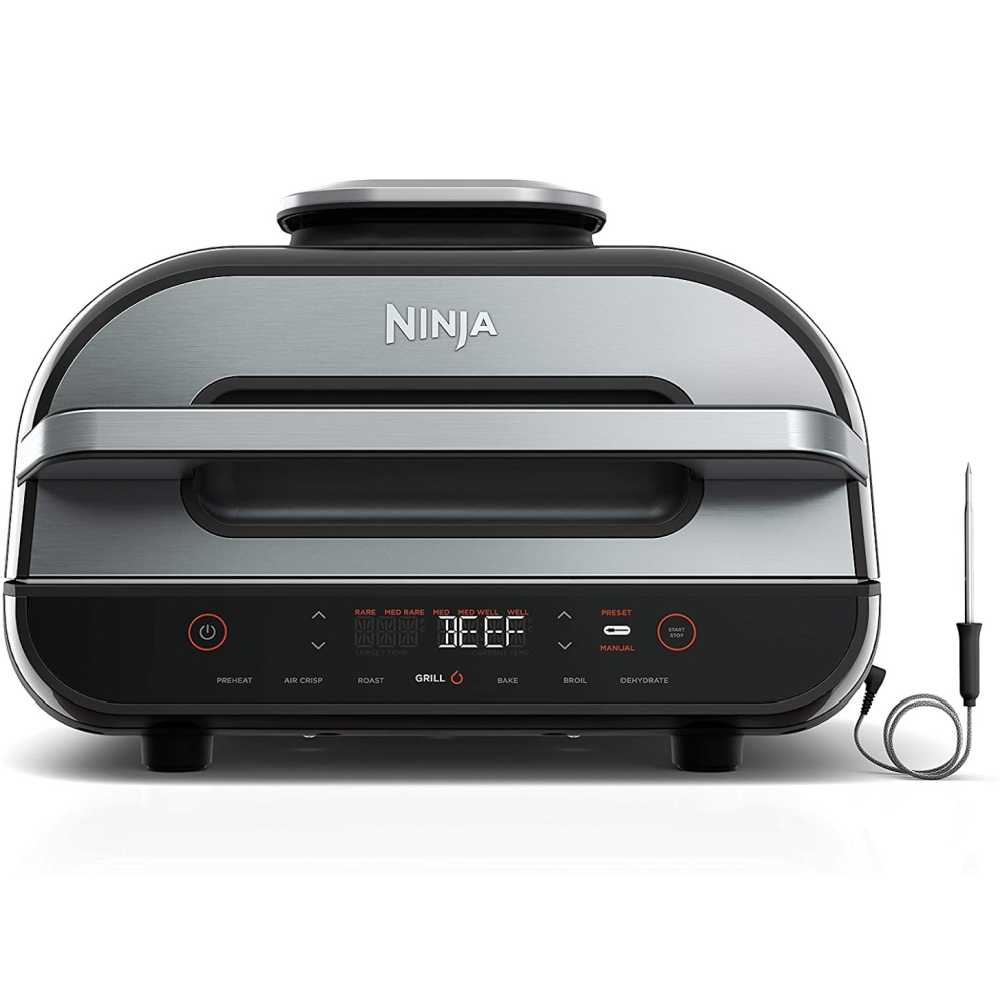 Best Small Electric Grill
Ninja FG551 Foodi Smart Indoor Grill
Check Price on Amazon
Why We Spotlight It
Looking for a smart and versatile indoor grill? The Ninja Indoor Grill is perfect for any cooking enthusiast. With six cooking functions, adequate number of square inches of cooking space and a wide temperature range, this grill can simply handle any meal you throw at it.
And thanks to the included 4-quart crisper basket and a cyclonic hot air system, you can air fry your favorite foods with up to 75% less fat than deep frying. So whether you're grilling up steak, roasting a chicken, or dehydrating some fruit, the Ninja Smart Indoor Grill, one of the best electric grills, has you covered.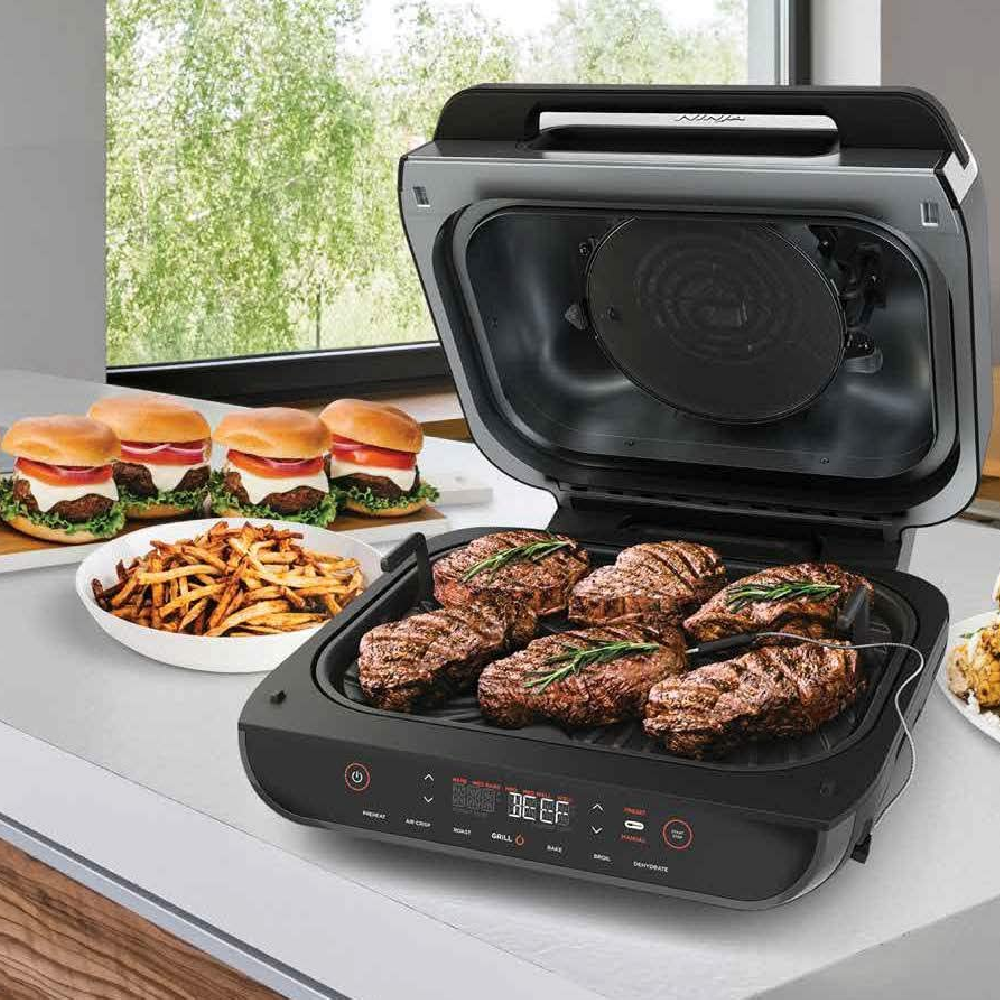 What Makes It Catchy
What's better than a grill that gives you juicy, delicious, char-grilled food? A grill that does it all at the touch of a button and with no guesswork!
With the Ninja Smart Grill, you can perfect your grilling skills using 500°F cyclonic air to achieve your desired doneness. The Smart Cook System plus Thermometer let you choose from 4 smart protein settings and 9 customizable doneness levels, so whether you like your steak rare or well done, this grill can do it all.
Plus, there's no need to worry about over or under-cooking, the Smart Thermometer takes all the guesswork out of grilling. So fire up the grill and get cooking!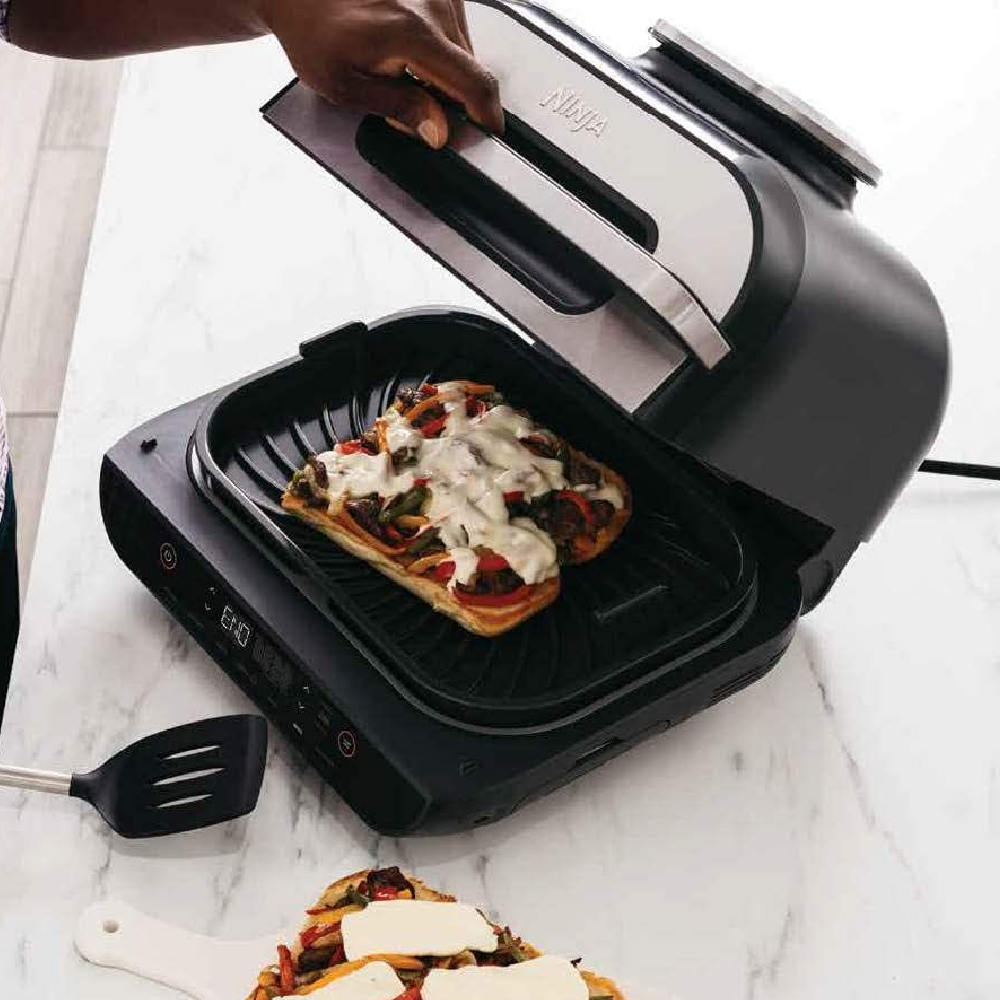 Things You Should Know
The Ninja Smart Grill, the next best thing to outdoor grilling. This amazingly smart, durable grill with its comfortable cooking surface with plenty square inches of cooking space lets you enjoy perfectly char-grilled food year-round, without having to worry about weather conditions. Your cooking area will look so much smarter with this elegantly designed appliance.
The Smoke Control System ensures that your kitchen stays clean and almost free of smoke, while the Dual-Sensor Foodi Smart Thermometer ensures perfectly cooked food every time.
You can forget about defrosting, the Ninja Smart Grill can transform frozen food into perfectly grilled goodness in just 25 minutes. So whether you're cooking for a crowd or just for yourself, this item is your perfect grilling solution.
Plus, the large cooking surface means you can easily cook up to 15 servings at once, making it perfect for parties and large gatherings. And cleanup is a breeze thanks to the removable grill plates  and dishwasher safe drip tray. A smart indoor electric grill indeed. Smart grill!
George Foreman Electric Outdoor & Indoor Grill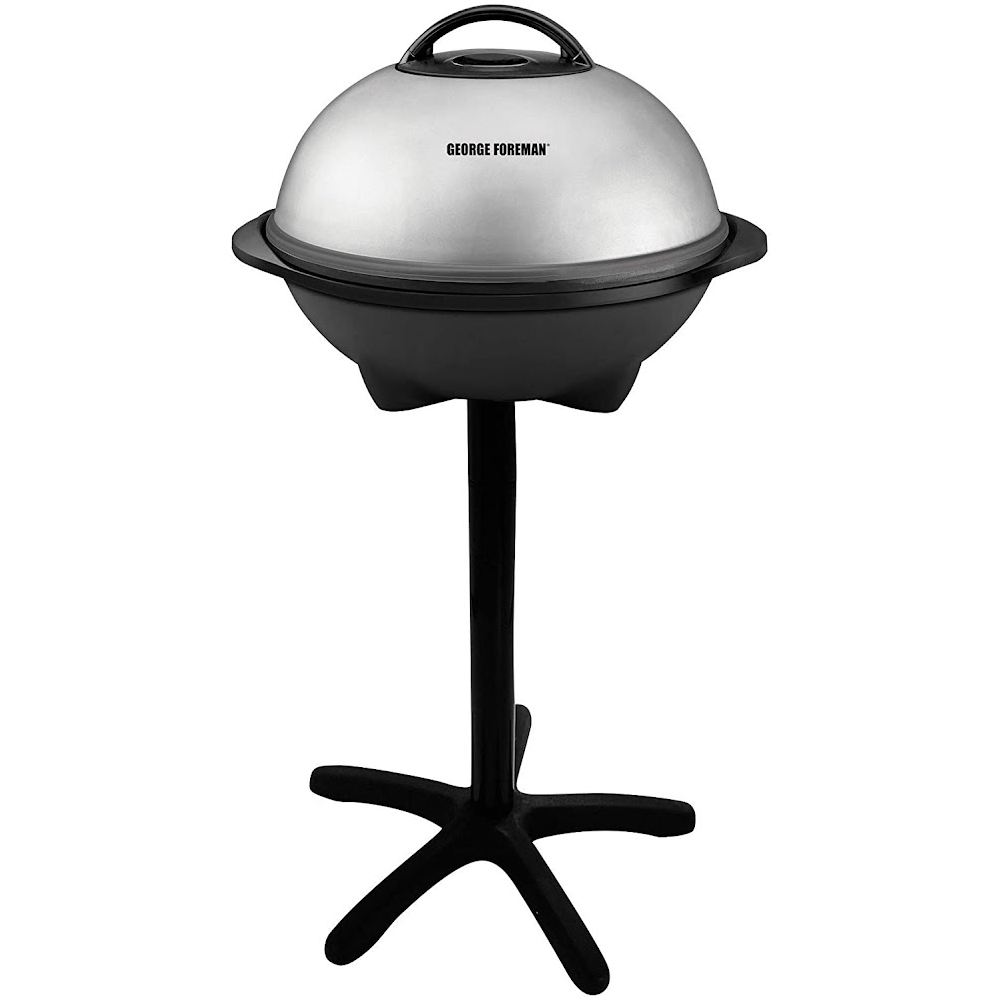 Best Outdoor Electric Grill
George Foreman Electric Outdoor & Indoor Grill
Check Price on Amazon
Why We Spotlight It
The George Foreman brand has built a reputation for reliability and versatility for outdoor cooking. This amazing grill will further cement their reputation for designing a versatile, great looking indoor outdoor electric grill.
The George Foreman Grill is perfect for any grilling occasion. The durable nonstick coating, spacy cooking surface and dishwasher safe drip tray make cleanup a breeze, and the adjustable temperature control lets you tailor the George Foreman grill to your specific needs.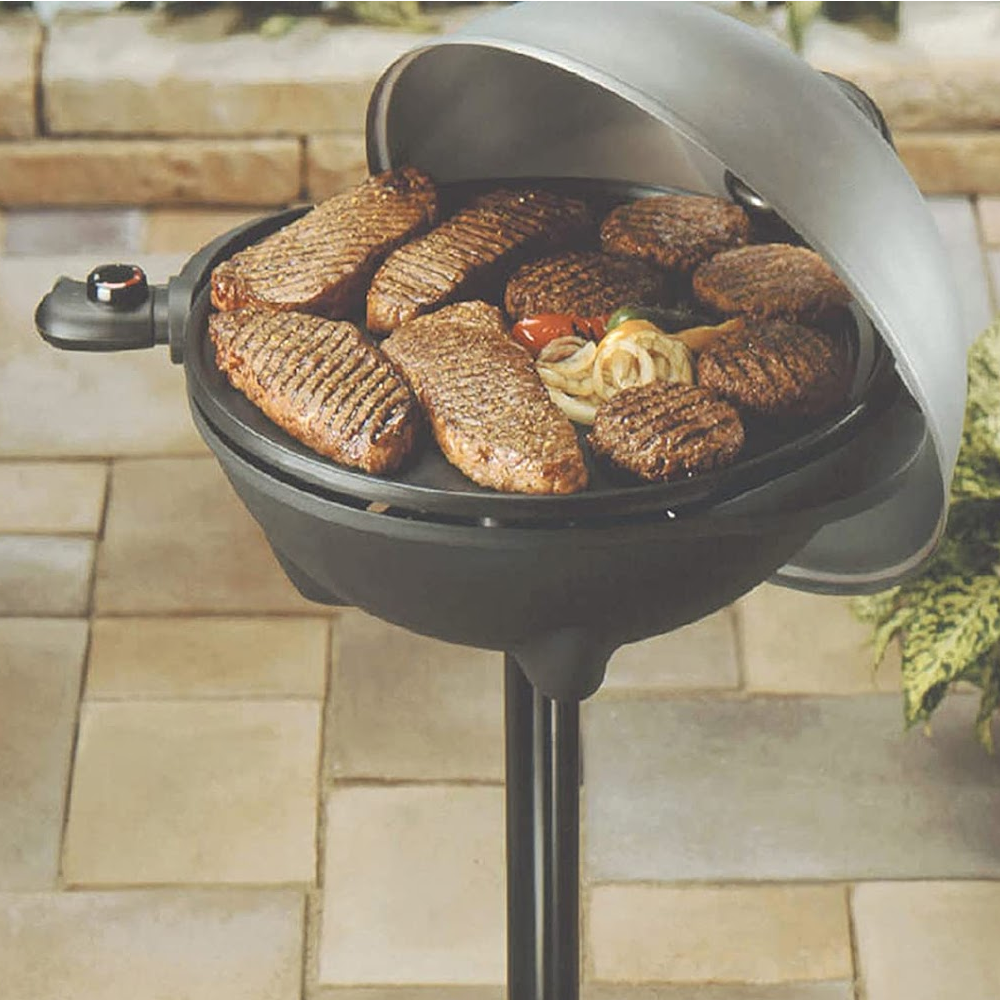 What Makes It Catchy
This versatile George Foreman grill is perfect for cooking up your favorite meals, whether you're at home or on the go. With its easy-to-remove stand, you can turn this grill from a patio grill into a countertop grill in no time, making your George Foreman perfect for apartments, balconies, a modest terrace or a garden.
Imagine a sudden change in weather: no need to stop the party, just move inside or to your covered terrace!
Unlike gas or charcoal grills, the fully electric system means no propane, no charcoal, and no flare-ups, making it a safe and easy option for anyone.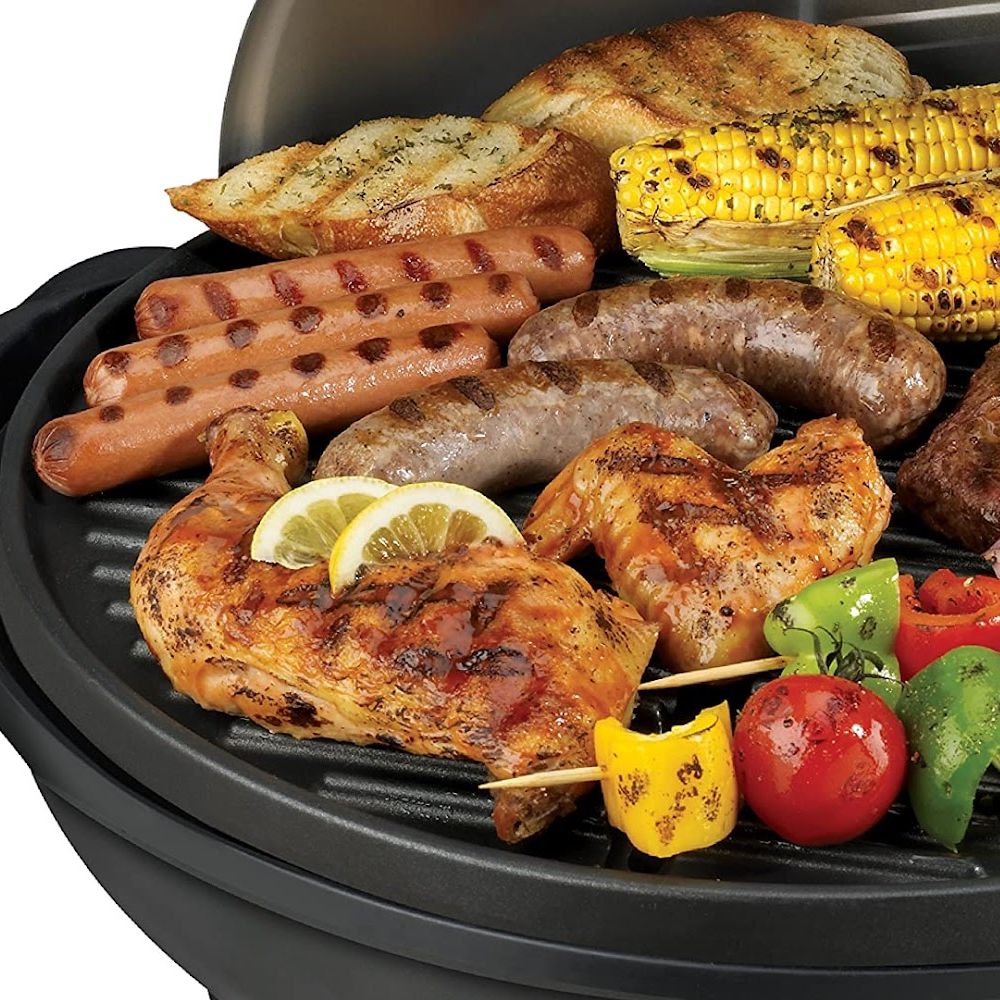 Things You Should Know
The George Tough Nonstick Coating ensures that your food will come out perfectly cooked every time, and the easy-to-clean design and dishwasher safe parts make cleanup so easy.
With five different heat settings to choose from, you can tailor your cooking to any type of food. And because it's fully electric, this grill is apartment-approved – meaning your landlord will love it just as much as you do. Don't be surprised he drops by for a taste of your fantastic George Foreman steaks or chicken breasts!
So don't let the weather keep you from grilling – with the George Foreman Grill, you can enjoy delicious, perfectly cooked food all year long with your indoor outdoor electric grill.
Cuisinart CEG-980 Outdoor Electric Grill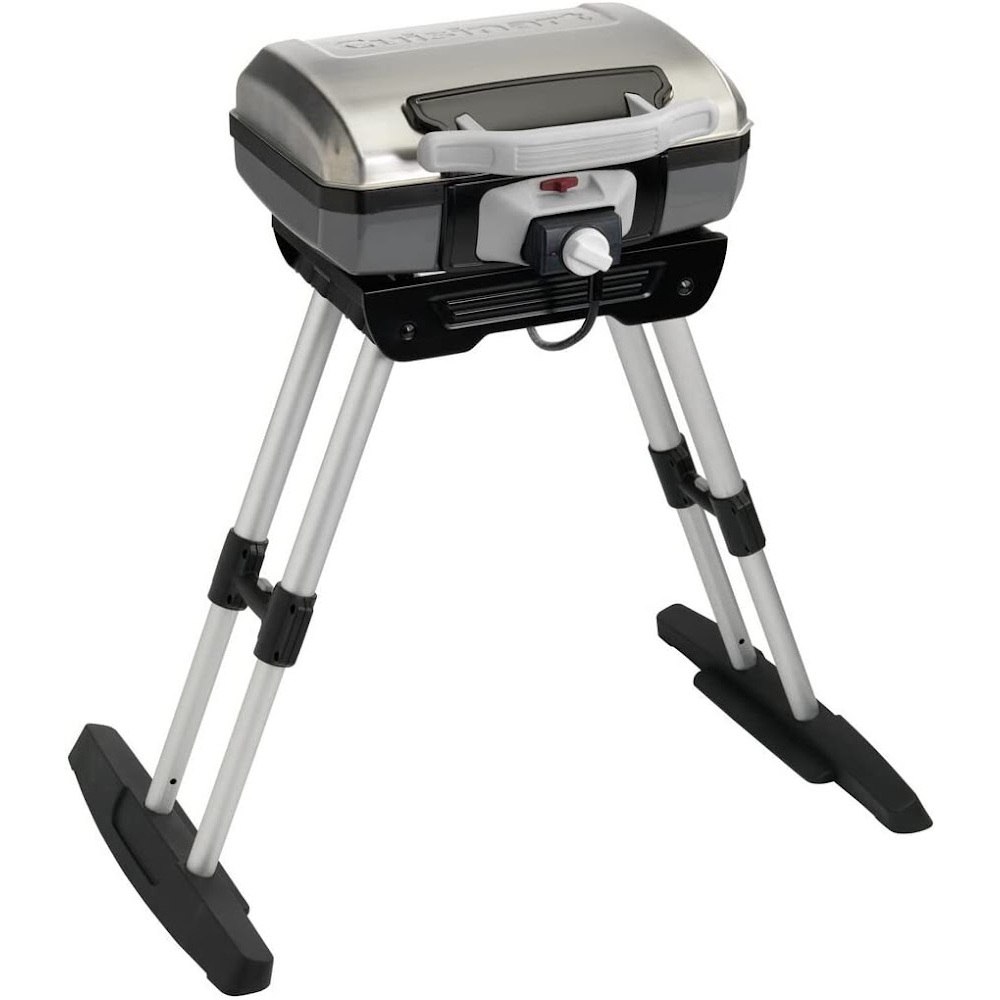 Best Electric Grill For Outdoors
Cuisinart CEG-980 Outdoor Electric Grill
Check Price on Amazon
Why We Spotlight It
This easy-to-use electric grill can be set up in minutes, and it cooks food evenly and quickly. Plus, there's no need for gas or charcoal – just plug it into a standard outlet and you're ready to go.
Plus, the  comes with a lid latch and spill-resistant, removable drip tray, making it a safe and easy way to grill your favorite foods.
With its 145 square inches of cooking space The Cuisinart Electric Grill is perfect for cooking up family meals. It can accommodate 8 burgers, 8 steaks, 6 to 10 chicken breasts, or 4 pounds of fish all at the same time.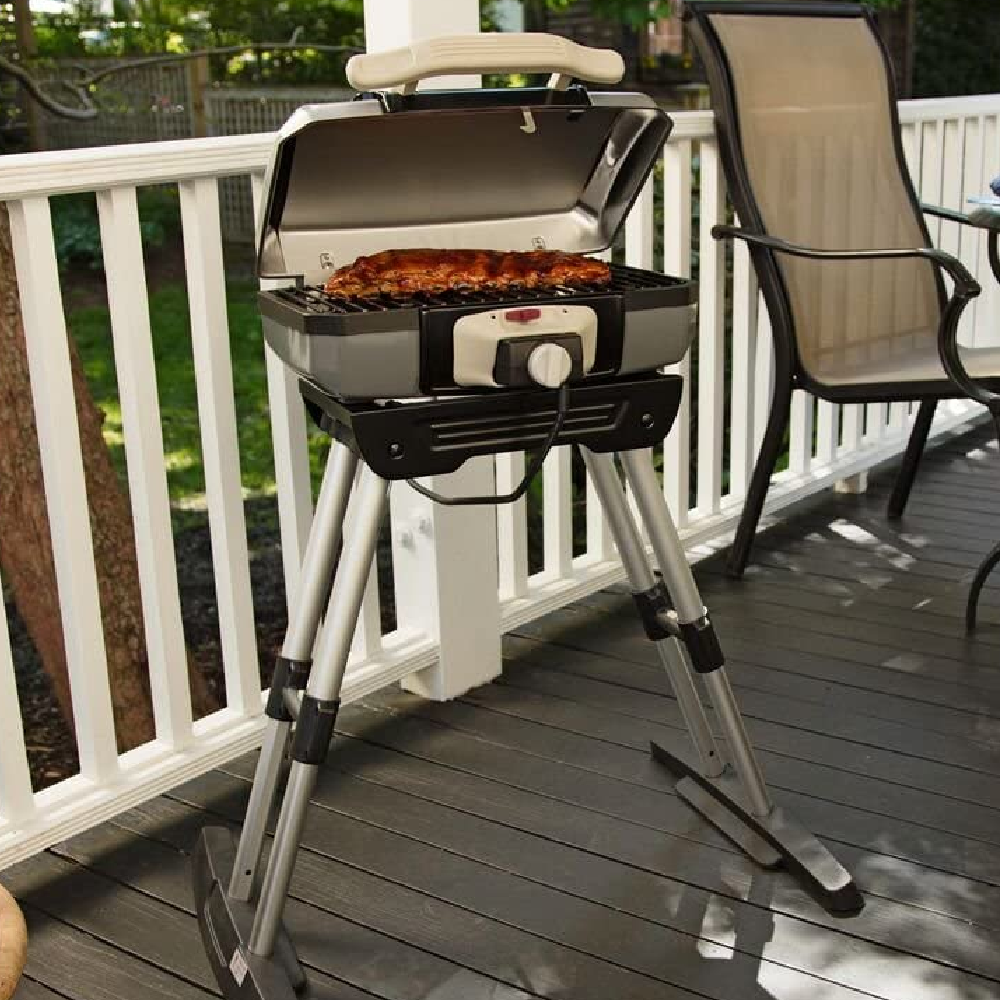 What Makes It Catchy
Cuisinart is a brand that has rightfully earned its reputation for classy  kitchenware. This sleek and stylish grill plugs into any standard electric outlet, so you can take it anywhere. The stable 3-position stand both sets up and packs away in seconds, making it a breeze to use.
Looking for a grill that's easy to transport and set up, but still gives you that delicious grilled flavor? Look no further than the Cuisinart Electric Grill.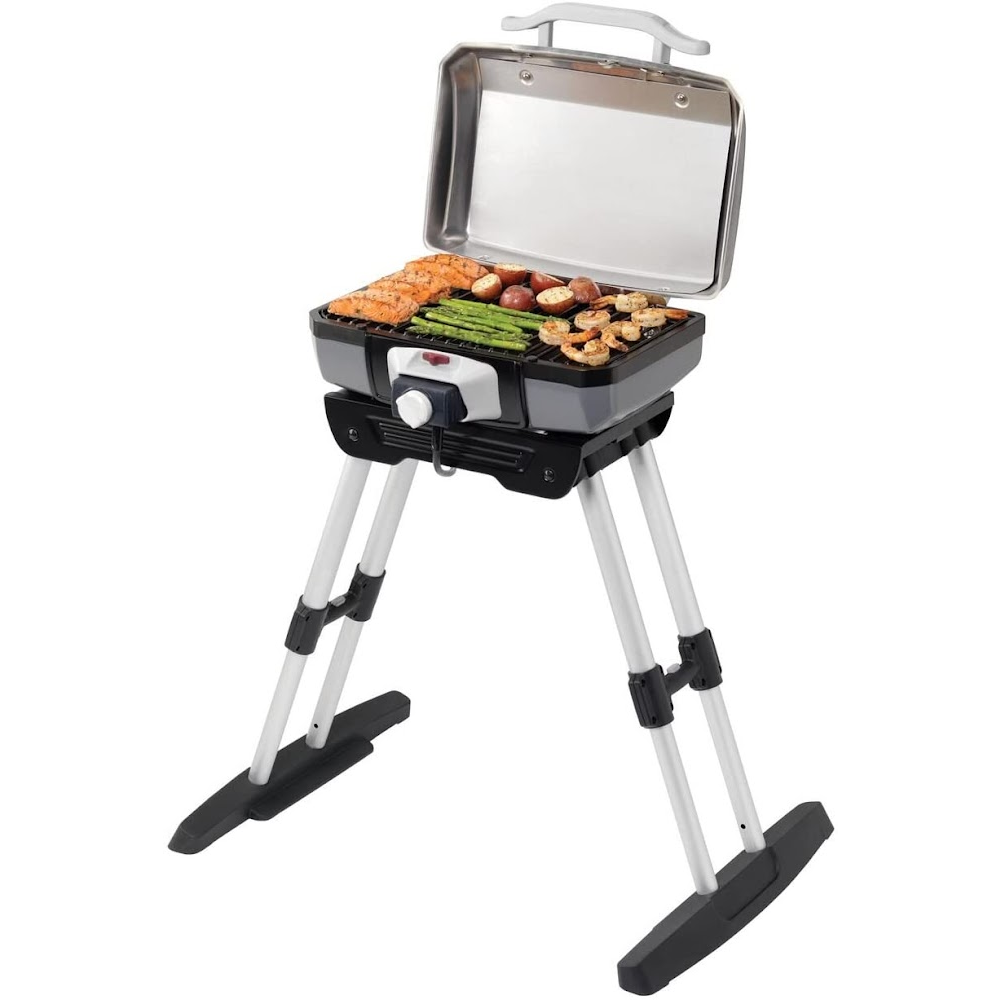 Things You Should Know
With its pronounced briefcase-style carrying handle, this grill is easy to take on the go. Best of all, it weighs just 17 pounds, making it a great option for picnics, tailgating, and more.
The three-position telescoping base makes it easy to set up and take down. With its telescoping base, spill-resistant removable, dishwasher safe drip tray, and lid latch, this grill is safe and easy to use. So fire up the Cuisinart Electric Grill and get cooking.
While the 1,500-watt, and porcelain-enameled coated grill grate ensures uniform cooking, its grilling capacity is large enough to feed up to six people at once while the cast iron grates retain heat well so they won't overcook your food!
So if you're looking for an electric grill with a large enough, easy to use  cooking surface and packed with features, the Cuisinart Electric Grill is the perfect way to enjoy grilled food without the hassle traditional charcoal and gas grills can bring.
Electric Grill FAQs
Electric grills have rapidly become a most popular kitchen equipment. They can do so much more than cook meat. They allow you to prepare healthier meals while saving time and energy.
Meanwhile, there are so many different brands and models on the market, it's hard to know which electric grill is right for you. We've put up a list of Frequently Asked Questions (FAQs)
These are some of the most frequently asked questions about how electric grills operate and what types of food you can prepare, as well as what capacity is required and what measures you must take to keep it functioning.
Is an electric grill a BBQ?
An electric grill cooks just like grills using gas and charcoal. Expect the same familiar barbecue tastes. It works best when cooking small cuts of meat such as chicken, steaks, and fish.
Technically, an electric grill is not a BBQ, because it doesn't use charcoal, gas or wood. However, many people call any type of grill a BBQ, regardless of the heat source. For example, some people might refer to an electric stovetop grill as a "BBQ."
That said, some high-end electric grills are really good and can produce results that are indistinguishable from those of a traditional charcoal, gas or wood-fired BBQ, and excel in both ease of use and safety.
How do I choose an electric grill?
Consider: 1. size; 2. capacity; 3. inside and/or outside use; 4. available storage space; 5. easy to use and clean; 6. safety; 7. regulating temperature settings/ heat.
As for size and capacity, there are a few things to consider when choosing an electric grill.
First, you'll want to think about the electric grill size. If you're looking for a portable option, a small or medium-sized grill will be your best bet. However, if you're looking for a stationary grill to use in your backyard, you'll want to opt for a larger model.
Next, you'll want to think about how many people you plan on feeding with your grill. If you're cooking for a large group, you'll need a grill with plenty of cooking space. However, if you're only cooking for yourself or a small group of people, a smaller grill will suffice.
What foods can be grilled?
Electric grills offer endless possibilities: almost any food can be grilled. Meat, fish, vegetables, fruit, pizza, bread. But some foods cook better on a flat nonstick surface grill, like a griddle. Think peeled shrimp, filet mignon, flaky fish, leafy veggies, pork chops. Some prefer burgers from a grill where the cooking grate leaves stripes, others like them cooked on a griddle, or in an air fryer.
What foods should not be grilled?
Although some will disagree, it is generally agreed that you shouldn't grill bacon, shrimp (peeled), pork chops, filet mignon, flaky fish, leafy vegetables and burgers (they get dry fast on a grill, as they lose moist and fat).
What is a raclette grill?
A raclette grill allows melting separate portions of cheese and a grill top to grill meat, chicken, fish and vegetables with the cheese. Many of these models come with a reversible grill top that can also be used to make crepes or pancakes. Raclette is sometimes called "Swiss cheese fondue", an age-old traditional and immensely popular delicacy from Switzerland.
Do electric grills use a lot of electricity?
Modern electric grills are more energy efficient than old models. A small indoor electric grill uses around 1400 watt, costing from $0,20 - $0,35 per hour (2022) and at an average of one hour per day, $6,- - $ 10,50 per month. For current rates in your state, check with your power company.
Why do you put water in an electric grill?
Water in the metal pan limits the smell. It also helps drop the temperature. However, it's mainly the pan that causes this to happen. So even an empty pan in the grill to catch fatty drips will lower the temperature as well.
Does the smokeless grill really work?
For the most part, yes. The slanted design, combined with the non-stick grill effectively limit smoke creation. But all grills, including high-end models, produce a bit of smoke, especially with fattier meats.
Is it worth buying an indoor grill?
Some would say yes, as it allows you to grill all year long, regardless of the weather. And because electric grills generate very little smoke, they're ideal for use indoors.
Others might say no, as electric grills can be expensive and may not offer the same flavor as charcoal, gas or pellet grills.
Indoor grills are quicker and easier to set up and use than outdoor grills. They are healthier, as they don't produce smoke, and safer as they have no flames. As they use electricity, the cooking surface will be more evenly heated. Most are quite easy to clean: many have removable, dishwasher safe grates.
Is an electric grill cancerous?
Most electric grills are much safer to use than charcoal and gas grills. They do not cause carcinogens and other cancer-causing compounds developing in your food, making them an excellent method for preparing food on a daily basis.
Can you use an electric grill inside?
It used to be dangerous to use an electric grill indoors, as the generated heat can be dangerous. The best way to grill indoors was to use a stovetop grill pan, which will create similar results as an outdoor grill without the risk of a fire. However, in recent years the safety of indoor grills has improved a lot. An indoor outdoor electric grill can be safely used both inside and outside the house. This has become the new normal in the world of electric grills.
Do electric grills take longer to cook?
It really depends on the grill. Some electric grills have a heating element that gets very hot, allowing you to cook food quickly. Other electric grills take longer to heat up, so they might not be the best option if you're looking for a quick meal. Experiment with your grill to see what works best for you.
Do electric grills smoke?
While it is true that most electric grills generate less smoke than their charcoal or gas counterparts, they can still produce a fair amount of smoke – especially if they are not properly cleaned or maintained.
There are a few things that you can do to minimize the amount of smoke produced by your electric grill. First, make sure that the grill is clean before you use it. A build-up of grease and food particles can cause the grill to smoke more than it otherwise would.
Second, preheat the grill before cooking on it. This will help to prevent sticking and charring, which can also lead to more smoke production.
Do electric grills make fire?
No, electric grills do not make fire, like a charcoal grill. Instead, they use electricity to heat a metal plate, which then in turn cooks food. Electric grills are a popular option for indoor cooking, as they are safe and don't produce any smoke or fumes.
Why does food taste better on the grill?
When you fire up the grill and put meat onto the red-hot grids, the so-called Maillard Reaction occurs. This refers to the browning of whatever you're cooking. It smells divine, which activates the saliva ducts in your mouth, which will facilitate the transference of the chemicals that activate your taste buds.
Buyer's Guides
Grill technology and its safety have improved a lot over the years, so now you can have a kitchen countertop or even a tabletop grill. The demand for outside cooking has resulted in a variety of electric grills that cook foods that taste-and quality-wise rank with any of the traditional and modern outdoor grills.
The market offers many electric grills to choose from, with most delivering a good to excellent cooking performance. Cleaning has become easier, with nonstick grill grates, a dishwasher safe removable drip pans.
To assist you in making an informed purchase among all different types of electric grills, for your convenience we have a buyer's guide. Read on!
What is a Grill?
A grill is a cooking device that uses direct heat to cook food. The heat source is usually underneath the food, but some grills have a top rack that can be used to cook food as well.
What is a Griddle?
A griddle is a cooking surface with a flat top and is used for frying, grilling or toasting food. A griddle can be made of various materials including cast iron, aluminum or steel. It is often used in commercial kitchens because it can cook large quantities of food at one time.
A griddle pan is similar to a frying pan or a skillet, however it has lower sides and no handle.
This makes it easier to use on a stovetop, as the flat surface can reach higher heat than a frying pan. Griddles are also coated with a nonstick material, making them ideal for cooking delicate foods or those that tend to stick to surfaces.
What is the difference between a Griddle and Grill?
A logical difference between a griddle and grill is that a grill exposes meat to direct radiant heat, whereas a flat top griddle uses either diffuse radiation from below or conducts heat from the sides.
Meat cooks quicker on a grill than on a griddle. Because grilled food sits above the flames/coals, any drippings are immediately vaporized or incinerated, so there is little stapling (smelling) of grilled foods. But losing fat and fluids may cause meat to get dry. This will not occur on a griddle.
You can see large griddles in commercial kitchen settings where large quantities of pancakes, bacon, burgers etc. need to be cooked quickly and efficiently.
Which is better, a grill or a griddle?
There answer to this question since it depends on a lot of factors, such as what you're cooking and your personal preferences.
That said, both grills and griddles have their own set of benefits that might make one or the other a better choice for you.
If you're looking to add traditional grill marks to your food, then a grill is obviously to go item. Grills also tend to be better at evenly distributing heat, which can be crucial when cooking thinner items like burgers or steaks.
On the other hand, griddles offer a few advantages of their own. For one thing, they tend to hold heat more evenly than grills, so they're ideal for cooking - including, by the way, steaks and burgers. A griddle keeps meat juicy, a grill may dry out meat.
What kind of food is appropriate for cooking on each?
There are many factors to consider when deciding what kind of food to cook on each type of appliance. The size and power of the appliance, as well as the type of food you are cooking, all play a role in determining which foods are best cooked on each appliance.
For example, larger and more powerful appliances like ovens and stoves are typically better for cooking proteins and hearty dishes, while smaller appliances like toaster ovens and microwave ovens are better suited for quick, simple meals or snacks.
Additionally, delicate foods like fish or veggies might do better on an indoor grill, so they don't get overcooked or burnt.
Ultimately, it's up to you to decide what kind of food you want to cook and on which appliance you think it will turn out best. With a little trial and error, you'll be a grill or griddle master in no time!
So, there you have it! A comprehensive guide to the best outdoor electric grills on the market. Whether you're looking for a traditional grill or a more modern griddle, we hope this guide has helped you narrow down your options to find the perfect appliance for your needs.
Best Electric Grill For You
We have spotlighted the 5 best electric grills on the market and provided links so that you may learn more about their pricing.
We hope that this buying guide has helped you in your search for the great one for your family.
You may also read other posts on our site about various kinds, sizes and colors of different electric grills, as well as other kitchen equipment reviews.
Thanks for taking the time to read this article, and have a wonderful day!
Happy grilling!
Catchy Finds