Raspberry cheesecake is a beautiful and tasty dessert. In this blog post, we'll tip you on an all-time delicious raspberry cheese cake base, followed by 3 different ways to top your cheesecake, each with its unique flavor profile and flair. So read on to get inspired, and start baking!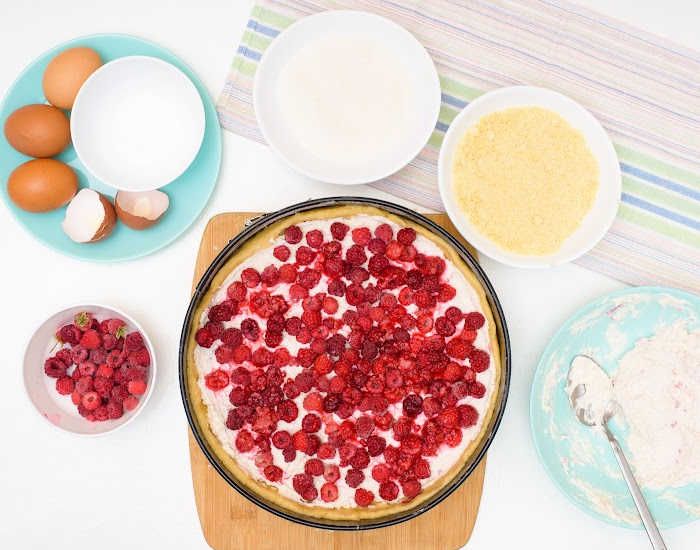 Cheesecake With Raspberries Base Ingredients
Crust
1 3/4 cups of graham crackers
6 tablespoons of unsalted butter, melted
1 tablespoon of fine-granulated sugar
White Chocolate Raspberry Cheesecake
3 x 8-ounce packages of softened cream cheese
1 cup of white sugar
4 eggs
1 1/2 cups of sour cream
1 tablespoon of vanilla extract
1 bar of real white chocolate (3.5 oz- 4.5-oz) (not the white chocolate chips)
2/3 cups of raspberry fruit spread
How To Make The Cheesecake Base
Preheat your oven to 300°F/ 150°C.
To create the crust, begin by pulverizing 1 3/4 cups of graham crackers with a rolling pin. Mix in the melted butter and sugar. Then, press this mixture evenly onto the bottom of a 9-inch spring-form pan.
Place in the oven for 8 minutes. Remove from oven, and let the pan cool. Lightly spread a layer of butter on the inside walls of the pan. Reduce oven temperature to 300°F degrees.
Take your spring-form pan and place it on three layers of aluminum foil. Make sure to wrap the outside of the pan tightly with foil so no water can get through. Then, set it aside in a roasting pan.
Mix cream cheese and sugar on low speed in a stand mixer until completely combined.
Add each egg one at a time, ensuring that the mixture is smooth with no lumps before adding the next.
Add sour cream and vanilla. Then, chop up the chocolate into small pieces and pour it in.
Add a third of the cheesecake mixture to a new pan. Using a spoon, mix in half of the raspberry fruit spread until it swirls throughout the batter.
Add one-third of the cheesecake mixture to the pan and swirl around the raspberry fruit spread. Add the remaining cheesecake mixture on top.
Place the spring-form on a roasting pan with 1-inch of water. Put the roasting pan into the oven. To prevent the cheesecake from cracking, do not bake under high heat and avoid over-baking.
Bake for approximately 90 minutes, or until the tapping test tells you the center is cooked through. The actual time might be a bit longer and will depend on how hot your cheesecake batter is.
After the food has cooled for 45 minutes at room temperature, place it in the fridge for about at least 5 hours.
Place a sheet of plastic food wrap on the surface of the cake followed by a cutting board or platter.
Use a sharp knife to remove it from the pan. Next, take off the bottom of the cake pan.
Set a cake serving plate on top of the cheesecake and turn the cake over so that the original baked surface is facing upwards.
Decorate Your Creamy Cheesecake With 3 Tangy Raspberry Toppings
After you complete steps 1-15, choose which cheesecake toppings sound best to you from the 3 following options.
Option 1: Fresh Raspberry & Raspberry Sauce
3 cups of raspberry (frozen or fresh)
1/2 cup of fine-granulated sugar
1 lemon juice, a pinch of cornstarch
Optional: Powdered sugar for dusting
Directions:
In a medium saucepan, heat the raspberries and lemon juice until they have softened and the liquid has reduced slightly.
Add sugar and cornstarch to thicken the mixture, stirring continuously at low heat for about 10 minutes or until it reaches your desired consistency.
Remove from heat. After you have prepared the sauce, pour it over a fine mesh strainer that is placed on top of a mixing bowl. Doing so will remove the seeds from the sauce.
Let cool before using it as the topping for the cheesecake.
Option 2: Chocolate Shavings & Cookies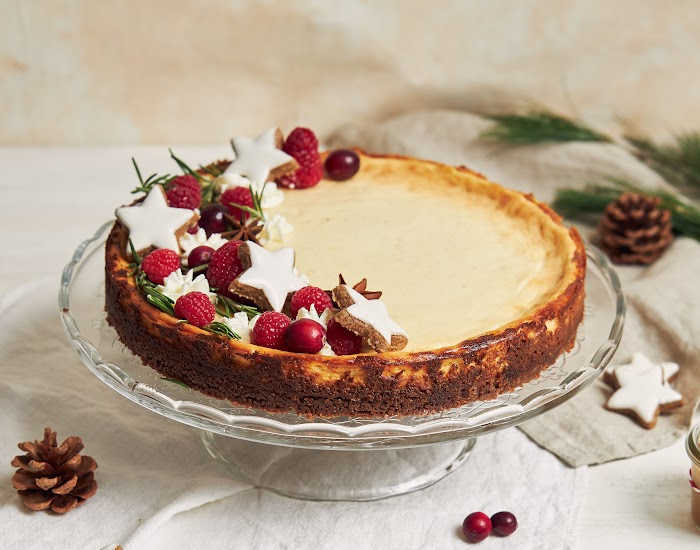 1 bar of real white chocolate (3.5 oz- 4.5 oz) - not white chocolate chips
2 teaspoons of vegetable oil
1 cup of whipping cream or heavy cream
1 teaspoon of fine-granulated sugar
2 1/2 cups (20 oz) of fresh raspberries
Optional: powdered sugar for dusting
Directions:
To get chocolate shavings, first cut the chocolate into small pieces. Then, place those pieces in a bowl with oil and heat them in the microwave for 10-second increments until the chocolate melts. But be careful not to overheat it or else the chocolate will seize up! If your mixture is very thick, add a touch more oil.
To heat the cookie sheets, either run them under hot water or place them under the broiler for a few moments. The sheets should be warm to the touch, but not too hot.
Use an offset spatula to spread chocolate thinly onto warm sheets. Allow cookie sheets to cool in the fridge for around 20 minutes or until the chocolate is hardened.
To remove the chocolate sheet from the fridge, use a putty knife to scrape it into shavings. Then, place these shavings on the edge of your cake.
Option 3: Raspberry Gelatin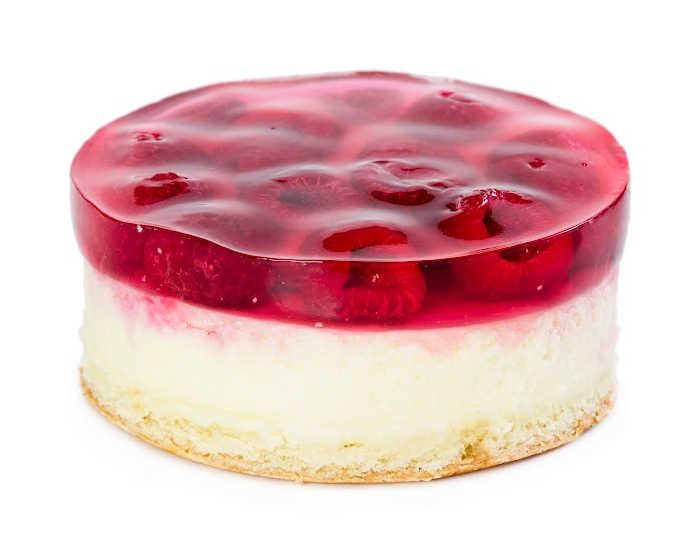 1/2 cup of water
3 tablespoons of raspberry gelatin powder
2 cups of fresh raspberries
Optional: Powdered sugar for dusting
Directions:
In a small saucepan, heat the water until it's simmering. Add the raspberry gelatin powder and whisk until completely dissolved.
Add the fresh raspberries to the pan and mix with a spoon. Stir for 2 minutes as the mixture cools.
Pour the raspberry gelatin mixture on top of the chilled cake, spreading it evenly around the circumference of the cheesecake. Allow the cake to cool in the refrigerator for at least 2 hours.
Finally, remove the cheesecake from the fridge and garnish it with more fresh raspberries & powdered sugar as desired.
Cheesecake with raspberries is a blank canvas begging to be decorated. Experiment with different toppings for a unique work of art.
Need a stand mixer to work on your cheesecake? Check out the blog post below. We've picked 5 best affordable stand mixers on the market to save you time!
Get creative and enjoy the process of making this delicious dessert!
Catchy Finds