Looking for a sweet treat that's as delicious as it is adorable? Raspberry tarts are the perfect dessert for any special occasion.
Raspberry tarts come in two sizes: one large tart, or many mini raspberry tarts. Both have the same delicious flavor, but give you the freedom to choose what size you'd like.
Bursting with flavor and the perfect piece of decoration for the table, these desserts will be the star of any gathering. Let's take a look at how to make this delectable dessert!
Making Your Tarts From Scratch
1. Mini Raspberry Tarts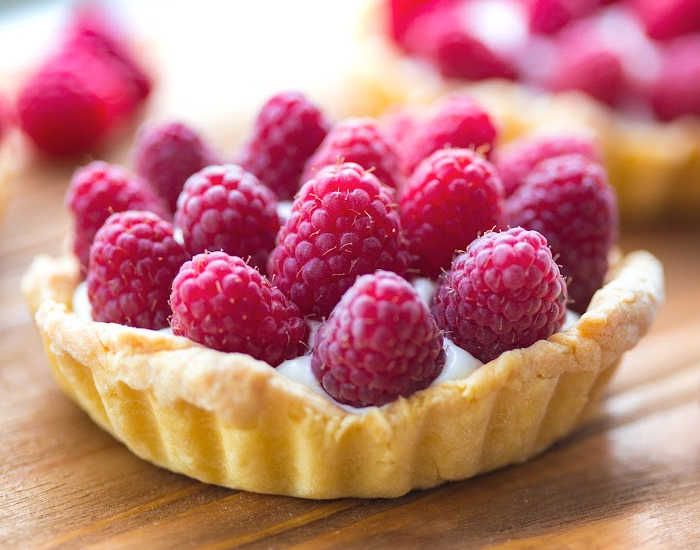 Ingredients
1 cup all-purpose flour
2 tablespoons of granulated sugar
2 eggs
1/4 teaspoon salt
6 tablespoons cold unsalted butter, cut into cubes
24 mini tart cups (about 3 inches round size)
Making The Tarts
Although there are plenty of pre-made tart shells you can buy, making your own is surprisingly easy. All you need is some basic ingredients like all-purpose flour, sugar, salt, and butter.
Combine them together and knead in a stand mixer or food processor for dough, until your dough forms a ball. Then roll it out and cut circles using a biscuit cutter or glass cup.
Place each circle in the mini muffin tin, poke holes in the bottom to vent steam, cover each cup's surface with a parchment paper, and bake at 350 degree F for about 15 minutes until golden brown.
Filling Your Raspberry Tarts
4 ounces cream cheese, softened
2 tablespoon of lemon curd (optional)
2 tablespoons powdered sugar (confectioners' sugar)
2 cups to 3 cups of fresh raspberries
Instructions
Once your tart shells are finished baking, let them cool before adding the filling. Start by whipping together cream cheese and confectioners' sugar until smooth.
Spread the mixture into each tart shell and top with fresh raspberries and more sugar if desired. Refrigerate until ready to serve and enjoy!
2. Large Raspberry Tart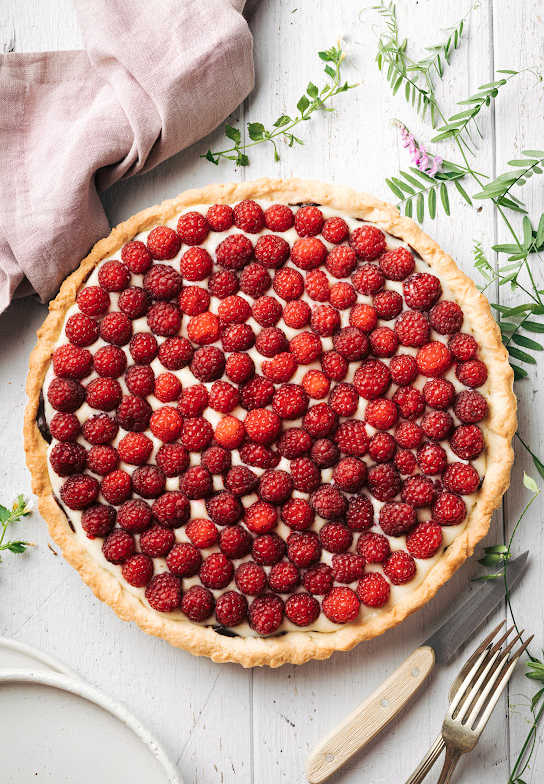 The above recipe for mini tarts is enough to make loads of 24 mini raspberry tarts. If you're looking for a larger raspberry tart, the same recipe can be used with a full-size pie pan. A full-size pie pan should measure about 9 or 10 inches.
Follow the same steps and method as for the mini tart. Just roll out your dough and place it in the pan before adding the cream cheese and raspberry filling.
Cover the surface of the tart with a baking sheet, then place the bowl or some small weighted beans on top.
Bake for about 20 minutes at 350 degree F, or until golden brown and let cool before adding the cream cheese and raspberries.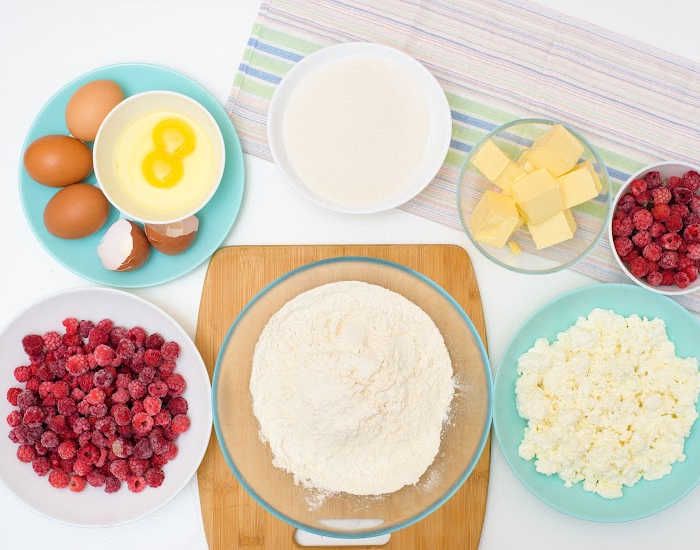 Raspberry Tart Variations
Raspberry Chocolate Tart: Add a layer of melted chocolate before adding the cream cheese and raspberries.
Raspberry Coconut Tart: Sprinkle shredded coconut on top before baking.
Raspberry Mascarpone Tart: Substitute the cream cheese with mascarpone for a richer cream cheese filling.
Raspberry Almond Tart: Sprinkle almond slices on top before baking and serve with a dollop of whipped cream.
A classic French tarte tatin twist: Add the raspberry filling with apples for a classic French tart.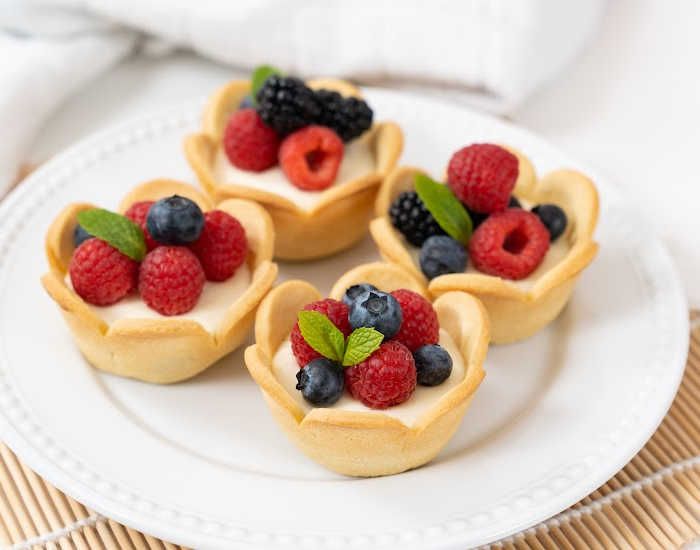 Tips & Tricks
For extra flavor, add a tablespoon of lemon curd to the cream cheese mixture.
Use a blend of different berries such as blackberries and blueberries for a more colorful tart.
For an even easier raspberry tart recipe, you can use store-bought pie crust.
For an extra crunch, sprinkle chopped nuts or crushed graham crackers on top before serving.
Easy to make and absolutely delicious, they're sure to be the star of your next gathering. So grab those ingredients and get baking!
Not sure which tool to use for your baking needs? Look no further! Below, we've compiled a list of our top 5 favorites of affordable stand mixers on the market in the below blog post. Check it out!
Raspberry tarts are easy to make in large batches, so they're perfect for get-togethers or even just a casual weeknight dessert for yourself!
Give this delicious dessert a try next time you're in need of something sweet and is packed of vitamin C. Happy baking!
Catchy Finds