Want to make an impressive dessert that will wow your guests? Try making a meringue roulade! This delicious and show-stopping dessert is sure to impress. It's lighter and fluffier than a pavlova, but still has the same crunchy sweetness that we all love.
But before we make one, let's explore fruit meringue roulade and pavlova so you can understand the key differences between them. Afterward, you'll be a master at making meringue roll!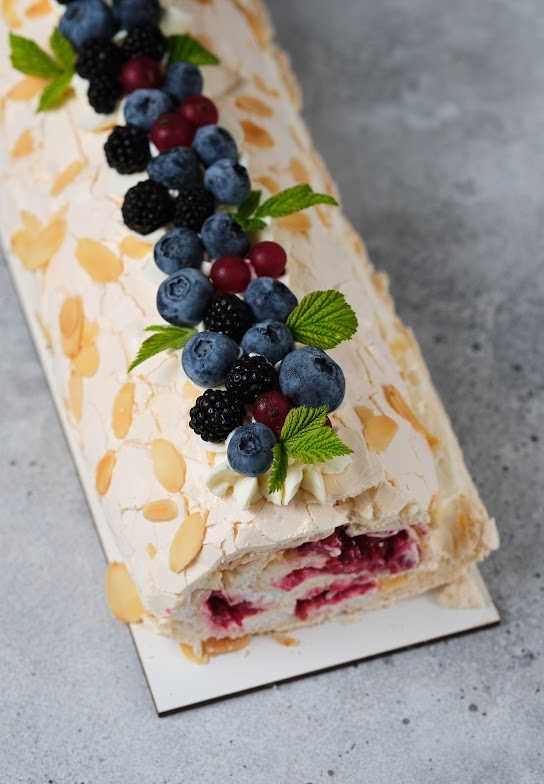 What Is A Meringue Roulade?
At its core, a roulade meringue is a large meringue that has been rolled up with cream and/or fruit inside. Its light, airy texture gives it a bit of crunch on the outside while being creamy and smooth on the inside.
This dessert can be dressed up or down to fit any occasion – from an elegant dinner party to an exciting celebration. The possibilities are endless!
What Is A Pavlova?
Pavlovas are another type of meringue dessert that has gained popularity. A pavlova consists of a crisp exterior with a soft marshmallow-like interior. It's usually topped with cream and fresh fruit such as kiwis or strawberries, but can also be served plain or with chocolate shavings for added flavor.
Meringue Roulade vs Pavlova
The main difference between meringue roulade and pavlova lies in their texture. While pavlovas are crunchier on the outside and soft on the inside, meringue roulades are crunchy throughout.
Plus, meringue roulades come with a filling – such as cream, and fruit, or chocolate. Unlike its roulade counterpart, pavlova does not have any filling and is simply enjoyed as is.
If you want something more impressive looking yet easy to make – go with the roulade! If you prefer something simpler yet still delicious – pick the pavlova!
Both options are great for entertaining since they look beautiful on their own without needing much decoration. In this blog post, we will only cover a meringue roulade recipe. Read on!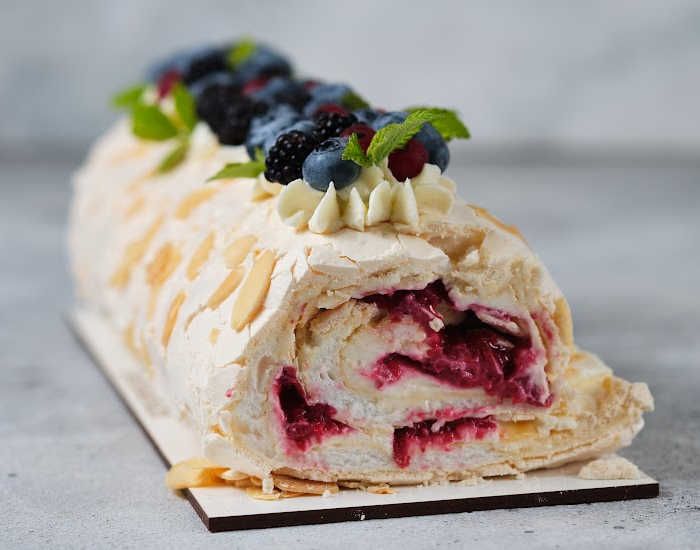 White Snow Berries Meringue Roulade Recipe
Ingredients
For the meringue, you will need:
4 egg whites from large eggs, at room temperature
1 teaspoon of freshly squeezed lemon juice
1 cup + 2 tablespoons (or 200g) of white caster sugar
A touch of elegance by dusting with icing sugar
For the cherry filling, you will need:
3 cups (or about 300g) of blackberries & raspberries & wild berries
1/4 cup (or 50ml orange juice)
1/2 cup + 1 tablespoon (or about 100g) of white caster sugar
A pinch of ground cloves
1/2 teaspoon cornflour (or cornstarch)
A pinch of salt
1 tablespoon butter, melted and cooled slightly
For the cream filling, you will need:
2 cups (or about 400ml) of double cream
1/2 cup (or 50g) of icing sugar
1/2 teaspoon of vanilla bean paste (or 1/2 tsp. vanilla extract)
For assembling the roulade:
Butter for lining your baking tin or parchment paper for lining and greasing your tin
1/2 cup (or about 100g) white chocolate – half grated & half melted and cooled a little
2 cups (or about 200g) of blackberries & raspberries & wild berries, for decoration
Instructions
Preheat oven to 150°C (302°F). Grease a large baking tin with butter or line it with parchment paper.
Begin with the meringue: In a stand mixer, whisk the egg whites until they form soft peaks. Add in the lemon juice and whisk until combined.
Gradually add in the caster sugar, 1 tablespoon at a time, while still whisking. Whisk until the mixture is thick and has a glossy sheen.
Spoon the meringue into your prepared baking tin, spreading it out evenly with a spoon.
Bake for 40 minutes, or until golden brown and crispy.
Meanwhile, make the cherry filling: Combine all the ingredients in a saucepan over medium heat.
Bring to a gentle simmer and cook for about 10 minutes or until the cherries soften and break down slightly.
Take the pan off the heat and let it cool for a few minutes. Once it's cool enough to handle, mash the cherries with a fork.
For the cream filling, whisk together the double cream, icing sugar and vanilla bean paste until soft peaks form.
To assemble the roulade, spread the cherry filling over the meringue and then top with the cream filling.
Sprinkle the grated white chocolate over the cream filling and then carefully roll up the meringue like a Swiss roll.
Place the meringue roulade onto a serving plate and dust with icing sugar. Decorate with fresh berries and serve. Enjoy!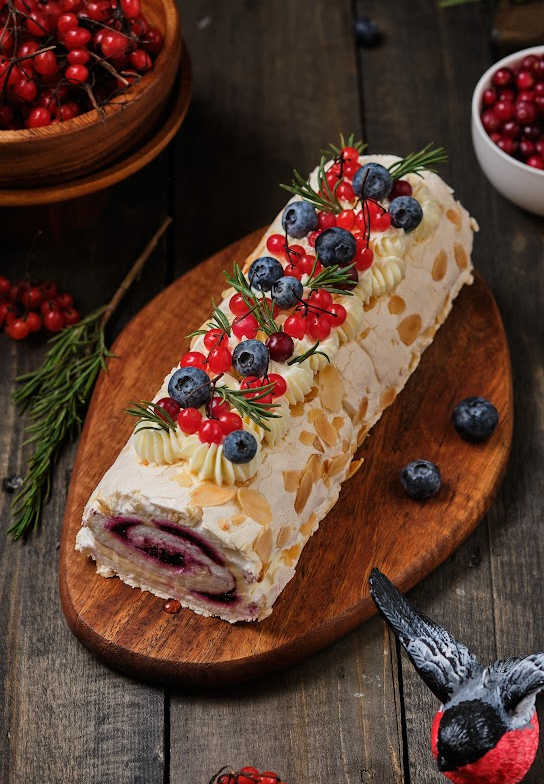 Tips & Tricks
You can certainly add nuts for extra crunch and texture to your meringue roulade. Simply sprinkle them over the cream filling before rolling up the meringue and on the top of meringue. You can use any type of nuts you like – almonds, walnuts, or hazelnuts.
For a more festive touch, you can add some chocolate shavings or cocoa powder onto the meringue before rolling it up.
If you don't have fresh berries, you can use any type of frozen fruit. Just make sure to thaw it before using. You can also add or replace with cranberries, wild forest berries.
If you don't have ground cloves, you can use allspice or cinnamon in the cherry filling instead.
To make sure that the meringue roulade is easy to roll up, make sure you spread the fillings evenly and don't over-fill it.
For a light and fluffy roulade, don't over-mix the meringue. The stiffer the peaks, the better.
Meringue roulades are also great for making ahead – just store them in an airtight container and keep refrigerated for up to two days.
So, if you're looking for a delicious and show-stopping dessert that will wow your guests – try making a meringue roulade! It's a surefire way to impress.
Need a stand mixer to assist you with all whisking task? Check out our picks of 5 best stand mixers in the market!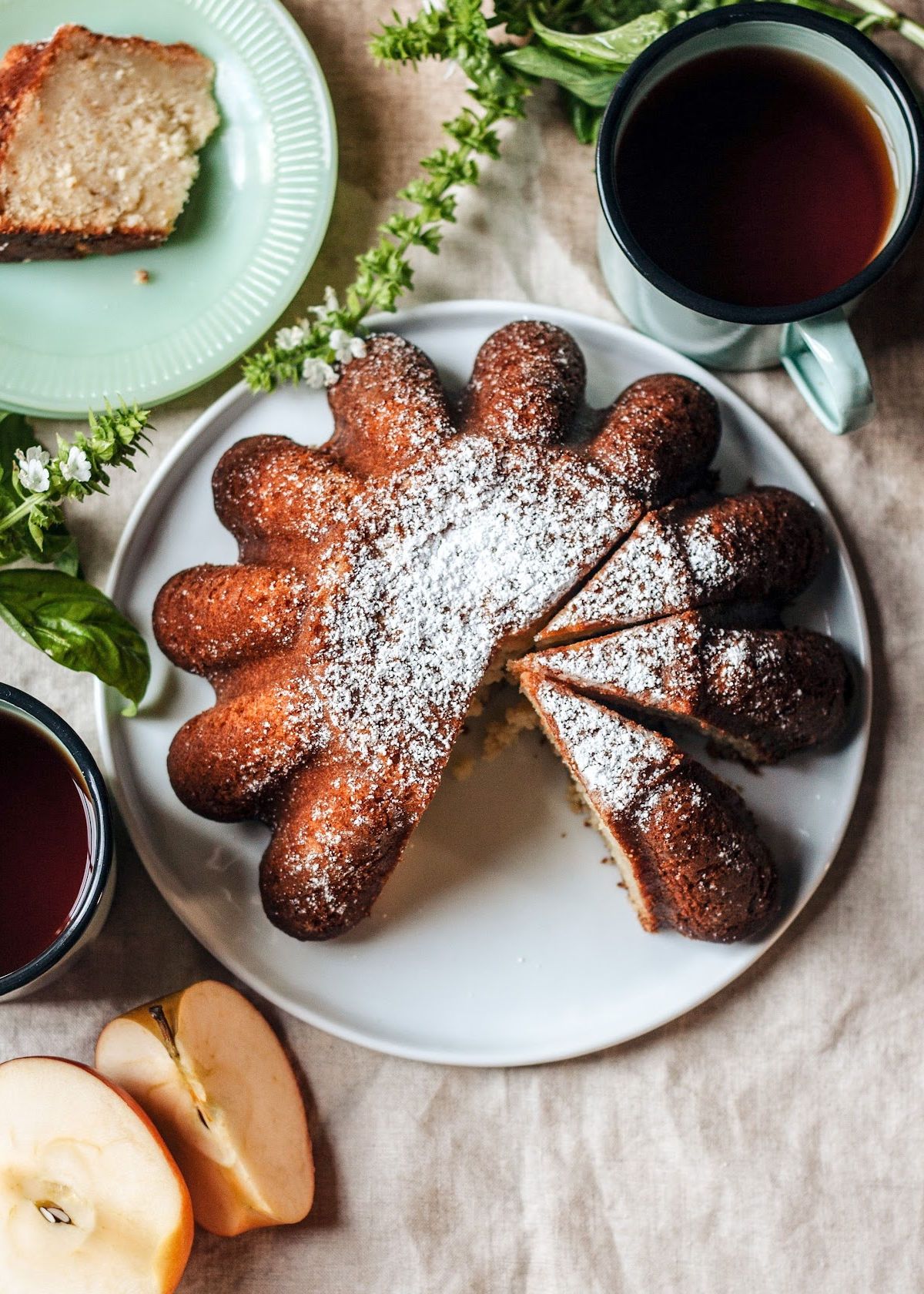 Meringue roulades are a delicious and impressive dessert that is sure to wow your guests. So, give this classic dessert a try!
Happy baking!
Catchy Finds