When it comes to the most beloved desserts, few items can match the creamy, delicious decadence of a classic New York cheesecake. But what makes a perfect cheesecake? What should you look for in an ideal recipe? We have the answers! Read on for the only recipe you'll ever need to make this classic, heavenly treat.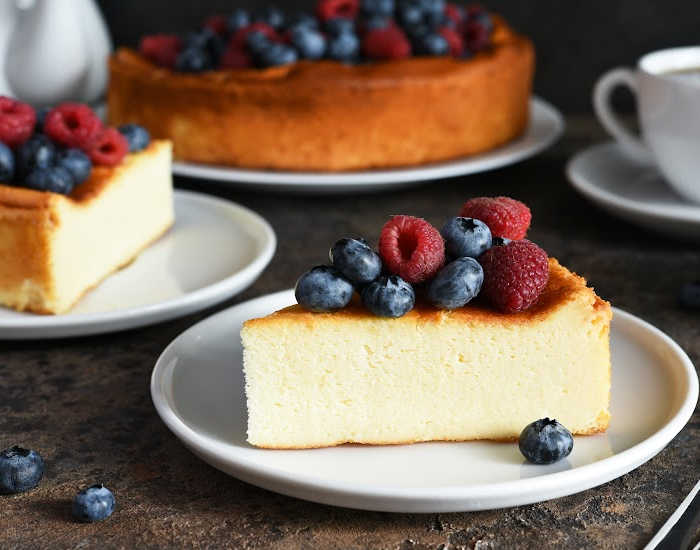 New York Style Cheesecake vs. Regular Cheesecake
It's all in the extras! New York cheesecake has a tangy sour cream topping and often includes lemon zest for added zing. It also has a thicker, denser texture than regular cheesecake due to its higher ratio of eggs and cream cheese.
What Is The Famous New York Cheesecake?
The famous New York cheesecake is a Junior's cheesecake recipe that has been around for generations. It is made with a thick, creamy mixture of cream cheese, eggs, and sugar. It often includes sour cream and lemon zest for additional flavor and is usually served with rich toppings like caramel, chocolate sauce or fresh fruits.
With the right recipe and perfect baking technique, you can make a classic New York cheesecake at home that will wow everyone. Let's start making one!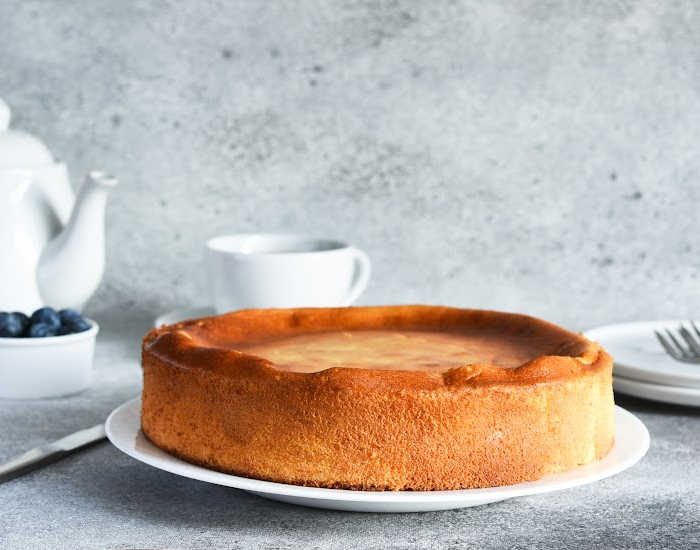 How To Make A New York Cheesecake
Ingredients:
4 packages of 8 ounces each (900 grams total) of cream cheese
2 cups (500 grams) sour cream
1/2 cup (125 grams) all-purpose flour
1 cup (250 grams) of white fine-granulated sugar
1 teaspoon of vanilla extract
5 eggs
2 tablespoons unsalted butter, melted and cooled slightly
1/4 teaspoon salt
1 1/2 tablespoons (22ml) lemon juice
2 tablespoons white sugar
1 teaspoon vanilla extract
2 teaspoons freshly grated lemon zest (optional)
16 ounces (450 grams) of Graham crackers or cookie crumbs with melted butter (for the crust)
Make The Crust:
Place digestive biscuits into a food processor and blend until you get a smooth consistency.
Add in butter to the biscuit mixture, stirring until all ingredients are combined.
Take your 9-inch (23 cm) spring-form pan and start pressing the biscuit mix against its walls with your fingers until it extends up to the brim of its base.
Firmly press down on the pan bottom so that crust is evenly spread out across entire surface area of pan.
Gently use knife blade around edges of the walled rim to ensure evenness before freezing in the freezer for 30 minutes.
Make The Cake:
Preheat oven at 350 degrees F (175 degrees C).
In a medium bowl, mix the cream cheese, 1 cup sugar, and 1 teaspoon vanilla.
Whip until the mixture is perfectly blended. Blend in one egg at a time.
Add flour and salt; mix well. Pour batter into the prepared pan.
Bake for 15 minutes in preheated oven. Be sure to use a water bath when baking the cheesecake.
While the cake is baking, combine sour cream, 2 tablespoons sugar, and 1 teaspoon vanilla; blend well and set aside.
After the cake has baked for 15 minutes, reduce the oven temperature to 250 degrees F (120 degrees C).
Gently spread the sour cream mixture over top of the cake; sprinkle lightly with lemon zest if desired.
Bake for an additional 45 minutes or when the center of the cake has nearly solidified when jiggled lightly.
Cool before removing the sides of the pan. Refrigerate before serving if desired!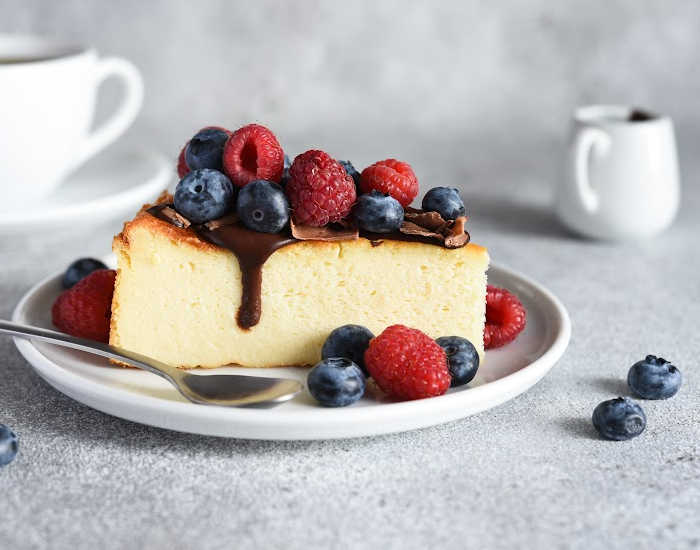 Dress Up The Cheesecake
Once you've mastered the recipe, there are plenty of ways to dress up your classic New York cheesecake. Try adding different flavorings to the recipe like cocoa powder, cinnamon, or almond extract.
The cheesecake can be enjoyed as it is or topped with fresh fruits chocolate sauce, or caramel, nuts. Serve it with a dollop of freshly whipped cream for an extra special presentation!
Greek Yogurt Cheesecake – Substitute plain Greek yogurt for the sour cream.
Chocolate Coconut Cheesecake – Add 1/3 cup cocoa powder and 1/2 cup shredded coconut to the recipe.
Caramel Pecan Cheesecake – Top with a layer of chopped pecans and a caramel sauce.
Oreo Cheesecake – Crush Oreo cookies and use the crumbs for the crust.
Berries Cheesecake – Top with your favorite seasonal berries (strawberries, blue berries, raspberries, etc) and a light glaze.
Blueberries & Pumpkin Seeds Cheesecake – Top with blueberries and pumpkin seeds for a healthy twist.
Cherries Cheesecake – Top with cherry sauce and fresh cherries.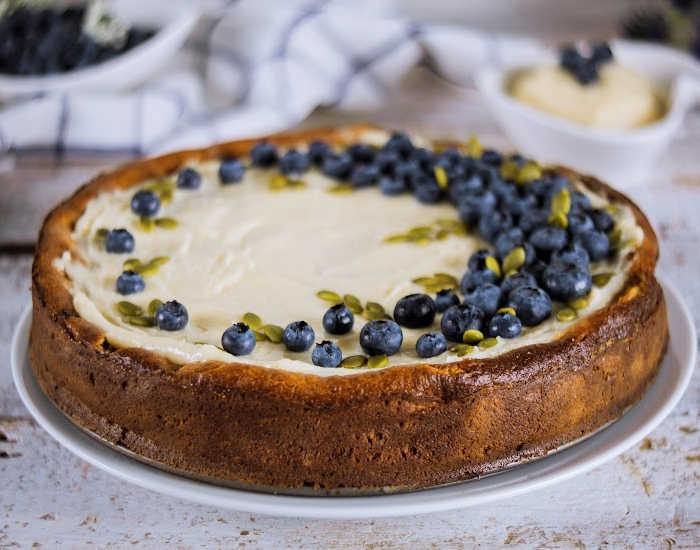 What Is The Secret To A Good Cheesecake?
The secret to a good cheesecake is getting the recipe just right. Using quality ingredients, like cream cheese and eggs at room temperature, will ensure that your cheesecake is light and airy. Also, make sure to bake the cake slowly so it can set up properly without becoming too dry.
Finally, topping the cheesecake with a tangy sour cream mixture adds flavor and helps keep it moist. Follow these simple tips and you'll have the perfect cheesecake every time.
Tips & Tricks
Be sure to use a water bath when baking the cheesecake. Place the spring-form pan in a larger pan and fill it with hot water. This will help to create steam and keep the cake from cracking.
If you have time, refrigerate the cheesecake overnight for better form and flavor.
If you over-bake the cheesecake, all is not lost! Try topping it with a layer of sour cream and baking it at 300 degrees F (150 degrees C) for 8-10 minutes to bring it back to life.
With this recipe, you can make a classic New York cheesecake that is rich, creamy and absolutely irresistible!
Are you looking for an affordable, efficient food processor to help make cakes and other delicious treats? Look no further! Our below blog post outlines the top 5 best food processors for dough, so you can easily find one that meets your needs.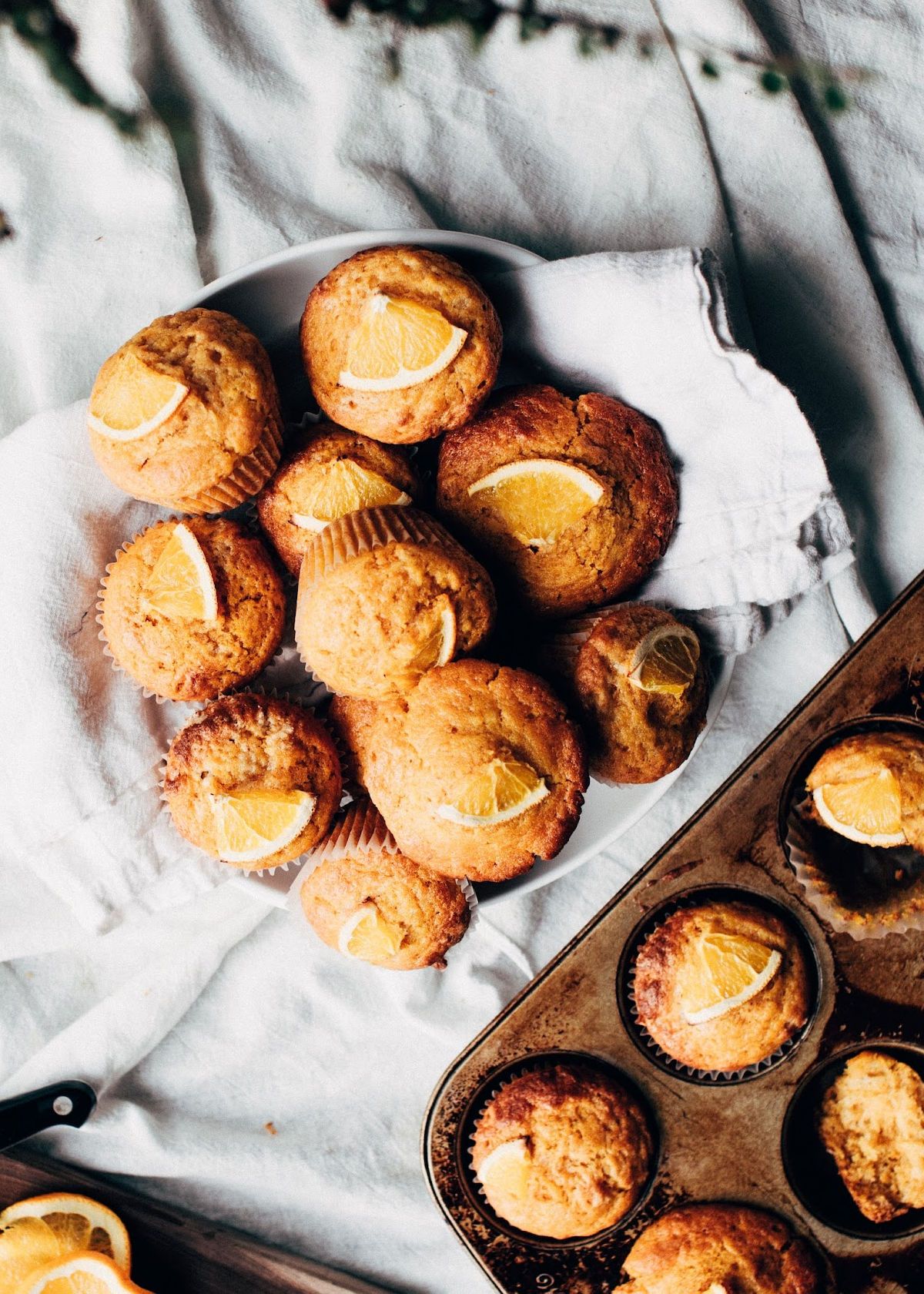 With its creamy texture and heavenly flavor combination, this dessert is sure to become the star of any meal—and the go-to treat whenever you're feeling indulgent! Get baking and enjoy this mouthwatering masterpiece!
Catchy Finds