If you're looking for a delicious cake to make for your next gathering, look no further! Nothing says "refreshing" quite like a mandarin orange cake! Citrusy, sweet, fluffy, and creamy, this cake is the perfect way to satisfy your sweet tooth!
Plus, it's easy enough to make that even novice bakers can feel confident in their ability to tackle this project! So you can get started on it right away.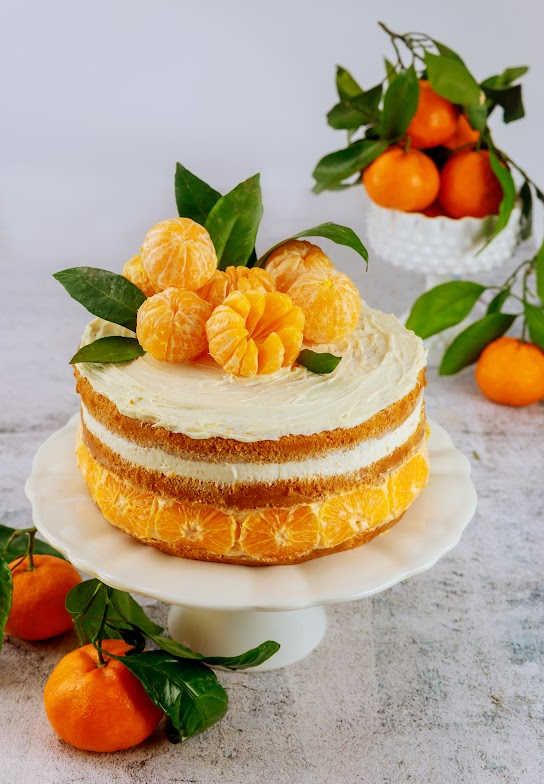 Mandarin Orange Cake vs. Pig Pickin Cake
Pig Pickin cake is also made with mandarin oranges and is similar to a layered mandarin orange cake but has some unique differences that set it apart.
For instance, pig pickin cake is a layer cake, just like mandarin orange cake, but it also contains pineapple and coconut shreds. It is usually covered fully with a thick creamy, fluffy frosting and garnished with chopped mandarin oranges.
Are Mandarins Healthier Than Oranges?
Mandarin is a type of orange, but they have a few key differences that make them healthier than oranges. Mandarins are lower in calories and contain more dietary fiber, vitamins C and A, folate, potassium, and calcium.
They also contain less acidity than oranges. So if you're looking to boost your intake of dietary fiber and vitamins, mandarins are a great choice! With all these health benefits, there's no reason not to make the mandarin orange cake part of your next special occasion menu.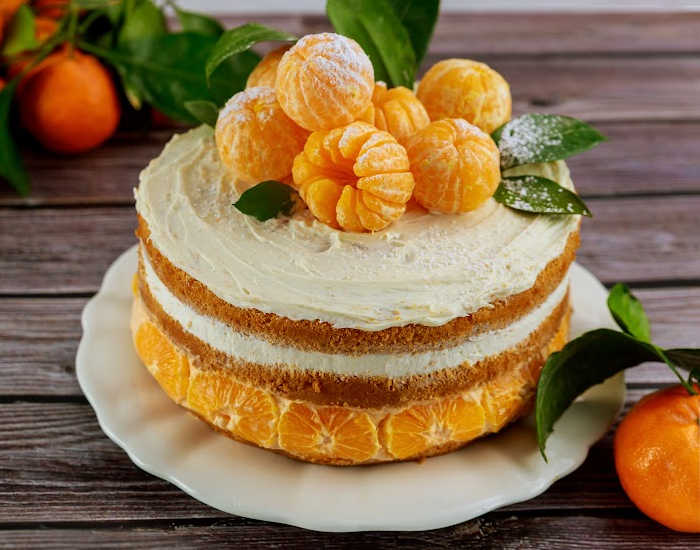 Mandarin Cake Recipe
Ingredients:
1 cup butter, softened
3/4 cup sugar
4 eggs
2 cups all-purpose flour
2 teaspoons baking powder
1/2 teaspoon salt
6-8 mandarin oranges, peeled, seeded, and chopped into small pieces
2-4 mandarin oranges, for garnish
Orange-flavored cream cheese frosting
Instructions:
Preheat oven to 350 degrees F (175 degrees C). Grease and flour 3 x 9-inch round cake pans.
In a large bowl, cream together butter and sugar until light and fluffy.
Beat in eggs one at a time, then stir in the chopped mandarin oranges.
Cream together butter, sugar, and eggs until the mixture is light and fluffy.
Once the batter is ready, fold in some mandarin oranges that have been peeled, seeded, and chopped into small pieces.
Then divide and layer the batter into 3 round cake pans that have been lined with parchment paper.
Bake the cakes for about 25-30 minutes or until a toothpick inserted into the center comes out clean.
Once the cakes are done baking, remove them from the oven and allow them to cool completely before assembling your cake layers.
After cooling, it's time to assemble them into one delicious layer cake! Start by frosting one of the cakes with an orange-flavored cream cheese frosting.
Then top it with the other cake layer and frost the entire thing with more cream cheese frosting.
Repeat the same for the 3rd layer (and 4th layer if desired) by applying cream cheese mixture between them. You can stop after the 2nd layer if you wish.
Once the cake is assembled, spread the cream mixture over the top surface and around the first layer of the cake.
Garnish the cake with some mandarin orange slices around the 1st layer of the cake, and place some peeled mandarin oranges over the top of the cake for a beautiful presentation.
Then chill for 3 hours before slicing into wedges and serving it up! Enjoy!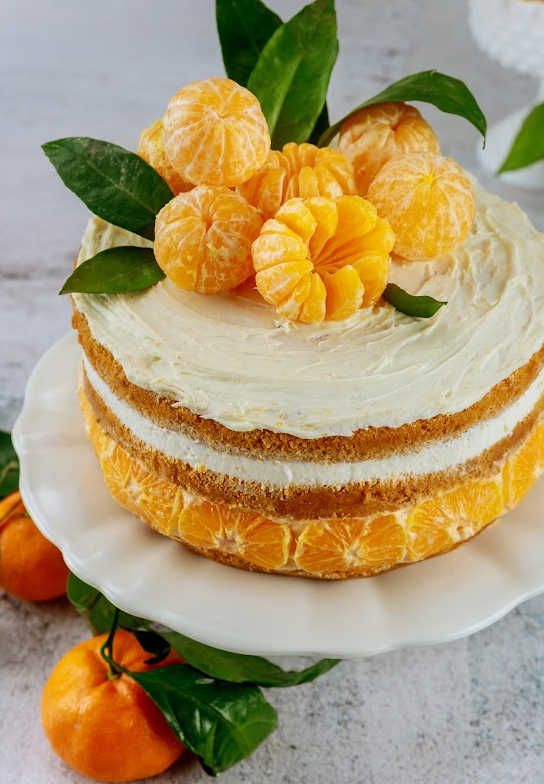 What Pairs Well With Mandarin?
This sweet and citrusy recipe pairs well with some other light and zesty flavors. It goes well with a variety of ingredients and flavors to create delicious dishes. The sweet, tart flavor of the mandarin orange can be enhanced by combining it with spices such as cinnamon, ginger, and nutmeg.
For an added hint of sweetness, sprinkle some chocolate chips into your batter before baking or add a layer of dark chocolate shavings to the top? To get inspired and see it in action, simply watch the tutorial video below!
Tips & Tricks
Try adding a sprinkle of poppy seeds to the top of the cake for a nutty crunch, or try pairing it with some whipped cream for an extra creamy!
Mandarin orange cake also goes perfectly with tart fruits like berries, cranberries, currants, and pomegranates.
To boost the mandarin orange flavor of your cake, you can infuse the cake batter with some freshly squeezed mandarin orange juice or zest before baking.
You can also top your cake with a simple glaze made from melted butter, powdered sugar, and mandarin orange zest. This will add a delicious sweet and citrusy flavor to your cake.
For an even easier way to finish off the look of your mandarin orange cake, choose a complimentary icing color that matches or contrasts with the oranges in your recipe.
Are you in need of a baking gadget to assist with whisking and mixing tasks? Read our blog post for an overview of the 5 best affordable stand mixers under 200$, so that you can easily satisfy your baking cravings. We've examined every aspect, from design features to performance capabilities, ensuring that each one is adept at producing delicious cakes!
Mandarin orange cake is an incredibly flavorful treat that will bring a bit of sunshine to any occasion! It will be the star of any gathering.
So give this mandarin orange cake recipe a try and get your guests talking about it. Have fun baking!
Catchy Finds