Raspberry cupcakes are a delicious dessert that everyone will love. This recipe is for chocolate raspberry cupcakes, which are even more decadent and delicious. These cupcakes are perfect for any occasion.
With just a few simple ingredients, these chocolate raspberry cupcakes will be the star of the show. Get ready for some deliciousness!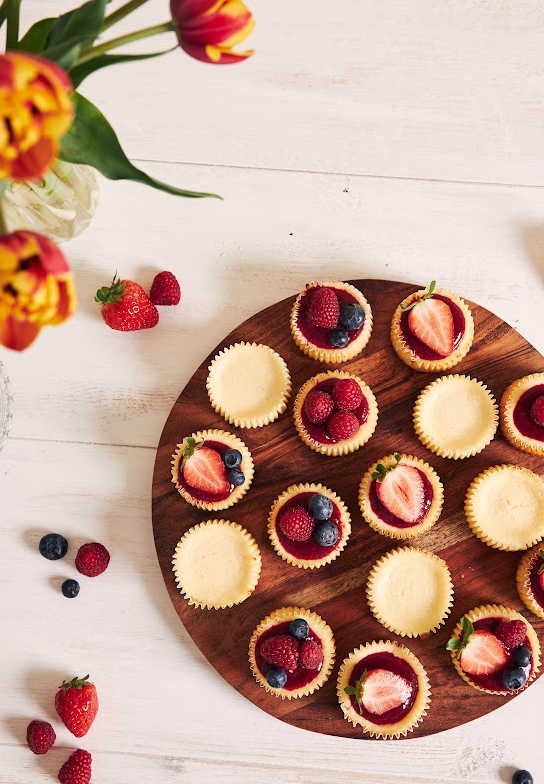 Raspberry & Chocolate Filled Cupcakes Recipe
Ingredients
For 6 mini white chocolate raspberry cupcakes.
For The Cookie Base:
1 ¼ cups (about 220g) of crushed cookies (such as shortbread or graham crackers)
1/3 cup (50g) of chopped almonds
1/2 cup (90g) white chocolate chips
4 tablespoons milk
For The Filling Of Cream Cheese:
2 cups (400g) cream cheese, softened to room temperature
1 ¾ cups (300g) white chocolate chips, melted and cooled slightly
1/2 cup (120ml) of warm heavy cream
1 ½ cups (360ml) of cold heavy cream, lightly whipped until thickened but not stiff
For The Raspberry Jelly Topping:
2 ¼ cups (225g) raspberries, fresh or thawed if frozen
2 tablespoons (50g) sugar
1 tablespoon lemon juice
5 teaspoons powdered gelatin, dissolved in ½ cup cold water according to package instructions.
For garnish: extra raspberries and blueberries.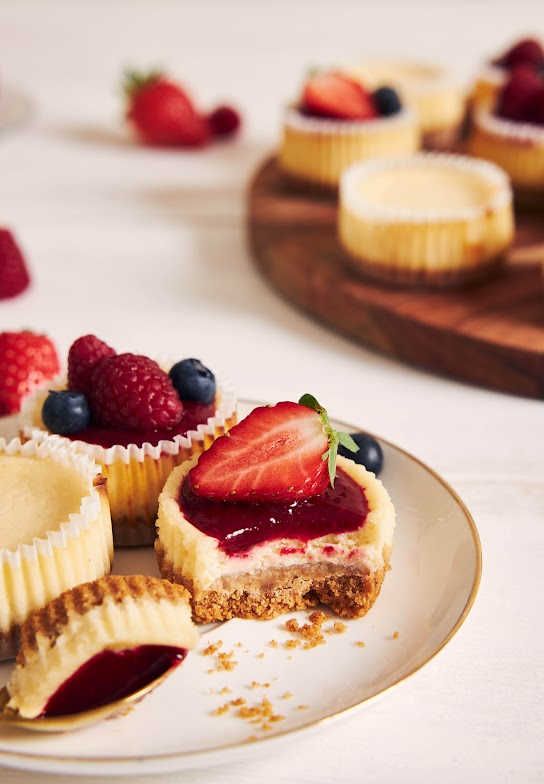 How To Make Raspberry Cupcakes (No Baking)
Line a mini cupcake tin with paper liners and set aside.
To make the cookie base, in a medium bowl or plastic bag, combine the crushed cookies, chopped almonds and white chocolate chips.
Pour in the milk and mix until mixture is combined and forms clumps.
Divide cookie mixture into 6 cupcake molds, pressing down to form the cookie base.
Place in the fridge for 30 minutes to set while preparing the filling.
To make the cream cheese filling, add cream cheese and melted white chocolate chips to a large bowl. Beat using an electric mixer until mixture is creamy and smooth. Slowly add in heavy cream and continue to beat until smoothly combined.
Take the cupcake molds from the fridge and spread cream cheese mixture evenly over cookie base. Cover with plastic wraps. Place in the fridge for another 60 minutes to set.
To make the raspberry jelly topping, add raspberries, sugar and lemon juice to a saucepan over medium-high heat. Simmer for about 15 minutes or until mixture has reduced significantly and forms into a thick syrup-like consistency. Remove from heat and stir in dissolved gelatin.
Take the cupcakes out from the fridge. Place the fresh raspberries and blueberries on top of the cream cheese filling.
Pour raspberry jelly over cream cheese filling. Return them to the fridge for final 3 hours or until set.
Garnish with extra fresh raspberries and blueberries. Enjoy!
The key to making raspberry filled chocolate cupcakes is all in the layering—from the crunchy cookie base, add with a smooth and creamy cream cheese filling, and top off with the tangy raspberry jelly and colorful fruits topping.
Other Raspberry Cupcakes Variations
Baked Raspberry Chocolate Chip Cupcakes
Baked Raspberry Jam Filled Cupcakes
Raspberry Coconut Filled Cupcakes
Make sure to play around with different mixtures and find your favorite variations.
Tips & Tricks
To get that extra crunch in your cupcakes, add more chopped hazelnuts or cashew nuts to the cookie base.
You can use store-bought raspberry jelly, instead of making it at home.
Add other fruits to your cupcakes are strawberries, blueberries and blackberries.
You can also make cupcakes in a 9-inch round cake pan, if you'd like to make it for a larger crowd.
To store these cupcakes, keep them in an airtight container for up to 3 days in the fridge. Enjoy!
With each forkful of raspberry filled chocolate cupcakes, you get a little bit of everything—sweet and tart raspberry jelly, crunchy cookie base and creamy cream cheese all in one bite!
If you're in the market for a stand mixer to help with all your baking needs, look no further! We've put together a list of the five best affordable stand mixers on the market today. These top-notch machines will have you whipping up show-stopper cupcakes in no time!
Make and enjoy this delicious raspberry cupcakes recipe today.
Catchy Finds