Cooking a whole chicken can be daunting, but it doesn't have to be! By following this simple recipe, you'll end up with a delicious, juicy bird that's sure to please the whole family.
And roasting some vegetables along with the chicken is a great way to get everyone to eat their greens. So read on for step-by-step instructions on how to roast a chicken and vegetables to perfection.
Ingredients
1 whole chicken (4-5 pounds)
1 pound baby potatoes
1 pound carrots
1 pound green beans
1 lemon, divided
Olive oil
Salt & Pepper
4 garlic cloves, chopped
Herbs (rosemary, thyme, etc.)
Step-by-Step Recipe
Step 1: Season the chicken!
Chop the garlic. Combine and crush the garlic and salt into a paste. In a small mixing bowl, whisk together the garlic paste, butter, thyme, zest, pepper and whatever other herbs you like. Rub 2 tablespoons of the garlic mixture under the skin of each chicken breast and thigh.
Add some olive oil, then sprinkle on salt, pepper. Once the chicken is seasoned to your liking, stuff the cavity with half of the lemon and any extras herbs you have left over. Then place it in a roasting pan breast-side up. Cover the chicken and put it in the fridge undergo marination for a few hours.
Step 2: Preheat the oven to 425 degrees Fahrenheit.
This may seem like a high temperature, but trust me, it's necessary for getting that crispy skin. While the oven is preheating, take your chicken out of the fridge and let it come to room temperature. This will help it cook evenly throughout.
Step 3: Prep the vegetables.
I like to use baby potatoes, carrots, and green beans for this recipe, but you can really use any veggies you like. Just make sure they're all roughly the same size so they'll cook evenly. Cut the potatoes in half, slice the carrots into thin pieces, and trim the ends off of the green beans. Toss them in a large bowl with a bit of olive oil, pepper and salt.
Step 4: Put the pan with the chicken into the oven.
Cut the remaining lemon into thin slices and top each chicken breast with a slice or two. Then pop the whole pan into the oven and let it roast for about an hour-and-a-half, or until the internal temperature of the chicken reaches 165 degrees Fahrenheit.
Step 5: Check in every 15 minutes.
I like to baste my chicken with some of the pan juices so it stays nice and moist. Just spoon them over top of the bird every 15 minutes or so.
Step 6: Add the veggies to the pan after 30 minutes.
Halfway through cooking, it's the time to take the chicken out, add the veggies to the pan. Spread them out around the chicken. Be sure to leave some space between each piece of veg so they can get nice and crispy in the oven. I find cooking vegetables at this stage retains more nutrients and prevents them from being overcooked than adding them at the very beginning.
Step 7: Put the pan back in the oven for another 30-35 minutes.
Set a timer for every 10 minutes and check the progress of your dish. If necessary, rotate the chicken and vegetables in the pan so everything cooks evenly and turns light golden brown.
Step 8: Take the pan out and let it rest for 5-10 minutes.
Once everything is cooked through, remove it from the oven and let it rest for about 5-10 minutes before carving and serving. And that's it! You've now successfully made a delicious roasted chicken and vegetables mix that your whole family will love. Enjoy!‌‌‌‌
So there you have it! By following these simple steps, you'll end up with a beautiful roasted chicken that's juicy and full of flavor. Don't be afraid to experiment with different herbs and spices until you find a seasoning blend that you love. And feel free to use whatever veggies you have on hand—the sky's the limit! ‌‌
If you need a roasting pan for chicken, check out the below blog post. We have reviewed 5 best roasting pans for chicken to save you time! Now go forth and roast chickens like a pro, your family will love it!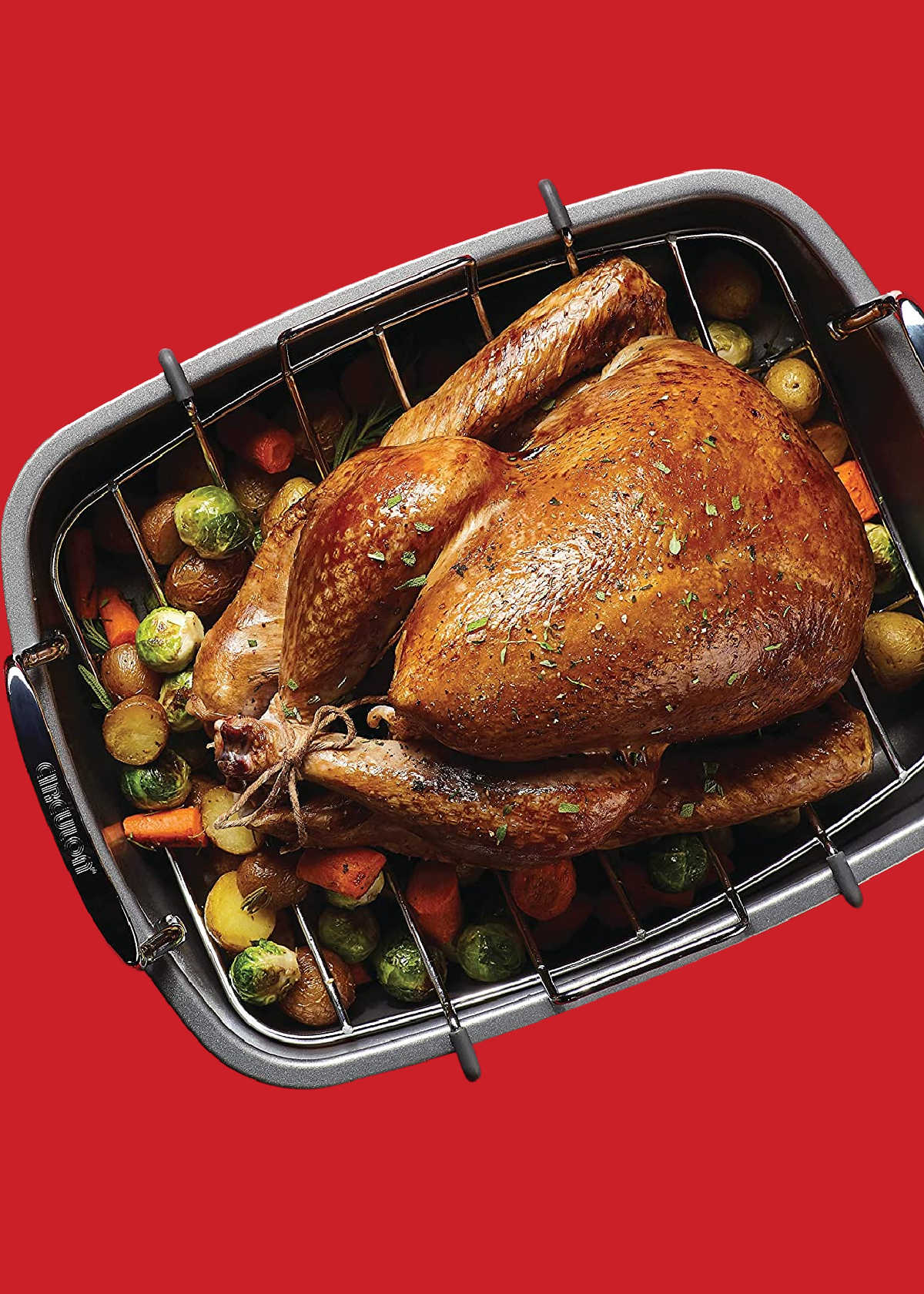 Happy roasting!
Catchy Finds