There are many different pans on the market that are designed for baking chicken and roasting meats. So, which one is the best of the baking pans?
In this blog post, we will take a look at some of the best pans for baking chicken or turkey and help you decide which one is best for your needs.
Whether you're roasting a Thanksgiving holiday turkey or chicken breasts for a weeknight meal, these versatile roasters will help you get the perfect results every time.
We will also provide a few tips on how to roast chicken in a pan. Let's get started!
---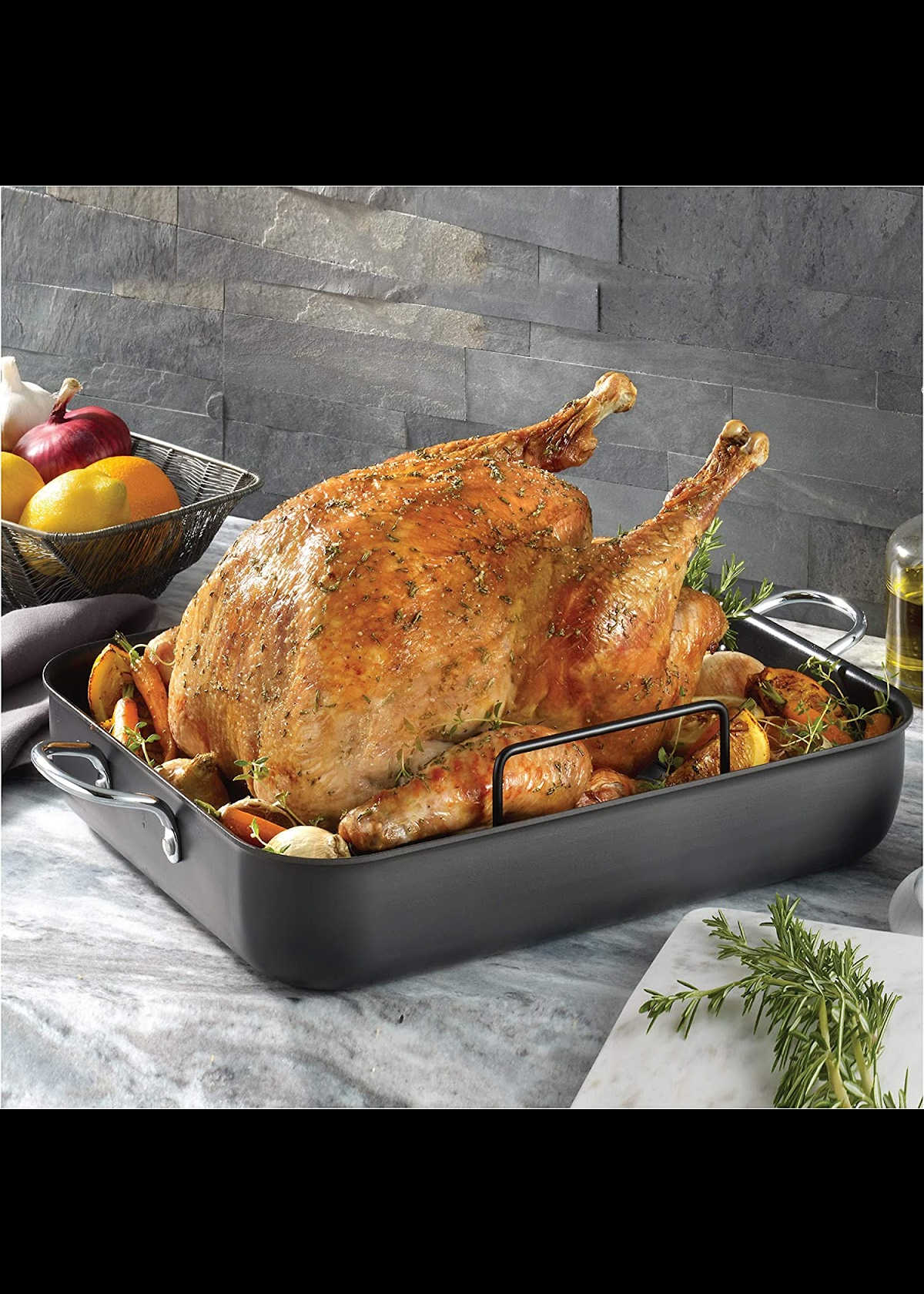 💡
This post contains affiliate links which means I may receive a commission for purchases made through links. I participate in the Amazon Services LLC Associates Program, if you purchase a product with the links that I provide, I may receive a small commission from Amazon. There is NO additional cost to you!
Catchy Finds' 5 Top Picks In The Spotlight





---
T-fal Hard Anodized Titanium Nonstick 16 inch Roaster
What Makes It Catchy
This top-durable roaster is made from heavy gauge hard anodized aluminum, which is far more durable than standard aluminum and won't scratch or rust over time. A whole chicken or a large roast fit nicely.
The titanium reinforced nonstick interior with roasting rack is ideal for frying, sautéing and browning, and it's also oven safe up to 400°F (with a lid up to 350°F).
Plus, this T-fal rectangular pan is suitable for use on all stovetops (except induction), so you can cook with confidence no matter what type of stove you have.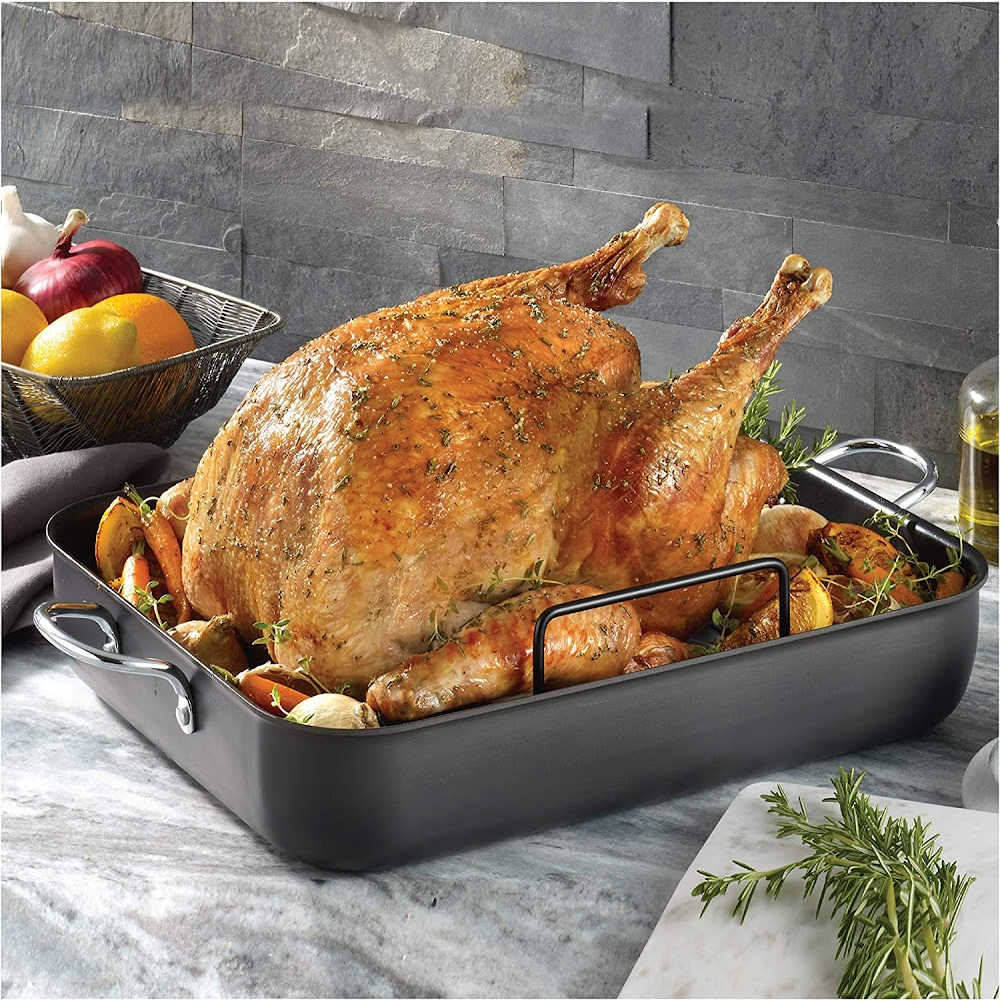 Things In The Spotlight
This 16 inch roaster features a scratch resistant and toxin-free nonstick interior that will stand up to everyday use, keeping food sliding smoothly along the surface.
As it's dishwasher safe, cleanup is a breeze, while the PFOA, lead, and cadmium free construction ensures your food is safe and healthy.
The riveted silicone handle provides comfort and safety, and the even heat base ensures superior heat distribution for perfect results every meal.
---
Circulon Nonstick 17 inch Roasting Pan
What Makes It Catchy
This easy-to-use 17 inch roasting pan features a removable U-shaped rack metal rack set that keeps meats separate from fats and drippings while cooking. However, you can remove the rack and use the pan for deep dishes like lasagnas and casseroles.
The heavy duty alloy steel (a high quality stainless steel) construction ensures fast, even heat distribution.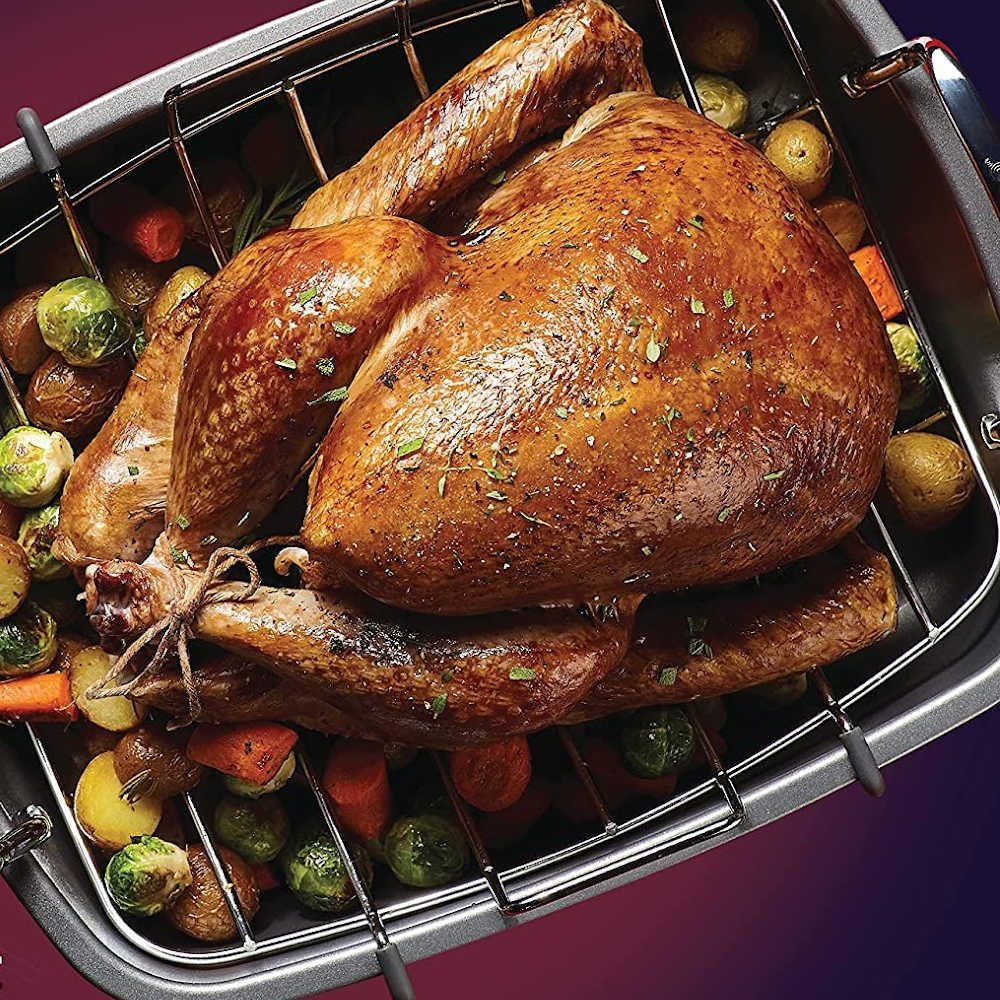 Things In The Spotlight
Oven safe to 450°F, this PFOA-free nonstick pan provides excellent food release and easy cleanup, so you don't have to worry about your food sticking or having to scrub hard to get it clean.
It may look small in the pictures. But don't be deceived: it can roast up to a 24 lb. turkey!
The superior nonstick technology ensures that your food will always come out perfectly cooked, and the wide handles provide a confident grip when transferring in and out of the oven. Easily one of the best baking pans we've found!
---
Farberware Bakeware 15 inch Nonstick Steel Roaster
What Makes It Catchy
The Farberware Bakeware Roaster is the ideal option for its adaptability. With every piece of sturdy and dependable bakeware, Farberware has been upholding that tradition for over 120 years.
The roasting pan features a removable, chrome-plated flat rack. This allows you to raise meat up so that fats can drip away, resulting in healthier cooked food. Perfect for small turkeys, pork roasts and legs of lamb, the roasting pan also works ideally for roasting fish or vegetables. It may fit in most home ovens - even a small oven.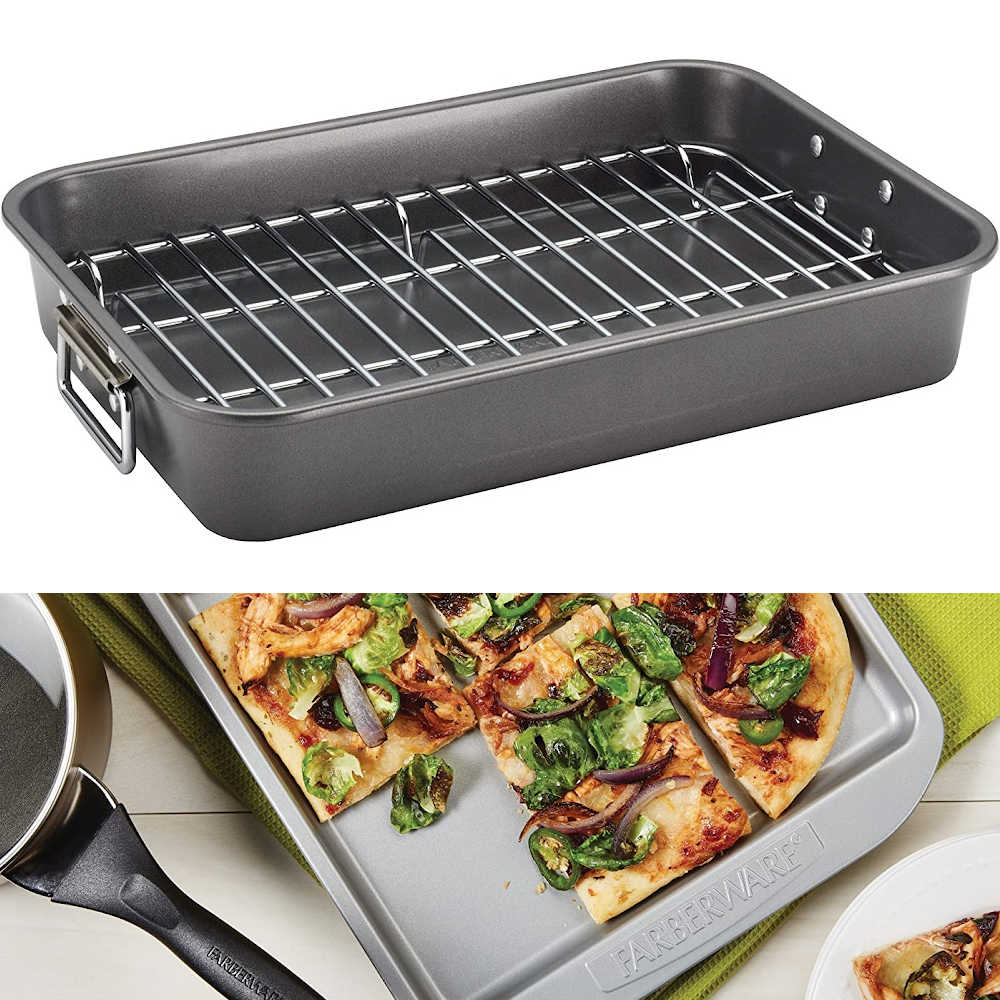 Things In The Spotlight
This 15" roasting pan is built tough with high quality materials and a heavy duty steel construction and is oven safe to a sizzling 450°F, so you can cook anything your heart desires.
Best of all, it has non stick coating inside and out, so cleanup is a breeze. No more scrubbing for hours - yay! The good grip of dual riveted handles (cast stainless steel) make it easy to transfer in and out of the oven. The wide handles on the chrome-plated rack make removing roasts, turkey, seafood and more a total cinch. Did we mention that versatility can be affordable? Ok, we've said it!
---
Granite Ware 15 inch Alloy Steel Oval Roaster
What Makes It Catchy
Among oval pans, the Granite Ware Oval Roaster with cover is the best choice for distributing heat evenly. This stainless steel baking pan with an aluminum core, is covered with dark porcelain, provides strength and distributes heat evenly, while the porcelain surface is inert, naturally nonstick and can withstand use of metal utensils. In fact, a tri-ply construction.
It looks like a retro design, but apart from many quality improvements over the decades, its basic design hasn't changed for generations!
This enameled steel construction resists up to 932°F, making it perfect for use in the oven, on the stovetop, or directly on fire. Don't forget to use your oven mitts: you'll need them when you take this great pan out of the oven.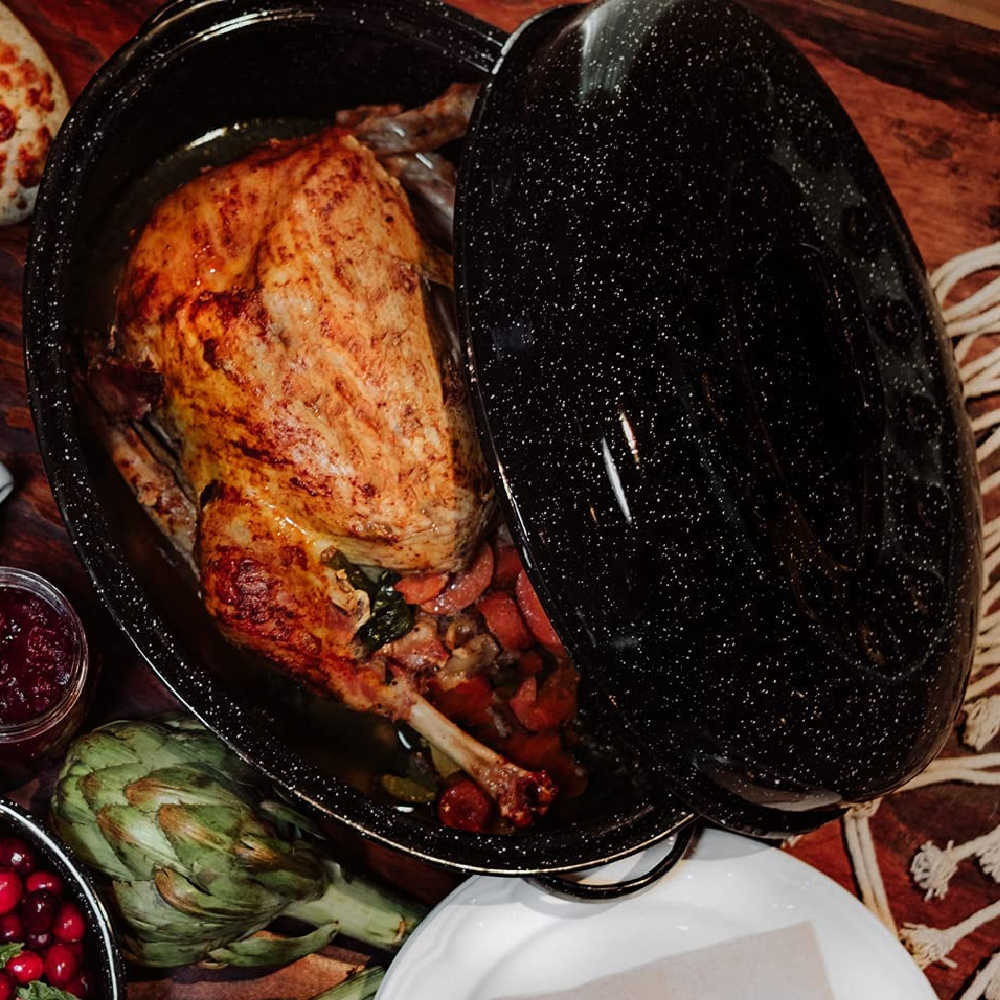 Things In The Spotlight
The oval shape is perfect for roasting large cuts of meat or vegetables, and the 15 inch size will accommodate a variety of foods, from a 12 lb. poultry to a 15 lb. roast. Without the cover, an 18 lb. bird will fit easily. The Granite Ware Oval Roaster is a versatile and healthy option for your cooking needs, one of the great roasting pans, made in Mexico.
The smooth surface is also resistant to scratches, making it a durable and long-lasting addition to your kitchenware collection.
As a personal note: This roaster brings to mind Norman Rockwell's famous painting "Freedom from want". A lovely and proud grandma puts her undoubtedly super-delicious turkey at Thanksgiving on the family table - on an oval plate. Did she use a Granite Ware baking pan?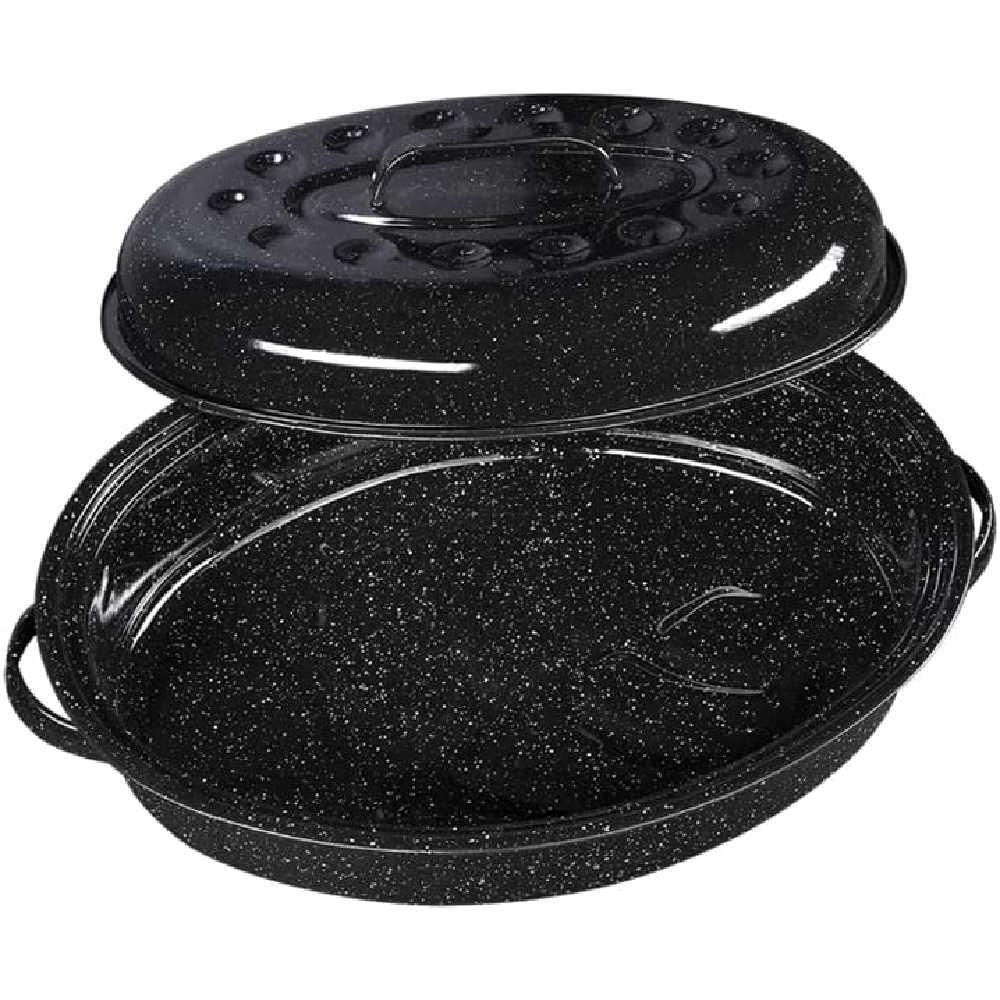 ---
Lodge 5 Quart Pre-Seasoned Cast Deep Skillet
What Makes It Catchy
The Lodge Cast Iron Deep Skillet is not your average 12 inch skillet. It's one inch deeper, making it perfect for all of your cooking needs!
This cast iron pan has a big, easy-to-use handle for lifting or hanging storage when not in use and an assist handle for greater control to distribute and retain heat.
It has a lot of uses. It may be used to sear, sauté, bake, broil, braise, fry, or barbecue. This pan makes it easy to use in the oven, stove or grill, and even over a campfire.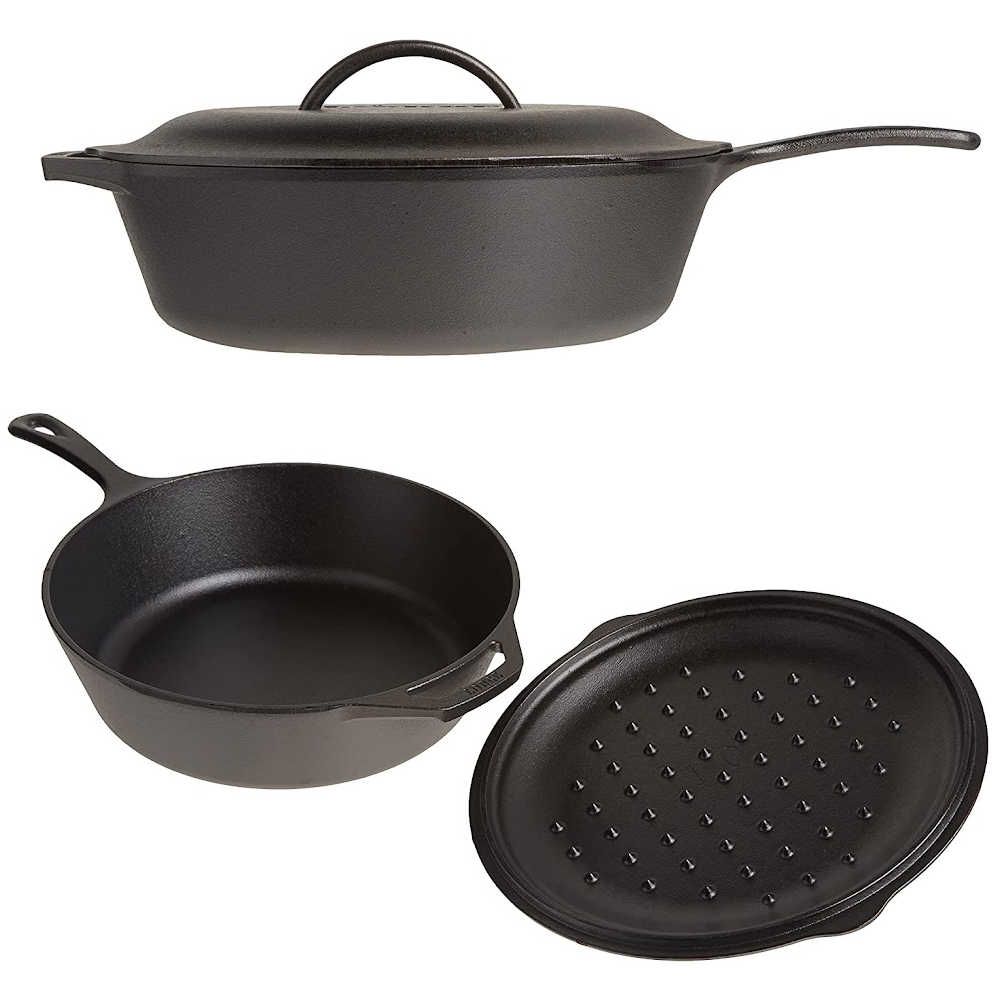 Things In The Spotlight
This skillet is a must-have for any serious cook. It includes an iron cover with self-basting tips, making it  a roasting pan, a skillet and a shallow Dutch oven.
It's made for decades of cooking and comes pre-seasoned with 100% natural vegetable oil for an easy-release finish that improves with use.
Looking for a deep skillet that will give you unparalleled heat retention and even heating? The Lodge Cast Iron Deep Skillet is it.
Note: after cooking, clean with a stiff nylon brush and hot water. Hand wash. Do not use soap or harsh detergents, nor a dishwasher. Dry right away after cleaning. Apply a light coating of oil, while it is still warm.
---
Pan For Roasting Chicken FAQs
If you're looking ways to roast a chicken, you may have some questions about how to do it. This Frequently Asked Questions (FAQs) section will help answer some common questions and make the process of picking the right product easier for you.
By following these tips, you'll be able to create a delicious, roasted chicken that your whole family will love. Read on!
---
What type of pan is best for baking chicken?
There are a few different types of pans that work well for baking chicken.
A cast iron skillet is a good option because it retains heat well and can help create a crispy skin on the chicken.
A glass or ceramic baking dish can also work well, especially if you're looking to create a moister dish.
However, avoid using aluminium foil or trays as they can cause the chicken to dry out.
Ultimately, it's up to you what type of pan you use for baking chicken. Consider what cooking method you're using and choose a baking pan (with non stick coating) to help you achieve that result.
What type of pan do chefs use for baking chicken?
Chefs use a variety of baking pans for roasting chicken, but the most popular are roasting pans. This is a large, deep pan with vertical sides and (sometimes) a tight-fitting lid. Although some have their reservations, many use one with a roasting rack, despite the stripes it leaves after roasting.
It's perfect for baking chicken because it retains heat well and prevents the juices from evaporating.
Some chefs prefer to use a cast iron skillet for baking chicken. Cast iron retains heat beautifully and gives a nice crusty exterior to the chicken. And since cast iron is non-stick, there's no need for additional cooking spray or fat. Just don't forget to pre-heat the oven. They love dishwasher safe, as it saves them time.
What's the best pan for baking chicken?
There are many factors to consider when choosing the best pans for baking chicken.
The material of the pan is important, as it affects how evenly the chicken cooks. Nonstick surfaces may expedite the cooking process, but they can also cause meat becoming sticky, dry, and uneven browning.
Another consideration is the size and shape of the pan. A larger or thicker pan obviously requires more time to heat up than a smaller one.
As far as brands go, there are many reputable manufacturers of cookware that make excellent pans for baking chicken.
All-Clad is a popular choice among professional chefs, while Circulon and Granite Ware are also well-respected brands.
If you're looking for something more affordable, Lodge makes great cast-iron skillets that are perfect for baking chicken. Just don't forget seasoning its surface area after it's done its job.
Can I use a baking sheet pan to roast chicken?
Yes, you can use a baking sheet pan. However, the heat cannot circulate underneath the chicken, as in a roasting pan. So a baking sheet cannot distribute heat evenly, and you have to take care of this by carefully lifting the meat during the cooking process. I vividly recall my mom working feverishly to make sure the chicken or turkey would come out right.
Get yourself a decent nonstick roasting pan, preferably with a roasting rack. They represent the end of endless cleaning! Some are quite affordable, like the Granite Ware Oval Roaster, or the Farberware Bakeware 15 inch Roaster. Both cost around 25 US$ and made it to our Top Five!
Is it better to bake chicken in glass or metal?
There are pros and cons to both glass and metal or stainless steel pans when it comes to baking chicken. Glass is a good conductor of heat, so it will cook the chicken evenly.
However, metal pans tend to brown meat better. So if you're looking for a crispy skinned chicken, metal is the way to go. Ultimately, it comes down to personal preference.
Is chicken better cooked in a pan or oven?
Chicken can be cooked in a pan or oven, but there are some important differences:
Cooking chicken in a pan is faster and easier because you can easily control the temperature of the pan. However, chicken cooked in a pan often has a slightly rubbery texture.
Cooking chicken in an oven is slower and more difficult because you cannot control the temperature as easily. However, chicken cooked in an oven is more moist and has a softer texture.
Can I bake chicken in aluminum pan?
Yes, you can bake chicken in an aluminum pan! Just make sure to line the pan with parchment paper or foil to prevent the chicken from getting sticky.
Baking chicken in an aluminum pan is a great way to quick-cook chicken wings, breasts or thighs. Simply preheat your oven to 400°F, place your chicken in the pan, and bake for 20-25 minutes. Chicken cooked in this manner will be juicy and flavorful, and cleanup will be a breeze!
Can I bake chicken in stainless steel pan?
You can bake chicken in a stainless steel pan, but there are some things to keep in mind. Stainless steel is a conductor of heat, so it will distribute heat evenly throughout the pan.
This is good for cooking, but you need to be careful not to overcook the chicken. Also, because stainless steel is non-reactive, it won't flavor the chicken as much as other pans like a (cast) iron pan, carbon steel, or aluminum.
So if you're looking for a more flavorful dish, you might want to try another type of pan.
Can I bake chicken in a glass baking dish?
Yes you can. Glass baking dishes are oven- and dishwasher-safe, so they're a great option for those who want an easy cleanup. Plus, the even heat distribution of a glass baking dish can help your food cook evenly.
When using a glass baking dish, it's important to place it on a middle or lower rack in the oven instead of on the top rack. This is because glass baking dishes can shatter if heated too quickly or placed near the oven's heating elements. Unless of course, you use an oven-safe glass dish - as you should.
Does chicken cook faster in glass or metal?
Cooking chicken in glass or metal can both yield similar results, but there are a few things to consider. For example, if you're using an oven-safe glass dish, be sure that the temperature doesn't exceed the dish's tolerance. Too much heat is, well, too much.
Glass dishes typically have a higher tolerance than metal ones, so if you're using a metal pan it's important not to set the oven too high. Another thing to keep in mind is that chicken can release juices while cooking, which can cause sticking and burning if cooked in a metal pan.
There are many different types of pans that can be used to cook chicken, but ultimately it comes down to personal preference. If you're looking for a fast and easy option, a roaster pan is the way to go.
If you want juicier, more flavorful chicken, an oven is the best option. And if you're looking for an easy cleanup, glass or metal are both great choices.
Should you bake chicken covered or uncovered?
There are benefits to both cooking techniques, and the final decision ultimately comes down to personal preference.
If you cook your chicken covered, it will take slightly longer to bake, but the result will be a more tender and juicy bird. The added moisture from cooking covered also helps keep the white meat from drying out and keeps the skin from getting too crispy.
Some people prefer to cook their chicken uncovered so that the skin gets nice and crisp in the oven. This technique also allows for more even browning of the chicken since there isn't any steam trapping heat inside. Just be sure to monitor your chicken closely so that it doesn't dry out or over-cook!
How do you keep chicken from sticking to the pans?
Well-seasoned pans and high heat are key. Make sure your pan is screaming hot before adding oil—enough so that a flick of water will cause it to hiss and sputter.
Add chicken to the hot pan, let it cook for a minute or two without disturbing it, then give it a good flip. If it's sticking, wait another minute or two before flipping again.
If your chicken is still sticking after trying these tips, try using a non-stick cooking spray, or cooking your chicken in a different type of pan (like a grill or griddle).
What temperature should you bake chicken at?
When it comes to chicken, the saying "low and slow" is definitely true. You should cook chicken at a low temperature, around 325°F. This ensures that the chicken will be cooked thoroughly without drying out.
Chicken breasts in particular can dry out quickly, so cooking them at a lower temperature helps to keep them juicy. Thigh meat conducts heat better than white meat, so it can be cooked at a slightly higher temperature if you prefer.
But I would still recommend keeping it on the lower end to prevent your chicken from drying out.
How long does it take chicken to bake at 400°F?
It takes about 20-30 minutes for chicken to bake at 400°F. Depending on the size and thickness of the chicken, it may take a little longer or shorter.
If you're unsure, insert a meat thermometer into the thickest part of the chicken breast to check that it has reached an internal temperature of 165°F.
To ensure a cooked chicken cooked on all sides, make sure to rotate the pan at least once during baking. However, at 350°F the chicken meat may be less dry. My advice: reduce the temperature.
How do you make chicken soft and tender?
Make sure the chicken is fresh and wasn't frozen.
Soak the chicken in buttermilk for at least two hours.
Dredge the chicken in a mixture of flour, salt, pepper, and cayenne pepper.
Heat oil in a large skillet over medium-high heat.
Place the chicken in the skillet and cook until golden brown on each side and cooked through (about 5 minutes per side).
Serve hot with your favorite dipping sauce.
How do you cook chicken in a pan without drying it out?
There are a few tips to avoid dry chicken in a pan:
1. Make sure the pan is hot before adding the oil or butter.
2. Don't overcrowd the pan - cook in batches if necessary.
3. Don't flip too often - once or twice should be enough.
4. Use a light touch when stirring or flipping - you don't want to break up the meat.
5. Keep an eye on it towards the end - if it starts to brown too much or stick; reduce the heat and cover until it's cooked through.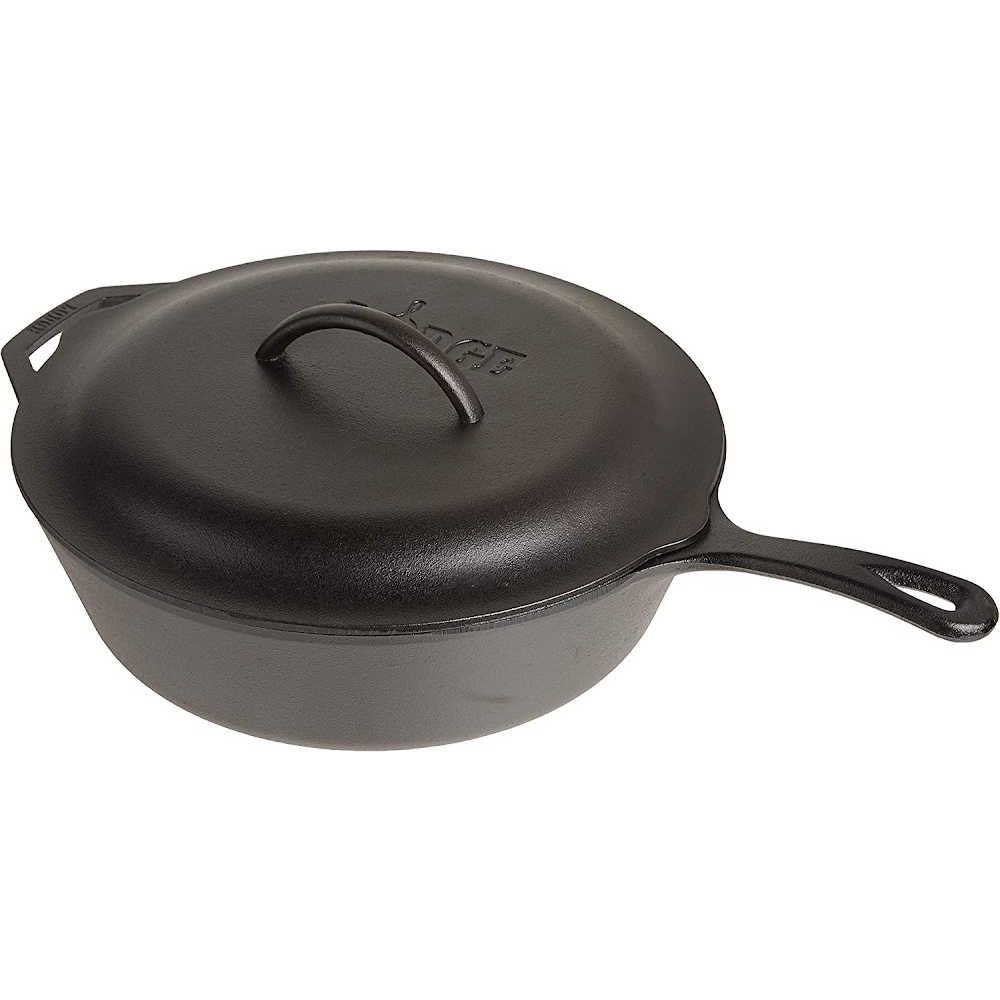 Best Pan For Roasting Chicken For You
We hope you enjoyed this review of the best pans for best pans for roasting chicken. Online, there are a million recipes. Which one of these 5 top picks is your favorite?
If you want to see how these pans stack up against others for different kitchen appliances, be sure to check out our other blog posts.
We've got reviews of everything from food processors to stand mixers, waffle makers, and more, so you can make the most informed decision about which appliance is right for your home.
Thanks for reading and happy cooking!
Catchy Finds