The best air fryers are ideal for anyone who wants to cook meals without using oil, or just a tiny bit. You may continue to enjoy all your favorite fried foods, guilt-free, thanks to these fryers! Not only do they offer a healthier alternative to traditional frying methods, but they are also handy.
They can be used to prepare a variety of dishes and are simple to operate, especially when compared to other similar products. Furthermore, they come in a variety of sizes suitable for any cooking space.
We'll be looking at 3 of the best affordable air fryers under $100 on the market. Keep reading to learn more about these top-rated budget air fryers and see which one is best for you!
How We Spotlight The Best Air Fryers Under $100
With so many different brands and models on the market, trying to discover the finest budget air fryer may be a difficult process.
It is impossible to determine which air fryer is ideal for you without spending hours reading. Not to mention that most of us don't have the time to spend doing so.
We conducted the research for you and spotlighted 3 high quality budget air fryers based on their appearance, simplicity of use, ease of cleaning, and adaptability. Other air fryers may be good, we selected the best.
👉
We participate in the Amazon Associates Program, if you buy a product with the links that we provide, we may receive a small commission from Amazon. There is NO additional cost to you!
---
COSORI CP137 Air Fryer Oven Compact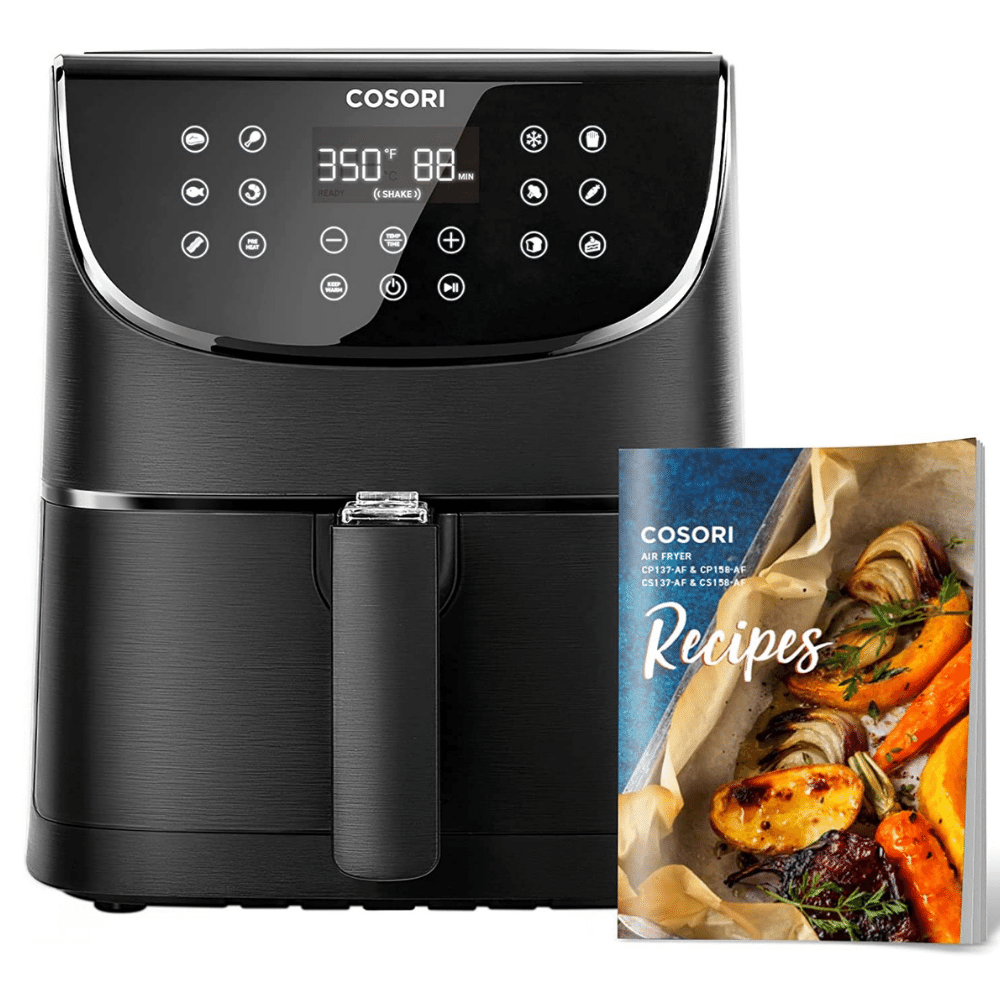 Best Choice For Its Simplicity Of Use
COSORI CP137 Air Fryer Oven Compact
CHECK PRICE ON AMAZON
Why We Spotlight It
Looking for the best compact air fryer? The COSORI CP137 Air Fryer Oven Compact is perfect for small kitchens and apartments.
This compact air fryer easily fits it on your countertop or you can store it away in your cupboard when not in use. This air fryer is big enough to hold food for 1-3 people with its 3.7-quart basket.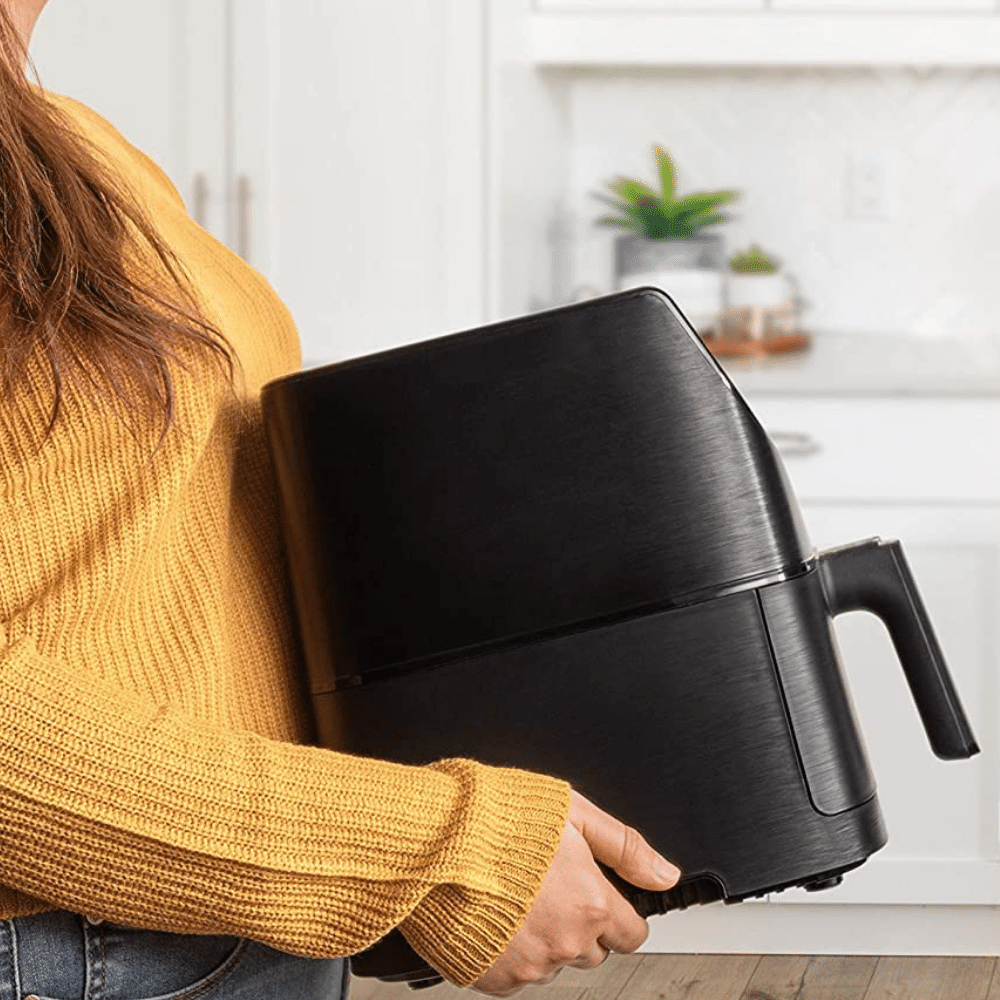 What Makes It Catchy
The COSORI CP137 comes with 13 one-touch cooking functions, making it easy to cook just about anything. There are 11 food-specific presets, as well as a Preheat and Keep Warm option.
This powerful little kitchen appliance can do it all - from frying your favorite foods to baking a cake or roasting chicken wings. It's so easy to use, even the most novice cook can make restaurant-quality meals at home.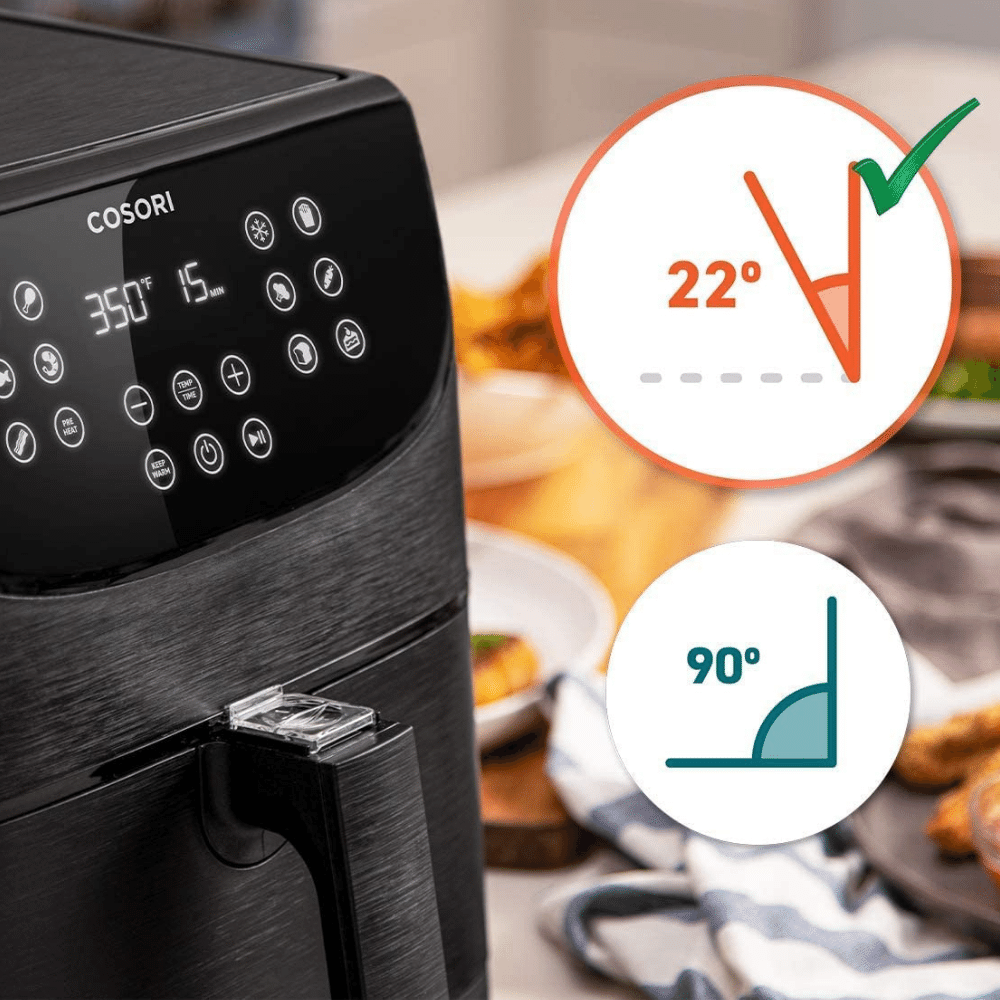 Things You Should Know
This high quality air fryer uses circulating hot air to cook delicious food, resulting in meals that are just as delicious as their fried counterparts but with far less oil.
Not only is the COSORI CP137 Air Fryer Oven Compact incredibly versatile, it's also very easy to clean. The non-stick cooking pot and detachable air fry basket make clean-up a breeze. Plus, its wick-resistant coating means no more scrubbing after cooking!
If you're not sure how to cook something, fear not! The included 100 recipe cookbook has you covered, with recipes for breakfast, entrees, appetizers, sides and desserts.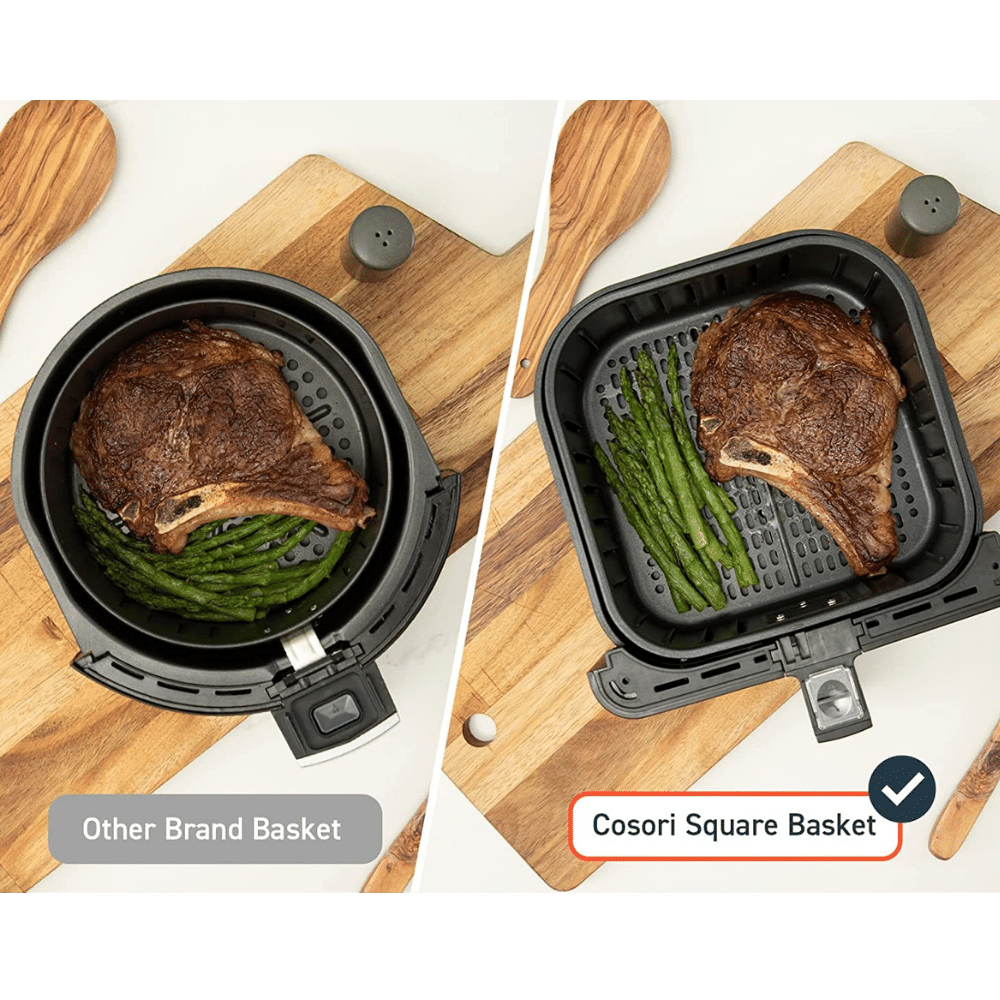 ---
NINJA AF101 4QT Air Fryer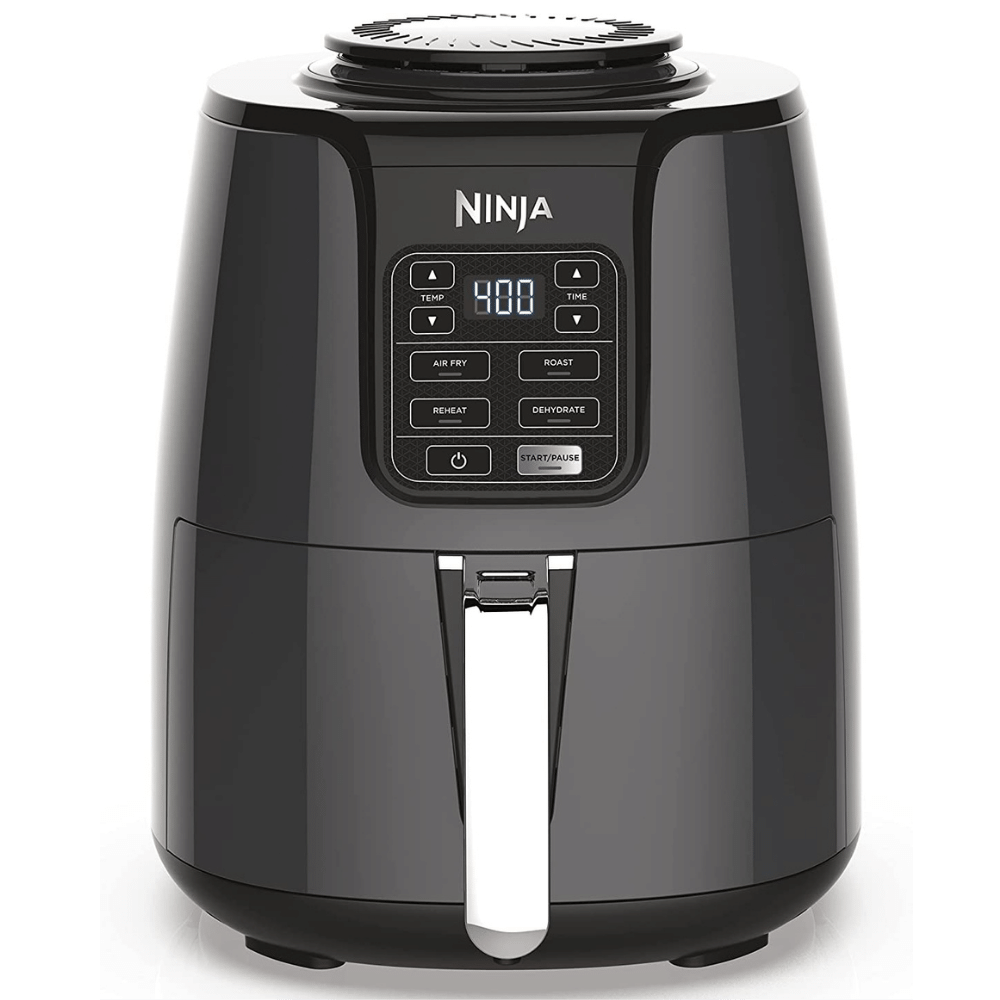 Best Choice For Its Ease Of Cleaning
NINJA AF101 4QT Air Fryer
CHECK PRICE ON AMAZON
Why We Spotlight It
If you're looking for a top-of-the-line digital air fryer that is both affordable and easy to clean, the NINJA AF101 4QT Air Fryer is the perfect option for you.
This air fryer uses a ceramic coating to cook food evenly and quickly, while the non-stick surface makes for easy cleanup. Plus it is perfect for small spaces like dorms or apartments, making it a must-have for college students and young professionals to cook their favorite fried food.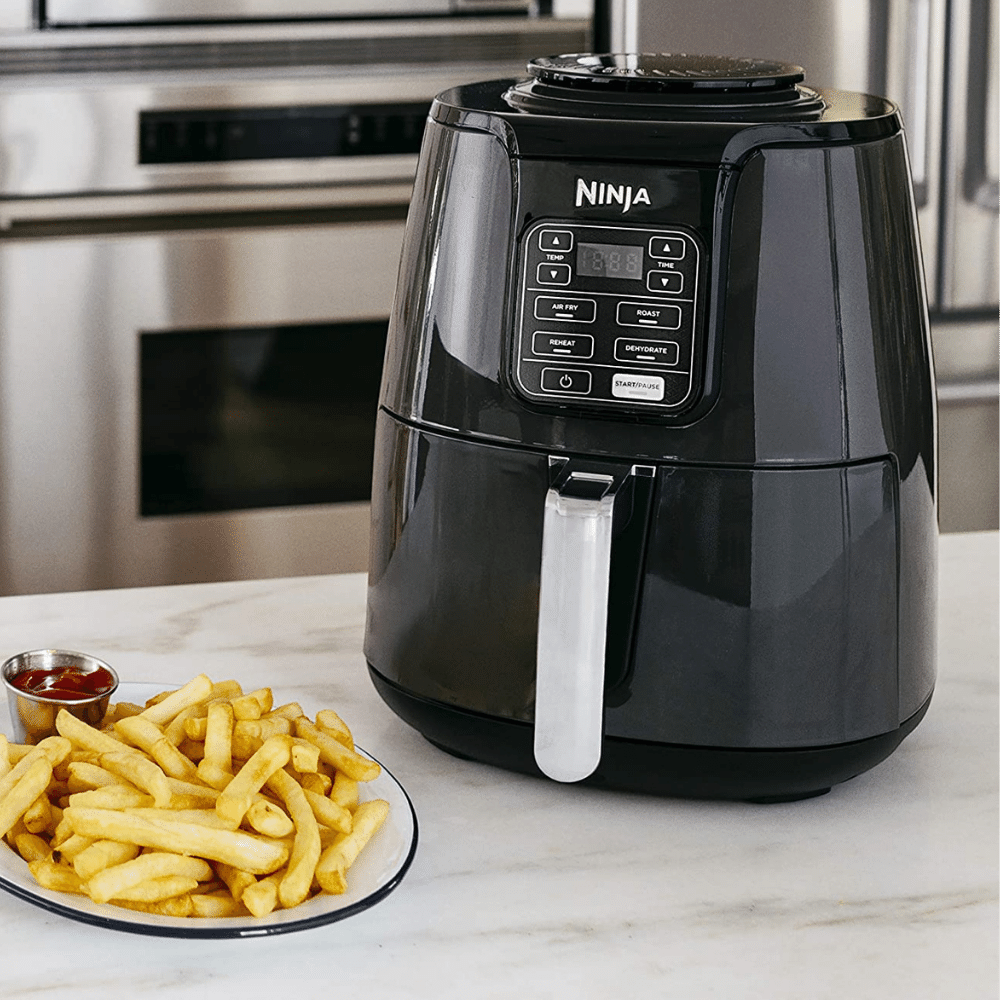 What Makes It Catchy
The NINJA AF101 4QT Air Fryer is perfect for those who want to reduce fat and calories in their diet without sacrificing taste. With one-touch control panel, you can easily choose between 4 programmable cooking functions.
You can also manually control cook time and adjustable temperature range to perfectly suit your needs. Plus, the dehydrate function lets you create delicious, healthy snacks like homemade dried fruit, veggie chips, and jerky.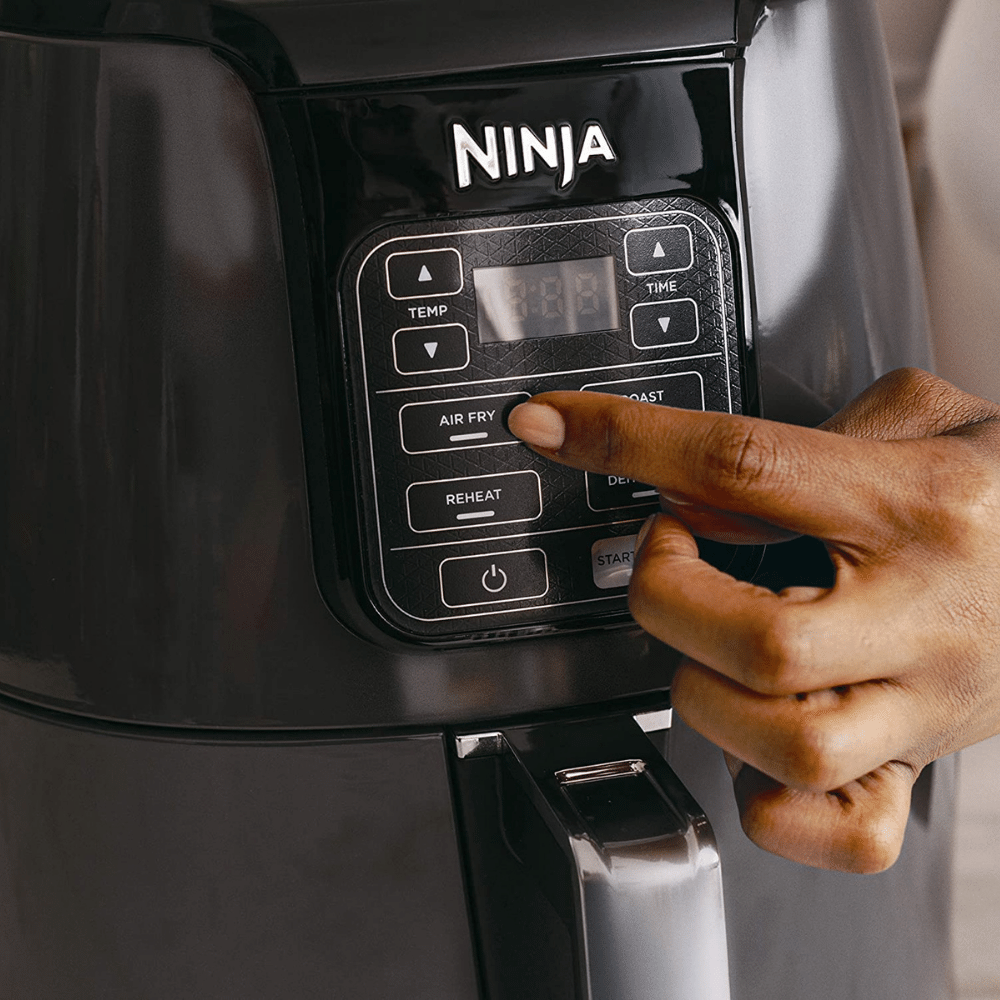 Things You Should Know
The NINJA AF101 comes with a 4 quart ceramic-coated nonstick basket and crisper plate, perfect for cooking up to 2 pounds of French fries.
Additionally, the NINJA AF101 is easy to use - just preheat for 3 minutes before adding your ingredients for the best results. This air fryer uses super-heated air to cook your food, resulting in perfectly crispy results with far less fat and calories.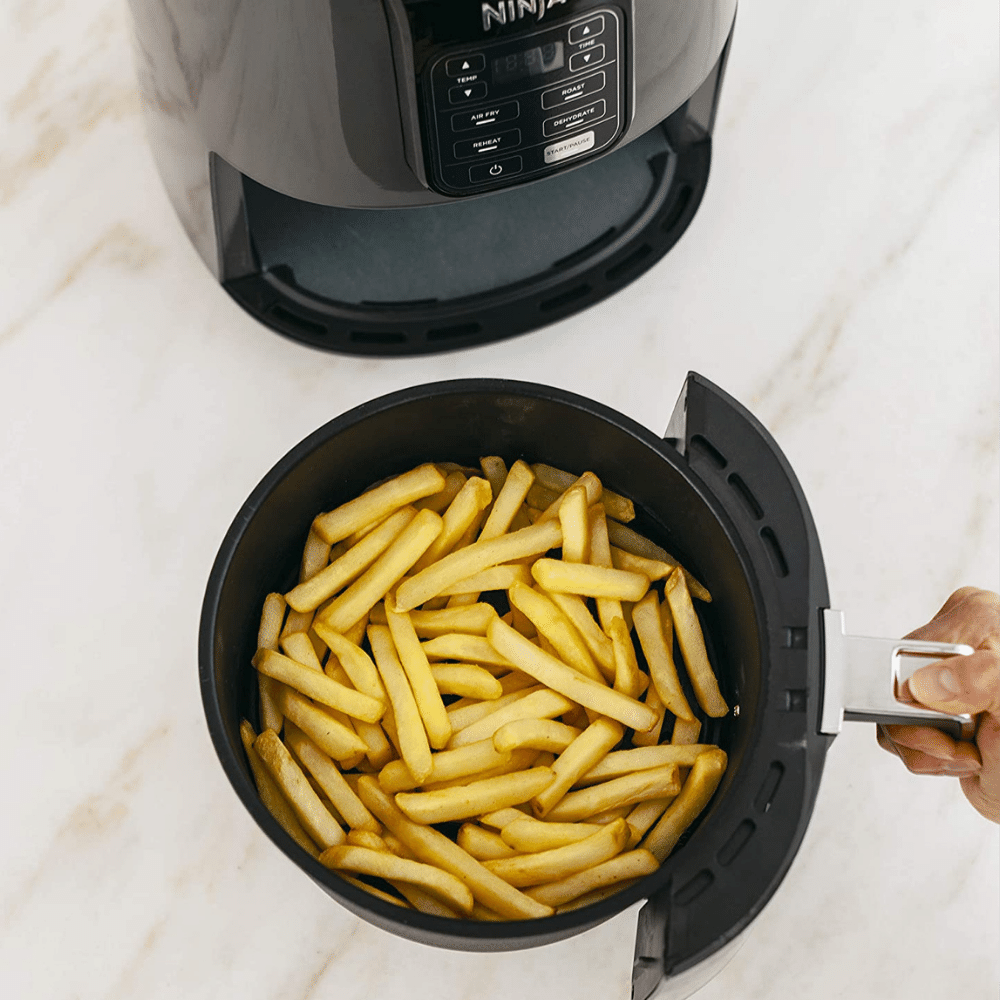 ---
Instant Vortex Plus 4QT Air Fryer Oven Combo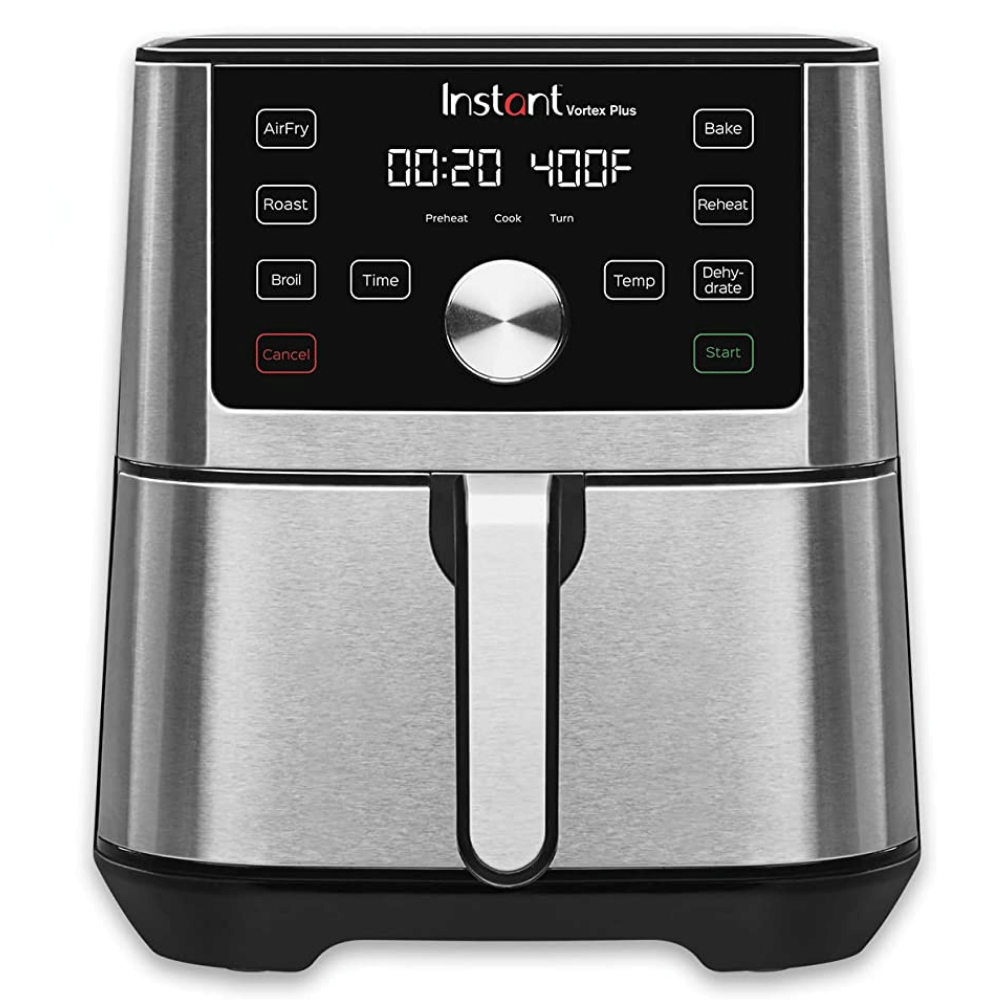 Best Choice For Its Versatility
Instant Vortex Plus 6-in-1 4QT Air Fryer Oven Combo
CHECK PRICE ON AMAZON
Why We Spotlight It
The Instant Vortex Plus is the perfect air fryer for small families or up to 4 people. It's sleek, fast, versatile, and convenient, with enough room to cook a 20-oz bag of fries or a 12-oz box of chicken tenders.
The Vortex Plus also has a dehydrator function to make healthy snacks like beef jerky, fruit leathers, and more. With the quality, convenience, and versatility you've come to expect from Instant Vortex Plus – discover is amazing.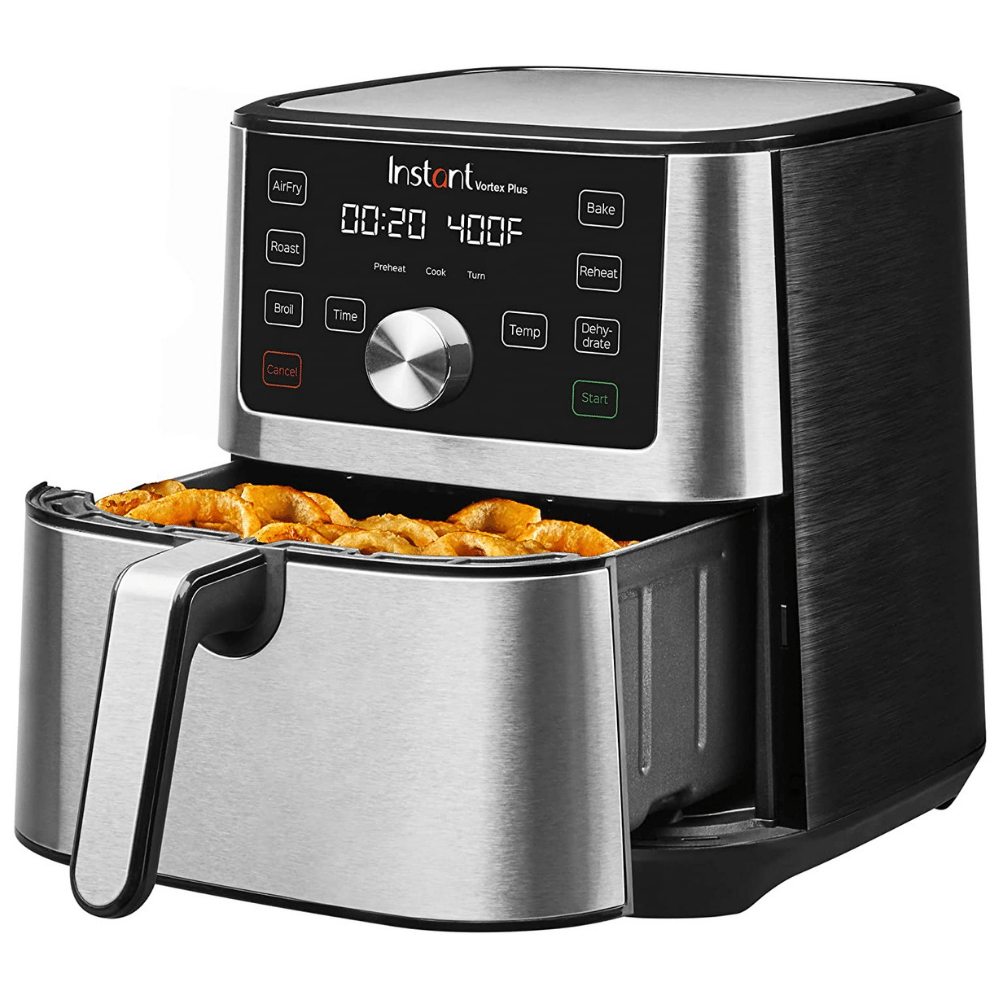 What Makes It Catchy
What's the secret to the perfect meal? The Instant Vortex Plus 6-in-1 Air Fryer Oven Combo, of course! This handy little kitchen 6-in-1 cooking function appliance is capable of so much, including air frying, roasting, baking, and more, all the while taking up minimal counter space.
The sleek stainless-steel design is perfect for any kitchen, and the compact size means it won't take up too much space on your countertop. But don't let its size fool you - this little machine packs a powerful punch, with six different cooking functions that will make your life easier.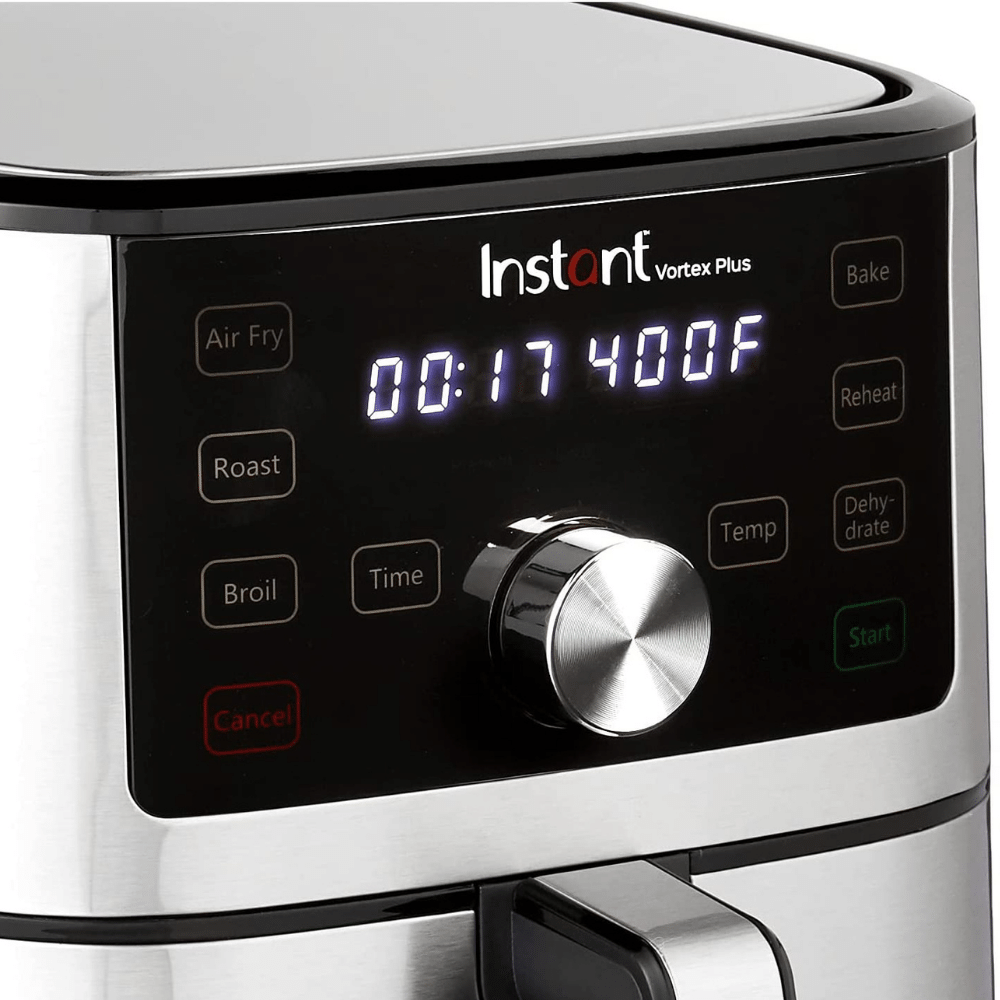 Things You Should Know
The Instant Vortex Plus takes the place of 6 appliances and easily creates quick, delicious, and healthy homemade meals with EvenCrisp technology that offers crispy, tender results every time with 95% less oil than traditional deep frying.
It requires little to no preheating time with a proven built-in safety feature including overheat protection and an automatic shut off function.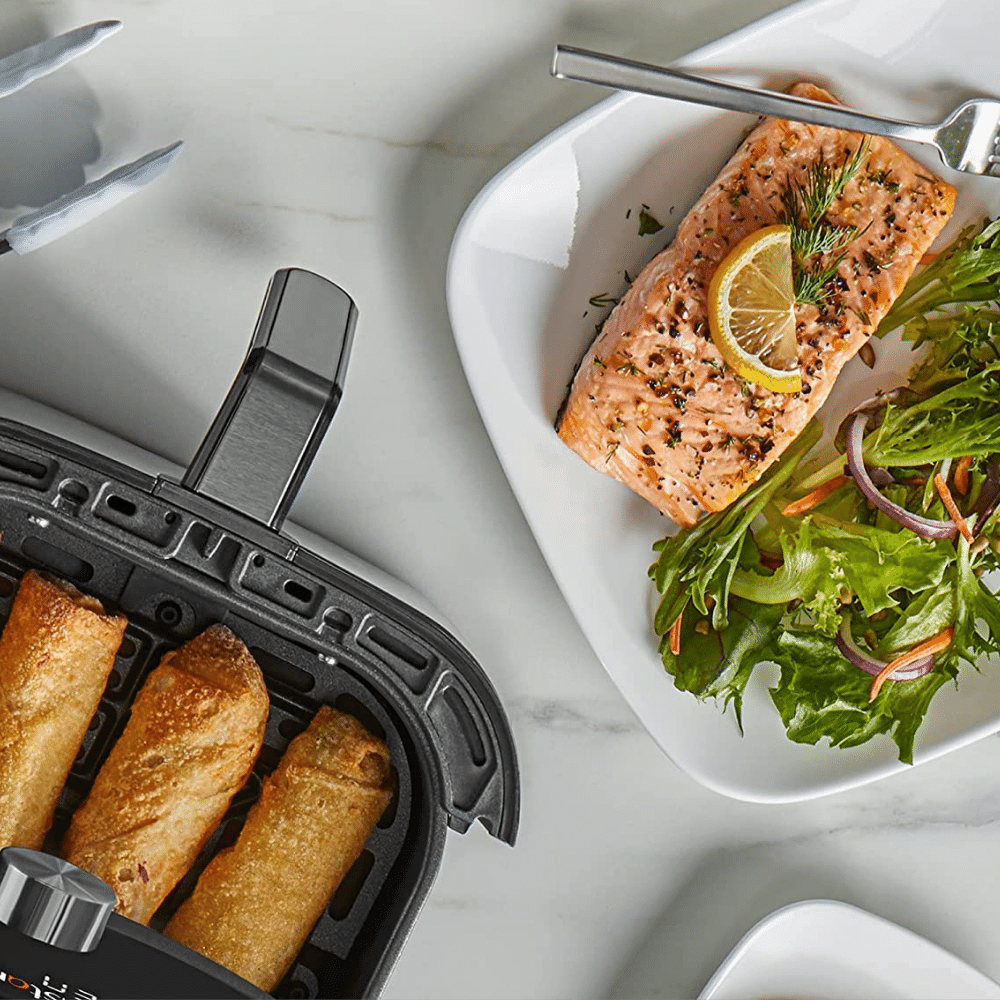 ---
Best Air Fryer Under $100 FAQs
It's no surprise that affordable air fryers are among the most popular small kitchen appliances. There are so many different brands and models on the market that it might be tough to choose which best air fryer under $100 is for you.
To assist you in making an informed purchase, we have compiled a list of Frequently Asked Questions about air fryers. These are some of the most common questions regarding how they work, and what foods are fit for air frying, so you can make a quick yet well-informed purchasing decision today.
What is the price range for air fryers in the US?
Air fryers typically range in price from around $60 to $500. The lower-priced air fryers may have fewer features, while the more expensive high quality air fryer may come with digital displays, pre-programmed settings, temperature control, a dishwasher safe basket and other bells and whistles.
The more expensive options come with more features like grilling or pressure cooking, so you may end up saving on other kitchen appliances in the long run.
Is it worth buying an air fryer?
An air fryer is worth buying! They are a great way to cook delicious food without using a lot of oil. They're also easy to use, to clean, and energy-efficient. The bottom line is that air fryers have been popular for years, but they are only worth it if they suit your lifestyle.
It will take too long to prepare a meal for a crowd if you have a large family. However, it might be the ideal kitchen upgrade for small families, couples or individuals seeking for ways to cook fast dinners with less or no oil.
What size air fryer do I need for a family of 4?
Generally, each person in your family will need about one-half pound of French fries per person. This means that a four-person family will need two pounds of crispy French fries. Therefore, you will need an air fryer that can accommodate at least two pounds of food.
A 5.8 quart air fryer or larger is a good size for a family of four with young children. We recommend going larger if you have teenagers or kids that are big eaters.
What should I look for when buying an air fryer?
When purchasing an air fryer, it is important to consider the size of the unit, its capacity, and the features that are included. For example, dishwasher safe components and temperature control Additionally, be sure to read online reviews to get a sense of which models are most popular and generally well-liked.
Size-wise, air fryers come in both small and large capacities. Small air fryers typically have a 2-3 quart capacity, while larger ones can have a 6-7 quart capacity. Keep in mind that the larger the capacity, the larger the appliance and the more counter space it will take up.
If you have a large family or frequently host a party, a larger size may be necessary. However, if you only need to cook for one or two people at a time, a smaller model will be sufficient.
What foods can you make in an air fryer?
There are lots of different foods that you can make in air fryers, including: burgers and patties, steaks, chicken nuggets, French fries, crispy roast potatoes, onion rings, fish fillets, pork chops, crispy bacon, roasted chicken. You can also use the air fryer to bake cake, pie, and cookies.
What can't you cook in an air fryer?
The following things you probably shouldn't cook in air fryers: battered food (avoid placing wet batter in the air fryer), fresh vegetables, whole roasts, cheese, raw grains, toast and popcorn.
Does an air fryer use a lot of electricity?
Air fryers work by circulating hot air around the food, cooking it evenly and quickly. They do need a significant quantity of power in a shorter period than traditional ovens.
As a result, you are unlikely to use your air fryer for lengthy periods. Because air fryers have such low wattage, you are unlikely to wind up a huge electricity bill in the process.
Is an air fryer better than a microwave?
There are pros and cons to both air fryers and microwaves. It depends on your individual needs and preferences. Air fryers cook faster than microwaves and make crispy food, but they require more monitoring.
Microwave ovens are more convenient because you can set them and forget about them, but they can overcook food if you're not careful. So, it depends on what you're looking for in a kitchen appliance. With a dishwasher safe basket, the clean-up is easier than a microwave or a convector oven.
Can I reheat food in my air fryer?
Yes, you can. Turn your air fryer to 350-400 degrees F for just 3-4 minutes and your reheated leftovers will taste just as crispy as the night before. You can reheat pizza or any other food. It will come out crispy, hot and fresh.
Do you clean your air fryers after every use?
Every time you use the air fryer, some tiny bits of food will get burned. That is why, after every usage, you should always clean your air fryer after every use.
Best Air Fryer Under $100 For You
We have highlighted the top-selling items currently on the market and provided a link so you can learn more about their pricing.
We hope that this review assists you in your search for the an air fryer under $100.
Air frying is a better, healthier method of preparing meals without using oil. While you're here, be sure to look at our other kitchen appliances reviews.
Thank you for taking the time to read this, and have a wonderful day!
Catchy Finds