Do you have a large family? Say, 5, 6, or more family members? Do you live with 5 or more people in the same apartment? Are you looking for the best large air fryer to meet your needs?
Large capacity air fryers are perfect for families or plus-size groups that need to cook large quantities of food at once. They typically need a larger capacity than other types of air fryers, which means that you can cook more delicious food for more in less time and with less oil. Of course a large air fryer takes up more counter space than small air fryer.
In this blog post, we will spotlight the benefits of using a large capacity air fryer and recommend some of the catchy finds on the market. Keep on reading to spot the right one for you!
How We Spotlight The Best Product
Trying to find the best air fryers, large enough for family cooking: affordable, good quality and easy to operate, can be a challenging task with so many different brands and models on the market.
It's hard to figure out which large air fryer is right for you without spending hours checking out websites and blogs. Not to mention that most of us don't have the time to do so. Yes, nowadays it takes lots of time to explore the world of best air fryers!
For your convenience, we conducted the research for you and spotlighted the top four products of best large air fryer based on their dimensions, price range, excellent quality, high-ranking evaluations, simplicity of use, ease of cleaning, and adaptability. The choice is yours!
👉
We participate in the Amazon Associates Program, if you buy a product with the links that we provide, we may receive a small commission from Amazon. There is NO additional cost to you!
---
Instant Vortex Plus 8 QT Dual Basket Air Fryer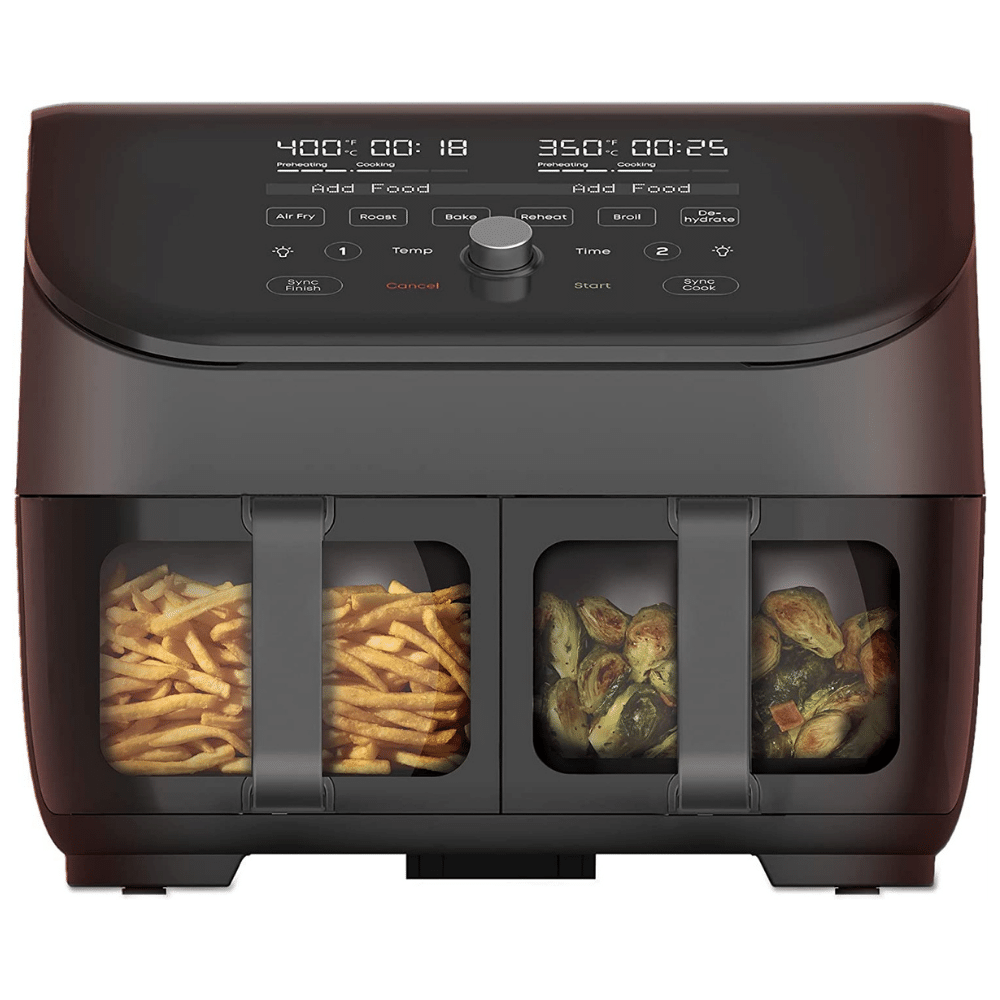 Best Air Fryer For Easy Monitoring & Excellent Quality
Instant Vortex Plus ClearCook XL 8 Quart Dual Basket Air Fryer
BUY IT ON AMAZON
What Makes It Catchy
Regular size for an air fryer is between 4 - 5.8 quart. This digital air fryer is 8 quart. It comes with two air fryer baskets, and is a perfect way to cook up a feast for your large family or friends. You can cook sides and mains at the same time, or even two portions of the same dish with the synchronized cooking function.
With its self-explanatory controls and timer, this XL air fryer is very easy to use. The synch function is great for cooking two items at different times. This feature ensures that both items are ready at the same time.
The clear cook window and bright oven light of this large air fryer make it easy to monitor progress, while the separate controls for each basket let you tailor the cooking to each dish. Get rid of the trouble by ditching cooking in a single basket air fryer. This big air fryer is your perfect kitchen partner!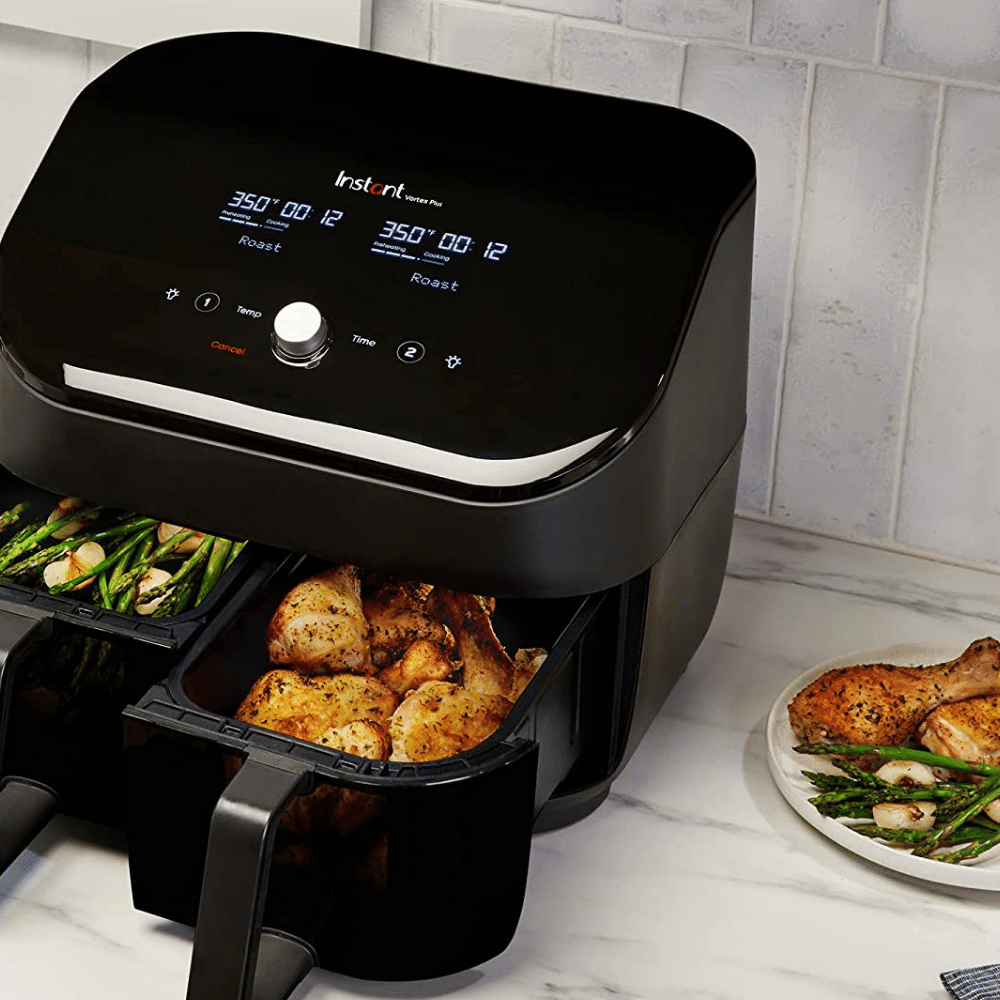 Things In The Spotlight
This amazing kitchen appliance can air fry, roast, broil, bake, and even dehydrate foods with ease. With eight customizable cooking programs, you can make everything from chicken wings to roasted veggies with the touch of a button. This incredible machine can do it all, from air frying to roasting to dehydrating.
With its EvenCrisp Technology, you can enjoy all the crunch and tenderness of deep-fried foods with 95% less oil. And thanks to the adjustable cooking temperature range from 95-400° F (35-204° C), you can always get the perfect results, regardless of what you're making.
Preheating is a thing of the past with this air fryer, as it can go from frozen to golden in minutes. Plus, the easy-to-use touchscreen display provides step-by-step instructions at each stage of the cooking process. Of course, it is easy to clean, with dishwasher safe components.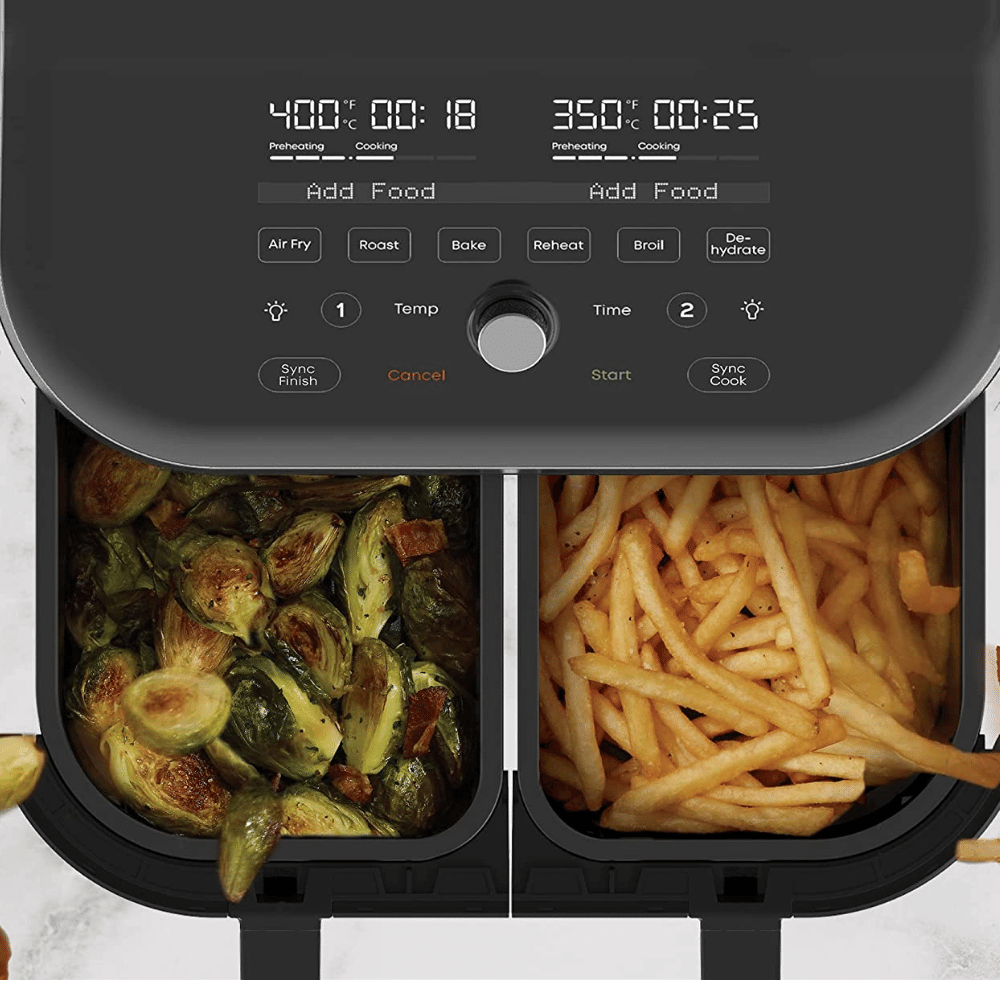 ---
PowerXL Vortex 10-QT Dual Basket Air Fryer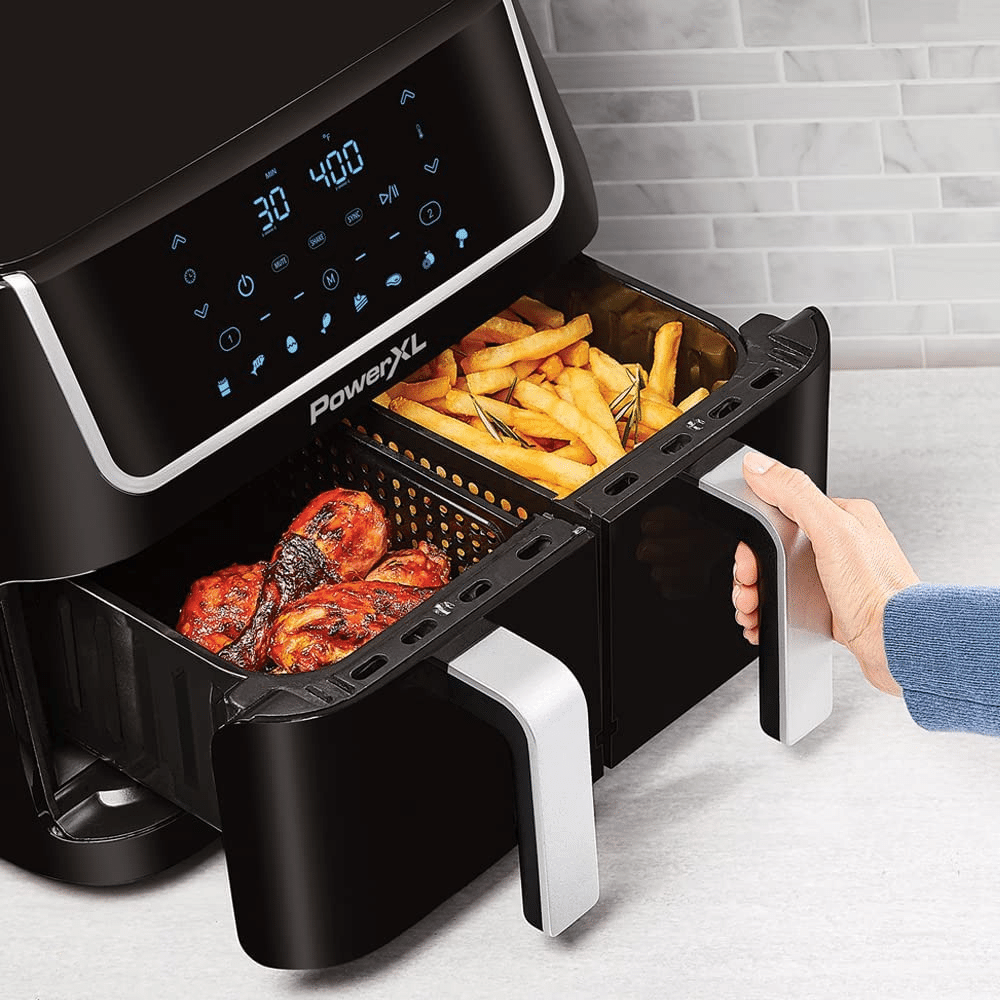 Best Air Fryer for Versatility & Convenience
PowerXL Vortex 10-qt Dual Basket Air Fryer
BUY IT ON AMAZON
Why We Spotlight It
The PowerXL Vortex 10-qt Dual Basket Air Fryer is fit for feeding a crowd. This fryer features two 5-qt baskets that can cook separate items at the same time, or one large 10-qt basket that's perfect for extra-large meals. This comes close to twice the size of a regular 5.8 quart air fryer.
With SmartSync Technology, this air fryer will cook both foods - like frozen foods in the other basket - evenly and finish them at the same time. So whether you're cooking chicken wings and French fries for a party or a big family dinner, the PowerXL Vortex 10-qt Dual Basket Air Fryer has you covered.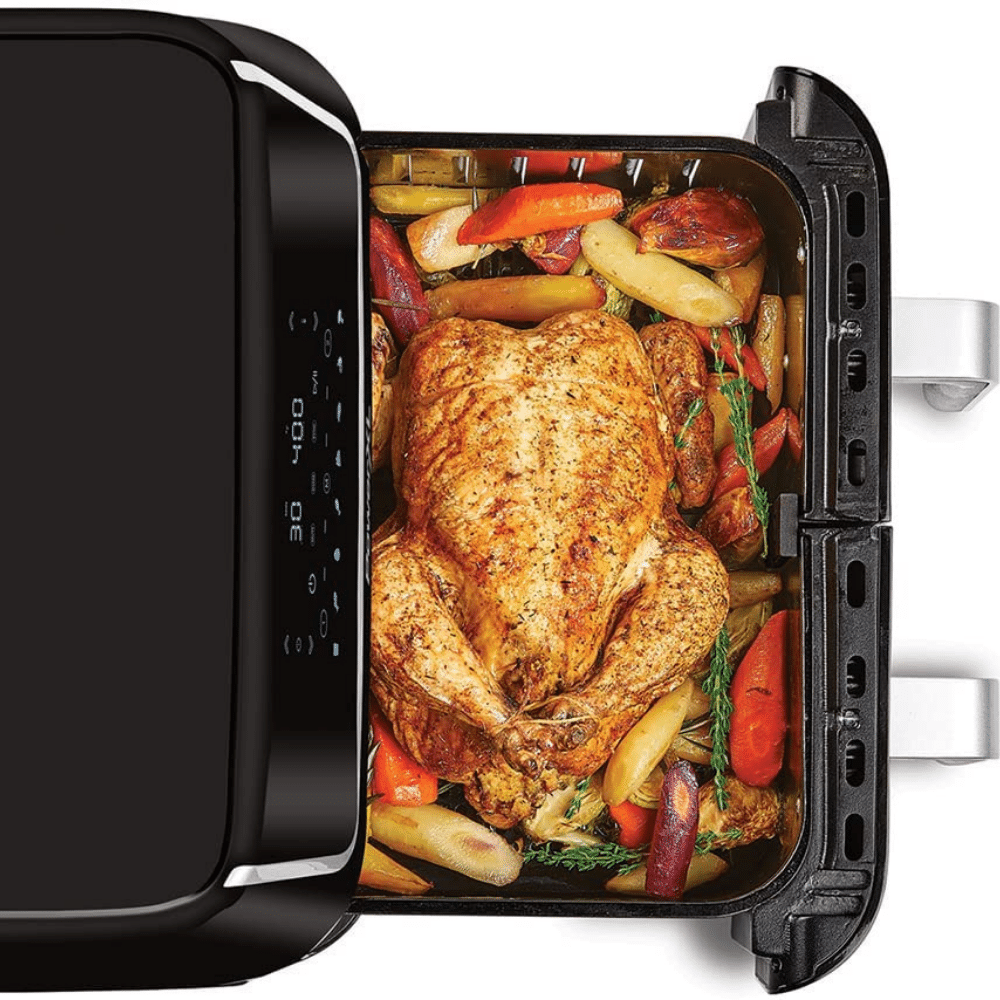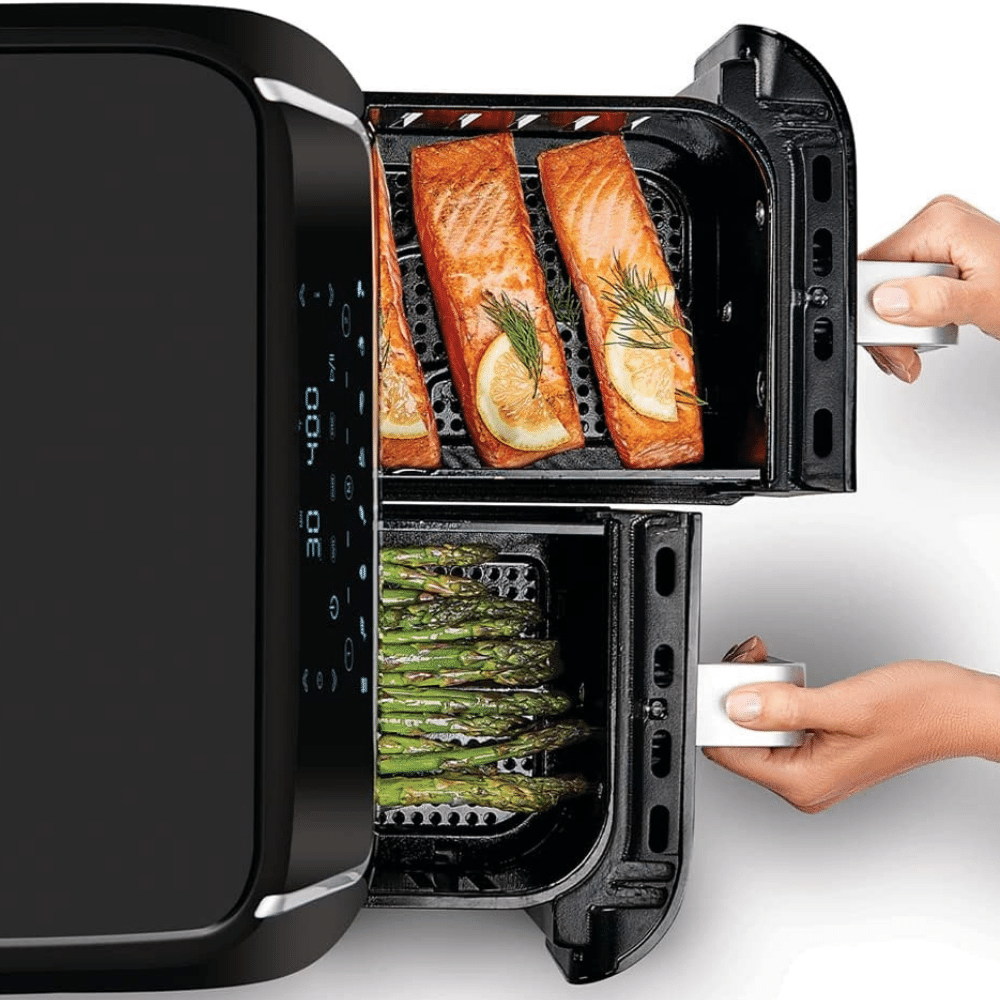 What Makes It Catchy
Looking for a versatile and convenient good air fryer? Then this is the right option! This amazing machine offers separate times for each basket or for cooking in a single basket, making it perfect for any cooking situation.
Plus, the flex top adjustable design makes it even more versatile. Make extra-large capacity meals in 2 separate 5-qt dual cooking baskets or 1 XL 10-qt basket and enjoy your family's favorite crispy comfort meals faster and easier without having to cook in back-to-back batches.
So try out and cook a layered delicious healthy breakfast sandwich with eggs, sausage, and cheese with this PowerXL Vortex air fryer. The possibilities are endless to ensure you can realize your cooking ideas!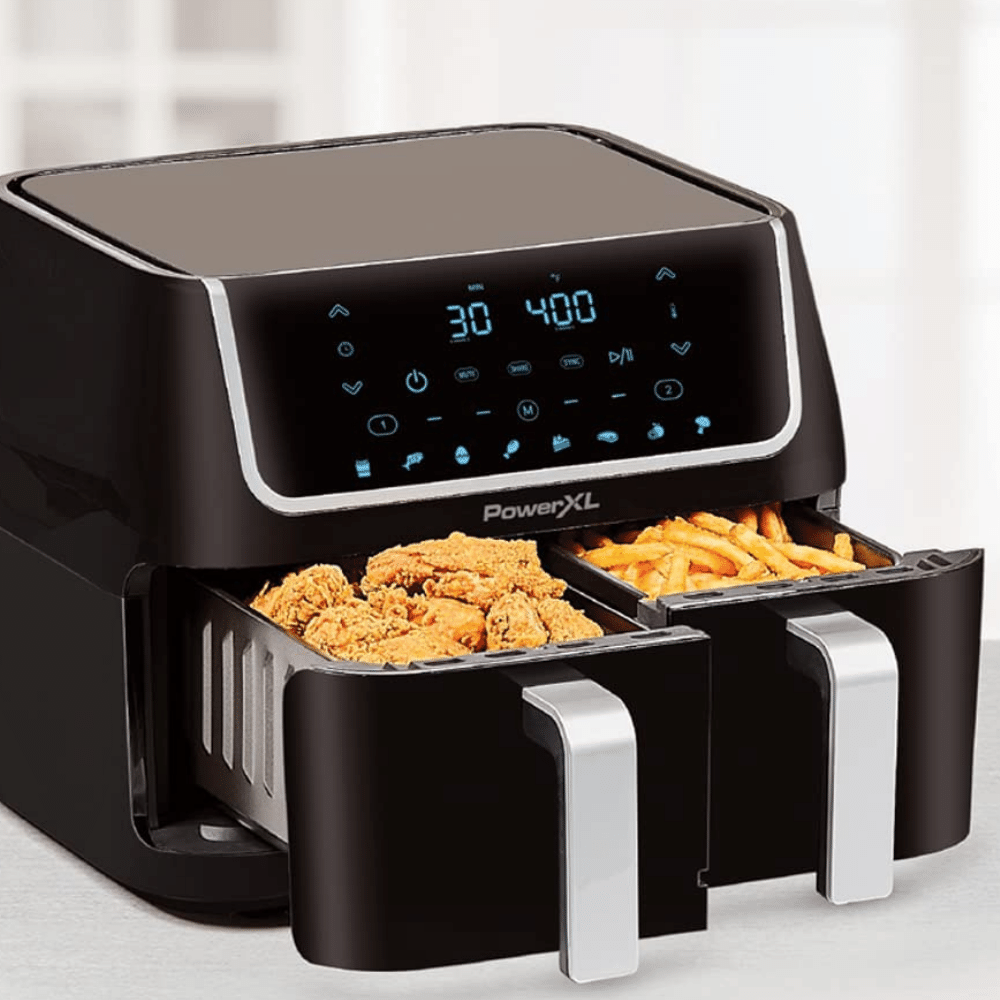 Things You Should Know
This Kitchen powerhouse lets you cook for large groups with ease. With two separate baskets, you can cook multiple items at once, or cook larger items like a 12 lb. chicken.
The 8 smart presets make it easy to customize your cooking experience, whether you're air frying wings, roasting chicken, baking cookies, or even dehydrating veggie chips.
The removable nonstick fry baskets are dishwasher safe and crisper plates make cleanup a breeze. The inner cavity wipes out easily. The SmartCook feature alerts you when it's time to add food or shake things up. Cleanup is a breeze thanks to the non-stick interior and dishwasher safe parts.
---
Ninja DZ401 Foodi 10 QT 2-Basket Air Fryer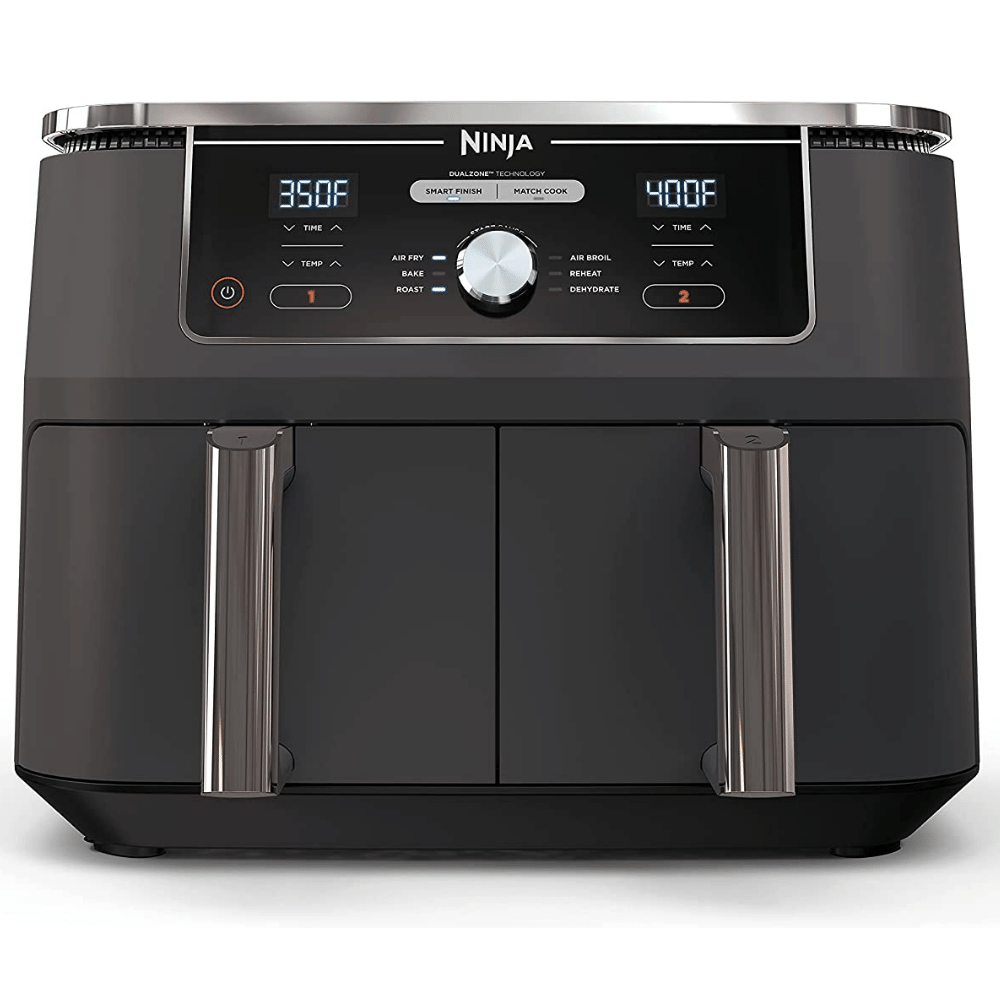 Best Air Fryer For its Largest Capacity
Ninja DZ401 Foodi 10 Quart 2-Basket Air Fryer
BUY IT ON AMAZON
Why We Spotlight It
Consider the size of a regular air fryer - 4 - 5.8 quart), this incredibly large air fryer comes with two independent baskets, so you can cook two different foods at the same time – perfect for those who want to eliminate all that extra cooking time.
With the Smart Finish and Match Cook features, you can easily copy settings across zones for a full 10-qt. capacity meals. So whether you're looking to cook up a quick meal or a feast for the whole family, the Ninja DZ401 Foodi 10 Quart 2-Basket Air Fryer is perfect for any occasion.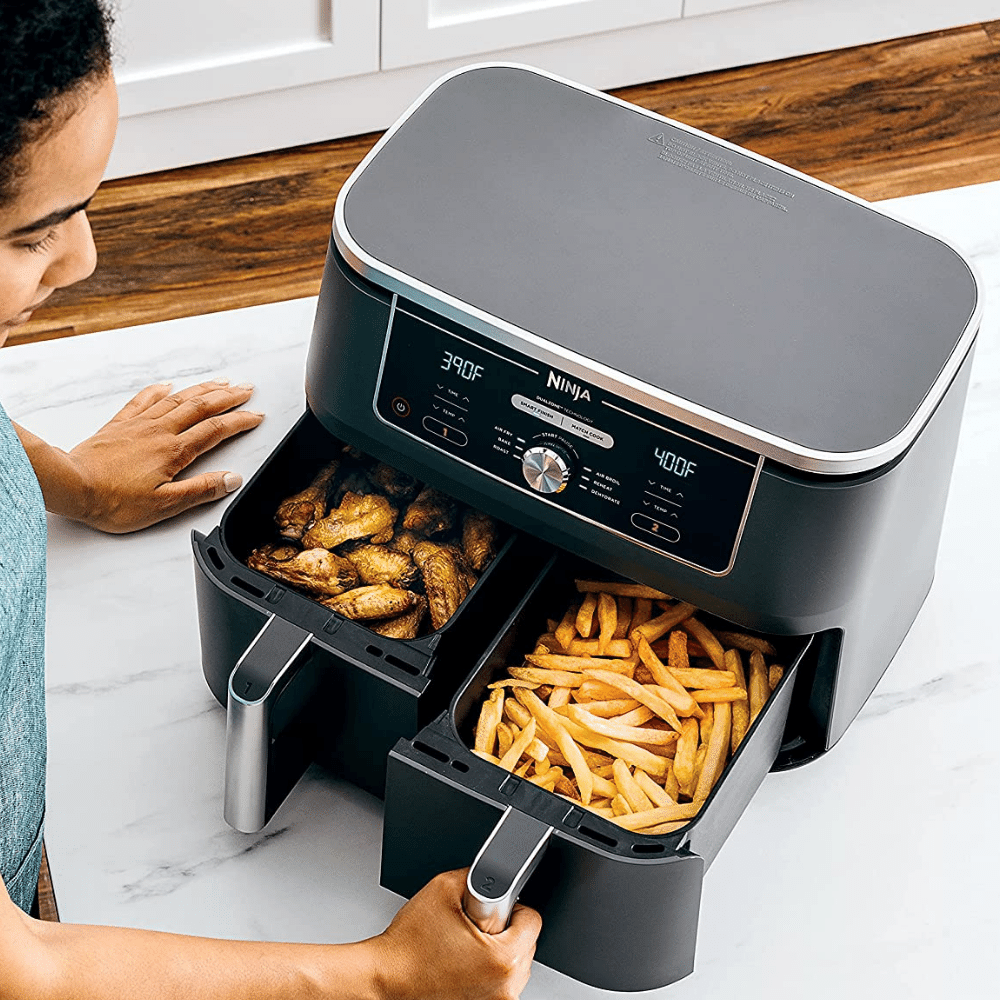 What Makes It Catchy
Accommodating with deep baskets rather than wide ones, this air fryer can fit more food inside. It can cook up to 8 pounds of chicken wings or 2 whole chickens with ease, making it ideal for families or large parties.
And thanks to the placement of the coils, cleanup is a breeze. Plus, the temperature is spot-on every time, so your food comes out with crispy texture and perfectly cooked - every time.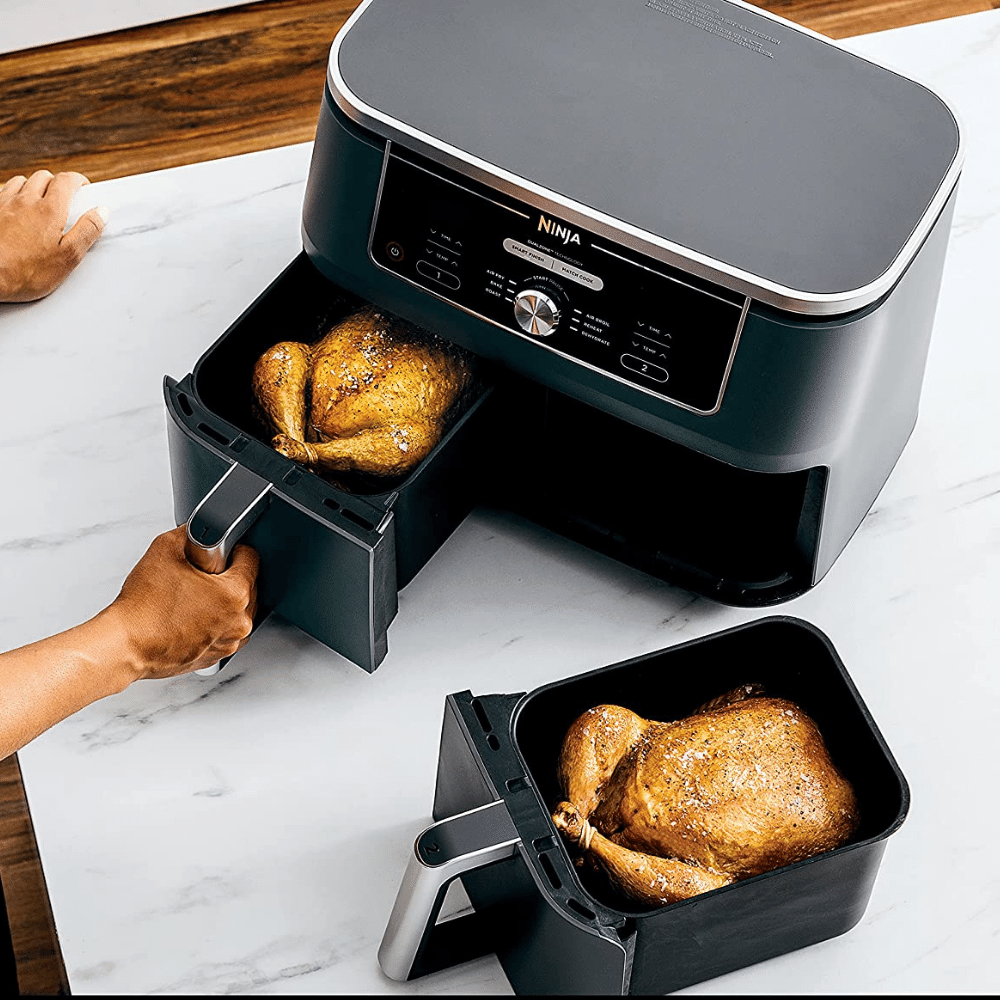 Things You Should Know
This great kitchen appliance can air fry, air broil, roast, bake, reheat, and dehydrate – all in one! Plus, it cooks food up to 30% faster than a traditional oven, so you can enjoy your favorite meals in no time.
The wide temperature range means you can makes it fit for many cooking functions: from frozen snacks to crispy chicken dinners, and the easy-to-clean baskets and dishwasher safe crisper plates make cleanup a breeze.
Best of all, the included recipes for plenty cooking functions and cooking charts make it easy to get started with your new air fryer.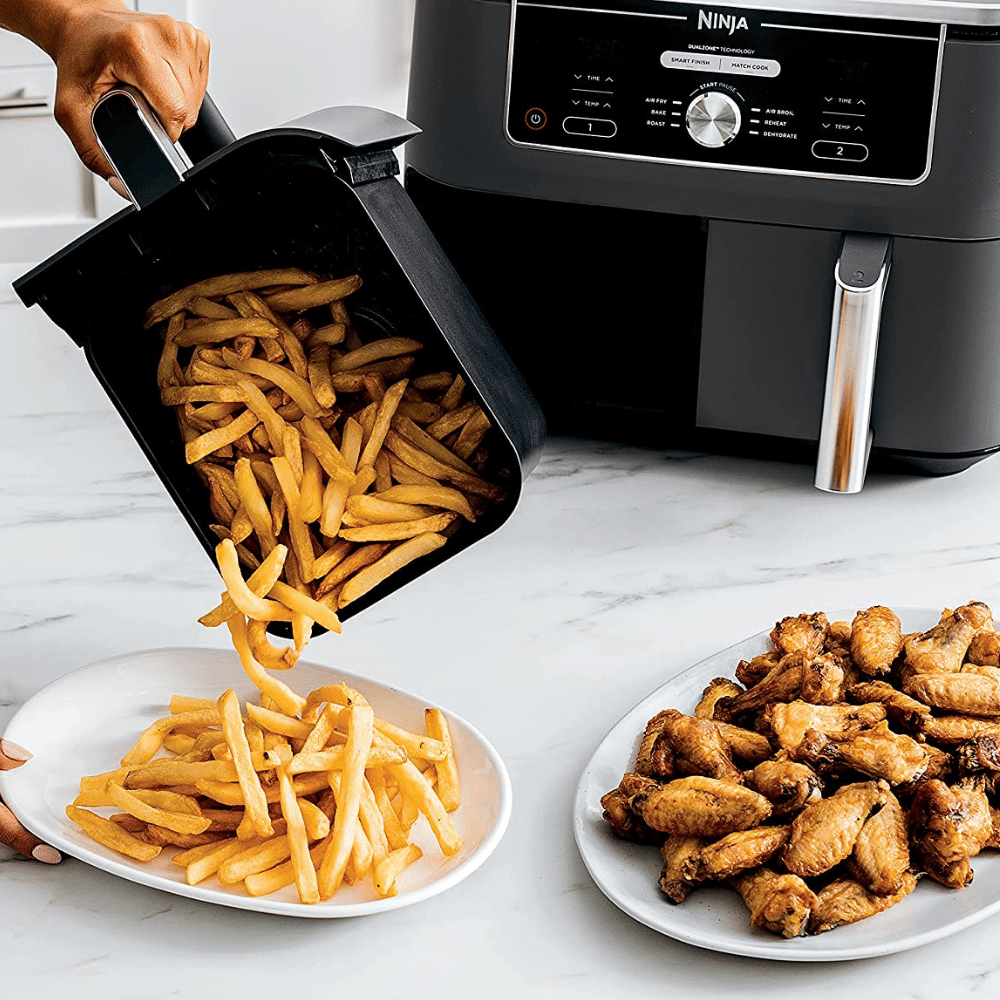 ---
Chefman TurboFry 9 QT Dual Basket Air Fryer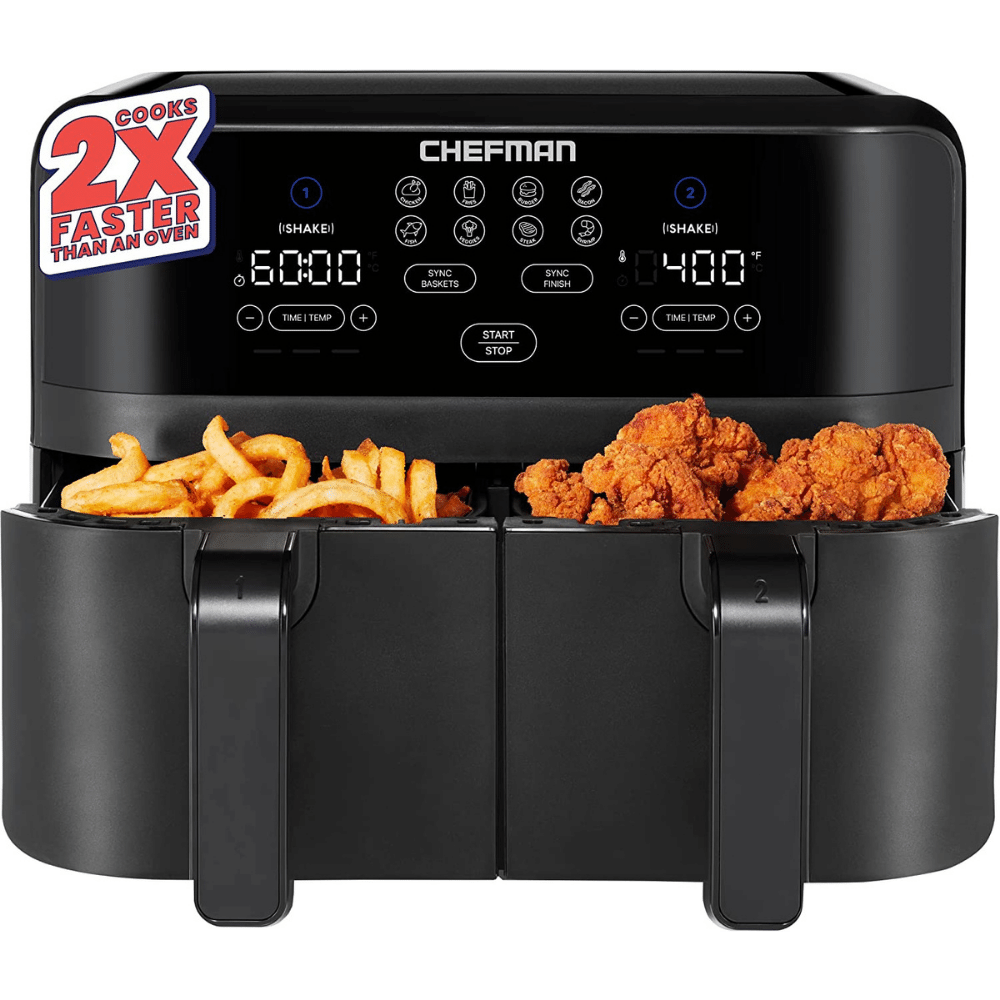 Best Air Fryer For The Best Price
Chefman TurboFry Touch 9 Quart Dual Basket Air Fryer
BUY IT ON AMAZON
Why We Spotlight It
This incredible air fryer not only has two spacious 4.5-quart nonstick baskets to accommodate larger crowds, but also comes with a handy finish-time feature so that every dish is cooked perfectly.
With eight built-in cooking functions and effortless one-touch digital control, you'll be able to whip up your favorite fried foods in no time at all. Plus, cleanup is a breeze thanks to the dishwasher safe parts.
With those advanced benefits, large capacity, and very low price in its product range, this Chefman TurboFry air fryer meets all that you can expect.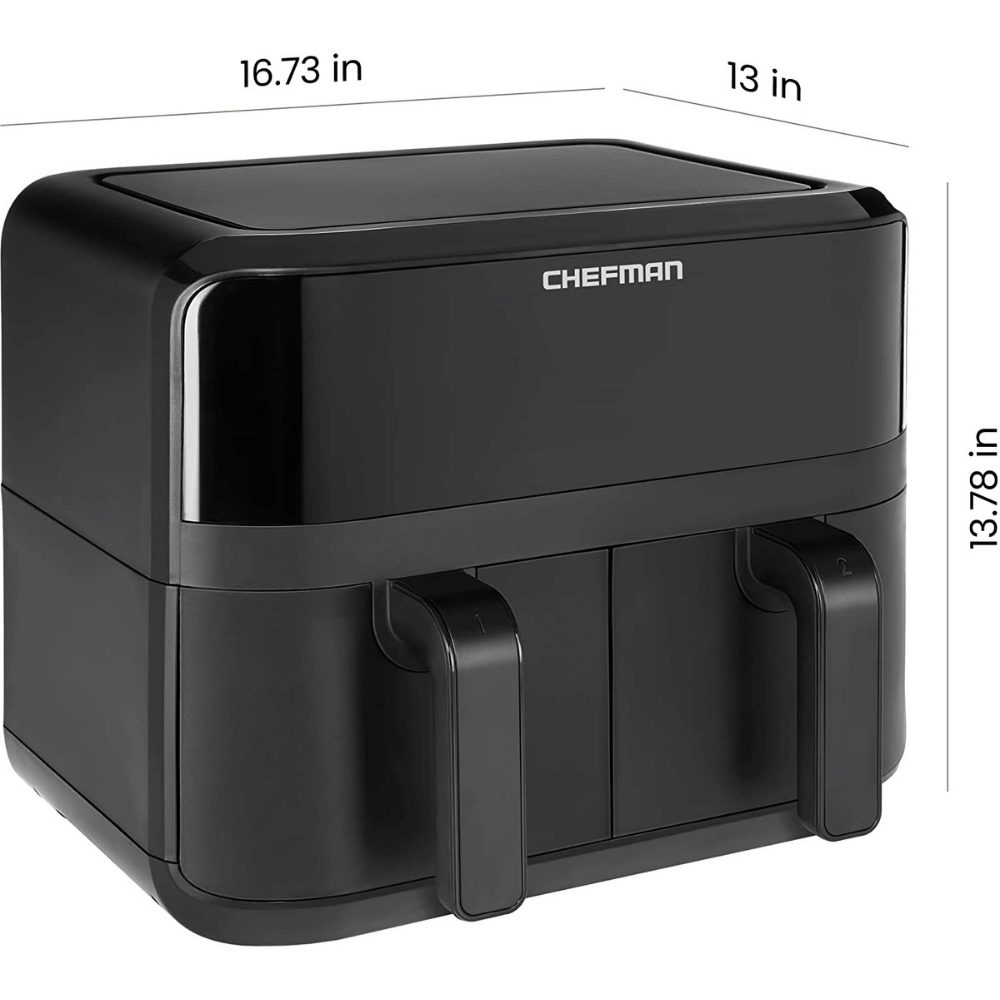 What Makes It Catchy
The search for a one-touch cooking method has finally come to an end. You may effortlessly pick your preset, program your time and temperature, and start air frying in seconds using intuitive digital control.
The adjustable temperature and cooking time let you tailor your air frying to perfection, while the LED reminder ensures even cooking every time. Plus, the auto-shutoff feature keeps you and your family safe from overheating.
Synced baskets, as well as an intuitive finish-time function, make Chefman's cooking the whole deal—sleek and spacious. The matte black exterior looks great on your countertop, but it's also simple to store away.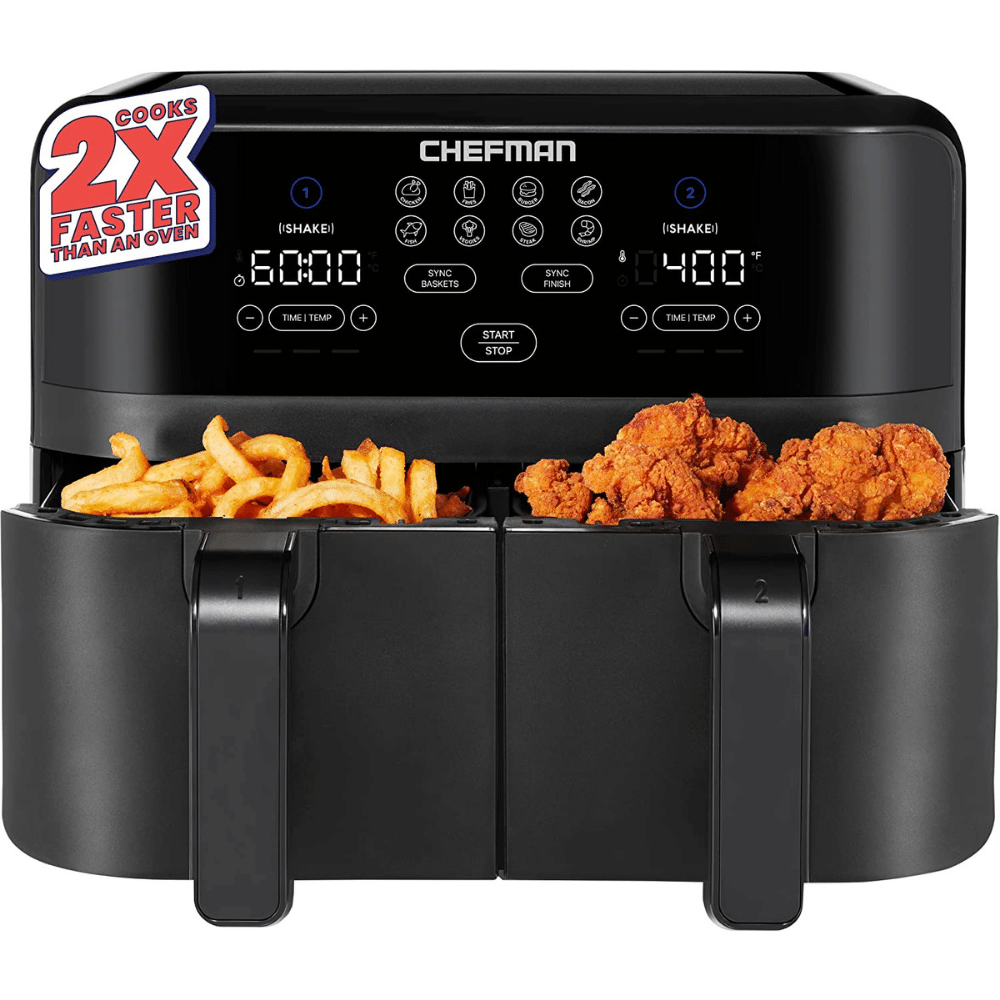 Things You Should Know
With eight built-in cooking settings, you can do so much of your family cooking: air fry crispy chicken, fresh fish, juicy steak, frozen foods and golden French fries to a faultless finish with minimal oil.
This most convenient method of cooking healthy, crispy, and delectable dishes for the whole family is the next major step in the evolution of air fryers. The TurboFry Touch Dual Air Fryer has two spacious 4.5-quart baskets to maximize and control mealtime efficiency.
It's simpler than ever to get perfect results thanks to the adjustable temperature control of 200°F to 400°F. After preparing your meal, clean the outside with a wet cloth. All of the nonstick baskets and cooking trays are dishwasher safe, as are all of the accessories.
---
CHEFMAN Max XL 8 QT Air Fryer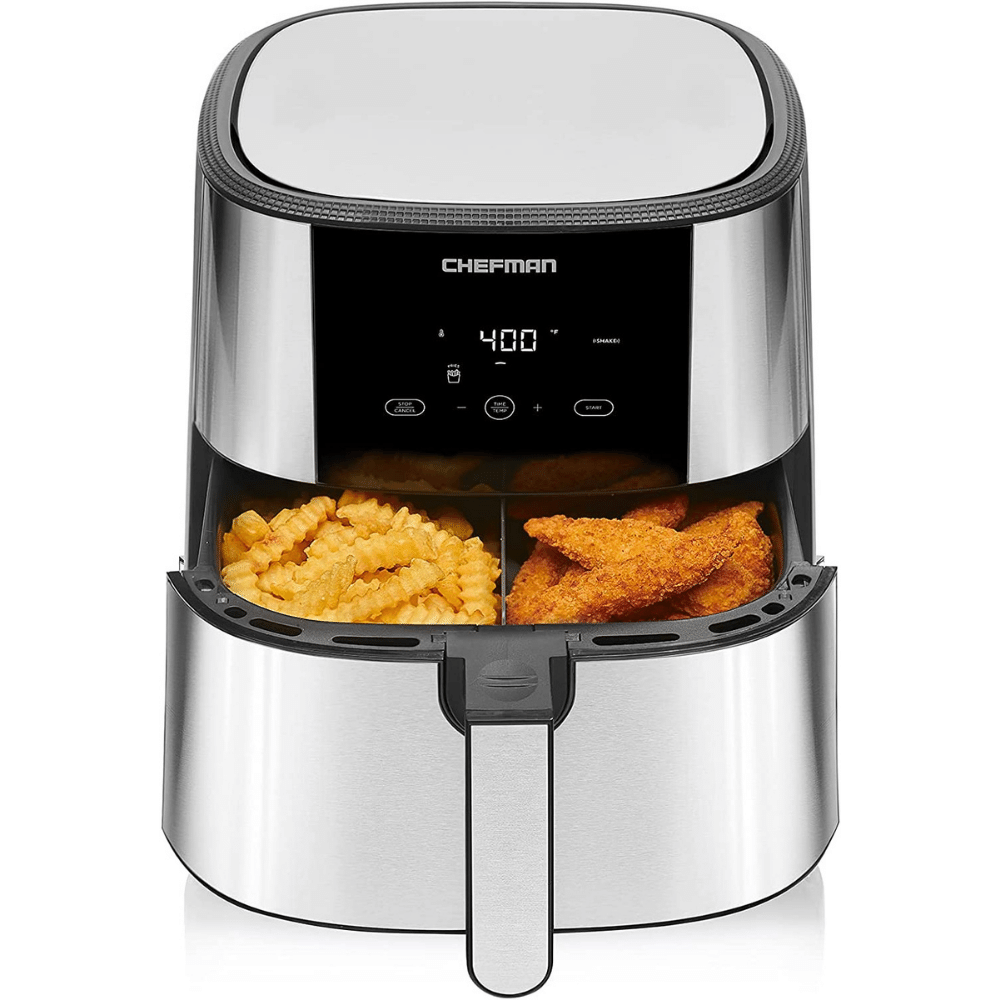 Best Air Fryer For Its Sleek & Compact Design
CHEFMAN 2 in 1 Max XL 8 Qt Air Fryer
BUY IT ON AMAZON
Why We Spotlight It
Cooking has never been easier! This innovative design means that you'll have more time to enjoy your meal and less time dealing with separate cooking. Now you can convenient air fry in-season veggies alongside breaded chicken or fresh fish while your favorite main dishes are crispy quickest side dishes.
With a divided basket, all of these delicious treats get cooked together so there's no decision-making needed on what goes first for cooking. Just put ingredients straight into the air fryer with ease and then shake it up when it's midway through the cycle for perfect results.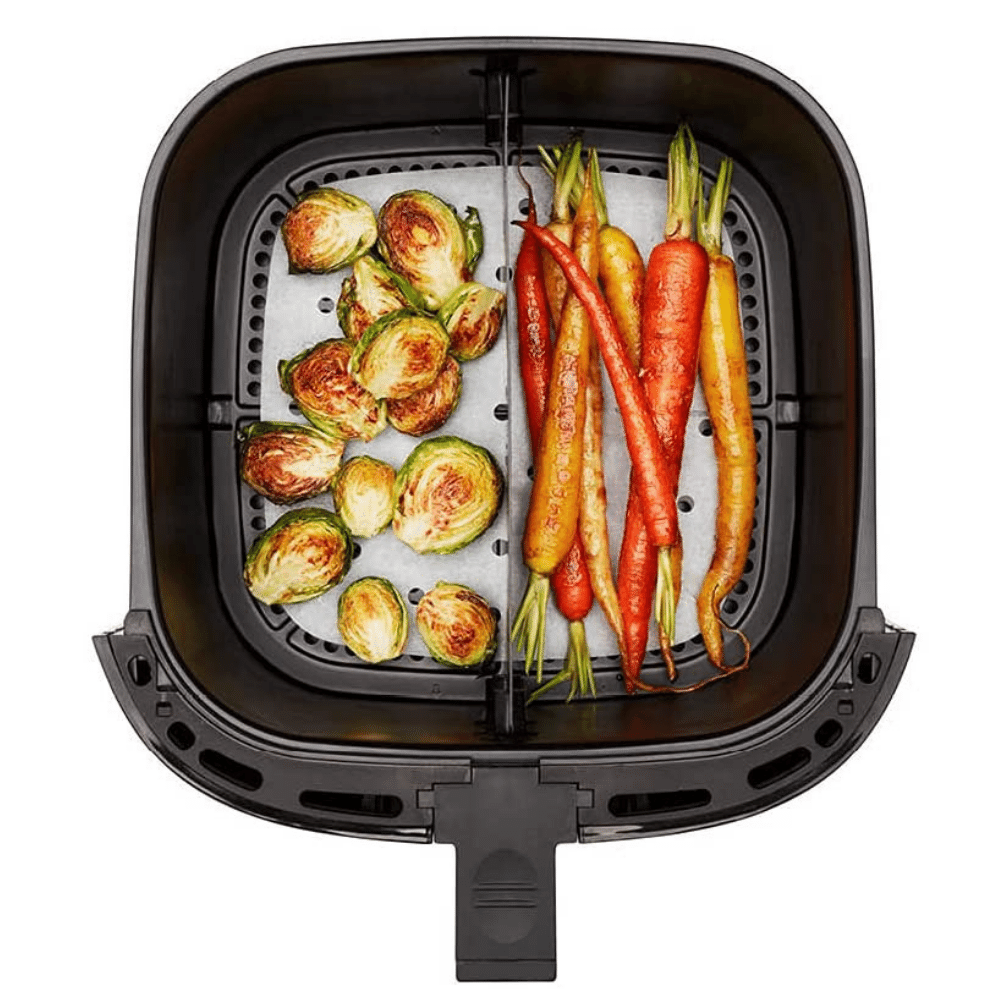 What Makes It Catchy
The beautiful stainless steel finish will look fantastic on your countertop and is ideal for cramped kitchens while yet still accommodating big capacity. Its square form makes it simple to store, and takes less cooking space, making it the ideal match for any space.
With one-touch digital controls, you can easily set your time and temperature without having to guess or fumble with buttons. In addition, with four cooking presets, an LED shake reminder, and adjustable time and temperature, this air fryer has everything you need to make a delicious meal.
Plus, the advanced digital display makes it easy to see how your food is cooking so you can avoid overcooking or undercooking your food.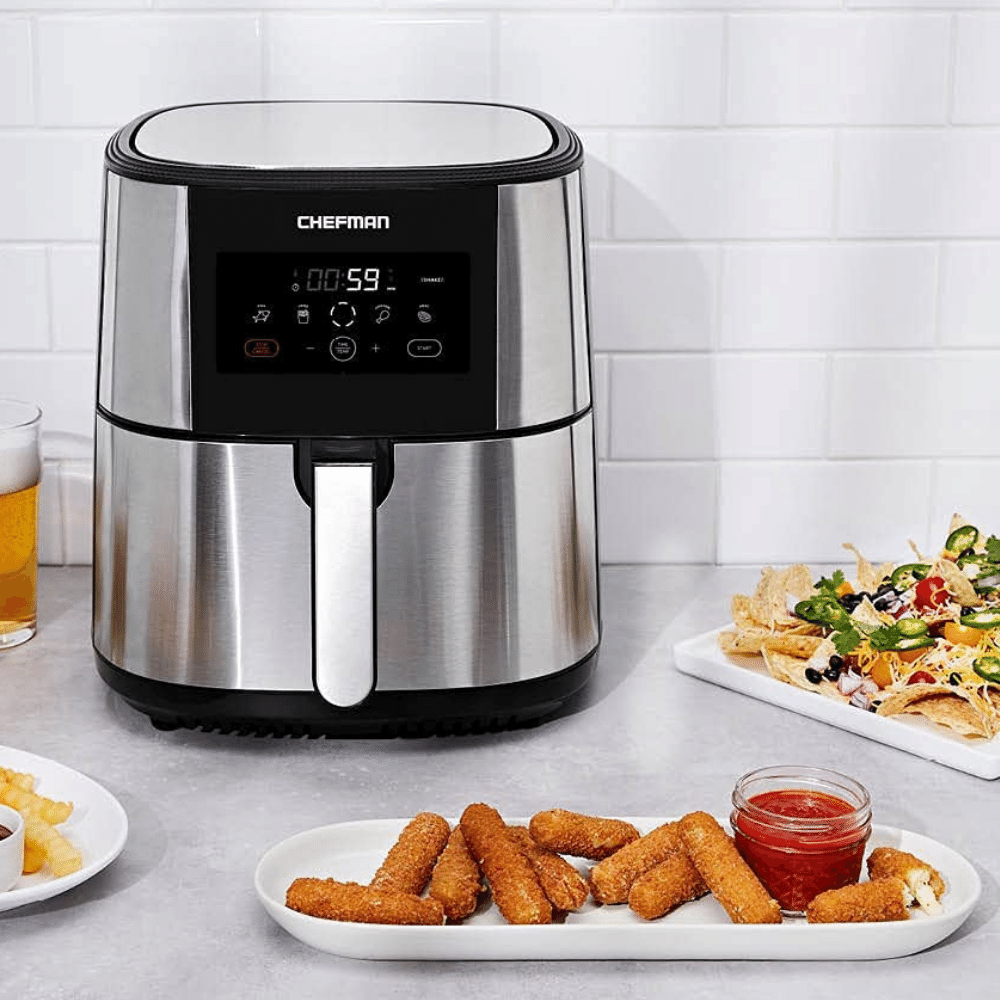 Things You Should Know
The Chefman 2 in 1 Max XL 8 Qt Air Fryer is perfect for feeding a large crowd. With an 8-quart capacity and a built-in divider, you can cook two different foods at once. Whether you're whipping up veggies, fries, chicken, or pizza, the Chefman air fryer has you covered.
This air fryer is the perfect kitchen appliance for those who want to enjoy fried foods without all the oil and mess. It is BPA free, making it a safer option for cooking, and the non-stick basket helps you cook mess-free meals.
With its easy-to-use design, simply wipe down the exterior of the air fryer after use and put the basket in the top rack of your dishwasher. Cleaning as simple as preparing a meal. The dishwasher-safe components make cleanup a cinch after you're done cooking.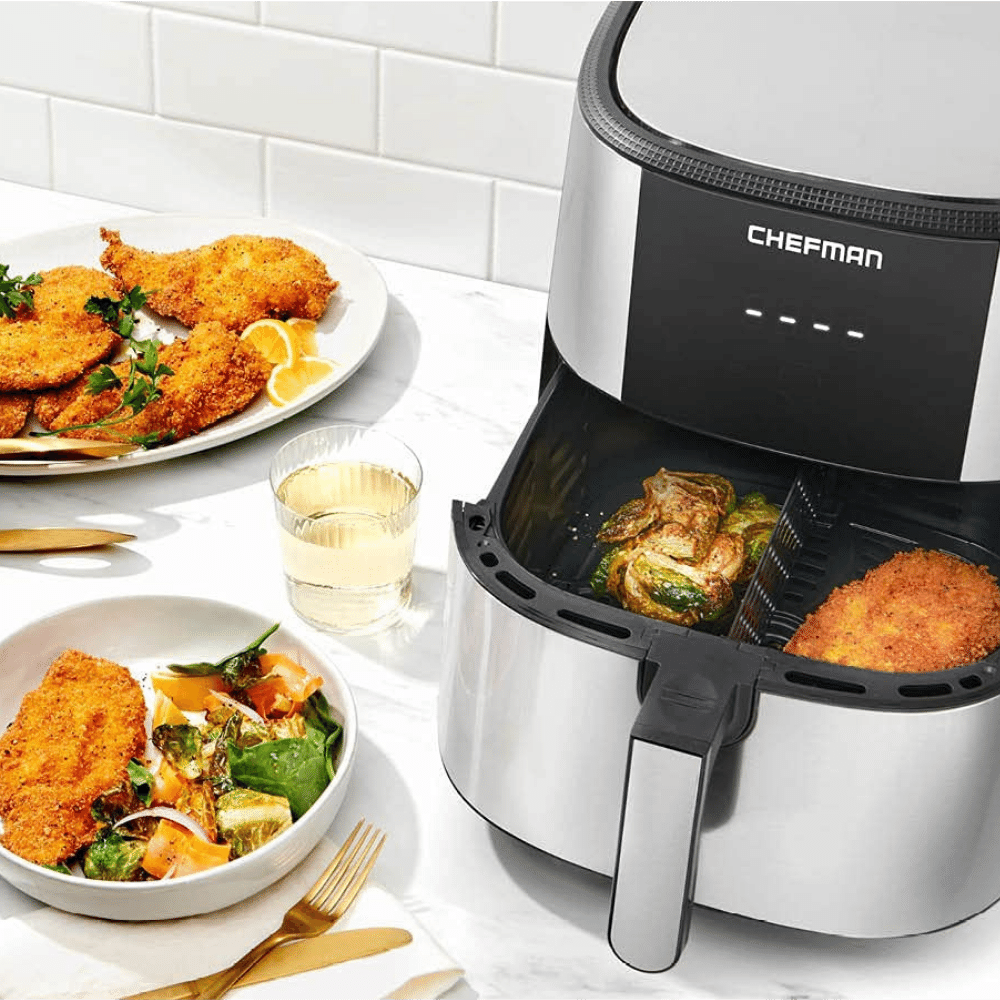 ---
Air Fryer FAQs
It's no surprise that digital air fryers are one of the most popular small kitchen appliances. There are so many different brands and models on the market that it might be tough to choose which of the best large air fryers is for you.
To assist you in making an informed purchase among the best large air fryers, we've compiled a list of Frequently Asked Questions (FAQs) about air fryers.
These are some of the most frequently asked questions regarding how they work, and what foods you may cook in them, and what it means to clean them (think dishwasher safe parts, for example) so you can make a quicker purchasing decision today.
Is an air fryer worth buying?
If you like to cook food, and fry foods, you should consider getting an air fryer. It is a slick appliance and it makes the food healthier than in the deep fryer. One should keep in mind the amount of usage, capacity, health, safety, and financial aspects before buying one.
What food quantities will fit in different sizes of air fryers?
A 1-2.8 quart small air fryer will hold a few chicken nuggets and a small side of cut veggies (or 1 small sandwich). 3-5 quart will hold enough French fries for 3-4 people or 2-3 medium chicken breasts. Other air fryers in 6-10 quart will hold a whole chicken, pizza or a few pounds of French fries.
What size air fryer do I need for a family of 7?
If you have a family of 7, you'll want to make sure you get an air fryer that's large enough to accommodate all of your food. Depending on the size of your family and how much food you typically cook, you might want to consider getting an air fryer that's at least 8 quarts.
That way, you'll have plenty of room to cook all your food at once. You can also find large air fryers that come with multiple racks, so you can cook even more food at once.
How many people will a 5.8 quart air fryer feed?
For most larger families a 5.8-6 quart air fryer is capable of cooking 6 pounds of chicken or a variety of other dishes to serve up to five people.
How big of an air fryer do I need to cook a whole chicken?
When it comes to cooking a whole chicken in an air fryer, size does matter. For the best results, you'll want to choose an air fryer that's big enough to accommodate a whole chicken. That way, you'll ensure that the chicken cooks evenly and it doesn't get too crowded in the air fryer basket.
To give you an idea of how big you'll need to go, a 4 quart air fryer can comfortably fit a 2-pound chicken. If you're planning on cooking larger birds, like turkeys or ducks, you'll need to invest in a larger air fryer. Examples: for a 6 pound duck, a 6 quart air fryer; for a 16 pound turkey, a 13-14 quart.
You can also find air fryers that are specifically designed for cooking chickens. These air fryers typically have a rotisserie function, which makes it easy to cook your chicken evenly.
What should I know before I buy an air fryer?
Everything cooks so fast — sometimes too fast.
When cooking in an air fryer, most foods take less than 15 minutes to fully cook. Typically, I'm used to waiting 20 or 30 minutes to bake chicken breasts in the oven. In an air fryer, this is reduced to 12-14 minutes. So, stick around!
Do air fryers use a lot of electricity?
Air fryers work by circulating hot air around the food, cooking it evenly and quickly. They do need a significant quantity of power in a shorter period than traditional ovens.
As a result, you are unlikely to use your air fryer for lengthy periods at once. Because most air fryers have such low wattage, you are unlikely to wind up a huge electricity bill in the process.
Can you air fry hamburgers?
Yes, you can air fry hamburgers. Air frying is a great way to cook burgers because it gives them a crispy crust and prevents them from becoming dry or tough.
To air fry hamburgers, start by heating some oil in an air fryer. Then, place the burgers in the air fryer and cook them for 5-7 minutes or until they are golden brown. Serve with your favorite toppings!
Can you air fry an egg?
Yes. An air fryer can be used to cook an egg. The key is to use a little cooking spray or oil to help the egg not stick to the air fryer basket. Crack the egg into a small bowl and then carefully pour it into the air fryer basket. Cook for 3-4 minutes at 380 degrees F, or until the white is set and the yolk is cooked to your liking.
Do air fryers stink up the house?
Air fryers produce very little smoke or odor, and the small amount that is produced is quickly absorbed by the food. Of course you should always clean the air fryer components after use to remove food particles. But as most are dishwasher safe this is easy.
Is an air fryer better than a microwave?
In short, air fryers are a lot healthier than microwave ovens. While microwaves may require you to add a small amount of oil, air fryers don't require oil at all, since things like frying, baking, or any of the operations that air fryers are capable of doing don't rely on oil whatsoever.
Can I reheat food in the air fryer?
Yes, you can. Turn your air fryer to 350-400 degrees F for just 3-4 minutes and your reheated leftovers will taste just as crispy as the night before. You can reheat pizza or any other food. It will come out crispy, hot, and fresh.
---
Best Air Fryer For Large Family
We've spotlighted the top-selling items on the market and provided the links so you can learn more about their pricing.
We hope that this review has assisted you in your search for the best large air fryer for your family.
While you're here, be sure to check out other posts about various types and colors of other air fryers for different needs, as well as other kitchen appliances reviews on our site.
Thanks for taking the time to read this, and have a wonderful day!
Catchy Finds