Looking for a stylish way to add a touch of vintage glamour to your kitchen? Check out the latest range of Retro Style air fryers! These cool appliances come in a range of fun colors and designs, perfect for adding some personality to your cooking area.
Whether you're looking for a basic model or something with all the bells and whistles, we've got you covered. So read our review for five top picks of the best retro-style air fryers available today! Read our review and judge for yourself.
How We Spotlight The Best Retro Air Fryers
Your kitchen doesn't need to have an all-retro or period authentic design. A contemporary design with retro accents looks amazingly good. A well-crafted, good looking and digital retro air fryer may fit in very well in any kitchen design.
It might be difficult to choose the most attractive air fryer when there are so many different manufacturers and versions on the market. It's difficult to determine which retro air fryer is best for you without spending hours reading and further researching. Most come with the usual accessories, to enable you to cook a variety of dishes and different categories of meals.
We conducted the research for you and spotlighted the top five retro air fryers based on their attractive appearance, simplicity of use, convenience of cleaning, and adaptability. Remember, these machines may look like they date from a bygone era, under the hood they all use up-to-date technology that outperforms traditional deep fryers. It's all in the details.
This a list of our personal favorite vintage air fryers so you can add them to your kitchen's classical style. We may have our personal preferences. When it features an automatic shutoff, yes, we admit we like this.
With a timeless design, this collection of vintage appliances delivers contemporary performance. Check them out to make up your mind and create your dream kitchen today.
👉
We participate in the Amazon Associates Program, if you buy a product with the links that we provide, we may receive a small commission from Amazon. There is NO additional cost to you!
---
Nostalgia Classic Retro 7 QT Air Fryer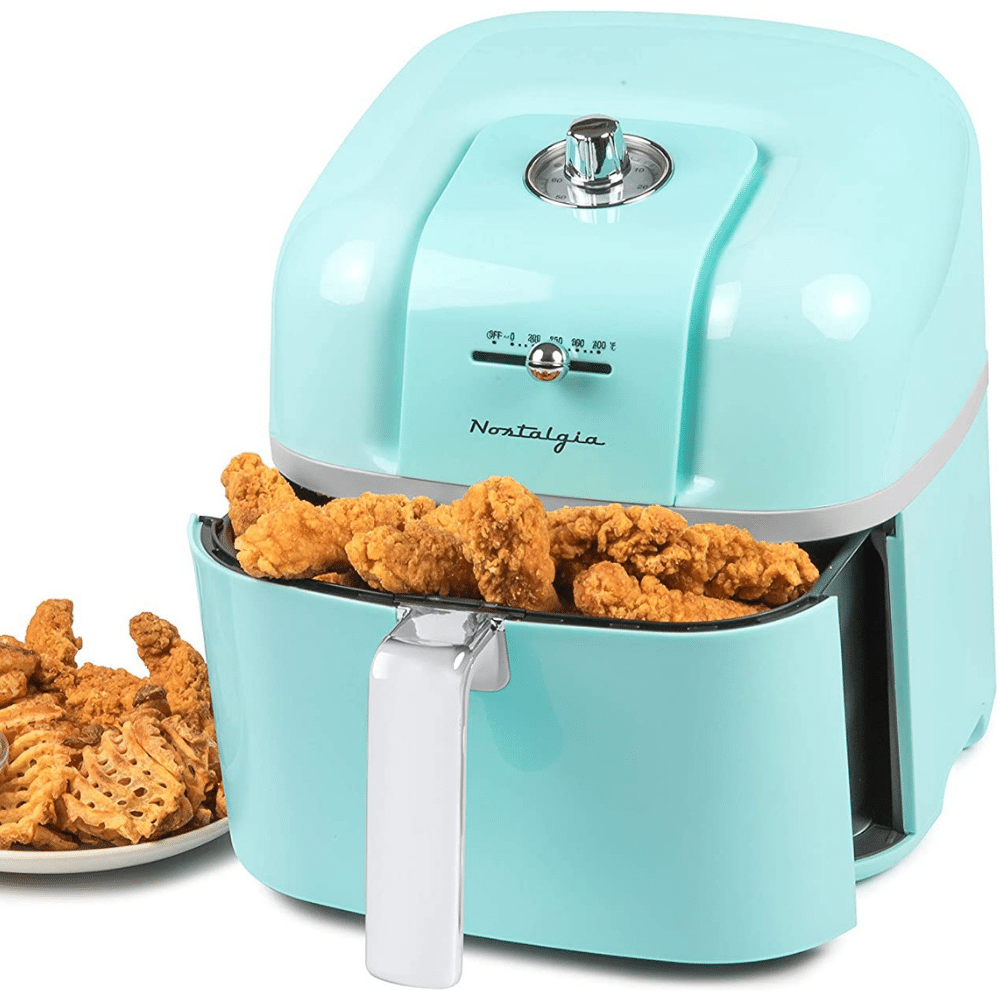 Best Choice For Its Large Capacity
Nostalgia CLAF7AQ Classic Retro 7 Quart Air Fryer
CHECK PRICE ON AMAZON
Why We Spotlight It
This large 7 quart capacity air fryer cooks a complete meal or serves appetizers for an entire family or a small party, unlike other small-sized retro air fryers that need repeated cooking, ideal for feeding a whole family!
The Nostalgia CLAF7AQ Classic Retro 7 Quart Air Fryer cooks your favorite deep-fried foods with hot air and high-speed air circulation to perfection! Chicken tenders, wings, fries, onion rings, as well as other meats, fish, vegetables, cakes, fruits & more can all be prepared in this appliance.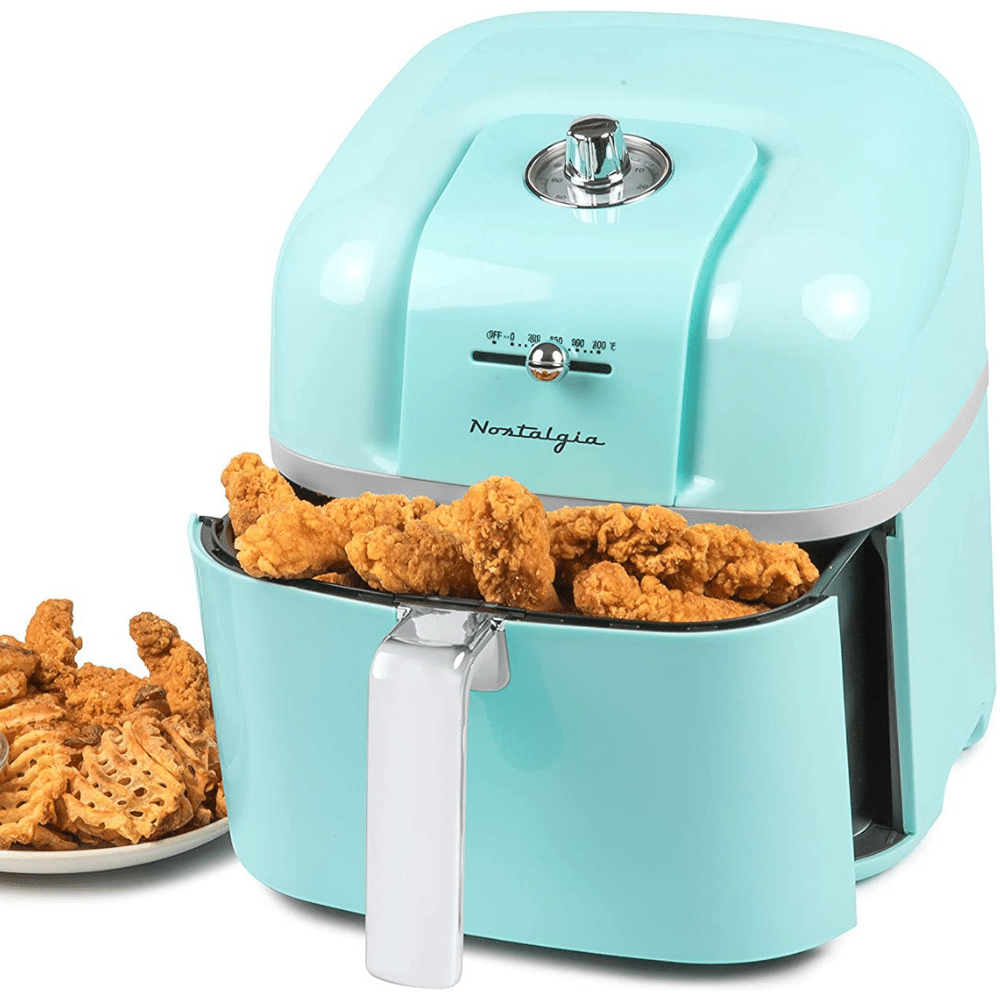 What Makes It Catchy
A major feature of this blue air fryer is its classic retro design, with chrome accents, a look that includes a temperature Power Gauge and a sleek-chrome timer.
The thermometer has an adjustable temperature range of 140° F to 400° F, allowing you to prepare a variety of dishes at the ideal serving temperature. You can cook anything in this premium fryer. Little or no oil needed.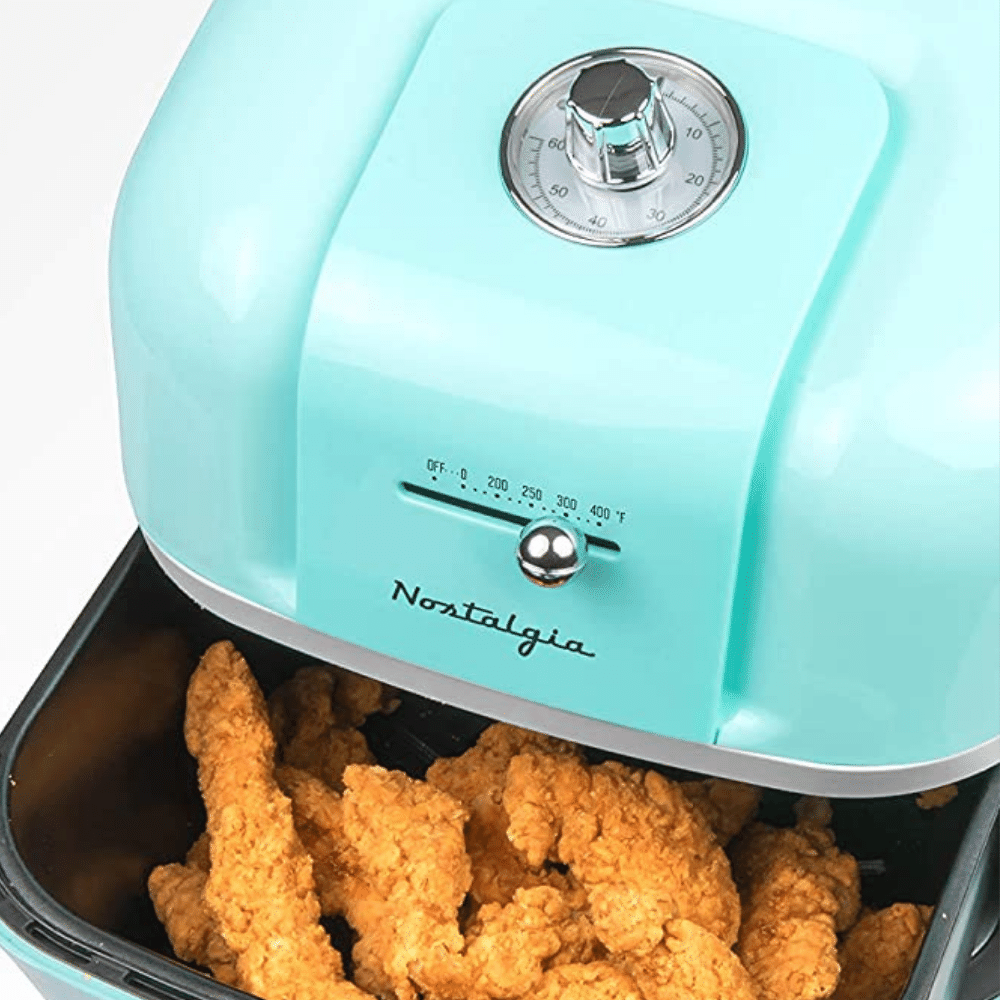 Things You Should Know
It's so easy to use that there aren't many options to choose from the preset settings. Food chamber pot and food rack are removable and dishwasher safe, and can be cleaned effortlessly. Timer settings range from 5 to 60 minutes. Its automatic shutoff for protection is an important feature.
This air fryer is the perfect addition to your kitchen. If you are looking for a timeless design with contemporary performance, look no further than the Nostalgia CLAFQAQ Classic Retro 7 Quart Air Fryer.
---
COSORI Retro 5.8 Quart Air Fryer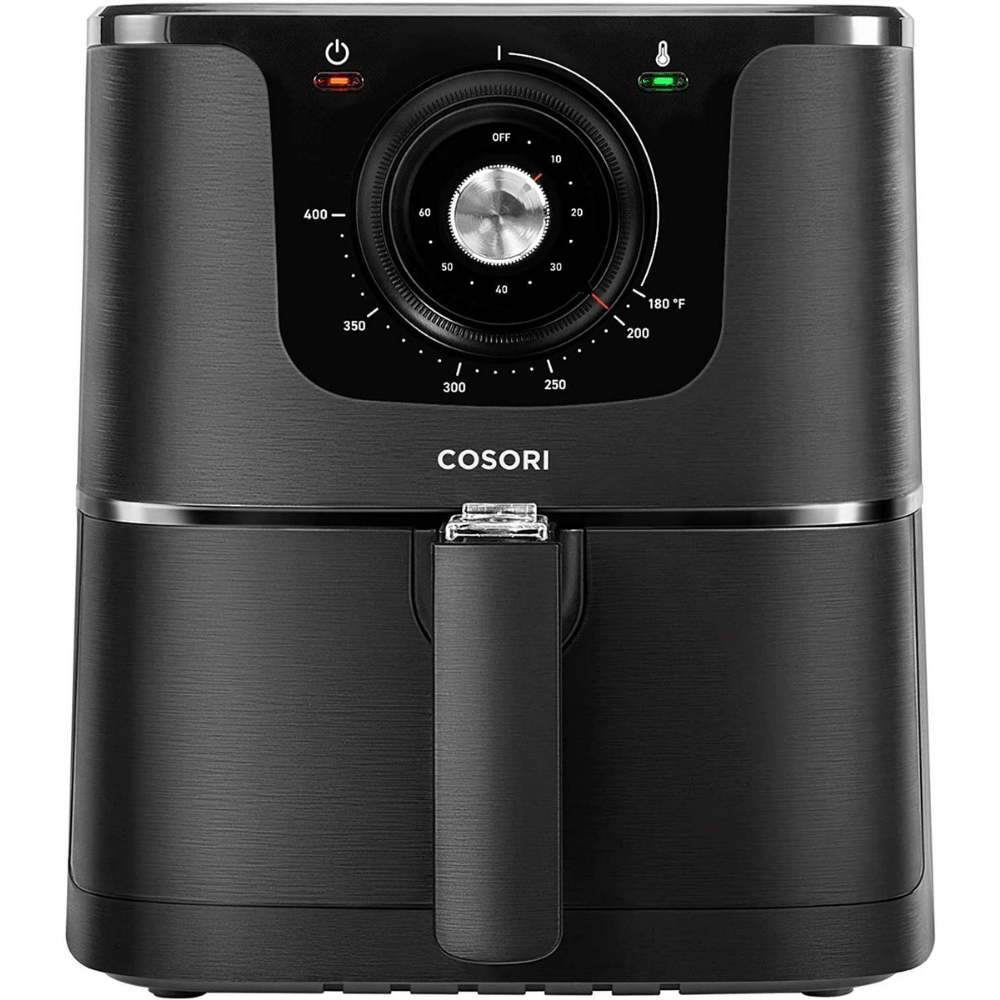 Best Choice For Its Old & Modern Style
COSORI Retro 5.8 Quart Air Fryer
CHECK PRICE ON AMAZON
Why We Spotlight It
If you're looking for a healthy alternative to fried foods, this COSORI Retro 5.8 quart air fryer may help. Using the COSORI air fryer, you can make your favorite meals with 85% less oil and have them just as often.
You may continue to enjoy the same tastes that you would with normal deep-frying. Its size enables you to cook an entire meal for a large family. Try new recipes with COSORI R&D's 30-recipe cookbook and the top of the air fryer guides will make your cooking easier and more convenient.
You will be amazed to discover the wide variety of meals to prepare a variety of foods in your air fryer, from chicken wings and steak to baked cookies, from fish and veggies to French fries, and dozens more: feeding an entire family becomes a no-brainer!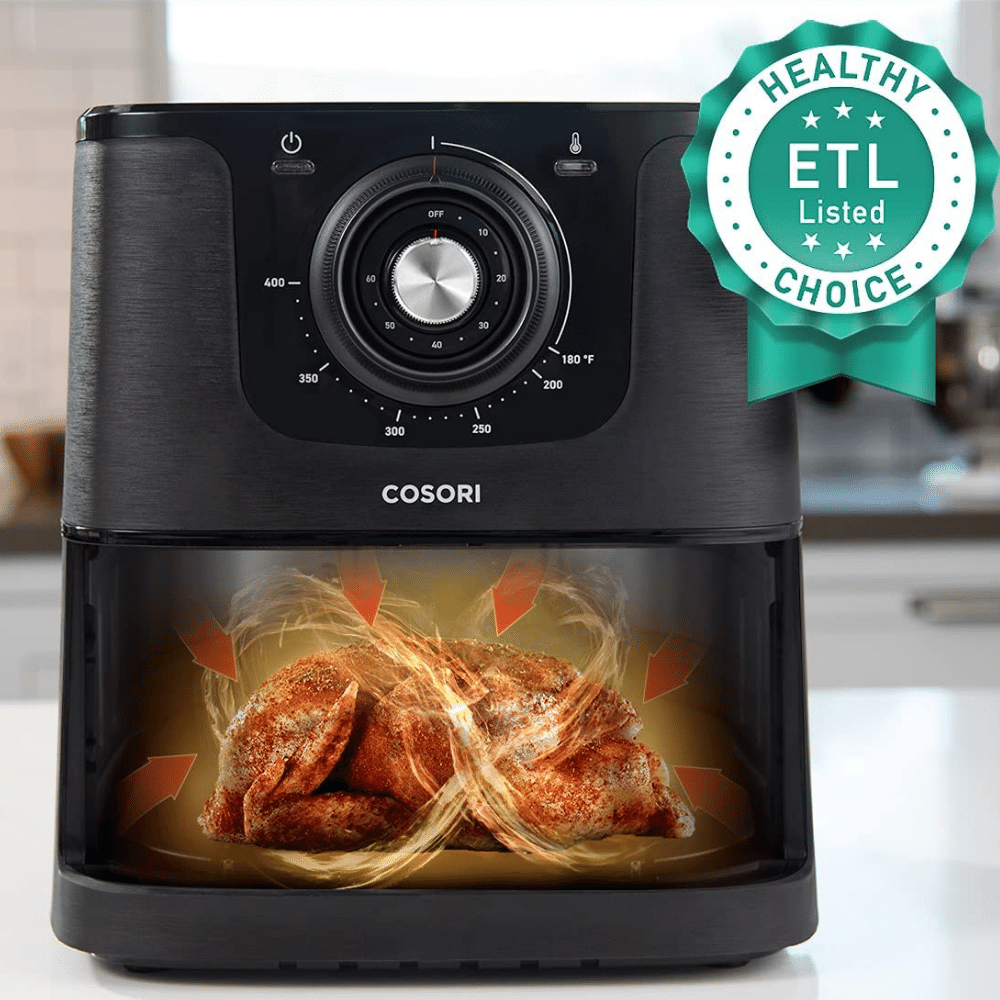 What Makes It Catchy
The air fryer's design is a combination of vintage and modern: a sleek, matte-black body with a metal interior and LED lights. The retro dials on the front of the machine are simple to use.
It has indicator lights, clear lines, and a non-slip timer dial for simple operation. The matte style keeps the air fryer's appearance clean, and its contemporary shape complements any kitchen.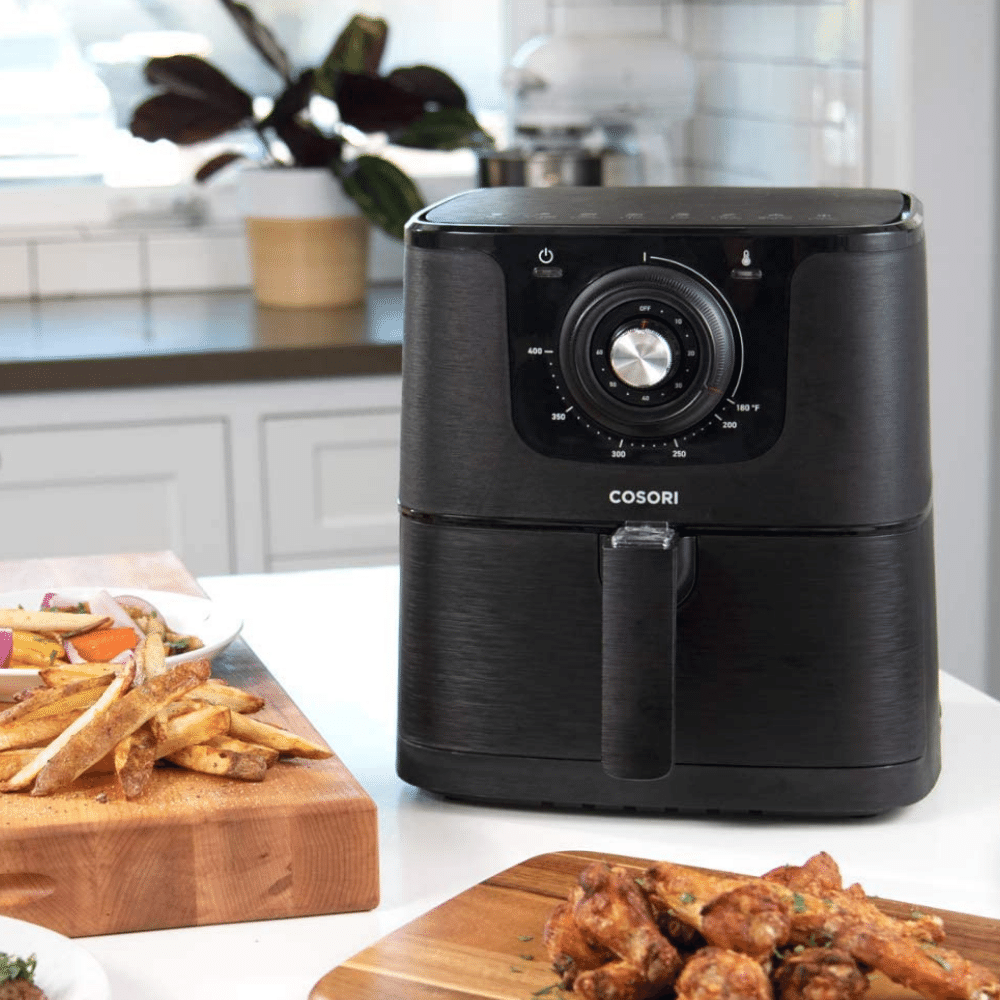 Things You Should Know
This fryer features a 5.8-quart food basket that can fit a 5-pound chicken, allowing you to cook an entire meal or up to 5 servings of your favorite foods. However, its compact frame won't crowd your kitchen countertop.
The temperature range depends on the rated power of your grill: it maxes out at 4000°F. The specified output is 1700W, which is enough for most grills. To decrease cooking time, simply turn the timer dial backward. It features an automatic shutoff.
Cleaning after cooking a meal for the family is a breeze with nonstick, dishwasher safe baskets that are free of BPA and PFOA. When all this appeals to you, your search for a retro air fryer is over.
---
Galanz Retro Electric 4.8 Quart Air Fryer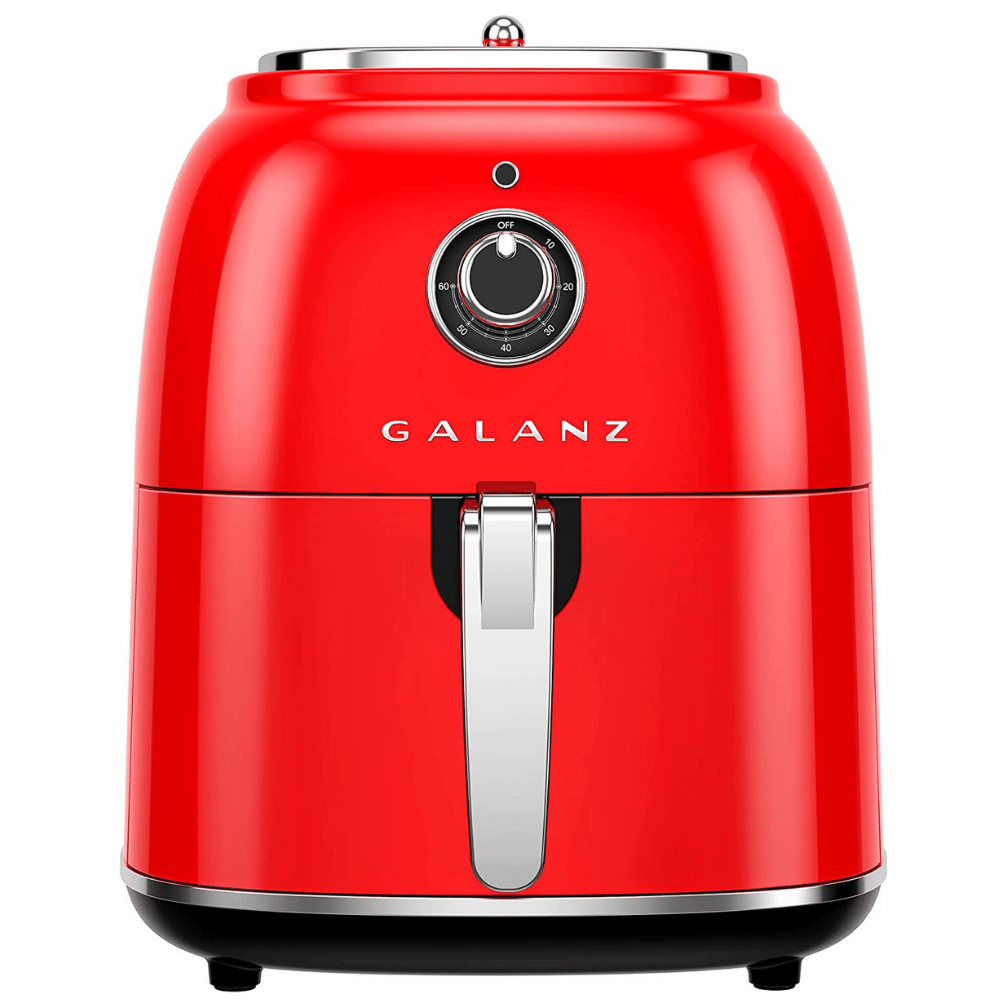 Best Choice For Its Distinctive Look
Galanz Retro Electric 4.8 Quart Air Fryer
CHECK PRICE ON AMAZON
Why We Spotlight It
This fryer has a classic retro design. It a fantastic gadget for those who love to cook and desire to use and diplay retro kitchen appliances. It has a vintage look and feel, yet with modern functionality!
Despite its 4.8 quart capacity this air fryer looks small. It cooks an entire meal for a small family. It's lightweight and portable, making it easy to swap from one countertop to another. Its price also reflects its high quality and wonderful design.
Its detachable parts and food basket are dishwasher safe which simplifies cleanup. Combine this red air fryer with Galanz's other retro appliances, their red fridge and red microwave.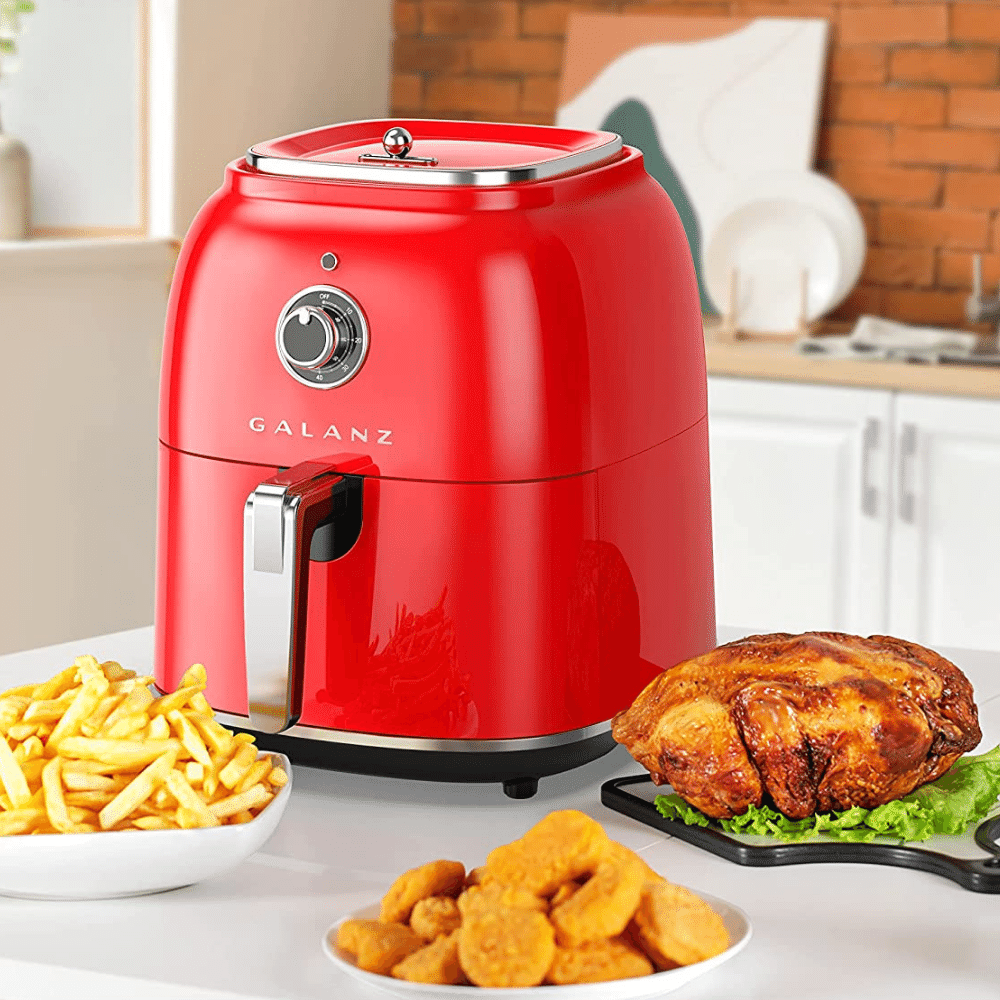 What Makes It Catchy
This air fryer is a great yet modestly sized appliance that looks fantastic in your kitchen. This fryer is not only beautiful but also sleek and distinctive. This retro machine is an ideal addition to any kitchen, not just one with matching appliances. Its bold redness will also please those who want to add a splash of color or make a statement in their kitchen.
There is no need to sacrifice taste or quality when you make your French fries at home. Since it's so versatile you can use this air fryer to cook a wide range of dishes.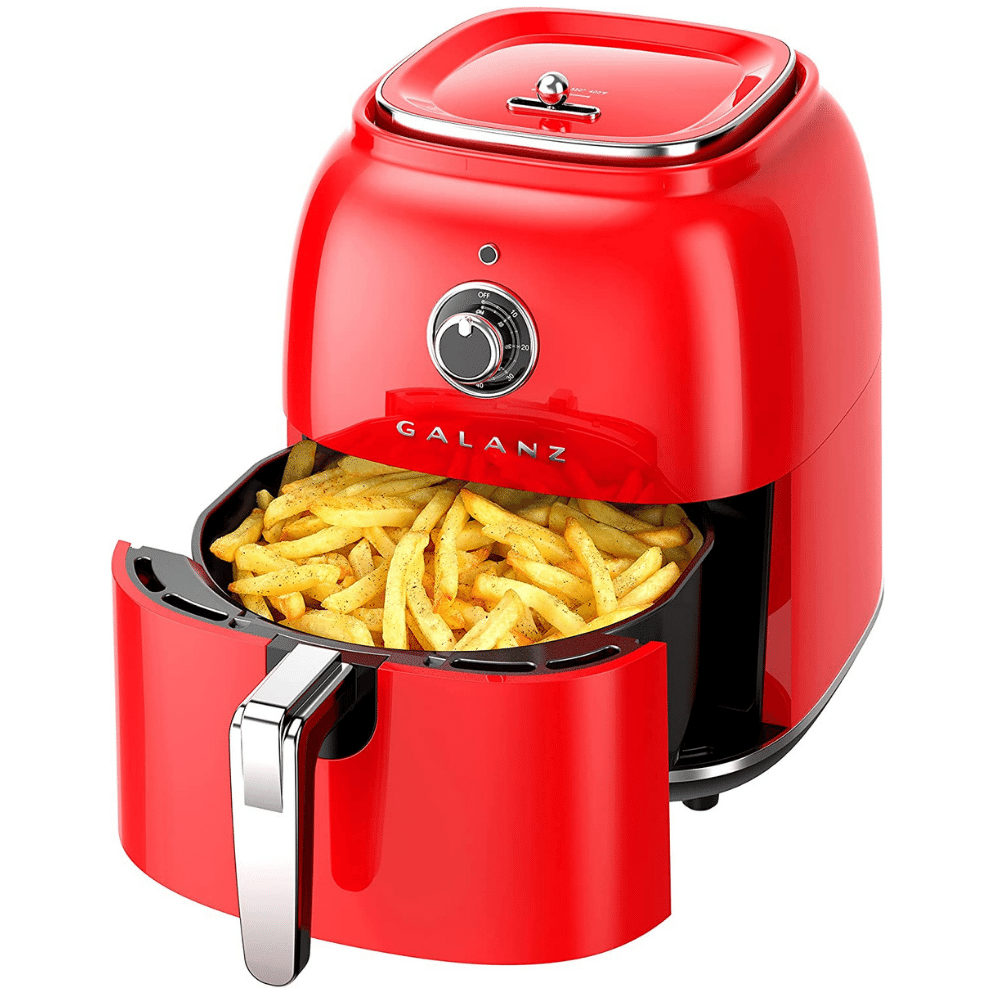 Things You Should Know
The Galanz Retro electric air fryer features a variable timer and temperature control, allowing you to customize your meal! The auto-shutoff function prevents it from overheating or overcooking your food.
You place the meal directly on the detachable bottom tray. So don't use a pot or a silicone bowl, as the air will not be able to rise beneath, and circulate all around the food.
---
DASH Compact 2 Quart Air Fryer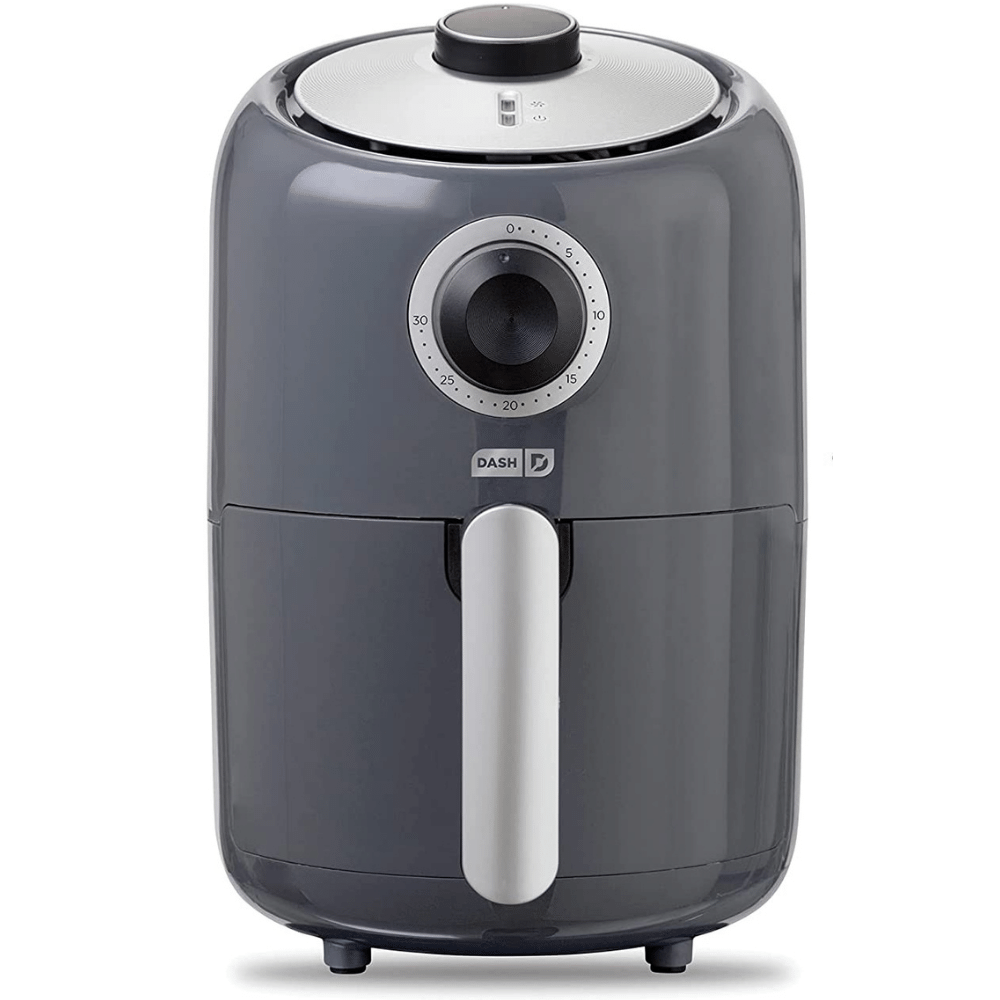 Best Choice For Its Simplicity Of Use
DASH Compact 2 Quart Air Fryer
CHECK PRICE ON AMAZON
Why We Spotlight It
The DASH belongs to the small sized air fryers. Do you want to make a dish but don't have enough time? Simply fill the 2-quart fryer basket, set the temperature and timer, and your food will be crispy - just-like-that.
The DASH air fryer is classic retro styling, and one of the simplest air fryers on the market. All you need to do is adding food to the fryer basket, set the temperature, and set the timer. The unit has automatic shut off for protection when the food is done.
It is a great choice for those who are looking for an air fryer that is simple to use and doesn't require any special instructions. It allows you to cook an entire meal for you as a single, and want to treat yourself to something special. Little to no oil needed. Visitors? Use it to serve appetizers!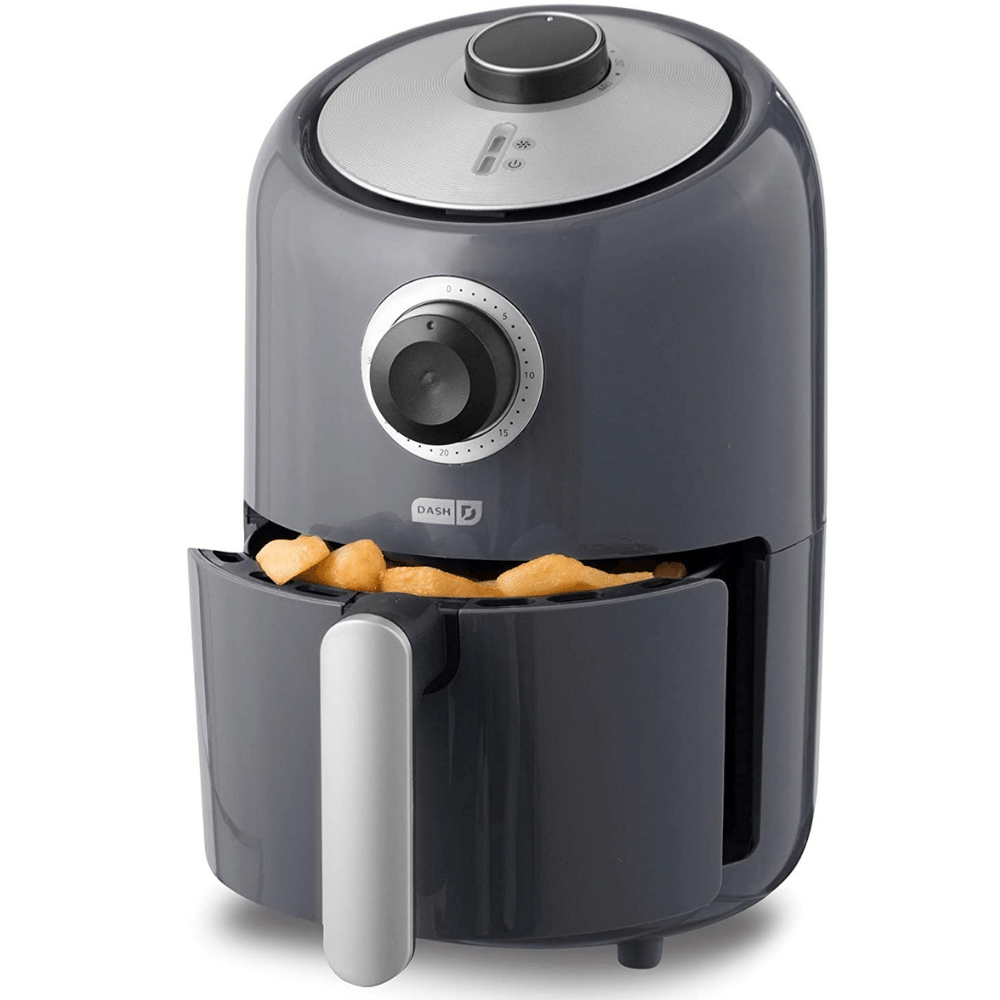 What Makes It Catchy
The grey hue caught our attention, as it is ideal for someone who prefers the old style without being too brash. Its sleek design and trendy color options such as grey, white, aqua, red, black will accent any kitchen space.
The DASH air fryer takes up minimal countertop and storage space. The item comes with a detachable frying basket, as well as a manual with lots of recipes.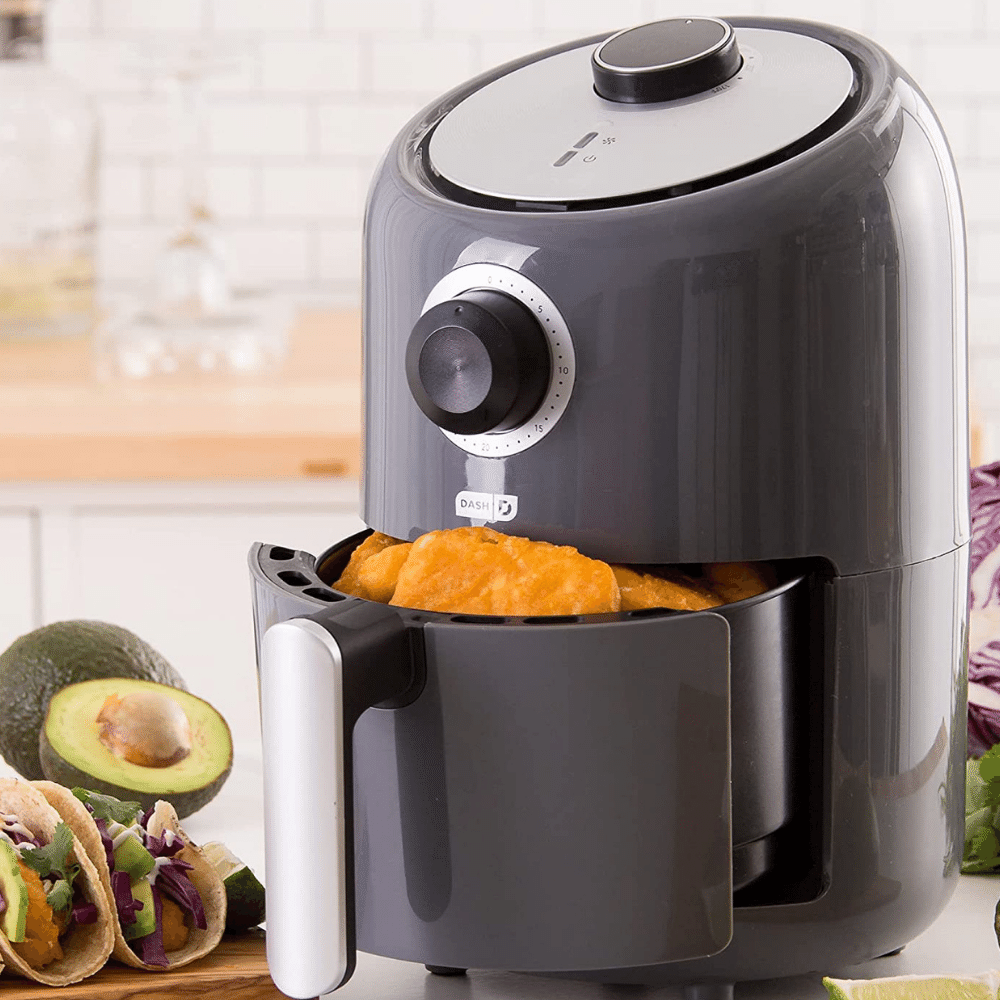 Things You Should Know
This air fryer uses Aircrisp technology to help you reduce extra fat by 70-80% while maintaining the taste of your fried food.
The DASH air fryer is also one of the safest air fryers on the market. The unit is ETL certified and has automatic shut off. It's also an easy clean!
The Dash Air Fryer is your must-have for a first apartment, dorm life, or any other situation where you don't have space for a full-size fryer. It's half the weight of a regular fryer and has all of the same capabilities. If you have visitors and want to cook, you may have to use the fryer several times.
---
Aria Premium 2 QT Retro Style Air Fryer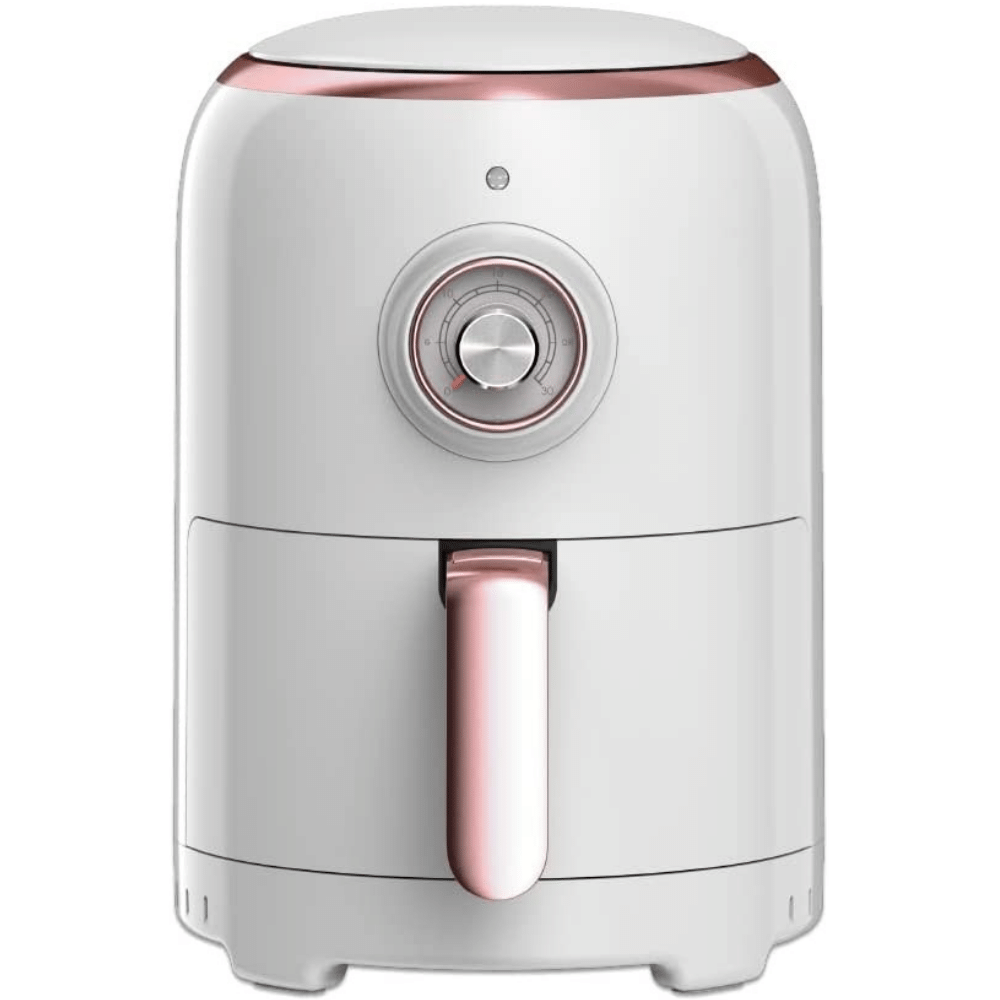 Best Choice For Its Economic Price
Aria Premium 2 Quart Retro Style Ceramic Air Fryer
CHECK PRICE ON AMAZON
Why We Spotlight It
Like the DASH, it belongs to the small sized air fryers. It's because of its affordable price for being small sized and its marvelous retro design this fryer deserves to be on our list. The unit is also one of the lightest in weight.
Its capacity is just right for singles or couples. Because of its 2-quart design, this air fryer can easily find a place on your kitchen counter.
The device's heating element is surrounded by a ceramic-coated basket that evenly distributes the heat for maximum evenness. Excellent heat conduction is provided by the nonstick air fryer construction that won't peel, flake, or emit toxic fumes.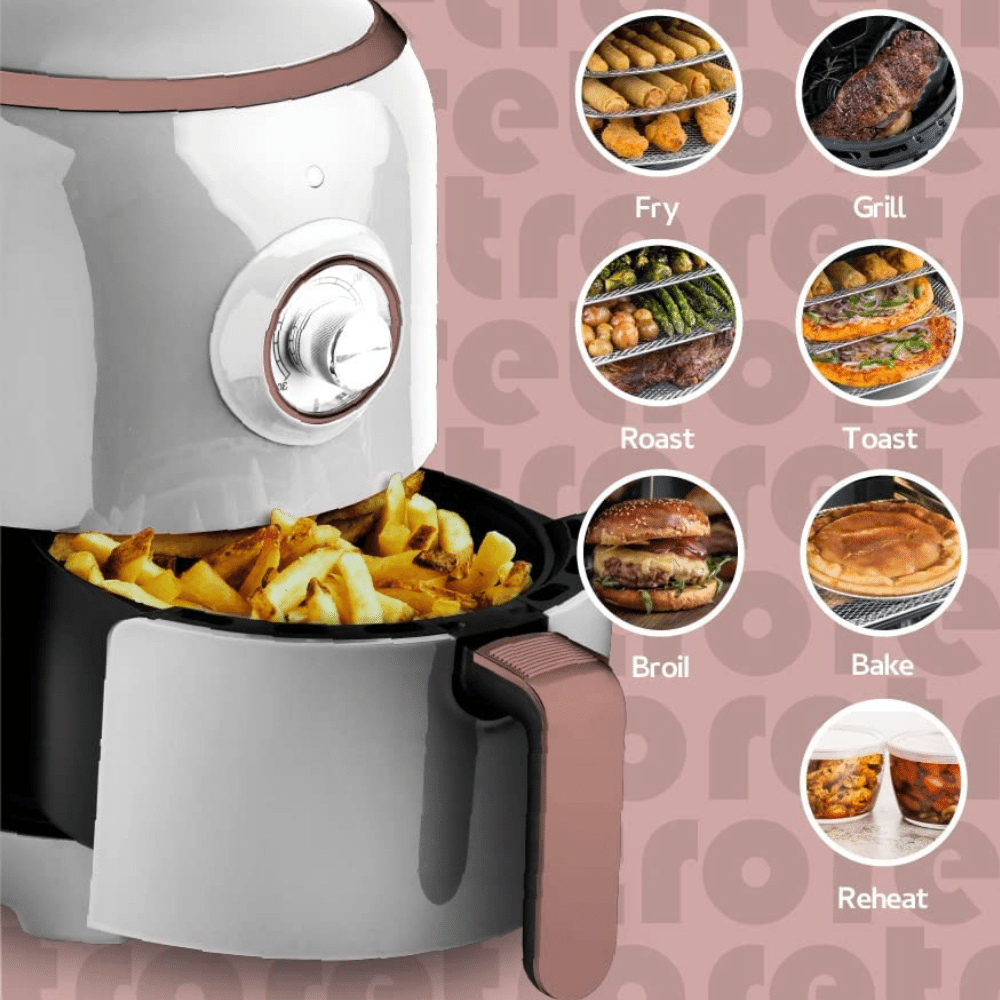 What Makes It Catchy
This nice retro look, compact size, one-person air fryer, looks vintage with its pretty rose gold. It's nice that it comes in different colors to choose from. It goes well with most kitchen appliances: it will be a nice addition to your kitchen.
This fryer has classic retro design. It's perfect for small apartments and dorms. One of the best aspects of this air fryer is that it doesn't take up much space on your countertop. It is perfect for making chicken dishes, and to serve appetizers.
However, included in the appliance that you can try right away, is the top-rated ABC's Family Food Fight Recipes Cookbook. It has mouthwatering dishes created by the show's champions! It also includes Chef Mario Fabbri's Vegan & Keto choices for your favorite classic dishes! So much more than chicken ...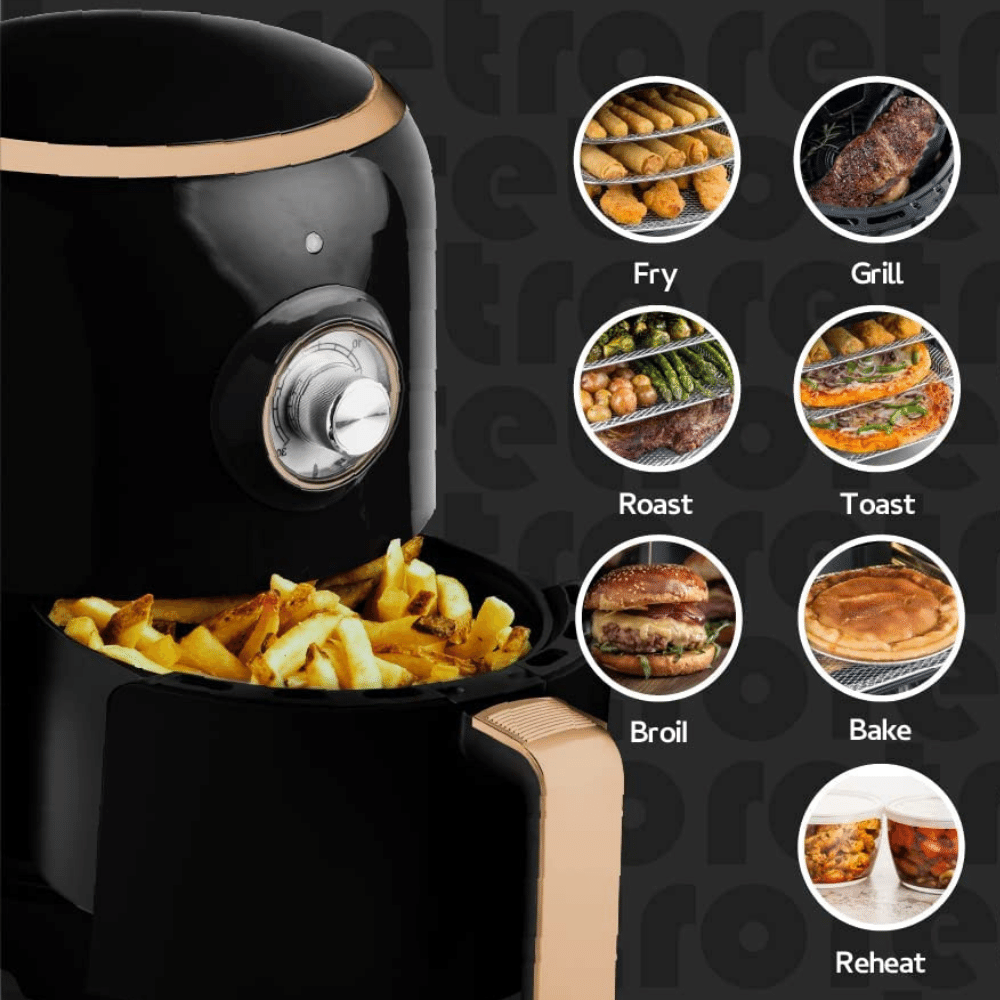 Things You Should Know
There is no temperature setting or pre-heat cycle on this air fryer; simply a timer. The optimal temperature for this air fryer is 400 degrees F. You can alter the cooking time and temperature at any moment during the cooking process using two precise dials.
With cooking times for various meals outlined in the instruction booklet, there is a leaflet given with suggestions on how long to cook different meals. It takes care of anything, from veggies to fish and steaks. It's ideal for making chicken dishes.
For extra safety and durability, the ceramic dishwasher-safe basket and crisping rack are PTFE-free, PFOA-free, and BPA-free. An easy clean!
If you have a family, you might want to consider a larger size. This unique retro air fryer is ideal for those who live alone, or a couple. If you have visitors and want to cook, you may have to use the fryer several times.
---
Air Fryer FAQs
Small kitchen equipment such as air fryers is wildly popular. They use air circulation to perfectly cook foods, reduce fat, do a perfect fry, perfectly cook anything from steak, chicken and other meats to fish, cookies and veggies.
Selecting the finest and great looking retro air fryer might be a difficult task, because there are many various brands and models on the market.
Here are some of the most Frequently Asked Questions (FAQs) about air fryers to help you make an informed decision before purchasing one.
Have some of these questions about how they work, what size is ideal to buy, and what meals you may cook in them, answered, so that you can make a quicker buying decision right now.
How do you use a nostalgia air fryer?
The nostalgia air fryer is a great way to cook your favorite foods with a fraction of the oil, or no oil at all.
A few tips on how to use it:
1. Preheat your air fryer before adding your food.
2. Place food in the basket so that its basket is not too full.
3. Cook food for the recommended amount of time.
4. Make sure to allow your food to cool before eating.
What colors do air fryers come in?
Air fryers come in a variety of colors, though black, white, blue and red are most common. Some brands sell pink, green, peach or mint air fryers. Some use a print design.
Which type of airfryer is best?
There are a lot of various airfryers on the market these days, and it might be difficult to choose which one is best for you. It could be affected by a variety of factors such as your requirements, color and design, price range...
We propose consulting some online purchase reviews and blog reviews to see which air fryers have received the most positive feedback.
What are the disadvantages of air fryer?
There are only a few, such as:
1) they can be expensive - while the initial investment may be higher, you will end up saving money in the long run because you won't have to use as much oil, you use less electricity for cooking, as well as less time and effort to cook than other means.
2) They can take up a lot of counter space - if you're short on space, choose the smaller size.
3) They don't work well with large quantities - if you're cooking for a crowd, you might be better to invest in the largest size in the range of air fryers.
What are the pros and cons of an air fryer?
The pros of an air fryer are that it uses little to no oil, cooks food evenly and quickly, and is easy to use. The cons of an air fryer are that it can be expensive, it takes up counter space, and it doesn't work well with large quantities in a regular size. Overall, the pros outweigh the cons and an air fryer is a great addition to any kitchen.
Is an air fryer worth buying?
If you like to cook food, and fry foods, you should consider getting an air fryer. It is a slick appliance and it makes the food healthier than in the deep fryer. One should keep in mind the amount of usage, capacity, health, safety, and financial aspects before buying one.
‌‌Is an air fryer cheaper to run than an oven?
Yes, an air fryer uses less electricity than an oven and doesn't need to be preheated, therefore it is less expensive to run. Additionally, because an air fryer does not require as much oil, you will save money. How long does it take to cook food in an air fryer? The cooking time will differ based on what you are cooking.
Is air fryer better than microwave?
Both the air fryer and the microwave have advantages and disadvantages. Food cooked in an air fryer is more evenly cooked than food cooked in a microwave. The microwave is superior at rapidly cooking food while using less energy. It all boils down to your particular requirements and preferences.
What foods can you make in an air fryer?
There are lots of different foods that you can make in air fryers, including: burgers and patties, chicken nuggets, French fries, crispy roast potatoes, onion rings, fried chicken, roasted salmon, fish fillets, pork chops, crispy bacon, and roasted chicken. You can also use your air fryer to bake cake, pie and cookies, and reheat leftovers.
What can't you cook in an air fryer?
The following things you probably shouldn't cook in air fryers: battered food (note: do not place wet batter in the air fryer!), fresh vegetables, whole roasts, cheese, raw grains, toast and popcorn.
Is air fryer cancerous?
Air fryers are not dangerous to one's health. There is no evidence that air fryers induce cancer.
What are the health benefits of an air fryer?
Air fryers may help you eat healthier than traditional deep frying methods, allowing you to cook without using any oil. Air fryers require very little oil and so may be used to prepare meals that would otherwise contain a lot of fat and calories.
Do air fryers use a lot of electricity?
Air fryers work by circulating hot air around the food, cooking it evenly and quickly. They do need a significant quantity of power in a shorter period than traditional ovens. As a result, you are unlikely to use your air fryer for lengthy periods at once. Because most air fryers have such low wattage, you are unlikely to wind up a huge electricity bill in the process.
---
A Retro Air Fryer For You
We have spotlighted and did a review of the top-selling and high-quality items on the market and provided a link to learn more about their pricing.
These retro air fryers will make your kitchen look stylish. So, checkout the one you prefer, add that vintage air fryer to your kitchen right now and enhance your cooking and dining experience!
Please feel free to share it with your friends or family who may be interested in purchasing a retro air fryer.
Thank you for taking the time to read this post! We hope that it has been of assistance in helping you find what you need.
Happy airfrying!
Catchy Finds