Do you love the mix-match style? If so, you need to check out the white air fryers!
This range of kitchen appliances selection is sleek, stylish, and perfect for anyone who wants to add a touch of class to their culinary activities. Plus, it has a host of features that make it an excellent choice for anyone who wants to make delicious meals without all the fuss.
We'll be looking at four top-rated white air fryer on the market. Keep reading to learn more about these catchy white air fryers and see which one is best for you!
How We Spotlight The Best White Air Fryers
Trying to find the best air fryer in style can be a challenging task with all of the different brands and models on the market.
It's impossible to determine which air fryer is ideal for you without spending hours reading. Whereas most of us don't have the time to spend doing so.
We conducted the research for you and spotlighted the four finest white air fryers based on their quality, elegant design, simplicity of use, ease of cleaning, affordable price, and adaptability.
👉
We participate in the Amazon Associates Program, if you buy a product with the links that we provide, we may receive a small commission from Amazon. There is NO additional cost to you!
---
Philips Twin TurboStar Technology XXL Airfryer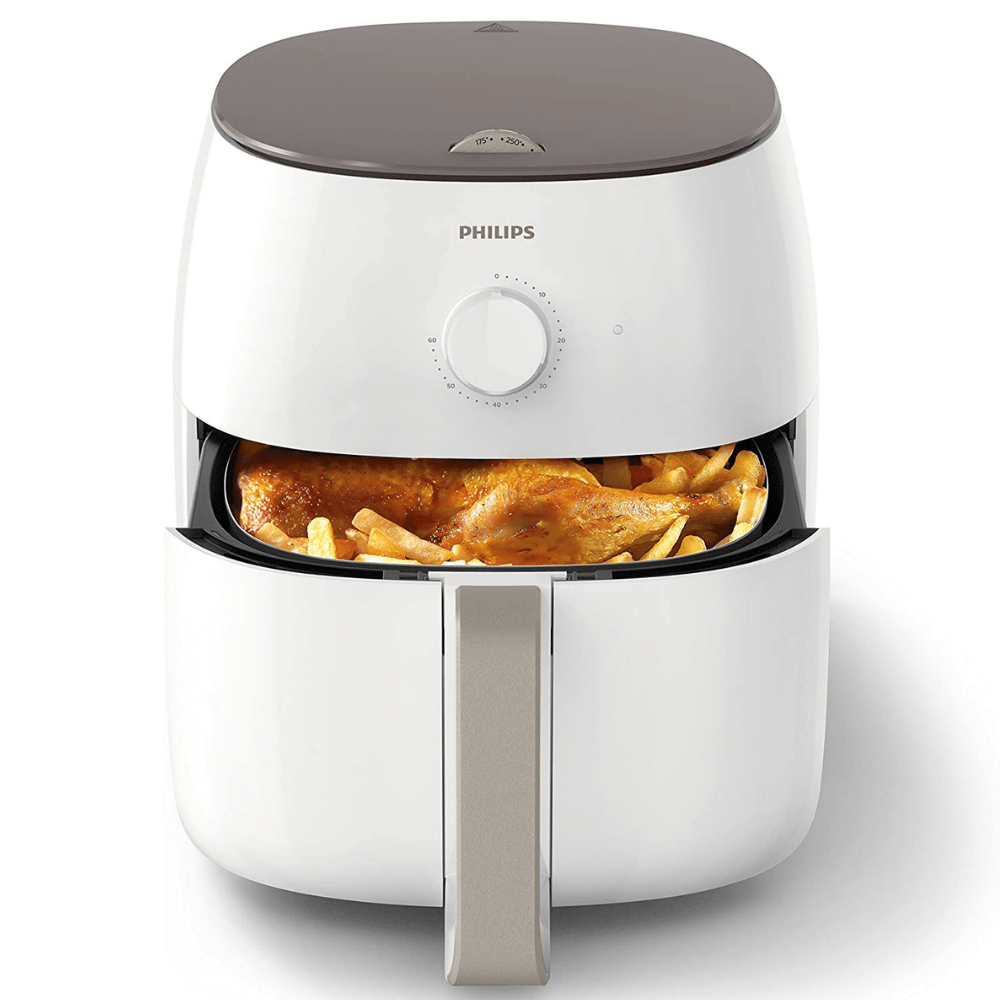 Best Choice For Its Elegant Design & Simplicity of Use
Philips Twin TurboStar Technology XXL Airfryer
CHECK PRICE ON AMAZON
Why We Spotlight It
This sleek and stylish 7.4 quart air fryer uses unique Twin TurboStar technology. This means, shorter time to heat up the machine. Frying requires no or just a tiny bit of oil. It also removes and captures excess fat. The result is delicious and healthier fried food that's both crispy on the outside and tender on the inside.
We like how the food basket is completely removed from the drawer. No part of the air fryer's body touches this area. Simply pull out the drawer and lift the basket. There are no buttons to push or break, and there's no danger that the bottom will separate from the basket as it is taken out.
The Airfryer is an amazing cooking appliance. So get rid of the deep fryer and switch to the Philips Twin TurboStar Technology XXL Airfryer for healthier, tastier fried foods.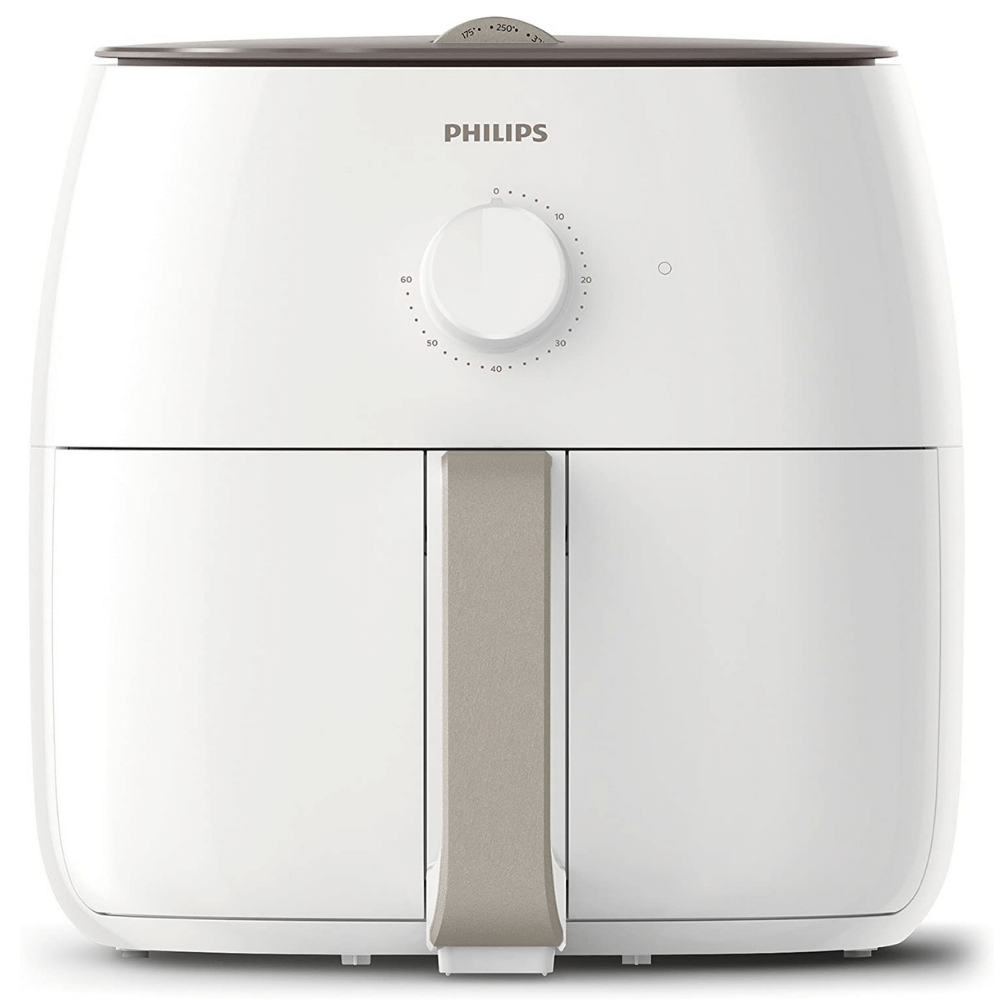 What Makes It Catchy
This white Philips air fryer uses unique Twin TurboStar technology. It pre-heats fast. The hot air circulates evenly around food, resulting, for example, in a perfectly crispy and golden fried chicken every time.
No one should miss out on delicious fried chicken with the Philips Twin TurboStar Technology XXL Airfryer! This incredible kitchen appliance can cook a whole chicken weighing up to 4.3 lbs.
The Smart Preset function takes all the guesswork out of cooking, so you can sit back and relax while your air fryer does all the work. Apart from this, with this good looking high capacity fryer will fit among the other white appliances on your counter.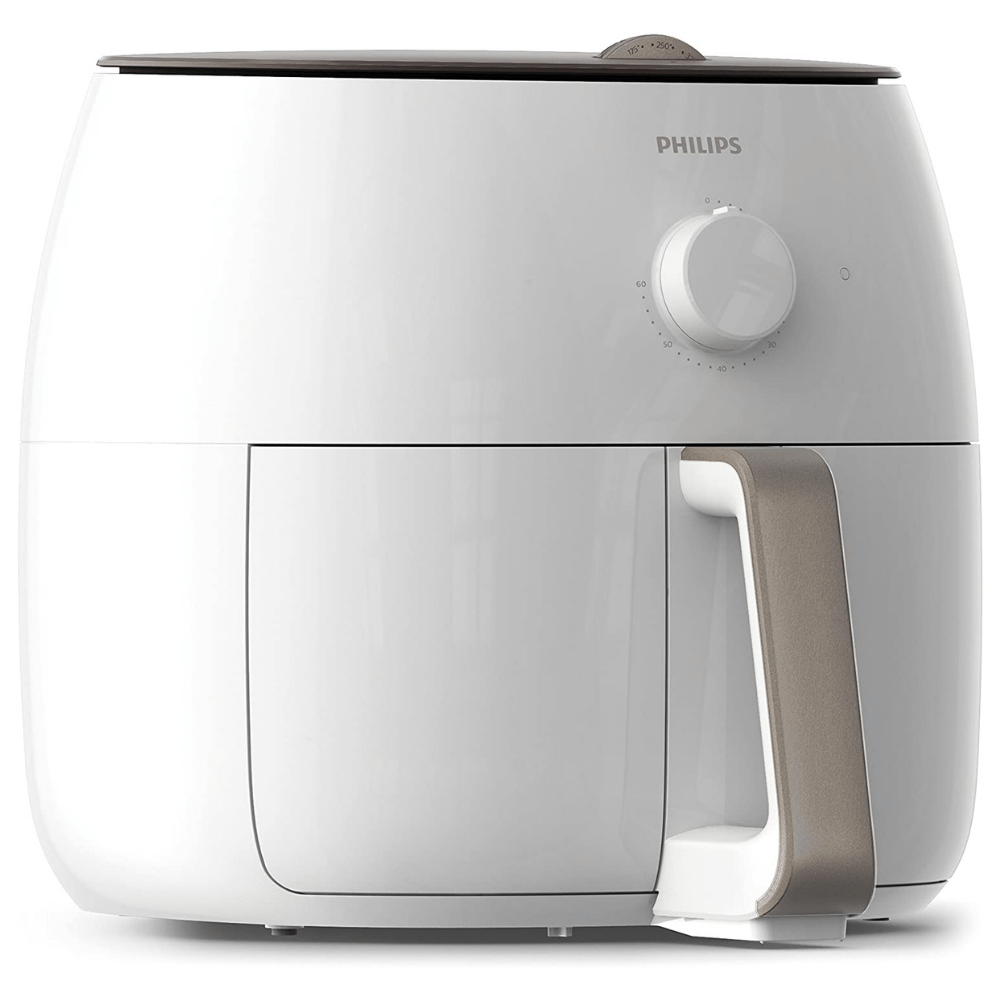 Things You Should Know
The XXL size (= 7.4 quarts) serves up to 6 people, so everyone can enjoy delicious, crispy fried chicken without any of the hassle or guilt. With a larger size and improved design, this air fryer is the right match for large families or large gatherings. One special note: follow the instructions.
It won't smoke if you don't add any oil. As long as you don't use any oil, your food will turn to great results without any penetrating smells.
Its fast pre-heating means it is ready to go in seconds. This means that you can save time and start cooking right away. It is also versatile, and able to cook a variety of foods. Whether you want to fry wings, bake cake, roast chicken wings, dehydrate or just reheat leftovers, this air fryer can do it all.
The unique fat reducer feature helps to keep your food healthy and delicious. It comes with several handy accessories. The easy-to-clean design makes cleanup easy.
With all these amazing features, the Philips TurboStar Technology XXL white Air Fryer is the perfect addition to your kitchen. It may well be the best overall air fryer currently available on the market.
---
COSORI Premium Air Fryer CP158-AF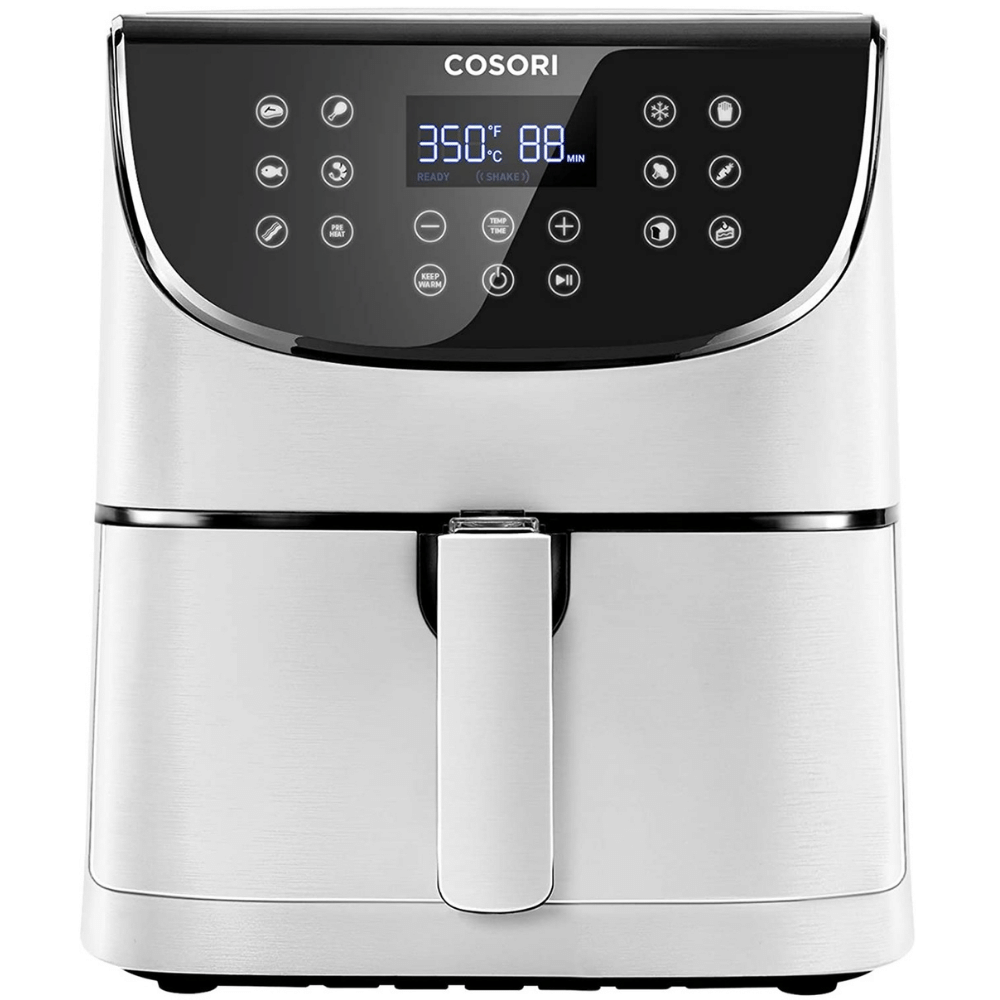 Best Choice For Its Value & Premium Quality
COSORI Premium Air Fryer CP158-AF
CHECK PRICE ON AMAZON
Why We Spotlight It
Find inspiration for every meal with 100 original, Cosori chef-created recipes. What we love about the Cosori air fryer is that it comes with a cookbook, which has photographs for each dish, and the ingredients aren't complicated for people who don't enjoy cooking.
Choose from a variety of breakfast, lunch, and dinner options, as well as snacks and desserts. With recipe options for every taste and diet, you're sure to find something you'll love. And with easy-to-follow instructions, you'll be able to make these recipes at home with ease.
This is a real benefit as the majority of recipes need products that you're undoubtedly familiar with and commonly to have on hand. So find your next favorite recipe with Cosori white air fryer today!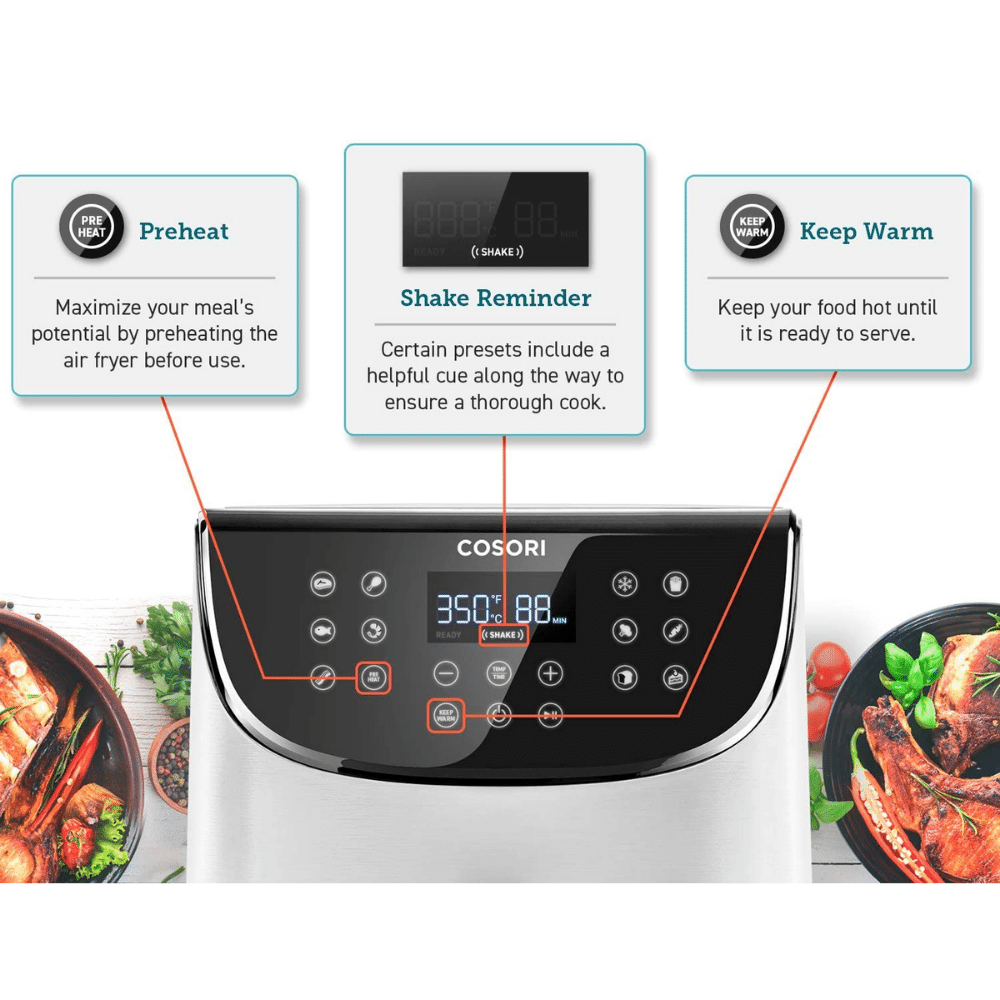 What Makes It Catchy
Look no further than the COSORI Premium Air Fryer if you're looking for a premium air fryer that's been designed with your needs in mind.
This fryer has a special improved ergonomic angled display that provides better viewing, without bending over. Additionally, its slimmer footprint fits on your countertop and saves your space.
With a large 5.8-quart square basket, it can fit a whole 5-pound chicken - perfect for feeding 3 to 5 people in one go. Plus, with convenient corner spaces, you'll have more cooking flexibility than with round designs.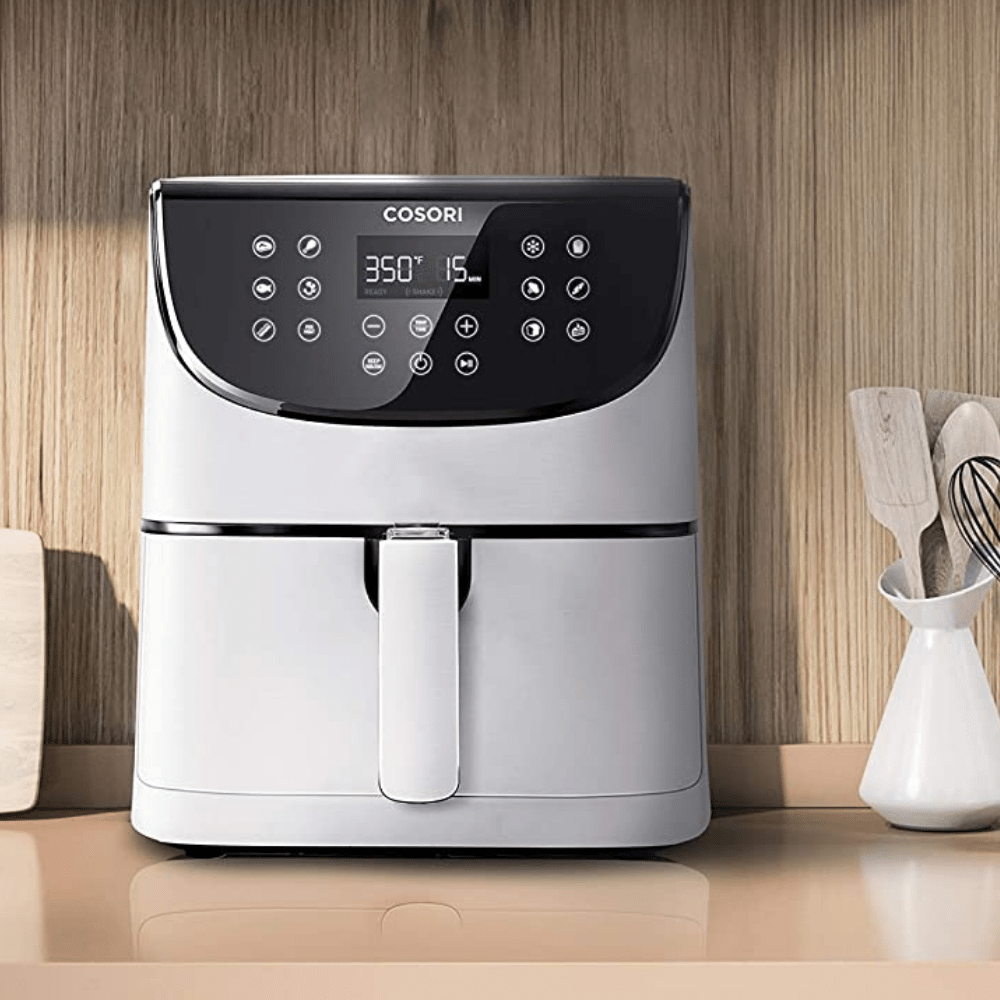 Things You Should Know
The 13 Cooking Functions: with 11 Presets, Preheat, and Keep Warm help you cook meat, veggies, and more. Just choose your preset with 1 easy tap and you're ready to go. You can also set the temperature and cook time for personal recipes.
This air fryer produces crispy results in less time than a conventional oven and includes a shake reminder function. Preheat the air fryer before adding your ingredients for improved texture.
The removable, nonstick baskets are dishwasher safe, PFOA free, and BPA free. The product is available in two colors, black and white. It has a 2-year warranty.
It is also faster than a conventional oven as it heats up quickly. It will even dehydrate. Cooking with an air fryer is a healthier alternative to deep-frying as it requires no oil. You can make many of your favorite foods, including fries, with little to no oil.
---
CHEFMAN 3.5 Qt. Matte White Small Air Fryer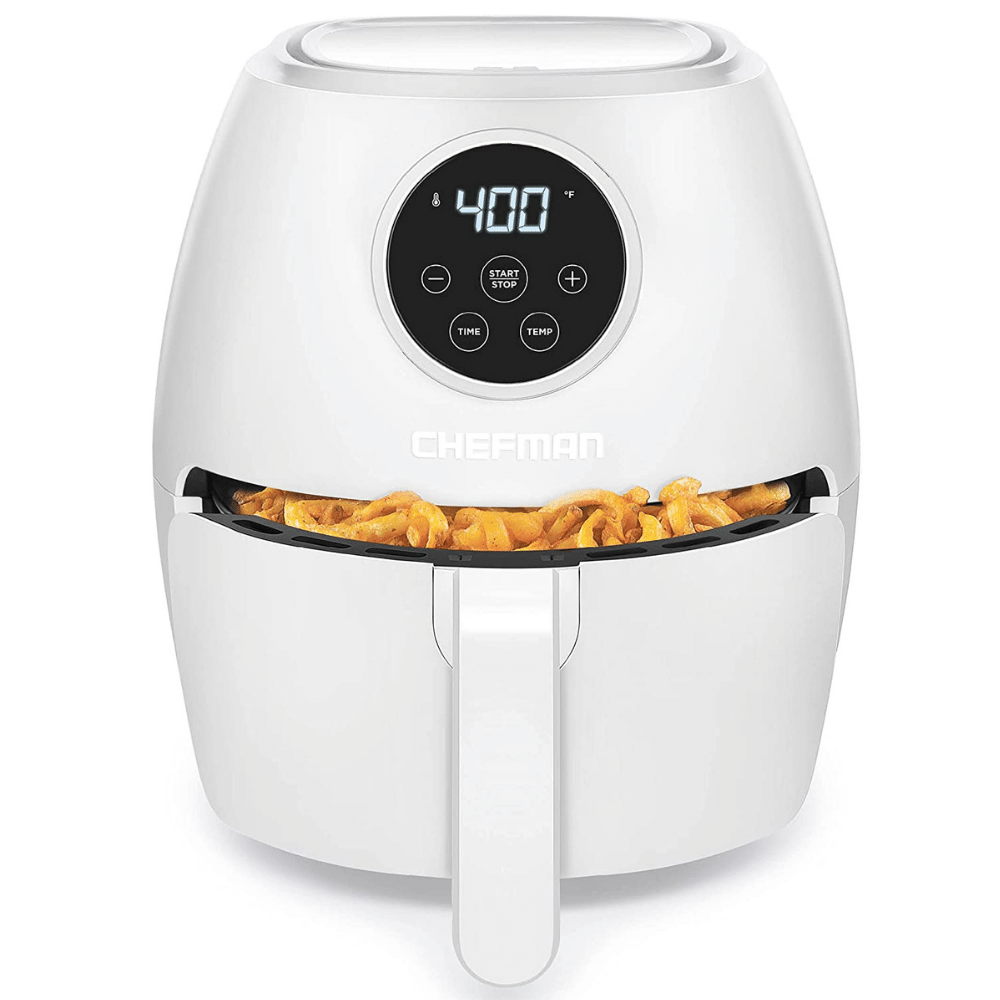 Best Choice For Its Efficient Compact Size
CHEFMAN 3.5 Qt. Digital Touchscreen Matte White Small Air Fryer
CHECK PRICE ON AMAZON
Why We Spotlight It
Looking for an easy way to make your favorite fried foods without all the extra oil and calories? Look no further than the air fryer. This space-saving appliance uses 98% less oil than traditional fryers, making it a healthier option for cooking up your favorite dishes.
With a temperature range of 200-400°F, you may effortlessly air fry pizzas, veggies, fries, and rich desserts in one space-saving device. It includes a cookbook that will help you master fast and healthy weeknight meals.
The book is full of useful and practical dishes that can be cooked in a short amount of time, making it the perfect choice for busy families or those who want to eat healthy without spending hours in the kitchen. And best of all, these recipes are super yummy too!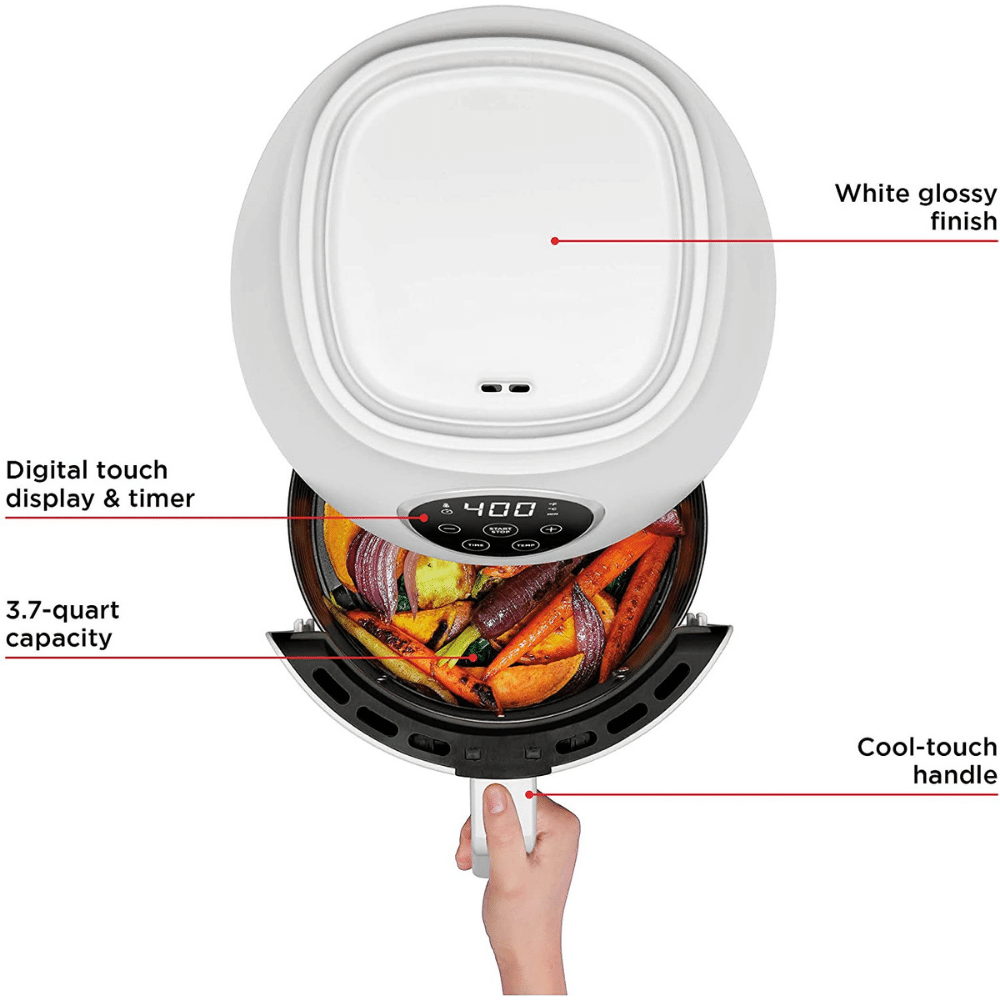 What Makes It Catchy
With its round shape and glossy white finish, the Chefman TurboFry Air Fryer is a great touch to any kitchen. The Chefman TurboFry Air Fryer has a sleek and compact design that still has plenty of space to cook for the whole family.
This air fryer has a flat basket design that holds 40% more food than traditional air fryers, so you can easily cook enough for a crowd. The air fryer's built-in 60-minute timer allows you to air fry dishes without the worry of overcooking, as the fryer shuts off automatically when the time expires.
The temperature and timing may be changed to correspond with the recipe, and it will remember those settings even after waking from sleep mode for foods that need to be turned.
Plus, the basket is nonstick and dishwasher-safe, so you can say goodbye to stuck-on foods and hello to fast cleanups. Whether you're handwashing or using the dishwasher, this air fryer is easy to care for.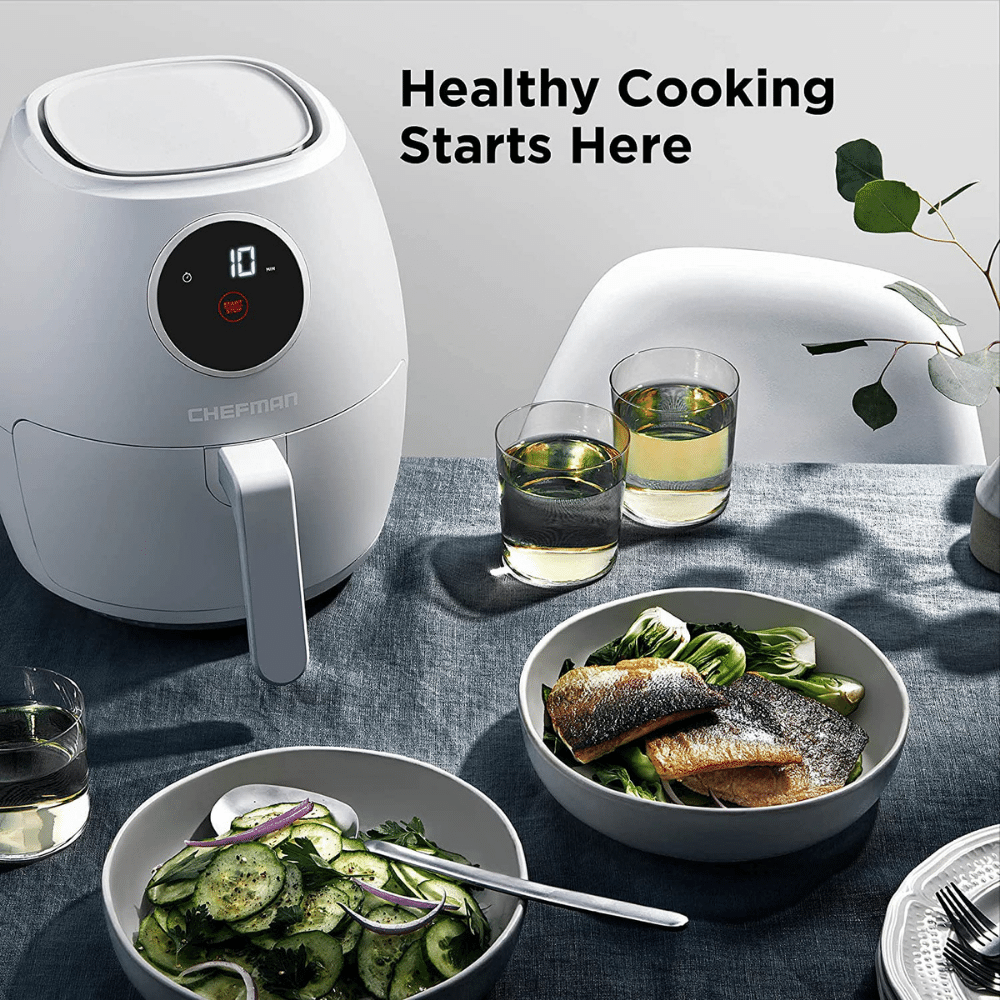 Things You Should Know
The air fryer comes with a built-in thermostat and safety shut-off for the grease drain, both of which are designed to prevent fires. There are vents on the top and back of the fryer, while the body is made from "cool touch" technology that eliminates the risk of it getting hot enough to burn.
That being said, there are still parts of the fryer, particularly the vents, that can get extremely hot. Because of this, touching any area of it outside the basket handle and control panel during the operation is strongly discouraged.
The smart control panel will only turn on if the tray is completely inserted into the fryer and is connected. It has safety mechanisms in place so that the fryer works only when the tray is inserted, such as if you need to stop a session before it ends because the food finishes early. Its capacity makes it fit for a 2 person household, or a small family with 1 child.
---
Ultrean Air Fryer, 4.2 Quart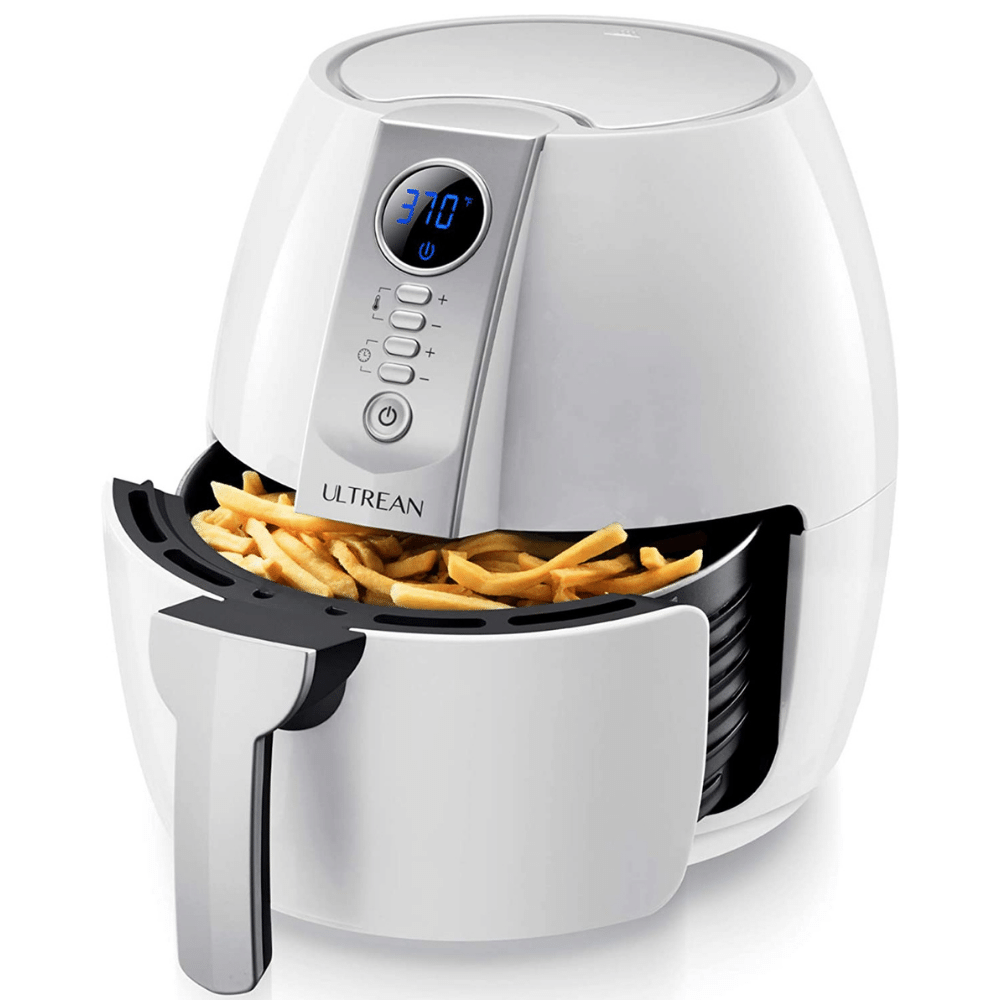 Best Choice For Its Most Economic Price
Ultrean Air Fryer, 4.2 Quart
CHECK PRICE ON AMAZON
Why We Spotlight It
Ultrean air fryers are useful and convenient appliances that can help you cook your food quickly and easily. With its innovative heating system-rapid air technology, you can cook your food evenly without the hassles of using hot oil or a thermometer.
In addition, Ultrean air fryers are also fashionable and trendy. They come in different colors and designs that will surely match your kitchen's décor. So if you are looking for a kitchen appliance that is both stylish and efficient in performance, then Ultrean air fryers are the perfect choice for you.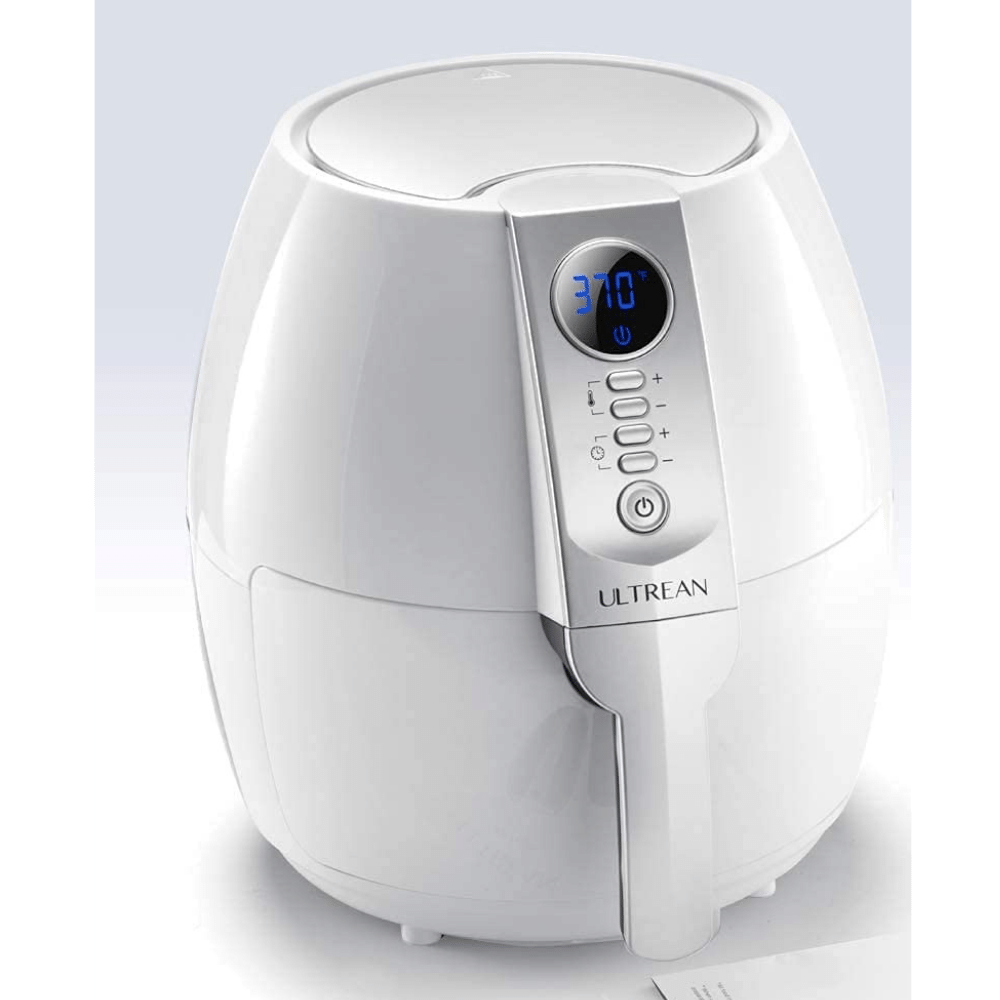 What Makes It Catchy
If you are in the market for an air fryer, the white Ultrean air fryer is a great choice. It is efficient and affordable, and it comes with several features that make it easy to use. With accessible buttons and easy cooking setup, it is perfect for those who are new to air frying.
Additionally, the detachable dishwasher-safe basket makes cleanup a breeze. The contemporary design is perfect for any kitchen, and the bonus recipe book will help you prepare your favorite fried foods, snacks, grilled foods, and baked goods.
The Ultrean air fryer is a great choice for a small family (4, with 2 small children) who are looking for an appliance that provides enough capacity is both stylish and value for the money.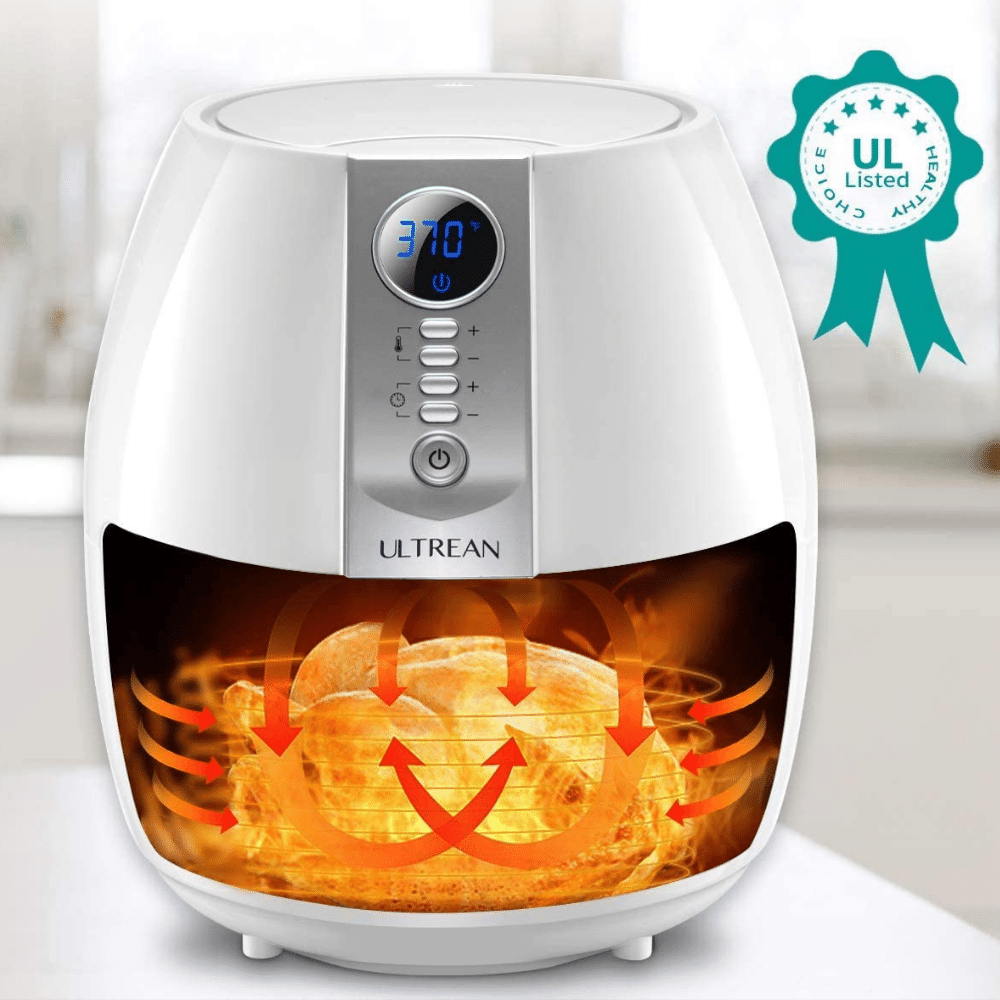 Things You Should Know
This air fryer is a lightweight machine that looks sturdy and feels durable. The entire device may be readily lifted with the handle and carried about once the frying compartment has been snapped into place.
It can cook each time a large amount of food, such as a thick-cut 12 oz steak, or three skewers each with huge chunks of meat and vegetable.
Do use a parchment paper liner every time cooking to help protect the non-stick surface of the screen. Do not let the scouring side of the sponge touch the non-stick surface when cleaning it.
When you first started using the booklet, you will notice a plastic smell. That this is normal, follow the instruction in the booklet, and that the smell will go away after 15 minutes. To get rid of the plastic smell, it is recommended to frying cut-up pieces of lemon for 10 minutes. Some users did this, and the plastic smell went away immediately.
If you're searching for a white air fryer that complements your décor, offers the greatest value for money, is efficient in operation, is simple to use, and is easy to clean, this decent size Ultrean air fryer is an excellent option.
---
Air Fryer FAQs
Air fryers are extremely popular small kitchen equipment. With so many different brands and types on the market, deciding which the best white air fryer is for you could be quite confusing.
Here are some of the most Frequently Asked Questions (FAQs) about air fryers to help you make an informed decision before you shop.
Have some of these questions answered about how they operate, what size is ideal to buy, and what meals you may cook in them so that you can make a quicker purchasing decision right now.
What colors do air fryers come in?
Air fryers come in a variety of colors, though black, white, blue and red are most common. Some brands offer pink, green, peach, turquoise or mint air fryers. Some use a print design. These are more rare, and usually more expensive as they are produced in small series.
Is it worth to buy an air fryer?
An air fryer is definitely worth buying! They're a great way to cook food without using a lot of oil for a deep fry. Once using it, you don't want to go back to the traditional frying ways.
They are also really easy to use, to clean and energy-efficient. The bottom line is that air fryers have been popular for years, but at the end of the day they are only worth buying if they suit your lifestyle.
It will take too long to prepare a meal for a crowd if you have a large family. However, it might be the ideal kitchen upgrade for small families, couples or individuals seeking for ways to cook fast healthy meals with less oil.
What size air fryer do I need for a family of 4?
Generally, each person in your family will need about one-half pound of French fries per person. This means that a four-person family will need two pounds of French fries. Therefore, you will need an air fryer that can accommodate at least two pounds of food.
A 5.8 quart air fryer or larger is a good size for a family of four with young children. We recommend going larger if you have teenagers or kids that are big eaters.
What foods can you make in an air fryer?
There are lots of different foods that you can make in air fryers, including: burgers and patties, chicken nuggets, French fries, crispy roast potatoes, onion rings, fried chicken, roasted salmon, fish fillets, pork chops, crispy bacon, roasted chicken. You can also use your air fryer to bake cake, pie and cookies.
What can't you cook in an air fryer?
The following things you probably shouldn't cook in air fryers: battered food (avoid placing wet batter in the air fryer), fresh vegetables, whole roasts, cheese, raw grains, toast and popcorn.
Can you put raw meat in air fryer?
Yes, you can most certainly put raw meat in your air fryer! Whether you're looking to cook up some chicken wings, pork chops, or steak, air frying is a great option that will result in delicious, perfectly cooked meat.
Ensure that your pieces of meat are of even thickness so that they cook through evenly. Then, depending on what type of meat you're cooking, consult a reliable recipe guide to determine the correct cook time and temperature. And that's it! In no time at all, you'll have perfectly cooked meat without any hassle.
Do you need to flip a steak in an air fryer?
That depends on how you like your steak cooked! If you want it rare or medium rare, then you'll probably want to flip it once during cooking. If you like it more well done, then you can cook it without flipping.
Place the steak in the air fryer basket and cook for 7 to 9 minutes for medium-rare or 10 to 14 minutes for medium, turning the steak halfway through. Just keep an eye on it so that it doesn't overcook.
How big of an air fryer do I need to cook a whole chicken?
There is no definite answer to this question as it will depend on the size of your air fryer. For a whole chicken, you'll need an air fryer with a basket that is within the 6- to 10-quart size range as it will provide enough space to roast a whole chicken, a whole pizza and pounds of finger foods.
Do air fryers use a lot of electricity?
Air fryers work by circulating hot air around the food, cooking it evenly and quickly. They do need a significant quantity of power in a shorter period than traditional ovens.
As a result, you are unlikely to use your air fryer for lengthy periods at once. Because air fryers have such low wattage, you are unlikely to wind up a huge electricity bill in the process.
Can you air fry hamburgers?
Yes, you can air fry hamburgers. Air frying is a great way to cook burgers because it gives them a crispy crust and prevents them from becoming dry or tough.
To air fry hamburgers, start by heating some oil in an air fryer. Then, place the burgers in the air fryer and cook them for 5-7 minutes or until they are golden brown. Serve with your favorite toppings!
Do air fryers stink up the house?
No, air fryers don't stink up the house. They actually produce very little smoke or odor, and the small amount that is produced is quickly absorbed by the food.
Can you air fry an egg?
Yes. An air fryer can be used to cook an egg.
The key is to use a little cooking spray or oil to help the egg not stick to the air fryer basket.
Crack the egg into a small bowl and then carefully pour it into the air fryer basket.
Cook for 3-4 minutes at 380 degrees F, or until the white is set and the yolk is cooked to your liking.
Do you clean your air fryer after every use?
Every time you use the air fryer, some tiny bits of food will get burned. That is why, after every usage, you should always clean your air fryer after every use.
---
The Best White Air Fryer For You
We've spotlighted the top-selling and high-quality items on the market and provided a link to learn more about their pricing.
We hope that this comparison has helped you in your search for the finest white appliances.
Please check out our other catchy finds regarding various types of air fryers and kitchen appliances while you're here to find the best option that suits your needs.
Thank you for taking the time to read this, and have a wonderful day!
Catchy Finds.